My 27 easy Southern Memorial Day recipes you can bring to your weekend cookout. When you don't have a lot of time to spare, I've got you covered with these easy Memorial Day appetizers, grilled meats, side dishes, salads, and desserts!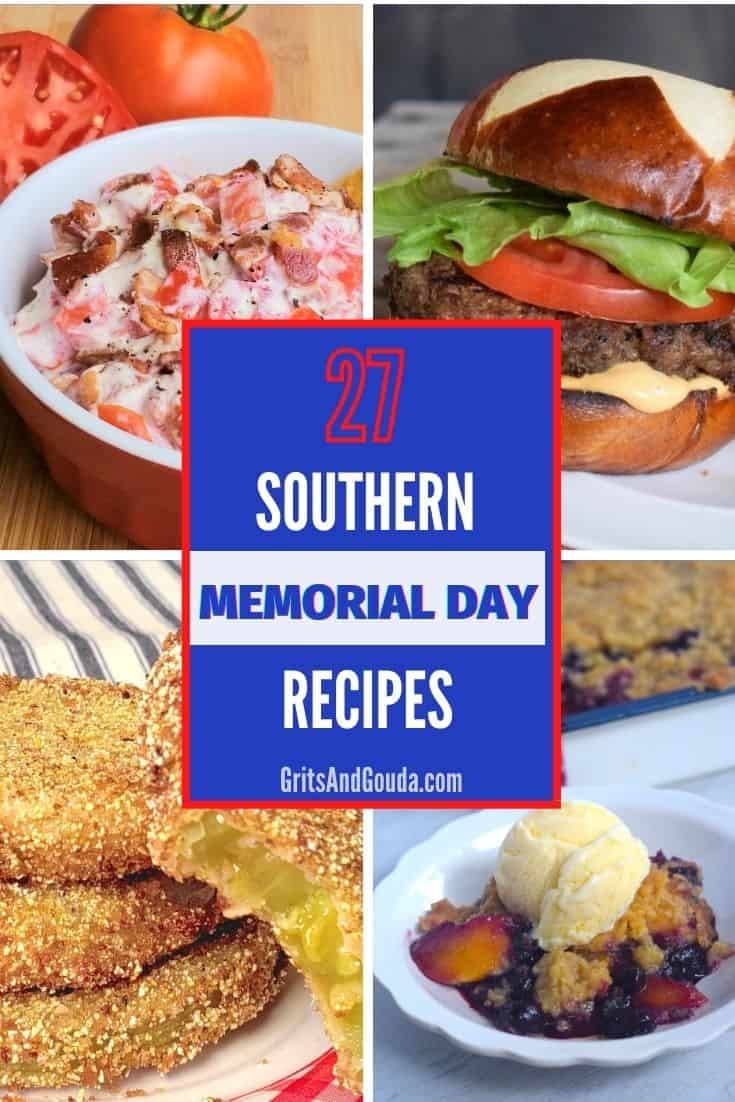 First, you need to know that a Southerner doesn't call the cookout party a barbecue. Barbecue is what you eat at the event!
For a Southerner, traditional Memorial Day food includes grilled chicken, venison burgers, fresh vegetables and casseroles, deviled eggs, salads, and plenty of desserts to choose from.
Whether you are getting together with your whole extended family for a reunion or just having a small gathering with friends around the smoker or grill, I hope these easy Memorial Day recipes.
Don't forget the original reason for this special holiday weekend. As you say grace and thank God for your many blessings, remember to be thankful for the many veterans and service members who give up so much for our freedom in this country.
Easy Recipes for Memorial Day Weekend
This collection of my best Memorial Day recipes is divided into these categories to help you search what you are looking for better:
Appetizers
Meats and Main Dishes
Side Dishes
Salads
Desserts
Memorial Day APPETIZERS
1. Bacon Tomato Dip
Not only will this easy dip make you the hero of the party, you will want to make it again and again for yourself. One of my most requested Memorial Day foods.
2. Creamy Jalapeno Pimiento Cheese
This extra creamy version of pimiento cheese has a bit more cream cheese than my Fire Roasted Pimiento Cheese. It's not spicy so if you want more heat, leave in the seeds!
4. Cheese Wafers with Pecans
This is now one of my favorite recipes for Memorial Day. These homemade cheese crackers can be made ahead of time and frozen and they travel to the beach and lake easily in an airtight container. This shortcut recipe also doubles easily for a crowd.
MEATS and MAIN DISHES
5. Grilled Venison Burgers
Even lean beef and turkey will turn out delicious, juicy burgers that won't plump into a ball on the grill with my tips in this easy recipe. Don't forget to make the Come Back Sauce to slather on your burgers or to dip those fries in!
6. Shortcut Grilled Chicken Pizza
Choose from two flavors in this halfway homemade chicken pizza recipe: Thai and BBQ... or make your own pizza with your favorite flavors like leftover smoked brisket.
7. Air Fryer Honey BBQ Chicken Wings
Don't discount the air fryer for crispy, tender chicken wings that cook in much less time than on the grill. If it's raining outside or you just want to stay out of the heat, this recipe includes oven instructions, too.
8. Shortcut Shrimp and Grits: No Roux
You can have this iconic Southern dish made in minutes without sacrificing flavor.
9. Baked Potato with Barbecue Pulled Pork
This is a creative way to use leftover bbq pork or chicken that's not just another sandwich on a bun.
10. Parmesan Artichoke Chicken Salad
Chicken salad is a summer staple for picnics, cookouts, and pool parties for Memorial Day, Fourth of July and Labor Day. Fill a croissant for a sandwich, scoop with a cracker or alongside fruit salad for lunch.
Memorial Day SIDE DISHES
Here in the south, we're all about the side dishes and vegetables. Many times, I'll fill my plate at a potluck or reunion and skip the meats altogether. That's probably why we have Vegetable Plate on so many Southern restaurant menus.
FYI: We southerners consider Macaroni and Cheese a vegetable! Just sayin'.
11. How to make Southern Fried Yellow Squash
You don't have to "deep fry" or use a lot of oil to call it Southern-fried squash. This easy method (without a messy batter) can be used with any summer squash including zucchini.
12. Fried Green Tomatoes
I call these perfect-every-time because they are so simple to make...and with no messy batter. My technique to keep the crunchy cornmeal crust from "sliding" off the slick green tomato is foolproof! Try my Fried Green CHERRY Tomatoes, too!
13. Instant Pot Fresh Green Beans
With bacon! The electric pressure cooker (Instant Pot) gives the fresh green beans the slow cooked flavor in a fraction of the time it takes to cook them on the stovetop. But if you don't have an Instant Pot, here's my recipe for stovetop Easy Fresh Green Beans with Bacon.
14. Easy Cheesy Baked Mac n Cheese
This unconventional way to get creamy, cheesy baked macaroni and cheese doesn't involve making a white sauce (gravy or bechamel sauce). And it's something you probably already have in your pantry cabinets!
15. Instant Pot Collard Greens
Not only is the Instant Pot a shortcut in this recipe, it's also made with bags of pre-washed and pre-cut collards. Of course, I give you the directions if you want to start with bunches of fresh collard greens, too.
16. Easy Yellow Squash Casserole
Buttery breadcrumbs top this simple summer squash casserole. It's made in an 8x8 inch baking dish in case you don't need casserole for a crowd-but easily doubles.
17. Perfectly Crunchy Vidalia Onion Rings
Memorial Day weekend is when Vidalia sweet onions are plentiful. These crispy onion rings are sweet and tender on the inside and have a great big crunch on the outside.
18. Sweet Heat Shortcut Pickles
Pickles may not exactly be a side dish, but they are certainly served on the side of burgers at every outdoor Memorial day gathering at our house!
Memorial Day SALADS
19. Easy Southern Macaroni Salad
There's a super quick shortcut for this colorful pasta salad that will save you time!
21. Easy Strawberry Pretzel Salad
The great debate is, "Is it a salad? or "Is it a dessert"? You decide.
22. Stained Glass Jello Salad
We Southerners indeed like our sweet salads. This is an updated, shortcut version of a vintage favorite Jello salad and I show you a red, white, and blue version!
Memorial Day Dessert Recipes
23. Easy Blackberry Crisp with Pecan Streusel
If the wild blackberries in your area aren't ripe just yet, the grocery stores not only have them in stock now but are typically on sale for this holiday weekend.
24. S'Mores Cupcakes
Even if you're not going camping this weekend, these S'Mores Cupcakes are perfect to serve around a fire pit in your back yard... or on a picnic.
25. Walking Banana Pudding
You may have had Walking Tacos at a pool party or a concession stand. This is the dessert version of the hand-held party food.
26. No-Churn Peanut Butter Ice Cream
You won't believe how easy and simple this rich, flavorful ice cream is to make!
27. Blueberry Peach Cobbler
The oatmeal streusel topping on this summer fruit cobbler makes it taste like an oatmeal cookie. Gild the lily and top it with vanilla ice cream!
Follow me on Facebook, Instagram, Pinterest and YouTube. Be social and share, y'all! Don't forget to sign up with your email so you don't miss a single post on my Southern shortcut recipes!
More summer southern shortcut recipes
Want more Southern shortcut recipes? Just use the SEARCH bar at the top of the page or check out the recipe index.