When it comes to great tasting, easy side salads, this 5 minute recipe for Caprese Salad with Cherry Tomatoes and store-bought balsamic vinaigrette dressing is my go- to recipe. Fresh summer ingredients, bursting with flavor and texture, that everyone is sure to enjoy.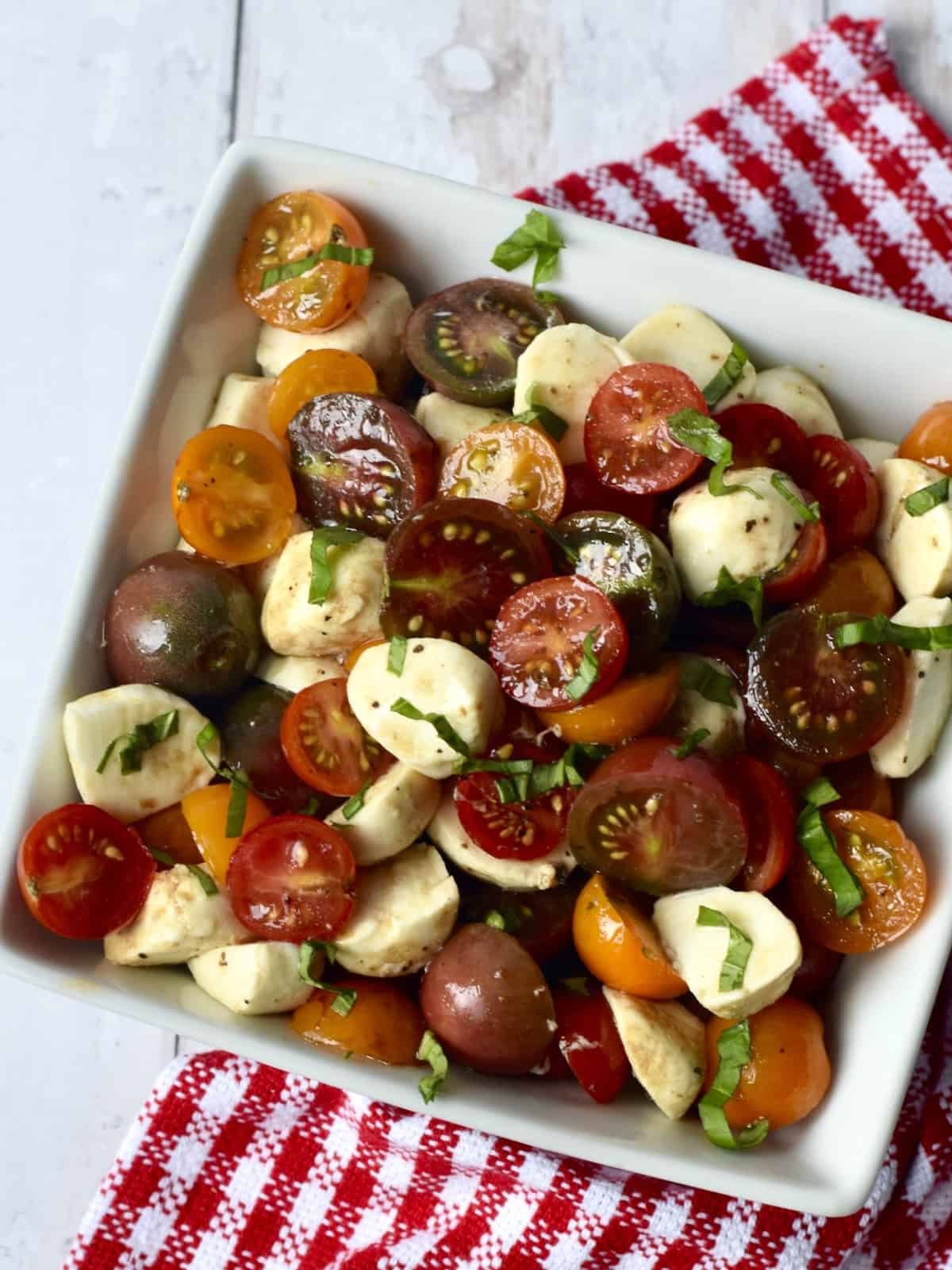 The combination of sweet cherry tomatoes, with soft mozzarella pearls, a scattering of fresh basil and a drizzle of balsamic vinaigrette make a delicious 4 ingredient summer salad.
Despite being a simple salad to prepare, my easy Caprese salad recipe (or Insalata Caprese as it's known in Italy), makes the very best of seasonal produce, showcasing tomatoes when they are at their best.
I love using heirloom cherry tomatoes in a variety of colors from my own garden. You can also buy cherry and grape tomatoes fresh from growers at your local farmers market and even in some grocery stores.
Shortcuts
Tossing this chopped caprese salad is faster than slicing and arranging large slices of tomato and mozzarella logs.
Tearing pieces of fresh basil is faster than chopping or shredding.
Store-bought vinaigrette or salad dressing is a quick way to marinate cherry tomatoes using just one ingredient.
Ingredients
Scroll down to printable recipe for exact ingredient quantities.
What you will need to make this easy caprese with cherry tomatoes salad: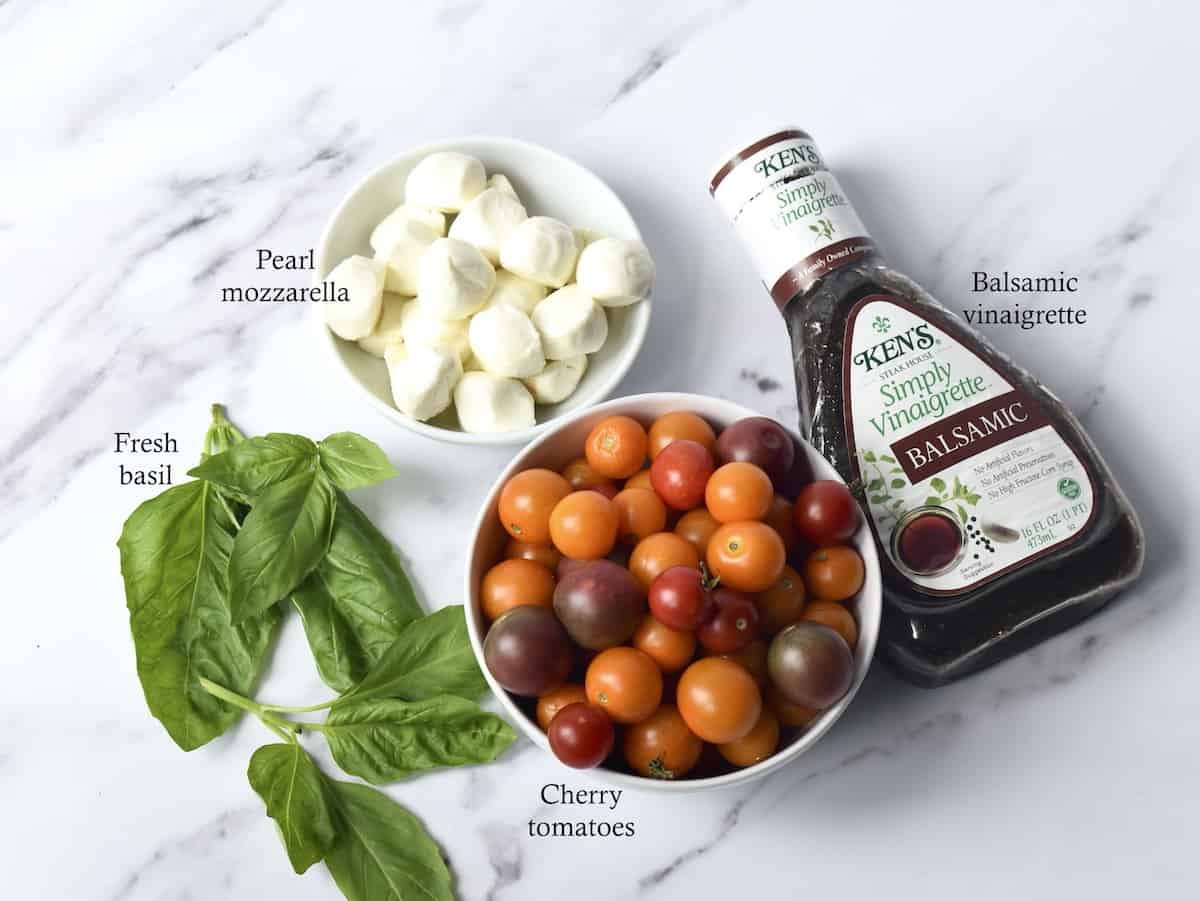 Cherry or grape tomatoes
Mozzarella pearls (mini-size balls)
Fresh basil leaves
Balsamic vinaigrette (I like Ken's Steakhouse Simply Vinaigrette)
How to make Caprese Salad with Cherry Tomatoes
Scroll down to the bottom for the printable recipe with detailed instructions.
If you've been looking for a mozzarella pearls recipe, this one is a great summer make- ahead salad.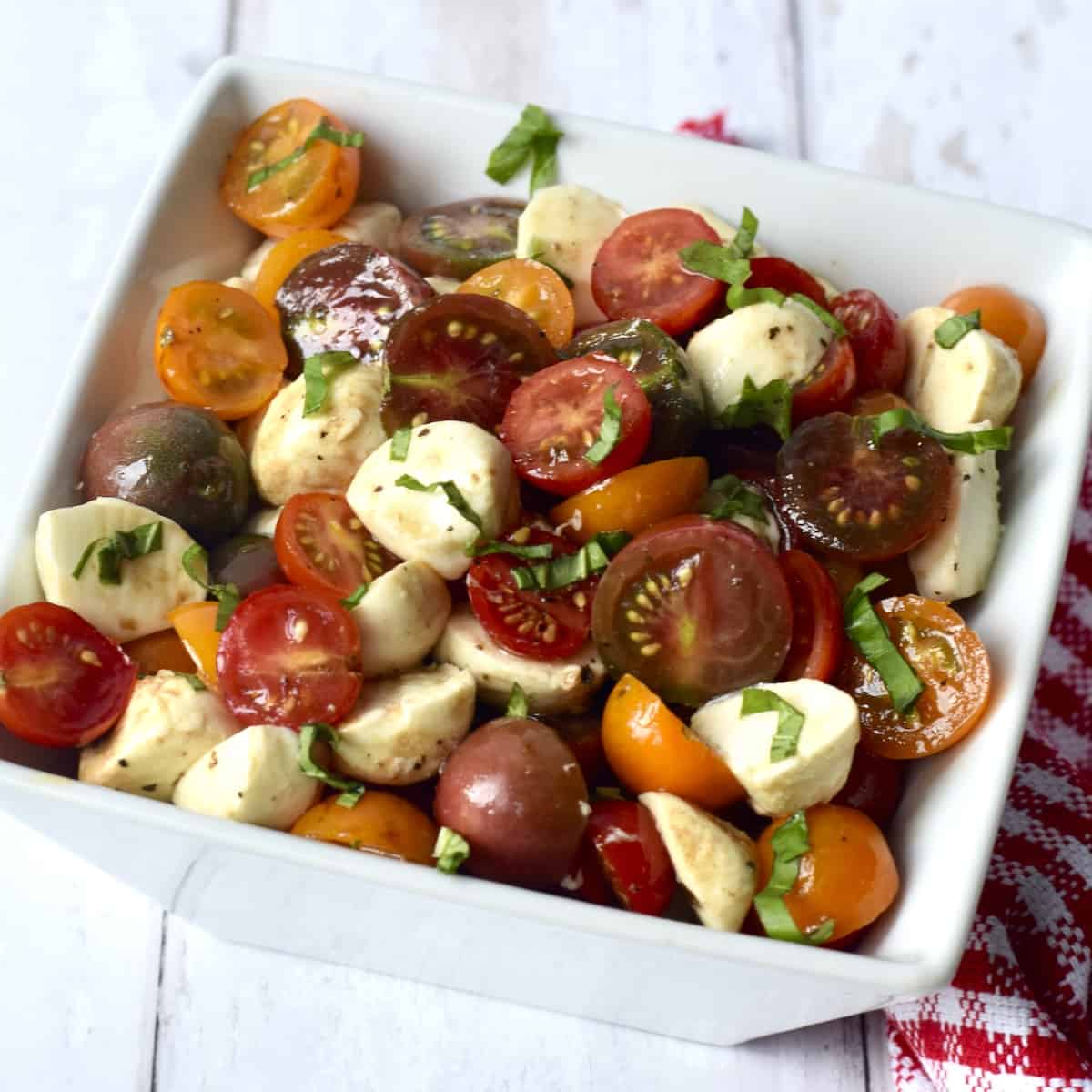 Cut any extra large cherry tomatoes in half.
Combine tomatoes and mozzarella balls with fresh basil and balsamic dressing to glaze the mixture in a bowl.
Cover and marinate in the refrigerator at least 1 hour up to 4 days.
Pro Tip: Don't be tempted to skip the marination step as this allows the flavors to meld together, resulting in a delicious tasting salad.
Substitutions & Variations
Tomatoes: I've used heirloom cherry tomatoes, but you can cut up whole tomatoes. If using larger tomatoes go for tomatoes on the vine as they will have more flavor.
Cheese: Mozzarella pearls are perfect for this salad and quick and easy to prepare. You can also cut up logs of fresh mozzarella into cubes.
Fresh Herbs: Basil is traditional in a Caprese salad, but you could also use freshly chopped parsley, tarragon and even toss it with arugula.
Homemade Balsamic Vinaigrette: Whisk together 3 tablespoons balsamic vinegar, 1 tablespoon extra virgin olive oil, 1/4 teaspoon salt, 1/4 teaspoon freshly ground black pepper.
Cherry Tomatoes Mozzarella Pasta: Simply stir in 2 cups of cooked rotini, farfalle, or penne pasta before marinating this cherry caprese salad.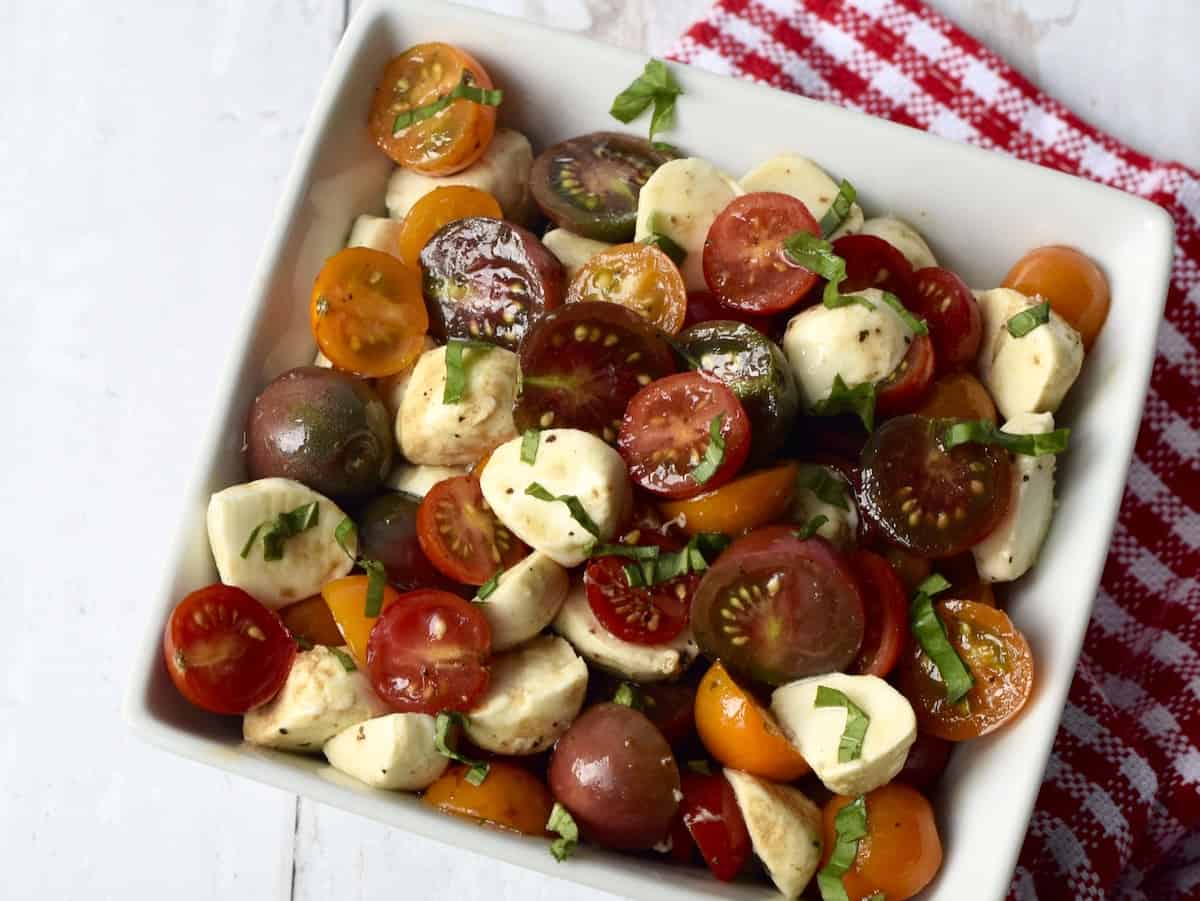 Helpful Information
What are the ingredients for a Caprese salad?
The key ingredients are fresh mozzarella cheese, tomatoes, fresh basil (never dried), olive oil, salt and black pepper (or substitute with a vinaigrette).
Why is it called Caprese salad?
This salad is thought to have originated in the island of Capri, in the Bay of Naples. It is said to replicate the colors of red, white and green of the Italian flag.
What kind of tomato is best for Caprese salad?
I used mixed colors of heirloom cherry and grape tomatoes from my garden but any color and shape of tomato will work. For slicing tomatoes, Roma tomatoes are firm, more long than round with fewer seeds.
How do you store fresh basil?
For hints and tips on cooking with fresh herbs and how to keep them fresh, check out my Cooking with Fresh Herbs post. This post not only tells you how to store herbs to keep them at their best, but also contains some easy recipes for herbs.
What can I use instead of mozzarella in Caprese salad?
Mozzarella is the cheese traditionally used in a Caprese salad. However, burrata cheese is the best substitute as it has a similar texture and flavor, with a molten creamy center. If using burrata do not cut it up, as the creamy filling will escape. Instead place the whole ball in the middle of the salad.
Is Caprese salad healthy?
Yes, this is a healthy salad, full of fresh and natural flavors that are packed with a variety of vitamins and antioxidants.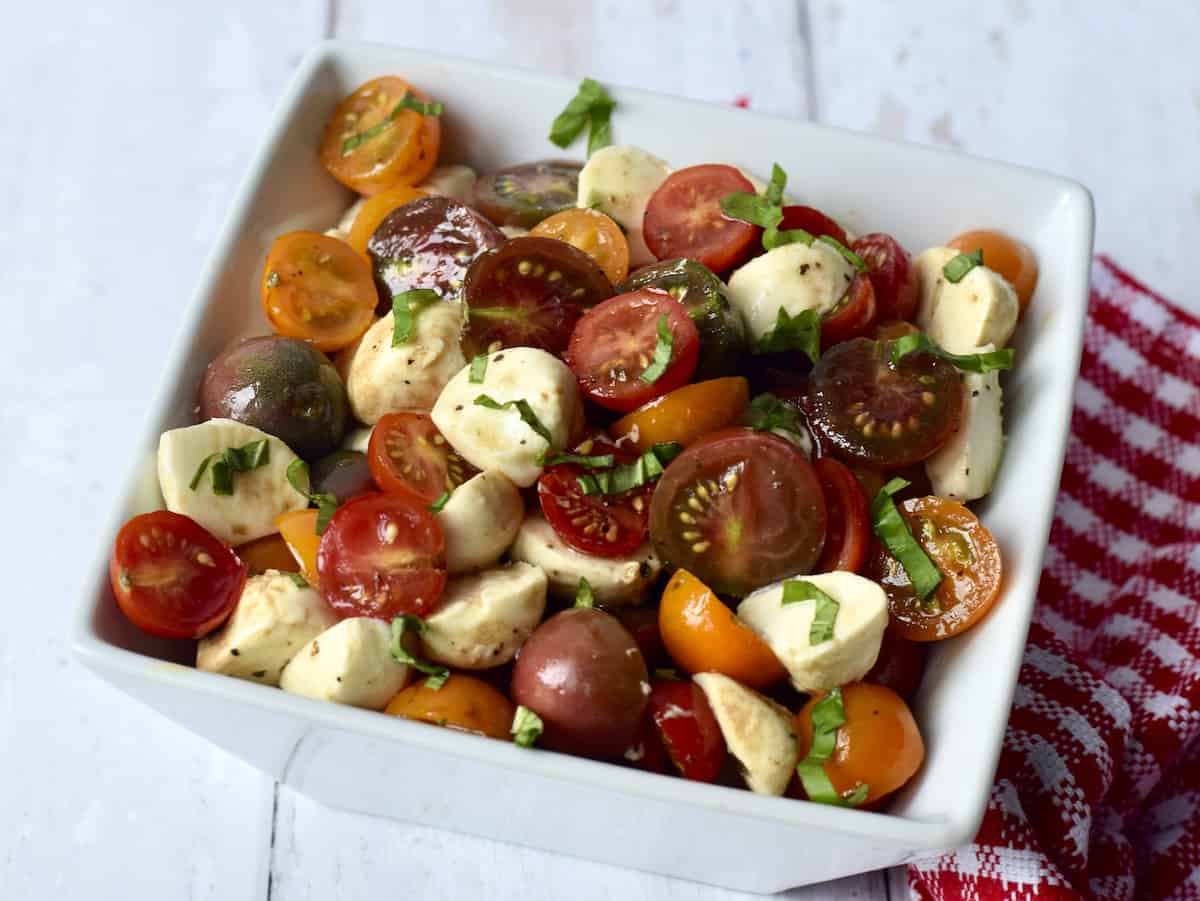 Keto Caprese Salad
Tomatoes and fresh mozzarella cheese are keto-friendly ingredients. Tomatoes are unlike any other fruit because they are low in sugar and carbs. Mozzarella contains just 1 gram of carbs per ounce. Check the label on store-bought balsamic vinaigrettes for carb count or make my Homemade Balsamic Vinaigrette recipe mentioned above in Substitutions and Variations.
What goes with Caprese Salad?
Caprese salad can be served as a side salad with any main dish, or as an appetizer or light main salad with a side of crusty bread or garlic bread.
I'll often serve this as a side salad when I'm grilling as it works really well with Grilled Venison Burgers or grilled chicken or steak. It's also the perfect salad to serve alongside a bowl of pasta like my Chicken Spinach Lasagne, or Chicken Bacon Ranch Alfredo.
As an appetizer, leave the cherry tomatoes whole and skewer them along with small basil leaves and mozzarella balls on wooden skewers after marinating.
This marinated tomato-mozzarella salad also makes a great sandwich topping or panini grilled sandwich filling.
Storage Tips
To Store. Store any leftovers in the refrigerator, covered or in an air tight container for up to 4 days.
To Freeze. Do not freeze Caprese salad, as with all salads this is a dish best served fresh.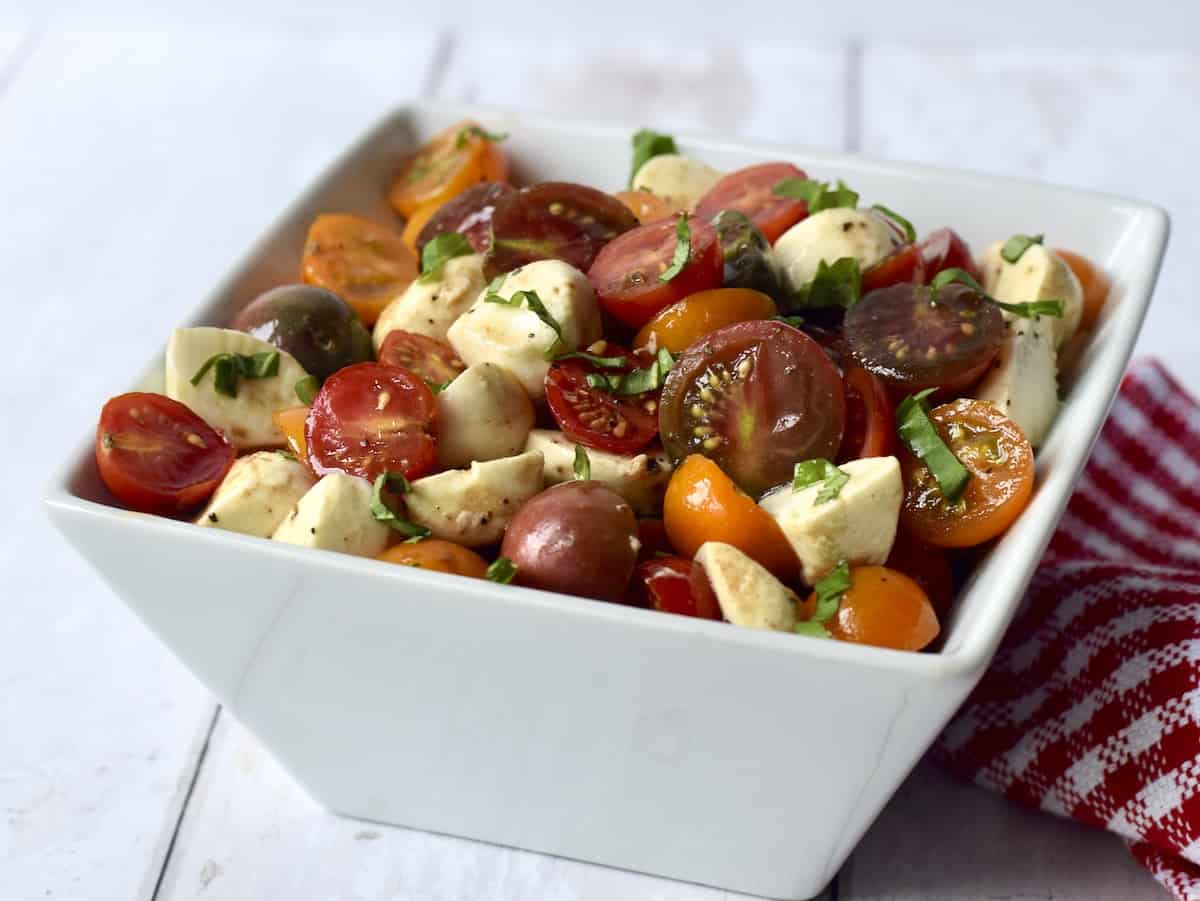 Follow me on Facebook, Instagram, Pinterest and YouTube. Be social and share, y'all! Don't forget to sign up with your email so you don't miss a single post on my Southern shortcut recipes!
If you make this recipe I'd love to see it! Tag me on social media with #gritsandgouda or @gritsandgouda. Leave a comment below the printable recipe if you have questions or tell me how you liked the recipe. Don't forget to rate it 5 stars if you love it!
Want more easy salad recipes?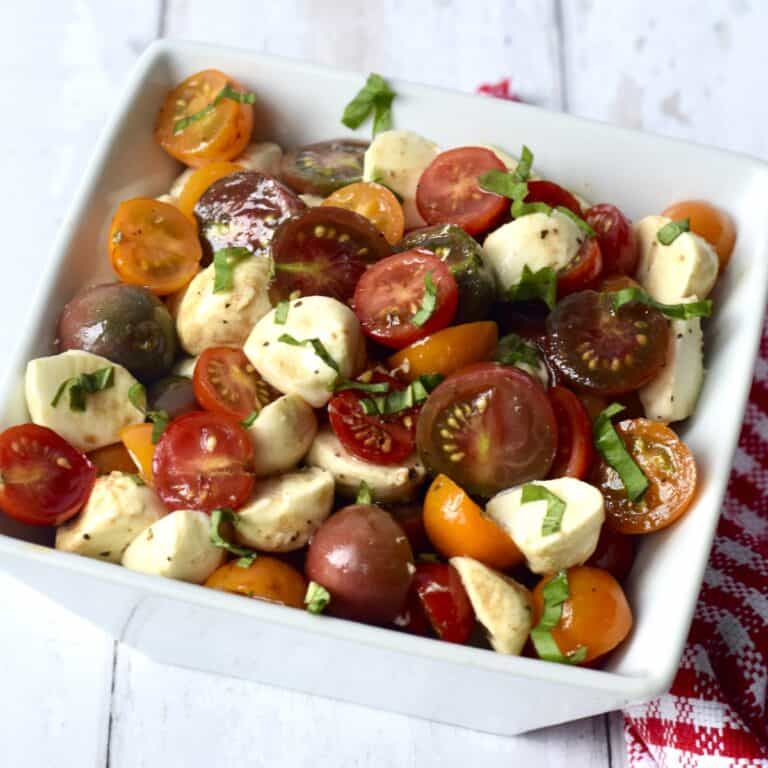 Print Recipe
Caprese Salad with Cherry Tomatoes
When it comes to easy side salads my 5 minute recipe for Caprese Salad with Cherry Tomatoes and a balsamic vinaigrette dressing is a go to recipe. Fresh summer ingredients, low-carb, and bursting with flavor and texture everyone will enjoy.
Ingredients
1

12-ounce

container cherry or grape tomatoes

(about 3 cups)

1

8-ounce

package mozzarella pearls

(mini-size balls)

1/3

cup

fresh basil leaves

(if large leaves, then tear or shred)

1/4

cup

balsamic vinaigrette

(I like Ken's Steakhouse Simply Vinaigrette)
Instructions
Cut any extra-large cherry tomatoes in half. Combine all the ingredients in a bowl; cover and marinate in the refrigerator for at least 1 hour, or up to 4 days.
Notes
You can cut up whole tomatoes and logs of fresh mozzarella, but it won't be as pretty.

Roma tomatoes have fewer seeds than large slicing tomatoes, if you choose to cut up tomatoes.
Homemade Balsamic Vinaigrette: Whisk together 3 tablespoons balsamic vinegar, 1 tablespoon extra virgin olive oil, ¼ teaspoon salt, ¼ teaspoon freshly ground black pepper.
How many calories in this caprese salad? This caprese salad with heirloom tomatoes has 149 calories per 1/2 cup serving. It has 4.2 total carbs per serving.
Nutrition
Serving:
0.5
cup
|
Calories:
149
kcal
Did you make this recipe?
If you love it, share it! Tag me on Instagram @gritsandgouda using #gritsandgouda Comment below before you go!
Nutrition analysis on GritsAndGouda.com recipes are mostly calculated on an online nutrition calculator. I am not a dietitian and nutritional information is an estimate and can vary based on products used.