These easy Garlic Butter Cruffins are flaky dinner rolls that look like a cross between savory croissants and a muffin. It's a shortcut cruffin recipe because it starts with refrigerated crescent roll dough and slathered with store-bought garlic herb butter!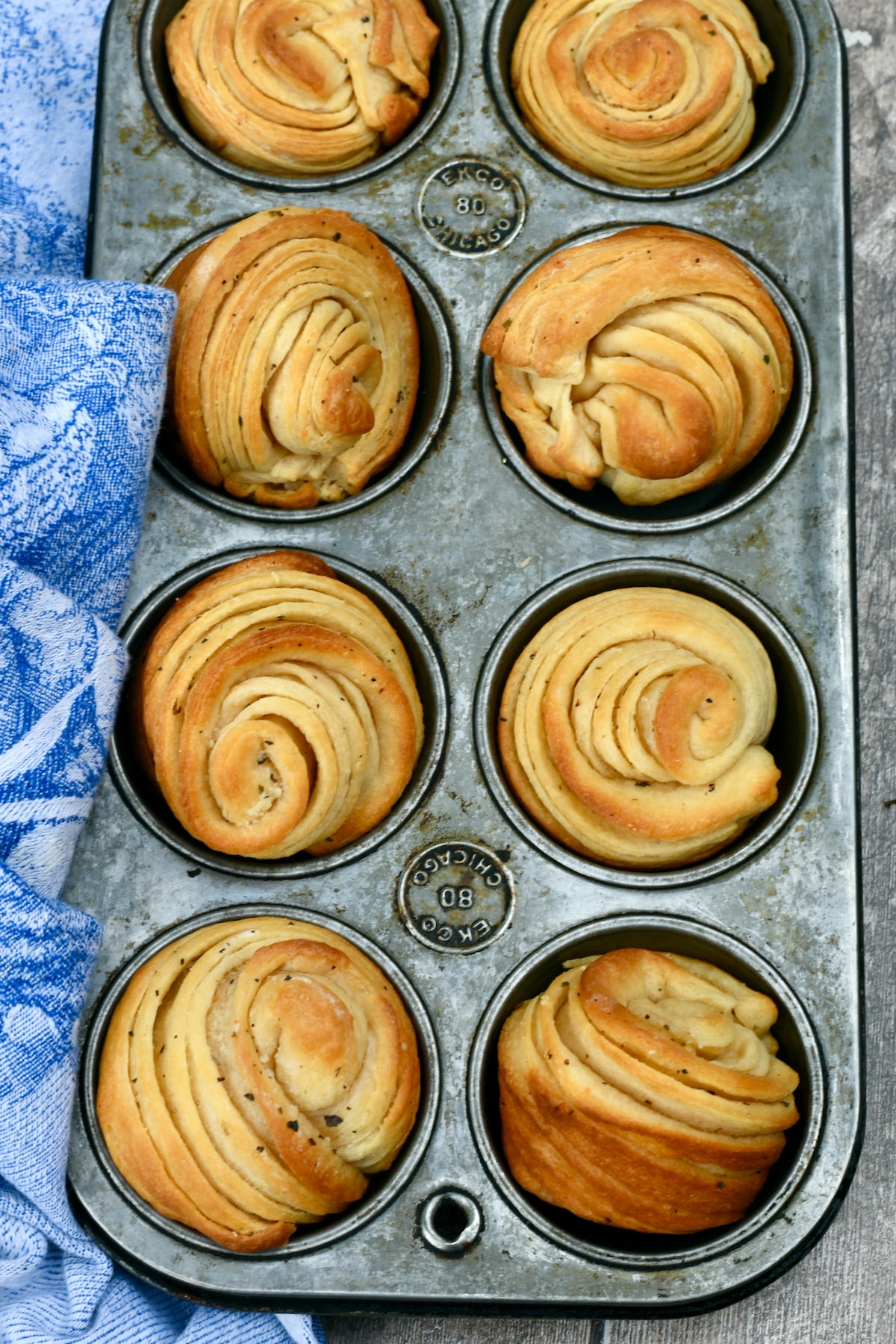 With just 2 ingredients and 10 minutes prep, you'll have these impressive looking dinner rolls baked in muffin pans on the table in no time!
I'm a huge fan of crescent rolls for dinner but after making these easy savory cruffins with their layers upon layers of buttery pull-apart bread... there's no comparison!
I've seen a lot of cinnamon and other sweet cruffins recipes out there, but very few savory cruffin recipes, so I decided to make my own for my 6th annual Holiday Cooking Show!
The layers in these garlic herb rolls remind me of the Butterflake Herb Loaves I used to make as a teenager for my 4-H demonstrations. That recipe is how I learned to make homemade yeast bread because I must have made it 50 times!
But there's no need to take hours making homemade yeast rolls when you can whip out this recipe for cruffins that taste like those flaky herb butter pull-apart loaves.
Shortcuts
2 Ingredient Recipe: Store-bought garlic herb butter and refrigerated crescent roll dough sheets.
I think this is the best cruffin recipe to make in place of buttery herb dinner rolls.
Another one of my favorite shortcut dinner rolls is No Knead Yeast Rolls (Spoon Rolls).
Ingredients
What you will need to make this shortcut cruffins recipe.
Scroll down to printable recipe for exact ingredient quantities.
Choose a store-bought garlic parmesan butter with or without herbs or make your own. See amounts in NOTES in printable recipe to make your own.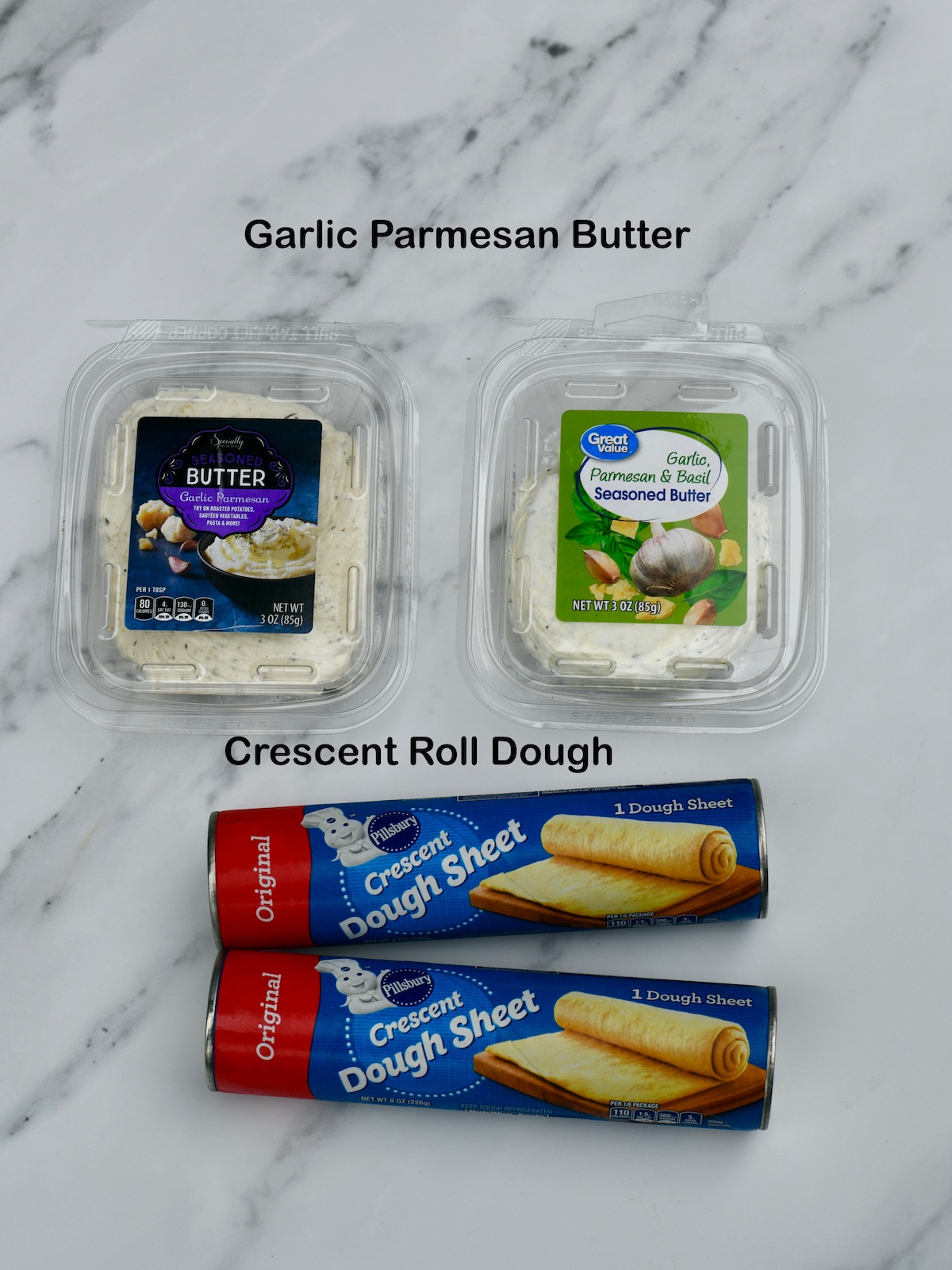 Garlic parmesan butter: I found two different garlic parmesan butters in my local grocery stores. Both had herbs in them.
Crescent dough sheets: These refrigerated dough sheets make it easier, but you can also buy the crescent roll dough with triangle perforations. Just be sure to pinch the perforations together before adding butter.
For more Pillsbury crescent roll recipes, try my Air Fryer "Fried" Oreos and Sausage and Cheese Crescent Squares.
How to make cruffins with crescent rolls
Scroll down to the bottom for the printable recipe with detailed instructions.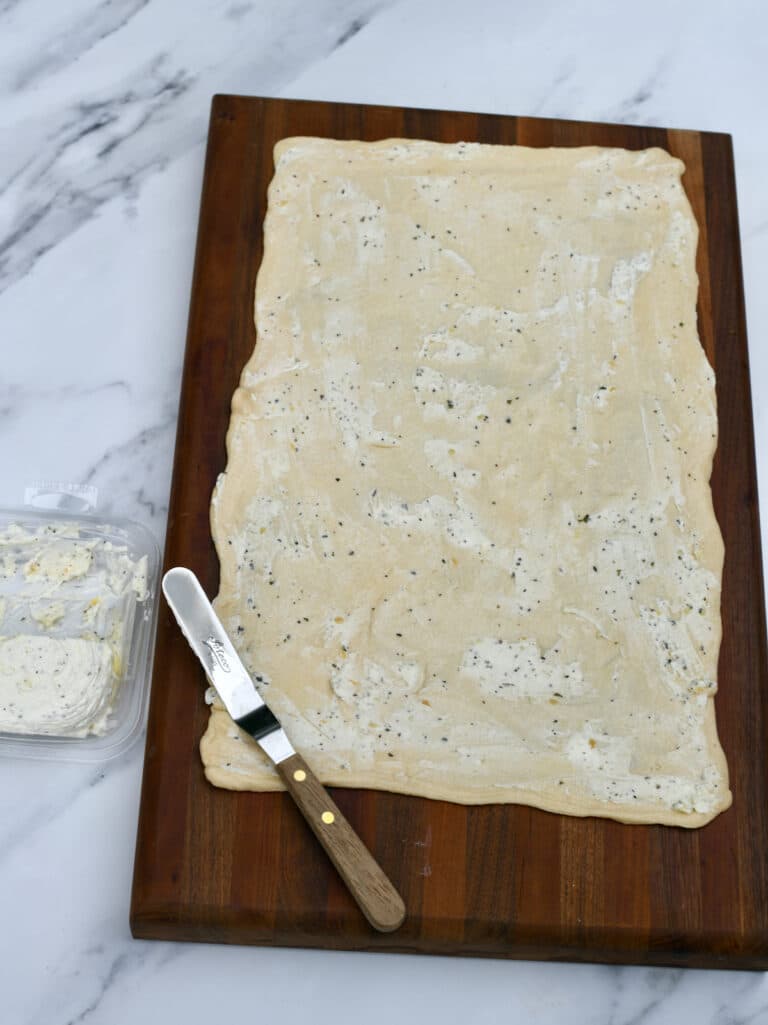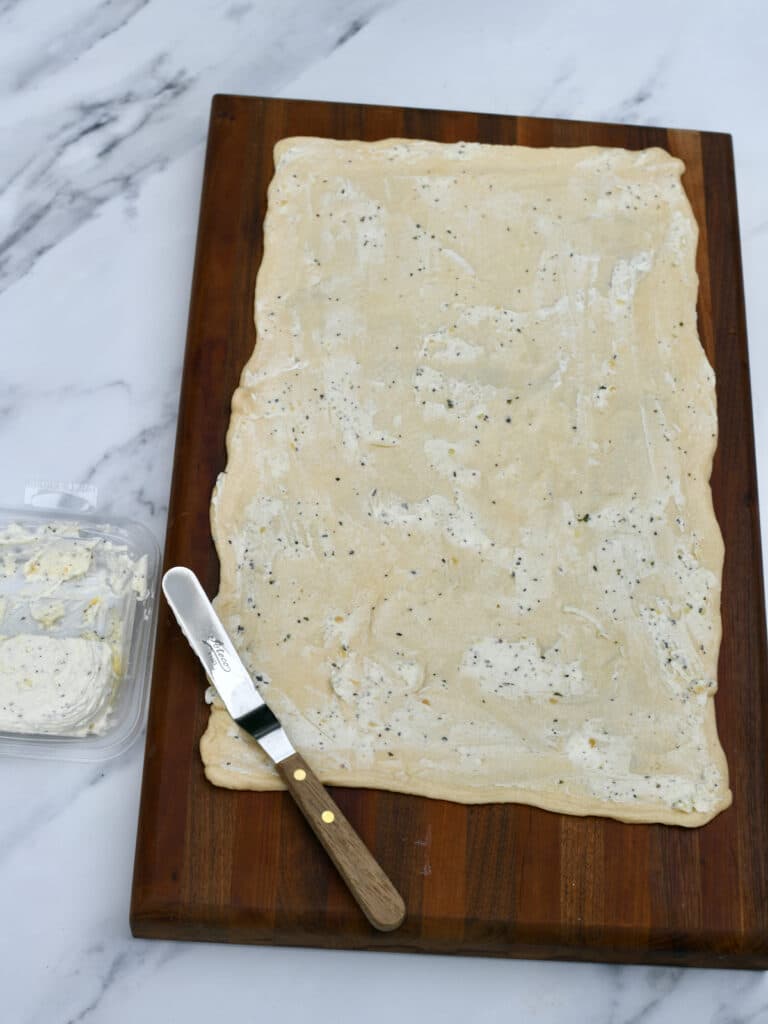 Working with one dough sheet at a time, unroll the dough and spread one third of the butter on the rectangle.
Starting at the long end, roll the dough into a log and pinch the seams to seal.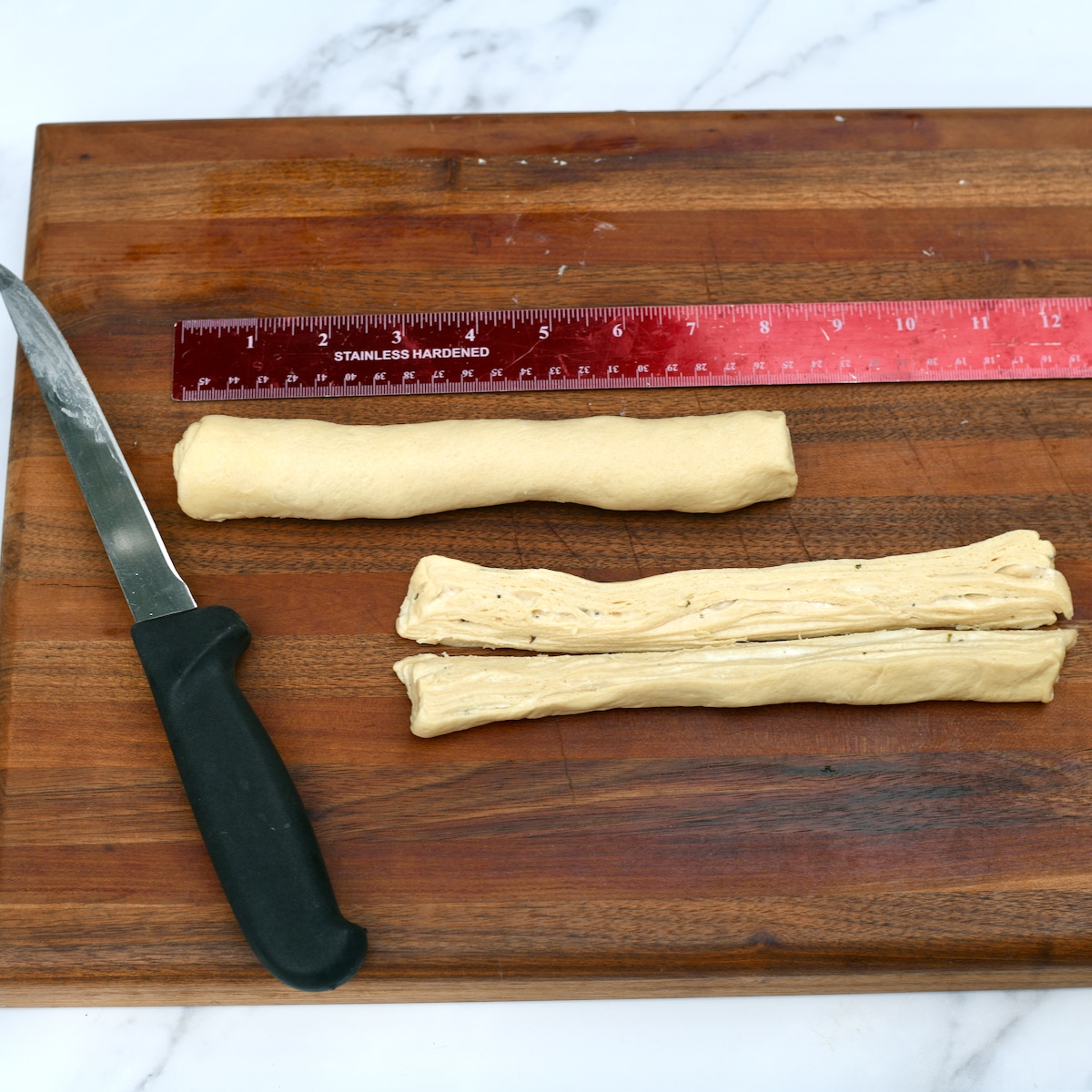 Cut the log in half crosswise. Then cut each shorter log in half lengthwise.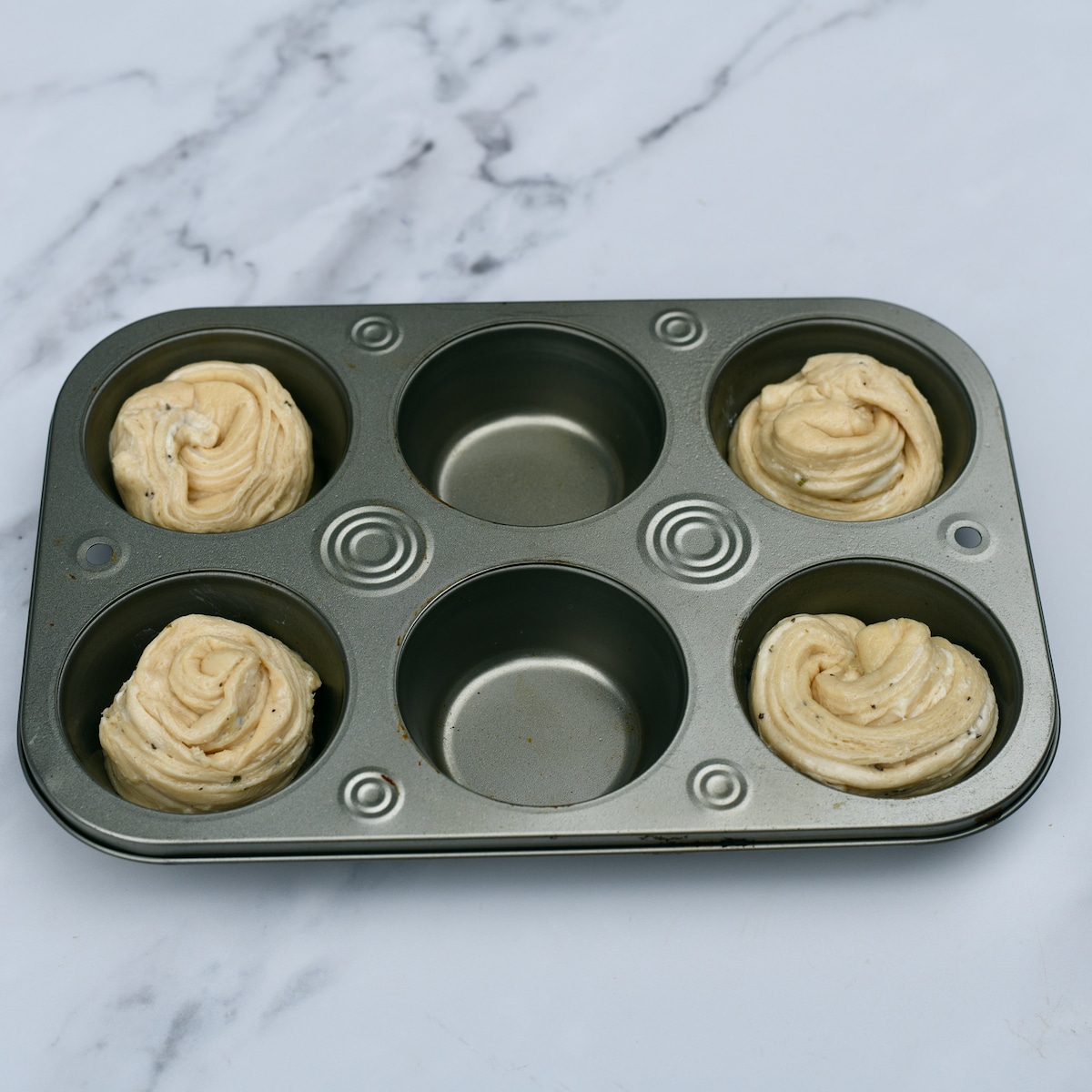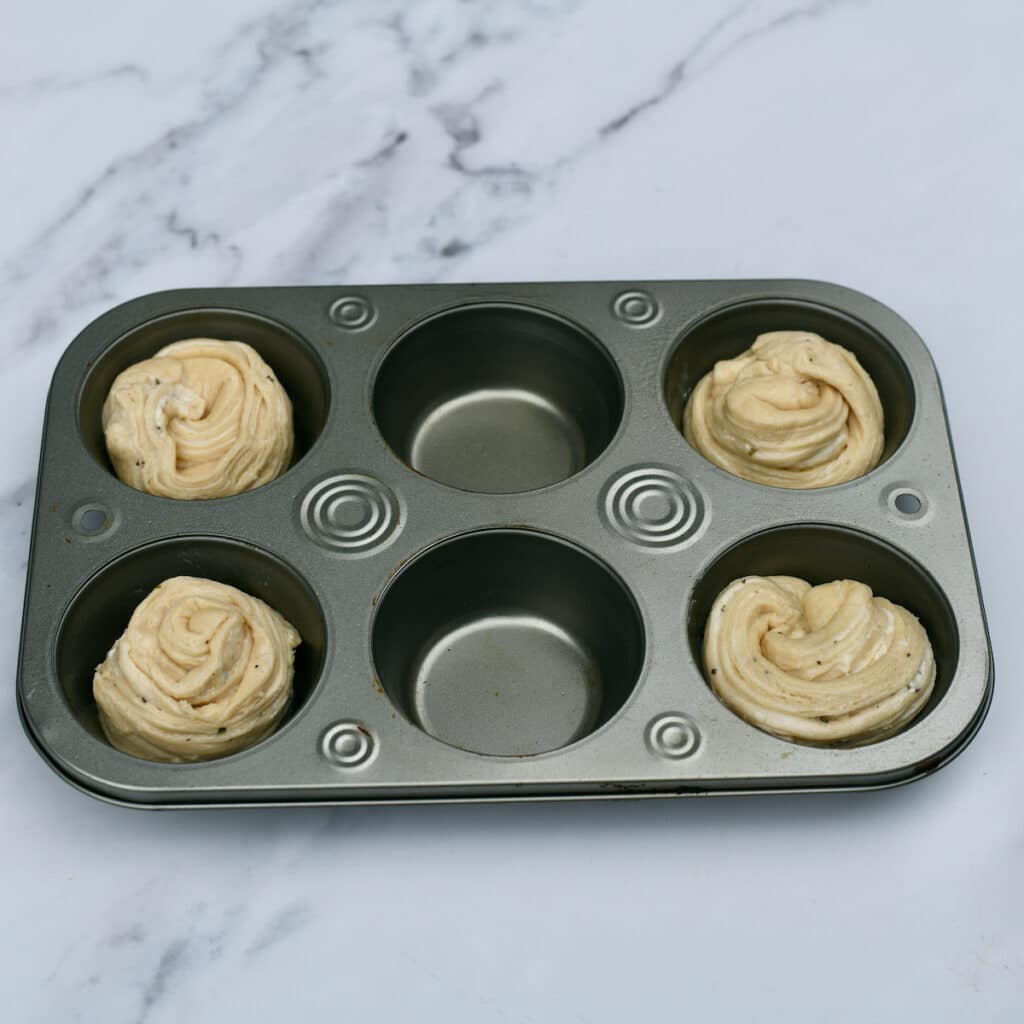 Roll up each log, with layers on the outside of the circle. I start by holding one end with one hand and wrap the strip around that end to form a spiral. Place them in a lightly greased muffin pan.
Bake as directed in printable recipe below.
Pro Tips
It's ok to leave muffin cups empty if you are baking 4 cruffins in a 6-cup muffin pan. No need to add water to the empty cups (tins).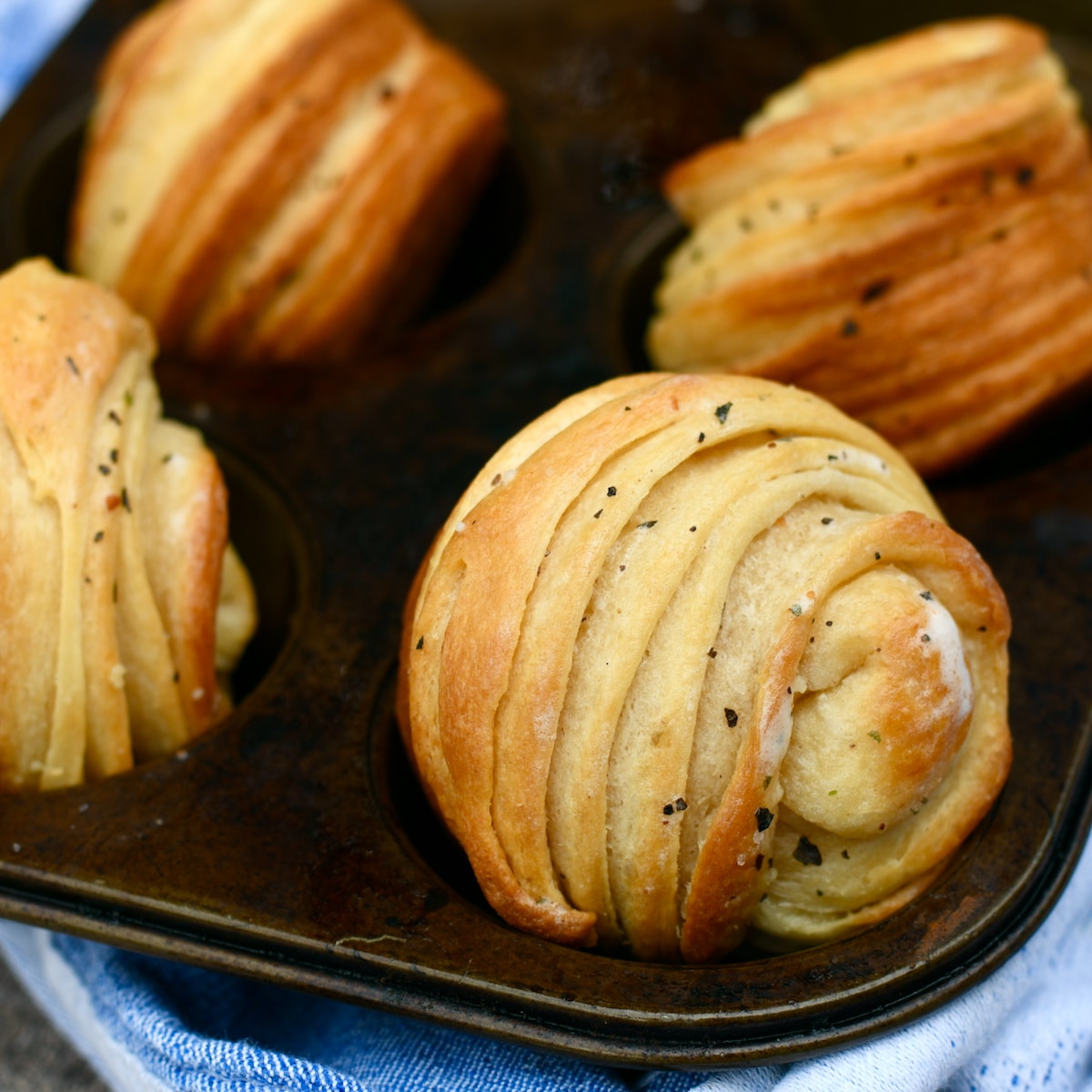 Pro Tips
No need to drag out a cooling rack. Just tip over the cruffins on their sides and let them cool slightly in pan before serving.
Increase or decrease yield
To make an even dozen, use 3 tubes (cans) of crescent roll dough sheets and increase the butter to 1/2 cup. You can also just make 4 cruffins by using one tube and half the amount of garlic butter.
Substitutions & Variations
Trade "this" for "that" in this recipe for crescent roll cruffins.
Dough: Trade out crescent roll dough sheets for perforated crescent rolls dough. Just pinch together the tiny holes. Thawed, Puff pastry dough can also be substituted.
Butter: Make your own garlic butter with softened salted butter. Add your favorite dried or fresh herbs, taco seasoning, mesquite seasoning, seasoned salt. The possibilities are endless.
Cinnamon cruffin recipe: For a dessert or breakfast version, use store-bought cinnamon butter (or salted softened butter) and sprinkle 1 tablespoon cinnamon sugar on each dough sheet. After brushing with melted butter, dip the tops in more cinnamon sugar.
Nutella cruffins: Spread 2 tablespoons Nutella or other hazelnut spread on each crescent roll dough sheet. Brush the rolled cruffins with butter before baking.
Helpful Information
What is a Cruffin?
A cruffin is a play on two words. A croissant rolled up and baked in a muffin pan. The crescent roll or pastry dough is buttered, rolled up, cut and placed in muffin tins. When baked, they create flavorful, flaky, swirled with layers "muffins".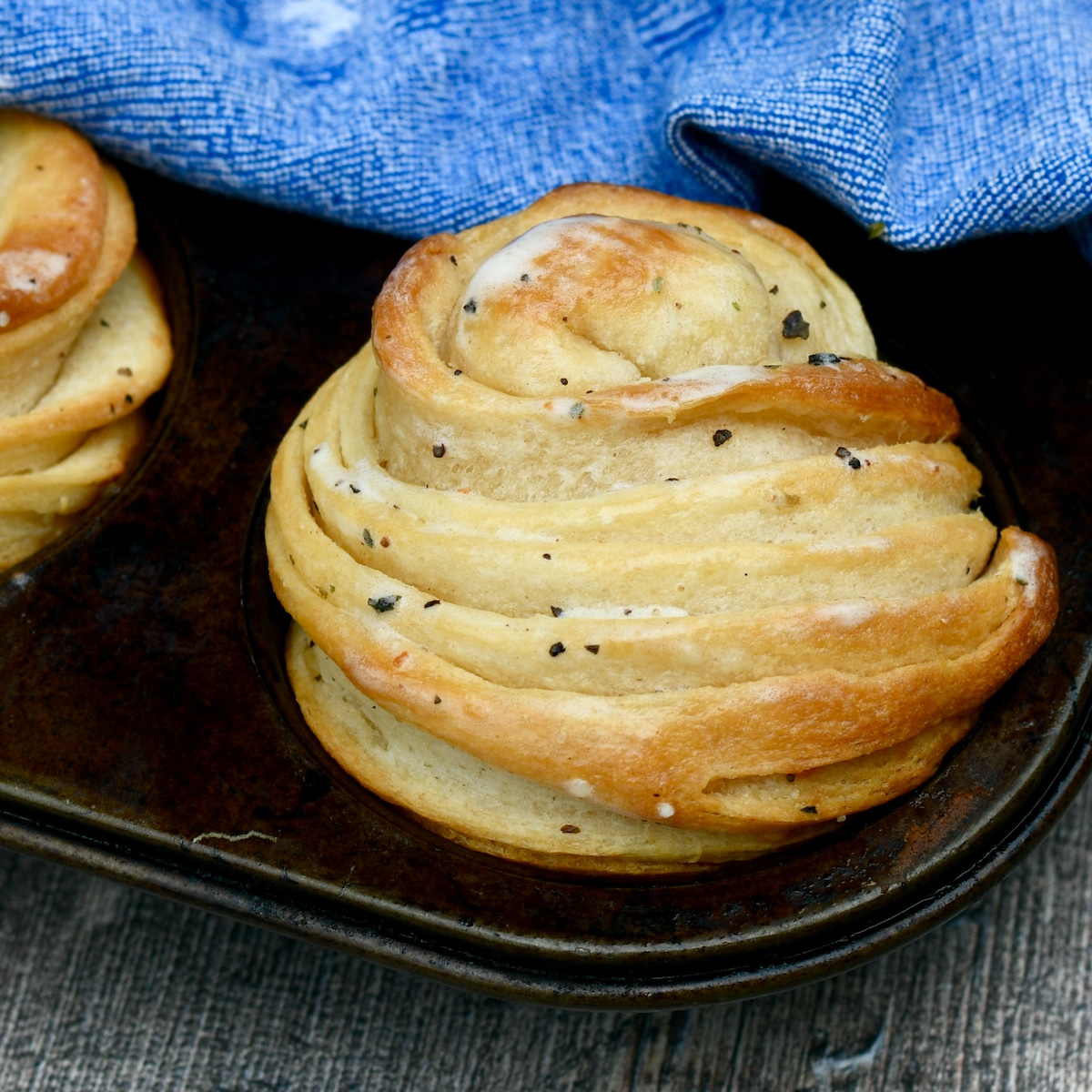 Storage Tips
To Store. Store any leftovers at room temperature or in the fridge, in a plastic bag or in an air tight container.
To Reheat. Reheat in the microwave for 10 seconds each. To reheat in the air fryer, air fry on 350F degrees for 30 seconds each.
To Freeze. Freeze up to 3 months in an air tight container or resealable freezer plastic bag.
Follow me on Facebook, Instagram, Pinterest and YouTube. Be social and share, y'all! Don't forget to sign up with your email so you don't miss a single post on my Southern shortcut recipes!
If you make this recipe I'd love to see it! Tag me on social media with #gritsandgouda or @gritsandgouda. Leave a comment below the printable recipe if you have questions or tell me how you liked the recipe. Don't forget to rate it 5 stars if you love it!
Want more shortcut bread recipes?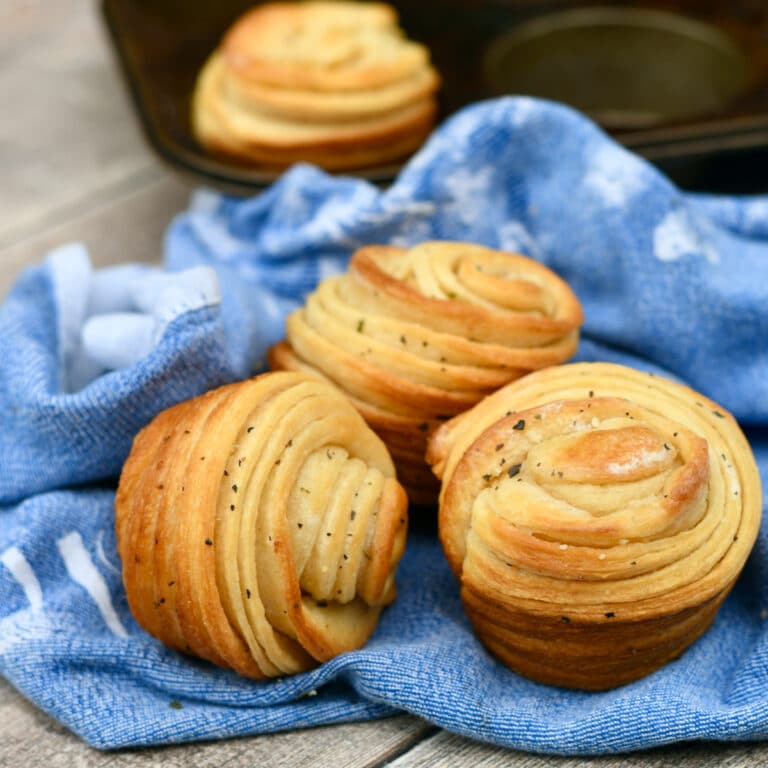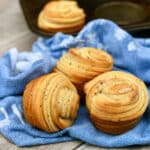 Print Recipe
Garlic Butter Cruffins with Crescent Roll Dough
Garlic Butter Cruffins, flaky dinner rolls that start with crescent roll dough with layers slathered with garlic herb butter!
Ingredients
2

8 ounce tubes refrigerated crescent roll sheets*

1

3 ounce container (1/3 cup) garlic parmesan butter*
Instructions
Preheat oven to 375F degrees.

Lightly spray 8 muffin cups with cooking spray. Do not spray the empty ones if using muffin pans with more than 8 cups/tins/

Working with one dough sheet at a time, carefully unroll the sheet on your counter and lightly roll out or very gently stretch to a 16x10-inch rectangle. I did not need any flour on the surface but it's possible it might be needed if your room is warm.

Spread about one third of the butter mixture over the sheet, all the way to the edges. Starting at the long side of the dough, roll it into a log. Pinch the seams together on the long side.

Cut the log in half crosswise, creating two shorter logs. Cut the logs in half lengthwise, creating four sections.

With the cut side up, roll one section carefully up like a cinnamon roll, tucking the end into the top of the cut sides. Place it in a lightly greased muffin pan.

Repeat this procedure with the remaining sections, then with the remaining dough sheet and one third of the butter.

Brush the tops of the rolls with the remaining butter before or after baking. You can also melt the butter to brush it on.

Bake for 12 minutes or until golden brown.
Notes
*Make your own garlic parmesan butter: Combine 1/3 cup softened salted butter, 1 teaspoon minced garlic or garlic paste, 3 tablespoons grated Parmesan cheese.
*If you use the perforated roll dough, be sure to press together the perforations, first.
To make an even dozen, use 3 tubes (cans) of crescent roll dough sheets and increase the butter to 1/2 cup.
Pro tip: It's ok to leave muffin cups empty if you are baking 4 cruffins in a 6-cup muffin pan. No need to add water to the empty cups (tins).
Nutrition
Serving:
1
cruffin
|
Calories:
247
kcal
Did you make this recipe?
If you love it, share it! Tag me on Instagram @gritsandgouda using #gritsandgouda Comment below before you go!
Nutrition analysis on GritsAndGouda.com recipes are mostly calculated on an online nutrition calculator. I am not a dietitian and nutritional information is an estimate and can vary based on products used.