Sausage Gravy Biscuit Casserole is an easy, Southern-style breakfast casserole recipe. It's made with frozen biscuits, peppered gravy mix, and breakfast sausage. For a cheesy version, add cheddar cheese or Colby Jack.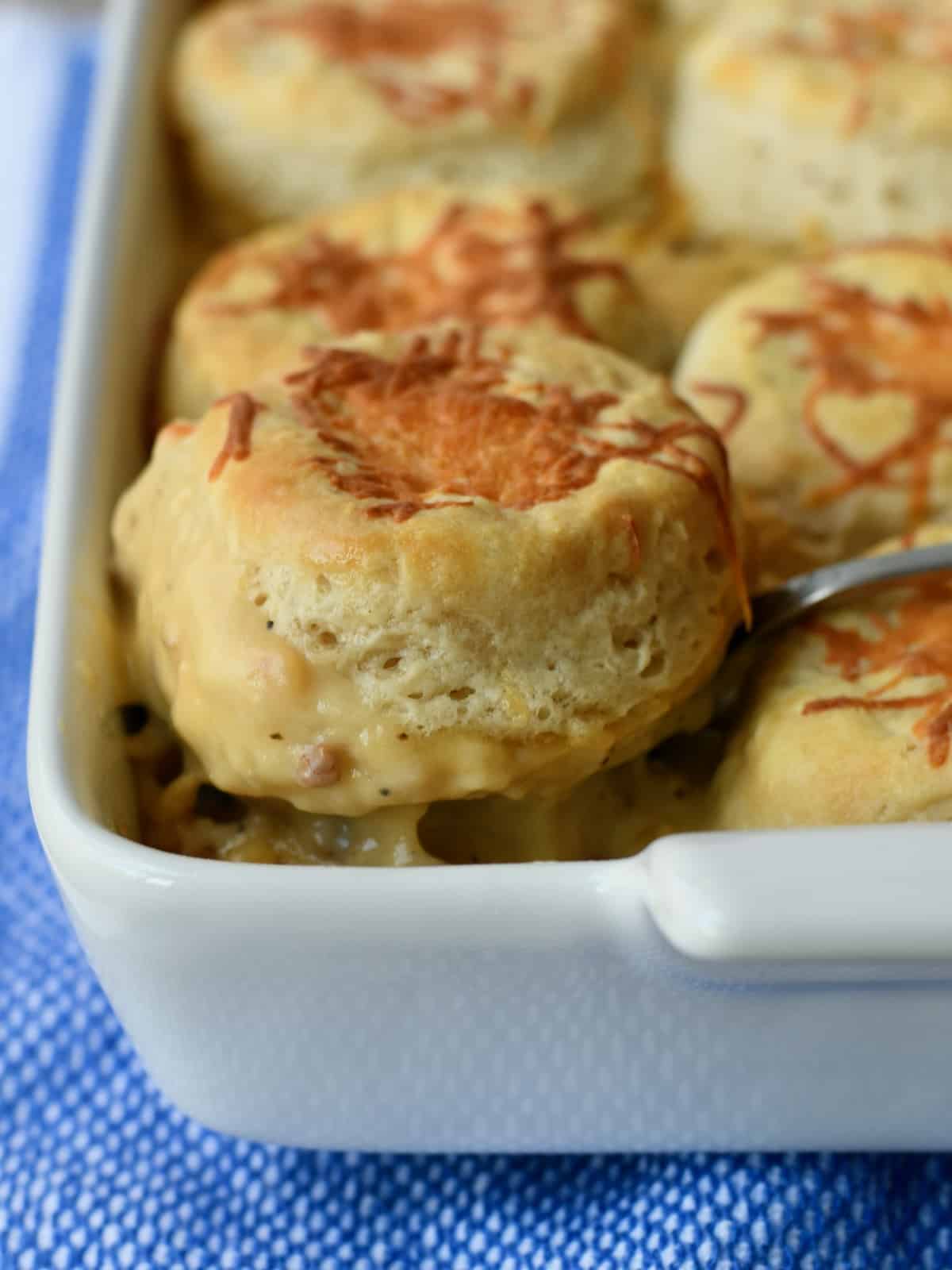 I first made this biscuits and gravy casserole for my Holiday Cooking Show. It was a huge hit with our guests! So many people have told me they are going to make it for their Christmas morning breakfast.
Another easy breakfast casserole that made its debut at my Holiday Cooking Show is Peanut Butter and Jelly French Toast Casserole. They are both made in a 13x9 inch casserole dish.
It can be made ahead. (See details below.) The fact that you don't have to make a homemade gravy for this easy breakfast casserole, takes away all the stress of making breakfast for lots of folks.
I prefer frozen biscuits for this recipe, but you can absolutely substitute the canned, refrigerated biscuits, if that's what you have. I'm all about using what I have on hand.
Shortcuts
Using frozen biscuits skip the step of making your own.
Using gravy mix takes out the guess work (and the lumps) of homemade gravy.
Make ahead tip in parts: Cook the sausage ahead of time and just stir in the gravy when ready to make the casserole.
Tip: If you do choose to make homemade biscuits, make the dough for my 2 Ingredient Biscuits. Cut out the biscuits and freeze them on a baking sheet. Then, store them in the freezer until ready to make this biscuits and gravy sausage casserole. You can also use fresh-made biscuit dough and bake the casserole less.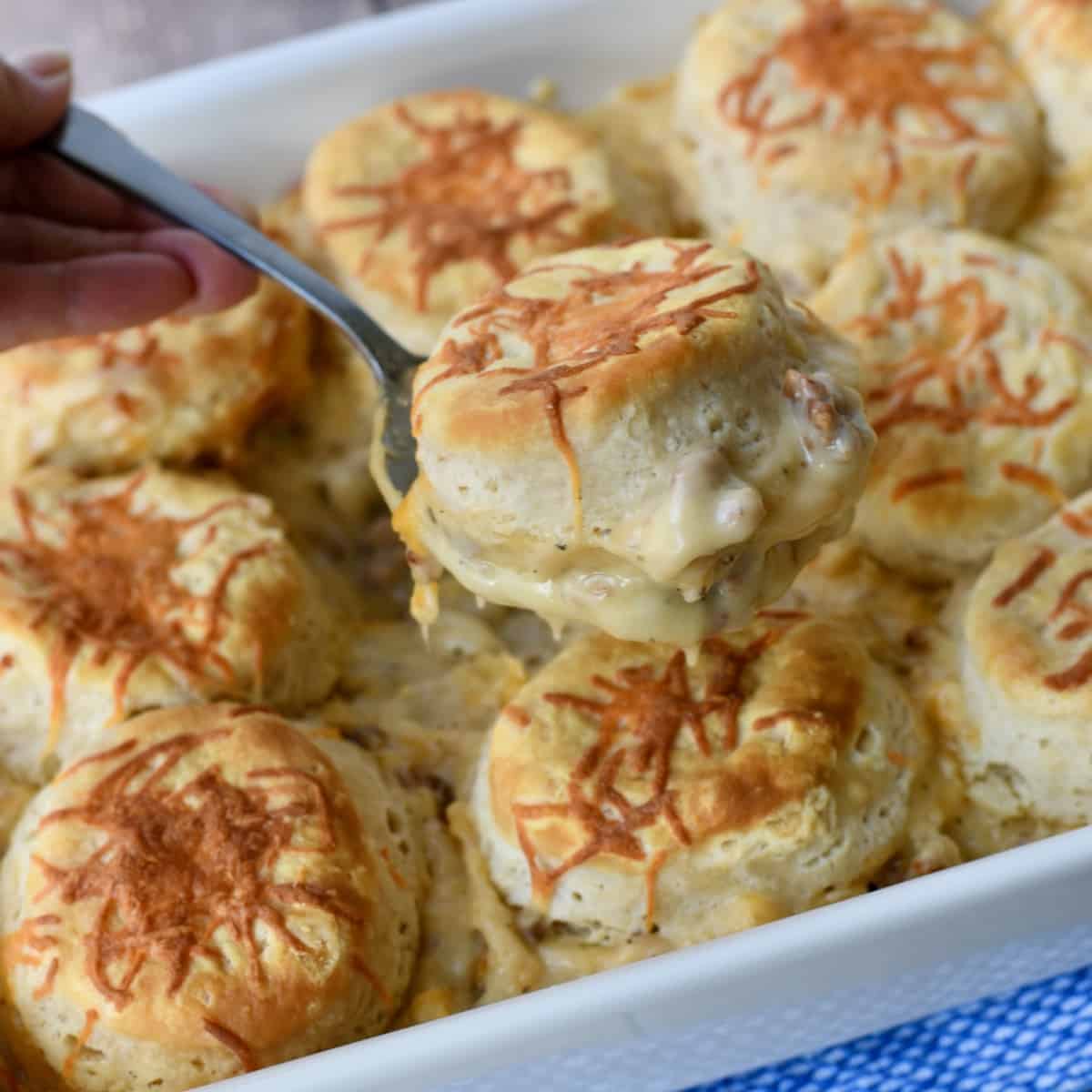 Ingredients
What you will need to make this easy breakfast casserole with biscuits.
Scroll down to printable recipe for exact ingredient quantities.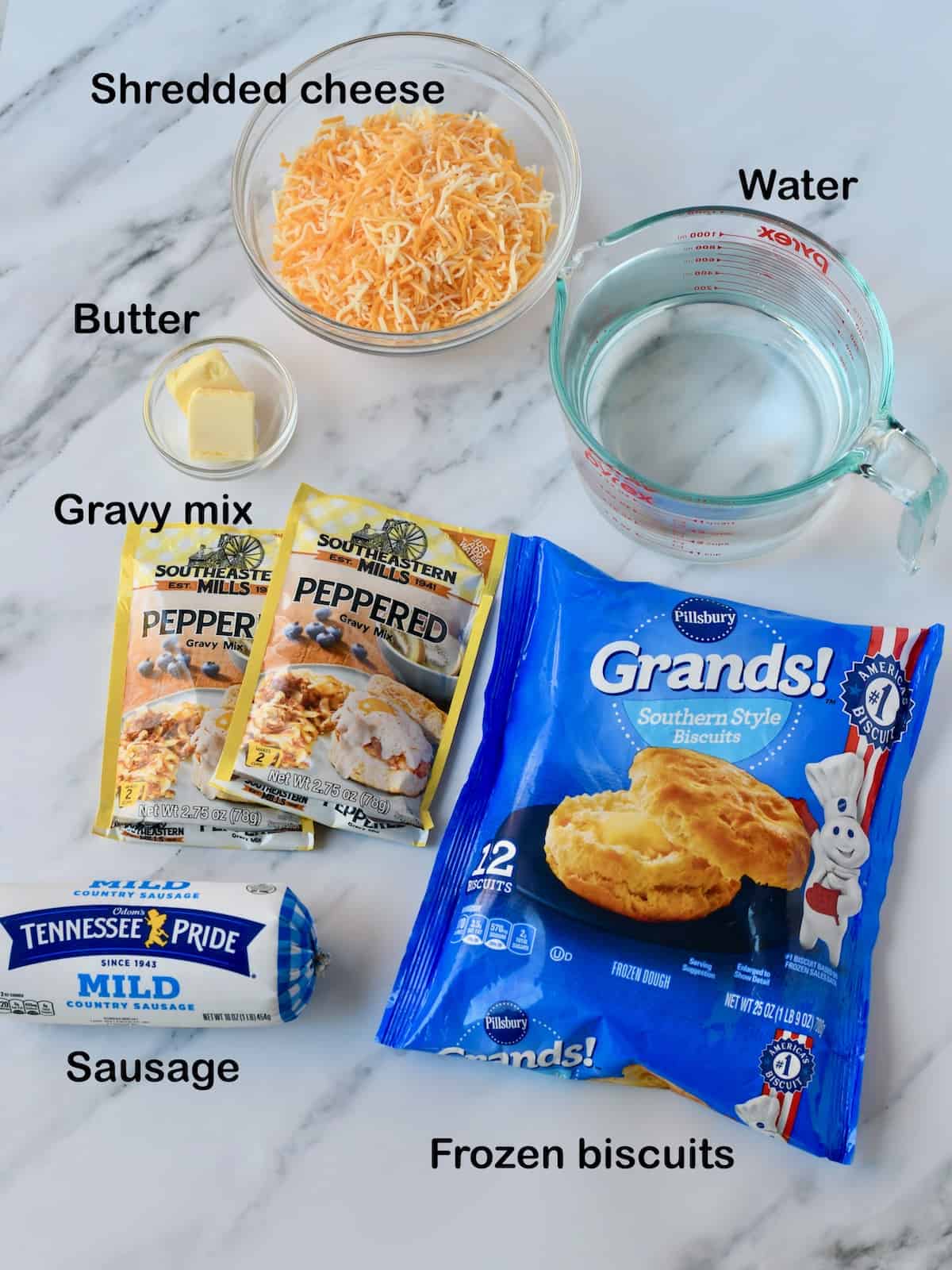 Sausage- I like a lot of sausage so I use the whole pound of breakfast sausage. So, you could call this recipe Sausage Casserole with Gravy and Biscuits. Mild, hot, sage, spicy all work fine. You choose.
Biscuits- Any brand or size of frozen biscuits will work. If you decide to use homemade or canned biscuits, bake about 5 or 10 minutes less.
Gravy mix- If you don't like pepper, use Country Gravy mix or Biscuit Gravy Mix. Those usually omit the pepper. If you like just a little pepper, use one Peppered Gravy Mix and one Country Gravy Mix.
How to make this Gravy Biscuit Casserole
Scroll down to the bottom for the printable recipe with detailed instructions.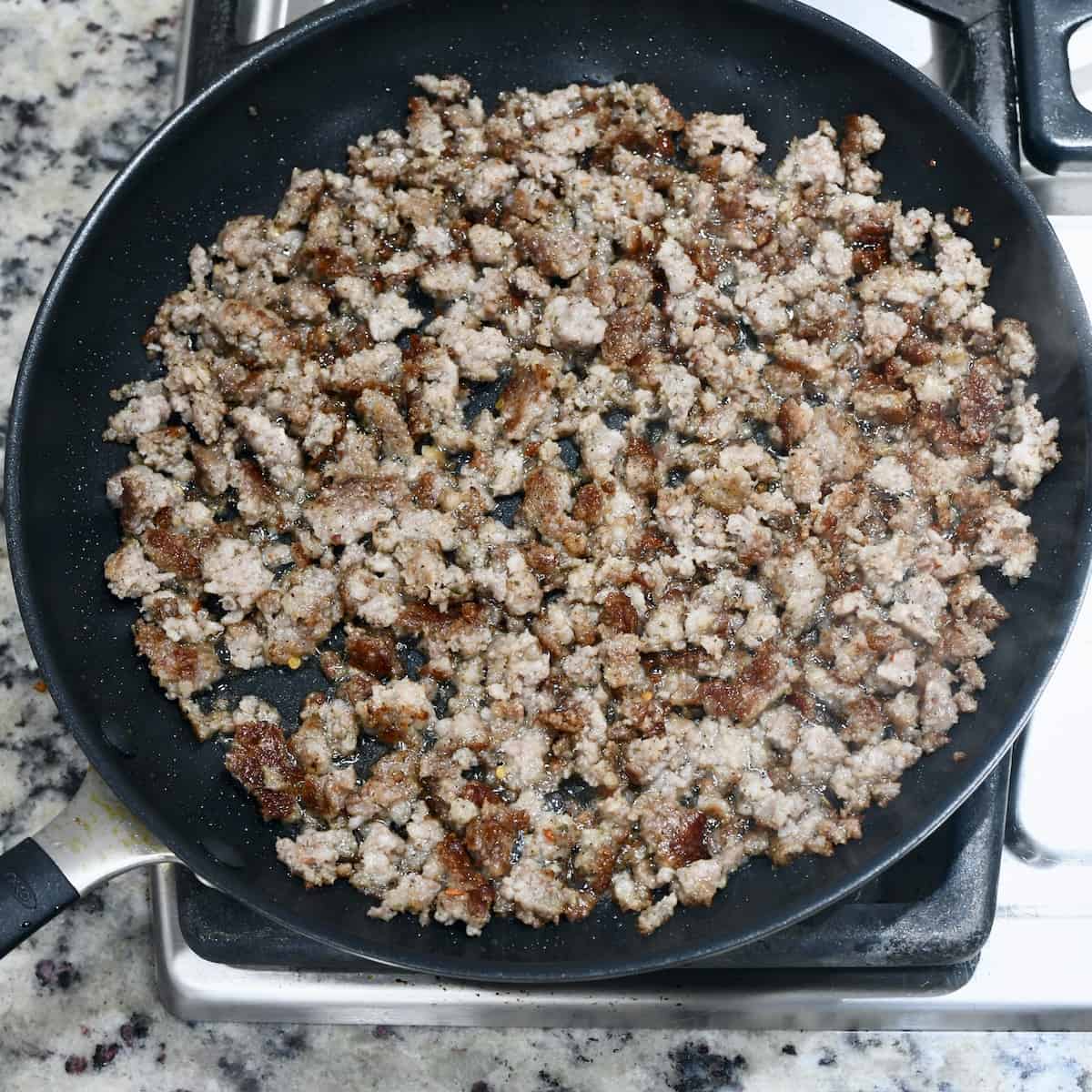 Brown the ground sausage over medium heat.
Drain the fat and return the sausage to the skillet.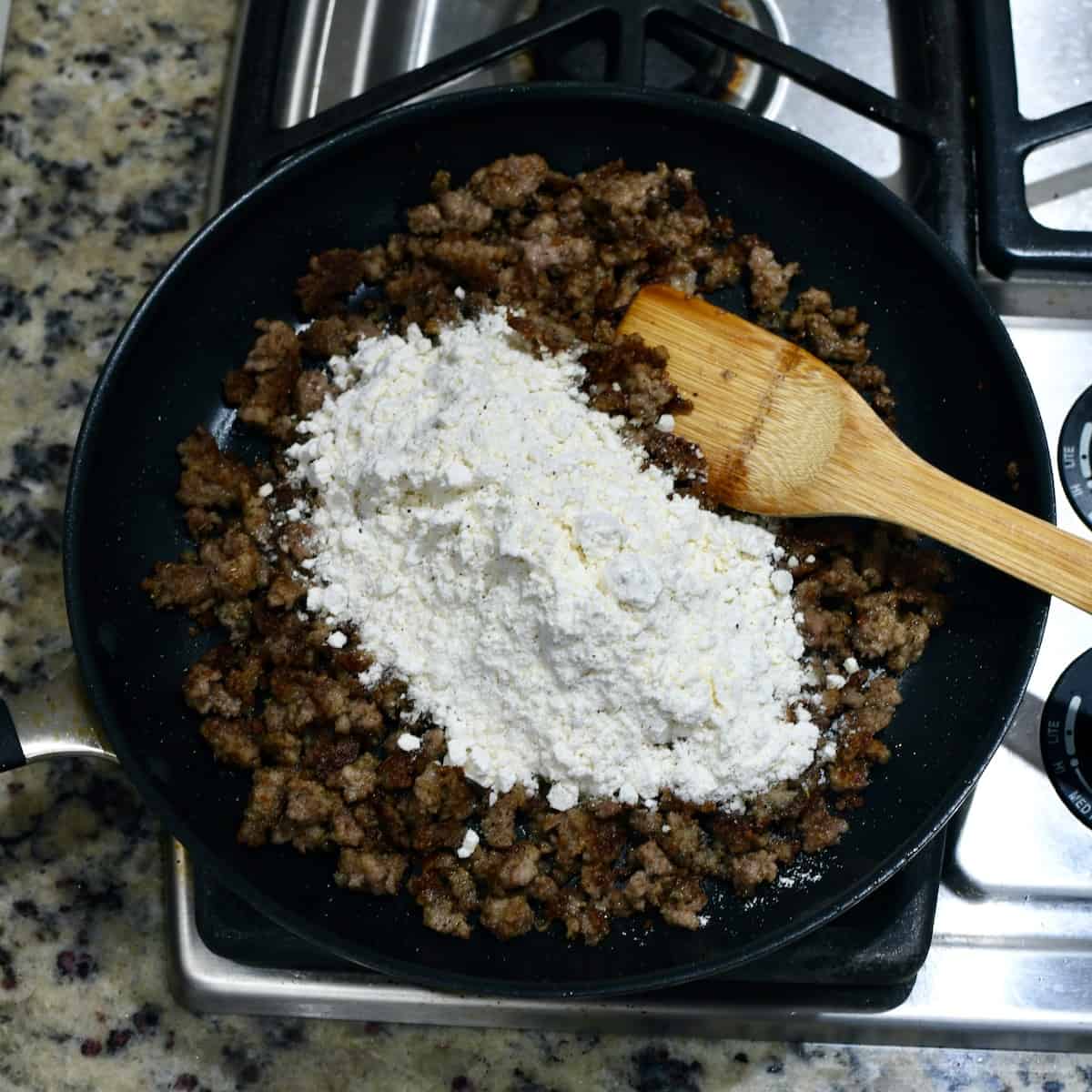 Stir gravy mix into sausage and stir until sausage is coated.
Gradually pour water into the skillet, stirring constantly. Cook over medium heat until gravy is thickened.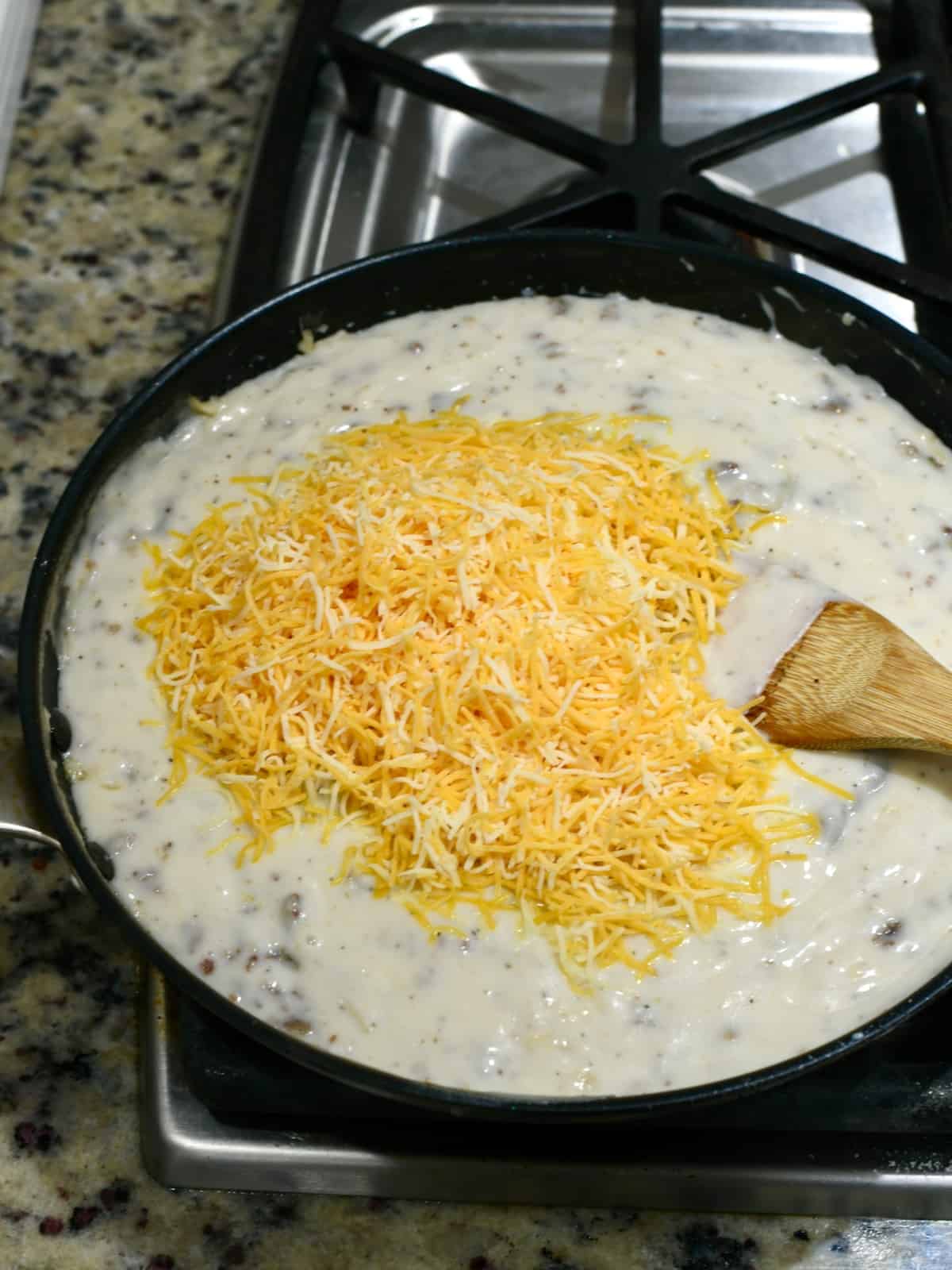 If you like cheese, stir in the portion of cheese mentioned in the recipe below at this point until melted. This is optional, but I always opt in!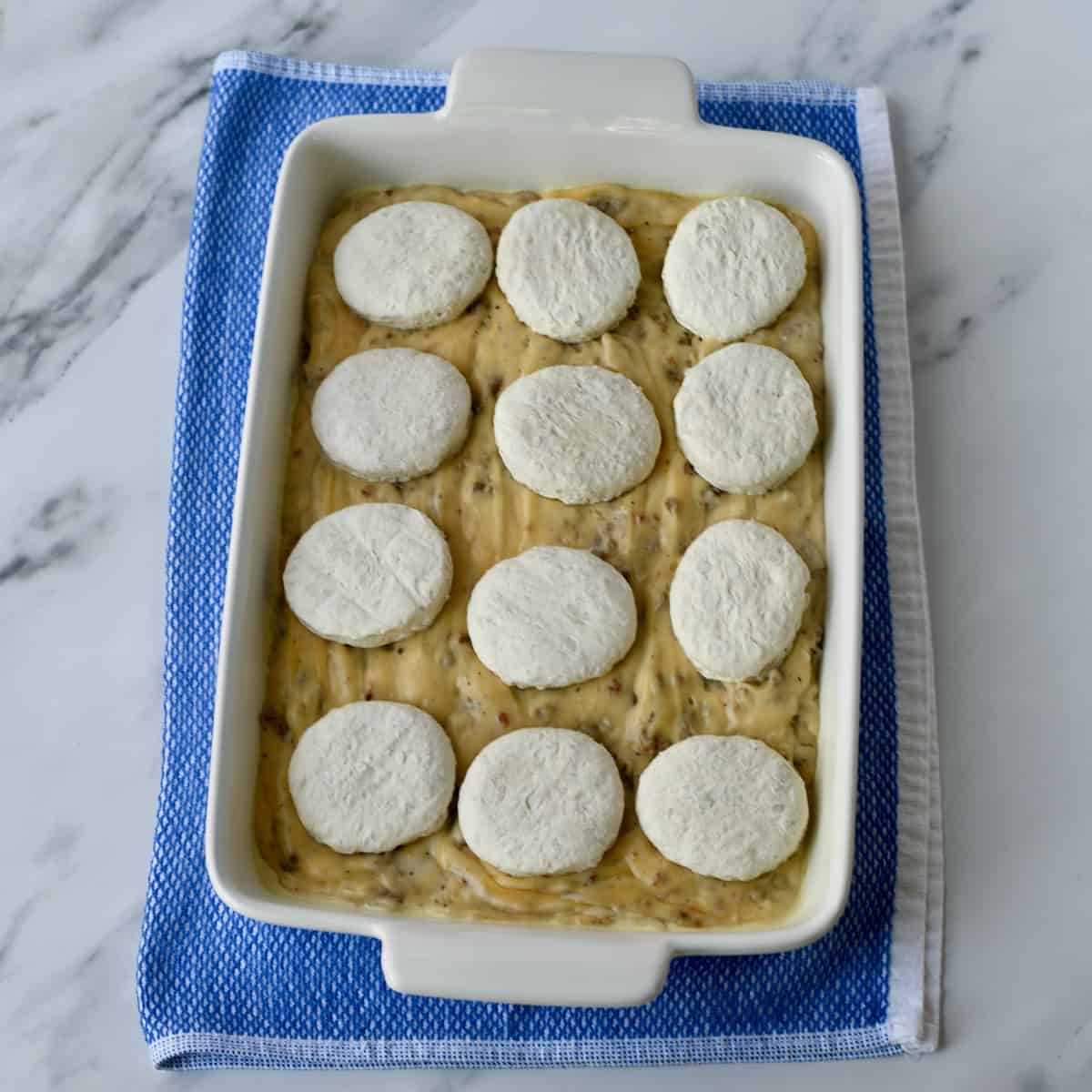 Pour the gravy in a greased casserole dish. Arrange the unthawed, frozen biscuits on top.
If using cheese, sprinkle the remaining cheese on top. Bake according to directions in recipe below.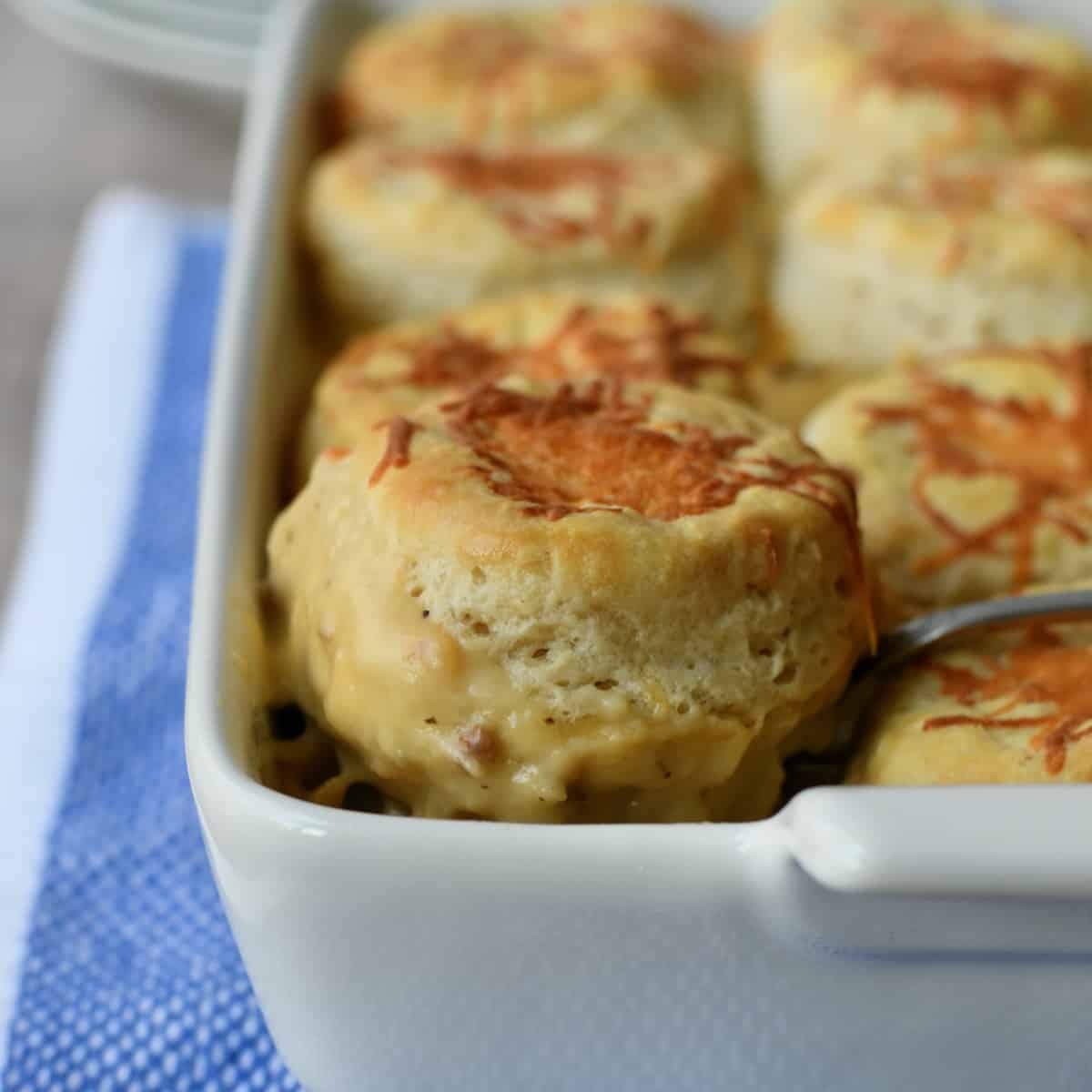 Helpful Information
What if my gravy becomes too thick?
Simply stir in a few tablespoons of milk.
Can I make this ahead of time?
Yes. Bake it and let it cool completely. Cover and refrigerate. Uncover to reheat in oven at 350 until bubbly. If frozen, bake a little longer.
What to serve with this breakfast casserole
Storage
Store any leftovers in the refrigerator, covered or in an air tight container. You can freeze the casserole ahead of time and bake from frozen at 350F for 30 minutes or until bubbly. You might want to cover the first 15 minutes.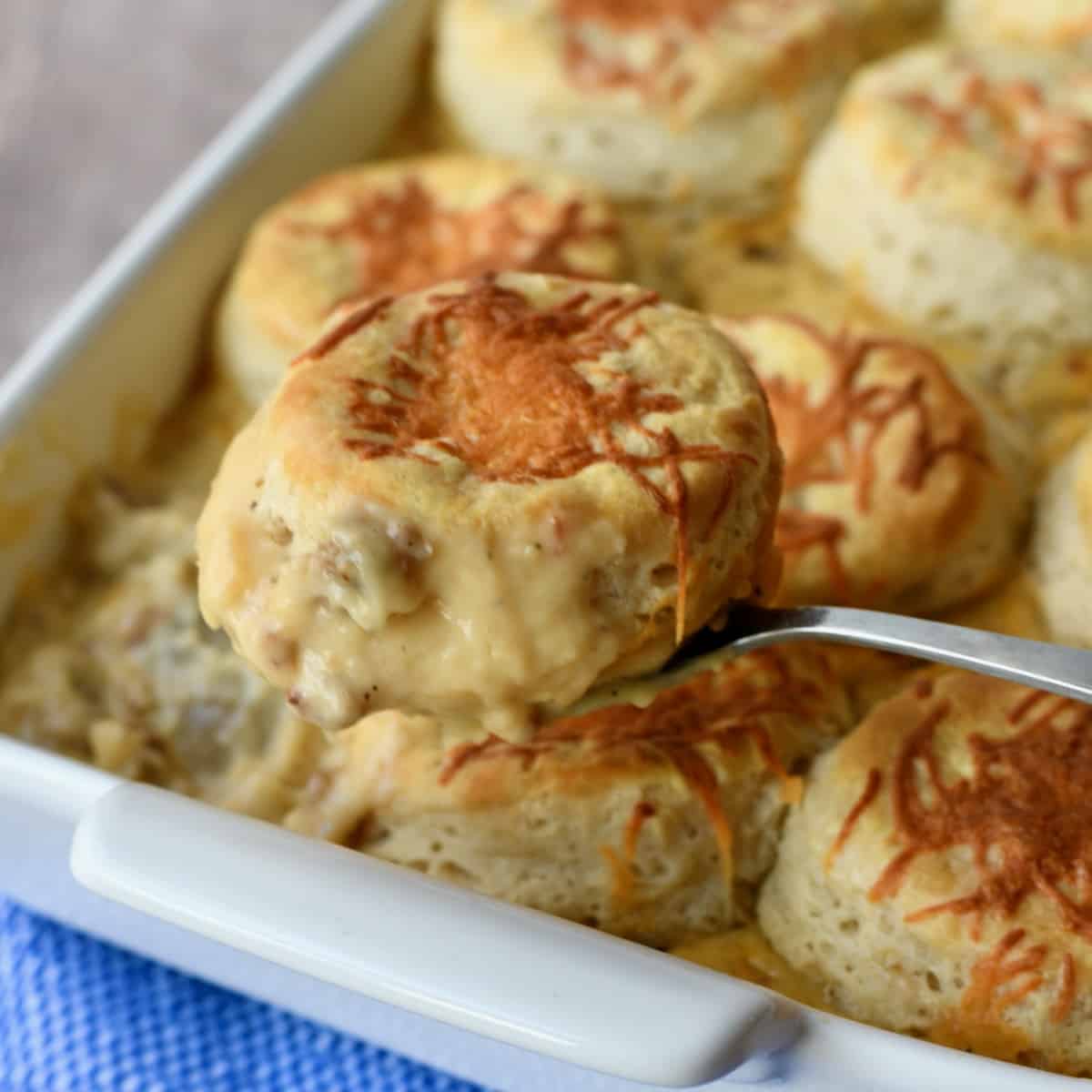 Follow me on Facebook, Instagram, and Pinterest. Be social and share, y'all! Don't forget to sign up with your email so you don't miss a single post on my Southern shortcut recipes!
If you make this recipe I'd love to see it! Tag me on social media with #gritsandgouda or @gritsandgouda. Leave a comment below the printable recipe if you have questions or tell me how you liked the recipe. Don't forget to rate it 5 stars if you love it!
Want more easy breakfast recipes?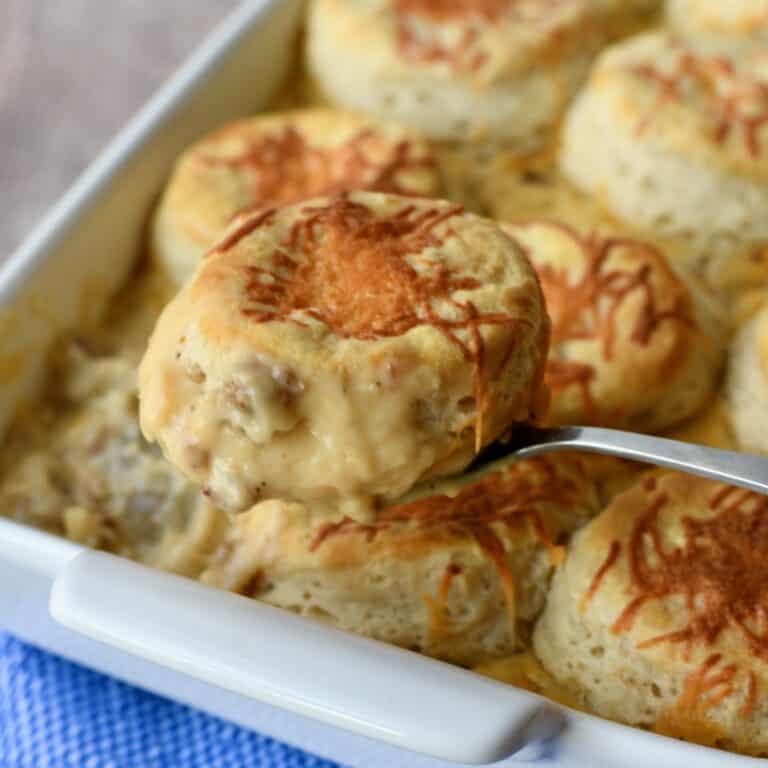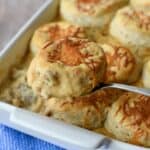 Print Recipe
Sausage Gravy and Biscuit Casserole
Sausage Gravy Biscuit Casserole is a shortcut, Southern-style breakfast casserole recipe. It's made with frozen biscuits, peppered gravy mix, and breakfast sausage.
Ingredients
1

1-pound package ground breakfast pork sausage

2

2.5-ounce packages peppered gravy mixes

(or country gravy mixes)

4

cups

water

1

8-ounce package preshredded Colby Jack cheese or mild Cheddar cheese, divided

(optional)

1

package of 12 frozen biscuits

(about 25 ounces, not thawed)

2

tablespoons

butter, melted
Instructions
Preheat oven to 350F degrees.

Cook sausage in a 12 inch skillet over medium heat, stirring often, until sausage has crumbled and is lightly browned. Drain sausage on paper towels or in a small metal strainer. Add the sausage back to the skillet.

To the same skillet, stir in the gravy mixes. Gradually, add the water while stirring. Turn the heat on medium and cook, stirring constantly until the sausage gravy is thickened.

If using cheese, stir in all but 1/2 cup of the cheese now and stir just until cheese is melted.

Pour the sausage gravy into a 13x9-inch baking dish coated with vegetable or olive oil cooking spray. Arrange the biscuits on top.

Brush the frozen biscuits with melted butter. Sprinkle with remaining 1/2 cup cheese. Bake, uncovered, for 30 minutes or until the biscuits are golden brown and the sausage gravy is bubbly.
Notes
Tip: Save a dish to wash and melt the butter in the same measuring cup used to measure water.
Variations: 1/2 cup onion can be cooked with the sausage.
Add a little heat and choose hot breakfast sausage.
Nutrition
Serving:
1
twelfth
|
Calories:
374
kcal
Did you make this recipe?
If you love it, share it! Tag me on Instagram @gritsandgouda using #gritsandgouda Comment below before you go!
Nutrition analysis on GritsAndGouda.com recipes are mostly calculated on an online nutrition calculator. I am not a dietitian and nutritional information is an estimate and can vary based on products used.