Bacon Sausage Strata Breakfast Casserole is perfect to make the night before Christmas day or Thanksgiving day brunch. Cook the bacon and sausage at the same time in the same pan to save time! I have several shortcuts in this recipe!
Just wake up the next morning and throw it in the oven while you get ready for work or school or Santa!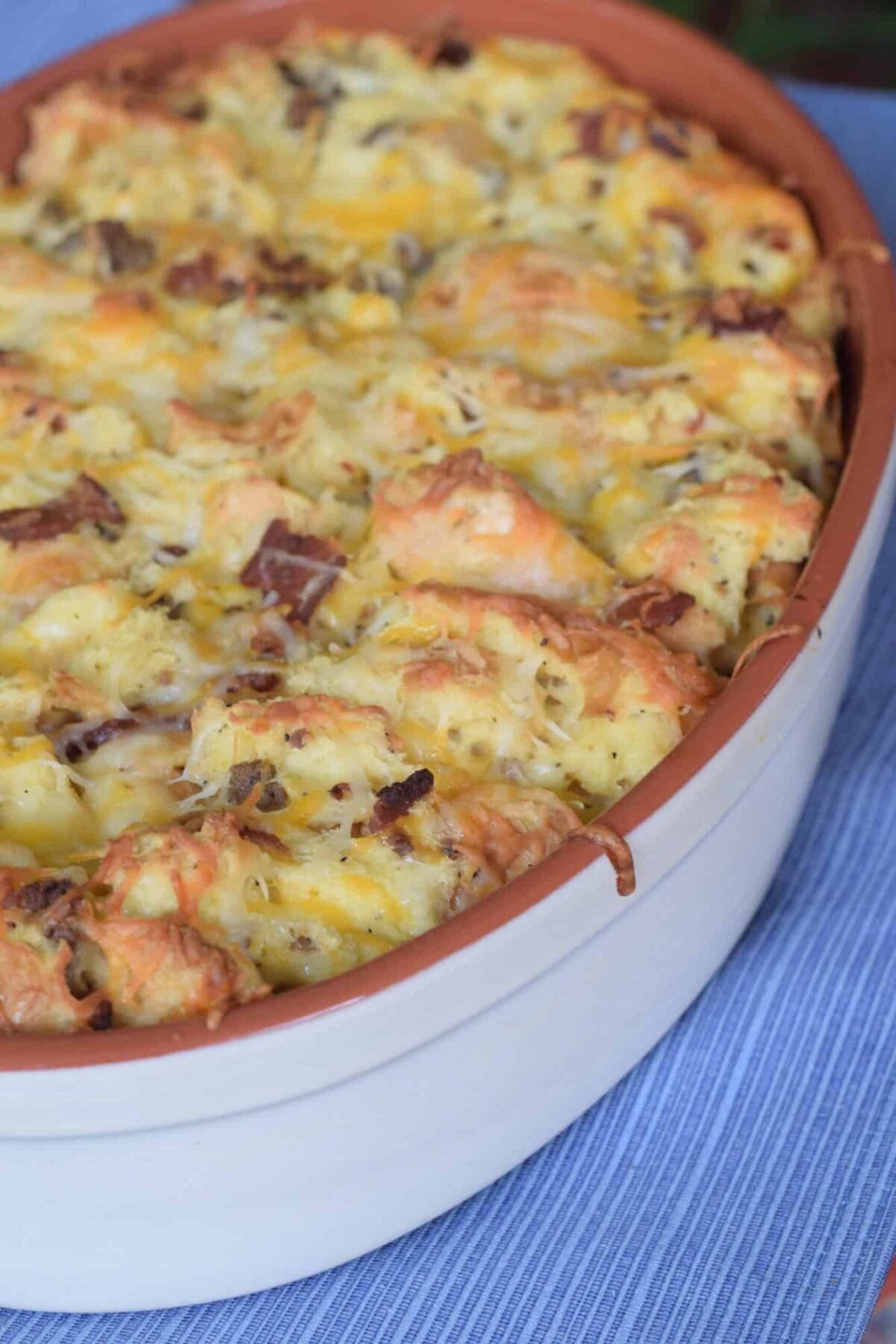 Can I use stale, day old bread?
Yes. It is actually much better to use stale or day old bread for strata. Fresh bread has moisture in it while stale bread or slightly dry bread tends to soak up the milk mixture.
What if I only have fresh bread?
No worries, take it out of the package and let it "dry out" on a sheet pan a few hours. If you are really in a hurry, put the sheet pan in a low oven about 300 for 10 to 15 minutes. You aren't trying to toast it, just dry it out.
Can I shred my own cheese?
Absolutely! If I have a block of Cheddar, I'll shred my own, otherwise, I go the shortcut route for this recipe. For recipes like Pimiento Cheese with Fire Roasted Peppers and creamy Jalapeno Pimiento Cheese, I always shred my own cheese. It's a texture thing.
Can I double this recipe?
This recipe easily doubles if you are feeding a large group of people. Just double all the ingredients and use two 13x9 pans.
You would need a large bowl for this but it's easy to cook 2 pounds of sausage in one large skillet. Bacon can be cooked in large quantities in the oven.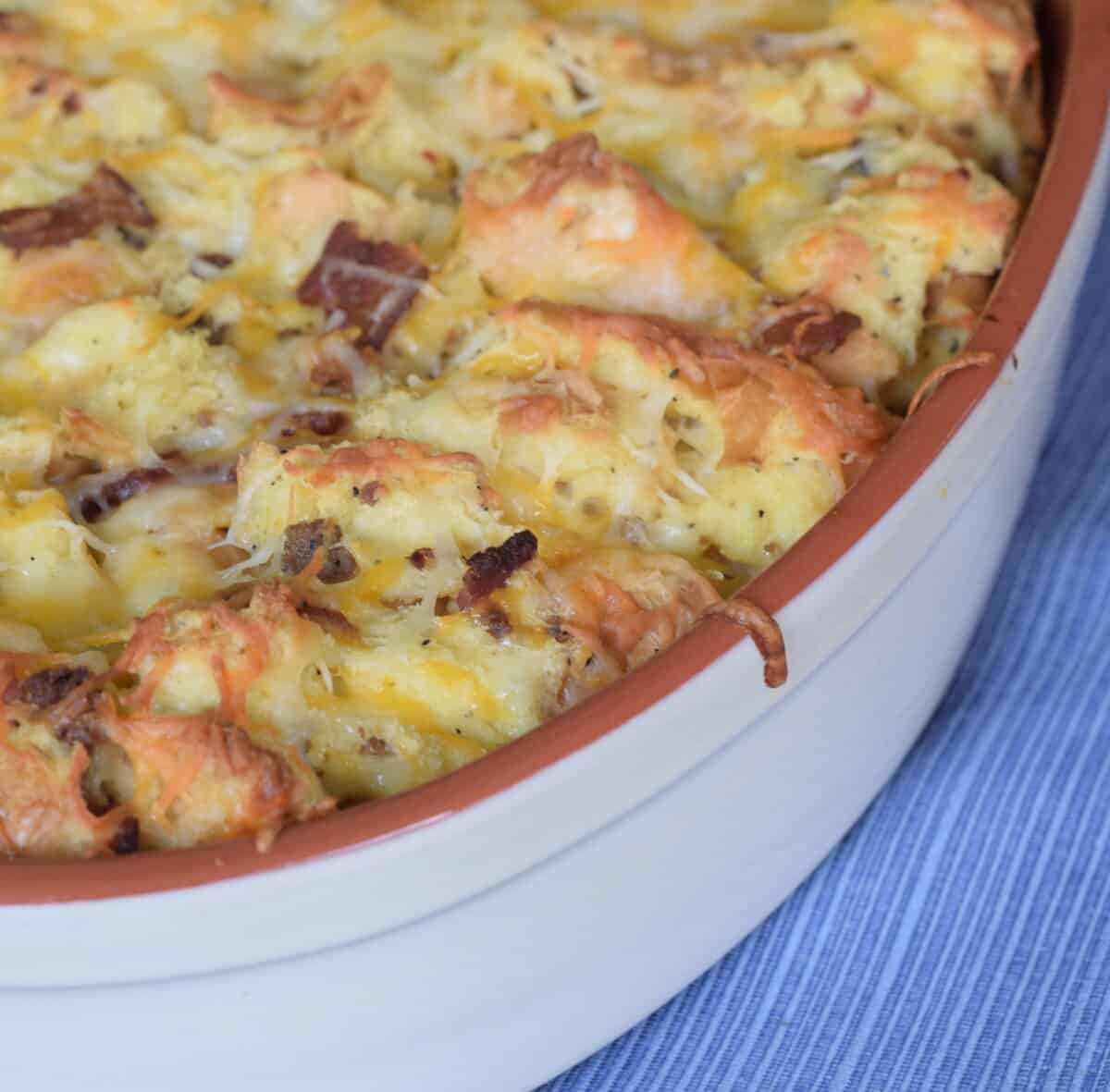 Show me your pics!
Let me know if you make this or any of my recipes by posting a picture on social media and tagging me at @gritsandgouda or using #gritsandgouda. You can also leave a comment right here on the blog post below the recipe.
Can I really cook sausage and bacon in same skillet?
Yes and it's a game changer! I often cut my bacon into strips by cutting crosswise into 1/4-inch-thick strips but with this recipe, I just cook it in the same skillet with the sausage and save time AND having to wash another skillet.
You stir the bacon and sausage often to crumble the sausage and break up the bacon pieces.
Follow me on Facebook, Instagram, Pinterest and YouTube. Be social and share, y'all! Don't forget to sign up with your email so you don't miss a single post on my Southern shortcut recipes!
If you make this recipe I'd love to see it! Tag me on social media with #gritsandgouda or @gritsandgouda. Leave a comment below the printable recipe if you have questions or tell me how you liked the recipe. Don't forget to give the recipe a rating of 5 stars if you love it!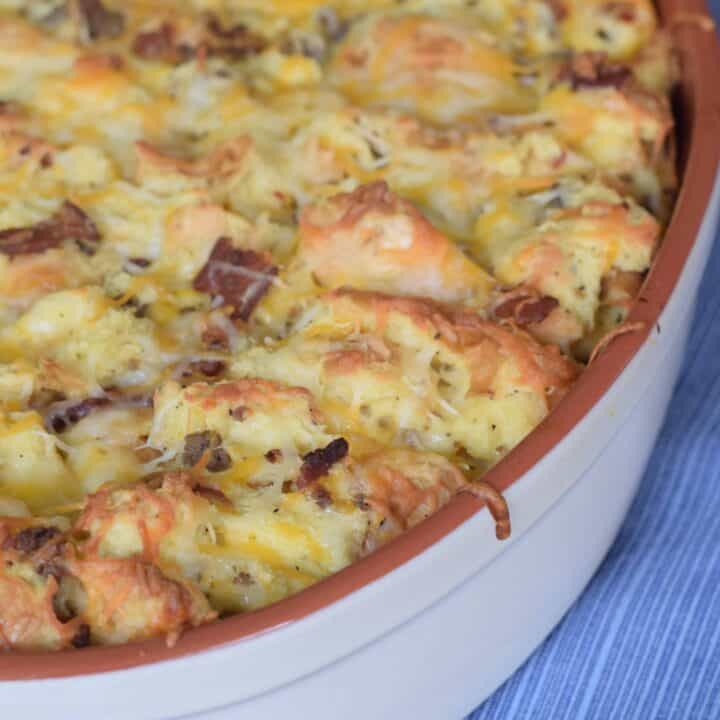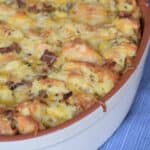 Print Recipe
Bacon Sausage Strata Breakfast Casserole
I love to make breakfast casseroles with leftover bacon, sausage and/or ham. This recipe is a good one to use day-old bread from the discounted bread cart. I like to buy French bread when it is on sale and freeze it until I'm ready to make strata.
Ingredients
1

14.8-oz loaf French bread, cut or torn into about 1 to 1 1/2 inch pieces

(About 16 cups bread cubes)

1

pound

ground pork breakfast sausage

6

slices

uncooked bacon, sliced into 1/4-inch-wide strips

2

cups

pre-shredded Colby and Monterey Jack cheese

divided

10

large eggs

3

cups

half-and-half or whole milk

1/2

teaspoon

salt

1/4

teaspoon

ground black pepper
Instructions
Arrange bread cubes in a greased 13 x 9-inch baking dish or 3-quart casserole dish.

Cook sausage AND bacon in a large skillet over medium heat until browned, stirring to crumble the sausage as it cooks. Drain in a colander or metal sieve with a bowl or rimmed plate underneath.

Sprinkle sausage and bacon over bread cubes.

Sprinkle cheese evenly over sausage mixture.

Whisk together eggs in a large bowl; slowly whisk in half and half or milk, then salt and pepper. Pour milk mixture over cheese. Cover and refrigerate 6 hours or overnight.

Bake 40 minutes or until lightly browned on top and bubbly around edges. Let stand 5 or 10 minutes before serving.
Notes
This is a make ahead recipe perfect for special occasions or out of town guests so you
can just wake up and throw it in the oven the next morning. Use day old bread: It is actually much better to use stale or day old bread for strata. Fresh bread has moisture in it while stale bread or slightly dry bread tends to soak up the milk mixture. Loaf size: If you have a 16-oz loaf, just tear off the end and enjoy a piece of toast and jam! Shortcut: Cooking the chopped bacon and sausage together in the skillet at the same time saves time.
Nutrition
Serving:
1
tenth
|
Calories:
598
kcal
Did you make this recipe?
If you love it, share it! Tag me on Instagram @gritsandgouda using #gritsandgouda Comment below before you go!