Hi y'all! I'm Kathleen Phillips. I love sharing my Southern shortcut recipes with you! I'm a food stylist, recipe developer, cookbook author, and former test kitchen director. If you're like me, you enjoy good food but live a busy life, so I take traditional Southern recipes and create them with a shortcut to get you in and out of the kitchen.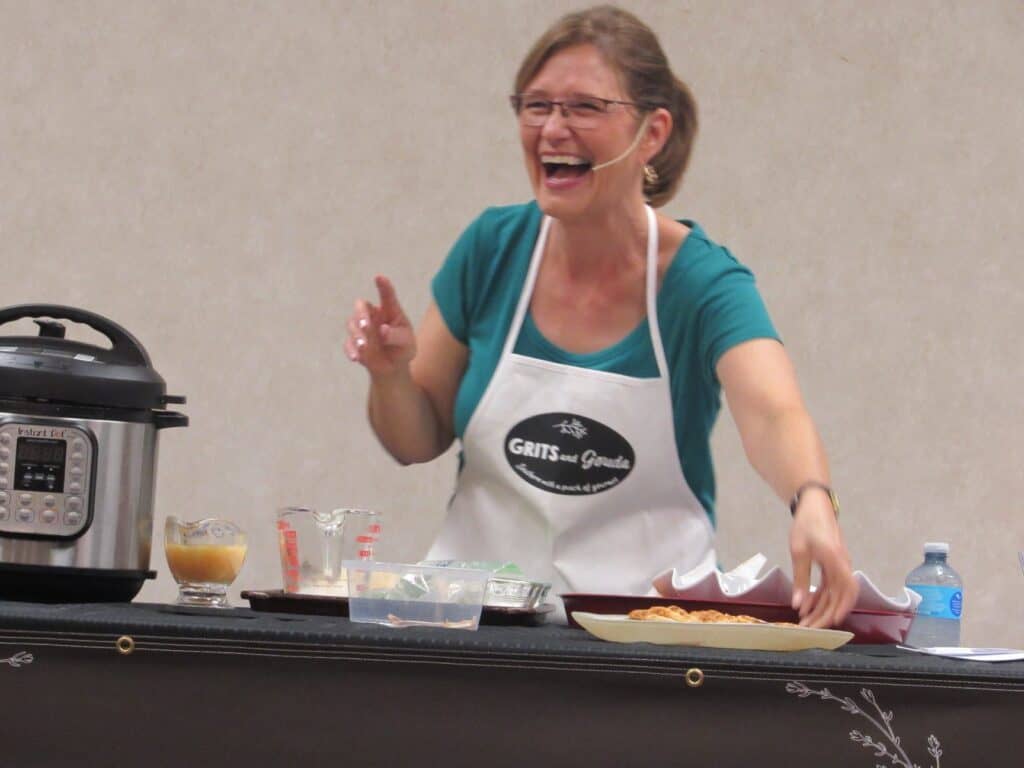 Why Grits and Gouda? I'm Southern with a pinch of gourmet and a dash of healthy and frugal…and so are my recipes. My recipes have shortcuts in them because although I love to bake from scratch and make jams and pickles, I always have a long to-do list like you. So, the more shortcuts in the kitchen, the more I can check off my list!
My goal on my food blog is to inspire you to get in the kitchen. Period. Then, after you are in the kitchen, I'll show you how to cook Southern recipes with all the traditional flavors of the South - with a shortcut or two!
I want to encourage you along the way to share hospitality. I think it is important to be a good steward of my money so unless it's on the gourmet side or cooking for a special occasion, I'm watching the budget and will pass along money-saving tips on to you. Heads up! What's in season is also, usually what's on sale.
For nine years, I was the food columnist for Christian Woman magazine. I authored my first cookbook, Magic Cakes by Kathleen Royal Phillips, published by Running Press in 2017.
Read even more:
I was born and raised in Evening Shade, Arkansas but I have lived in Alabama most of my adult life so my roots run deep in traditional Southern food. I've also been a food professional for over 30 years so I also lean toward the freshest ingredients while constantly looking for a shortcut to make it happen on my table while on a budget.
Growing up, my mom was an organic gardener when "organic" wasn't cool. She baked honey-wheat loaves of bread twice a week. If we didn't grow it and can it, we didn't eat it. I was baking yeast bread and entire meals before I was a teenager.
Baking was-and still is- my passion but we also love to eat clean with fresh fruits and vegetables from the garden or farmers market. I desperately try to schedule time for Yoga but it doesn't always happen.
Although I grew up in a small town, I had big dreams of going to college, living in the city, and working at Southern Living. In January 1989, my dreams came true. I moved to Birmingham, Alabama after receiving my BSE in Family and Consumer Science at University of Central Arkansas and became a test kitchen professional and food stylist at Oxmoor House, the cookbook publishing company that produced Southern Living and Cooking Light cookbooks as well as many other brands.
In the next 10 years, I became the OH test kitchen director, married Mr. "Perfect For Me" and had two amazing children.
Our second child was born with spina bifida so we decided I needed a more flexible schedule, so I worked part time in the test kitchen, became a freelance food stylist, and started a catering company, The Occasional Gourmet, and later homeschooled our children.
Somewhere along the way, I became the event coordinator for the Gardendale Magnolia Festival, my husband and son started a nonprofit to equip the disabled outdoorsman (Outdoor Ability Foundation). My daughter founded Hats For Health, an "army of knitters" that loom knits thousands of hats for premature babies and cancer patients.
Well, that is my life in a hickory nutshell!
Read more about my family's nonprofits on my COMMUNITY page.