How to Make Homemade 2 Ingredient Biscuits is not a type-o. These flaky, from-scratch biscuits are made with just two ingredients! These simple and easy biscuits are NOT made with a baking mix, just self-rising flour and heavy whipping cream. Even a kids can make them.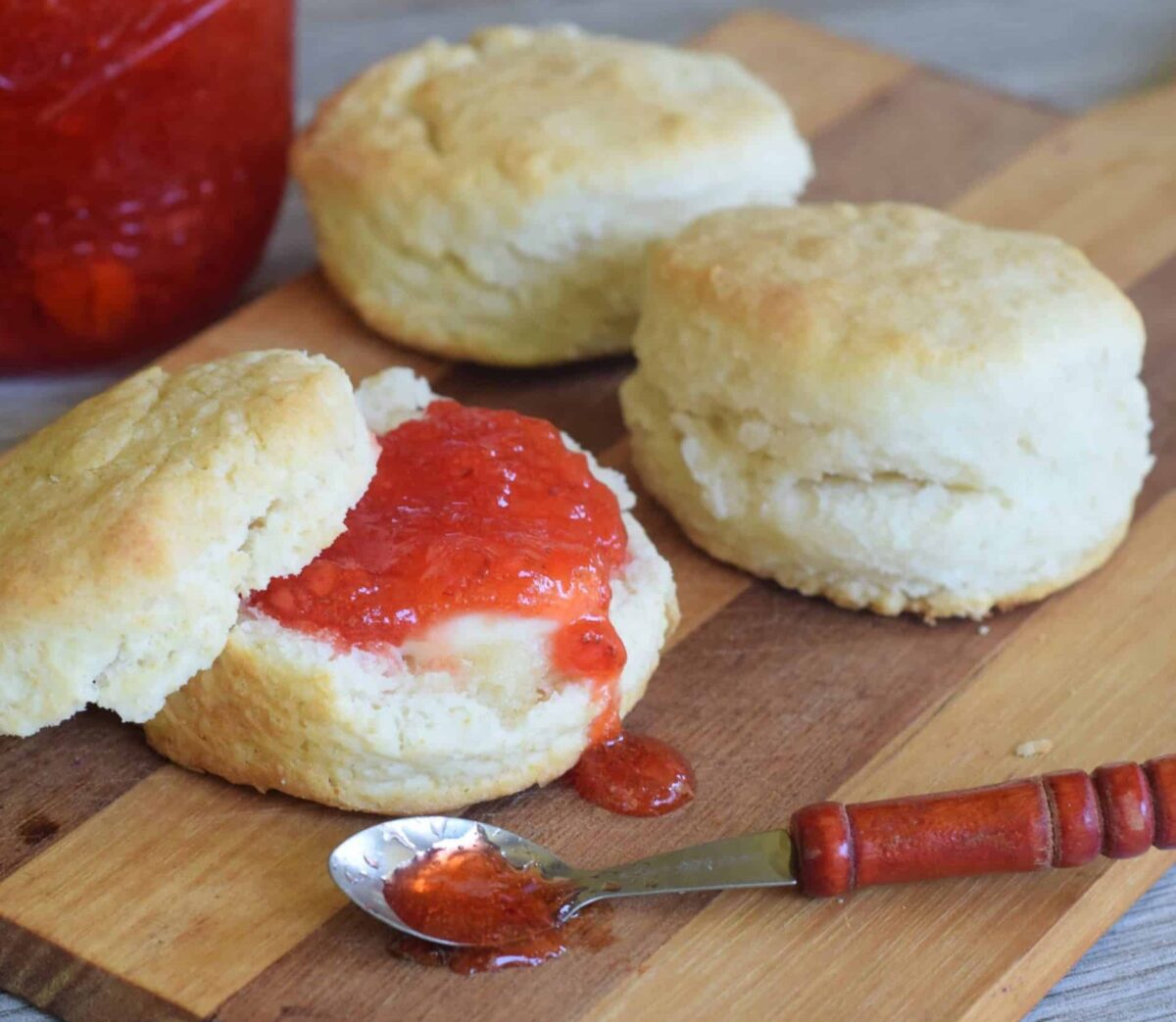 Two of my favorite shortcut recipes to make and serve with these super quick and easy biscuits are Homemade Butter and Easy Strawberry Freezer Jam.
What are the 2 Ingredients needed to make 2 Ingredient Homemade Biscuits From Scratch?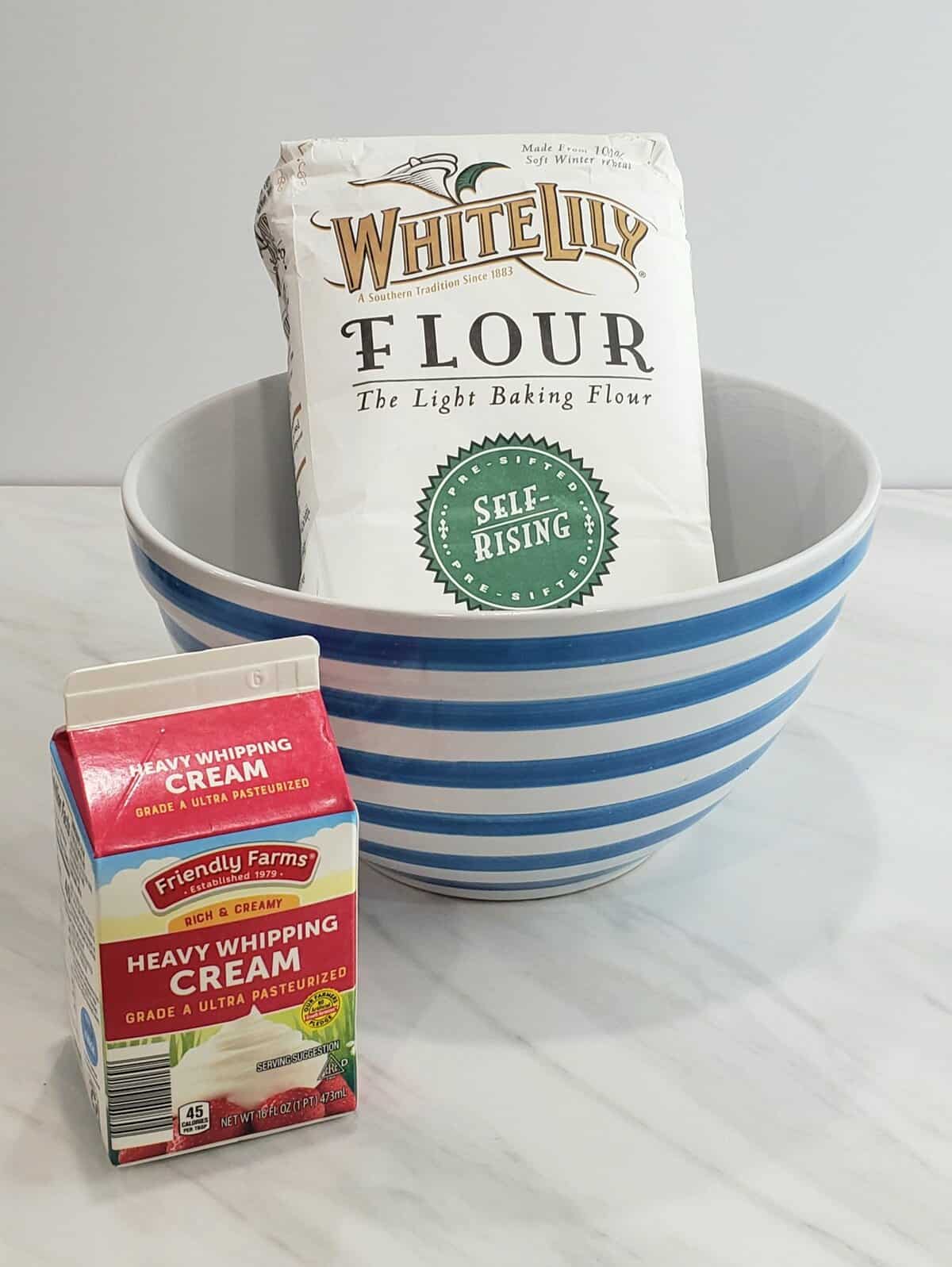 Self-Rising Flour (I use White Lily)
Heavy Whipping Cream
I invited these cuties from my Sunday school class to come home from church with me to help me make my homemade 2 Ingredient Biscuits.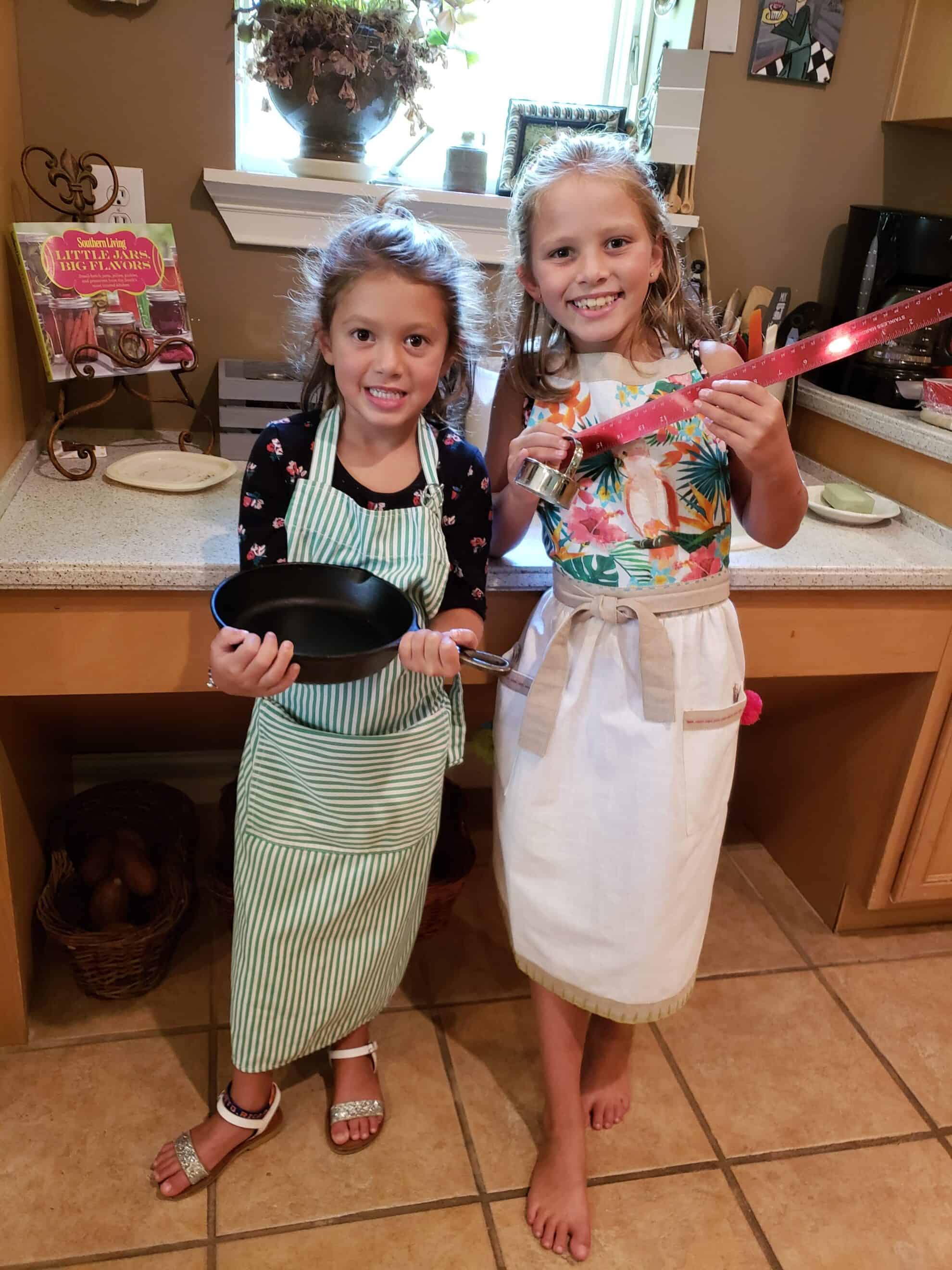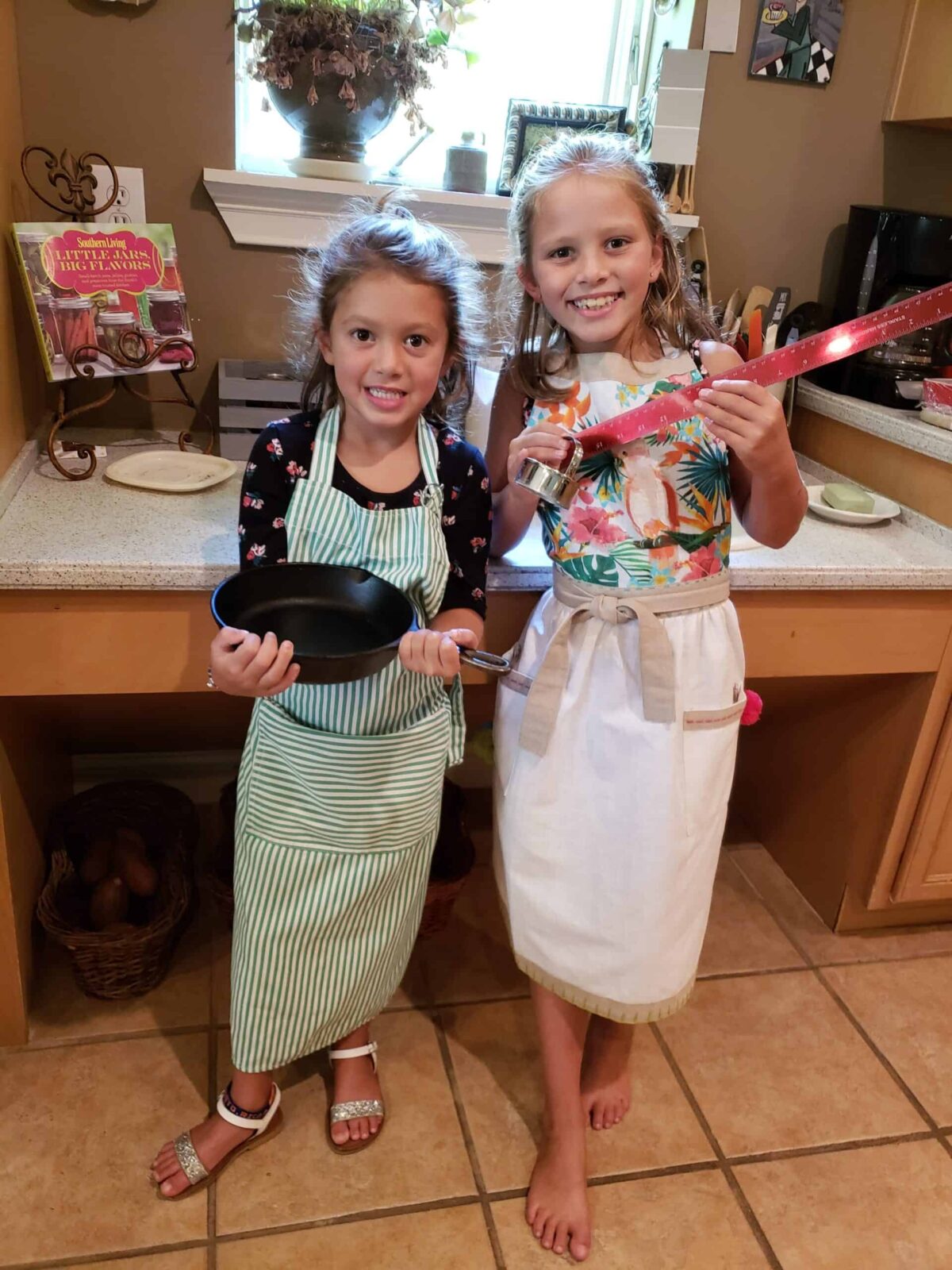 Food tastes better when you make it yourself
There's just something about having ownership of a dish that flips a switch in our brain that makes us want to try something. At the very least, we are more willing to try something new. Therefore, the more new foods we try, the more likely we are to like more foods!
I showed my sweet friends that they could learn about math and science while cooking in the kitchen and that food tastes better when you make it yourself!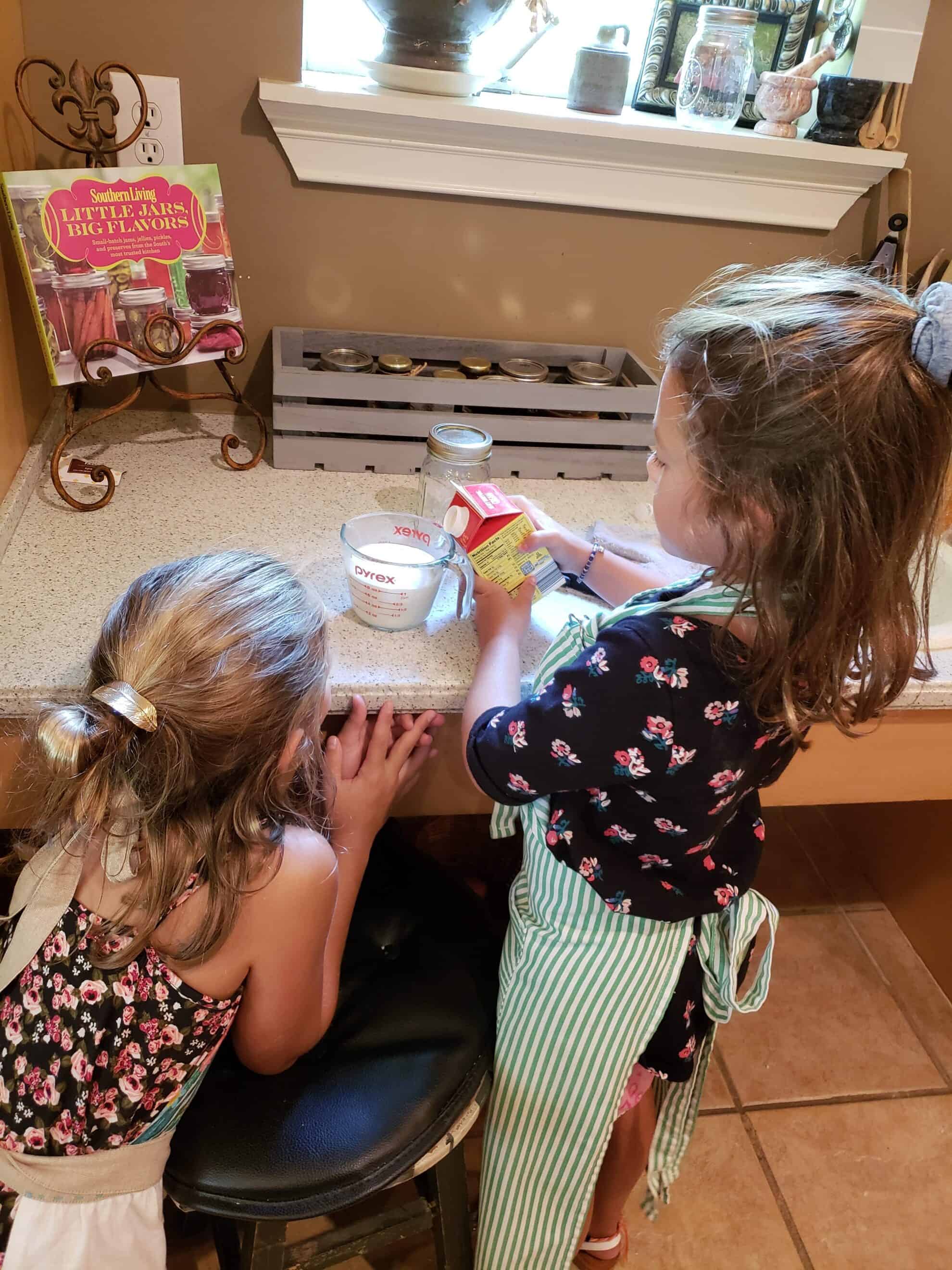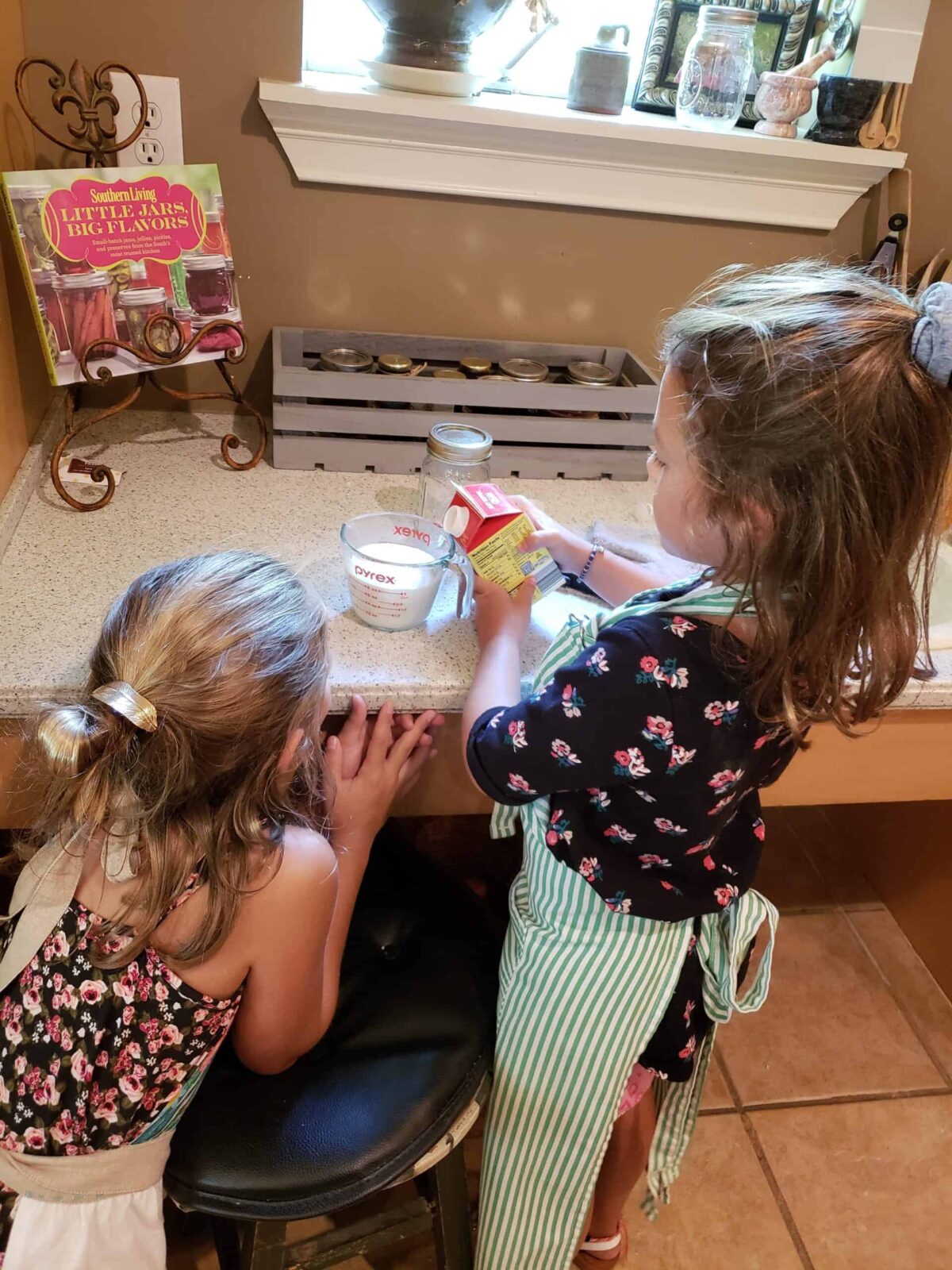 The girls are getting down to see the whipping cream at eye level to make sure the measurement is accurate. (Pics taken before my kitchen renovation.)
Teaching math and science in the kitchen
Even before I homeschooled my kids in middle school and high school, I taught them math and science in the kitchen.
They knew how to cook when they were very young. One of the first things I had them do was sit on the counter with me while I made biscuits from scratch.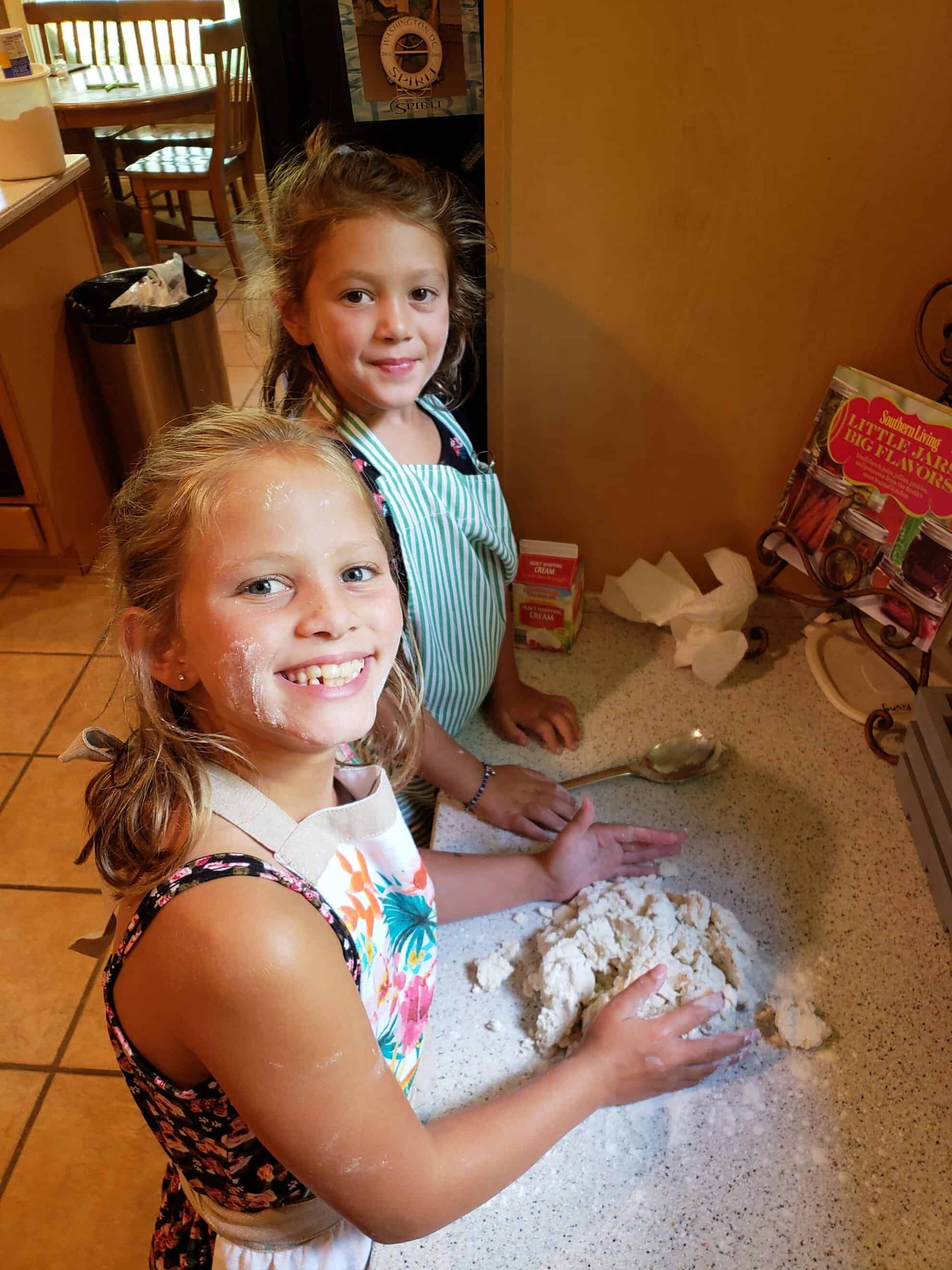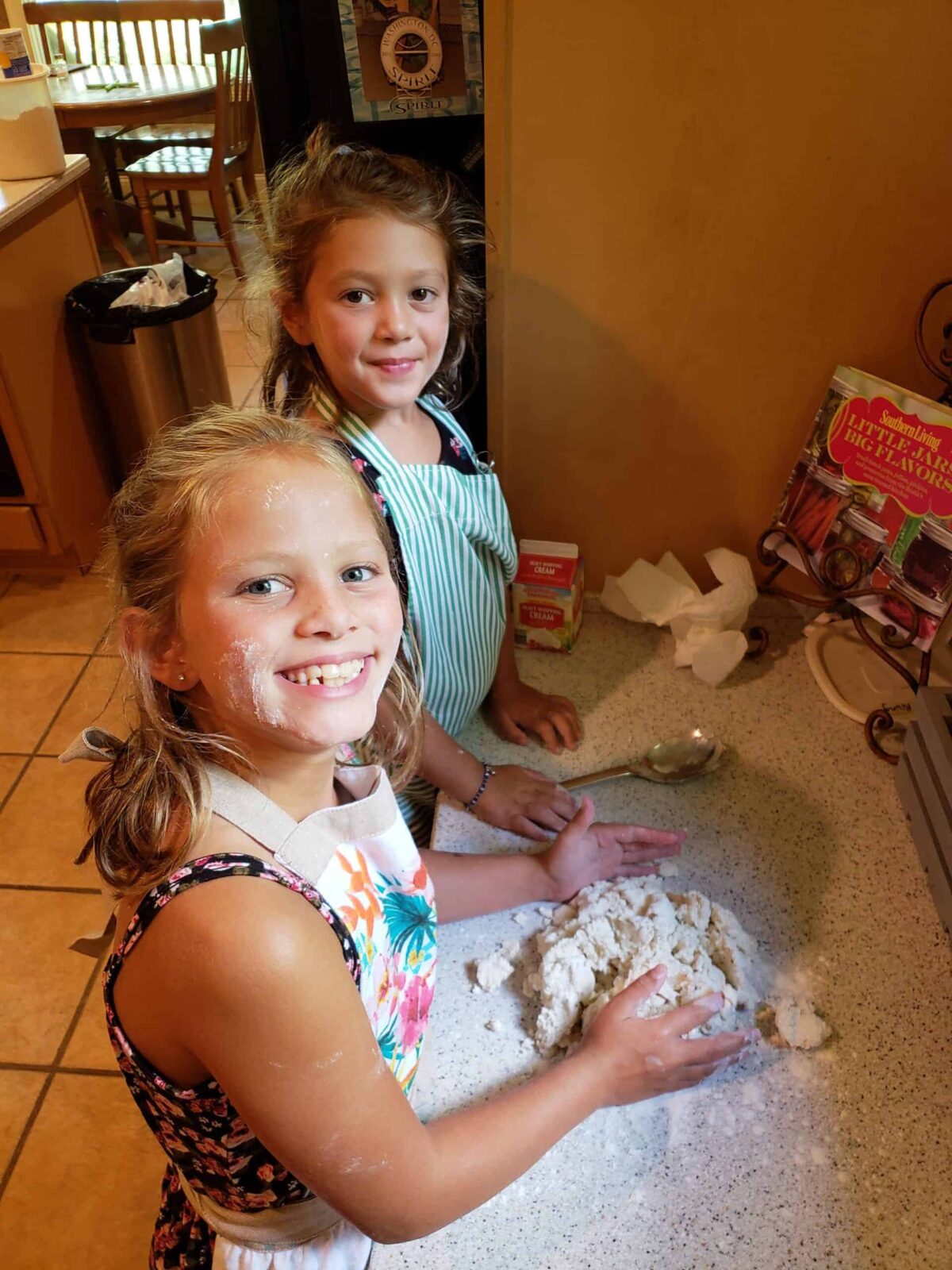 Don't overwork the dough
You can tell they were having fun feeling the texture of the biscuit dough. One of the secrets to tender, flaky biscuits is to not overwork the dough.
Gently push the "shaggy" dough together, then press it down and fold it over a couple of times. Kneading dough is for yeast breads, not biscuits.
Just getting kids in the kitchen and becoming familiar with measuring cups, spoons, spatulas, and rulers allows them to get more comfortable in the kitchen.
As they get a little older like my helpers, here, you can introduce math and science.
I understood fractions so much better in school because I used them in at home by measuring with measuring cups and a ruler.
I knew that two 1/4 cupfuls of flour would equal 1/2 cup of flour.
How to measure wet and dry ingredients for Homemade Biscuits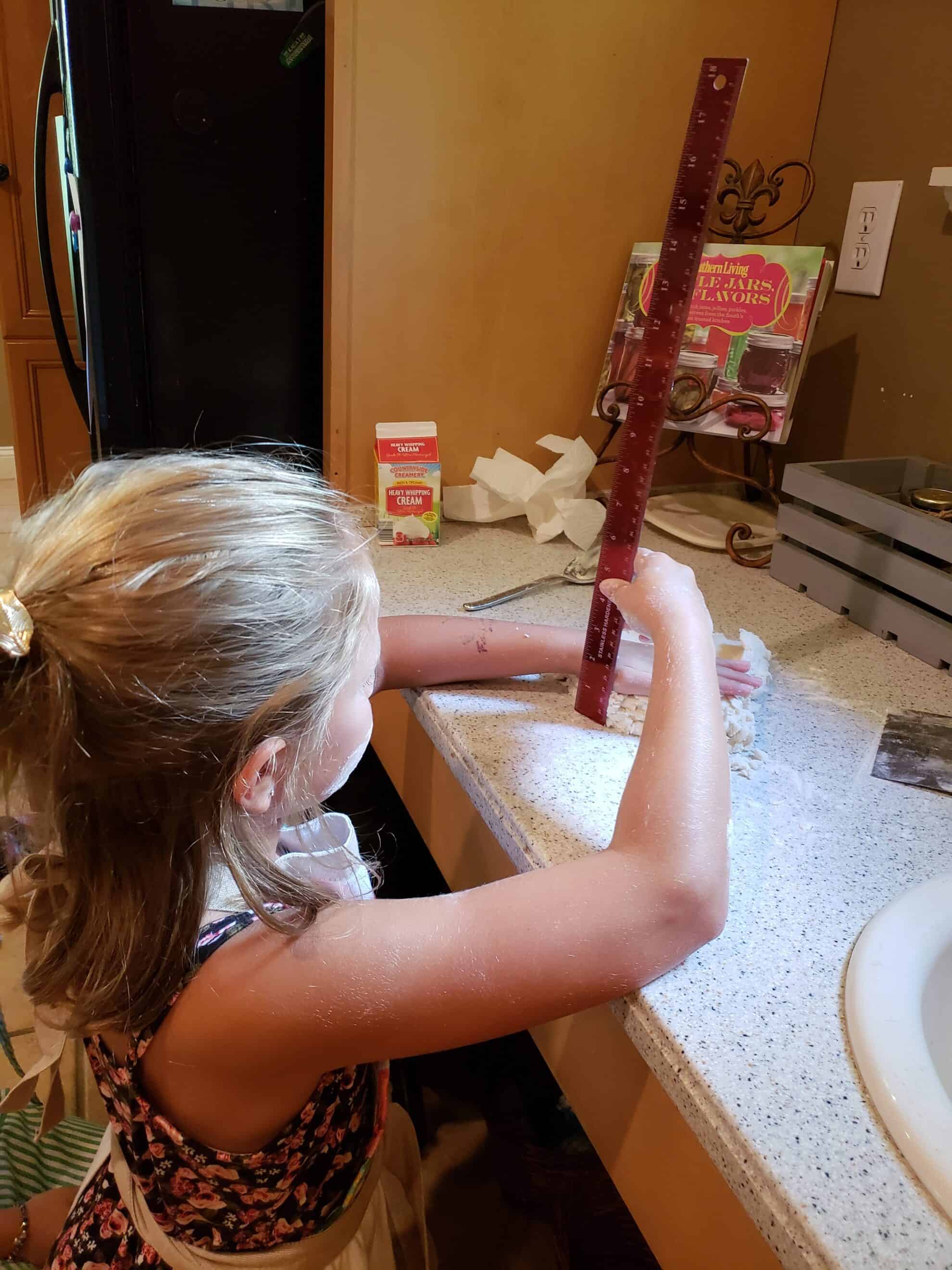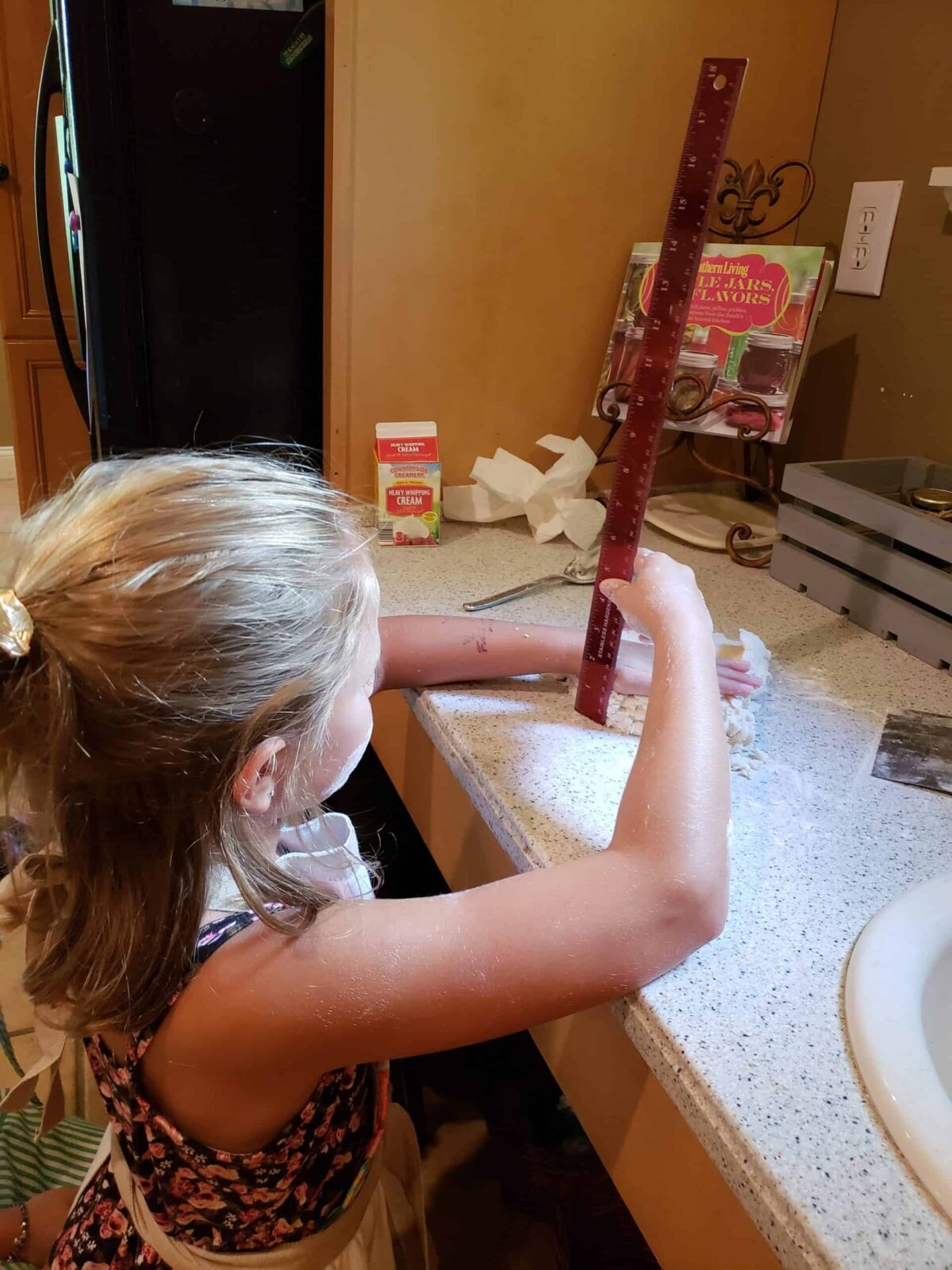 Annsley gets down eye level to see if the biscuit dough is tall enough to hit the mark between 1/2 inch and 1 inch. She knows that between those measurements is 3/4 inch.
She doesn't have to know how to add or subtract fractions to just get familiar with how fractions can be applied in her everyday life.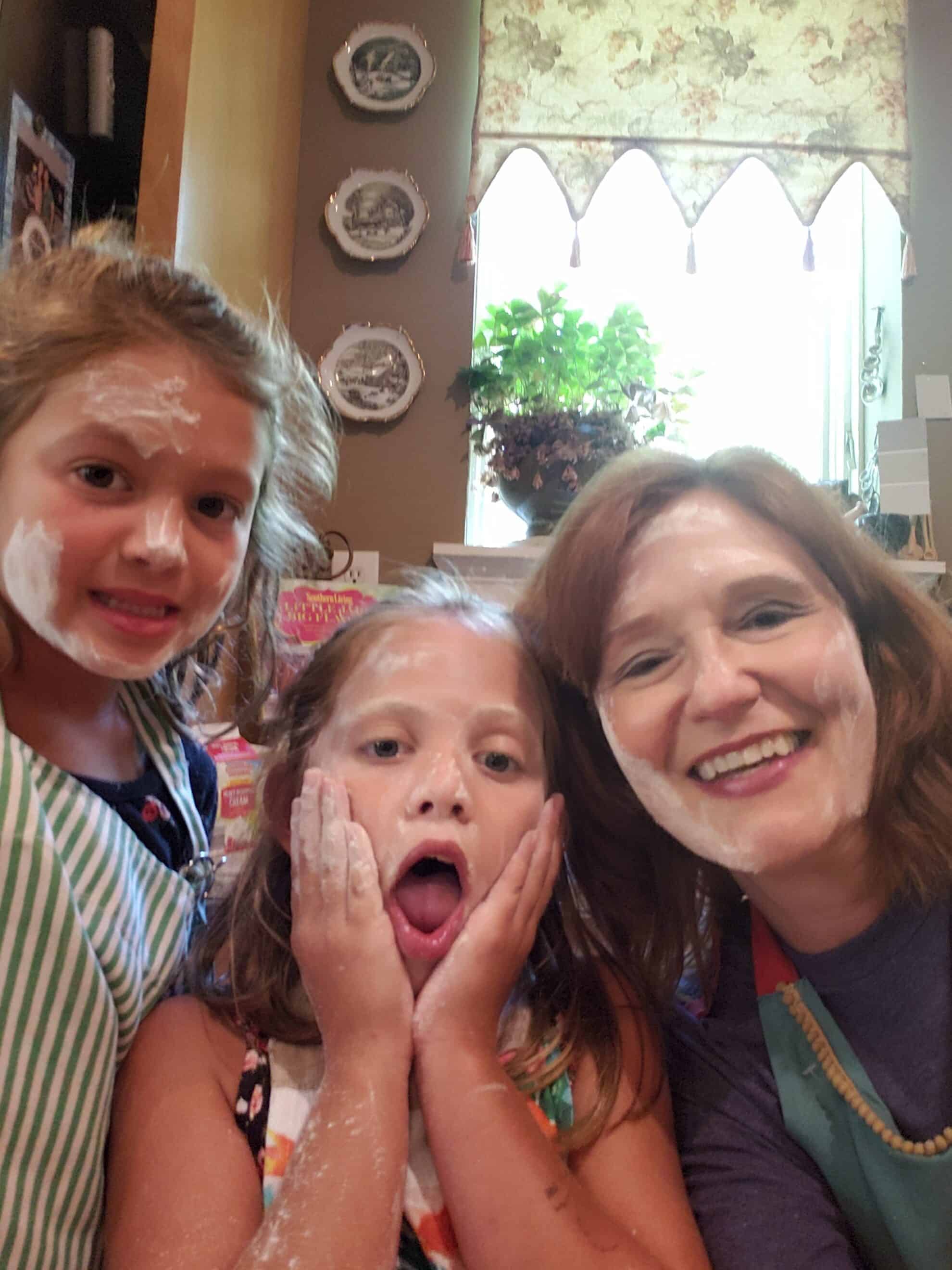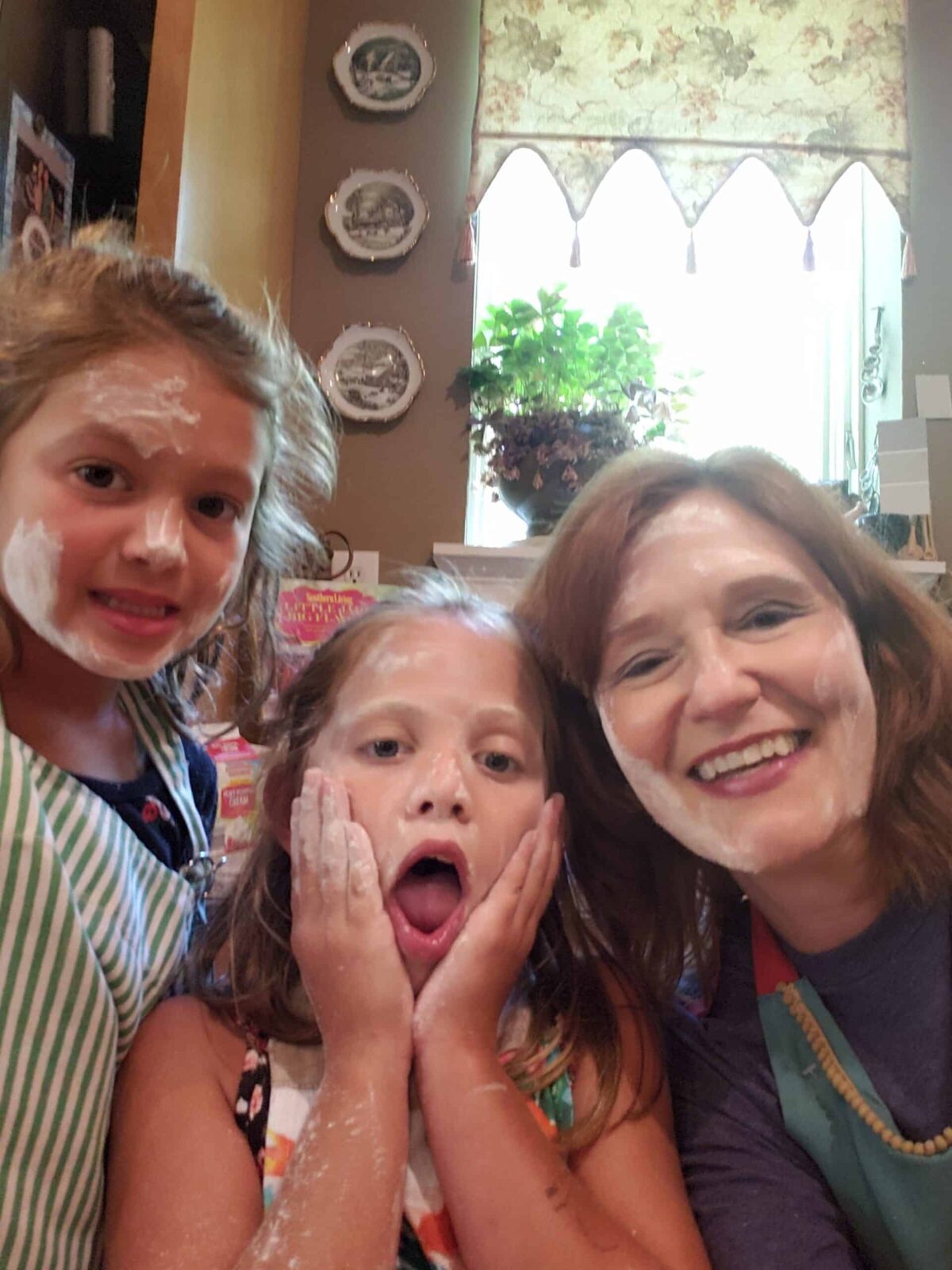 Everyone knows you aren't really baking unless you have a little flour on your face!
Can I coat a cast iron skillet with cooking spray?
No. A cast iron skillet is a natural nonstick skillet. A good, seasoned cast iron skillet needs very little butter or oil on the bottom to bake biscuits.
If you are using an 8-inch round cake pan or square baking pan you can coat it with cooking spray but avoid using cooking spray on cast iron.
Why do you place biscuits close together in the skillet?
The biscuits are placed in the skillet, close together, so they push against each other for support as they rise in the oven. I demonstrated to them how that works when I had a little trouble getting up off the floor (Get's harder all the time!).
Both of them got on either side of me and "push" me up with their bodies. I told them this is how the biscuits help each other rise up in the skillet.
If you don't place them close together, they won't have anything to help push them up so they won't rise up quite as high. So, we got in a little physics lesson as a bonus.
I think they will remember that illustration.... I know I will. It took a couple of attempts to "push" me up off the floor. #makingmemories #makingbiscuits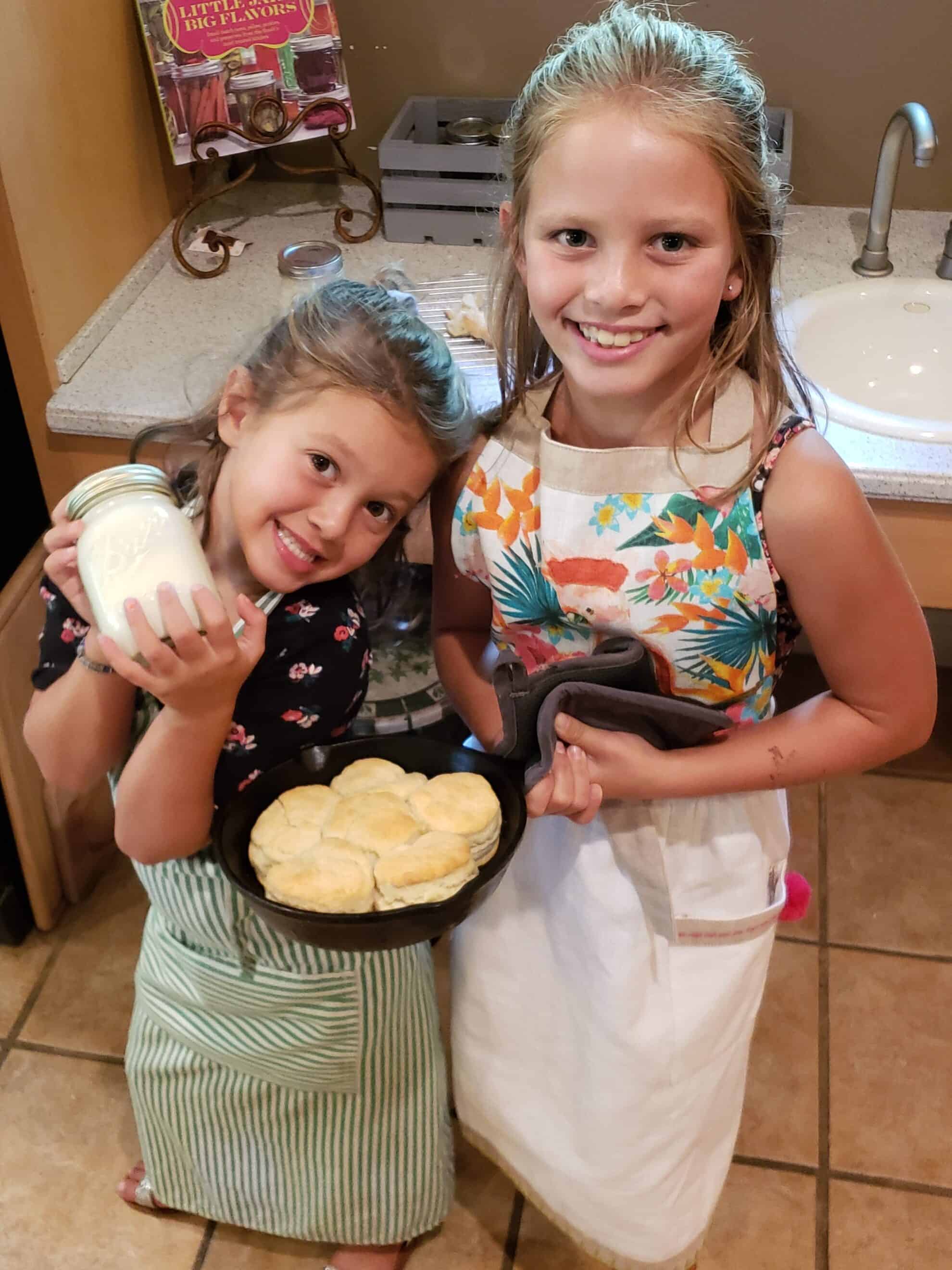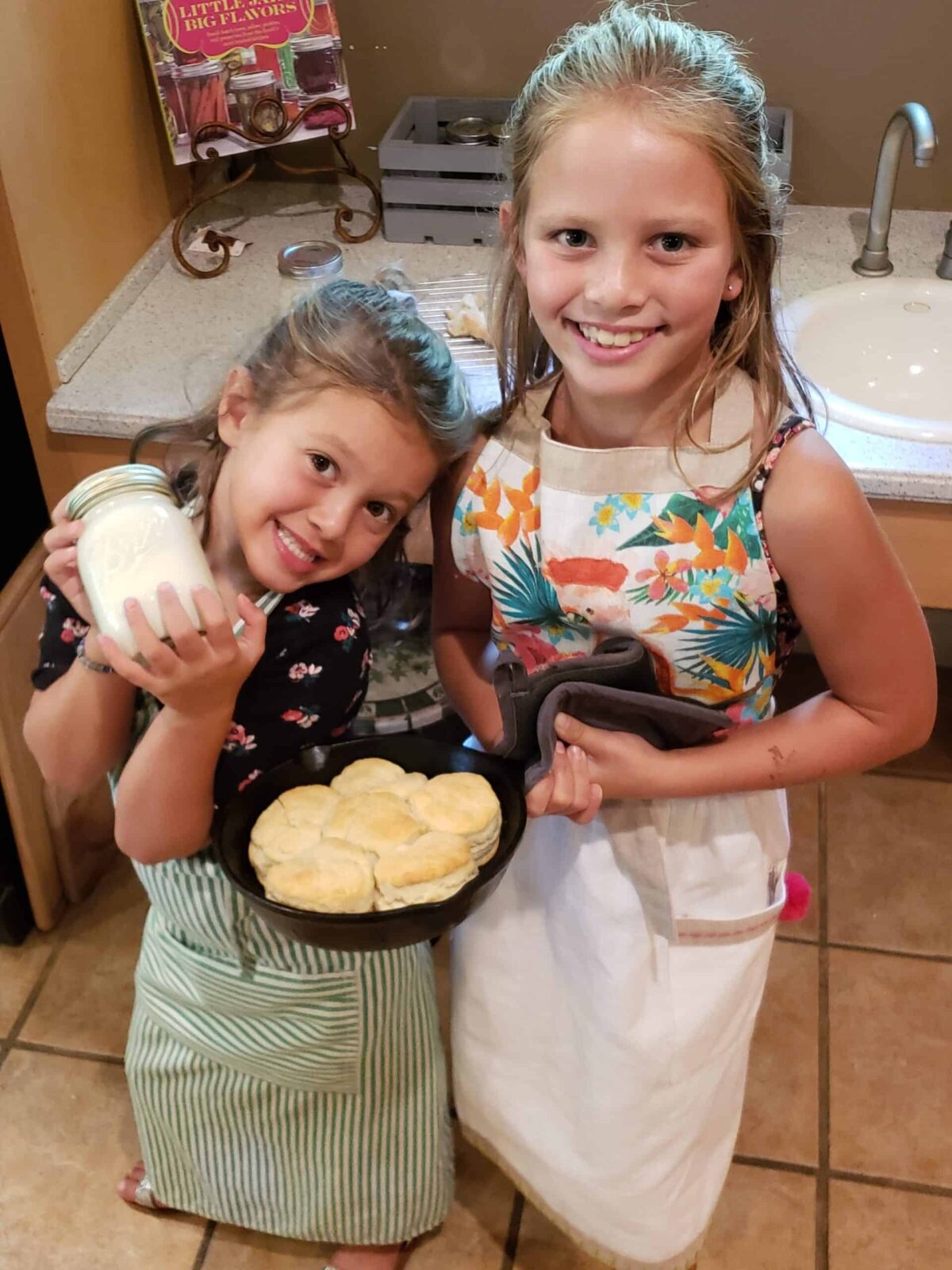 Are these homemade 2 Ingredient Biscuits easy?
I guarantee you that these girls thought these homemade 2 Ingredient Biscuits they made themselves will rival any biscuit they have ever had at a restaurant. and, yes, they were easy to make.
Of course, we slathered our biscuits with the Homemade Butter we made together and about 1/3 cup of Strawberry Freezer Jam.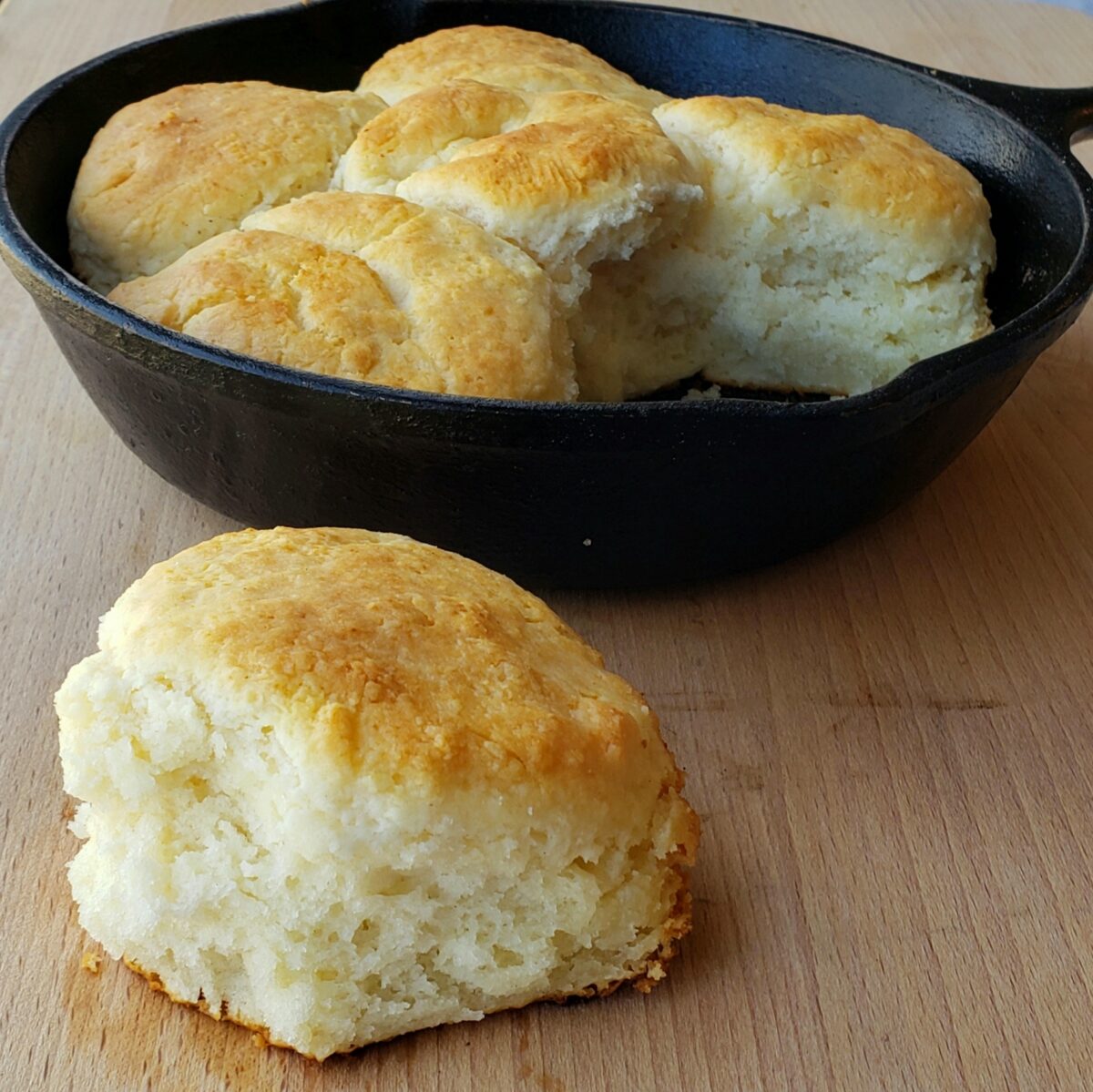 If you would like to make 2 Ingredient Biscuits with your kids or for your family, the recipe is below.
Don't forget the butter! Make your own homemade butter with heavy whipping cream.
Watch the video
Watch my WBRC's Good Day Alabama tv segment on making biscuits and butter by clicking the picture below.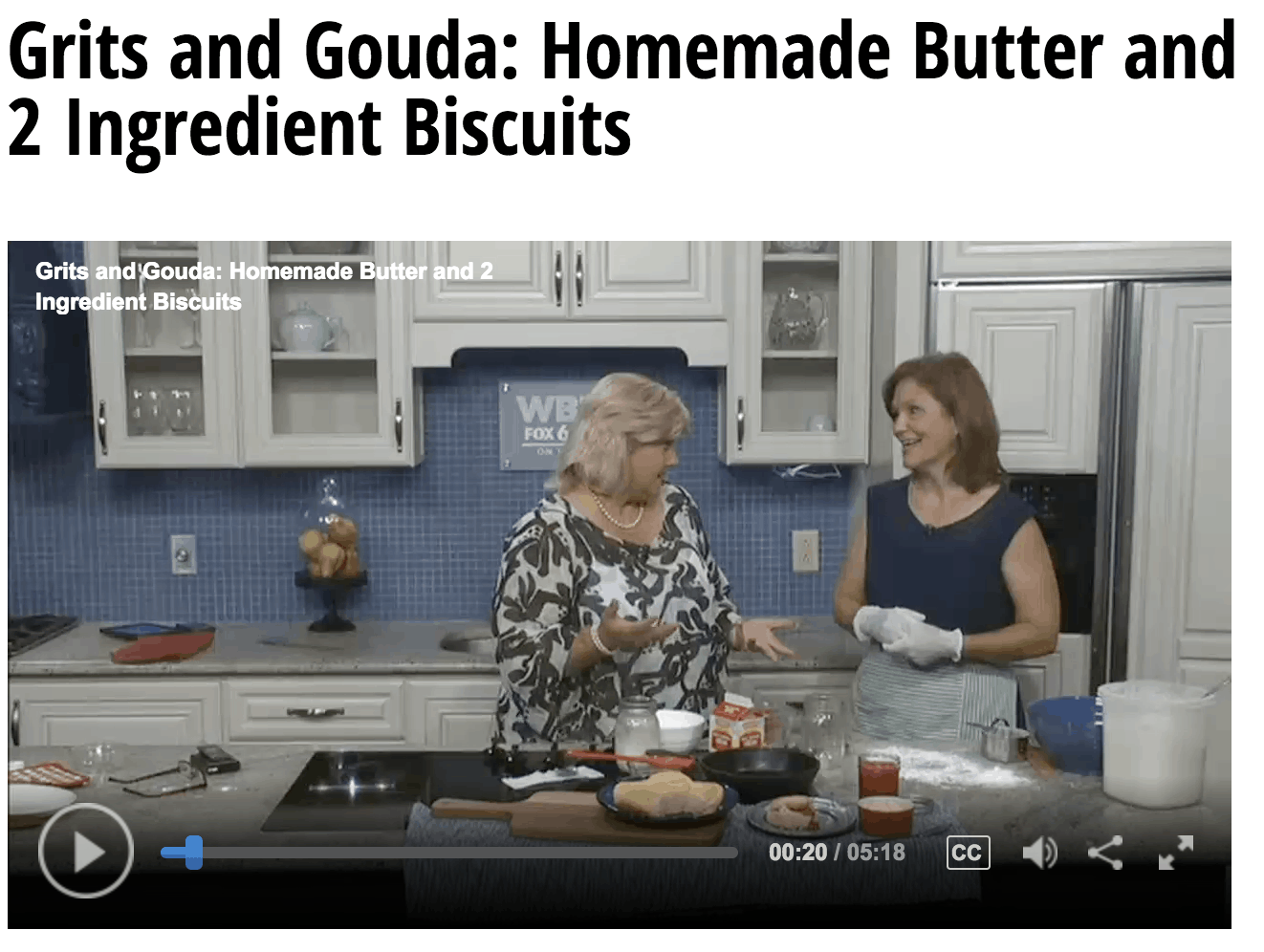 Follow me on Facebook, Instagram, and Pinterest. Be social and share, y'all! Don't forget to sign up with your email so you don't miss a single post on my Southern shortcut recipes!
If you make this recipe I'd love to see it! Tag me on social media with #gritsandgouda or @gritsandgouda. Leave a comment below the printable recipe if you have questions or tell me how you liked the recipe. Don't forget to rate it 5 stars if you love it!
Other shortcut baking recipes you will love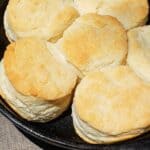 Print Recipe
2 Ingredient Biscuits
No cold butter to cut in with a pastry blender. No rolling pin needed. Follow my tips along the way for fail proof, flaky 2 Ingredient Biscuits.
Ingredients
2

cups

self-rising flour

1 1/4

cups

heavy whipping cream

(plus 1 tablespoon if needed)

Melted butter to brush tops (2 to 3 tablespoons)

(optional)
Instructions
Preheat oven to 450°

Stir together flour and whipping cream in a medium size bowl just until flour is moistened with whipping cream. Your dough should look "shaggy"-not too dry. Add an additional 1 to 2 tablespoons whipping cream, if needed. Dump it out onto a lightly floured counter.

Gently press pieces of dough together to form a loose ball. Sprinkle with a tiny bit of flour and using fingertips press dough halfway flat. It will not be a pretty shape at this point. Take one side and bring it up and over to the edge of the other side and gently press halfway down.

Turn the dough a quarter of a turn and repeat procedure twice. You are incorporating air into the layers you are pressing down which gives you the flakiness you want.

Your shape should be a short rectangle at this point. Press the top down until it is 3/4- inch tall. Using a 2 1/2-inch circle cookie cutter, cut out 4 biscuits and place in an 8-inch cast iron skillet or cake pan.

Press together and pat down again and cut 2 more; place in the pan. Be sure they are slightly touching each other. They help each other in the oven to rise to their tallest potential if they are touching!

For buttery tops, brush 1 to 2 tablespoons melted butter over the tops. This is not necessary, but added yum factor. Bake for 15 minutes or until tops are golden brown.

For buttery tops, brush 2 to 3 tablespoons melted butter over the tops. This is not necessary, but added yum factor. Bake for 13 to 15 minutes or until tops are golden brown.
Notes
If you choose to brush with melted butter before baking, both salted or unsalted will work. I prefer salted. You can also brush them again right after baking, if you like.
Don't be alarmed at the high oven temperature of 450F. You need that high temp to raise the biscuits quickly.
If you don't have a cast iron skillet, you can use an oven-proof baking dish, casserole dish, baking pan or cookie sheet pan.
Heavy whipping cream has a higher fat content than regular whipping cream and is preferred for this recipe.
Nutrition
Did you make this recipe?
If you love it, share it! Tag me on Instagram @gritsandgouda using #gritsandgouda Comment below before you go!