This easy Sausage and Summer Squash Casserole recipe is perfect vegetable side dish to serve at your holiday potluck, family reunion, or backyard bbq! The sausage is optional but to me it sets it apart from all other yellow squash casseroles. Any summer squash like zucchini and yellow squash (or combination of both) will be delicious! I even eat it as a main dish!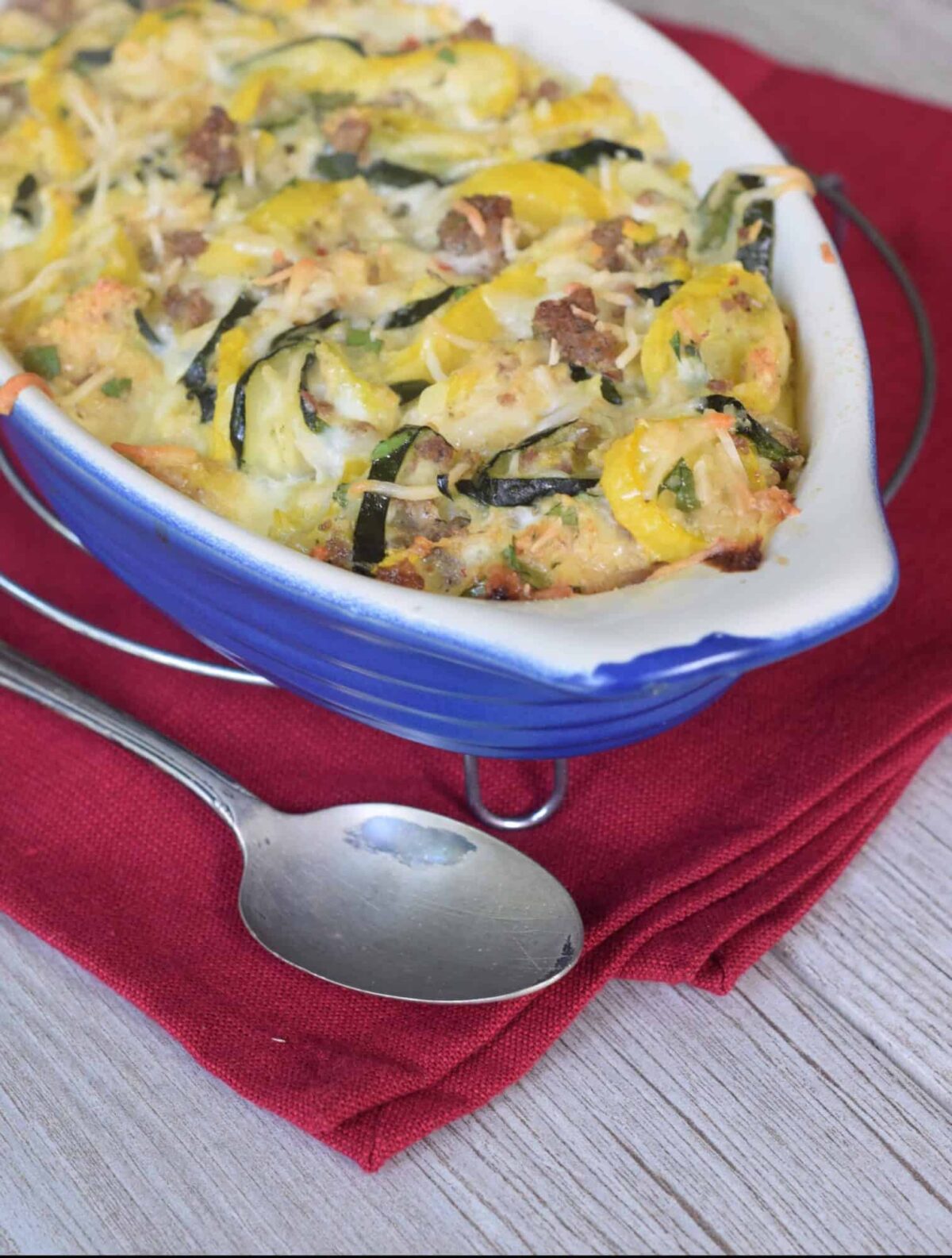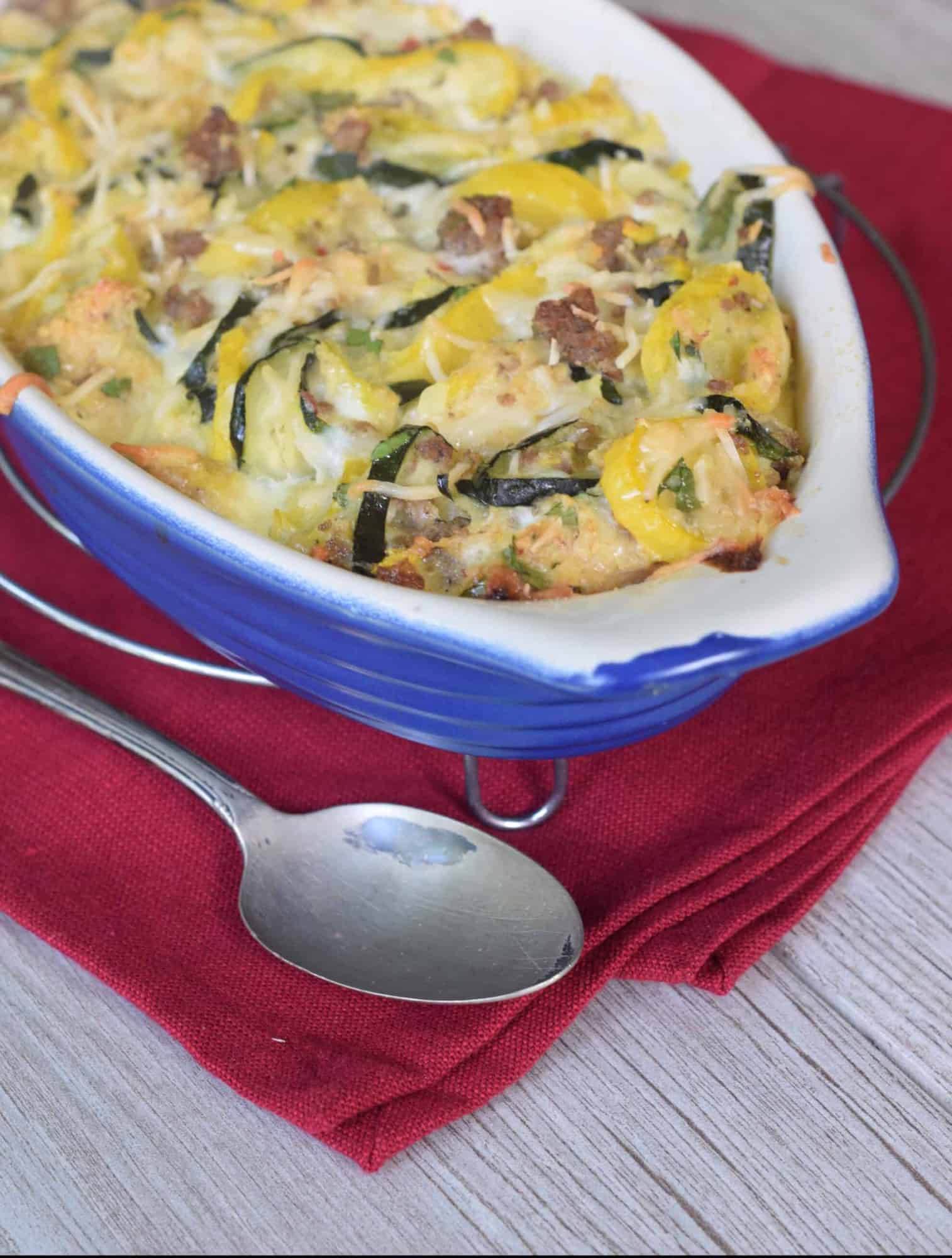 Mom always made this sausage and squash bake with yellow squash, dried parsley and oregano from her garden in Arkansas. I love to make it with a combination of yellow and zucchini squash and fresh herbs.
This is one of my favorite comfort foods. Another is Southern Fried Yellow Squash. Both are super easy to make.
I like to mix it up and add a little color by using zucchini for half the amount of squash but use what you have or what you like.
Fresh herbs straight from the garden is the way to go in the summer! She dried her own oregano by hanging it in bundles and crushed what she needed throughout the winter.
Can I make it without sausage?
No but the sausage makes it different than other squash casseroles. I could eat it as a main dish casserole! If you are already making my Sausage Cornbread Dressing Cups for Thanksgiving you might want to omit the sausage and throw in another squash.
I made a couple of changes to my Sausage Squash in July and made it Keto diet-friendly for my tv morning show segments.
Videos
Check out these video links to ABC 33/40's Talk of Alabama and WBRC Fox6 Good Day Alabama.
I share a ton of kitchen shortcuts as well as explain how to adapt my Sausage Squash Casserole recipe if you are following the Ketogenic diet. Click on these links above or pic below to watch.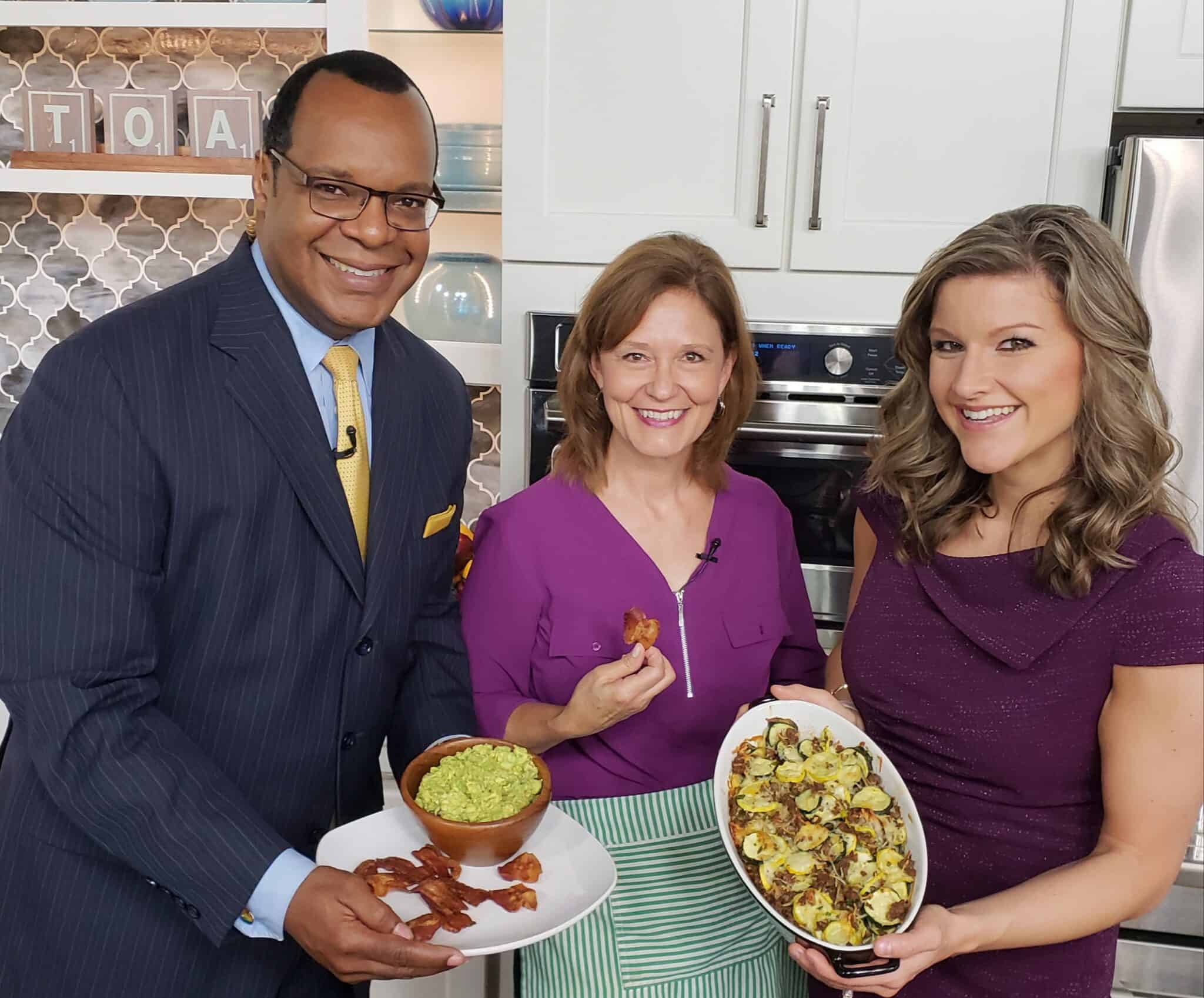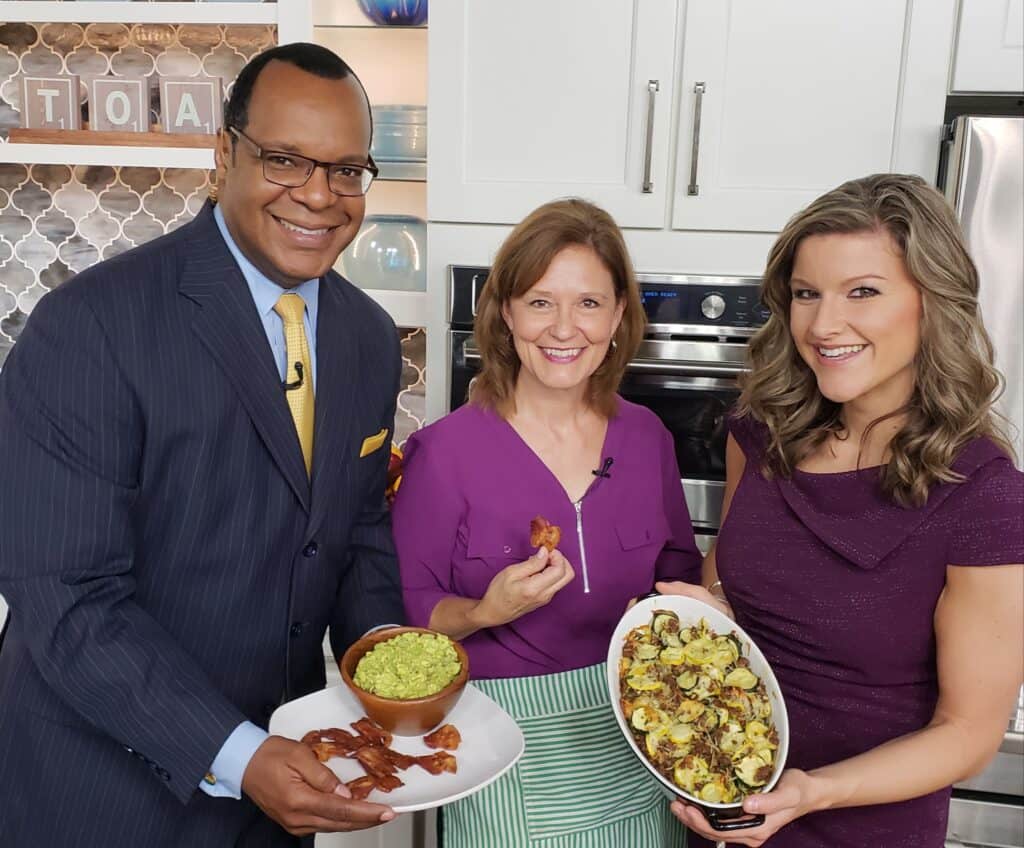 I'm sad I forgot to get a pic with Mike Dubberly and Janice Rogers at Good Day Alabama.
Keto summer squash casserole
For the Keto version, I took out the breadcrumbs (carbs) and added shredded Colby and Monterey Jack cheese. Since milk has sugar in it (more carbs) I replaced it with whipping cream. Voila! Keto-friendly.
The pound of breakfast sausage in it already meets the criteria.
I also love to make this summer squash sausage casserole with lean venison sausage during the winter months.
My husband and son are hunters so we always have it in the freezer. See my Community page to read about their nonprofit Outdoor Ability Foundation.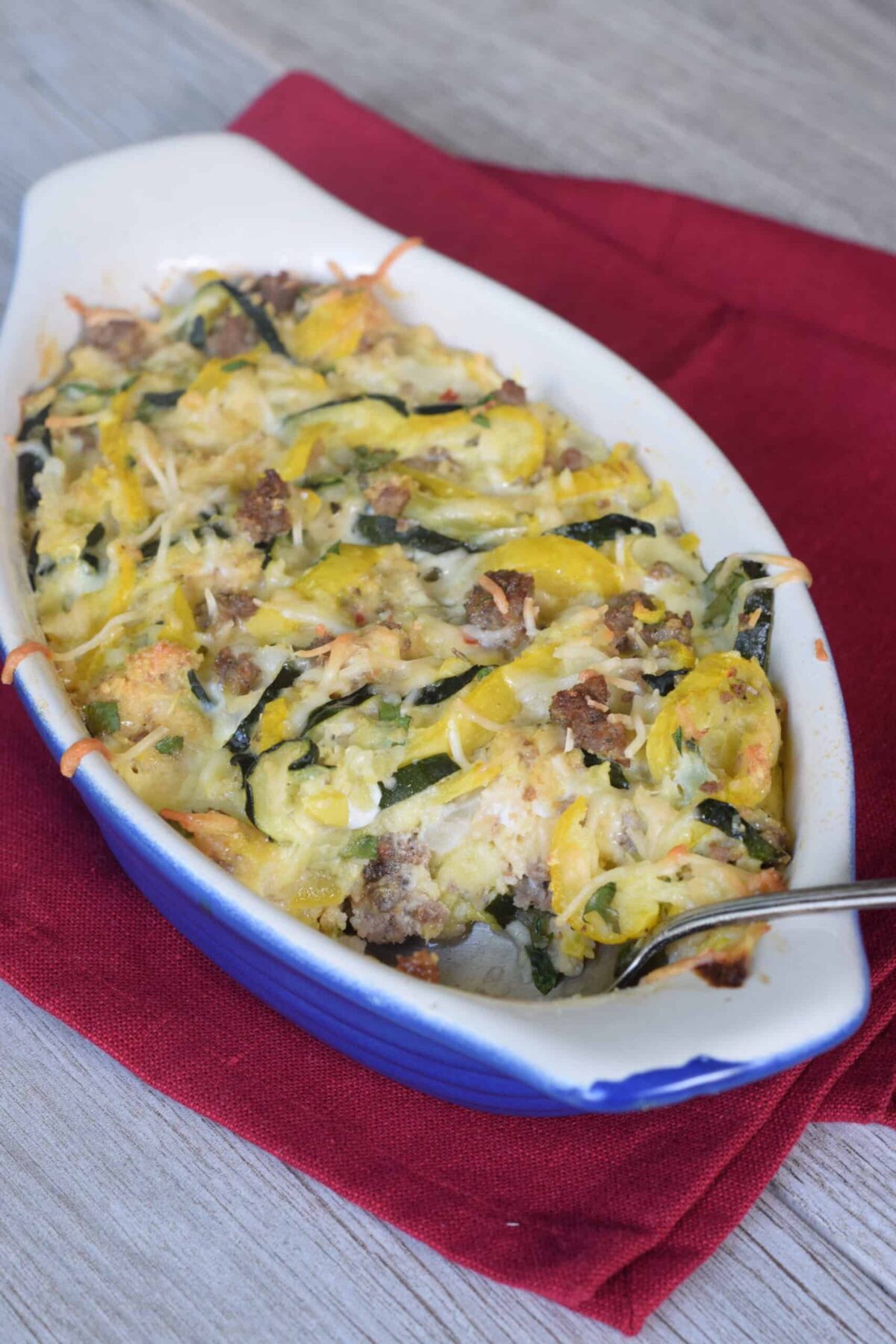 Tips:
When you drain the sausage, don't throw it out. Keep it to sautee those veggies in. Keto diet or not, that's a good practice to add a little flavor to a summertime harvest of vegetables.
Variations and substituions
Squash casserole with Ritz crackers- Crushed buttery crackers or saltine crackers can easily be used in place of the breadcrumbs.
Cheese- This sausage and squash casserole is flexible when it comes to the cheese. I often use whatever I have on hand in addition to Parmesan like Cheddar, gouda, pepper Jack, Monterey Jack, Romano, or pre-shredded blends like Italian and Mexcian cheeses.
How to use fresh herbs in this recipe?
If you have a garden or been to the farmers market lately, you are probably looking for new squash recipes to try. I grew up eating this recipe. We used dried herbs and the oregano flavor reminded me of pizza so I used to call it pizza squash casserole.
I use fresh oregano from my garden until the frost gets it. Fresh herbs can always be substituted for dried herbs; the ratio is 3:1 fresh to dried. Here in Alabama, the frost is just around the corner, so, I'll be picking my oregano and thyme and storing it in the refrigerator for Thanksgiving dishes.
To keep the leaves from turning dark, make sure the leaves are dry. Wrap the bottom of the stems in a damp paper towel and place the whole "bouquet" in a large zip-top bag. They will last for several weeks. Basil will not last as long as oregano, thyme, and rosemary. I pick Rosemary from the bush all Winter.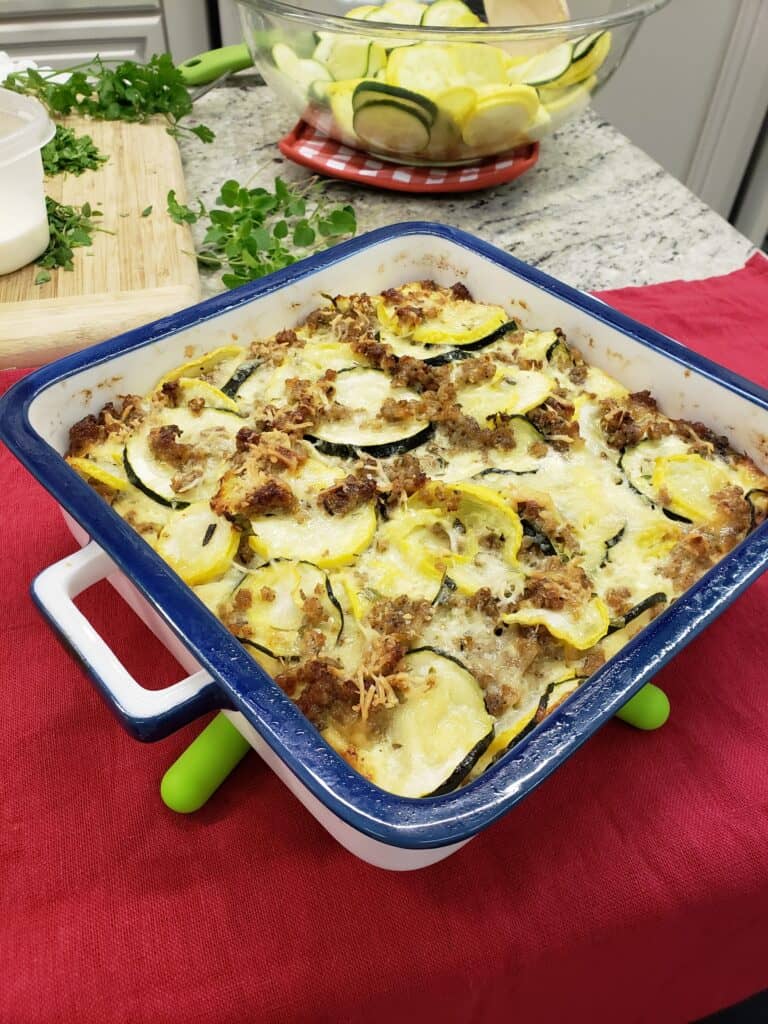 I'm in love with these (green is my favorite color) foldable silicone trivets. They fold up so I keep them in my kitchen drawer. I brought this casserole straight from the oven to the trivet. I got mine on Amazon. I have three of them and use them almost daily.
Follow me on Facebook, Instagram, Pinterest and YouTube. Be social and share, y'all! Don't forget to sign up with your email so you don't miss a single post on my Southern shortcut recipes!
If you make this recipe I'd love to see it! Tag me on social media with #gritsandgouda or @gritsandgouda. Leave a comment below the printable recipe if you have questions or tell me how you liked the recipe. Don't forget to give the recipe a rating of 5 stars if you love it!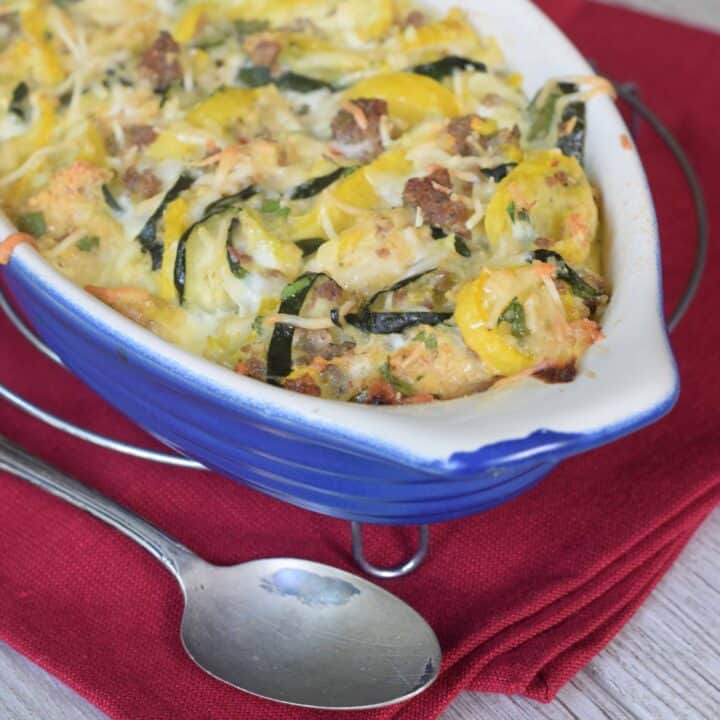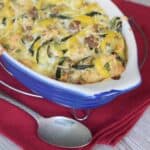 Print Recipe
Sausage Summer Squash Casserole
I like to mix it up and add a little color by using zucchini for half the amount of squash but use what you have or what you like. The sausage makes it different than other squash casseroles. I could eat it as a main dish casserole!
Ingredients
1

1-pound package breakfast sausage or 1 pound venison sausage

(Venison Sausage is always an option at my house)

3

medium yellow or zucchini squash

sliced (about 4 cups)

2

large eggs

1/2

cup

milk or whipping cream

1

clove

garlic minced or 1/4 teaspoon garlic powder

1/2

cup

toasted fresh breadcrumbs or 1/3 cup fine dry breadcrumbs

(or 1/2 cup shredded Colby Jack for Keto diet)

1/2

cup

shredded Parmesan cheese

plus 2 tablespoons for topping

1/2

teaspoon

salt

1

tablespoon

chopped fresh parsley

1 1/2

teaspoons

chopped fresh oregano or 1/2 teaspoon dried oregano
Instructions
Preheat oven to 350°. Cook sausage in a large skillet over medium heat, stirring to crumble the sausage as it cooks, until browned; drain and discard drippings.

Steam the squash in the microwave by placing it in a large microwave-safe glass bowl; add 2 tablespoon water. Cover with plastic wrap. Microwave at HIGH for 3 minutes. Carefully remove the plastic wrap and drain any water in the bowl.

To avoid washing a second bowl, push squash to one side of the bowl. In the other side of the bowl, whisk together eggs; gradually add milk. Toss egg mixture and squash together.

Add garlic and remaining ingredients and stir together gently.

Spoon squash mixture into a greased 11/2-quart casserole dish and sprinkle with 2 tablespoons Parmesan cheese. Bake at 350° for 25 to 30 minutes or until bubbly around the edges.
Notes
Keto Summer Squash Casserole: To make this recipe keto diet friendly, omit the milk and add 1/2 cup whipping cream. Omit the breadcrumbs and add 1/2 cup additional Parmesan cheese or a mixture of Colby and Monterey Jack cheese.
Nutrition
Did you make this recipe?
If you love it, share it! Tag me on Instagram @gritsandgouda using #gritsandgouda Comment below before you go!