You don't have to "deep-fry" squash to call it Southern-Fried. I'll show you how to fry yellow squash without a lot of oil. Simple. Easy. Whether you call it yellow squash or summer squash, I call it yummy!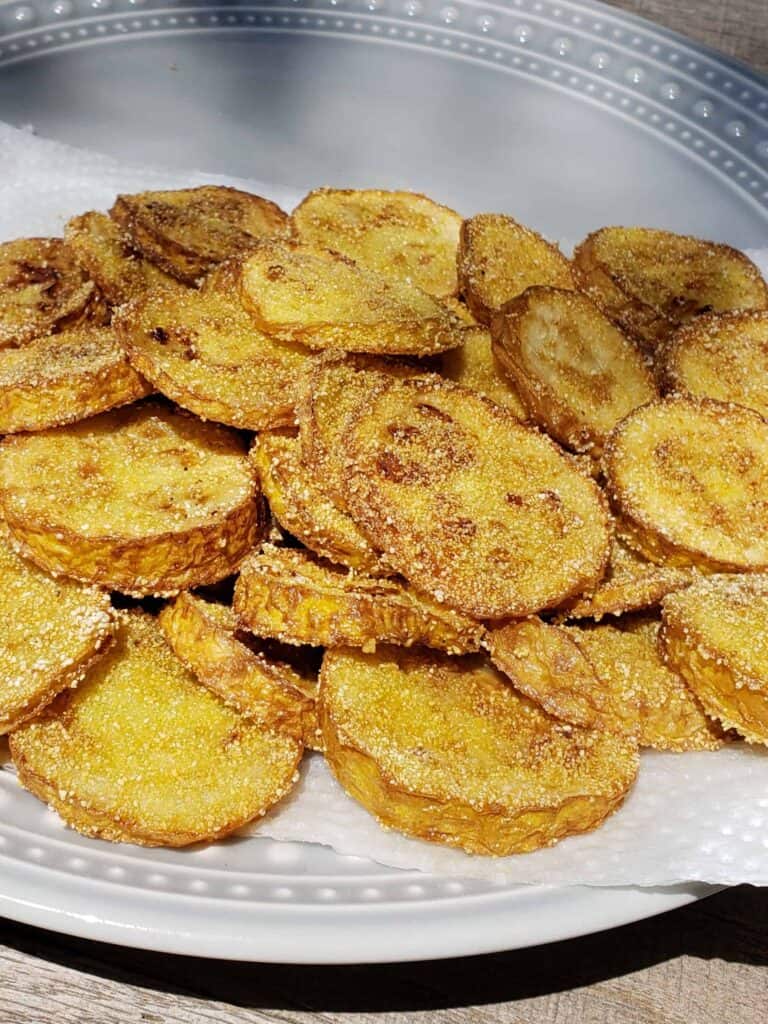 Summer cannot end until I have had at least one mess of fried yellow squash or summer squash as I've always called it.
This blog is a participant in the Amazon Services LLC Associates Program, an affiliate advertising program designed to provide a means for us to earn fees by linking to Amazon.com and affiliated sites. I may make a small commission if you make a purchase through one of these links at no cost to you.
What is a "mess of squash"?
In Southern speak, it means just enough for one meal. How much squash is that? It depends on how many are in your family. There are four in my family until if they are all home from college. So, a mess for us is about 4 squash- but we LOVE fried squash so we often cook extra!
Frying cornmeal-coated squash is quick and easy. If you read my story on Perfect Every Time Fried Green Tomatoes, you saw that it took 3 plates to coat them in flour, milk/egg mixture, and cornmeal/flour mixture. Totally worth the effort! With this recipe, it can be as simple as pressing the sliced squash into cornmeal and frying them!
I did a side by side visual poll on my Instagram story a while back to see if anyone could tell the difference between fried squash coated in plain cornmeal and fried squash coated in a mixture of flour and cornmeal.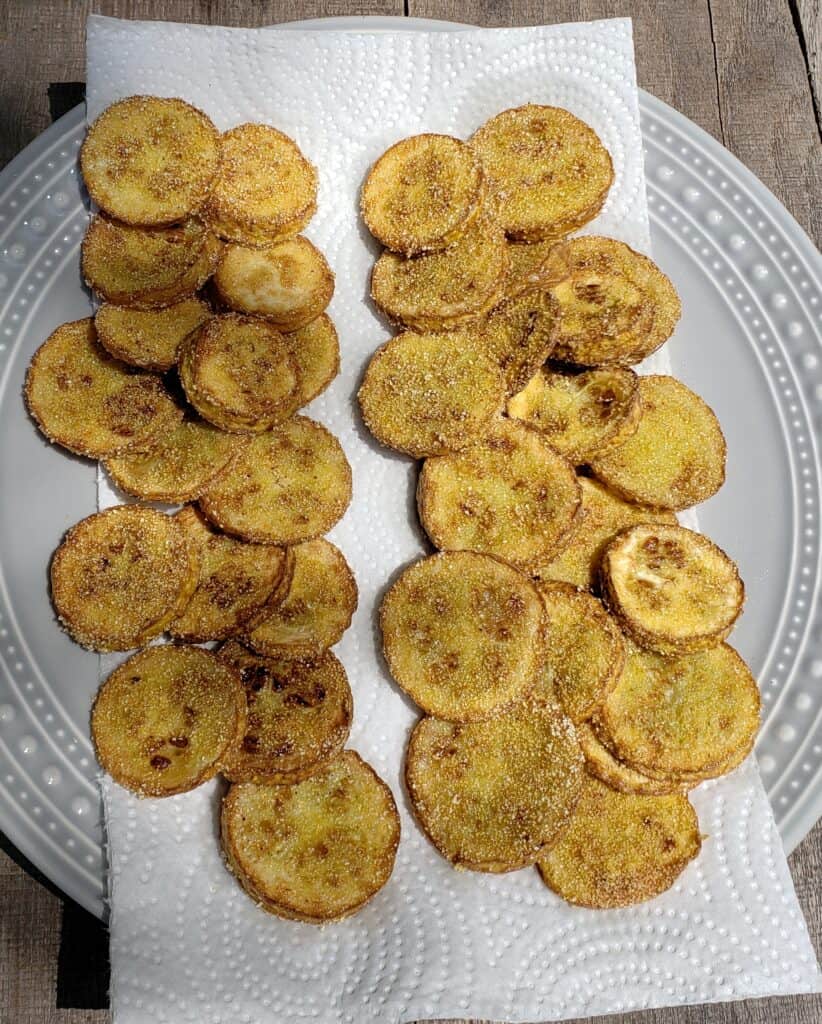 They looked almost exactly the same but the cornmeal-only slices were slightly darker. That could have been the dappled sunlight and how I fried them because they tasted exactly the same and my family couldn't tell them apart.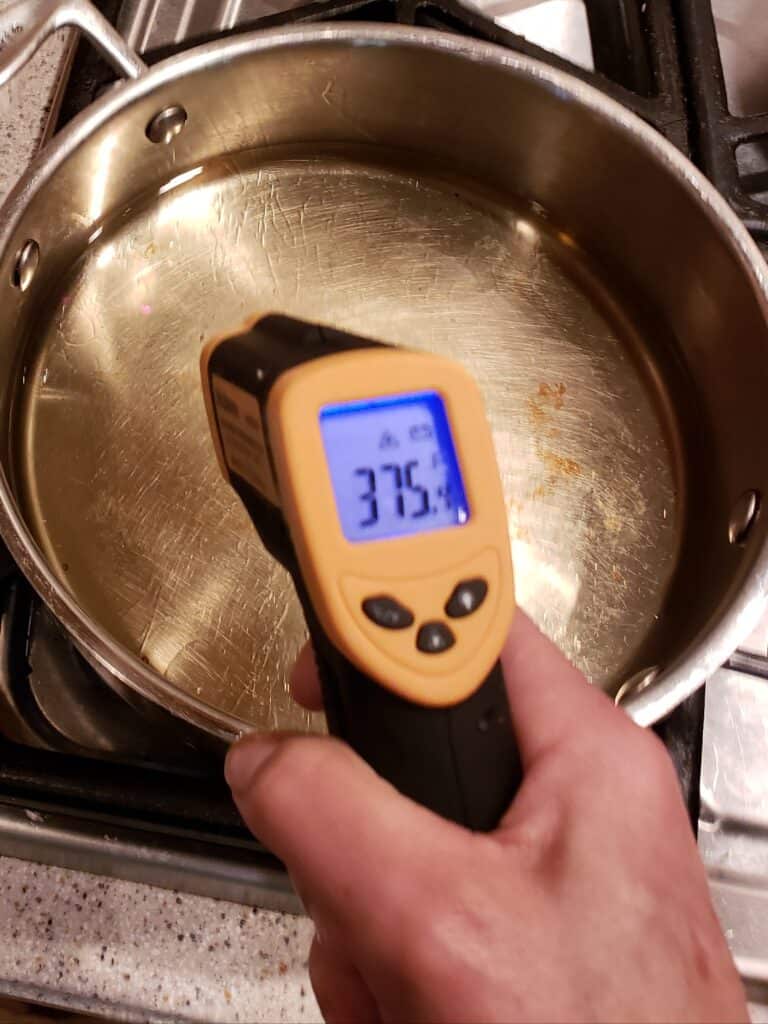 One of the absolute most valuable tools in my kitchen is this digital laser thermometer gun! It measures the surface temperature of hot oil and candy mixtures. Just point and click! No more trying to secure a candy thermometer to the edge of a pan or adding more oil to the pan than I need just so it will be high enough to reach the bulb on my candy thermometer.
Keep in mind, though, this thermometer will not register correct temperatures on humans. It is meant for surface temperatures and does not replace a meat thermometer or instant read that measures the internal temperature.
How much oil do I need to fry squash?
I recommend using just enough vegetable oil to reach a depth of 1/4 inch in the bottom of a high-sided skillet or large saucepan. Any more oil than that is wasted unless you are frying a large volume of squash. I like to bring the temperature up to between 360 and 375 degrees because the squash browns quickly. If the oil is too low, the coated squash starts to absorb more oil and the texture is soggy rather than crisp.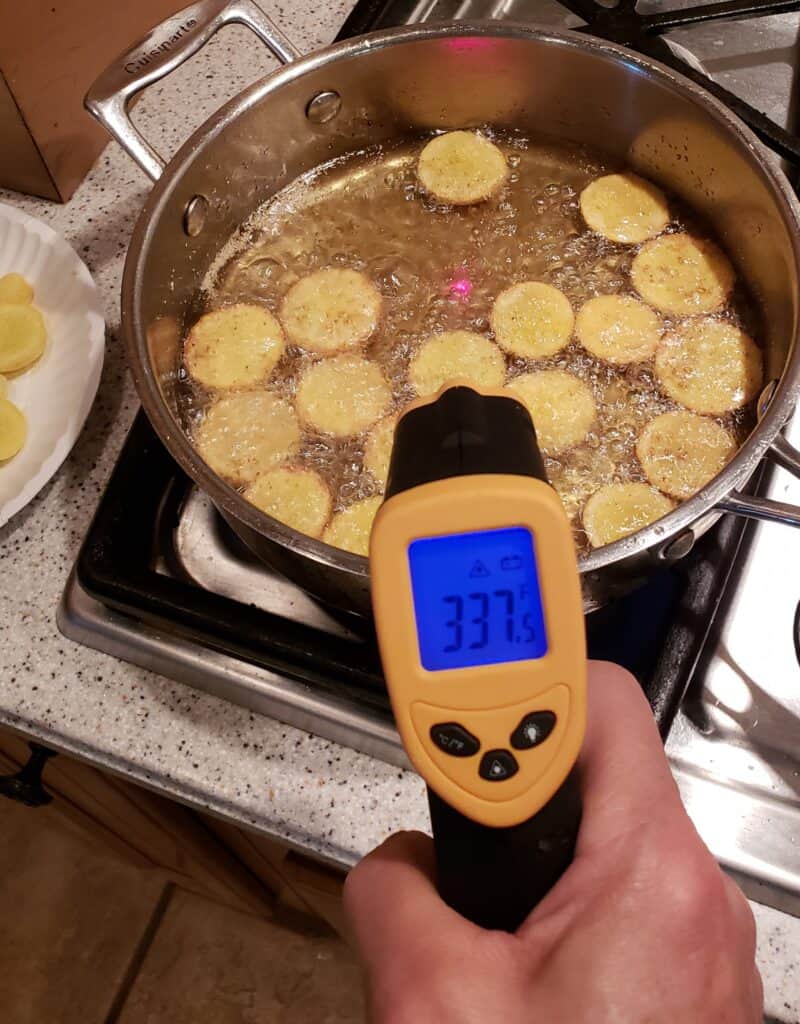 Check the temperature right after adding the squash and adjust the heat to make sure it comes back to 375 as quickly as possible. I usually keep the heat on medium-high. I probably could have added fewer squash to this batch and it wouldn't have dropped to 337 degrees. Medium high heat is a good average heat to start with, adjusting as needed.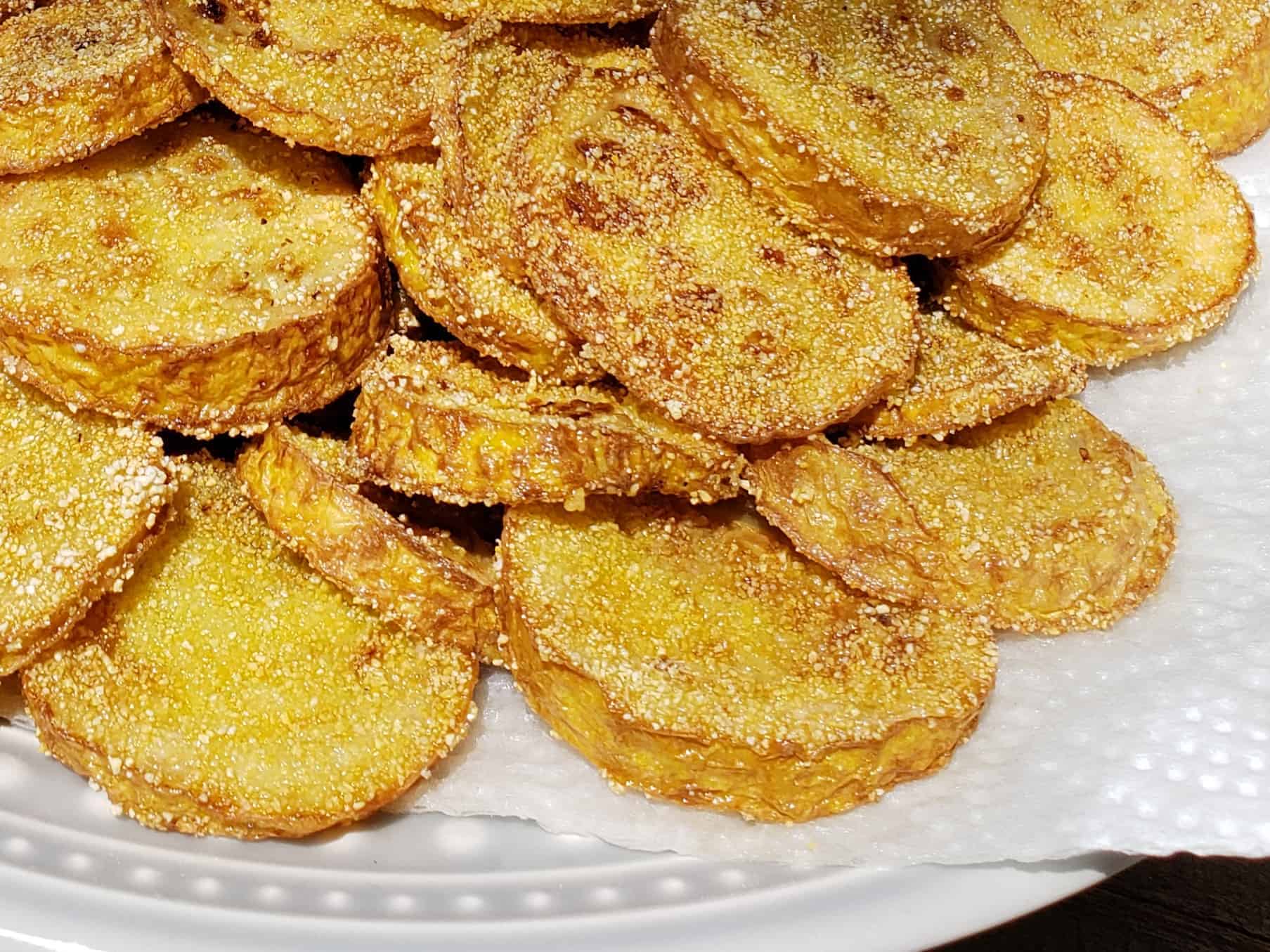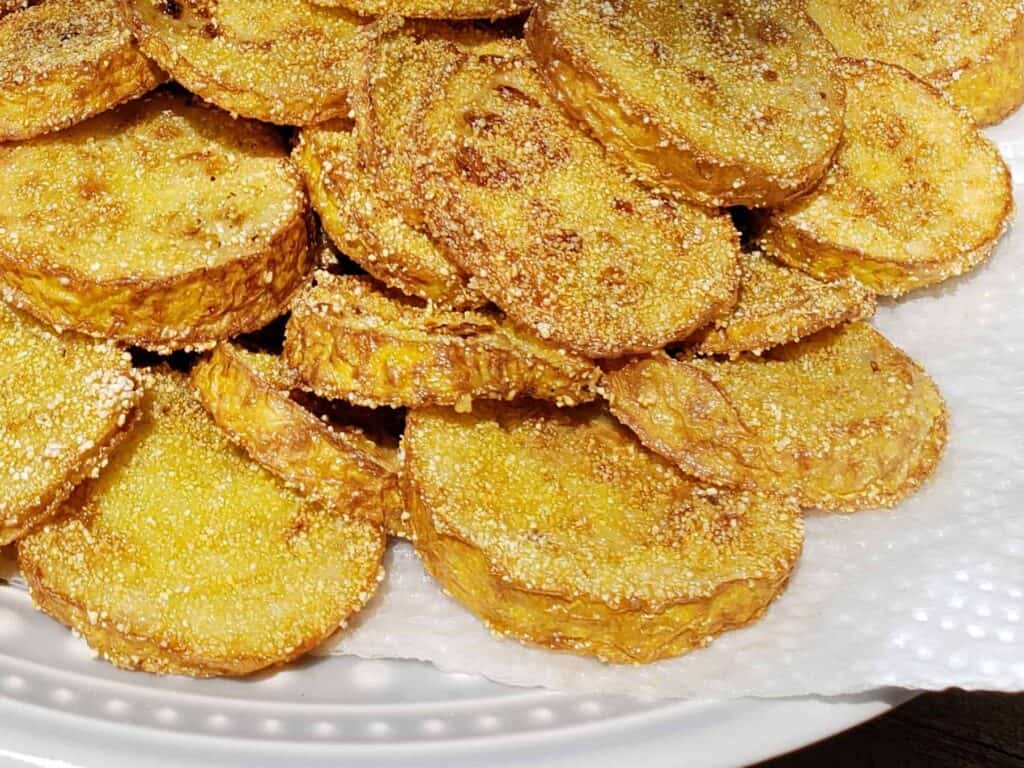 I like to use yellow cornmeal for almost everything but especially for frying yellow squash. It just seems to enhance the yellow in the squash and doesn't mute it like white cornmeal.
How thick do I slice the yellow squash?
Slice the squash somewhere between 1/8-inch and 1/4-inch thick. It depends on your preference. The thinner you slice it, the crispier it will be like a chip. The important thing to remember is to slice them all evenly. If some are thin and others are thick, you will have to babysit it to see which ones need to come out first because the thinner ones will cook faster.
If you are unsure of your knife skills or just want to slice a lot of squash quickly, I recommend a hand-held mandolin. (See picture below, too) They are inexpensive and fit in any drawer. I use mine to slice cucumbers for my Crunchy Kosher Dill Pickles.
Tip: If you have a bumper crop of zucchini and no yellow squash-fry it just like summer yellow squash!
More squash recipes you may love
Glazed Nutella Chocolate Zucchini Bread
Ground Turkey Quinoa Skillet Dinner 


Be sure to follow me on Facebook, Instagram, Pinterest and Twitter and don't leave before you share with me your email address so you don't miss a single post on my Southern shortcut recipes!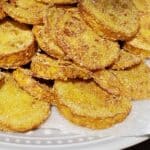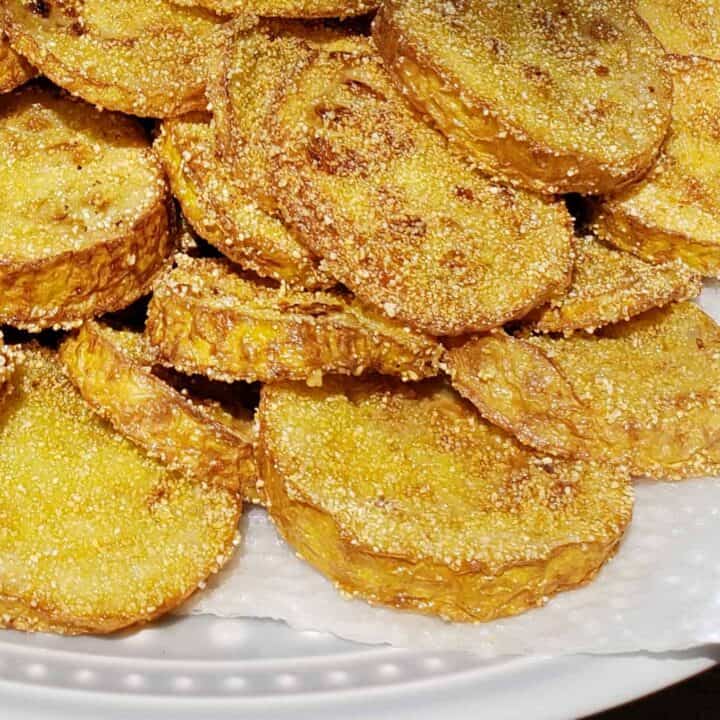 Print Recipe
Southern Fried Yellow Squash
Fried yellow squash, or summer squash as I've always called it, is a must on my table every summer. It can't get much easier than slicing and pressing the squash into cornmeal and frying in a little bit of oil for a minute.
Equipment
digital laser thermometer
Ingredients
2

cups

vegetable oil

This varies with pan size

6

small

yellow squash

straight or crookneck

1/3

cup

cornmeal

I prefer yellow

3/4

teaspoon

salt

2

tablespoons

all-purpose flour

Optional: Many people like to add flour
Instructions
Pour enough oil in a high-side skillet (not nonstick) or large saucepan to reach a depth of about 1/4 inch. Bring temperature up to 375 degrees over medium high heat. I use a digital thermal thermometer you can buy online and at hardware stores for a quick and easy way to measure the heat.

Meanwhile, combine the cornmeal and salt on a paper plate. Cut the squash into 1/4-inch-thick slices and immediately press the cut sides into the cornmeal. If you choose to add the flour, simply stir the two together on a paper plate for easy clean up.

When the oil is at 375 degrees and all the squash is coated, gently drop them into the oil one by one. Be sure they are not touching each other. If there are too many slices in the pan, the temperature may drop too quickly and take too long to come back up to 375 degrees.

Cook the squash about 1 minute on each side or until lightly browned. Turn the slices over with tongs and cook a little less than 1 minute on the second side. Drain on paper towels.
Notes
Tip: Try frying zucchini if you have more of that in your garden or it is on sale.
Hand held mandolins are super cheap and make quick work of slicing squash evenly.