Brown sugar makes these Toffee Blonde Brownies soft and chewy. Toffee bits add the crunch. No candy thermometer needed on the Cheater Caramel Icing! They don't even NEED the icing but, you know me, I'm going to "gild the lily" and make something yummy even yummier!

Double yum! Bits of toffee candy in the chewy brownie topped with a fail-proof caramel icing. It tastes like the old-fashioned kind where your Grandma had to use a candy thermometer.
She had to frost the cake quickly or it would set up like concrete and sometimes crystalize and harden before you could get the entire cake frosted.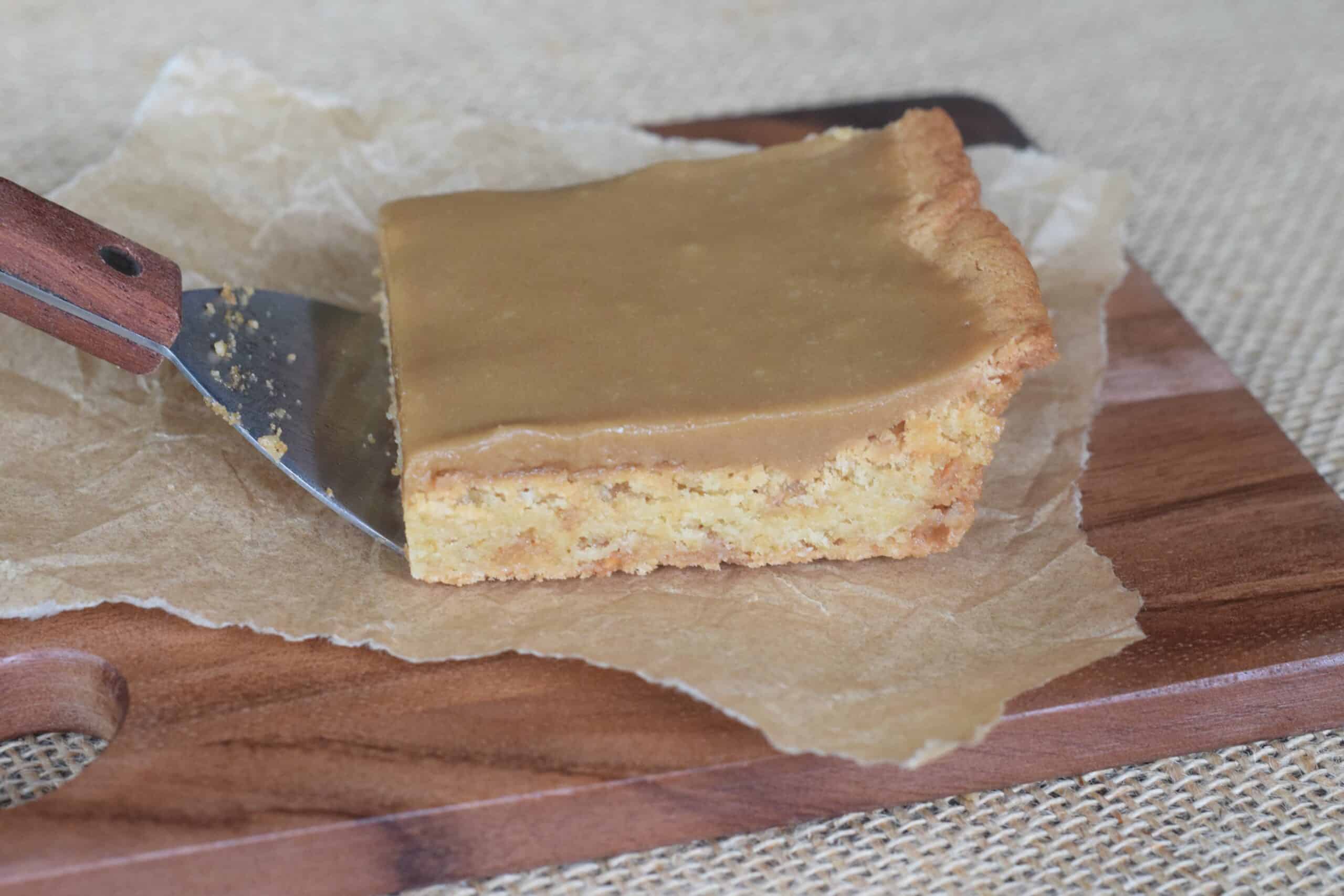 What's the shortcut for the icing?
The Cheaters Caramel Icing secret revealed: It is basically a simple caramel sauce made with brown sugar and butter then powdered sugar is stirred in at the end to make it spreadable!
If you are looking for something a bit out of the ordinary for your Christmas cookie swap or office party, these chewy toffee bars are your answer!
I love the fact that they are simple to make, make a lot, and I don't have to cut them out and decorate them.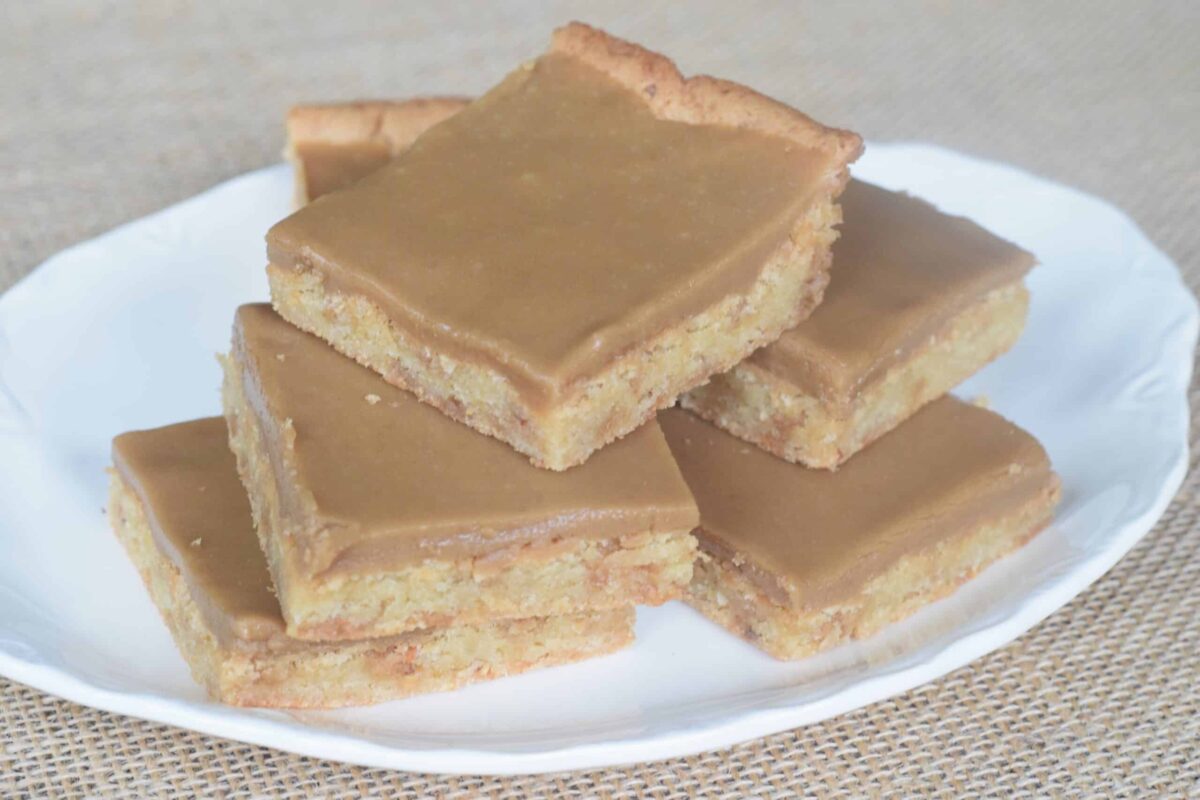 The icing easily spreads to the edge of the brownies and settles into every nook and cranny, then magically turns into this caramel-flavored icing that will remind you of the old-fashioned frosting without all the work-another Southern shortcut!
These are also perfect for back to school lunches, potlucks, or get out of your comfort zone and go meet the new neighbors-or share with the ones that have lived on your street and you've never met them!
Other shortcut cookies and candy recipes
Microwave Cranberry Pistachio Brittle ,
3 Ingredient Cinnamon Sugar Pecans,
Be sure to follow me on Facebook, Instagram, Pinterest and Twitter and don't leave before you send me your email address here so you don't miss a single post on my Southern shortcut recipes!
My Amazon Pics for this recipe
PIN FOR LATER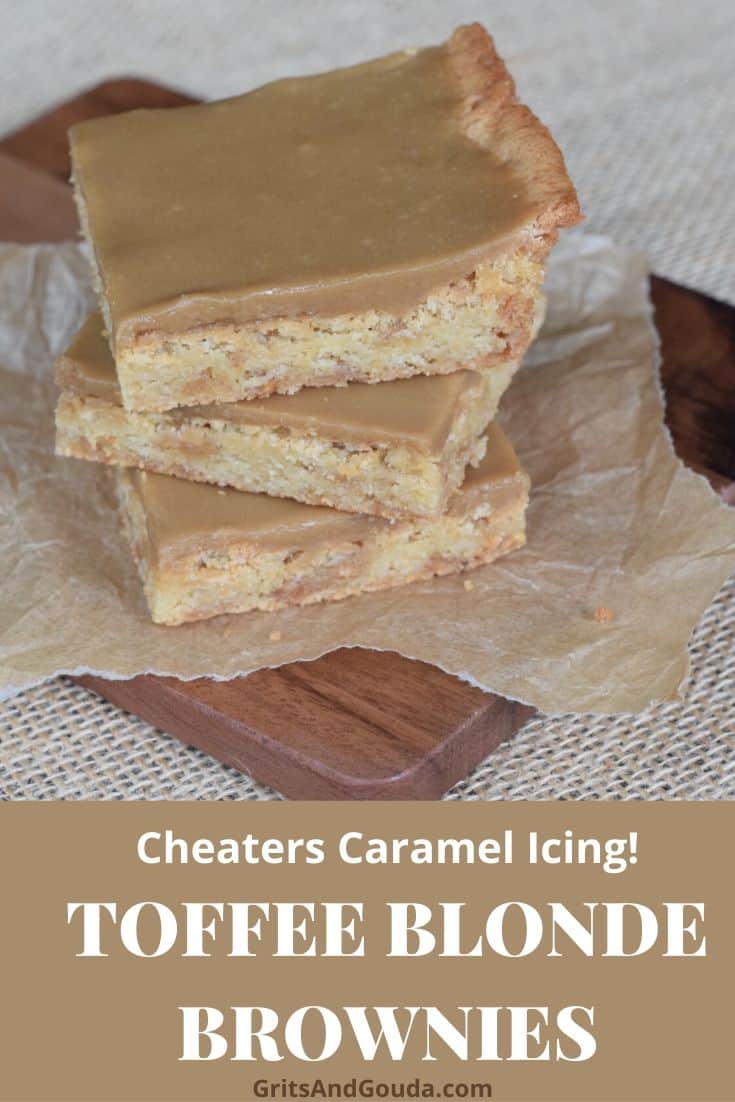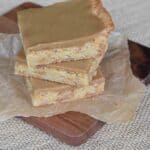 Print Recipe
Toffee Blonde Brownies with Cheater Caramel Icing
With every bite you get soft and chewy blonde brownies with bits of toffee and caramel icing that tastes like the old-fashioned icing your Grandma used to spread on her three layer Caramel Cake. The "cheater" part of the icing is that no candy thermometer is needed and it doesn't harden before you get the brownies frosted like the old-fashioned kind is prone to do. This recipe is basically a caramel sauce with powdered sugar stirred in!
Ingredients
Brownies:
1/2

cup

salted butter

softened

3/4

cup

granulated sugar

3/4

cup

light brown sugar

2

large eggs

1

teaspoon

vanilla extract

1 1/2

cups

all-purpose flour

1

teaspoon

baking powder

1/2

teaspoon

salt

1

8-oz package Bits o' Brickle Toffee Bits (Found near chocolate chips.)
Cheater Caramel Icing:
1

cup

dark brown sugar

1/2

cup

evaporated milk

3

tablespoons

salted butter

1

tablespoon

light corn syrup

2

cups

powder sugar

sifted

2

teaspoons

vanilla extract
Instructions
Preheat oven to 350°.

Beat butter and sugars together with an electric mixer in a large mixing bowl 3 minutes

at medium speed or until light in color. Set a timer; this step is important. Add eggs, one

at a time, beating just until each one is incorporated. Add vanilla and beat at low speed

just until incorporated

Combine flour, baking powder, and salt in a medium size bowl. I like to use a large

paper plate so I don't have to wash another bowl. Add flour mixture and toffee bits to

mixing bowl; beat just until flour is incorporated.

Line a 13 x 9-inch baking pan with aluminum foil, allowing edges to overhang 2

inches on the end. This will help remove the brownies for easy cutting. Coat the foil with

cooking spray or brush lightly with oil. Dollop batter on bottom of lined pan, then spread

the batter evenly to the edges of the pan. Bake for 30 minutes or until toothpick inserted in

the center comes out almost clean. Don't over bake them. You want them to be a little

soft and gooey. Let cool in pan 20 minutes on a wire rack.

Meanwhile, prepare the icing. Combine brown sugar, evaporated milk, butter, and corn

syrup in a medium saucepan. Bring to a boil over medium heat, stirring often. Boil 5

minutes without stirring. Set a timer. Remove from heat and let cool 15 minutes. Stir in

powdered sugar and vanilla.

Beat caramel mixture in the saucepan with a handheld electric mixer about 5 minutes

or until it starts to thicken. It will still be pourable but will thicken as it cools. Pour icing

over brownies in pan, spreading it to the edges. Let the brownies and icing cool

completely and icing is firm, about 1 to 2 hours, before cutting.
Nutrition