Shortcut Caramel Apple Pie (Galette) starts with rolled up, refrigerated pie crust dough. There's no shame in halfway homemade! This variation of a fall favorite dessert is a rustic apple "pie" that bakes on a baking sheet and doesn't require a pie plate. It couldn't be easier!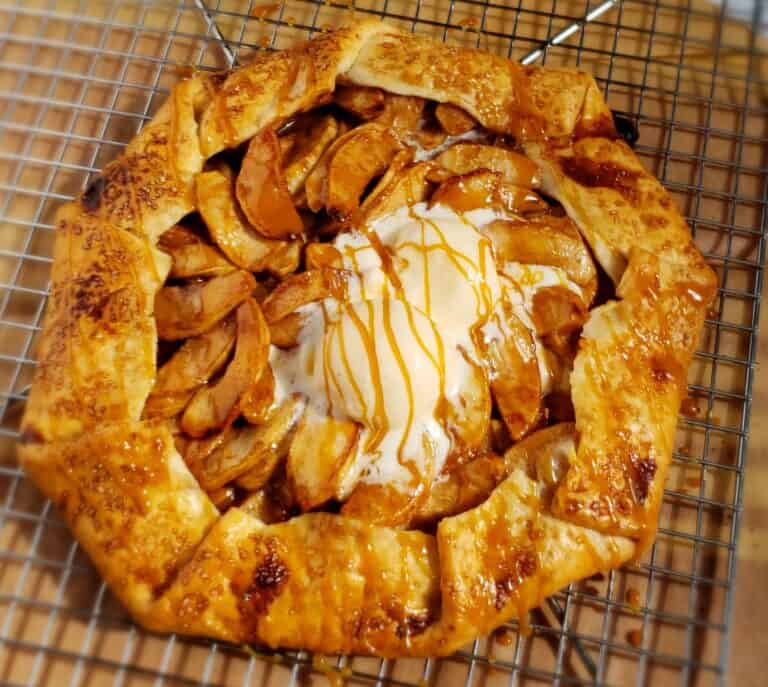 Thanksgiving and Christmas are just around the corner....yikes!...so I'm thinking about what to make. Of course, I'm thinking about the desserts first! lol
Apple pie is an American classic, not just Southern, and a family favorite. My sister-in-law back in Arkansas is known for her double-crust apple pie at (almost) every holiday. hint hint Kelley if you are reading this, I'm putting in my request, now for Christmas!
I prefer a homemade pie crust to a store-bought crust, hands down. I am not a pie crust snob-hmmmm... well, maybe just a little... but I am not above using the rolled-up refrigerated pie crust when I'm looking for a shortcut to the dessert table.
I do, however, refuse to buy frozen, already shaped-in-the-foil-pan crusts. Sorry, but those are like cardboard frisbees to me.
Scroll down to the bottom of this post for the detailed, printable recipe. Pictures below will help guide you as you read the recipe.
Ingredients needed for this recipe
Pillsbury makes a refrigerated dough but so does Walmart and Aldi.
Baking apples such as Granny Smith
Brown sugar
All-purpose flour
Ground cinnamon
Lemon juice
Butter
1 medium or large egg (optional)
Raw or turbinado sugar (granulated also works)
Caramel dip or sauce (found in the ice cream sauce section)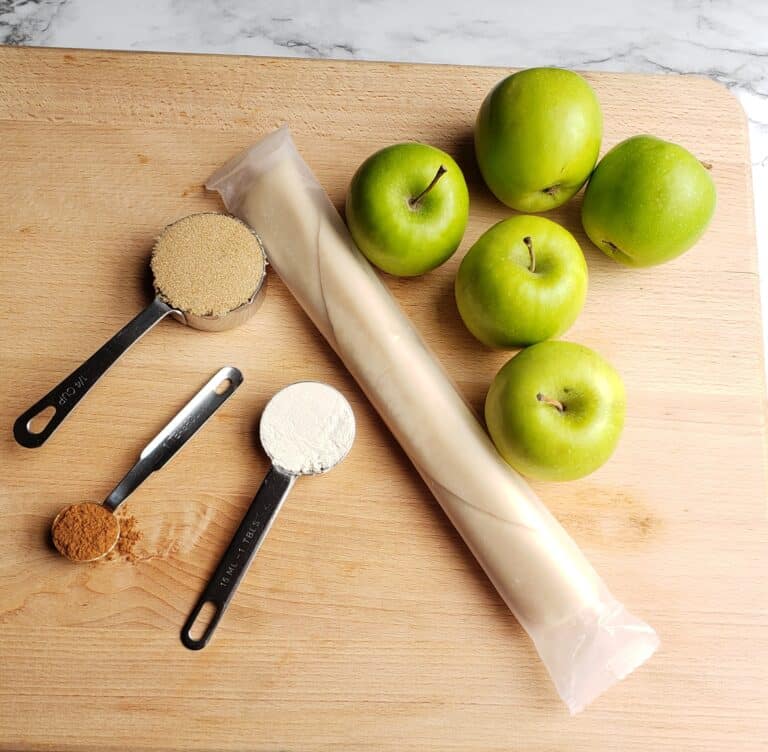 How to make this easy "pie"
While you peel the apples, let the pie crust stand 15 to 20 minutes at room temperature according to the package directions. Many people skip this step!
This is especially important if you were making the traditional apple pie in a pie plate. It tends to "shrink" if you start with it straight from the fridge.
The number of apples isn't as important as the number of cups of apple slices. I like to buy the bags of smaller apples because they are less expensive and we always have a bag of apples in the fridge to snack on-year round.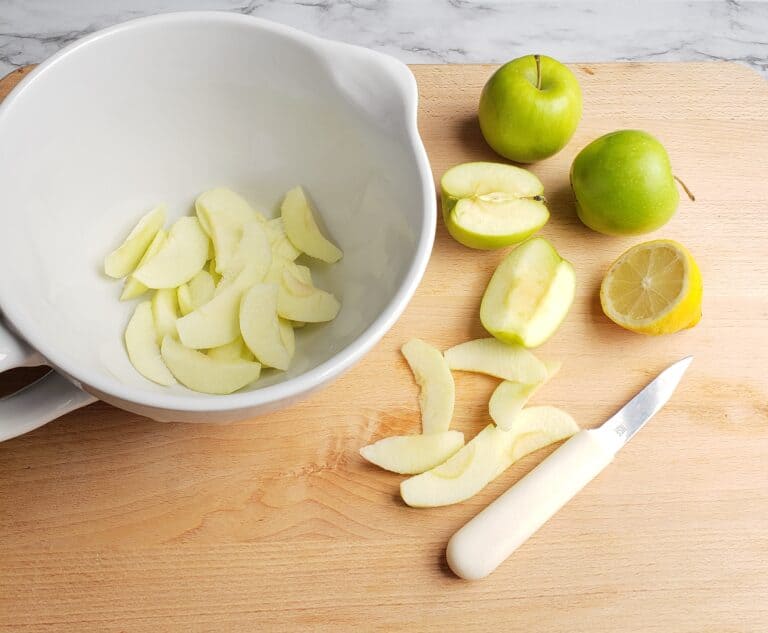 I used 5 little Granny Smith apples but I've seen some so large that 3 would be more than enough to get 3 cups of slices.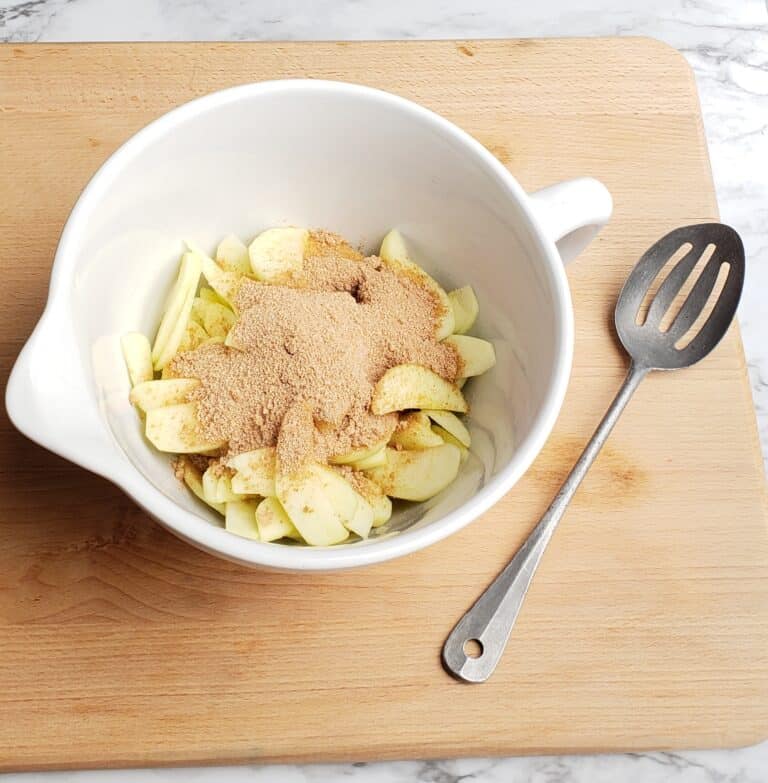 Be sure to combine the brown sugar, flour, and cinnamon together first. This distributes the cinnamon evenly and prevents it from clumping onto the apple slices.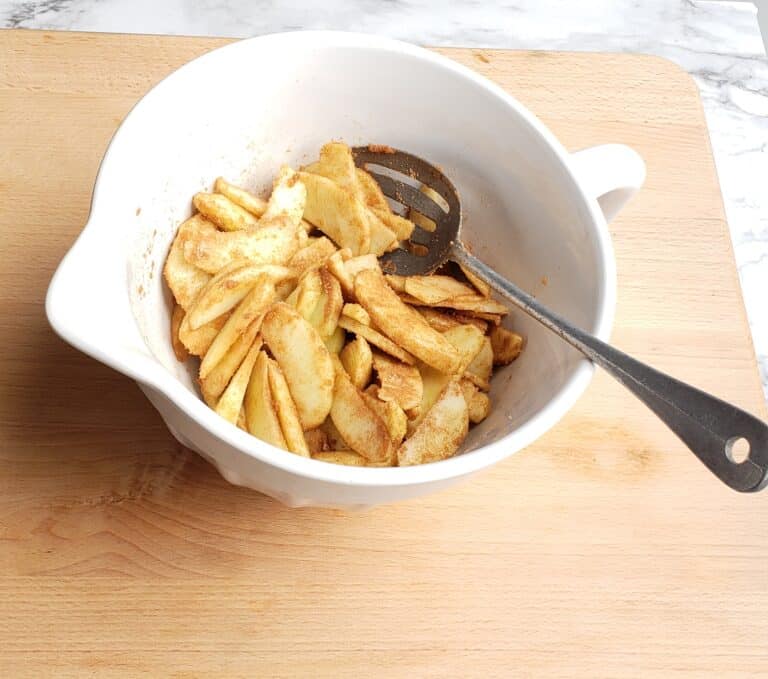 Gently toss the sugar mixture with the apple slices so you don't break the slices. Set this aside while you roll out the pie crust.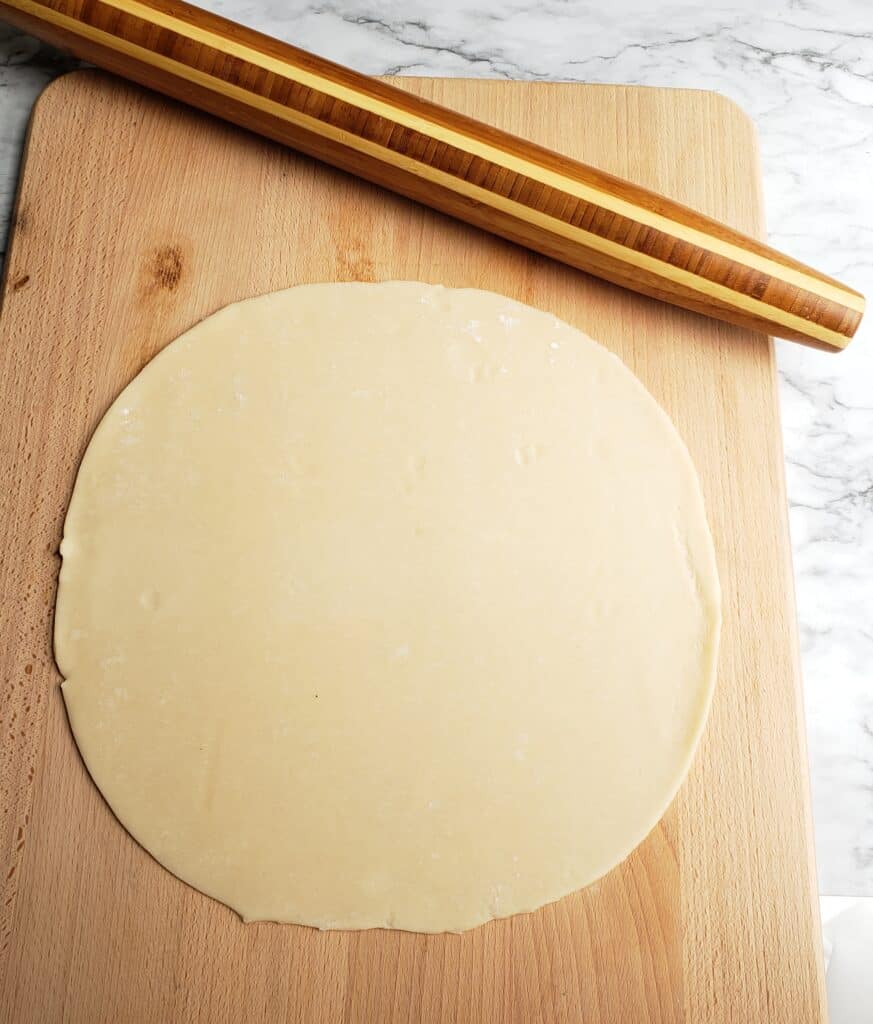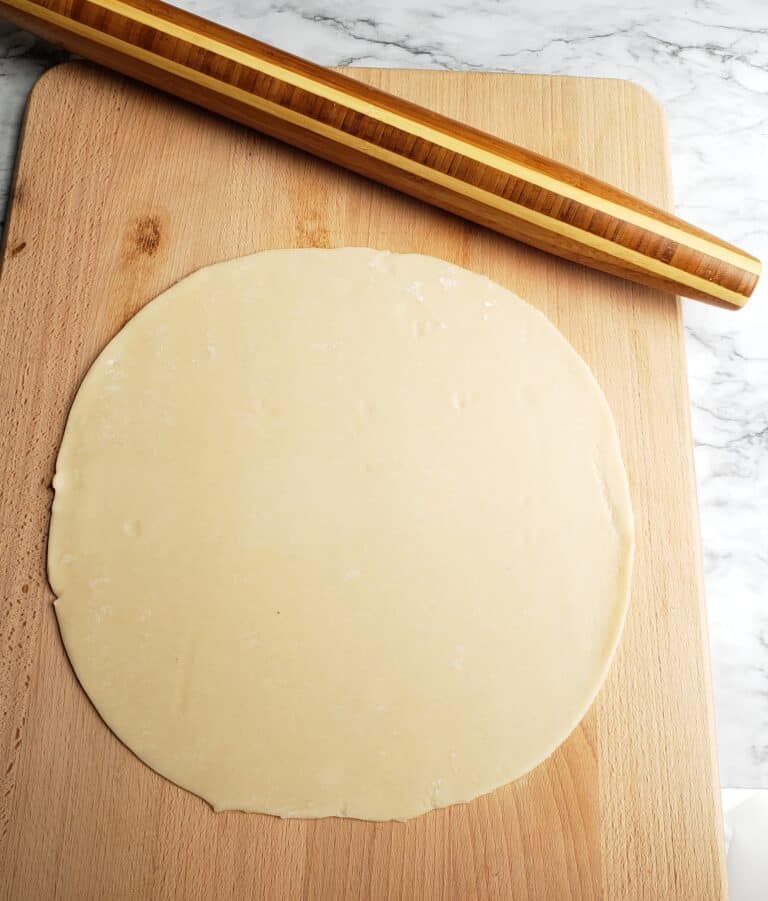 The refrigerated pie crust starts out about 11 inches. With a rolling pin, roll it out to a 12-inch circle.
Pro Tip:
Roll the edges just a little thinner than the rest to give it more of a homemade look. Otherwise, the edges tend to have a blunt, thick look that I think is a dead giveaway that it is a refrigerated store bought crust.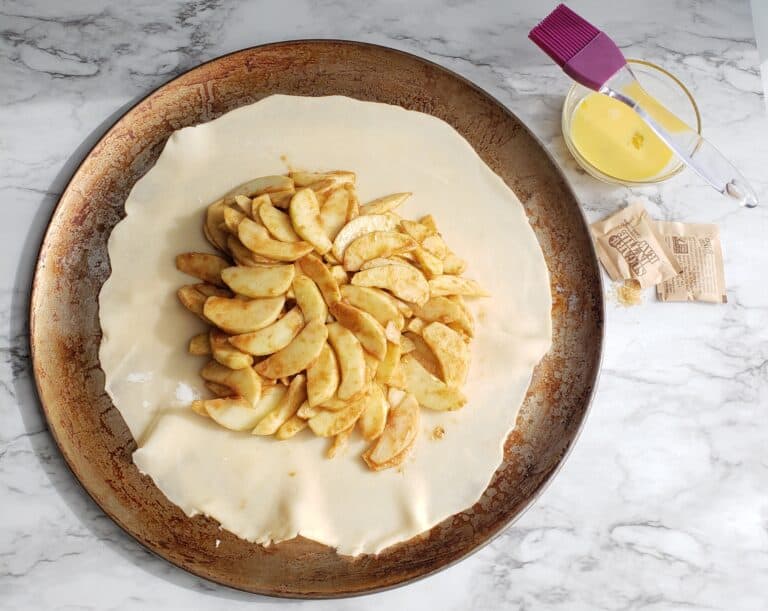 You don't have to use a round pizza pan. After folding the edges in, the finished circle is about 8 inches and can easily fit on a rectangle baking sheet.
Pile the coated apple slices up in the middle of the pie. Just arrange enough on the top in a concentric circle. Don't worry about the bottoms ones.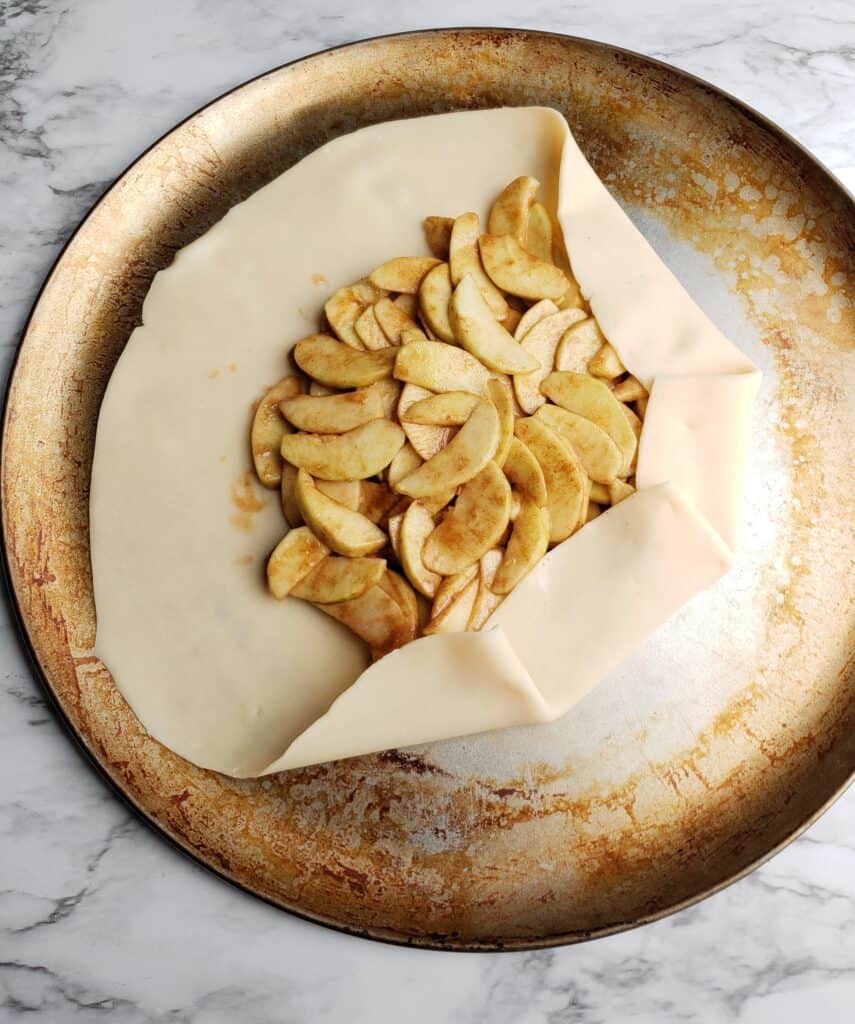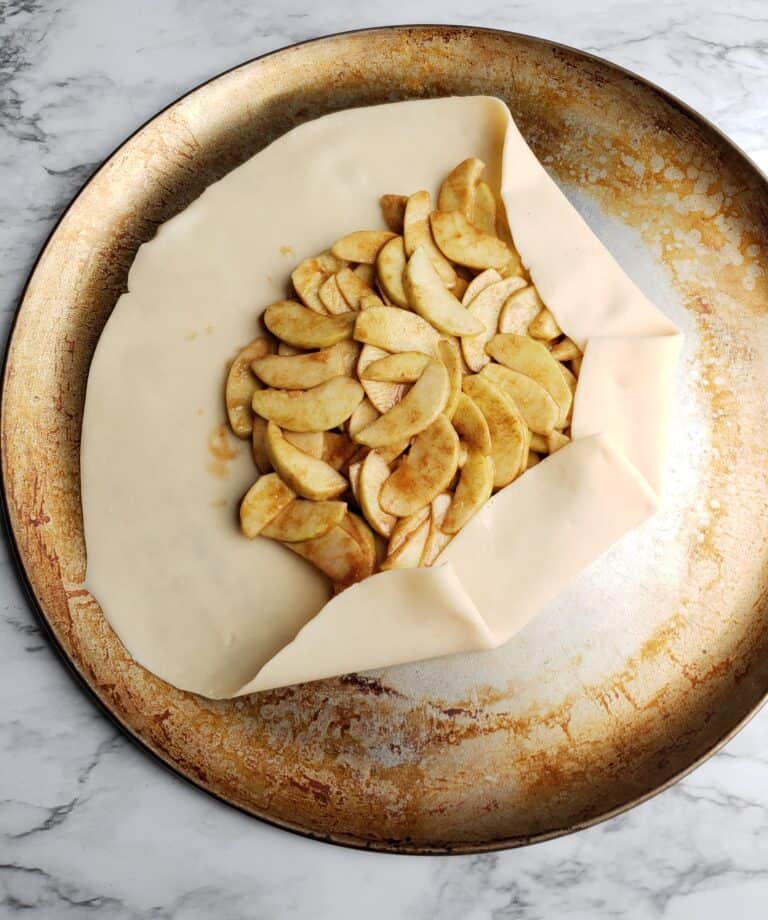 Pull about 3 inches of pie crust at a time toward the center, overlapping as you go around.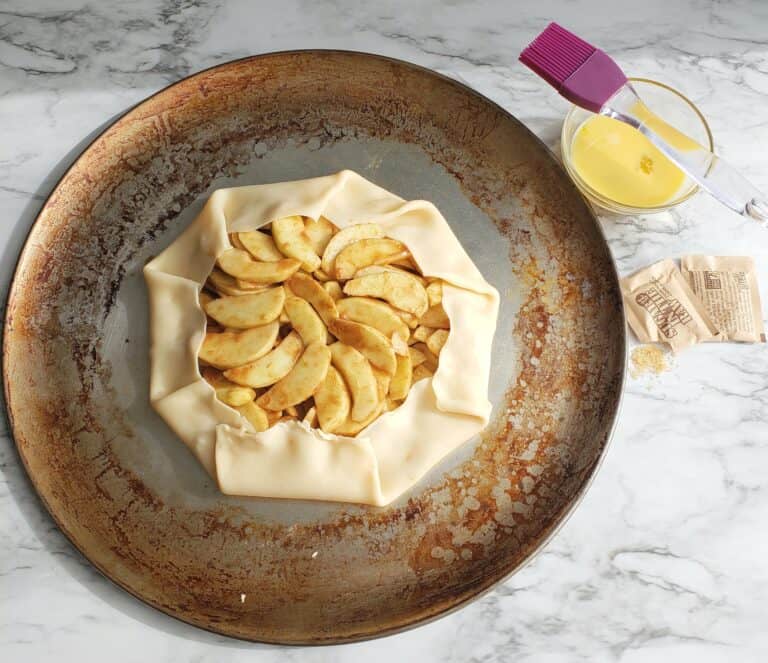 Whisk the egg in a small bowl until frothy. Brush the egg lightly over the pie crust. This step is optional and will still turn out fine if you want to skip the egg wash and sugar.
This not only helps the turbinado sugar (My kids used to call this the crunchy sugar) stick to the crust, it helps the crust bake with a nice golden brown color.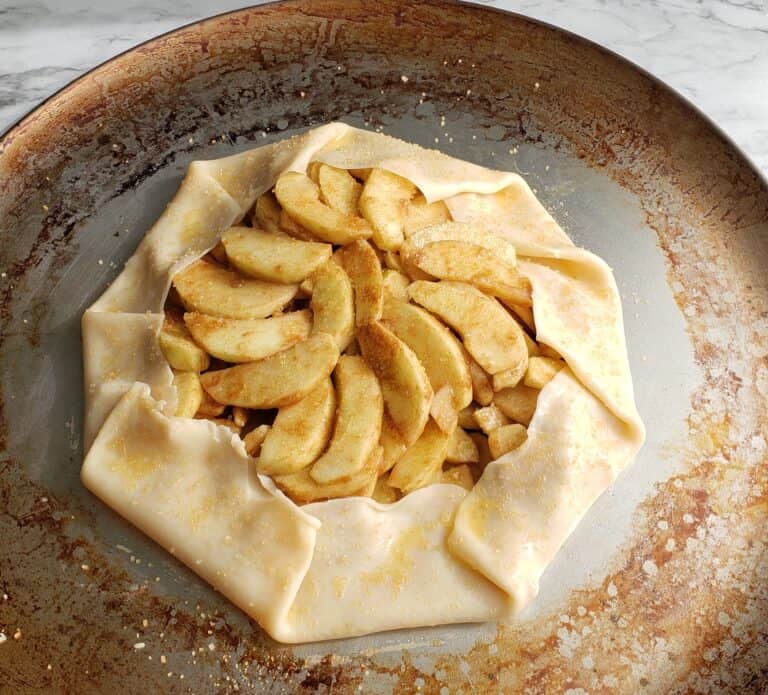 Unless you pile too many apple slices into this little package, you shouldn't have any spillage or leaks.
You can always start with a piece of parchment paper under the crust before adding the apples if you want to ensure less clean up. You can tell that my pan is well-loved and used.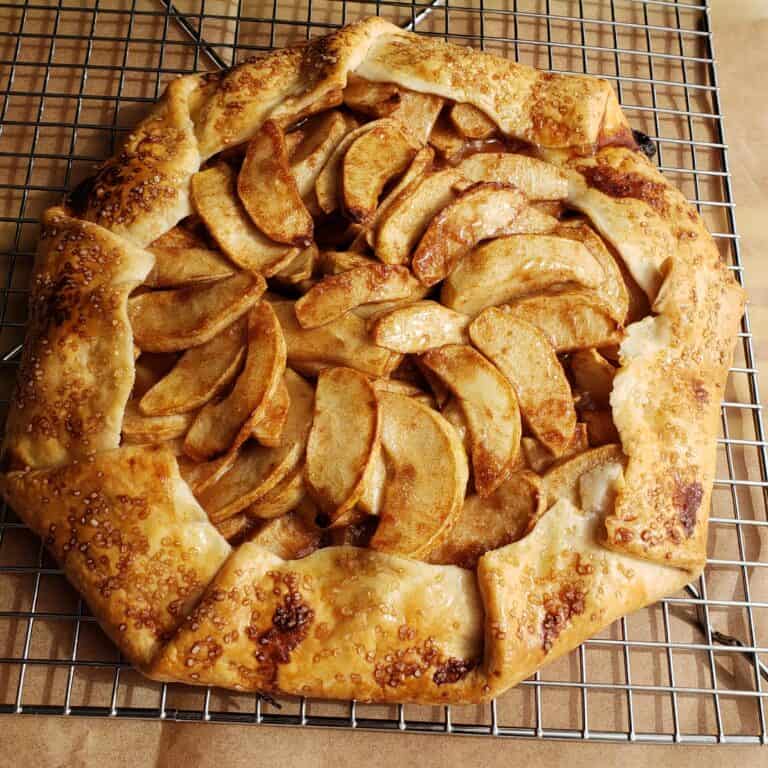 Now, see that delicate edge on the right? That's from rolling it out a little thinner on the edges. This galette is as yummy as it is easy.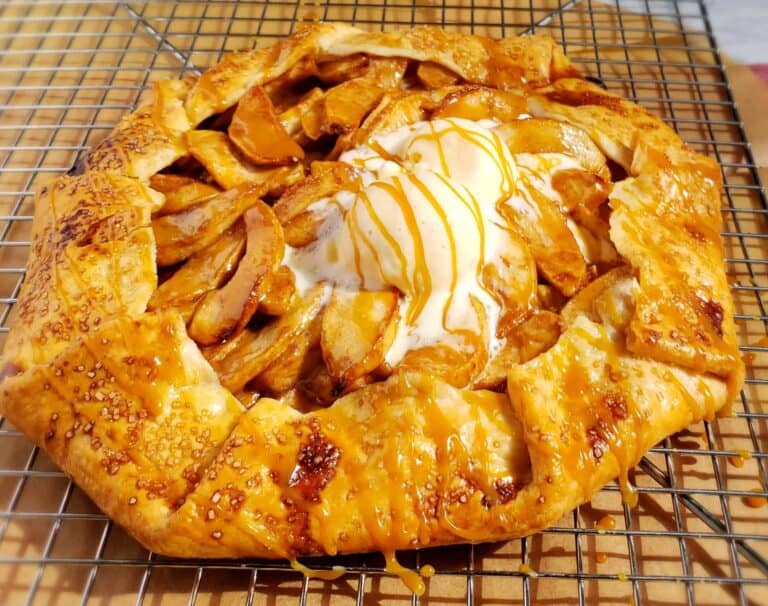 Gild the Lily
If you want to "gild the lily", add a few scoops of ice cream and drizzle with caramel topping.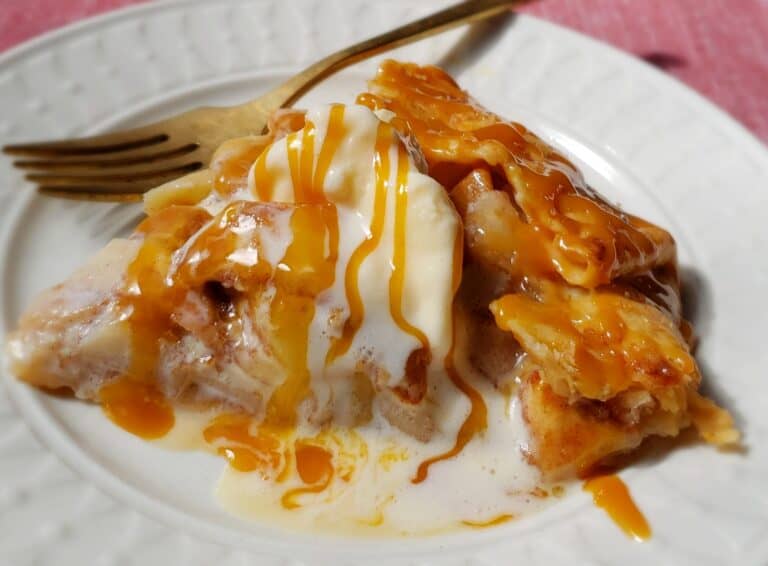 Warm apple pie and cold ice cream mingling with cascading caramel. I may or may not have eaten this whole piece after photographing it. lol
If you make this recipe, leave a comment and let me know how you like it. Be sure to follow me on social media and sign up on my email list so you never miss a post!
Follow me on Facebook, Instagram, Pinterest and YouTube. Be social and share, y'all! Don't forget to sign up with your email so you don't miss a single post on my Southern shortcut recipes!
If you make this recipe I'd love to see it! Tag me on social media with #gritsandgouda or @gritsandgouda. Leave a comment below the printable recipe if you have questions or tell me how you liked the recipe. Don't forget to give the recipe a rating of 5 stars if you love it!
Other apple recipes you will love
Cinnamon-Sugar Fried Apple Rings
Apple and Roasted Butternut Squash Salad with Homemade Apple Cider Vinaigrette
Pan-Seared Pork Chops and Fried Apples
Cranberry-Apple-Jalapeno Salsa with Homemade Cinnamon-Sugar Tortilla Chips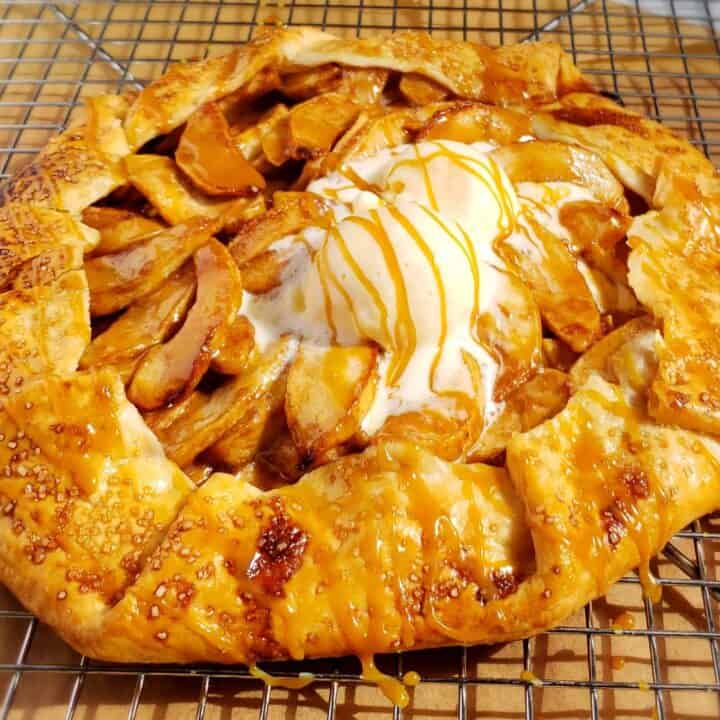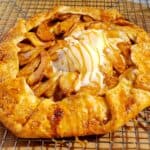 Print Recipe
Shortcut Caramel Apple Pie (Galette)
All the yummy flavor and tender crust of a homemade double crust apple pie in half the time. The shortcut is using a refrigerated, rolled up pie crust. The edges of the crust are simply folded over the piled up apples instead of fitting into a pie plate.
Ingredients
1

refrigerated, rolled-up pie crust

1/2 of a 15-oz pkg

3

large or 5 small Granny Smith apples

1

teaspoon

lemon juice

1/4

cup

light brown sugar

1

tablespoon

all-purpose flour

1

teaspoon

ground cinnamon

2

tablespoons

salted butter

melted

1

medium or large egg

lightly beaten with a fork

2

tablespoons

turbinado sugar

sugar in the raw

1/4

cup

caramel dip or ice cream topping

I prefer Marzetti dip or Smuckers Salted Caramel topping

Vanilla ice cream

optional
Instructions
Preheat oven to 400°F.

Remove rolled pie crust from the box and place it on the counter for 15 to 20 minutes. The box directions say to do this but many overlook it-like I did for many years!

Meanwhile, peel and slice apples into 1/8-inch thick slices. Toss the apple slices in lemon juice in a large bowl to prevent browning.

Combine the flour, brown sugar, and cinnamon in a small bowl and sprinkle it over the apples, tossing gently to coat the apples.

Unroll the pie crust and gently roll out into a 12-inch circle with a rolling pin. Tip: Roll the edges slightly thinner for a delicate edge. It will make it look homemade. (It starts out as an 11-inch circle. Fold the crust in half and gently move over a large baking pan or pizza pan. (You can line this with foil or parchment, if you like.)

Pile the apples up in the middle leaving about a 2 to 2 1/2 inch border on the pie crust. These will cook down considerably. You can arrange the apples in a concentric circle or leave them alone. I arrange the ones on the very top that will show and leave the ones underneath alone.

Drizzle the butter over the apples.

For the rustic folded edge, pull about a 2 inch section of the edge toward the middle and lay it down about 3 inches from the middle, take the next 2 to 3 inch section of edge and repeat, overlapping each section until all edges are folded in.

Brush the pie crust edges with the beaten egg and sprinkle the pie crust and apples with turbinado sugar. Bake uncovered for 30 to 35 minutes or until the crust is nicely browned and apples are bubbly.

Place caramel dip in a small bowl and microwave it 20 seconds or until thin enough to drizzle. Ice cream topping will drizzle without heating. Drizzle it over the crust and apples and top with vanilla ice cream, if you like.
Notes
Pro Tip: Don't forget to let the pie crust stand 15 to 20 minutes at room temperature according to the package directions. This step is in the package directions but many people skip it or didn't know to do it.
Nutrition
Did you make this recipe?
If you love it, share it! Tag me on Instagram @gritsandgouda using #gritsandgouda Comment below before you go!