Cranberries and Thanksgiving go together like black-eyed peas and New Years Eve, right? But what about Cinco de Mayo and Taco Tuesday? Cranberry-Apple-Jalapeno Salsa is fantastic made with frozen, thawed cranberries and served with my Homemade Cinnamon Sugar Tortilla Chips or pita chips! Si!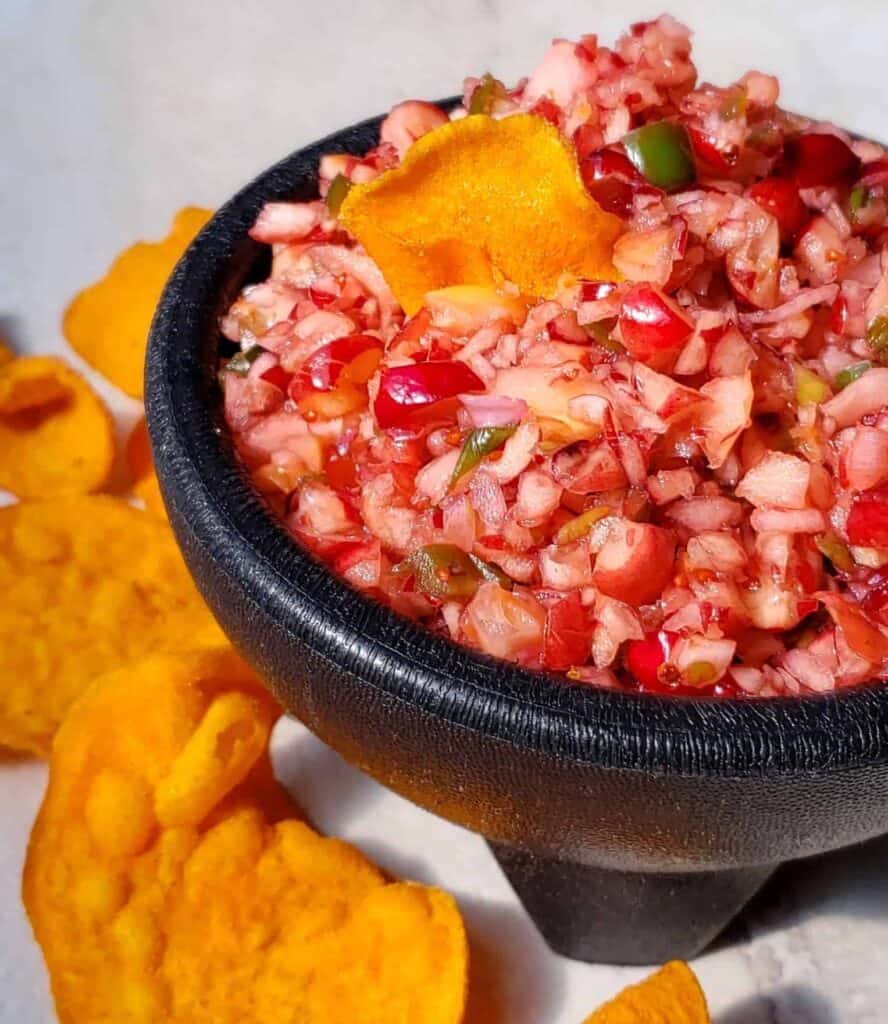 How many of you grew up eating sliced, jellied cranberry sauce from a can? Or, maybe a little fancier version, whole-berry cranberry sauce....still from a can? I'm not knocking the iconic cylinder of jellied cranberry sauce. I still reach for it at church potlucks when it is served alongside chicken and dressing...because...tradition, right! I'm just asking you to try something new this holiday season.
While we are on cranberry sauce traditions, at the Royal family (not the British Royals-my maiden name is Royal) Thanksgiving and Christmas feasts, my mom always made...and sometimes still does... a cranberry-apple-orange jello mixture that had toasted nuts in it and that's what I remember accompanying our turkey dressing. I'd love to hear what kind of cranberry "sauce" you serve with your holiday meal.
I first developed this recipe as a party appetizer about 7 years ago for the Christmas with Southern Living 2012 cookbook-one of my absolute favorite volumes- when I still worked part time with Oxmoor House test kitchen.
In this version, pictured above, I chose to leave out the cilantro. I have it as optional in my recipe below. Not everyone in my family is a fan of cilantro but love this salsa so I opt out and just stir in a little for myself.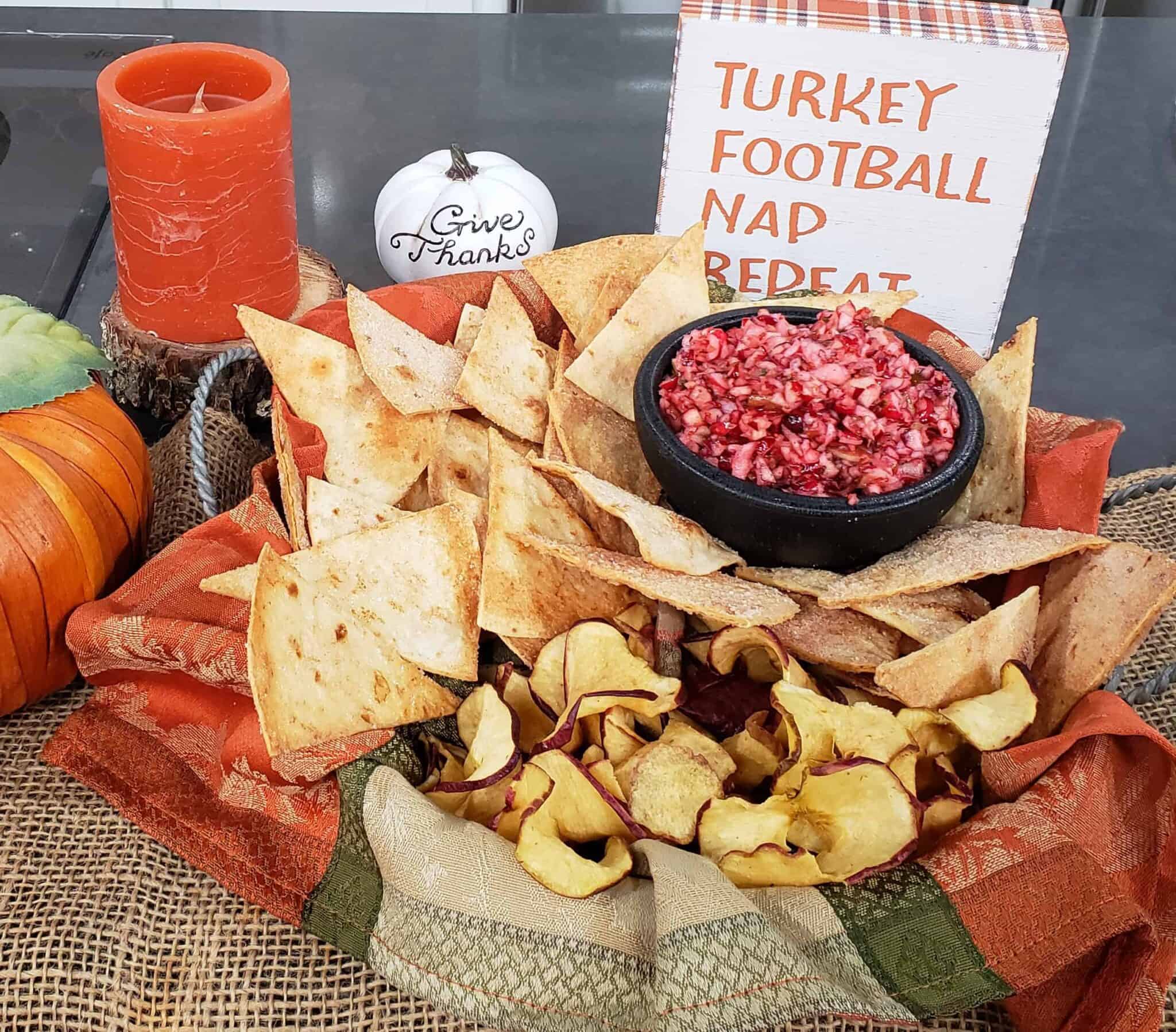 I make this "salsa" for parties with homemade Cinnamon Sugar Baked Tortilla Chips or store-bought apple chips and cinnamon sugar sweet potato chips. But, I also make it at Thanksgiving and Christmas as a sidekick to my turkey and dressing.
What's the shortcut in this recipe?
The shortcut in this recipe is using the food processor to chop the ingredients so they are evenly and finely chopped in about 5 pulses of the food processor. I prefer to make this salsa and refrigerate it overnight. The color intensifies and the flavors have a chance to blend and meld together.
I guarantee you will think this is just "crazy good" and it will be the hit at your holiday family or office party when you bring Cranberry-Apple-Jalapeno Salsa.
What can I serve this with?
I bought my apple and cinnamon sugar sweet potato chips at Aldi. I'd buy an extra bag of the sweet potato chips for later. I went back the next week and they were already out of them!
My Homemade Cinnamon Sugar Tortilla Chips are baked, not fried, and super easy to make and have a fraction of the calories and fat than the fried, corn tortilla chips you buy in the store that are typically served with salsa and chips. You'll find the recipe below the Cranberry-Apple-Jalapeno Salsa recipe.
To watch my segment for Cranberry-Apple-Jalapeno Salsa on ABC 33/40's Talk of Alabama click on the image below.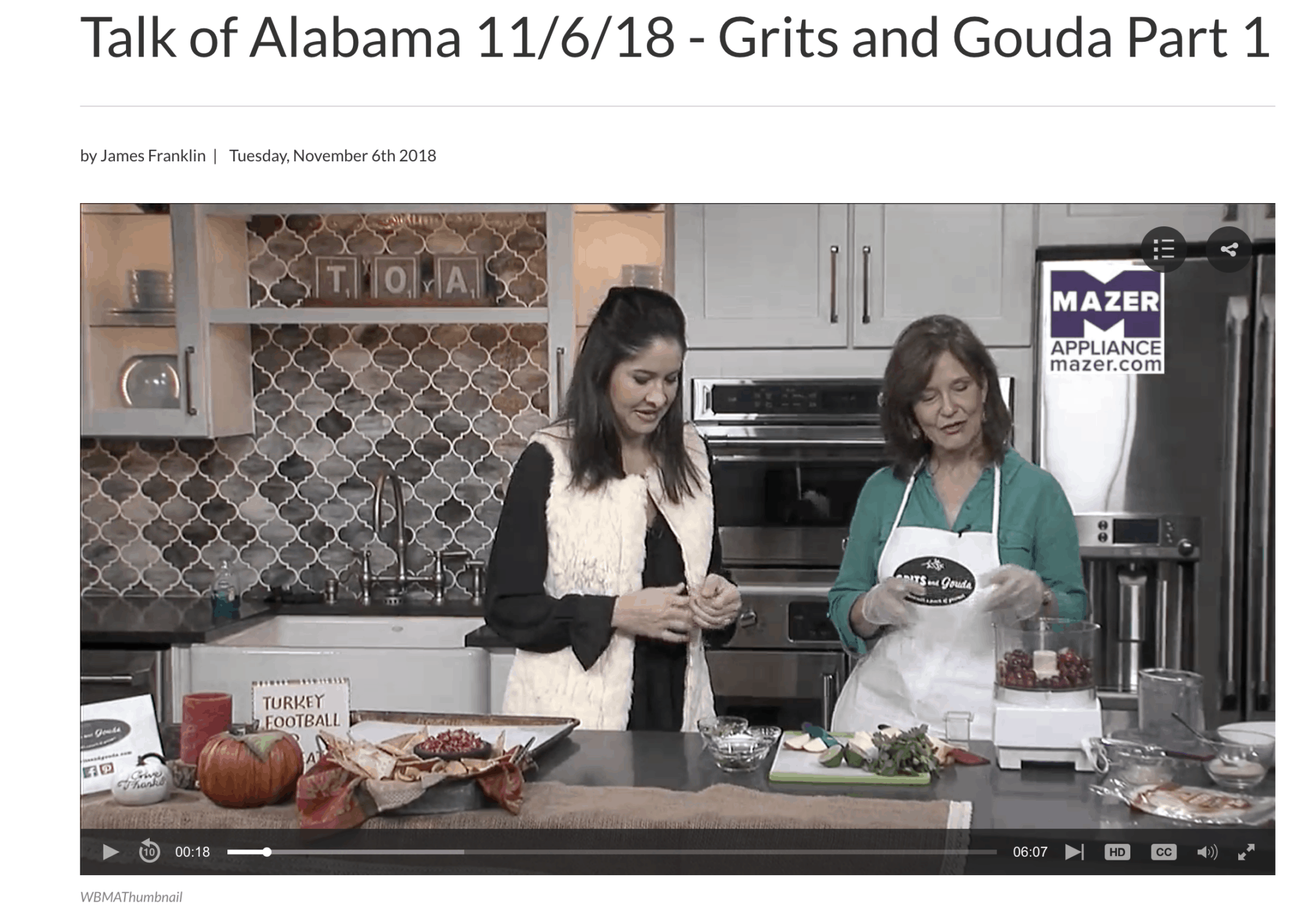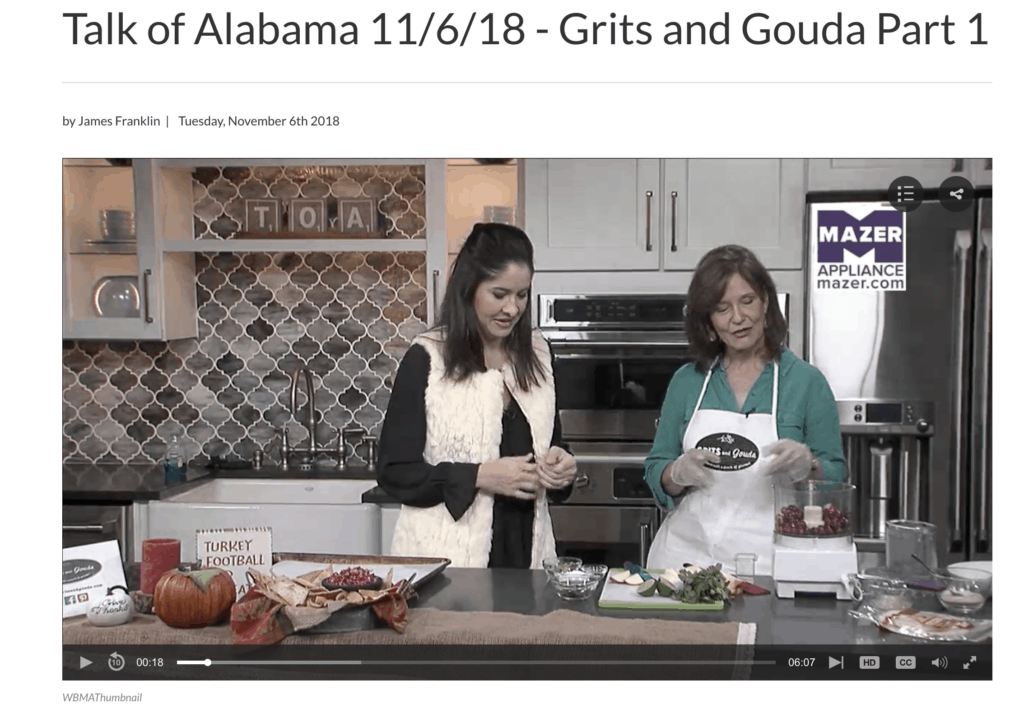 Be sure to follow me on Facebook, Instagram, Pinterest and Twitter and don't leave before you send me your email address here so you don't miss a single post on my Southern shortcut recipes! I'll be post a lot more holiday recipes in the next few weeks!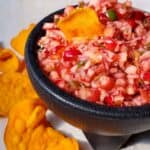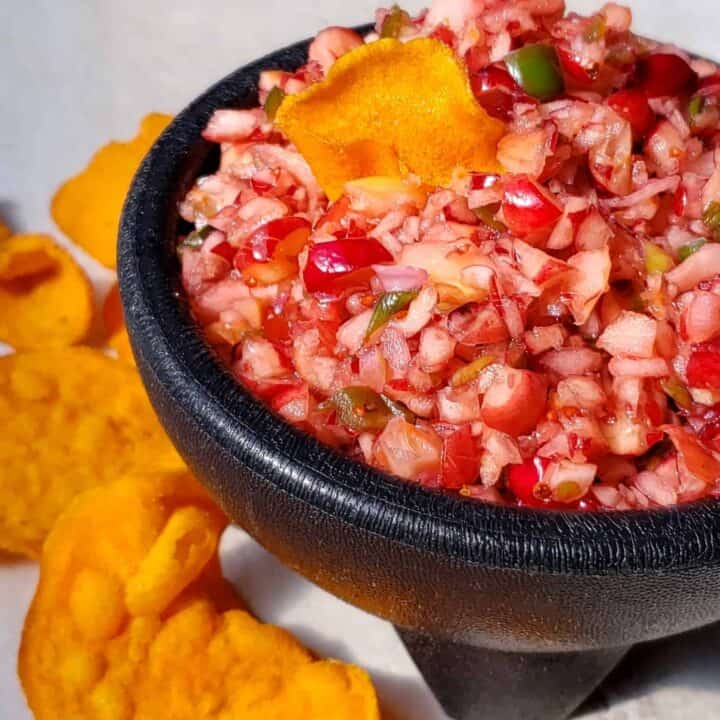 Print Recipe
Cranberry-Apple-Jalapeno Salsa
The food processor comes in handy here but I often just chop everything on the cutting board because I like the appearance-and I like to chop. If you use the food processor, be sure to pulse and scrape often to prevent making a puree out of it!
Ingredients
2

cups

fresh cranberries*

1

small or 1/2 of a large Gala

Fuji, or Honeycrisp apple, cored and cut into 8 pieces

1

medium-size jalapeno pepper

seeded and cut into 8 pieces

1

green onion

cut into 8 pieces

1/3

cup

sugar

2

tablespoons

fresh cilantro

optional

1

Tbsp.

freshly squeezed lime juice

1

Tbsp.

vegetable or olive oil

1/2

tsp.

salt

Cinnamon Sugar Sweet Potato Chips or Pita Chips
Instructions
Pulse cranberries, apple, jalapeno pepper, and green onion in container of a food processor 3 or 4 times or until coarsely chopped, stopping to scrape down sides. Transfer to a bowl.

Add sugar, cilantro, lime juice, oil, and salt, stirring well. Cover and chill at least 2 hours. Stir just before serving. Serve with Cinnamon Sugar Tortilla Chips
Notes
*Frozen, thawed, cranberries can be used. Be sure to pat them dry with paper towels.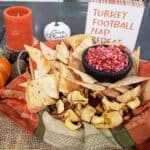 Print Recipe
Homemade Cinnamon Sugar Baked Tortilla Chips
These addictive, crispy triangles are the perfect vehicle to scoop up my Cranberry-Apple-Jalapeno Salsa. They are super easy to make and have a fraction of the calories of fried tortilla chips.
Ingredients
1/4

cup

sugar

1

teaspoon

ground cinnamon

4

soft taco size flour tortillas

2

tablespoons

butter, melted
Instructions
Preheat oven to 350 degrees.

Combine sugar and cinnamon in a small bowl.

Line a baking sheet with parchment paper or aluminum foil.

Place one of the tortillas on the parcment paper. Brush a little butter on the tortilla and sprinkle about 2 teaspoons over the butter. Flip the tortilla and repeat the procedure on the other side and with the remaining 3 tortillas.

Stack the 4 coated tortillas and cut them into 8 triangles with a knife or pizza cutter. Be careful not to cut the parchment or cut on a cutting board.

Place the tortilla chips in a single layer on the parchment paper. They fit much better if you alternate the tips with the rounded edge. Bake for 12 minutes or until the bottoms are lightly browned. Remove them from the oven and turn them over with tongs. Bake an additional 2 to 3 minutes or until lightly browned on both sides. Remove from oven and let cool completely on the baking sheet.