Bacon-Wrapped Dove Jalapeno Poppers: When dove season and football season match up! Field to table recipe-even if that "table" is the tv table in front of the big game! Frozen dove breasts can be used in February to enjoy for the Super Bowl.
Football season and dove hunting season both kick off in September. Bacon-Wrapped Dove Jalapeno Poppers are the perfect football party fare. It combines two of my husbands favorite things: Alabama football and hunting. If your football season begins before your mourning dove season starts, just thaw a bag of frozen dove breasts from last year-you did freeze some, right?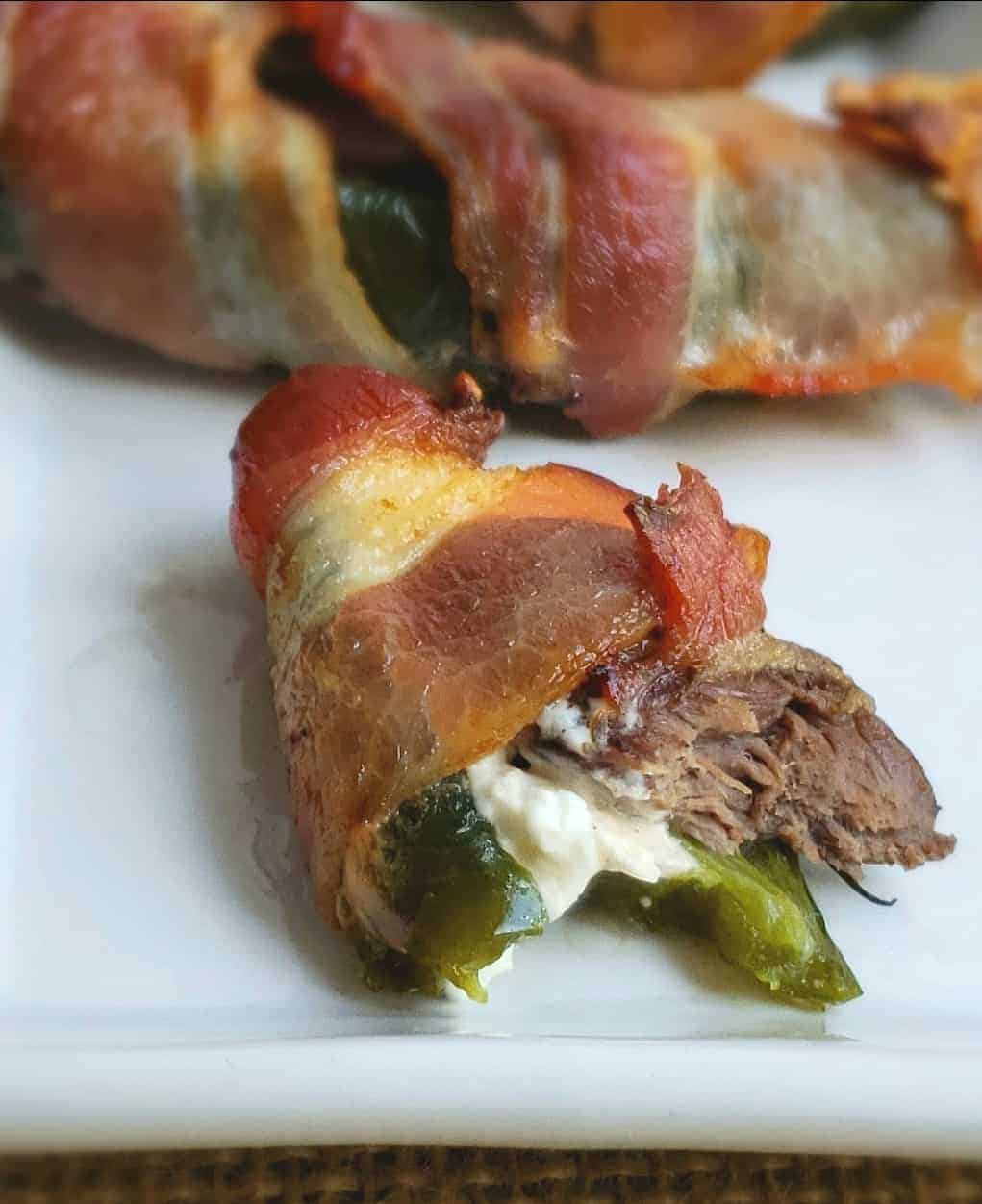 When your husband and son bring home a mess of dove from their first dove hunt of the season and SEC college football is on the next day (2018), what do you cook with them? Bacon-Wrapped Dove Jalapeno Poppers, of course.
They harvest them. I cook them.
Scott and Grayson (my husband and son) were invited to attend an all-day dove hunt in Helena, Alabama last year. This is one of those father/son outdoor adventures they look forward to every year and it's a bonus when they can get home in time to watch Alabama play football the same night!
I get it. Father/son bonding. Men (and a few women) swapping past hunting stories over pulled pork and sweet tea before hitting the field. Everyone's decked out in leaf ware, sunglasses and cooling towels....because it's HOT in Alabama in September.
I'm happy to let them go off on these adventures and stay back home in the A/C awaiting their arrival to cook whatever they bring back. This arrangement works for me. I have a feeling it works well for Scott and Grayson because for most game hunting, you have to be very still and quiet. I think they know that would be hard for me to do.
They did say dove hunting is a little different. You can talk and cut up while waiting for the birds to just fly overhead. But, then there's the Alabama heat and humidity....I like our arrangement of hunter and cook.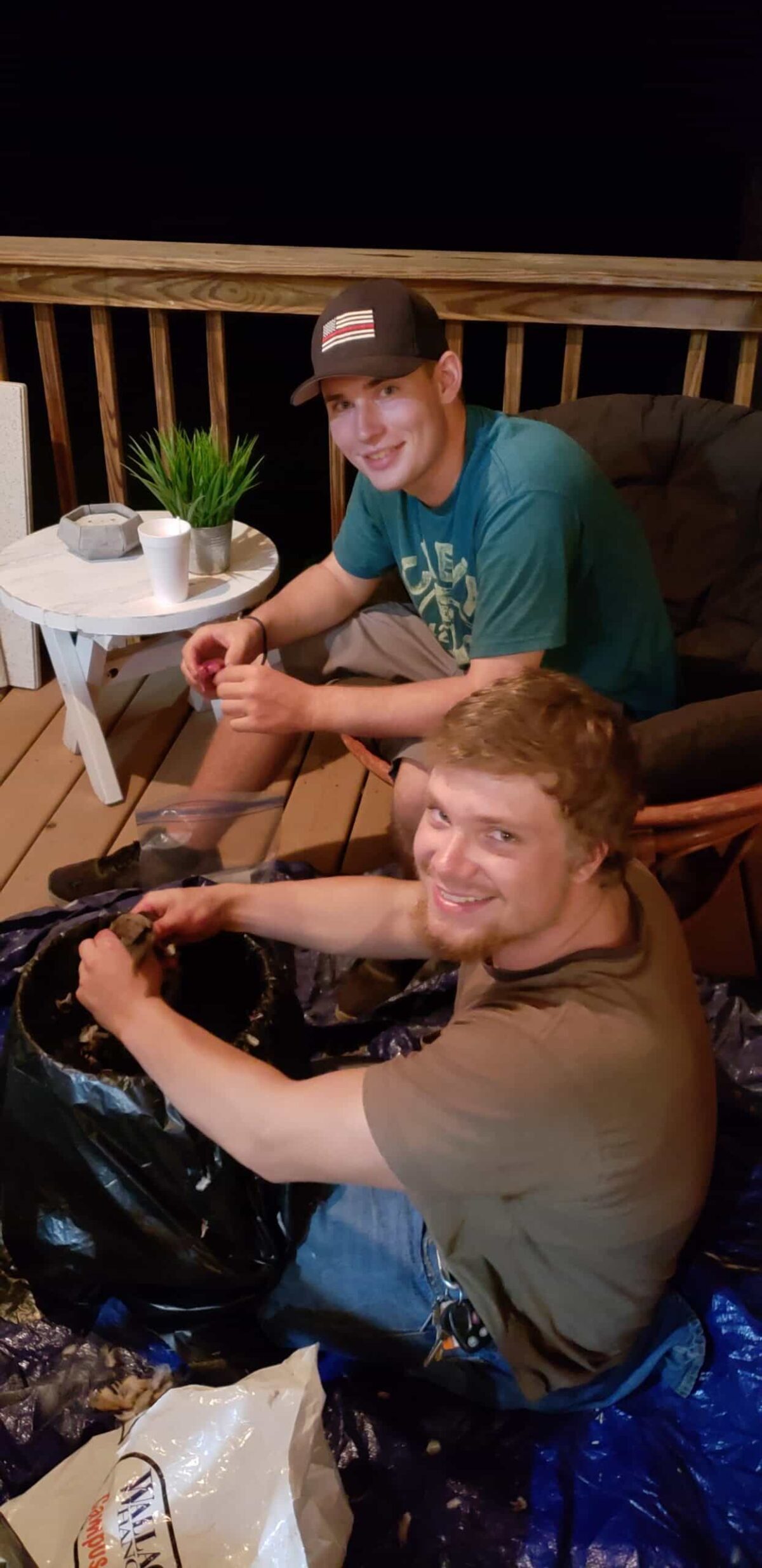 My son, Grayson, asked his friend to come over to help him clean the dove breasts after the dove hunt. It doesn't take very long at all-just a lot of plucking. I made them put down a tarp on our back deck for easy clean up.
When is dove season?
It varies for different states. Here are a few quick links for mourning dove seasons and bag limits in the states near me.
Alabama, Mississippi, Georgia, Tennessee, and Arkansas
How to make jalapeno poppers with dove breast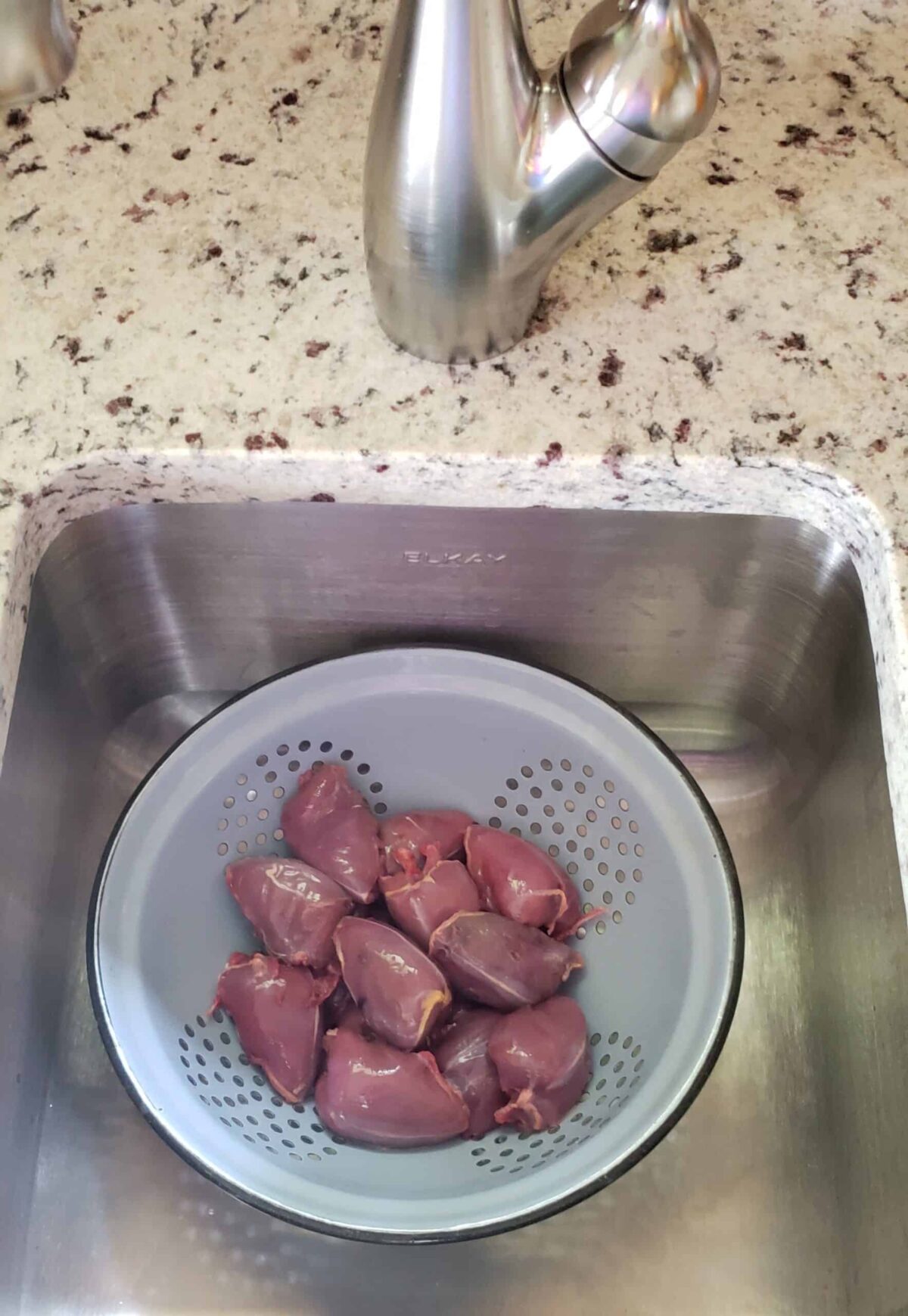 I rinsed the breast and carefully checked behind them for any shot they may have missed. You can chip a tooth or loose a filling if you bite down on one of those. Been there. Done that.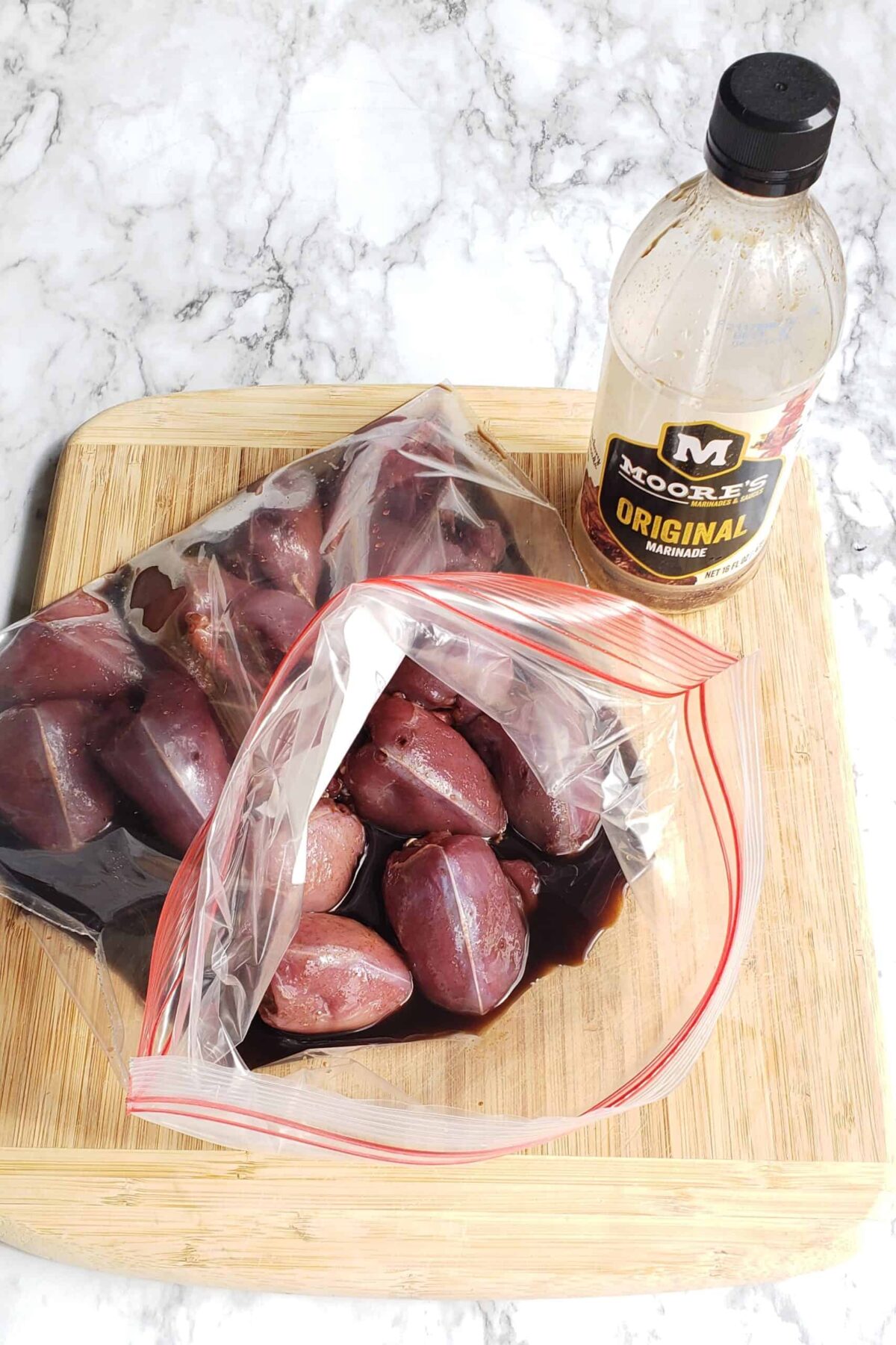 I marinated them in Moore's marinade overnight in a zip-top plastic bag. You can also use Dale's Marinade or a teriyaki marinade. Drain and discard the marinade then pat the dove breasts with paper towels.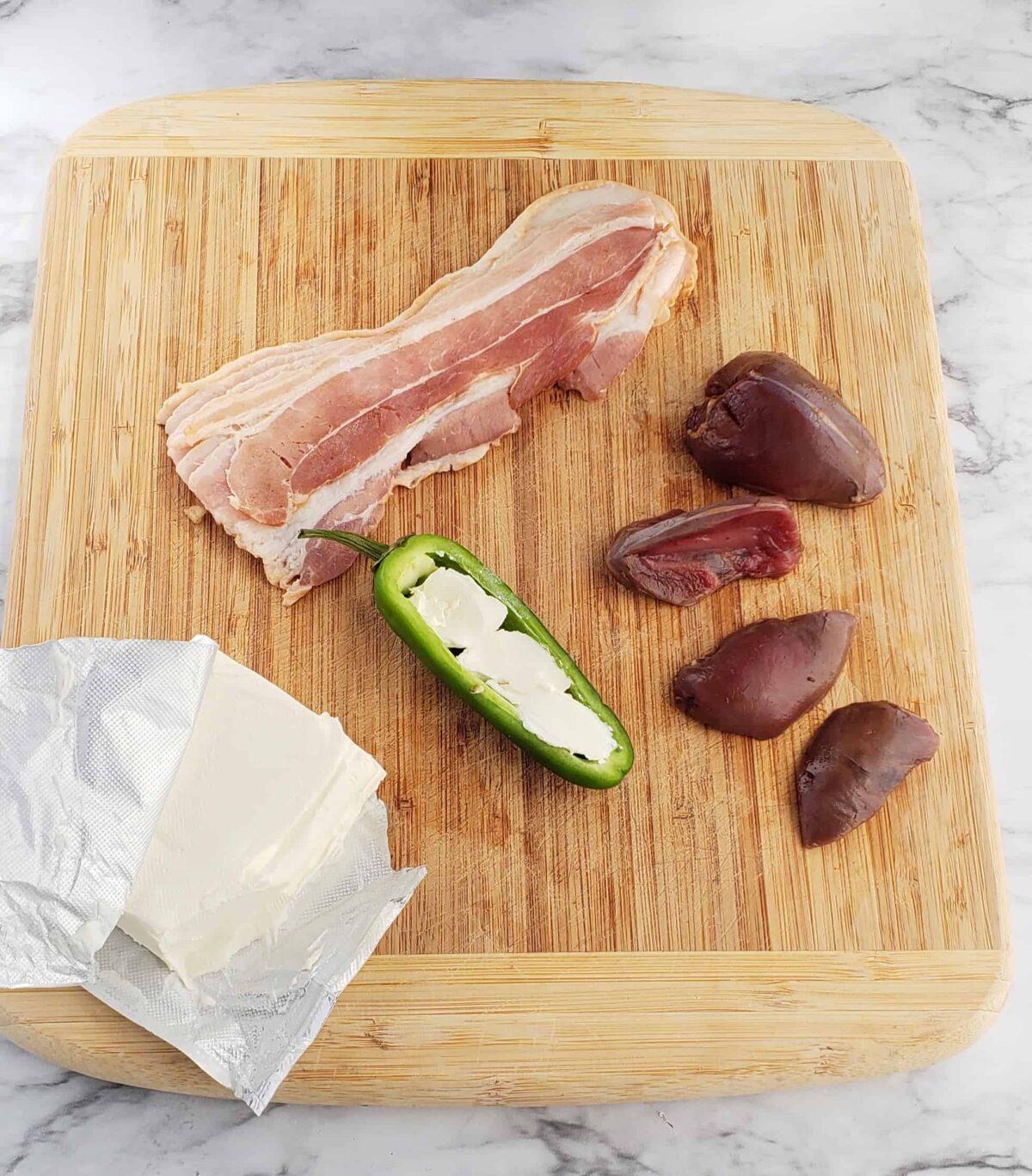 With a sharp knife, remove the breast meat from the bone. Depending on the size of your jalapenos, put about 2 teaspoons of the cream cheese in each jalapeno half.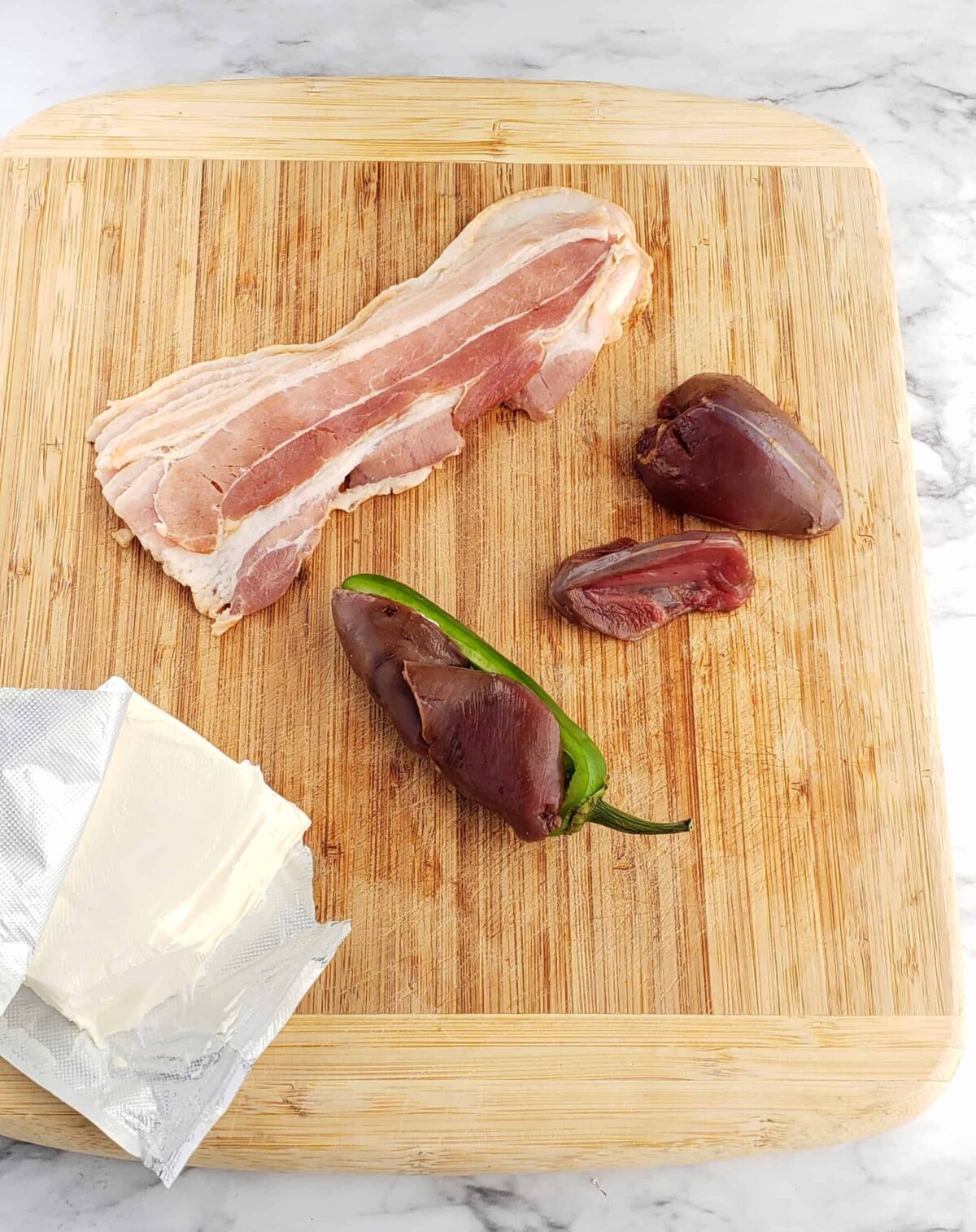 My jalapenos were on the large side so I could fit two breast halves in one jalapeno for several of them. You can always cut one breast into two pieces to make them stretch further or if you jalapenos are smaller.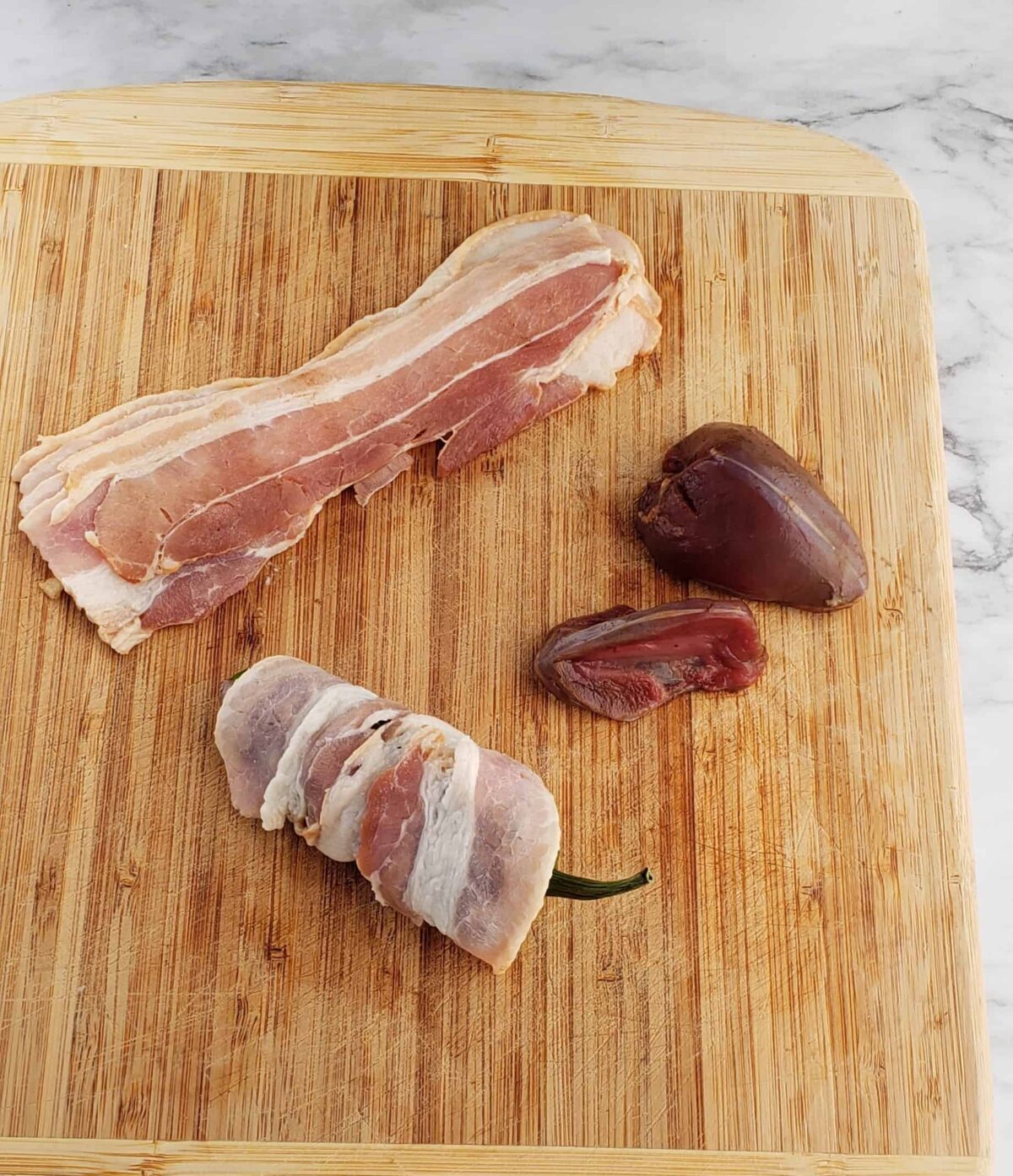 Wrap the entire jalapeno with half of a piece of bacon. If you are watching your calories, you can use one-third of a piece of bacon and secure it with a toothpick. Bake them on a wire cooling rack placed in a foil-lined baking sheet. You can also grill these, but make sure the heat is very low or try indirect heat-the bacon drippings will drip and that causes flare ups.
Can I make these dove poppers in the air fryer?
Yes! I made a batch of these using frozen and thawed dove breasts from last year's harvest. Place the bacon-wrapped poppers on the air fryer rack in a single layer and roast them (360-375 degrees) for 12 minutes or until bacon is crisp and dove is done.
Note: Most air fryers will have two settings. Air Fry is typically 390 degrees and roasting is 350 degrees. I chose to roast them to make sure the bacon was evenly cooked and not brown on the outside and raw on the bottom. This is still a faster method than baking in the oven.
Can I freeze dove breasts?
Absolutely! With an Alabama bag limit of 15 per day, I highly recommend freezing them. If you seal them well, they should last the whole year so you can time it just right to make my Bacon-Wrapped Dove Jalapeno Poppers for your first tailgating party if it happens to fall on the weekend before dove season begins.
The key is to make sure to get all the air out of the freezer bag to avoid freezer frost bite. Scott and I use a FoodSaver vacuum sealer machine. Ours is several years old but I list a few newer models below in my Amazon picks.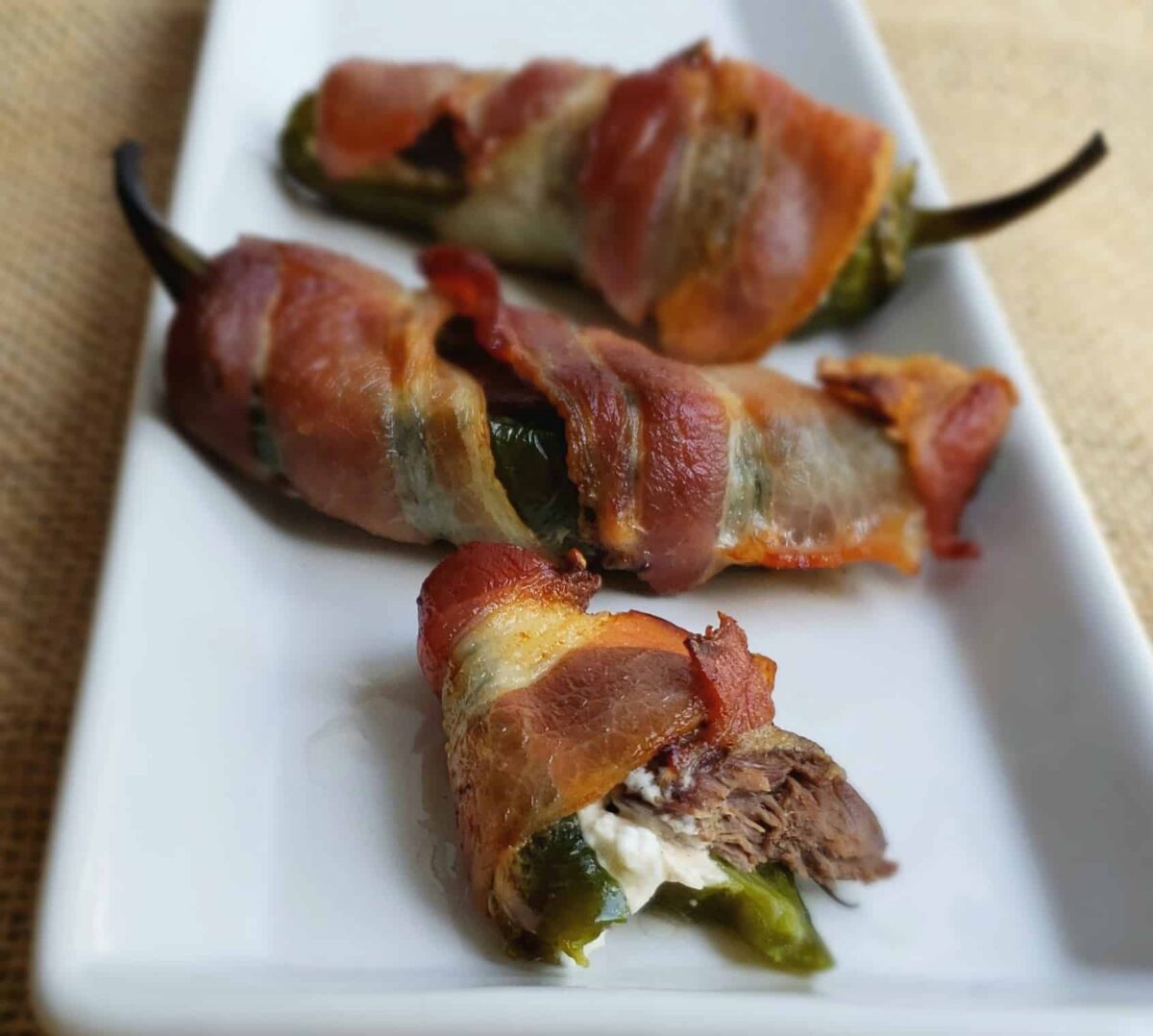 These babies are easily 3-bite-size which is probably what dove hunters and football tailgaters prefer, right?
Watch me make Bacon-Wrapped Jalapeno Dove Poppers on ABC 33/40's Talk of Alabama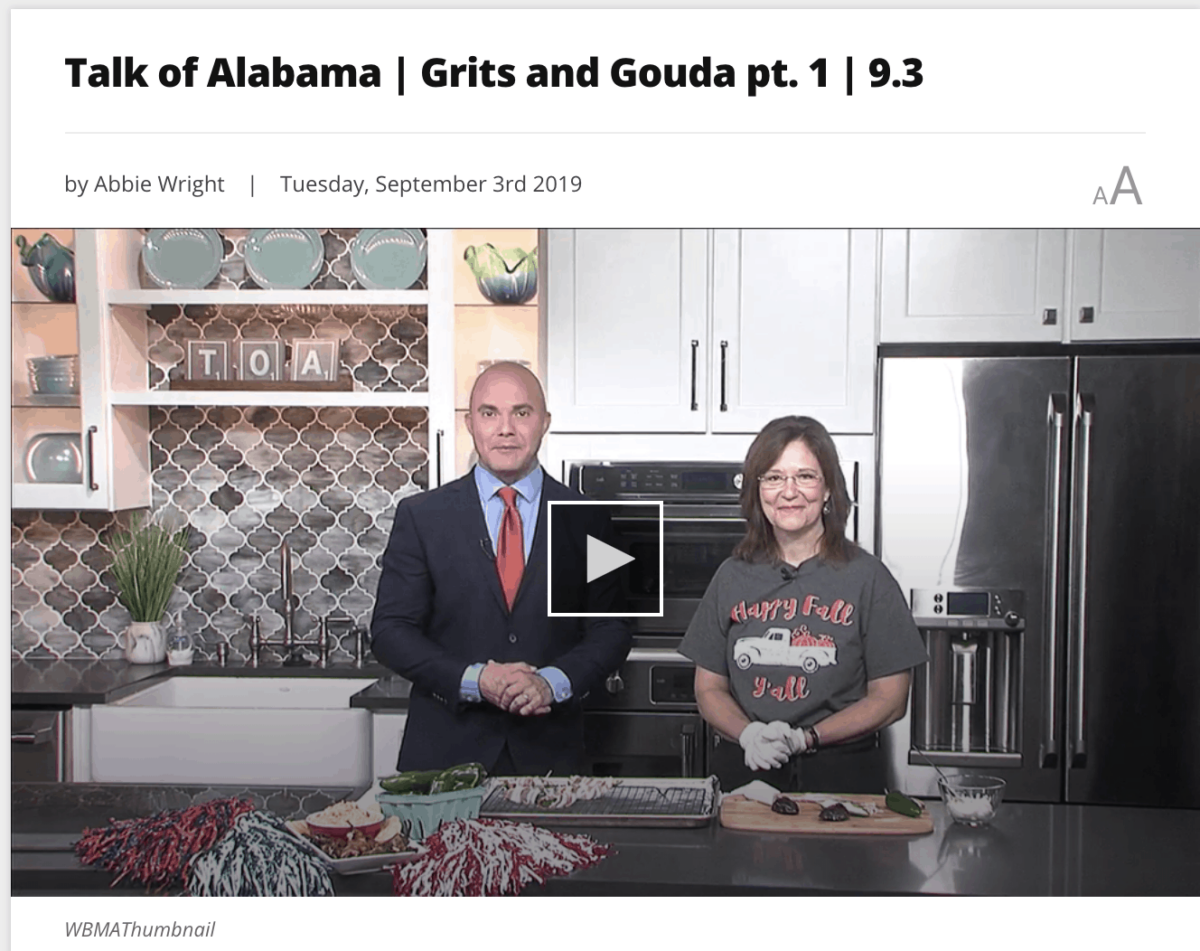 Other bacon or jalapeno recipes you may love
Bacon-Wrapped Venison Backstrap
Cranberry-Apple-Jalapeno Salsa
Bacon-Wrapped Cheesy Tater-Tots

Follow me on Facebook, Instagram, and Pinterest. Be social and share, y'all! Don't forget to sign up with your email so you don't miss a single post on my Southern shortcut recipes!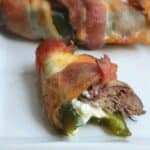 Print Recipe
Bacon-Wrapped Dove Jalapeno Poppers
Bacon Wrapped Jalapeno Dove Poppers. Bacon. Jalapeno. Cream cheese. Dove breast. Wrap it all up and bake it and call it yummy! Oven and air fryer options.
Ingredients
12

bone-in dove breasts

1/2

cup

Moore's or Dales Marinade

(or Teriyaki marinade)

6

very large

fresh jalapeno peppers

1/2

cup

cream cheese

6

slices

bacon

Not thick-cut
Instructions
Rinse dove breasts with cold water in a colander and place in a large zip-top plastic bag. Pour marinade over dove and seal the bag. Refrigerate for at least 2 hours or overnight.

Preheat oven to 400 degrees.

Remove the dove breasts from the marinade and pat them dry with paper towels. Throw away the marinade. With a sharp knife remove the dove breasts from the bone.

Wearing latex gloves to protect your hands from the peppers, cut the jalapenos in half horizontally. They will look like little boats. Scrape out all the seeds and membrane-unless you want 4 Alarm Poppers because this is where the heat is. If you only have small peppers, use 12 of them. You can cut a slit in the top, cutting to but not all the way through the other side and scrape out the seeds.

With a table knife, cut off 2 or three little pieces of cream cheese about 1 teaspoon each and insert it into the "boat".

For the large jalapenos, place two small dove breasts on the cream cheese. For the small ones, place one dove breast in the jalapeno.

Cut the bacon slices in half. Wrap each large jalapeno with a half slice of bacon. For the small ones, cut the bacon into fourths and wrap the bacon around the pepper. These will need a toothpick to help secure them or use a longer piece of bacon.

Place the poppers on a wire cooling rack and put it in a foil-lined baking sheet. Bake for 25 minutes or until the bacon is crisp and the peppers are soft.
Notes
Air fryer option: Place the bacon-wrapped poppers on the air fryer rack in a single layer and roast them (360-375 degrees) for 12 minutes or until bacon is crisp and dove is done.
Did you make this recipe?
If you love it, share it! Tag me on Instagram @gritsandgouda using #gritsandgouda Comment below before you go!