Creamy Fresh Green Bean Casserole is made with fresh green beans and NO cream of mushroom canned soup! It just happens to be Keto friendly and gluten-free. It will be your favorite side dish recipe for Thanksgiving and Christmas whether you are on the those diets or not! The crunchy topping is genius (if I say so myself).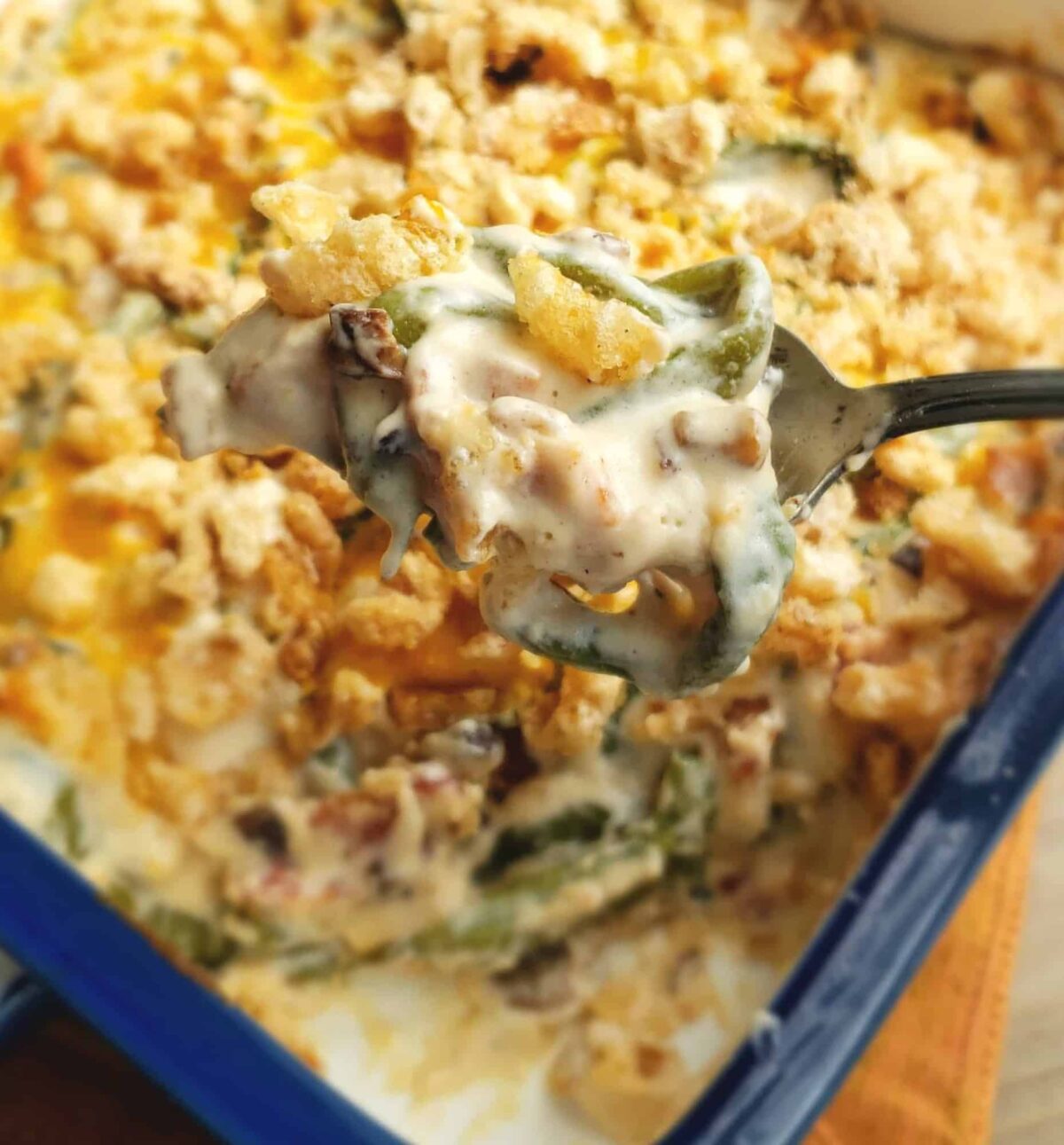 Your family will gobble up my creamy version of the iconic vegetable side dish for Thanksgiving, Christmas or even in the summer.
How is this recipe different from the traditional one?
I've changed several things from the Campbell's soup "old faithful" recipe.
Fresh green beans for canned
Cream cheese and fresh mushrooms for cream of mushroom soup
Crispy crunchy pork rinds crushed on top in place of buttery crackers.
I am not on the Keto diet, nor do I have anyone in my family that needs gluten-free recipes, but I know many of my readers are and I want everyone to be able to make and eat side dishes for the holidays that they traditionally grew up eating. And besides that, it's just that good!
Why use fresh green beans?
It doesn't matter how fancy I get with my side dishes at Thanksgiving and Christmas dinner, my kids always want Green Bean Casserole.
It's tradition more than taste in my opinion but I'm not a huge fan of canned green beans-unless my mom canned them and they come out of her Mason jars! Fresh green beans are not hard to find during the holidays and many grocery stores have them already trimmed.
What's the shortcut?
Cooking the green beans in the microwave to steam them shortens the cooking time at least in half.
Cutting the bacon into small pieces before cooking them shortens cooking time, no babysitting the slices, and cooks evenly unlike slices of bacon cooked in the skillet.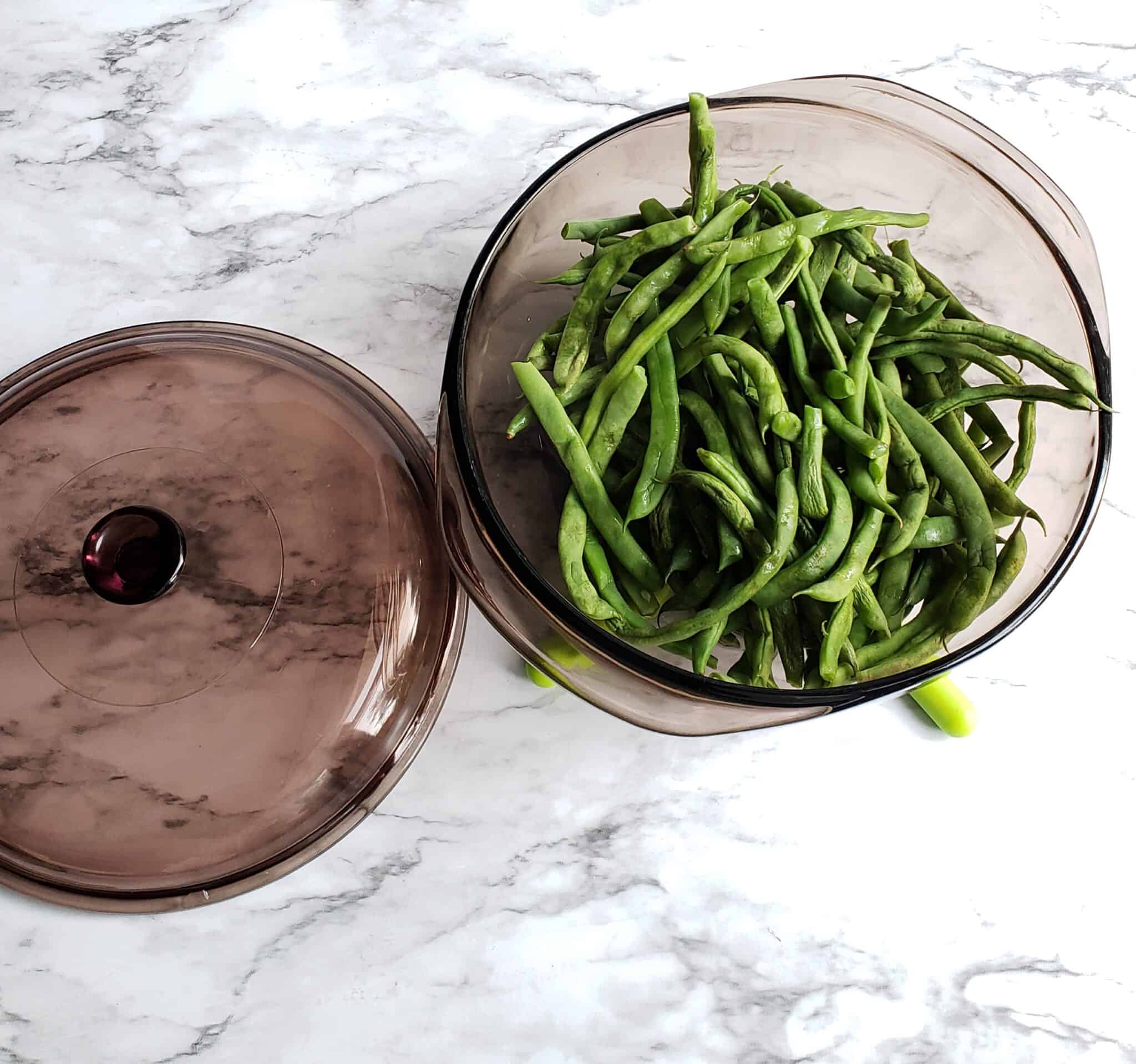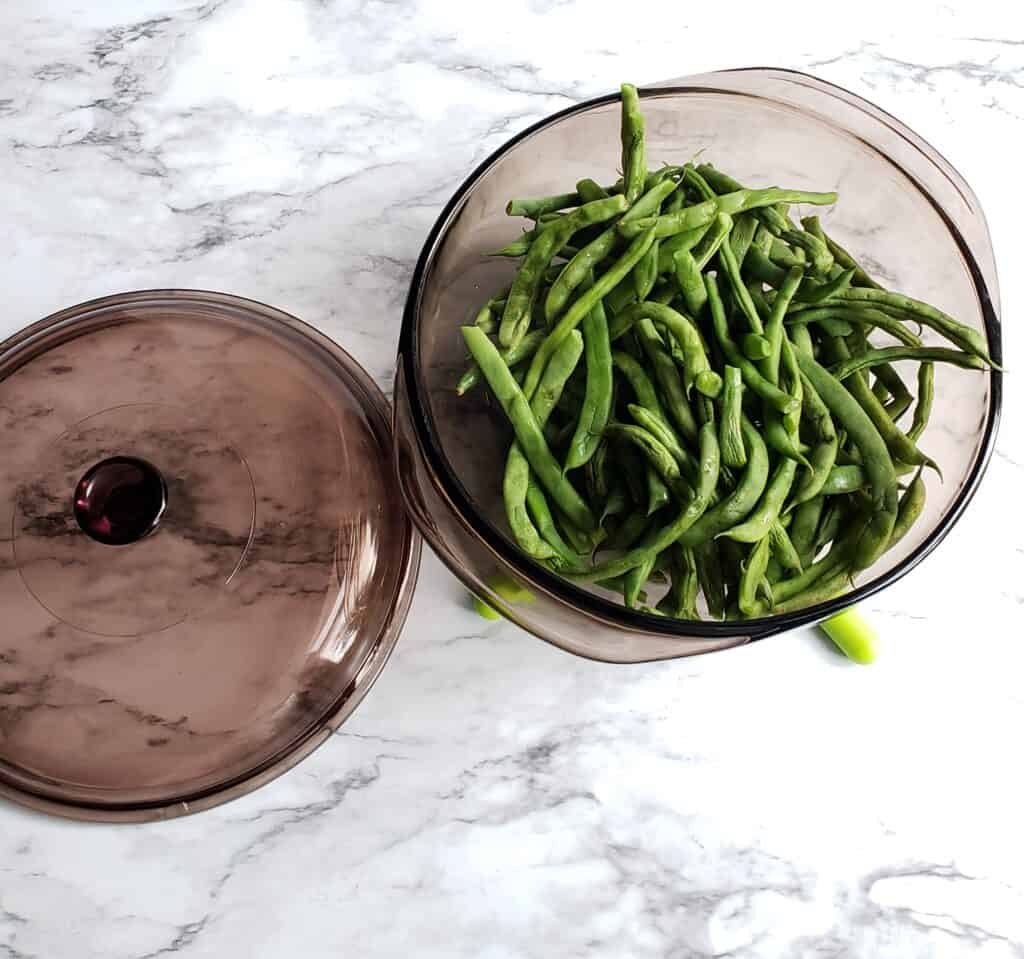 Cooking fresh green beans is a "snap" (see what I did there) when you steam them in a microwave-safe dish with only 1/4 cup of water.
Can I steam green beans on the stovetop?
Yes. You can also steam them on the stovetop with 1 cup of water 10 to 15 minutes or until desired tenderness.
You can leave them whole but I like to at least cut them in half. You can also cut them into 1-inch pieces. It makes it easier to serve up the casserole.
Can I use canned green beans?
Yes. Just drain 2 cans of French-style green beans or cut green beans and stir them in where the recipe says to stir in steamed green beans.
Quick & easy way to fry bacon
This way, it ends up "crumbled" without getting your fingers messy...except for the pieces I sample...quality control demands it, of course.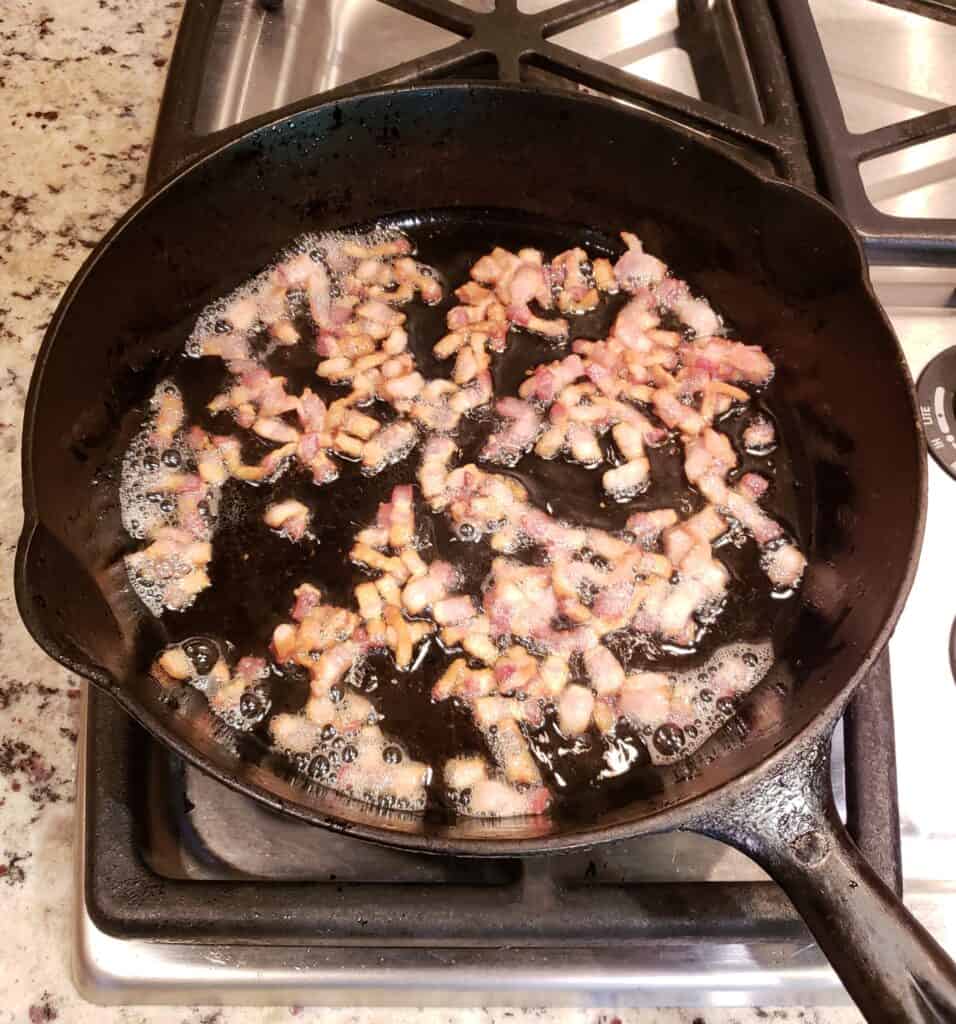 A quick and easy way to fry bacon is to cut it up first. It is so much quicker to stir chopped bacon than to flip whole slices of bacon back and forth then crumble it.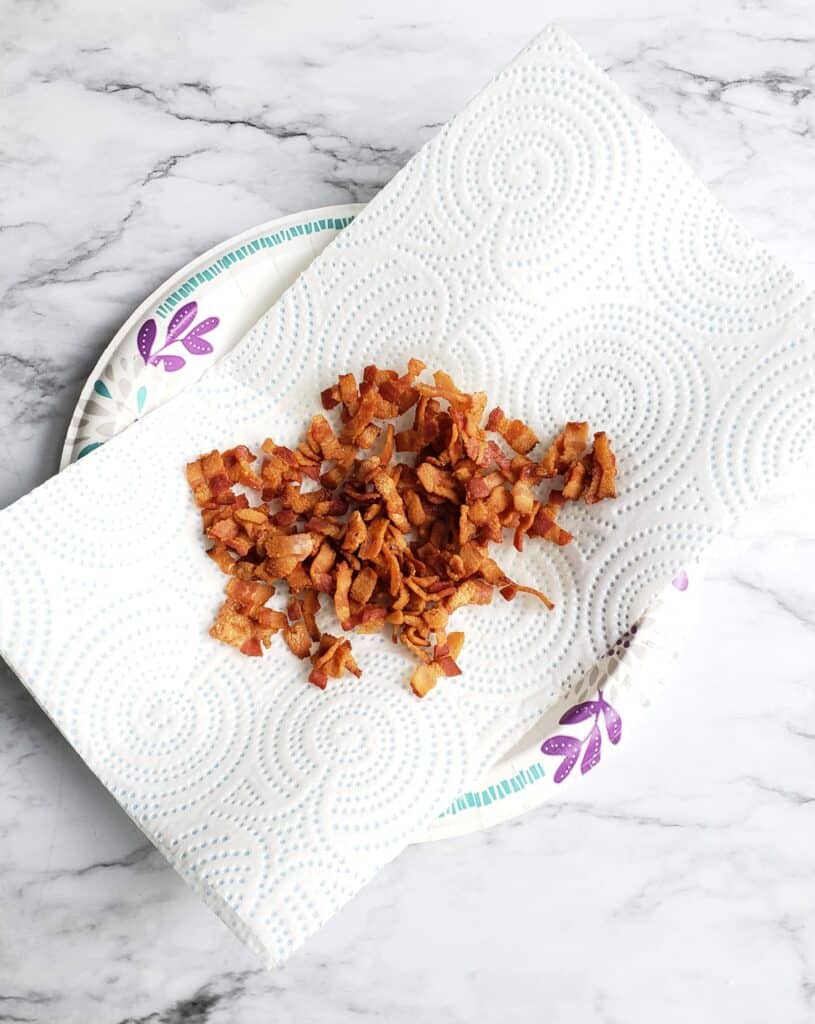 Drain the chopped cooked bacon on paper towels. Remove the bacon from the skillet with a slotted spoon because you want to reserve some of the bacon drippings in the skillet to cook the mushrooms.
How to make this recipe
Scroll down to the bottom of this post for the detailed, printable recipe. Pictures below will help guide you as you read the recipe.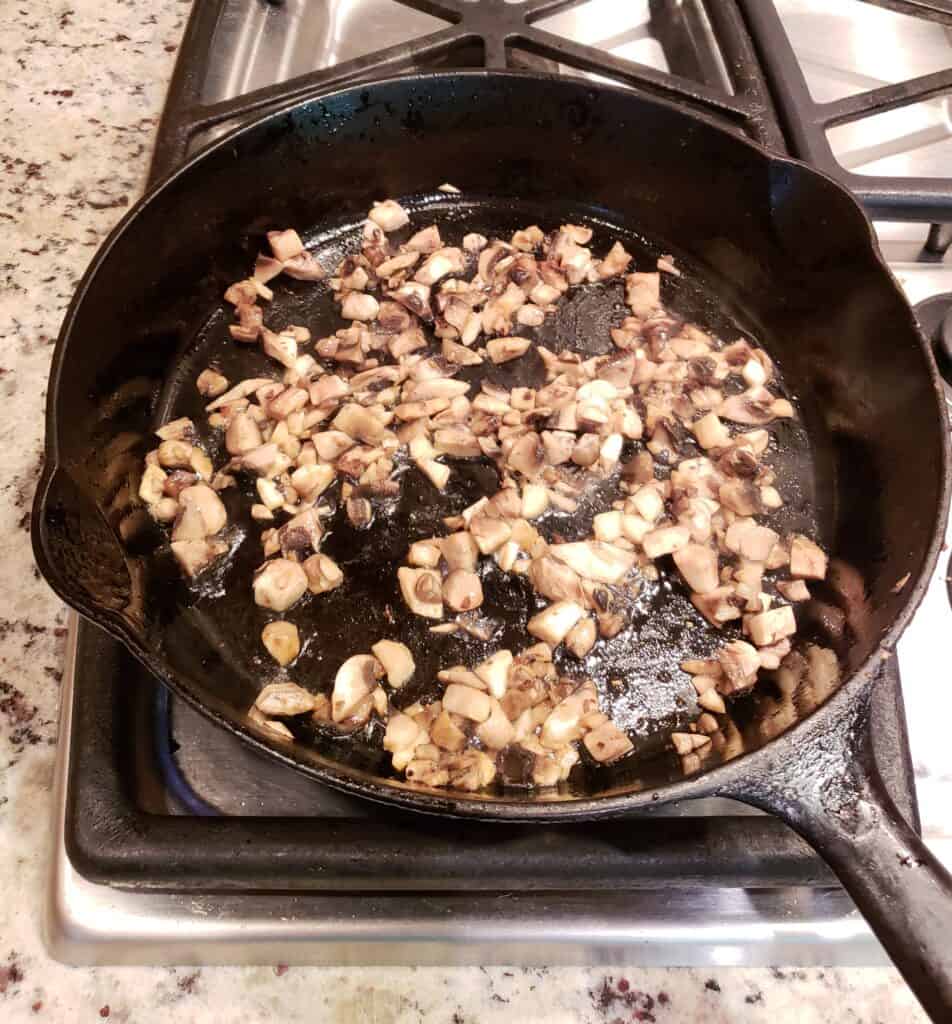 Cooking the mushrooms in the bacon drippings adds flavor and saves an ingredient to add butter or oil. There is no substitute for fresh mushrooms.
Canned mushrooms are just like little pieces of rubber to me. If you don't like mushrooms, you can just leave them out!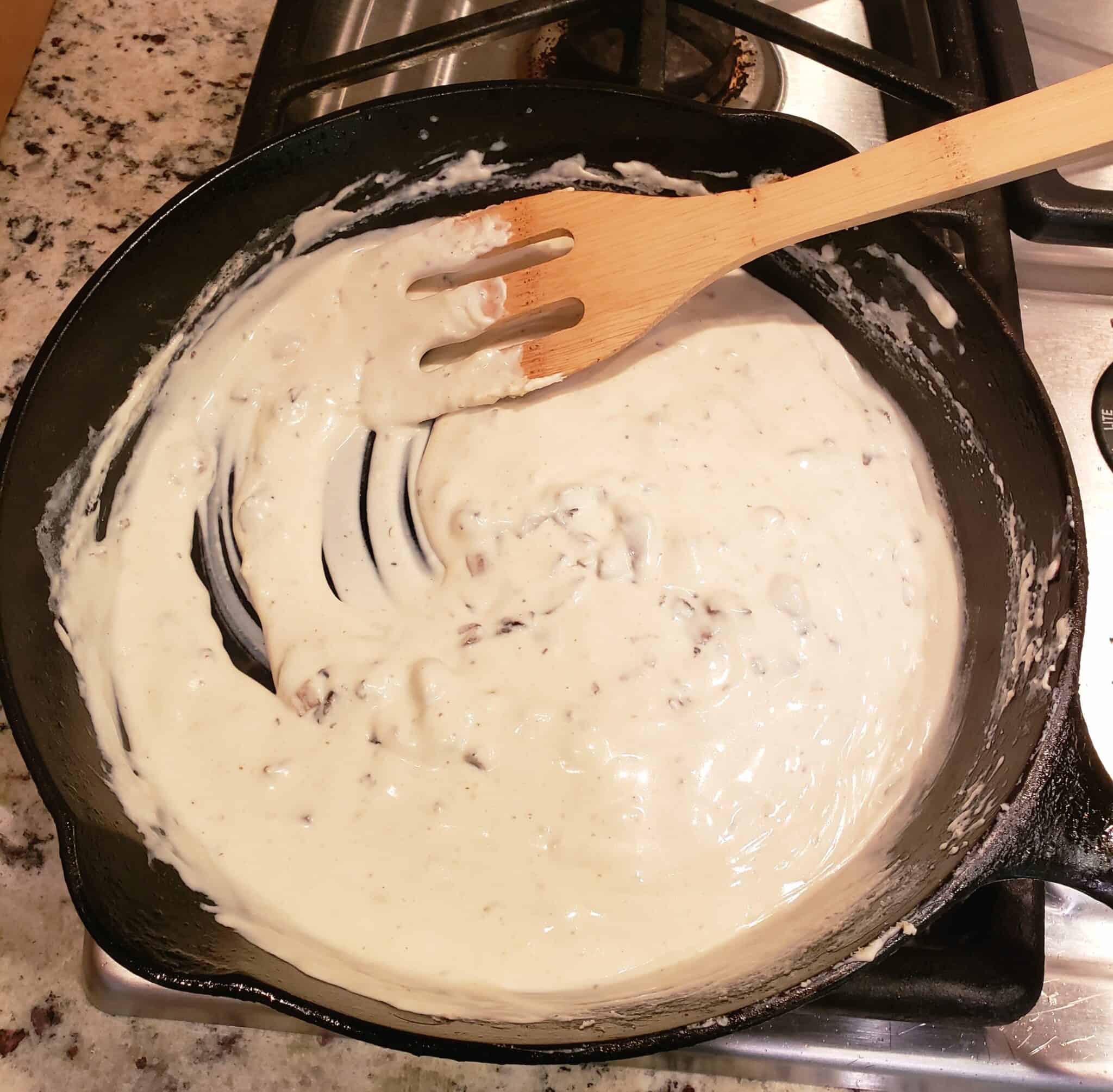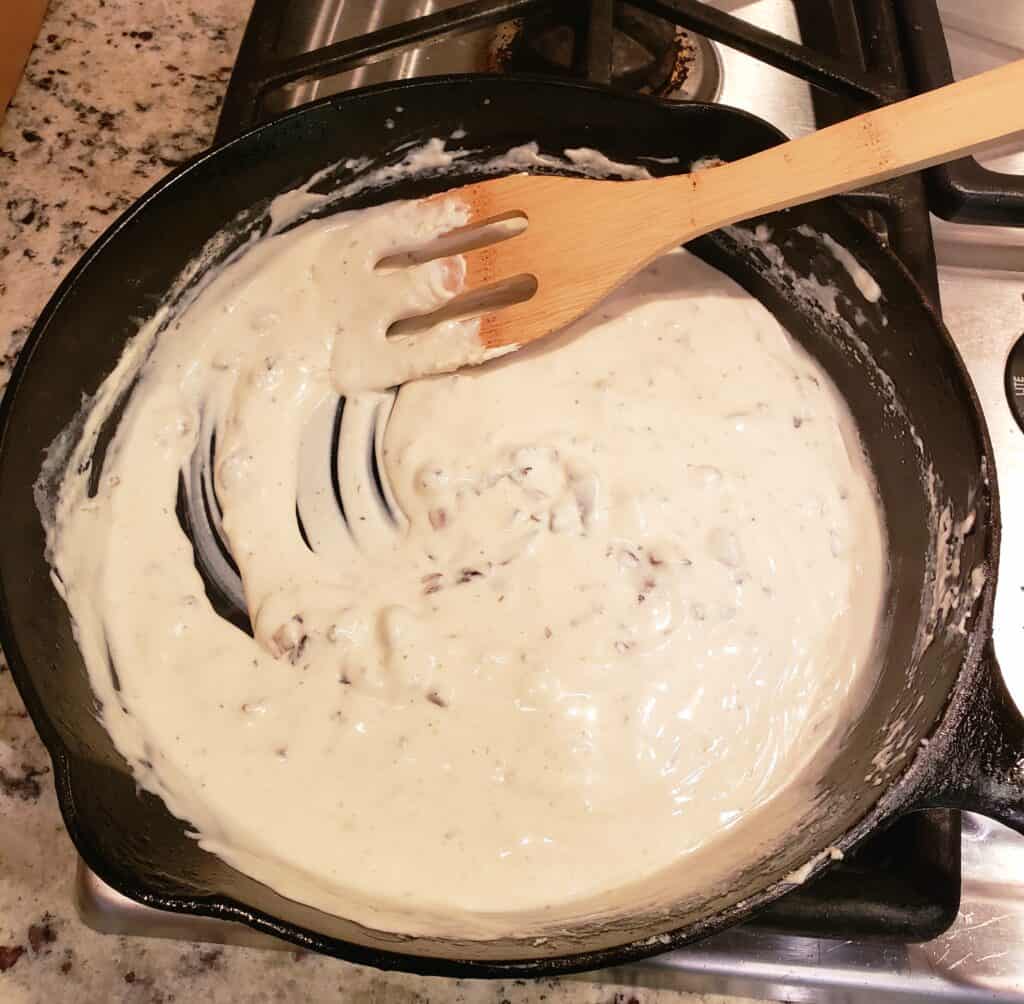 Stir the cream cheese into the hot mushrooms and stir until the cream cheese melts. This is a clever substitute for cream of mushroom soup and is Keto friendly and gluten free.
Thin it out just a little with chicken broth and the 2 tablespoons water from steaming the green beans for a creamy sauce. Don't forget to stir in the cooked chopped bacon!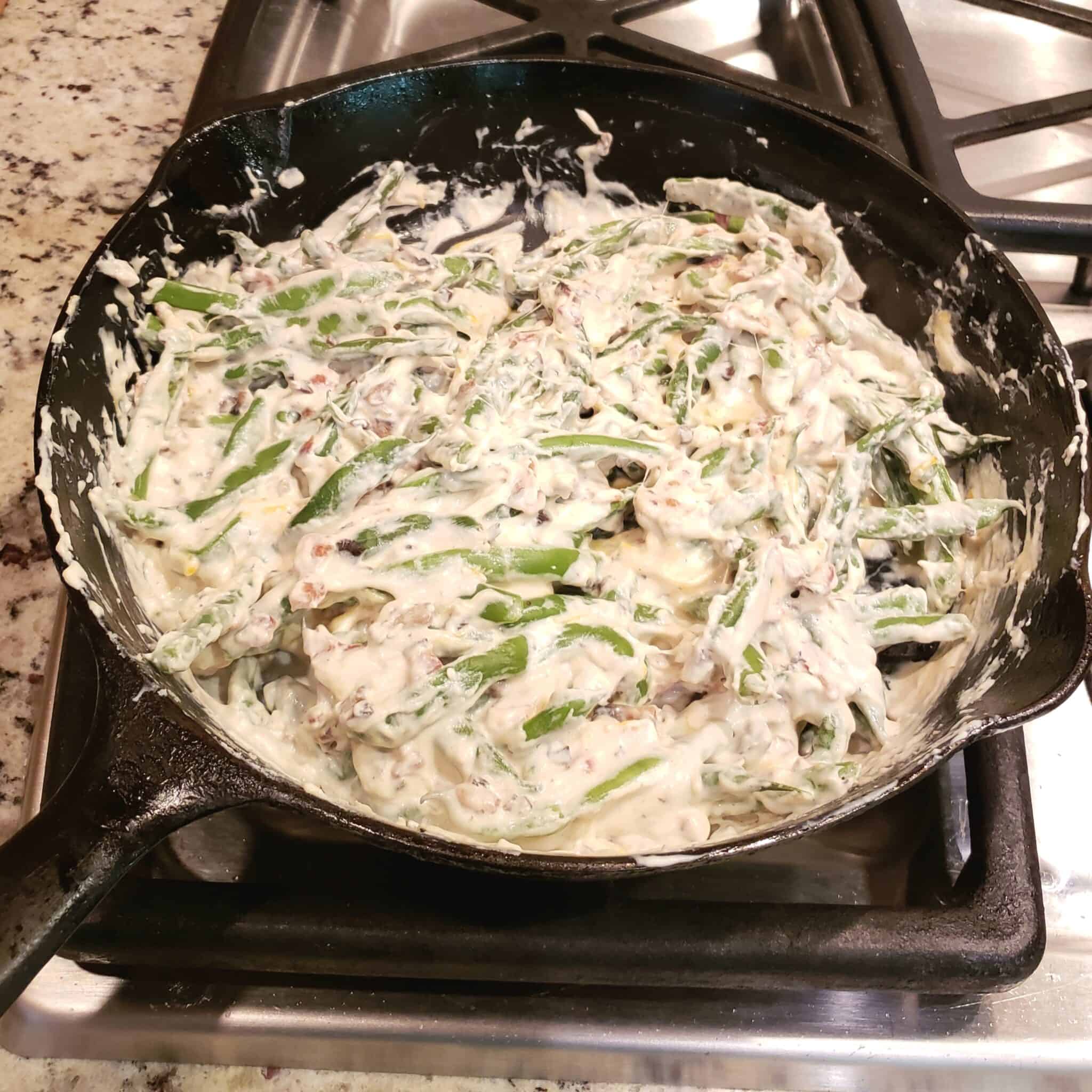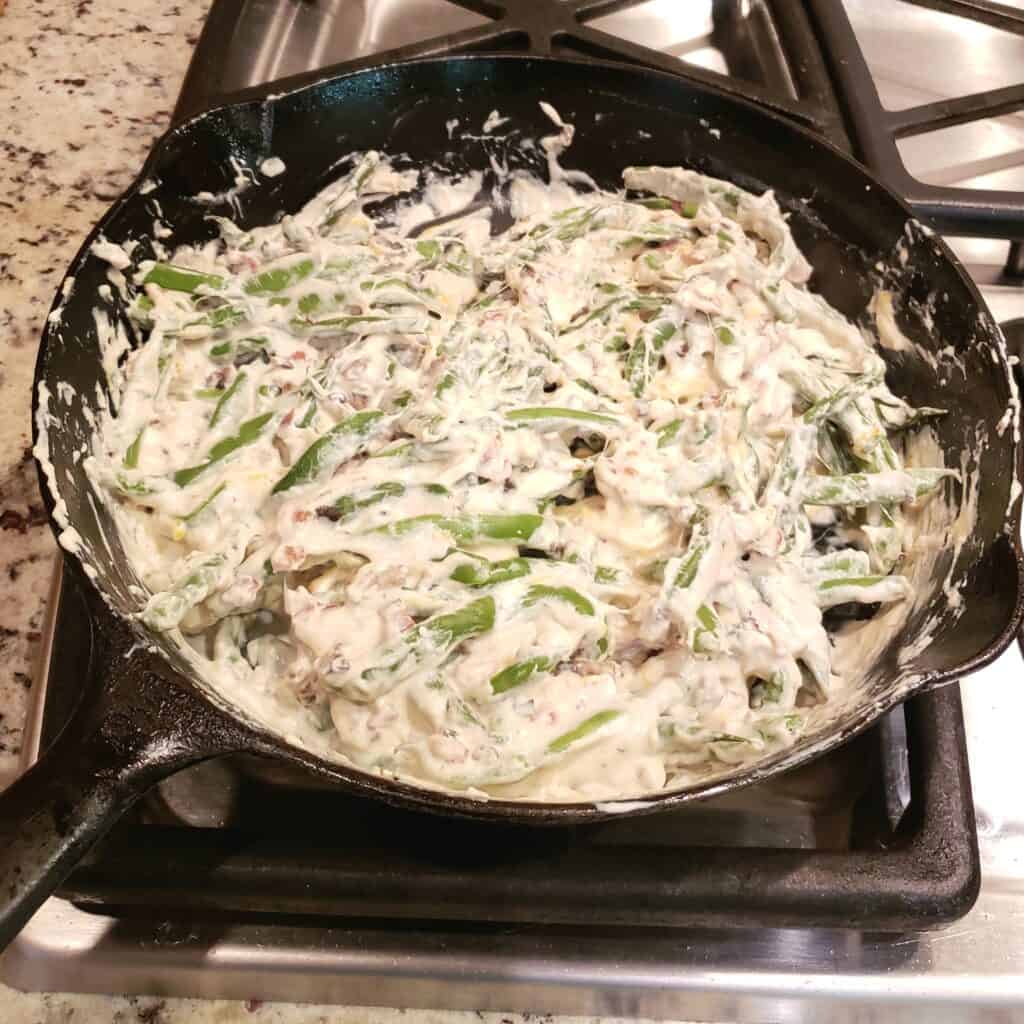 For Keto and Gluten-Free Green Bean Casserole, cream cheese and fresh mushrooms replace the cream of mushroom soup. Coconut Aminos are gluten-free to replace soy sauce or Worcestershire sauce.
Fresh green beans are used instead of the canned French style beans-they have more texture. I like to be able to bite into the beans and not just "swish and swallow". lol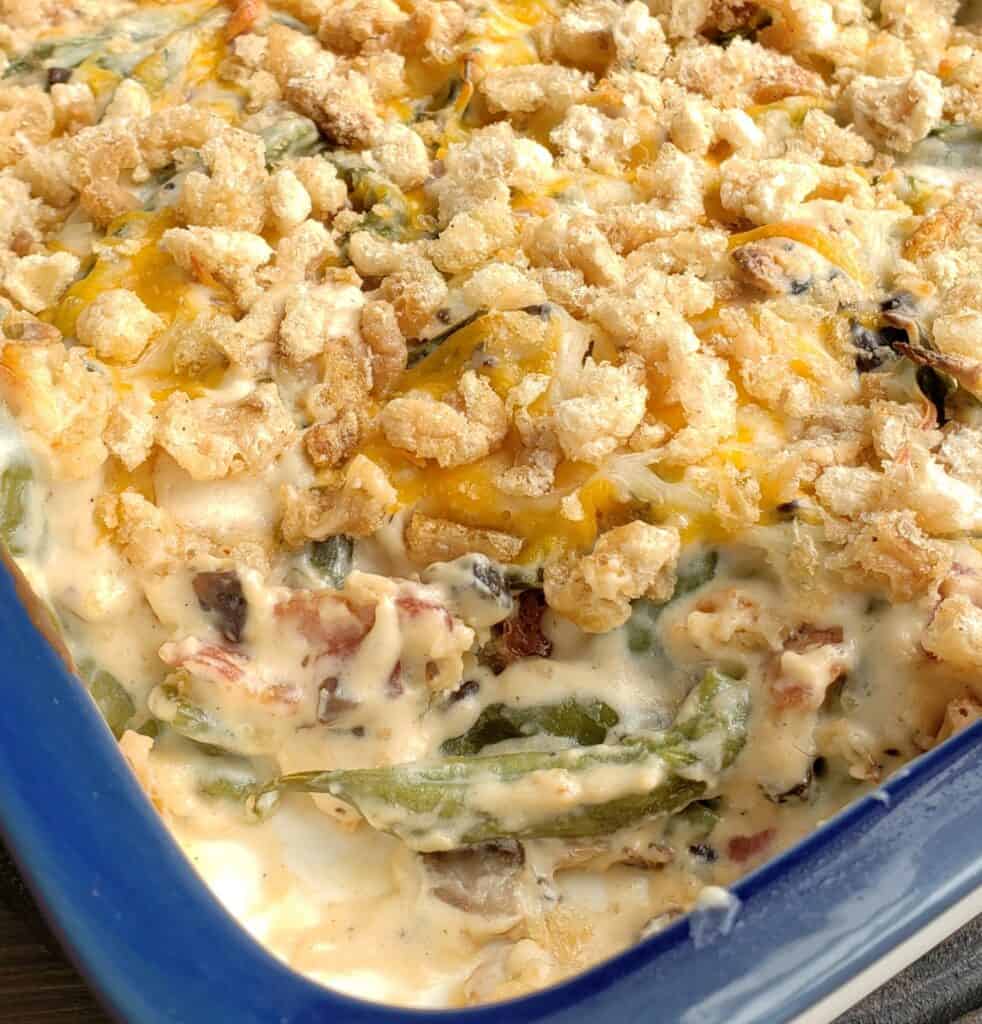 I'd love to hear from you if you make this or any of my Southern shortcut recipes.
Other holiday sides you may enjoy:
Candied Roasted Sweet Potatoes
Cranberry Apple Jalapeno Salsa (instead of traditional cranberry sauce)
Instant Pot Pepper Jelly Bone-In Ham
Follow me on Facebook, Instagram, Pinterest and YouTube. Be social and share, y'all! Don't forget to sign up with your email so you don't miss a single post on my Southern shortcut recipes!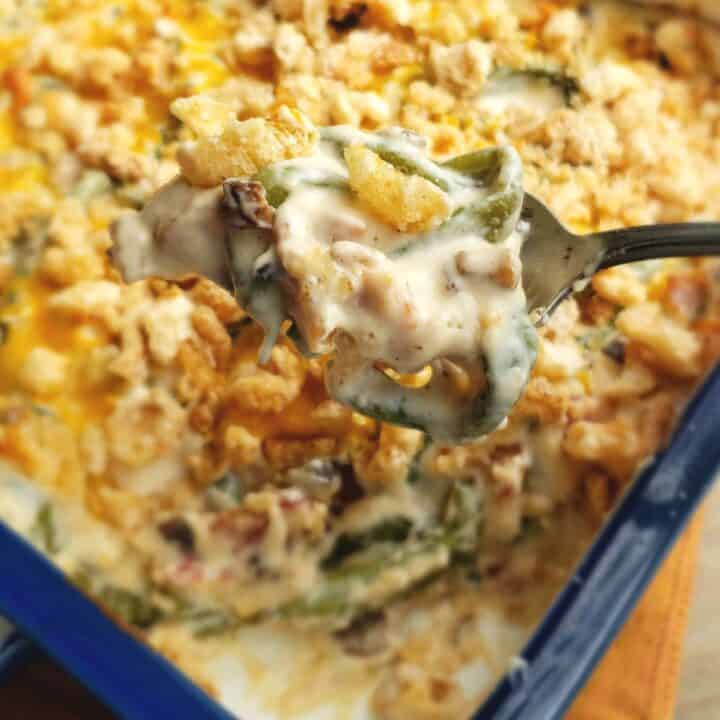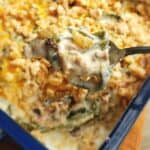 Print Recipe
Keto and Gluten-Free Fresh Green Bean Casserole
Whether you are on the Keto or Gluten-Free diet or not, your family will gobble up my creamy version of the iconic green bean casserole.
Ingredients
4

pieces

uncooked bacon

1

pound

fresh green beans

1

cup

chopped fresh mushrooms

6

ounces

cream cheese

3/4 of an 8 oz package

1/3

cup

chicken broth

1/2

teaspoon

soy sauce or Worcestershire sauce

coconut aminos for gluten-free

1/8

teaspoon

garlic powder

1/4

teaspoon

salt

1/8

teaspoon

freshly ground pepper

1/2

cup

shredded Cheddar cheese

3/4

cup

coarsely crushed pork rinds

about 1/2 of a 3.25 oz bag
Instructions
Chop bacon and cook in a large cast iron or nonstick skillet over medium heat 8 minutes, stirring often, until crisp.

Meanwhile, cut off stem end of green beans. Cut beans into 1-inch pieces or French them by cutting them in half lengthwise. Place them in a large microwave-safe bowl with 1/4 cup water; cover them with a lid or microwave-safe plate and microwave on HIGH for 2 minutes. Drain all but 2 tablespoons liquid. Reserve it for the sauce.

Preheat oven to 350°. Drain bacon on paper towels. Reserve 2 tablespoons drippings in the skillet.

Cook mushrooms in drippings over medium-high heat until browned. Add cream cheese, breaking it up into pieces with a wooden spoon. Heat over medium heat, stirring until cheese is melted. Gradually stir in chicken broth-it works best with a whisk. Stir in soy sauce, garlic powder, salt, and pepper. Add green beans (with 2 tablespoons liquid) and cooked bacon; gently stir until coated.

Spoon green bean mixture into a greased 8x8-inch or 9x9 square baking dish coated with cooking spray. Sprinkle with Cheddar cheese, then crushed pork rinds. Bake for 25 minutes or until bubbly.
Nutrition
Did you make this recipe?
If you love it, share it! Tag me on Instagram @gritsandgouda using #gritsandgouda Comment below before you go!
Nutrition analysis on GritsAndGouda.com recipes are mostly calculated on an online nutrition calculator. I am not a dietitian and nutritional information is an estimate and can vary based on products used.
Updated 10/9/2020