Jalapeno Pepper Jelly makes the perfect shortcut glaze for this bone-in ham made in the Instant Pot or pressure cooker. Pepper Jelly made with jalapeno peppers give ham a little kick of flavor (but not hot) and when it hits the piping hot ham, it turns into a sticky sweet glaze. Instant Pot Bone-In Pepper Jelly Ham can be made with homemade or store-bought pepper jelly.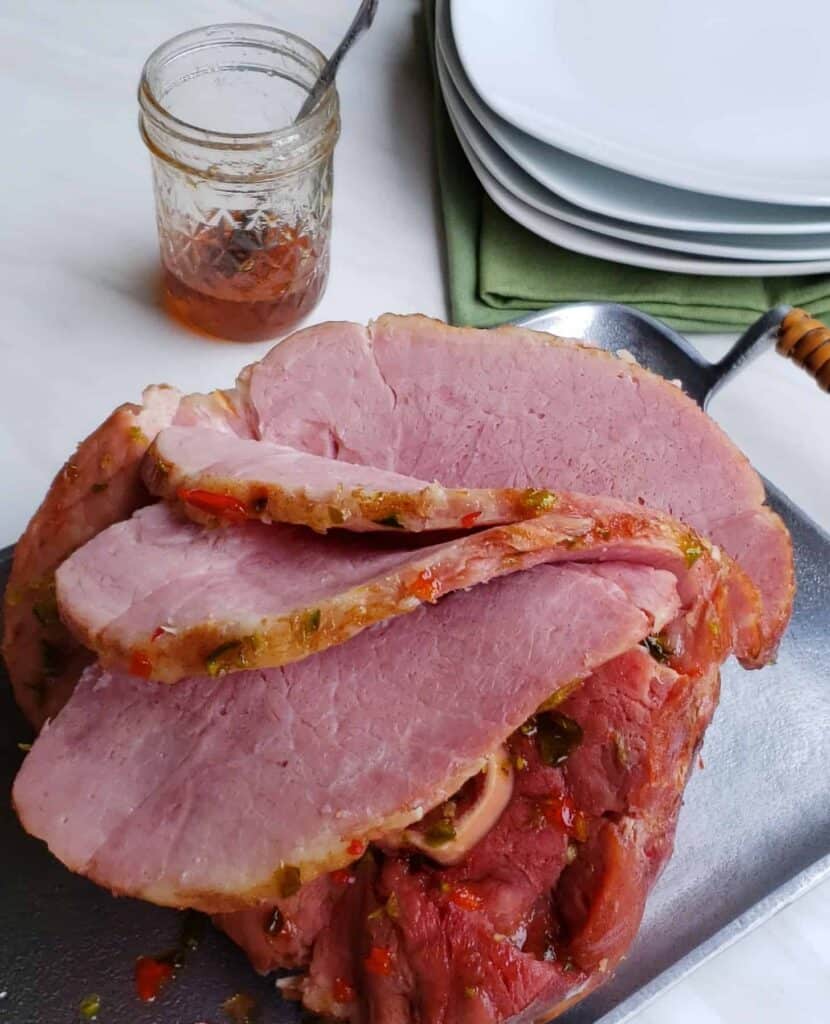 Why use a pressure cooker to cook ham?
The Instant Pot or other pressure cooker is ideal for cooking a 7 pound or smaller ham. Did you know that most hams are already fully cooked and just need to be heated to at least 145 degrees?
I usually cook it until 155 degrees just because I prefer it. The pressure cooker cooks ham with moist heat so it stays moist and less likely to dry out. The oven cooks with dry heat.
What kind of ham should I buy?
My favorite ham is the bone-in, butt portion. It is often confused with the bone-in, shank portion. There is more meat on the butt portion because the shank bone takes up more real estate on the shank portion.
Spiral sliced ham is popular because it is already cut into thin slices for you. I prefer to cut my own because I like to cut thicker pieces for the main meal, then have thick slices leftover to cut into cubes for ham and cheese sandwiches, ham in macaroni and cheese, and pasta salad with ham.
Those thin slices on the precut spiral sliced ham also dry out much easier and are often overcooked.
How much does a bone-in ham cost?
Spiral sliced is the most expensive, ranging from $2.15 per pound (Smithfield) brand from Walmart to Publix premium spiral sliced with glaze $2.69 per pound. Butt portion (Appleton Farms) at Aldi is $1.19 per pound. Shank portion (Appleton Farms) at Aldi is .99 cents per pound.
How long should I cook ham in the Instant Pot?
A good rule of thumb to cook the butt or shank portion of ham is 5 minutes per pound. For spiral sliced, bone-in reduce the amount of cooking to 4 to 4.5 minutes per pound. For more information on safe temperatures for pork click here.
What size ham fits in a 6-quart Instant Pot?
Most spiral sliced, butt and shank portion hams up to 7 pounds will fit in a 6 quart pressure cooker or Instant Pot, depending on it's widest point. It is possible you may have to trim one side slightly to make it fit.
I recommend looking through the hams available where you shop and choosing one with the most narrow width.
It is perfectly fine for the ham to be taller than the maximum fill-line in the Instant Pot because it is not liquid. The ham does not need to touch the lid when closed, though.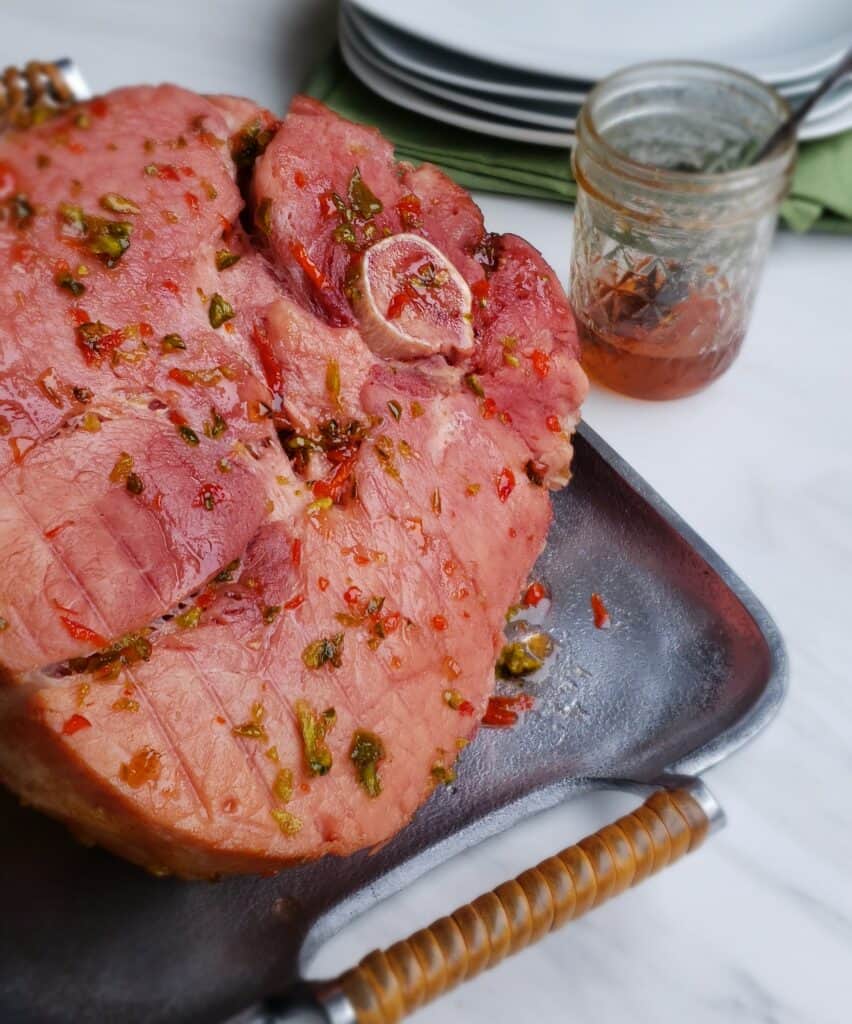 What is pepper jelly?
Pepper Jelly is made with jalapeno peppers. It can be made with Sure-Jell pectin either traditionally or freezer jelly method. You can also buy it in the jams and jellies section of the grocery store and specialty stores. Sometimes red or green dye is added in commercial pepper jellies so be careful if you are sensitive to dyes.
I used my own recipe for Freezer Red and Green Jalapeno Pepper Jelly to make my Instant Pot Pepper Jelly Bone-In Ham. I used both green jalapeno peppers and red bell pepper for color. I'm working on that blog post next and will share it as soon as I can post it.
Can I use a different jelly?
Yes. If you don't want to make your own pepper jelly or can't find it in the grocery store, you can substitute: apple jelly, orange marmalade, apricot preserves, or even my Homemade Muscadine or Scuppernong Jelly.
One of my Holiday Cooking Show 2019 recipes
Instant Pot Bone-In Pepper Jelly Ham is one of the recipes I prepared at our Holiday Cooking Show 2019. It is a fundraiser for my husband and son's nonprofit, Outdoor Ability Foundation. They equip the disabled outdoorsmen with equipment like Action Trackchairs.
When should I serve a whole ham?
I could eat ham once a week all year long! Some of the most common occasions to serve ham in the South is New Years Day, Easter, summer potlucks, fall family reunions, funeral dinners, Thanksgiving, and Christmas.
Show me your pics!
Let me know if you make this or any of my recipes by posting a picture on social media and tagging me at @gritsandgouda or using #gritsandgouda. You can also leave a comment right here on the blog post below the recipe.
After the ham, comes dessert! Try these easy desserts:
Instant Pot Chocolate-Peanut Butter Cheesecake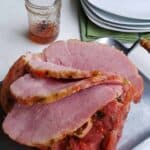 Print Recipe
Instant Pot Pepper Jelly Bone-In Ham
For a Keto diet-friendly version, omit the pepper jelly and use only apple cider vinegar in the inner pot to steam the ham.
Equipment
pressure cooker or Instant Pot
Ingredients
1

6.5 to 7 lb butt portion bone-in ham

1/2

cup

apple juice or cider or apple cider vinegar

1

cup

Jalapeno Pepper Jelly

I used my Easy Jalapeno Pepper Jelly, divided
Instructions
Place the pressure cooker trivet, rack or a silicone pressure cooker sling in the bottom of the inner pot of a 6- or 8-quart Instant Pot multi-use pressure cooker. Pour the apple juice or cider in the inner pot.

After removing the plastic wrap from the ham, place it cut side down on a metal rack or silicone pressure cooker trivet or sling with handles. Spread half of the pepper jelly over the skin portion of the ham.

Place the lid on the pot and turn to seal, making sure the silicone ring is in place. Turn the steam release handle on the top to "sealing" not "venting".

Press the "Pressure Cook" button. Push the +/- button until the screen says 15. This sets the timer. After coming up to pressure, it will display 15 and start counting down in 1 minute increments.

Do nothing when 15 minutes is up and let it natural release 8 minutes. Release any remaining pressure.

Remove the lid when the float valve drops. Let stand 5 minutes. Carefully remove the ham with handles of rack or with two large forks onto a serving platter or cutting board.

Brush or spread the remaining Jalapeno Pepper Jelly over the hot ham before slicing or just serve with it. The hot ham will melt the jelly and create a glaze. You can also melt the jelly in the microwave in a small bowl at HIGH for 30 seconds. Slice and serve.
Notes
Variation: Instead of Pepper Jelly, substitute orange marmalade, apple jelly, or apricot jam.
Nutrition
Serving:
3
ounces
|
Calories:
100
kcal
Did you make this recipe?
If you love it, share it! Tag me on Instagram @gritsandgouda using #gritsandgouda Comment below before you go!