Bacon-Wrapped Venison Backstrap Roast is marinated in teriyaki sauce before roasting in the oven or air fryer. Best and easiest venison backstrap or tenderloin recipe! Perfect for Thanksgiving, Christmas, first day of deer season or Fathers Day dinner.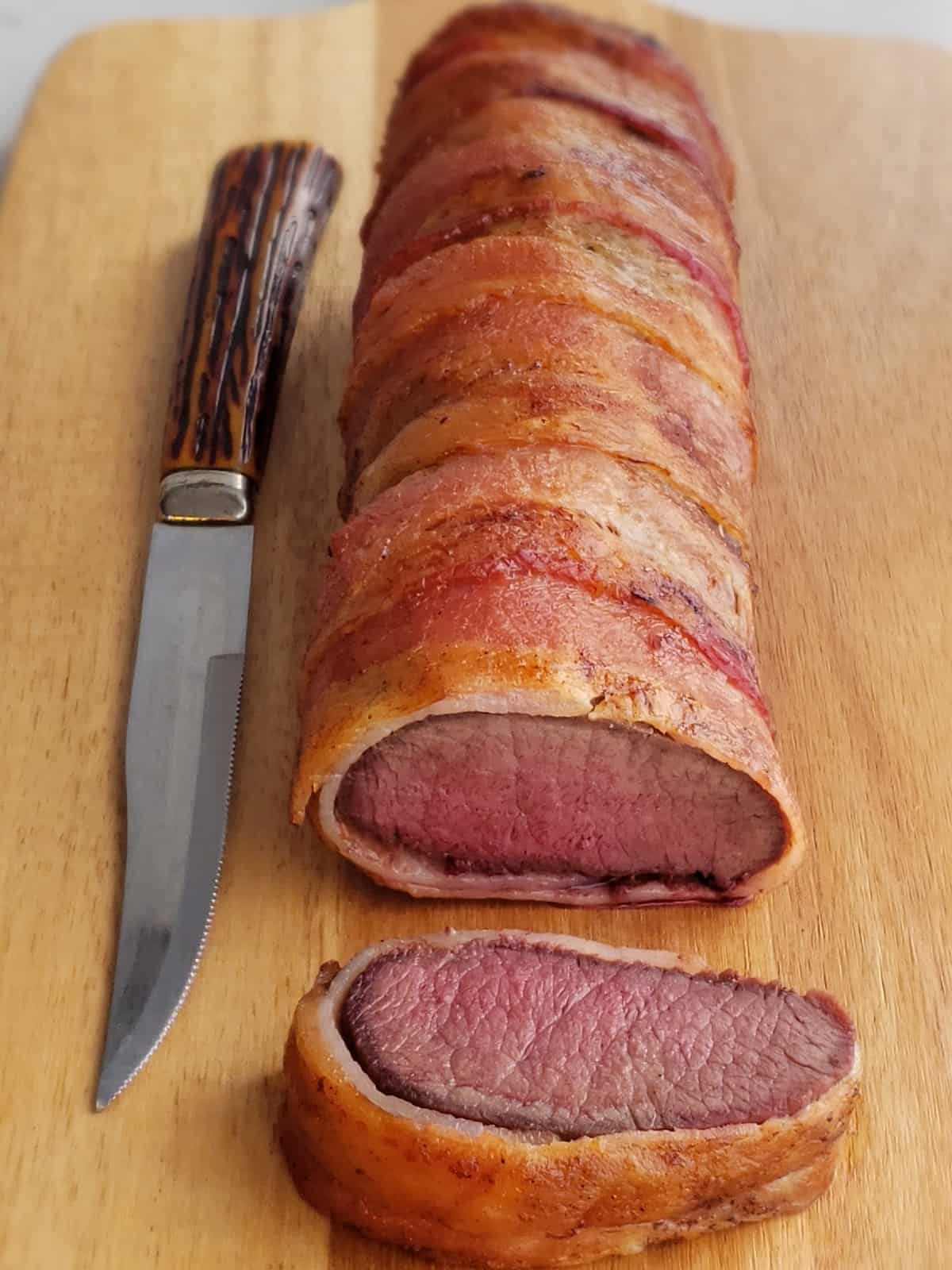 Venison is as organic as it gets! It also has less cholesterol than turkey and 50% less fat than beef and it's high in protein.
Scott harvested an 8 point buck one year with his bow and the first recipe we made with it was this 3 ingredient Bacon-Wrapped Venison Backstrap.
What is venison backstrap?
It's another name for the loin, not the tenderloin. Backstrap refers to a length of loin on the back of a deer, elk, moose, etc. It's the ribeye in beef and the loin in pork.
Deer meat tenderloins are the two strips of very tender meat under (and inside) the loin, behind the ribs. This is filet mignon in beef.
Is Venison a healthy choice?
Venison is as organic as it gets! It also has less cholesterol than turkey and 50% less fat than beef so we're talking lean protein here! Plus, you know exactly where your meat came from!
If these reasons aren't enough to sway you over to the wild side of the freezer, check out these 27 Benefits of Harvesting and Eating Wild Venison: A Look at Venison vs. Beef
Is deer meat expensive?
For my family, it is also drastically less expensive than beef because my husband and son are avid hunters and we have a deep freeze full of venison hamburger, sausage, tenderloin, and stew meat. I often mix one pound of ground venison with one pound of 80/20 ground beef because venison is extremely lean.
This week alone, I used the combination of ground venison and ground beef for meatloaf and shepherd's pie.
If you have a deer hunter in your family, you don't have to worry about the food supply chain breaking when your freezer is full of wild game.
Consider making this impressive alternatives to turkey and ham (or add it to your menu) for one of your Easter, Thanksgiving or Christmas meals.
We use our FoodSaver vacuum sealer to freeze venison burger, sausage, stew meat, cubed steak, and of course backstrap (tenderloin).
Is this recipe hard to make?
I have to give my husband, Scott, credit for developing this recipe. He said it was not hard at all.
He prepared this roast the first time completely on his own, including wrapping the bacon and roasting it in the oven. He is handy with a knife because he dresses and processes the deer himself most of the time.
I usually do the cooking but he surprised me with this roast one day while I wasn't at home. If he can do it, you can too! The pictures you see here are my own but his photos were on this post until I updated them recently.
We believe in "If you kill it, you cook it" when it comes to game animals.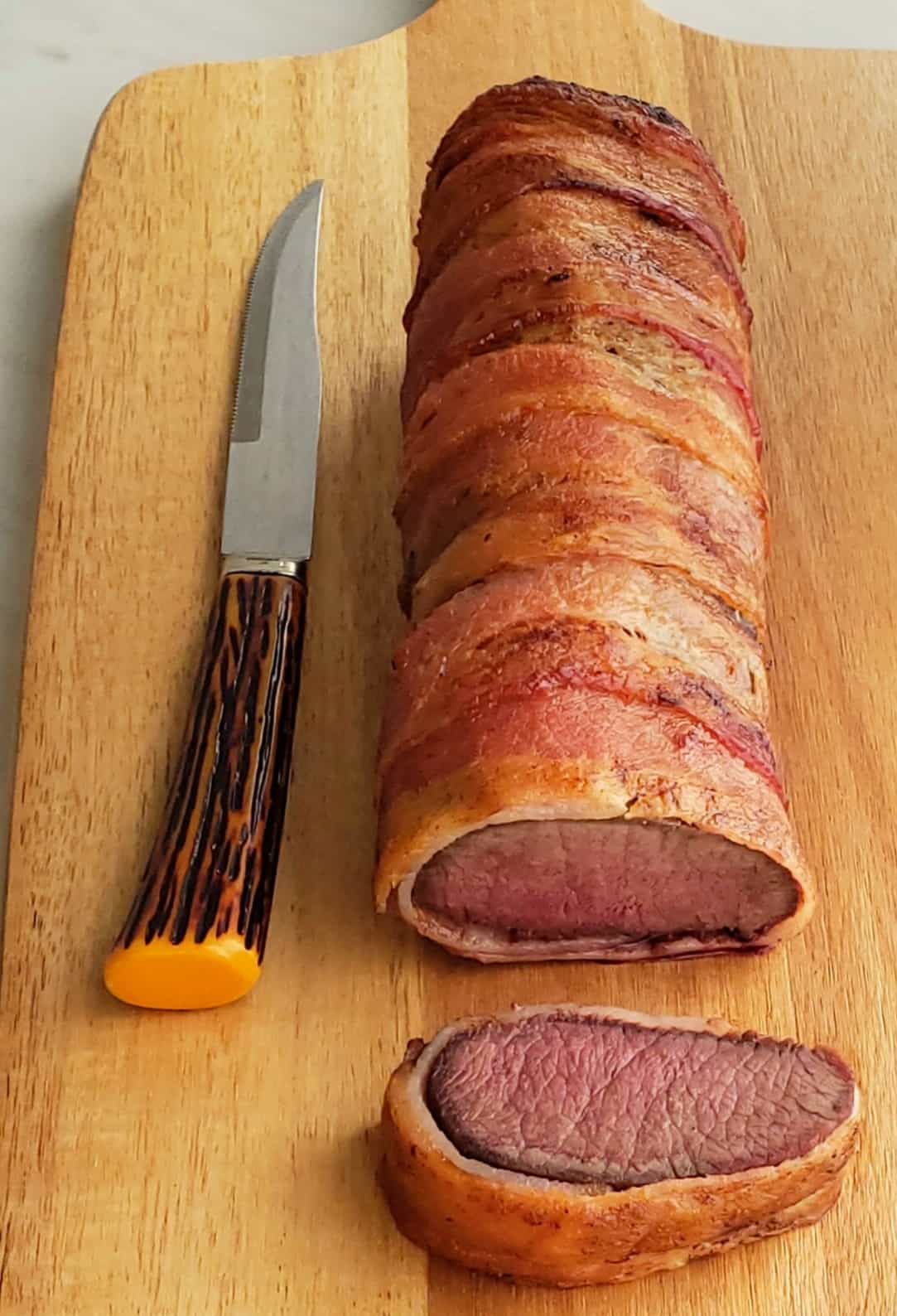 This roast was cooked to somewhere between medium and medium-well to suit me (The Queen of this domain), but the men in the house prefer it more on the medium-rare side.
I recommend using a digital in-oven meat thermometer. It takes all the guess work out of reaching exactly the internal temperature you desire.
In case you didn't know, the internal temperature will continue to rise about 5 degrees after you remove it from the oven, so, if you want your roast to end up at 150 degrees, take it out of the oven at 145 degrees.
Pro Tip: The reason for letting it stand 10 minutes before slicing isn't to let it cool down enough to eat. While cooking, the heat causes the juices to head toward the center of the roast.
If you cut it immediately, you will lose all those juices. If you let it rest just a few minutes, it gives it time to reabsorb the juices making the roast juicier. Ok. Enough of the food science-I just love it, though!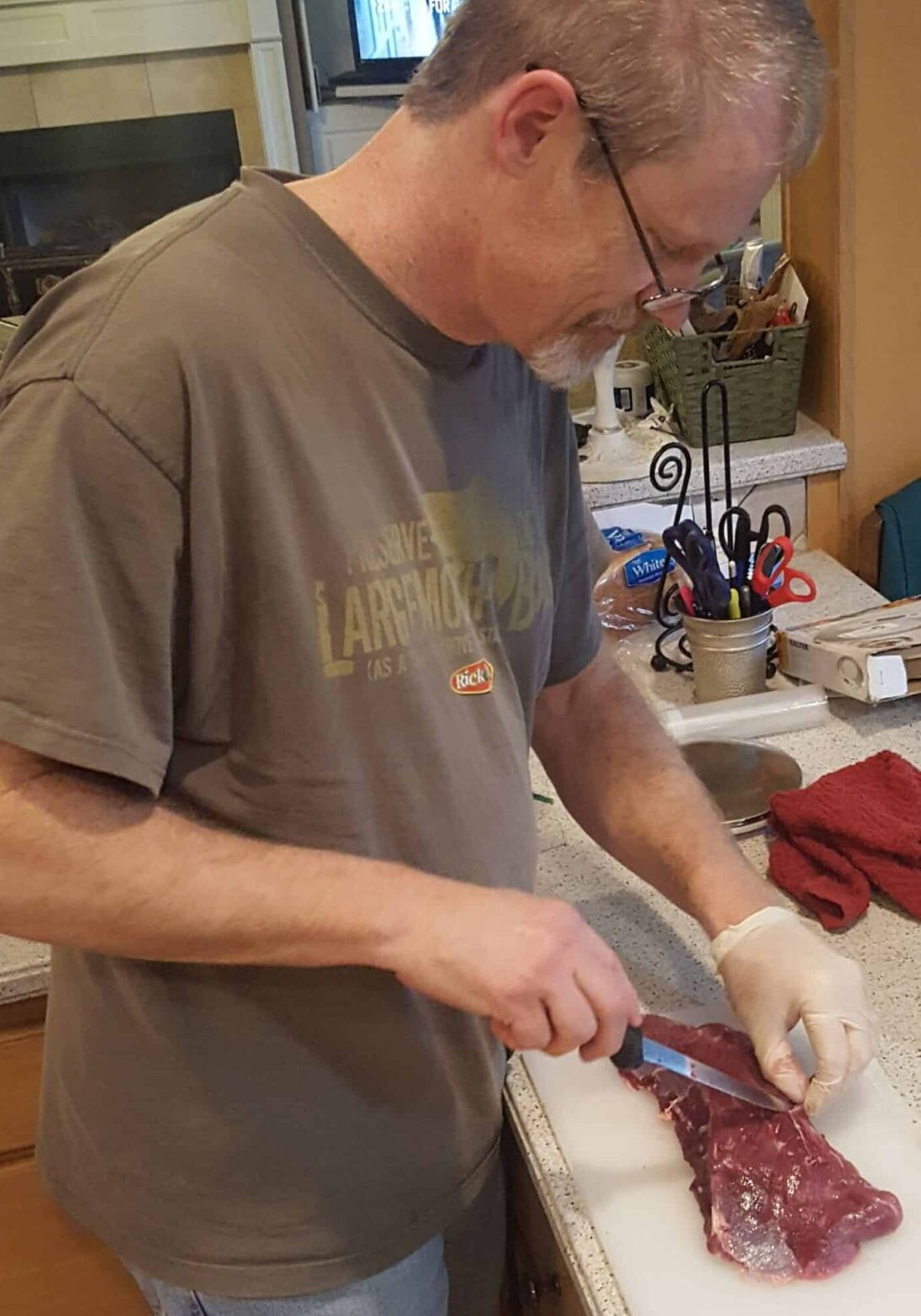 Scott prepped and cooked this particular roast and took the how-to pics with his phone. His was a little bigger than the one in my photos below.
Here he is trimming the silver skin. It is a very lean cut of meat so not much fat to trim.
We use a FoodSaver vacuum sealer at this point if we were going to freeze it. It seems like it more than doubles the freezer life of the meat.
(These pictures were taken before our kitchen renovation! 🙂
Ingredients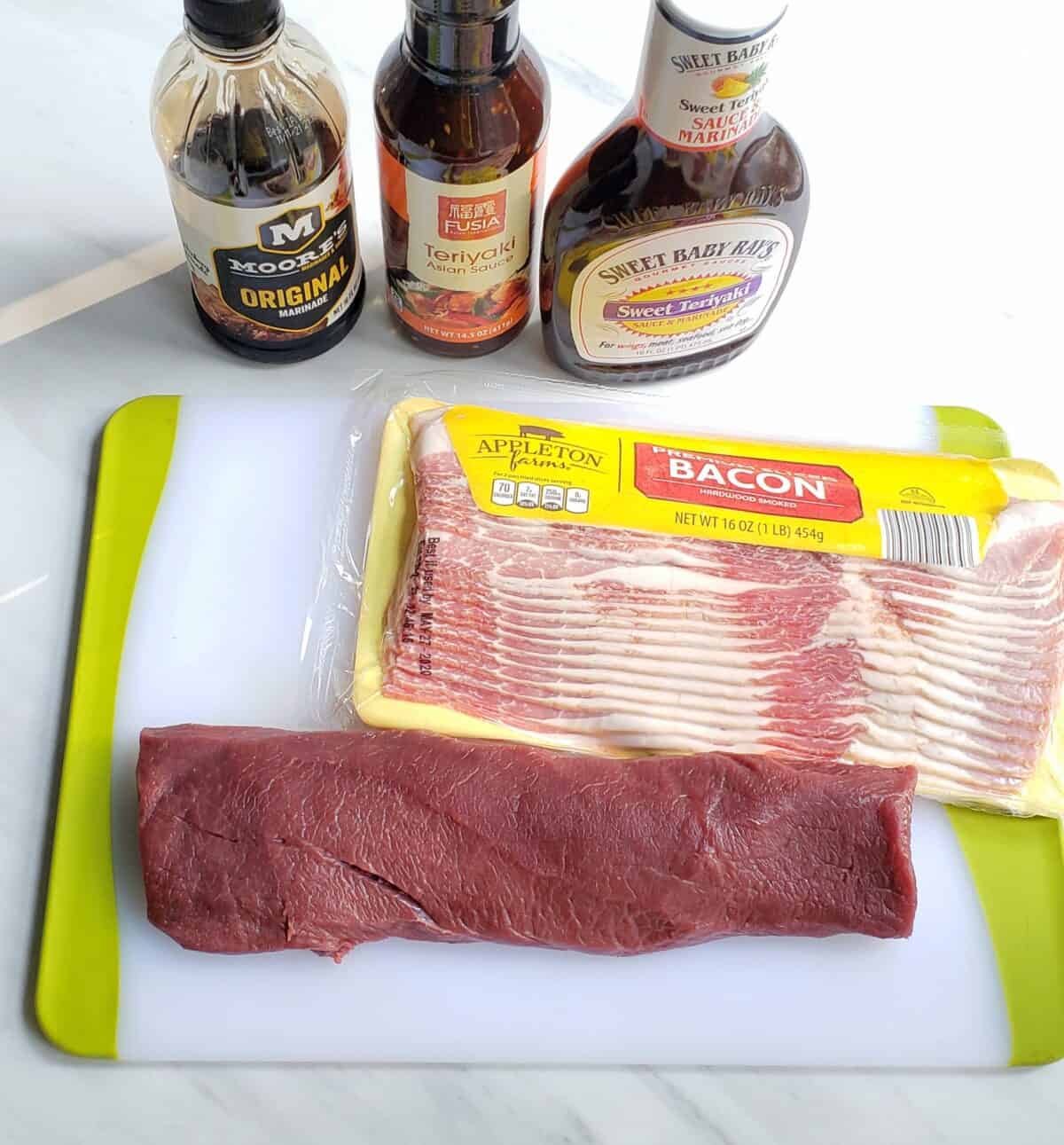 1 (2-pound) venison backstrap or tenderloin roast
1/2 cup Teriyaki sauce
8 to 10 slices of bacon
Pro Tip: Avoid thick cut bacon. It takes longer to cook which cook overcook the deer meat.
How to marinate venison backstrap or tenderloin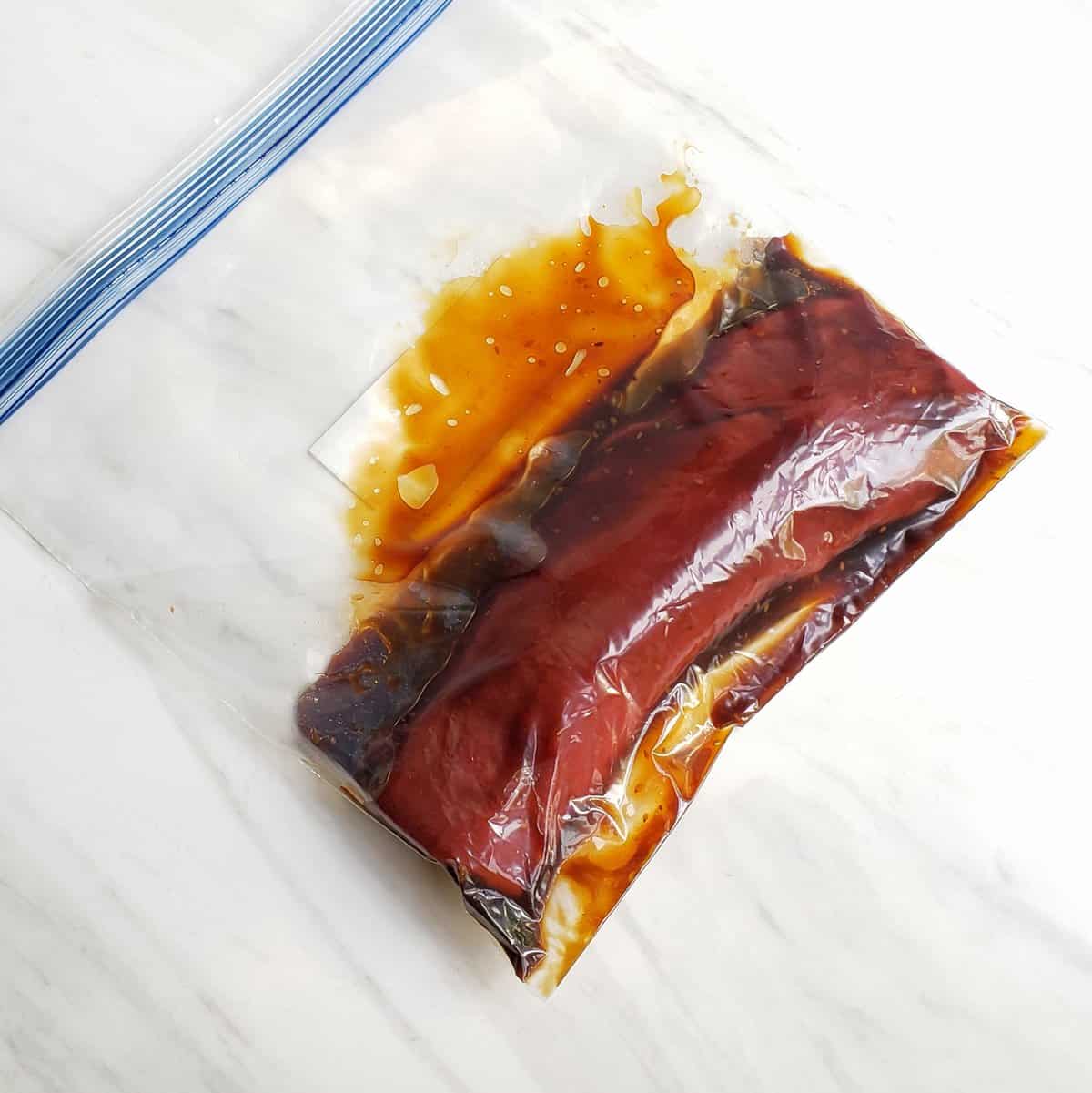 Cooking Venison Backstrap
The process of making bacon wrapped deer backstrap in the oven is very simple.
After marinating the roast in teriyaki sauce and draining it, arrange 8 pieces of bacon side by side on a work surface or cutting board. Lay two pieces of bacon in the middle end to end.
Place the roast on top of the pieces of bacon that are touching end to end and pull these two pieces up, covering the ends of the roast and lay them on top of the roast.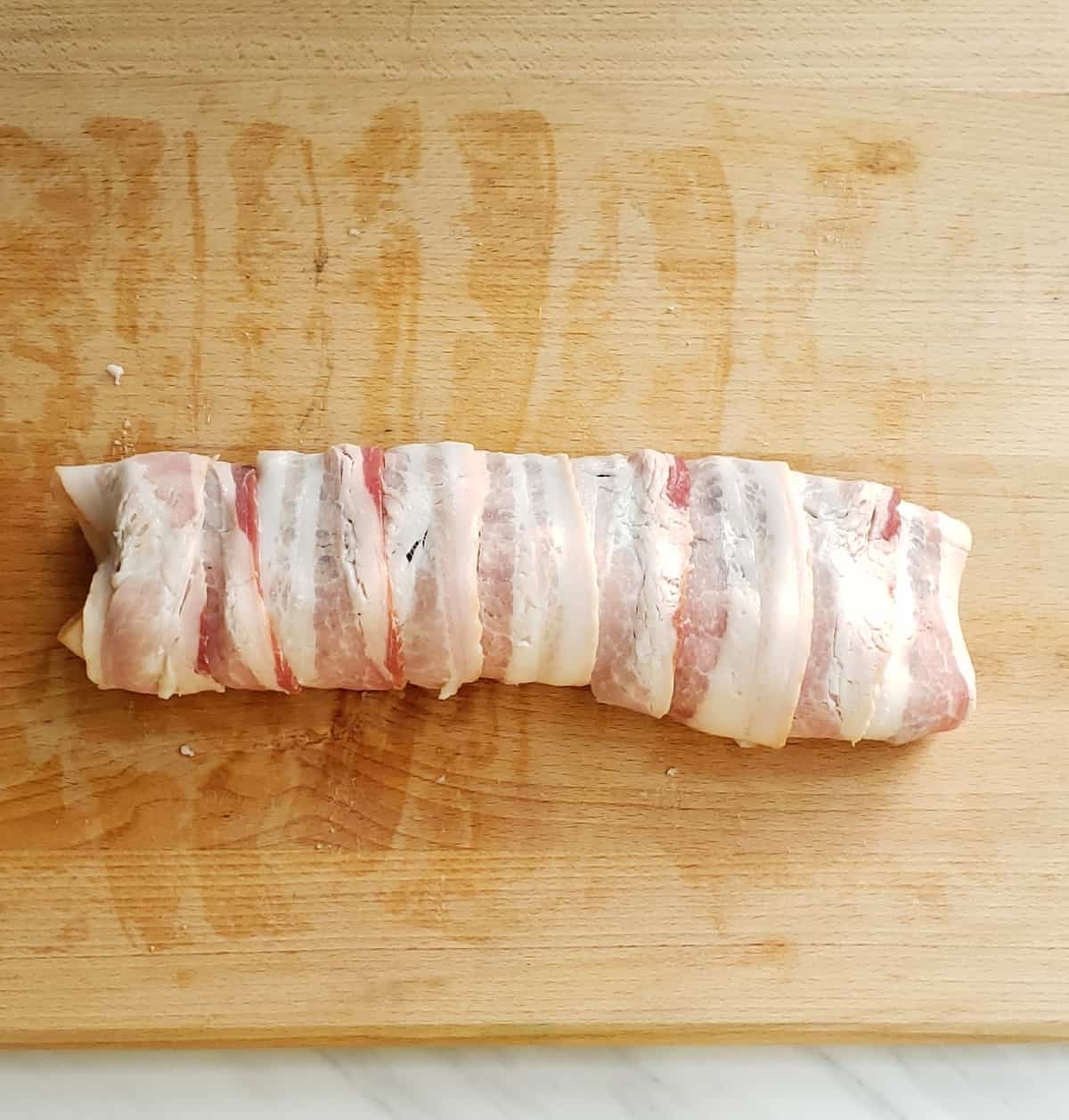 Then, pull up the crosswise pieces of bacon and over lap them on top of the roast and two pieces of bacon covering the ends.
Secure the bacon with toothpicks or flip the roast, seam side down, to make sure the bacon doesn't shrink when baked.
Place the venison backstrap or tenderloin in a greased (or aluminum foil-lined) roasting pan or baking dish. Bake according to the printable recipe below.
Pro Tip: I also like to place the roast on a wire rack first. It lets the bacon drip and the bottom of the roast gets crispier.
Can I make this recipe with beef or pork?
Yes. If you do not hunt or have access to venison, you can still make this yummy roast with beef tenderloin or pork tenderloin. It's harder to find a 2-pound beef tenderloin, so you may have to use more bacon cook it longer. You could also cut it in half lengthwise and use the remaining beef tenderloin for other recipes.
How to cook venison backstrap in the air fryer
Here's how to make air fried venison backstrap or tenderloin. A one pound venison tenderloin cooked in the air fryer turns out perfectly in the basket size air fyer.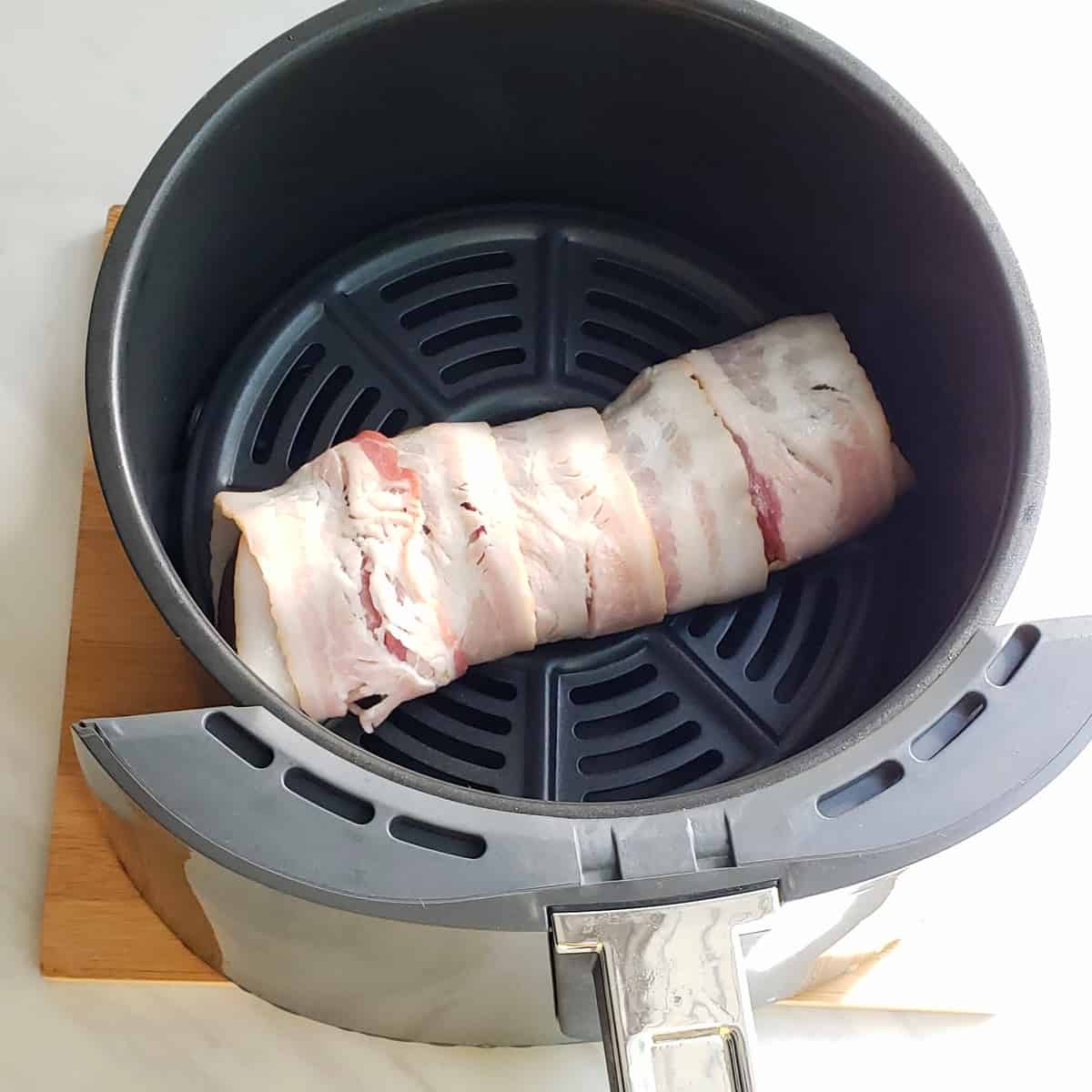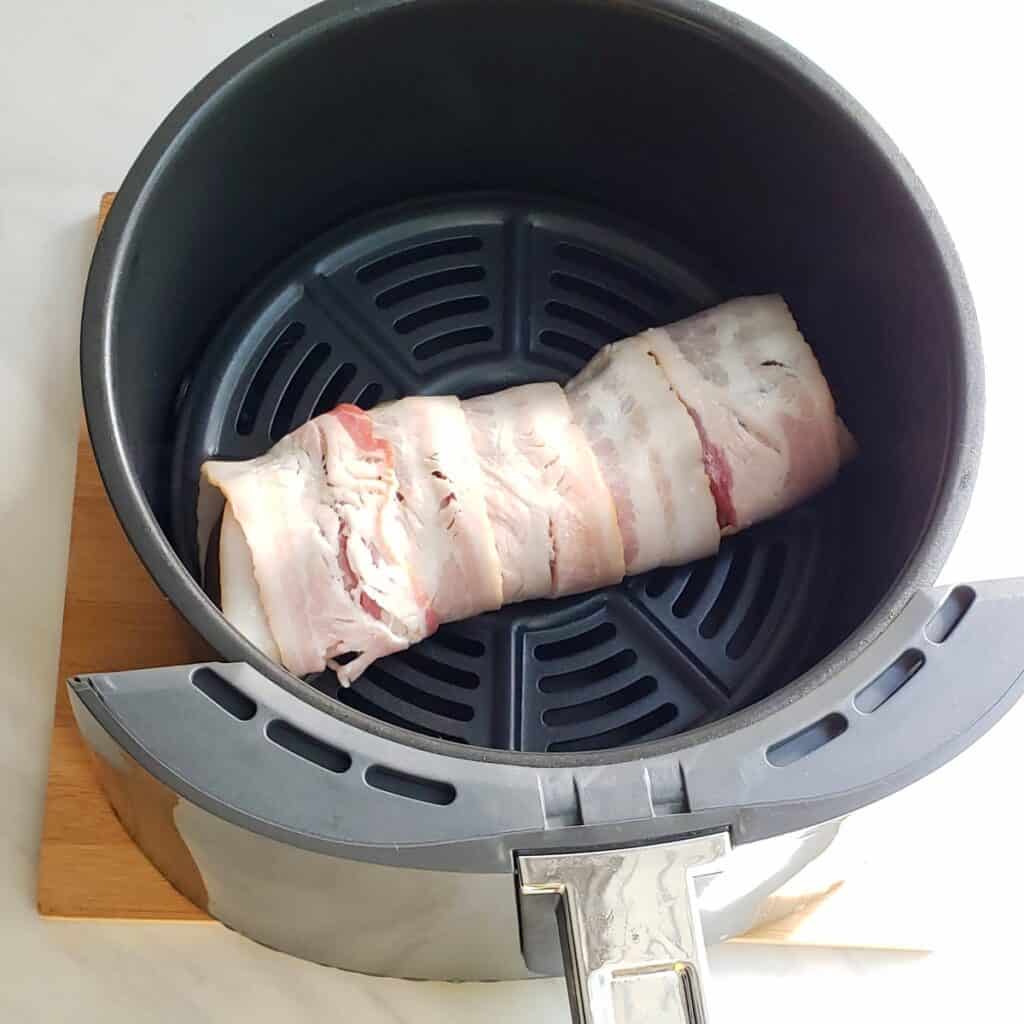 Marinate a one-pound venison or pork tenderloin in 1/4 cup Teriyaki sauce.
Wrap the tenderloin in 4 to 5 pieces of bacon
Cook in the air fryer on a rack at 375 degrees for 12 minutes; turn over. Cook another 3 to 4 minutes depending on desired degree of doneness. Use an instant read thermometer to check.
Make Venison Sliders with Venison Backstrap Roast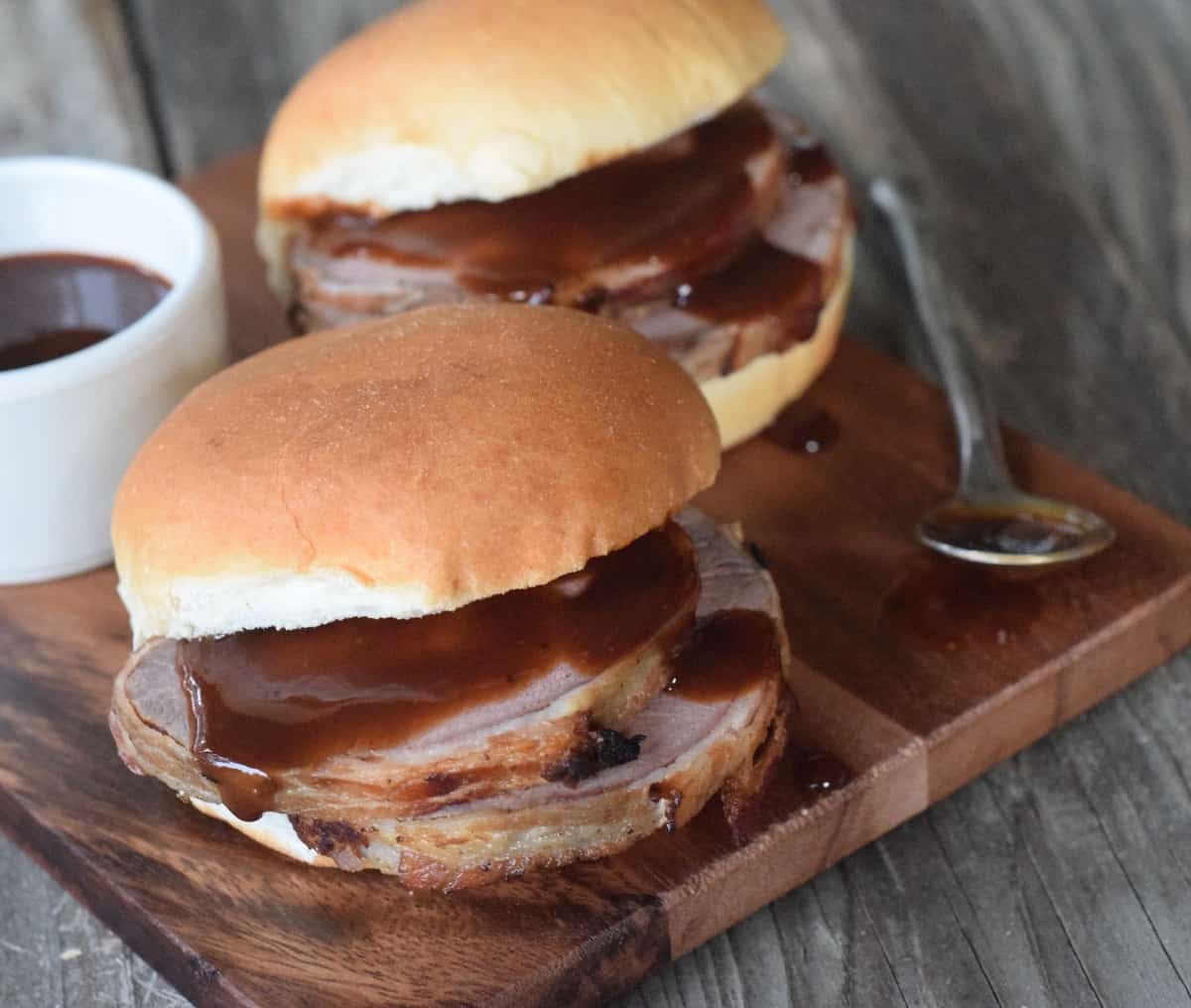 Simply slice the Bacon Wrapped Venison Backstrap Roast in thin slices, place on slider or small buns and slather with your favorite barbeque sauce.
Since the venison backstrap and tenderloin is fairly small, it is the perfect size for sliders to eat during the big football game (or whatever game you're watching).
Why spend time outdoors with your kids?
I couldn't resist throwing in a picture of my guys all decked out in camo. It's an older picture (Grayson is now over 20) but it shows how much fun they have being outdoors together.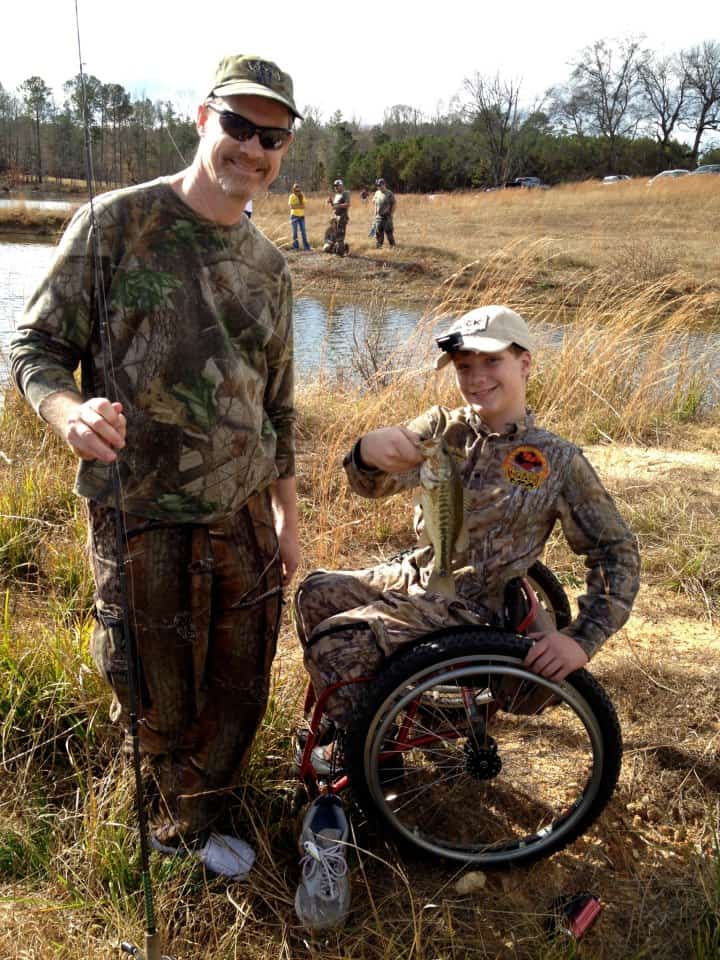 Spend some time with your dad this father's day or Thanksgiving hunting, fishing, golfing or just sitting on the front porch swapping stories. Make some memories!
I also love a good old-fashioned fish fry!
Follow me on Facebook, Instagram, Pinterest and YouTube. Be social and share, y'all! Don't forget to sign up with your email so you don't miss a single post on my Southern shortcut recipes!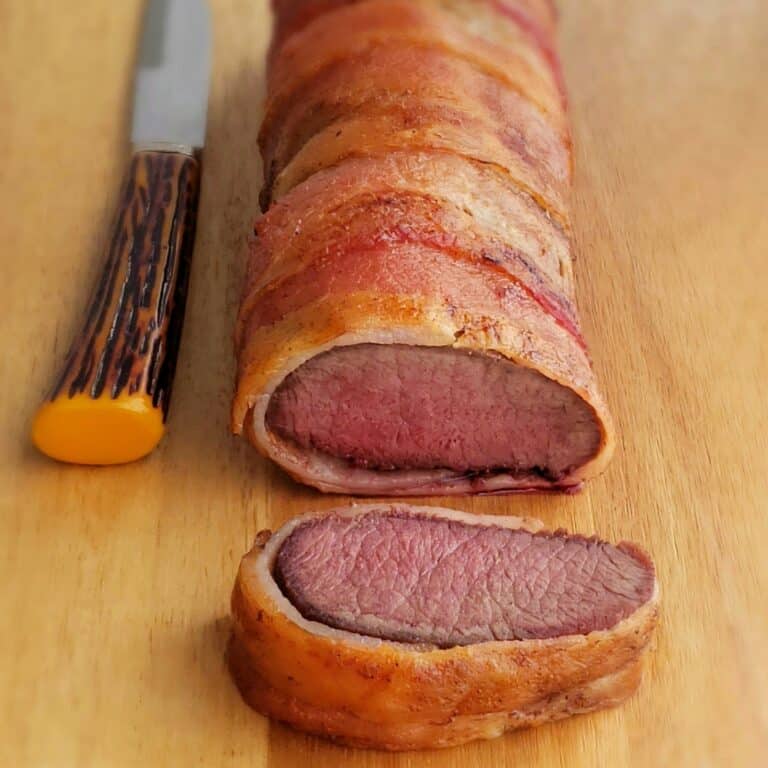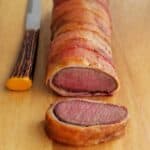 Print Recipe
Bacon-Wrapped Venison Backstrap Roast
If you're like me, you either have a freezer full of venison from last year's hunting season or about to fill it up with this season's harvest. My husband and son are avid hunters and we process our own meat which helps on the grocery bill and I love the guarantee there's no added water, coloring, chemicals, or hormones. Backstrap is excellent cooked and served medium-rare but my family prefers medium.
Ingredients
1

2 pound

venison backstrap or tenderloin roast

(or pork tenderloin)

1/2

cup

teriyaki marinade or Dales seasoning

I used Moore's teriyaki because it's an Alabama-made product

8 to 10

slices

applewood-smoked bacon

center cut slices are not long enough, thick cut not recommended
Instructions
Place the roast in a large zip-top plastic bag and add the marinade. Seal the bag and marinate in the refrigerator at least 2 hours up to 24 hours or overnight, turning once.

Preheat oven to 375°. Remove the roast from the bag and drain. Discard the marinade.

Arrange 8 to 10 pieces of bacon side by side, slightly overlapping, on a work surface or cutting board to make it 1 inch longer on both ends than the length of the backstrap or tenderloin.

Place the roast on top of the bacon toward the lower third, not right in the center. Then, pull up the shorter pieces of bacon up to the backstrap on one side, then pull the longer pieces up and over the backstrap. Lift up the backstrap and tuck the longer pieces under the bottom of the backstrap.

Place in a small, greased aluminum foil-lined roasting pan or baking dish. Bake at 375° for 20 to 25 minutes for medium-rare or 25 to 30 minutes for medium. Let roast stand in the pan 10 minutes. I often put the pan under the broiler the last 3 minutes to be sure and get the bacon crispy.

Let the roast stand at 5 to 7 minutes. Cut roast on a cutting board and transfer to a serving platter.
Nutrition
Did you make this recipe?
If you love it, share it! Tag me on Instagram @gritsandgouda using #gritsandgouda Comment below before you go!
Nutrition analysis on GritsAndGouda.com recipes are mostly calculated on an online nutrition calculator. I am not a dietitian and nutritional information is an estimate and can vary based on products used.
Pin it for later