Get that slow-simmered flavor with this quick and easy 20-Minute Venison Chili. The secret to all that hearty flavor is in 3 of the ingredients during the first step. This shortcut comfort food recipe has less than 10 ingredients! No deer hunters in the family? Substitute any lean ground meat or even turkey.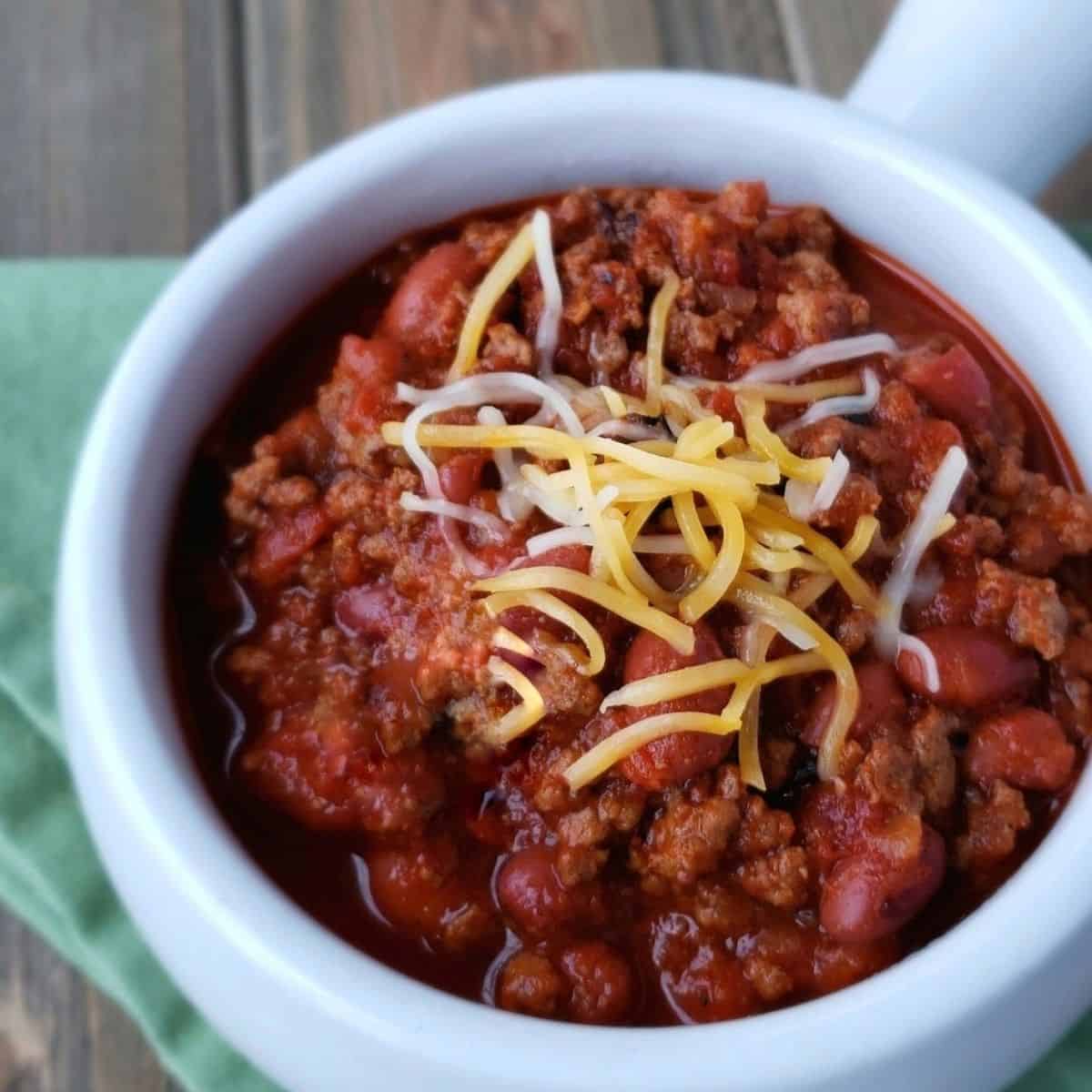 Here in the South, football and hunting season happen at the same time so venison chili is a popular game day meal at our house. It's protein-packed and perfect for any cold weather activity like bon fires and Halloween get togethers.
My family likes to load up their bowls of chili with toppings like sour cream, Cheddar cheese, and green onions. They'll tell you this comfort food is not complete without saltine crackers or corn chips on the side!
Although I prefer to make this simple recipe in my Dutch oven on the stovetop because it takes less than 30 minutes from start to finish, it can also be made in the slow cooker or Instant Pot. Check out those cooking times in the printable recipe NOTES.
Ingredients
Scroll down to printable recipe for ingredient quantities.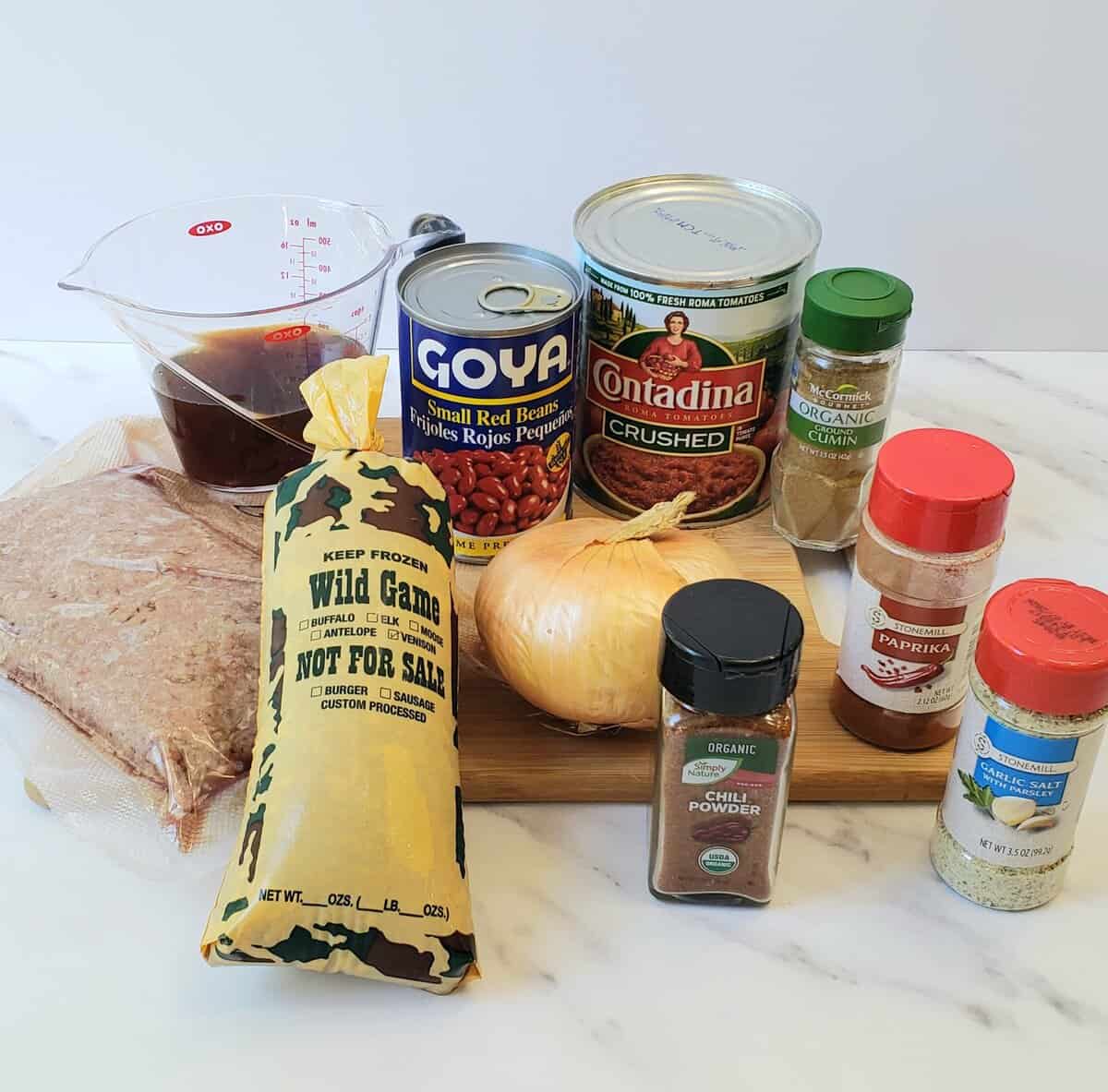 Ground Venison- Venison is 50% leaner than ground beef. I usually use half ground chuck and half ground venison to stretch, especially if we are running low on one or the other in the freezer. Really, 2 pounds of any ground lean meat, including turkey will turn out delicious in this recipe.
Onion- I'm not too particular on which onion I use in chili. Purple (red) onion might discolor it a little, but other than that, white, yellow and sweet onions like Vidalia onions work well.
If you love Vidalia onions like I do, you will love Perfectly Crunchy Vidalia Onion Rings, Vidalia Onion Cornbread with Caramelized Onion Fans, and Shortcut Sweet Heat Pickles and Vidalia Onions.
Garlic Salt- Garlic salt combines garlic powder and salt. You could also use 1/2 teaspoon salt and 1/4 teaspoon garlic powder.
Chili Powder- Chili powder is not always just one kind of powdered chile. Sometimes it is a seasoning blend of several types of chiles and other spices such as cumin, cayenne pepper, and garlic.
Paprika- A mixture of dried and ground red peppers from the Capsicum variety. It is not a spicy or hot spice but adds depth of flavor. You'll probably have it in your pantry already to sprinkle on those Southern deviled eggs!
Ground cumin- Cumin is a pungent spice used not only in Latin American dishes but also Middle Eastern, African and Indian.
Crushed Tomatoes- These tomatoes are key to the rich and hearty flavor of this fix-it-fast version of chili. I prefer crushed tomatoes because they are not chunky and watery like diced tomatoes which gives it the thickness I want without simmering a long time. They are a cross between diced tomatoes and tomato paste without the peel and seeds! Crushed tomatoes are sold everywhere diced tomatoes are sold.
Beans- This gets personal. I know many people feel strongly that kidney beans are the only beans for chili. I actually love the humble red bean or even pinto beans. Kidney beans have a firm skin on the outside and are so big I think they take away from the star of the show-the meat! I grew up eating pinto beans almost every day along with fried potatoes and cornbread so....yeah... pintos in my chili are welcome!
Beef broth- Although water can be used, beef broth or stock enhances the flavor quickly.
(Optional) Cayenne Pepper- If you like a little or lotta heat, add ground red pepper (cayenne) in increments of 1/8 teaspoon. 1/8 teaspoon = 1 Alarm Chili, 1/4 teaspoon = 2 Alarm Chili, 1/4 + 1/8 teaspoon = 3 Alarm Chili, 1/2 teaspoon = 4 Alarm Chili. After 1/2 teaspoon cayenne, be ready to drink lots of water or milk with your chili!
Hint: Not all chili powders are the same. Like curry powder, there are loads of variations and combinations. It's not just ground chile pepper. It often has cumin, garlic and at least 3 kinds of peppers. It may also have cayenne pepper so some, not all, may have a little heat built in.
While the venison and onion is cooking, measure and prep the other ingredients. This time overlap helps make this a 20-minute chili.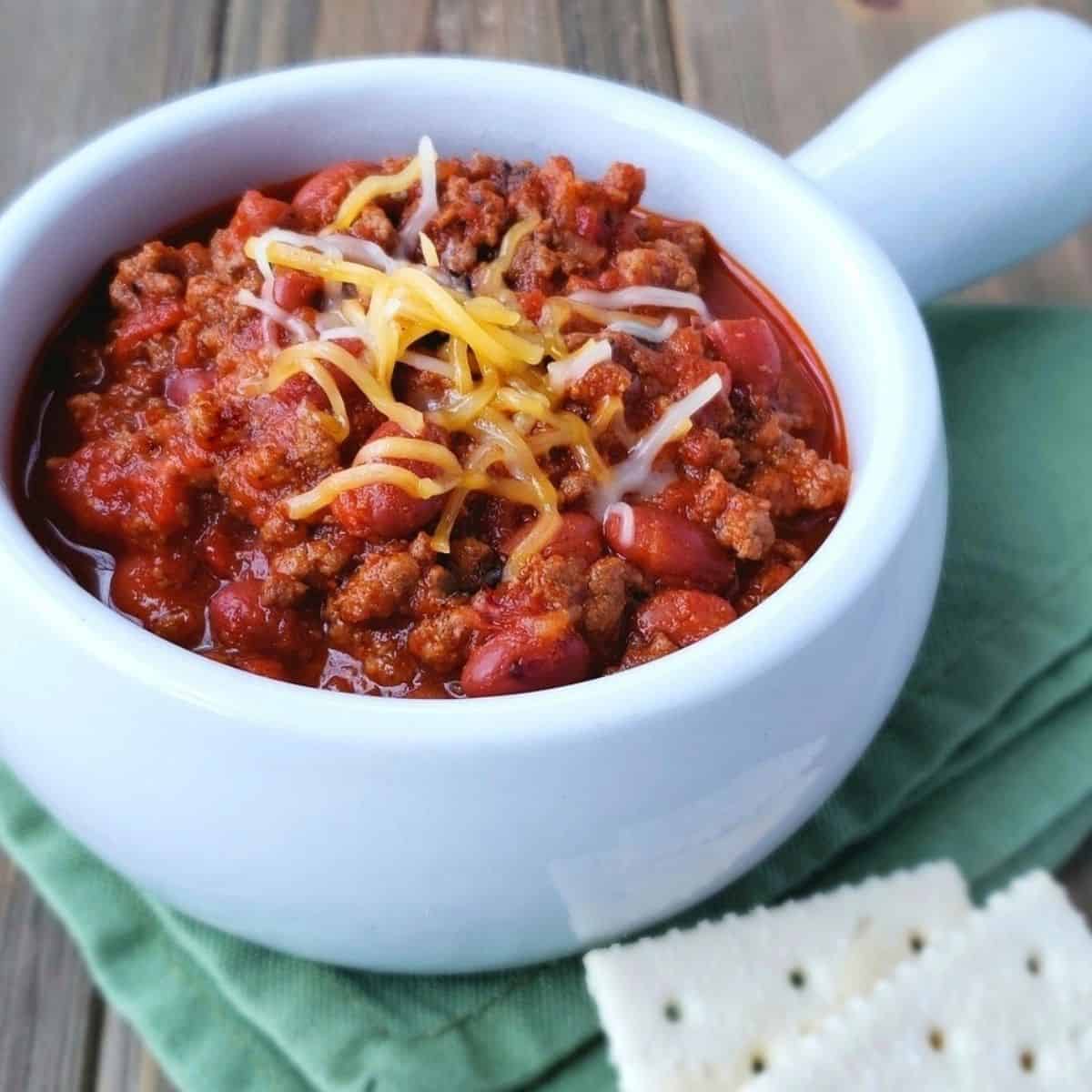 What can I make with leftover chili?
I always try to make enough chili so that I have leftovers because we all know chili just gets better and thicker overnight. Here's a few ideas of how to serve your leftovers for a snack or easy weeknight meal.
Cheesy Chili Dip. I like to make a rich and thick dip with leftover chili and serve with corn chip "scoops". For every 1 cup of chili, stir in 2 tablespoons sour cream and 1/3 cup shredded Cheddar cheese or a Mexican cheese blend and heat until cheese melts.
Loaded Chili Baked Potato. Bake your potatoes in the oven or air fryer. I show you how in my recipe for Air Fryer Baked Potatoes with BBQ Pulled Pork. Top the potatoes with 1/2 cup chili and add your favorite chili toppings.
Use as a filling for empanadas.
Top with mashed potatoes and cheese and bake at 350F degrees until hot and bubbly.
Stir together with cooked elbow macaroni and cheese for a quick Chili Mac recipe.
Make chili dogs!
How to store
Let chili cool completely. Spoon any leftover chili in an airtight container. Store in the refrigerator up to 1 week and in the freezer up to 3 months.
Follow me on Facebook, Instagram, and Pinterest. Be social and share, y'all! Don't forget to sign up with your email so you don't miss a single post on my Southern shortcut recipes!
If you make this recipe I'd love to see it! Tag me on social media with #gritsandgouda or @gritsandgouda. Leave a comment below the printable recipe if you have questions or tell me how you liked the recipe. Don't forget to rate it 5 stars if you love it!