Do you love homemade bread and butter pickles but don't have a garden or want to use a pressure cooker to can them? Try my Shortcut Sweet Heat Pickles and Vidalia Onions. They start with a jar of hamburger-style dill pickles: store-bought or from your Grandma's pantry.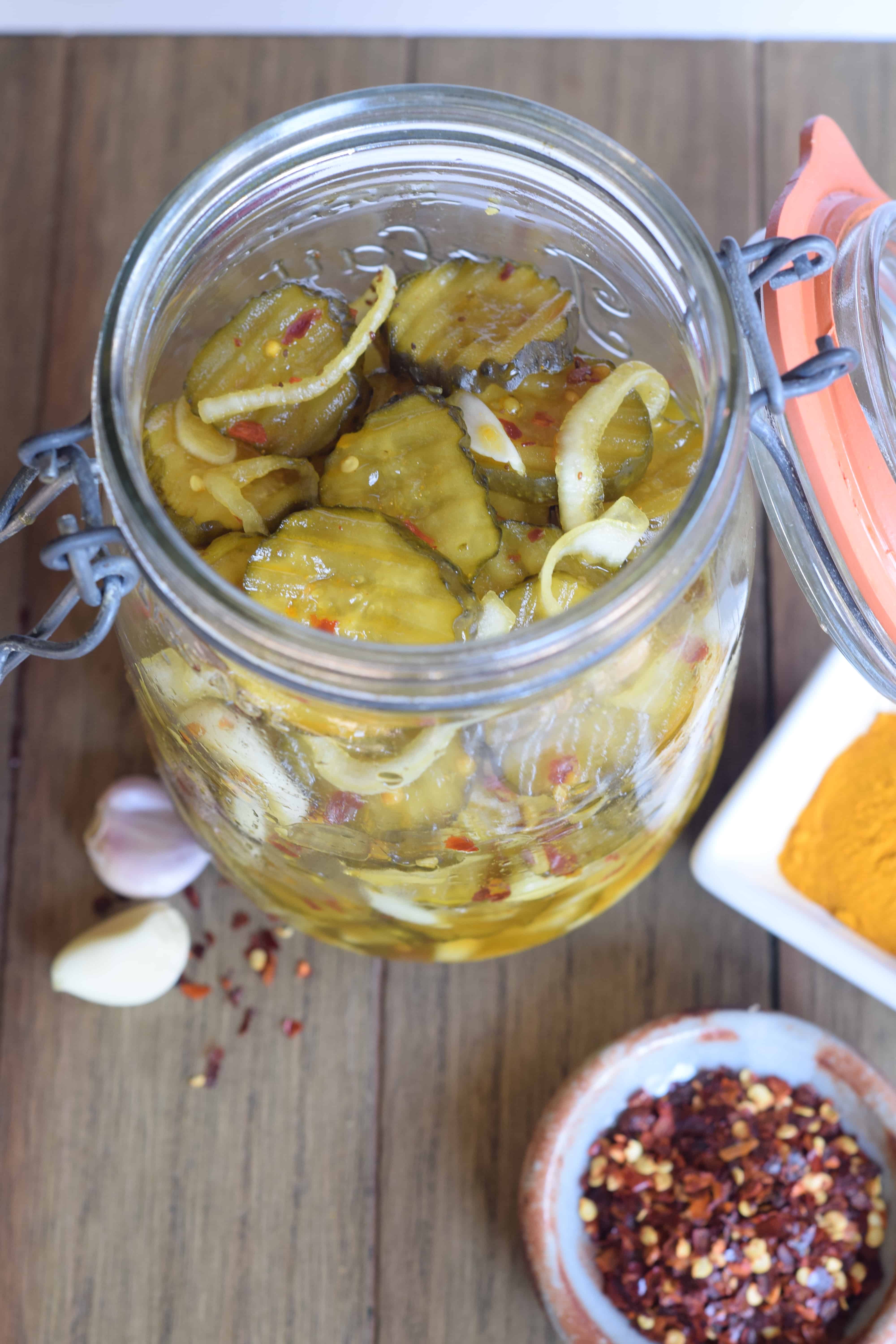 What's the shortcut?
Everyone will think you made them from scratch. You can honestly say you made them. They are a half-way homemade recipe. The shortcut for these sweet heat pickles is starting with a jar of plain dill pickles and add onions, sugar, vinegar and spices. What you end up with is nothing like what you started with!
These are "sweet and hot", half-way homemade pickles and onions. Be warned. They are addictive.
The pickled onions are my favorite part
My brother and sister-in-law visited us as they were traveling through Alabama and I served these pickles for dinner. He was hesitant because he didn't like bread and butter pickles, but by the end of dinner, he had gone back for seconds!
I caught him picking out the onions to eat. I'll admit they are my favorite part of these pickles, too.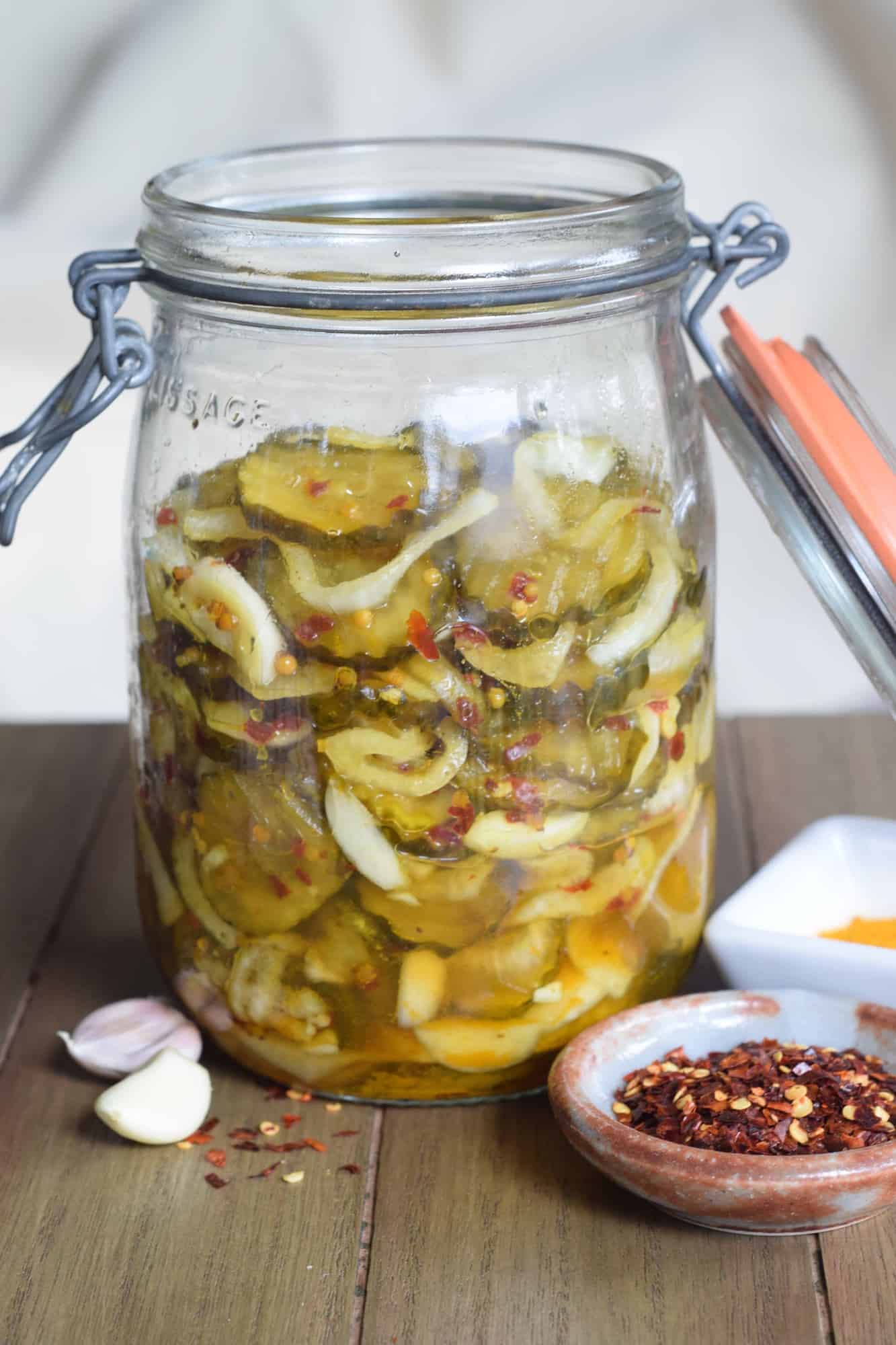 Can I make them if I have a jar of bread and butter pickles?
Yes! It's actually a shortcut to the shortcut!
Start with a jar of store-bought dill pickles or an even quicker version, buy bread and butter pickles, decrease the sugar, and omit the mustard seeds. Most bread and butter pickles already have mustard seeds in them. I still add the turmeric because I like the extra color and its anti-inflammatory properties.
You may like these other Vidalia onion recipes
Tomato and Vidalia Onion Pie with Bacon
Vidalia Onion and Grape Tomato Salad
You may like these other shortcut recipes
Shortcut White Bean and Chicken Chilli
Shortcut Strawberry Rhubarb Pie
Watch me make Sweet Heat Pickles and Vidalia Onions on ABC 33/40's Talk of Alabama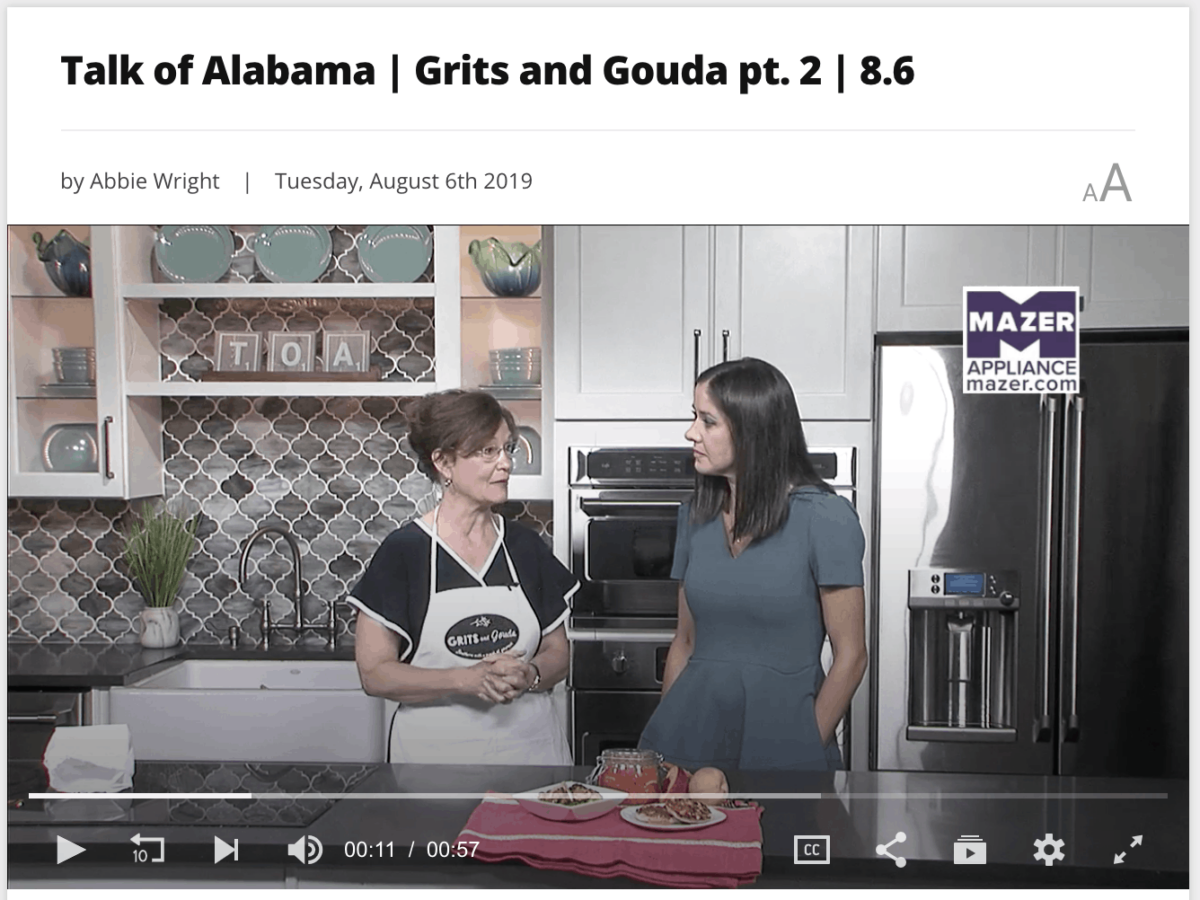 Be sure to follow me on Facebook, Instagram, Pinterest and Twitter and don't leave before you send me your email address here so you don't miss a single post on my Southern shortcut recipes!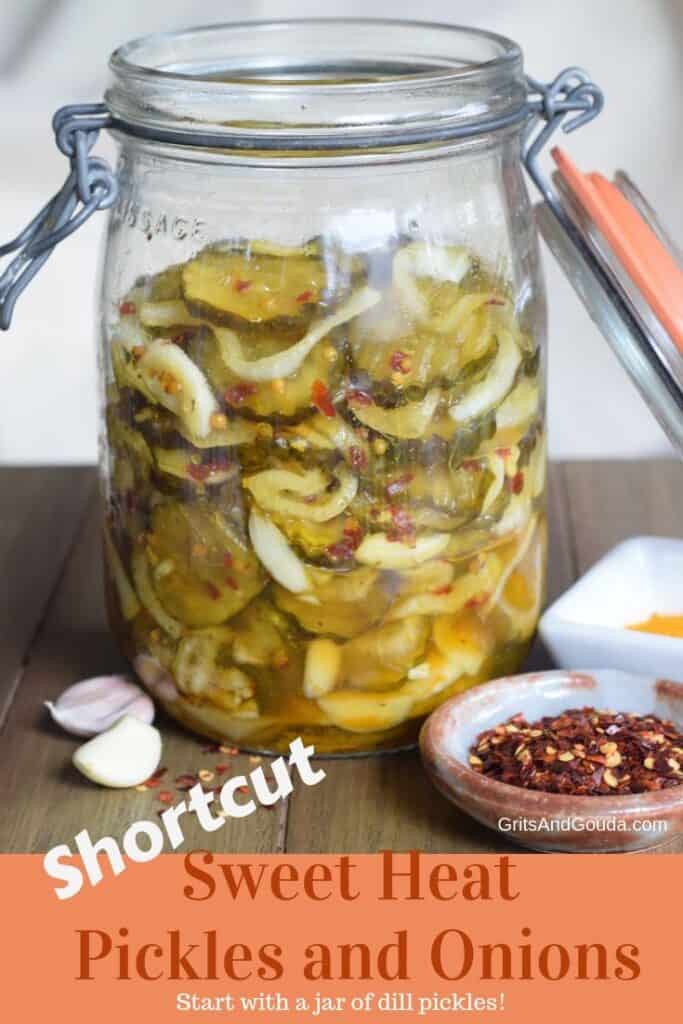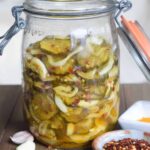 Print Recipe
Sweet Heat Shortcut Pickles and Onions
Think "sweet and hot" bread and butter pickles. Start with a jar of store-bought dill
 pickles.
Ingredients
1

24-oz jar sliced, hamburger dill pickles

(I prefer Mt. Olive Simply Pickles)

1

large Vidalia onion

3/4

cup

granulated sugar

3/4

cup

light brown sugar

1/4

cup

apple cider vinegar

5

garlic cloves

peeled and halved lengthwise

1

teaspoon

crushed red pepper flakes

1

teaspoon

mustard seeds

1/2

teaspoon

turmeric
Instructions
Drain pickles and discard the liquid. Place the pickles in a medium size bowl.

Peel onion and cut in half vertically. Lay cut side down and cut vertically into 1/4-inch slices to create slivers and add to pickles in the bowl. Add sugars, vinegar, garlic, pepper flakes, mustard seeds, and turmeric to the bowl; stir well.

Cover and refrigerate overnight so the pickles will have a kick to them from the crushed red pepper. Stir at least once. Keep them in the bowl during this time because they won't fit back in the jar yet. The sugars will dissolve overnight and the onions will "shrink".

Spoon pickles back into the same pickle jar with a slotted spoon if they will fit) or in a decorative 4 to 5-cup canning jar with a lid . The onions will have reduced in volume enough after 24 hours to fit in the jar. Pour the liquid over the pickles and onions. Keep them refrigerated for up to 3 weeks.
Notes
When Vidalia onions are in peak season, I like to double the onions in this recipe because they are my favorite part.
For an even shorter version, start with bread and butter pickles, reduce the
sugars to ½ cup each, and omit the mustard seeds because they should already have them
in the jar. Many bread and butter pickles have turmeric but I still like to add it for extra
color and anti inflammatory properties.