Magic Cakes
What is a Magic Cake? One simple batter, one, pan, one cake, but 3 layers! Now that's a shortcut! With only a single batter that magically transforms into three layers of custardy, fudgy, light and airy cake, you can have an easy dessert that looks like it took hours to put together (and tastes like it, too ).
If you dream of a 3 layered cake, but want to avoid the endless, complicated steps it takes to make one, then you're going to fall in love with magic cakes.
In this cookbook, you'll see some traditional flavors like vanilla and chocolate, but I will surprise you with some mouth-watering, flavor combinations like tiramisu, cardamom-scented sweet potato and S'Mores. I give you step by step instructions on how to "make the magic happen" and teach you how to create your own flavors.
Order Magic Cakes now! Click here to order.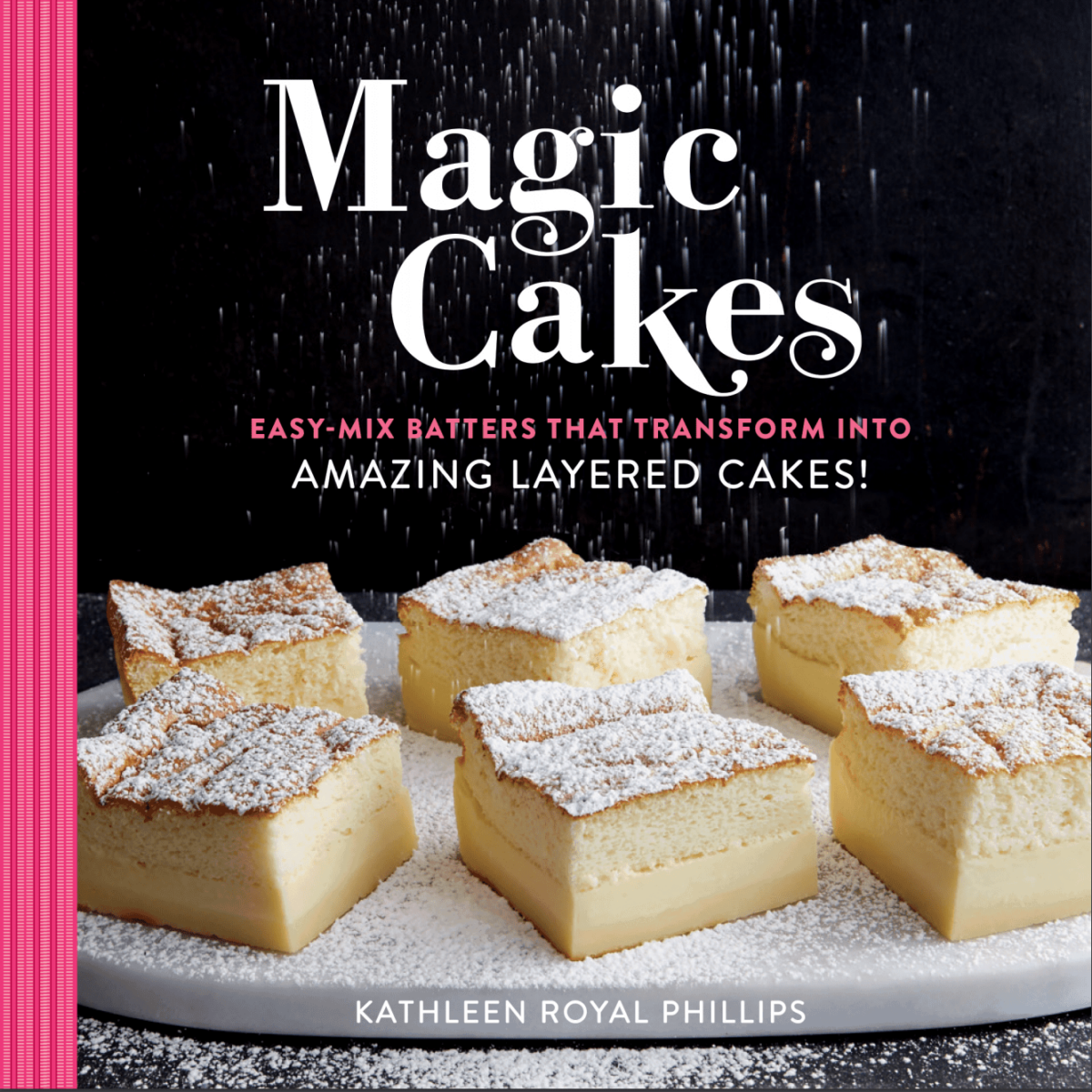 This book contains 40 recipes for cakes, frostings, icings, and other delightful extras that are simple to make and difficult not to devour. Magic cakes can be your classic chocolate or vanilla, a tiramisu cake reimagined, or even an unconventional cardamom-scented sweet potato cake if you're feeling adventurous. Top each treat with a frosting or a simple dusting of powdered sugar, and you've got yourself a magical dessert to savor and enjoy.
Order your hardback and Kindle versions of Magic Cakes now!
About the Author
Kathleen Royal Phillips is a writer, recipe developer, tester, and food stylist who has worked with clients such as Time Inc., Pillsbury, and Betty Crocker. Her recipes and food styling have been featured numerous times in Southern Living and Cooking Light cookbooks as well as Christian Woman, Coastal Living, and Parents magazine. She lives in Gardendale, Alabama. Although I've been a food stylist and recipe developer for over 30 years and worked on hundreds of cookbooks, this is my first cookbook to author! Magic Cakes, published by Running Press, is a dessert cookbook with 40 magic cakes and toppings. I developed, tested and was fortunate enough to also style all the cakes in the cookbook.
Order your copy of Magic Cakes
Order your hardback and Kindle versions of Magic Cakes now!