Air Fryer Baked Potatoes with BBQ Pulled Pork is a pantry-friendly, 5-minute-prep dinner idea. If you have leftover pulled pork, potatoes, and bbq sauce, you can make this easy recipe tonight! Perfect for a weeknight meal to use extra smoked meat from the weekend.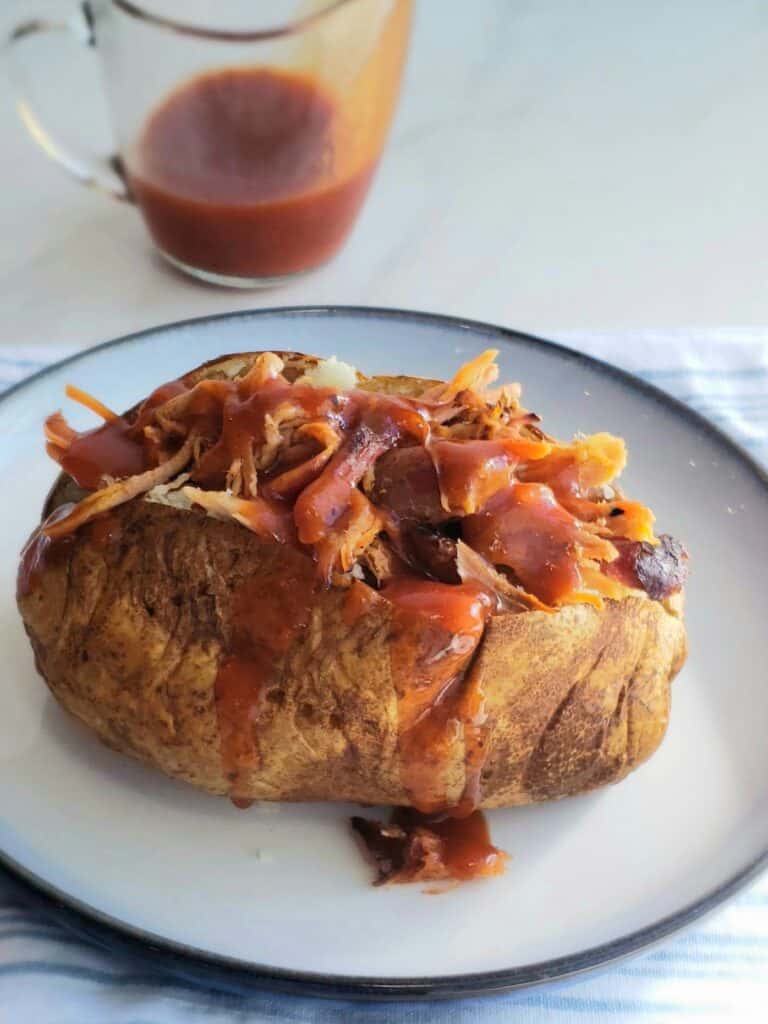 Here in Alabama, we love to grill out and smoke Boston butts (pork shoulder) on the smoker or grill.
If you don't have a smoker or just prefer not to cook your own, we have plenty of barbecue restaurants around serving up the South's finest smoked meats.
My husband is skilled at the grill and has a smoker, but like you, sometimes we get busy and just want to sit down and enjoy dinner. When I made these potatoes, we had some leftover pulled pork from one of our favorite restaurants, Jim 'N Nicks B-B-Q.
I "baked" the potatoes in my Ninja Air Fryer. Piled on some pulled pork I heated in the microwave and gave it a generous pour of bbq sauce. Dinner was ready and I spent a total of 5 minutes prep time.
What you need to make this dish
Two 10-ounce Russet or baking potatoes
2 teaspoons olive oil or your favorite oil
1 cup pulled pork or other smoked cooked meat
About 1/2 to 3/4 cup your favorite bbq sauce
Salt and pepper
My friend at The Buttered Home has this easy recipe for Instant Pot BBQ Pulled Pork Tenderloin that is quick to make to top off the potato.
How do I bake potatoes in an air fryer?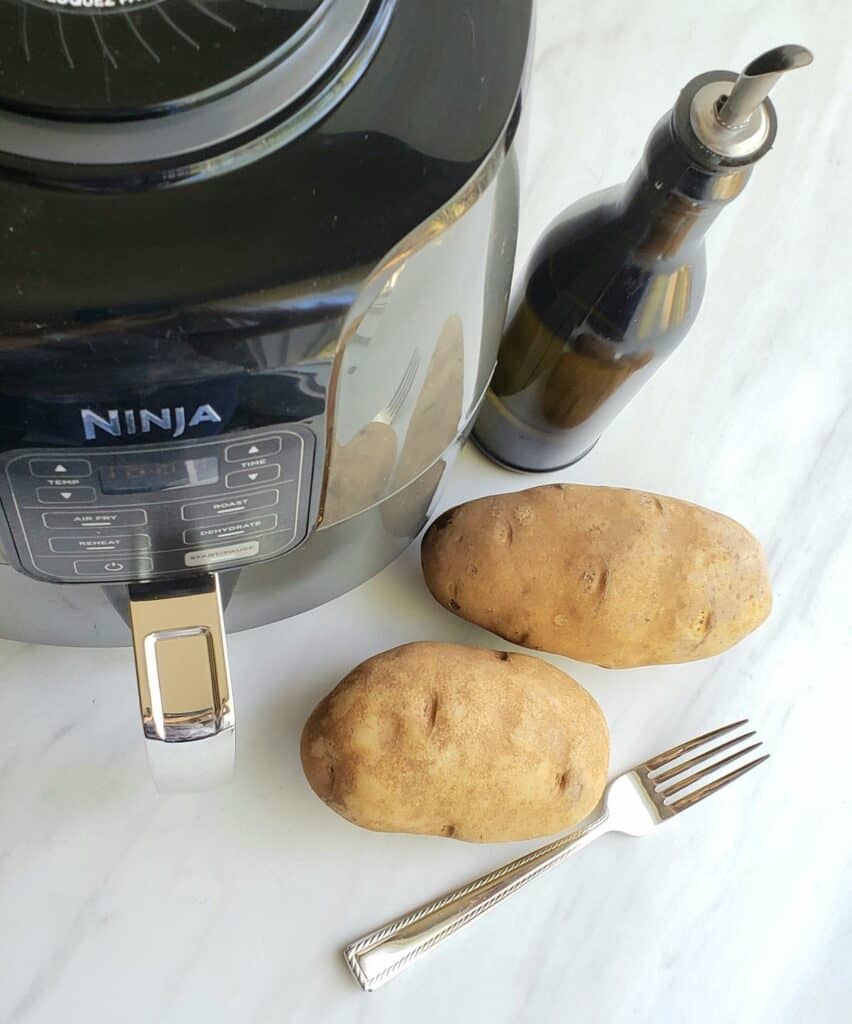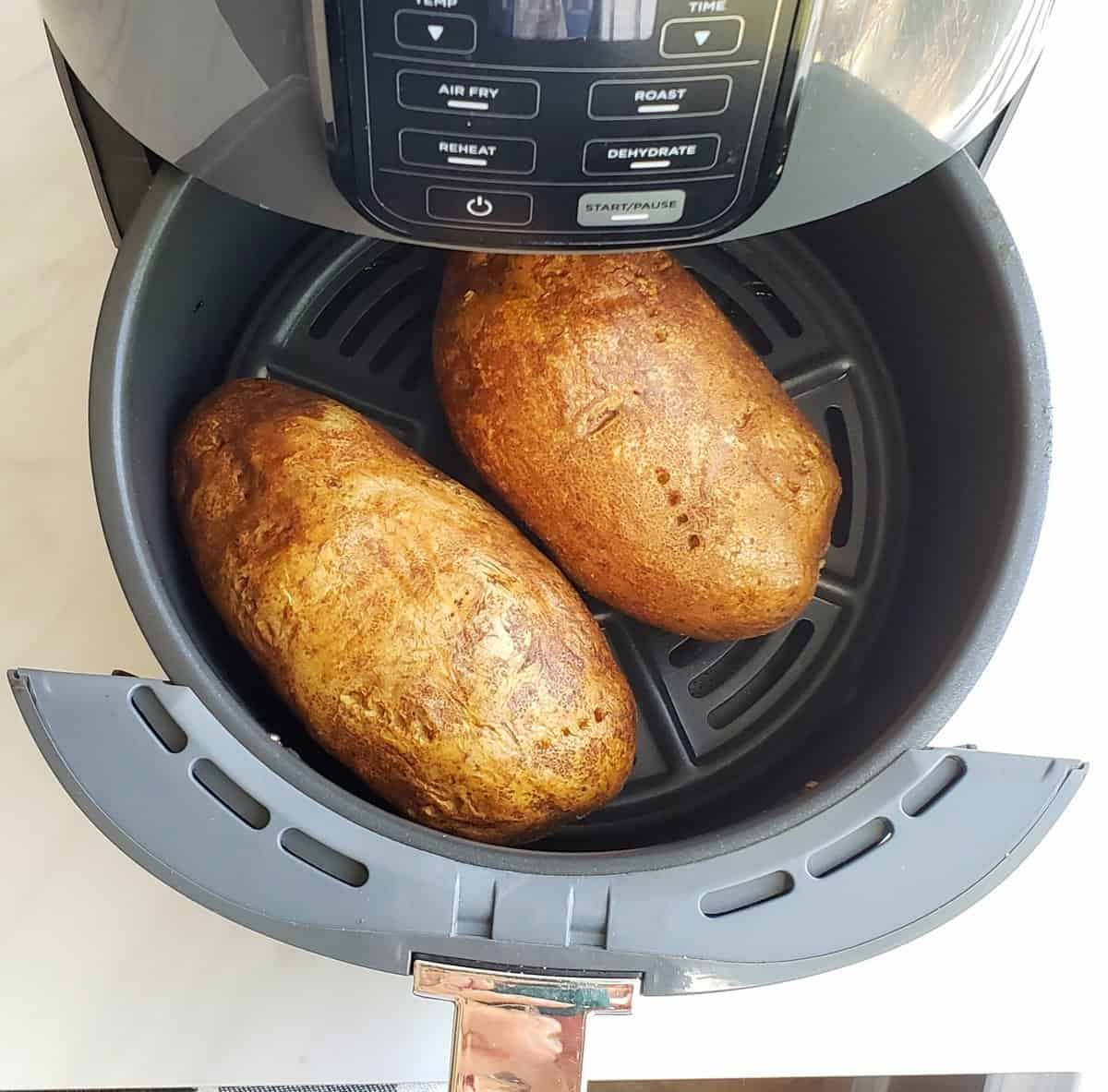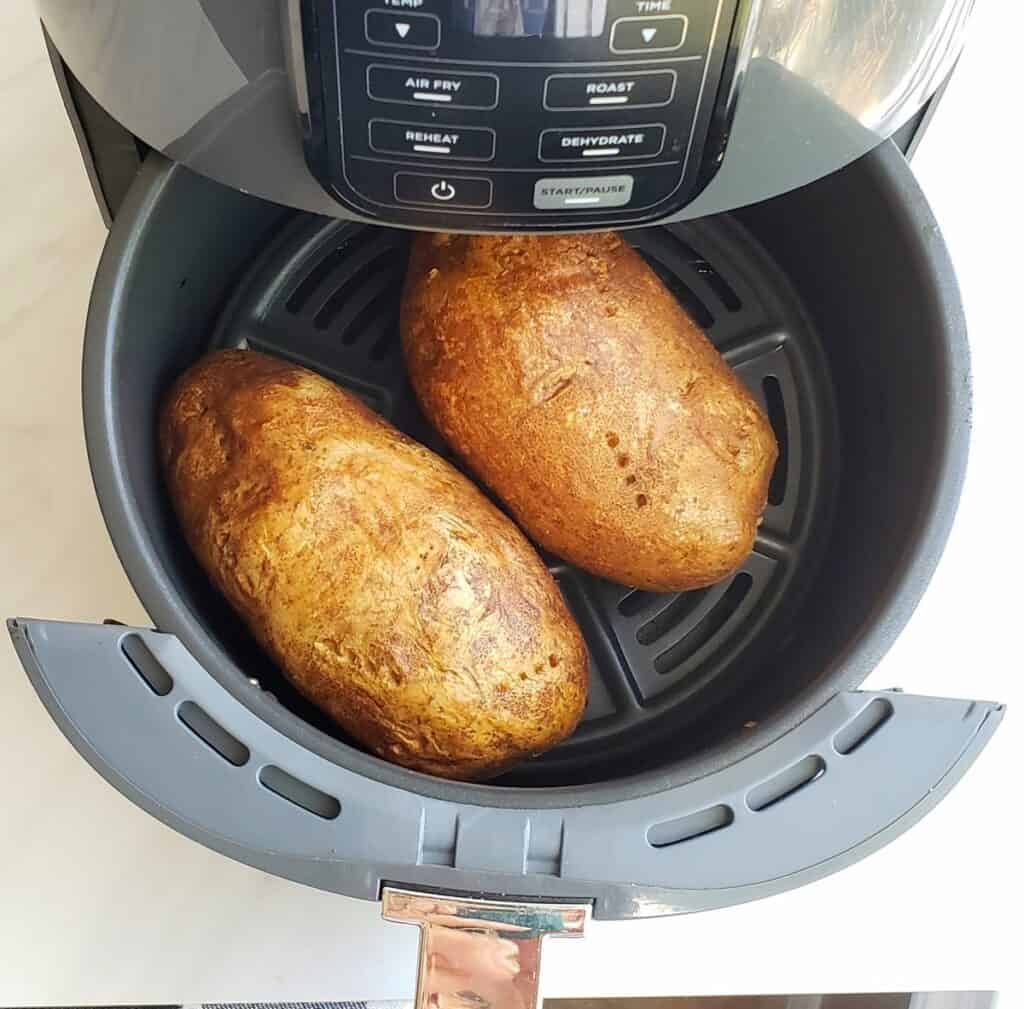 How do I know the potatoes are done?
If a fork easily pushes to the center of the potato without resistance, your potato is done.
Should I wrap them in foil?
No. I know many people wrap potatoes in aluminum foil but that will prevent them from creating the crispy outside skin (I eat the whole tater). It will also prevent the starchy potato from reaching its fluffy potential.
Can I rub salt on the outsides?
Yes! I love to do this...and even pepper. Then, when you use the crispy potato skin to scoop up all that bbq sauce, its like eating a stuffed potato skins appetizer with the salty edges.
How to put it all together
While your potatoes are standing at room temperature for 10 minutes, reheat the pulled pork in the microwave for 1 minute at a time on HIGH just until hot.
I also like to heat up my bbq sauce but that may be personal preference.
With a sharp knife, cut slits in the top of the potatoes, holding the potato with a pot holder, to about halfway through the potato. You don't want to slice it in half.
Then, using two pot holders or a clean kitchen towel, push the two ends of the potato toward the center. This will fluff up your potato making it easier to eat and picture perfect.
This is a trick I learned while putting myself through college as a waitress at a steakhouse in Arkansas. Let's just say I've done my share of potato fluffing!
Place the potato on the serving plate, sprinkle with salt and pepper, mound the pork on top, and if you're like me, drench it all in bbq sauce!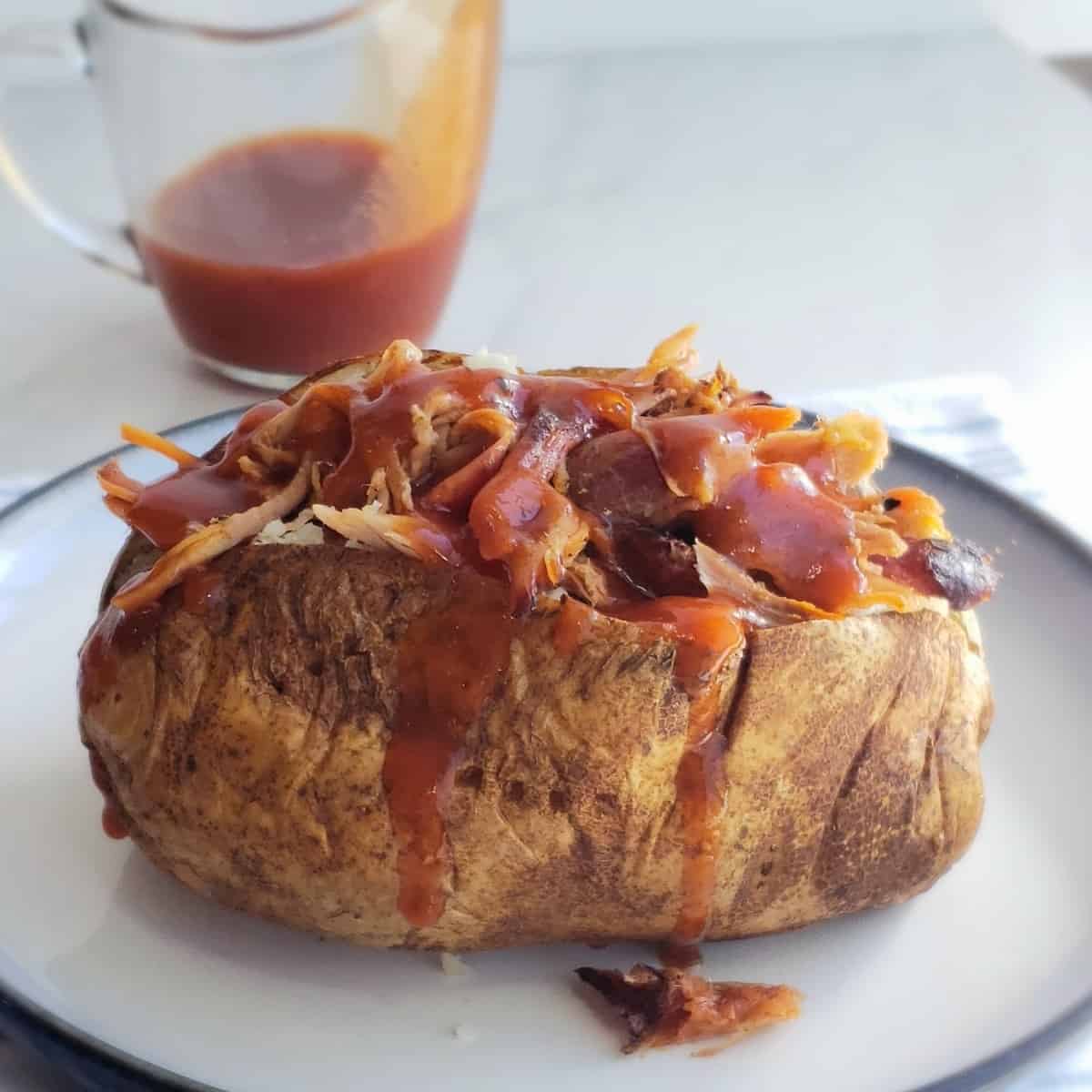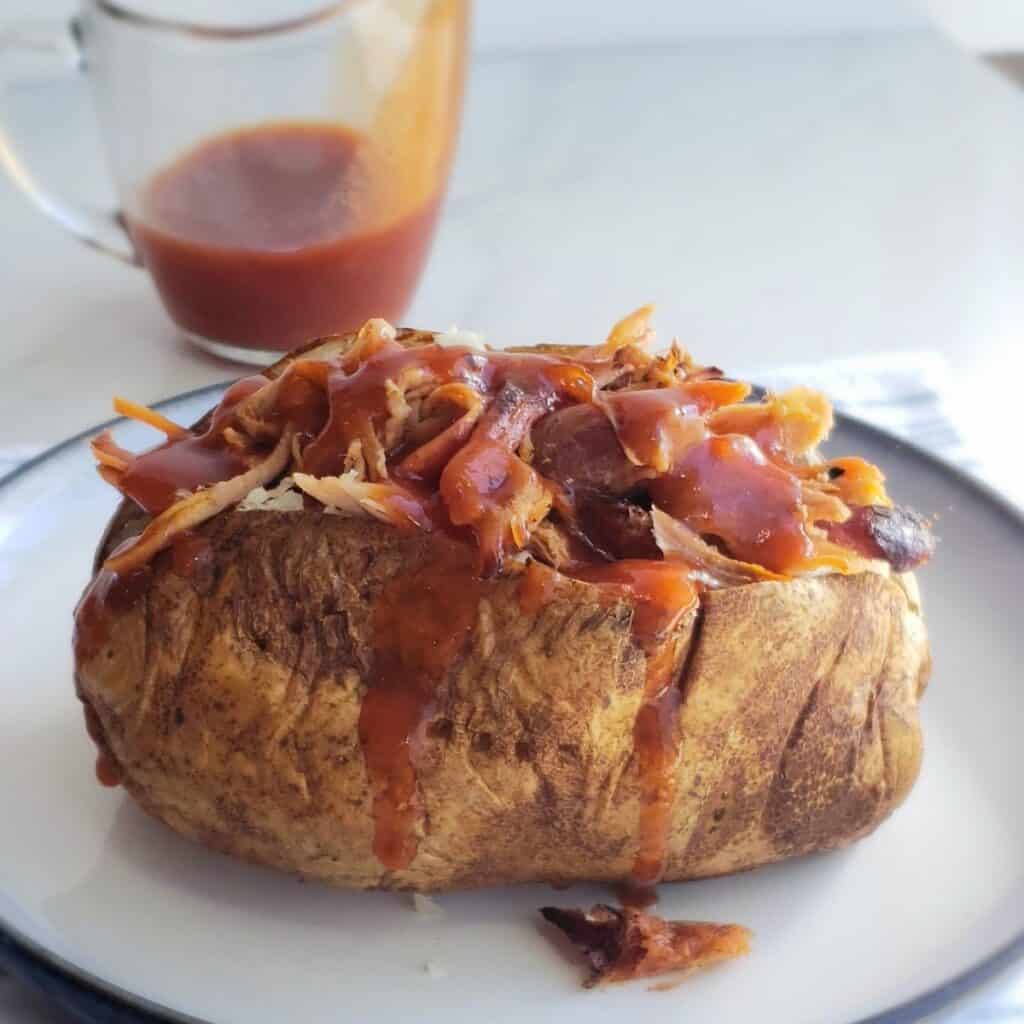 Gild the Lily
If you've been to one of my Holiday Cooking Shows, you know what I mean by "gild the lily". If not, be sure to check out the date for the next one on my Cooking Class Page and join in the fun!
To gild the lily, means to take something already perfect and beautiful and make it even better like taking a lily and gilding it with gold. In modern terms, it means "over the top".
You can gild the lily with these Air Fryer Baked Potatoes with BBQ Pulled Pork by adding:
Queso Dip
Shredded cheese
Sour Cream and Butter
Bacon
Can I bake potatoes in the oven?
Yes. Prep them the same way up to the point of putting them in the air fryer. Bake them in a conventional oven on a baking sheet at 425F degrees for 45 to 50 minutes or until soft in the middle.
Easy Air Fryer Parmesan-Crusted Tilapia