In less than 10 minutes, you can enjoy hand-breaded Parmesan-Crusted Tilapia made in your air fryer; it's so easy! The best part is you don't even have to thaw the frozen fish fillets! I'll show you how to make them, step-by-step.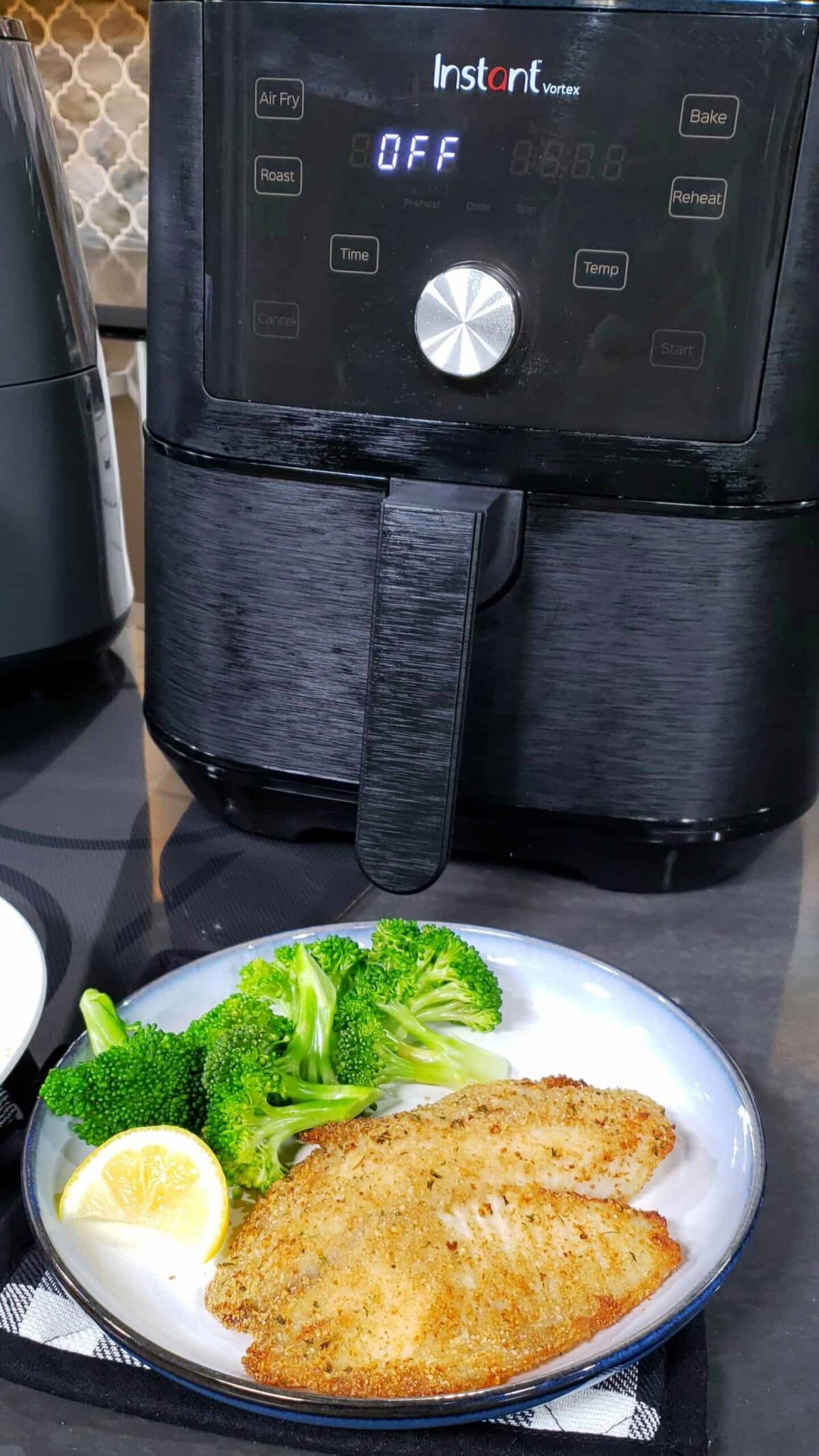 Can I really cook fish fillets in the air fryer while still frozen?
Yes! Good-bye frozen, chopped and formed fish sticks! Hello quick and easy fresh or frozen tilapia fillets. Fish is actually one of the best foods to cook in the air fryer. It's the perfect way to cook thin, fragile fish fillets like tilapia and bream because you don't have to turn them.
Crazy Good Tip
:
Place the fish fillets on an aluminum or stainless steel baking pan while preheating your air fryer and measuring your ingredients. These few minutes on the baking pan will ever so slightly thaw the fillets just enough to allow the breadcrumbs to stick to the oil on them.
Here's the article from The Kitchn spelling out the details of why placing frozen fish and meat on aluminum and stainless steel thaws significantly quicker than stone, wood or plastic surfaces. Just those couple of minutes will allow the fish to start to slightly thaw creating just enough moisture on the outside of the fillets for the crumbs to stick to. Spritzing them with oil also helps.
What can I use for a crumb coating for air fryer fish?
There are so many choices! My favorite is your basic fine, dry breadcrumbs. You can also find them with Parmesan cheese or Italian seasoning in them.
Panko breadcrumbs are also use to coat fish but I find they work best if they are tossed with melted butter first.
Straight up plain cornmeal also works, especially if you are cooking thin catfish fillets.
There are many choices on the market of pre-seasoned fish breading or coating such as Louisiana seasoned crispy fish fry lemon-seasoned breading mix.
How do you coat fish with breadcrumbs while fish is frozen?
Scroll down to the bottom of this post for the detailed, printable recipe. Pictures below will help guide you as you read the recipe.
Spray olive oil directly on both sides of the frozen fish fillets. Avoid aerosol cooking sprays that uses propellant and soy lecithin. I buy propellant-free olive oil or fill a glass oil sprayer like this one. The oil helps give the breadcrumbs a crispy finish as well as helps the breadcrumbs adhere to the frozen fish.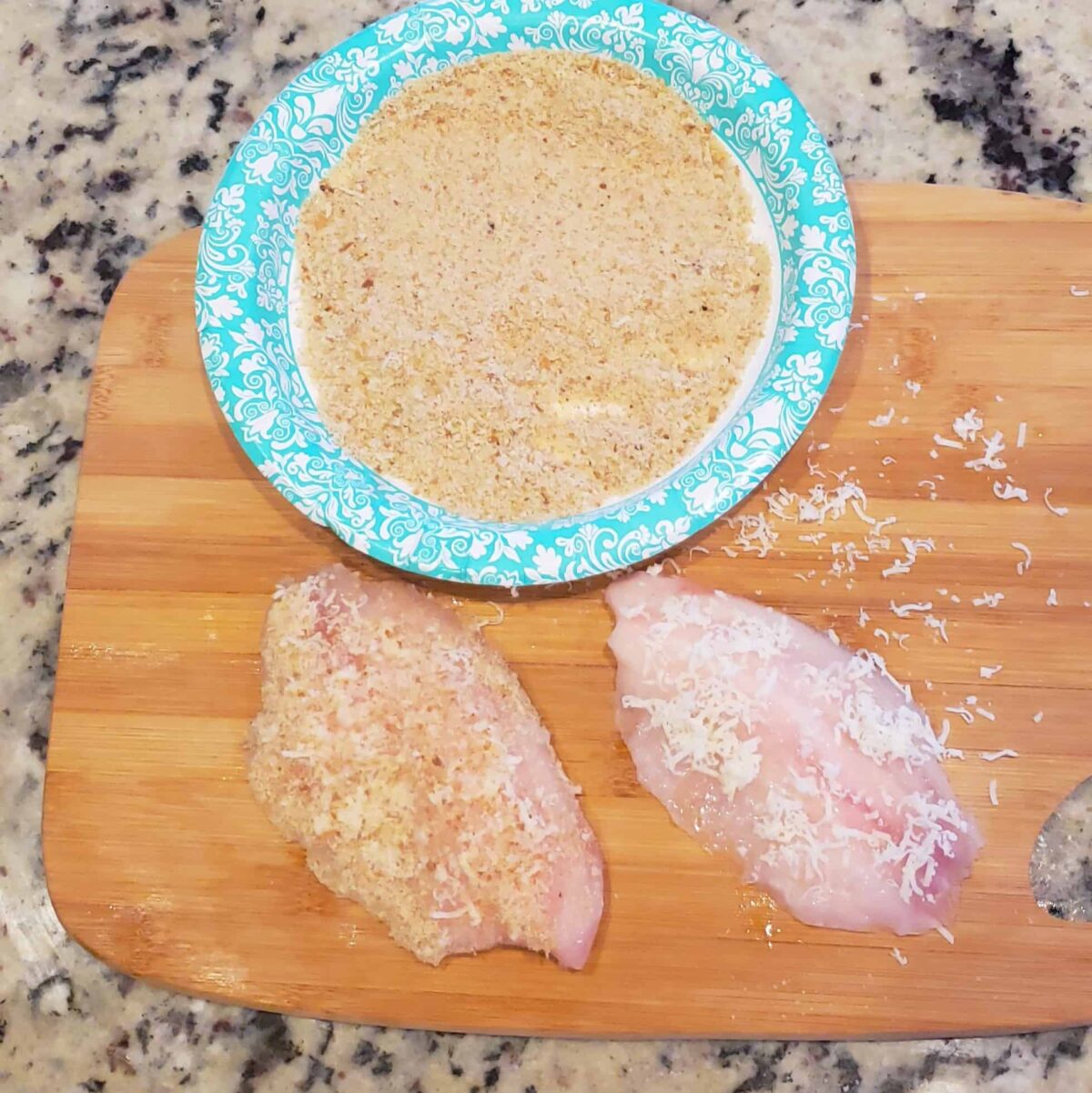 Sprinkle with salt and pepper (if desired), then gently press parmesan cheese onto the fillets on one side. Then press the fillets into the breadcrumbs on both sides.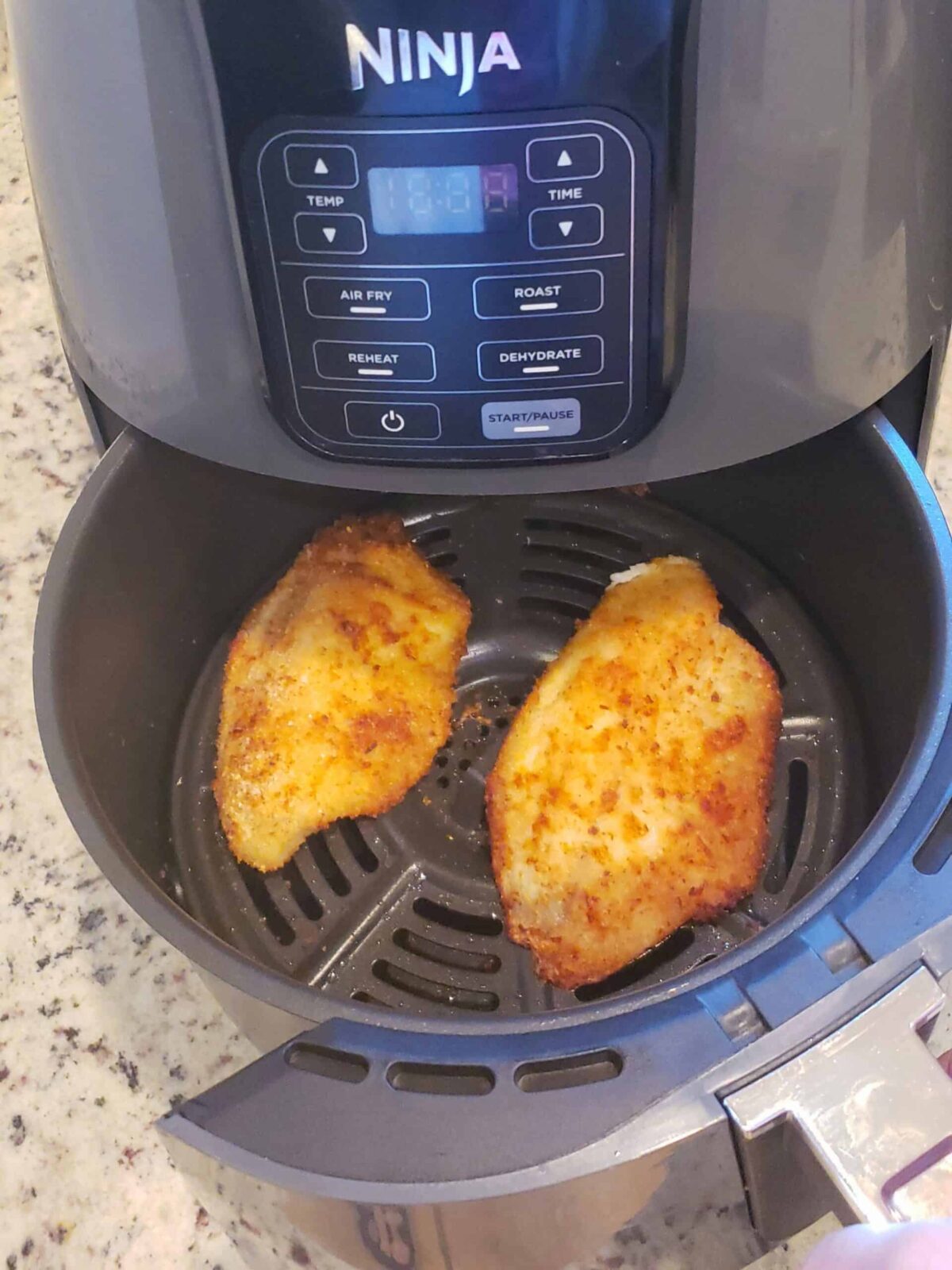 Cook frozen tilapia fillets 7 to 9 minutes at 390F degrees for crispy "air-fryed" fish. No need to flip them because the fan forces the hot air underneath the fish, too!
Since air fryers are basically miniature convection ovens, their super-heated air flows above and below the fish so you don't even have to turn the fillets.
Do I always need to preheat my air fryer?
Almost always. One of the most common mistakes made with an air fryer is forgetting or choosing not to preheat the air fryer. Remember, it is an oven. You would preheat your oven, so preheat your air fryer. It helps in producing that crunchy, browned texture we all love in "fried" fish.
Can I cook Parmesan Crusted Tilapia with fresh fish?
Absolutely! For fresh (not frozen) or thawed tilapia fillets, cook them at 390F or (Air Fry) setting for 5 minutes. Be sure to check at 4 minutes to make sure you are happy with the amount of browning.
Can I bake my Tilapia in the oven if I don't have an air fryer?
Yes. If you have a convection oven, follow the same procedure and times as this recipe, except you'll want to place the fish on a greased cooling rack first. Then, place the cooling rack on a foil-lined baking sheet. The rack lifts the fish up off the surface of the baking sheet so the forced hot air from the convection oven (which is what an air fryer is bascially) can get up under the fishm without turning the fish.
If you are using a conventional oven, no worries. You can still bake the fish on a greased, foil-lined baking sheet (for easy clean up) and bake it a few minutes longer. You will have to turn the fish to get the crispy surface on the other side of the fish, if desired. The fish will still get done without turning it, but may be a little soggy. Consider not breading the underside if baking in a conventional oven if cooking fragile fish like tilapia, flounder, or bream.
Can I substitute catfish for tilapia?
Yes. Catfish fillets are typically thicker than tilapia fillets so they will need to cook longer. Be sure the catfish fillets were frozen flat if cooking them from the frozen state. You can also cook them once they thaw.
What can I serve with "fried" fish?
Broccoli is always my go-to veggie to serve with everything but seriously, it is perfect with fish. You can even toss broccoli florets in a little bit of oil and cook them alongside your fish. The time it takes to roast broccoli is the same as frozen, thin tilapia fillets.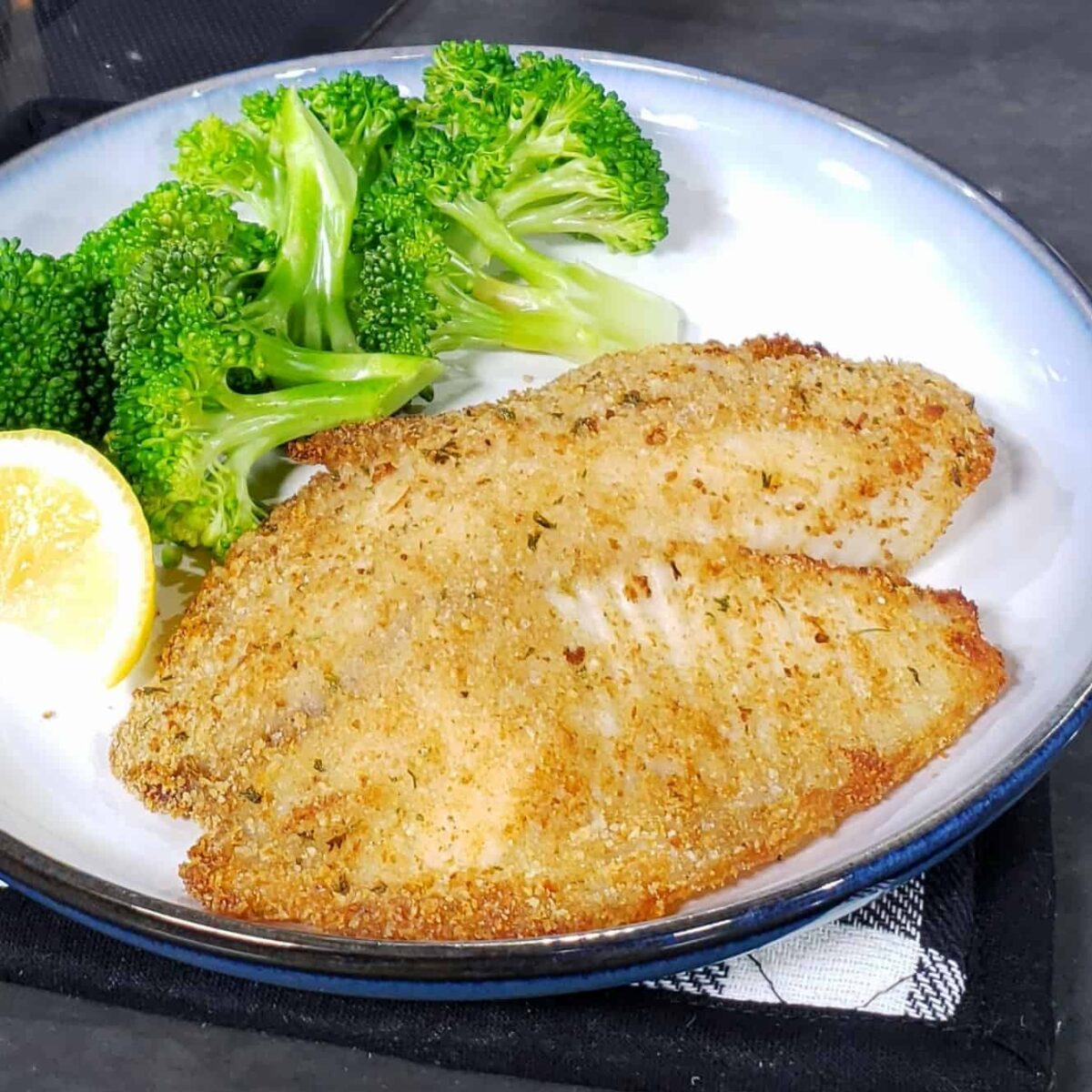 What is the best air fryer to buy?
I own all three of these and love them for different reasons.
Ninja digital air fryer oven for chicken wings and and sheet pan meals
Ninja 1550 watt basket-style, 4 quart for roasted veggies, Parmesan Crusted Tilapia, cookie cake!
Instant brand Vortex, 6 quart, 4-in-1 air fryer, basket style for everything above!
Watch the short video of Kathleen cooking tilapia in the air fryer.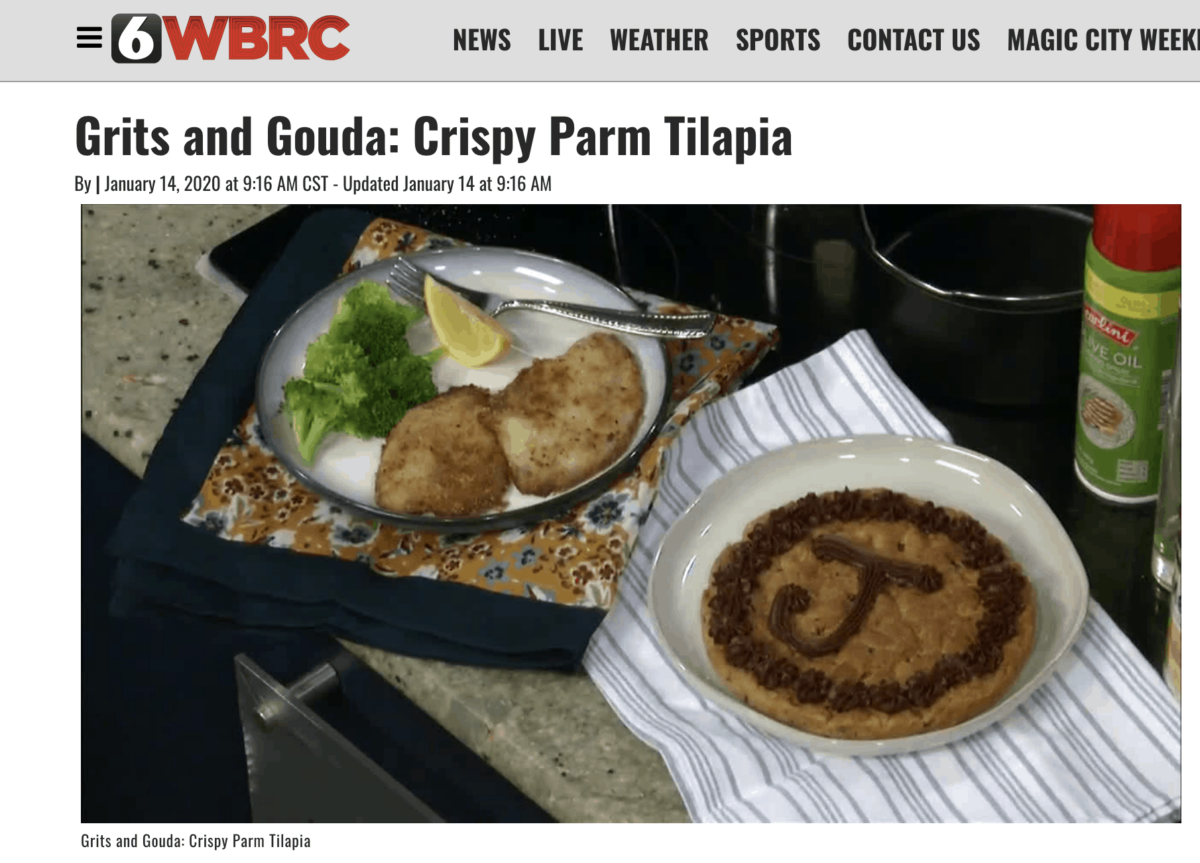 Try these air fryer recipes:
Air Fryer Indian-Spiced Sweet Potato Fries
Bacon-Wrapped Dove Jalapeno Poppers
Apple and Roasted Butternut Squash Salad
Follow me on Facebook, Instagram, Pinterest and YouTube. Be social and share, y'all! Don't forget to sign up with your email so you don't miss a single post on my Southern shortcut recipes!
If you make this recipe I'd love to see it! Tag me on social media with #gritsandgouda or @gritsandgouda. Leave a comment below the printable recipe if you have questions or tell me how you liked the recipe. Don't forget to give the recipe a rating of 5 stars if you love it!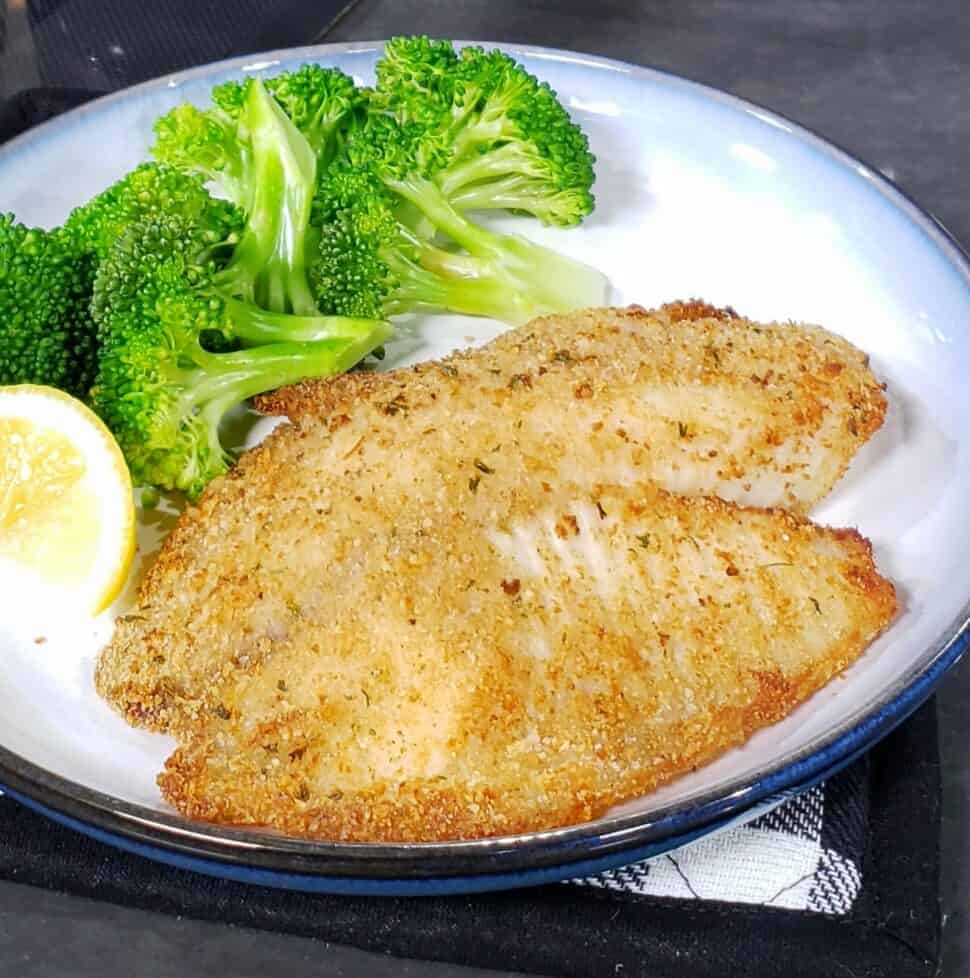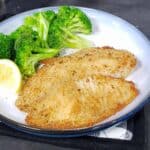 Print Recipe
Easy Air Fryer Parmesan-Crusted Tilapia
Made with frozen tilapia fillets! No need to thaw first.
Ingredients
2

thin tilapia fillets (about 4 ounces)

fresh or frozen (times given for both below)

Olive oil pump spray

not aerosol or 1 tablespoon olive oil

1/4

teaspoon

salt

1/4

teaspoon

ground pepper (optional)

2

tablespoons

grated Parmesan cheese

1/2

cup

fine dry breadcrumbs
Instructions
Place the frozen tilapia fillets on an aluminum or stainless steel baking pan while preheating air fryer and measuring ingredients.

Preheat air fryer to 390-400 degrees for 3 minutes. Most air fryers preset "air fryer" button is 390F to 400F degrees.

Spray or coat fish fillets with olive oil sprayer or mister or brush with olive oil. (Not Pam aerosol vegetable cooking spray)

Sprinkle both sides of fillets with salt and if desired, pepper.

Sprinkle the top side of fillets with Parmesan cheese.

Place the dry breadcrumbs on a plate and gently press the fish into the breadcrumbs to coat them. If you have trouble getting the breadcrumbs to stick to the fish, wait just a few minutes or

I like to spray the breaded fish again on top with a little bit of olive oil spray (again, not aerosol)

Frozen fish: Air Fry at 390-400 degrees for 9 t0 11 minutes, without turning, depending on thickness of fish until fish flakes easily in the center.

Fresh fish: Air Fry at 390-400 degrees for 7 minutes, without turning, depending on thickness of fish until fish flakes easily in the center.

Carefully remove the fish with a silicone coated spatula to prevent scraping the nonstick surface.
Notes
The breadcrumbs stick to the fish best when you place the frozen fish directly on a metal cookie sheet or baking pan. This immediately starts to "thaw" the fish giving it a slightly sticky surface for the breadcrumbs to adhere to.
Nutrition
Did you make this recipe?
If you love it, share it! Tag me on Instagram @gritsandgouda using #gritsandgouda Comment below before you go!