Cookies and Cream Shortbread Cookies made with crushed Oreos. Easy cookie recipe with just 4 ingredients and made with shortcuts! You'll want to make these for every holiday or when you're just craving a rich, buttery cookie to dunk in milk.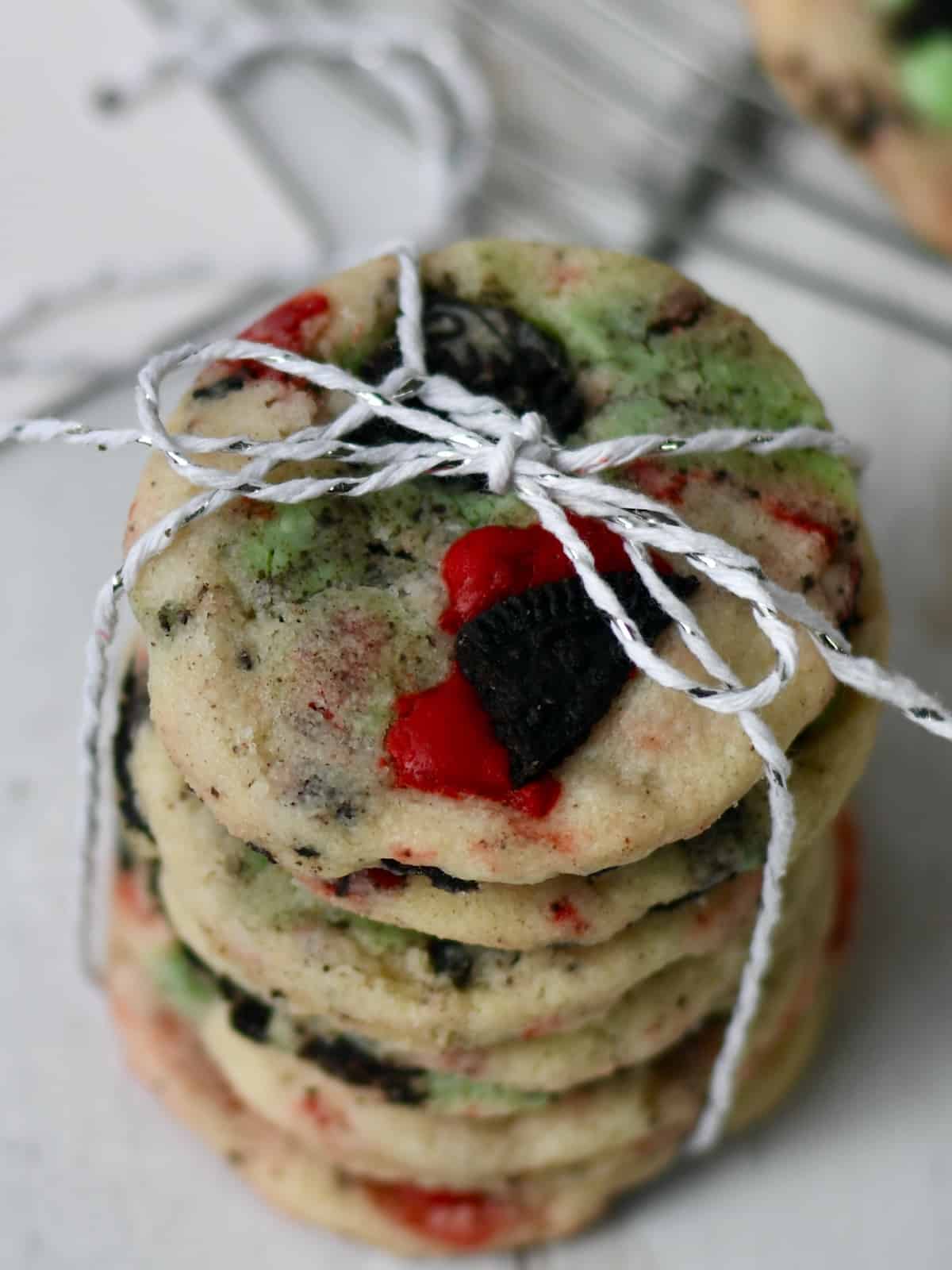 You might call these Oreo Cookie Cookies!
They're actually homemade butter shortbread cookies with Oreos stirred in the cookie dough.
I've used red and green creme-filled Oreo cookies for an easy Christmas cookie in the picture above but I love to trade out different flavors of Oreos. Have you tried the ones with peanut butter filling? Those are my favorite!
The red and green colors of the Oreos combined with the rich butter flavor and super crisp shortbread has made these my most popular easy Christmas cookie recipe!
If you're looking for easy Christmas cookie recipe with few ingredients, this is it!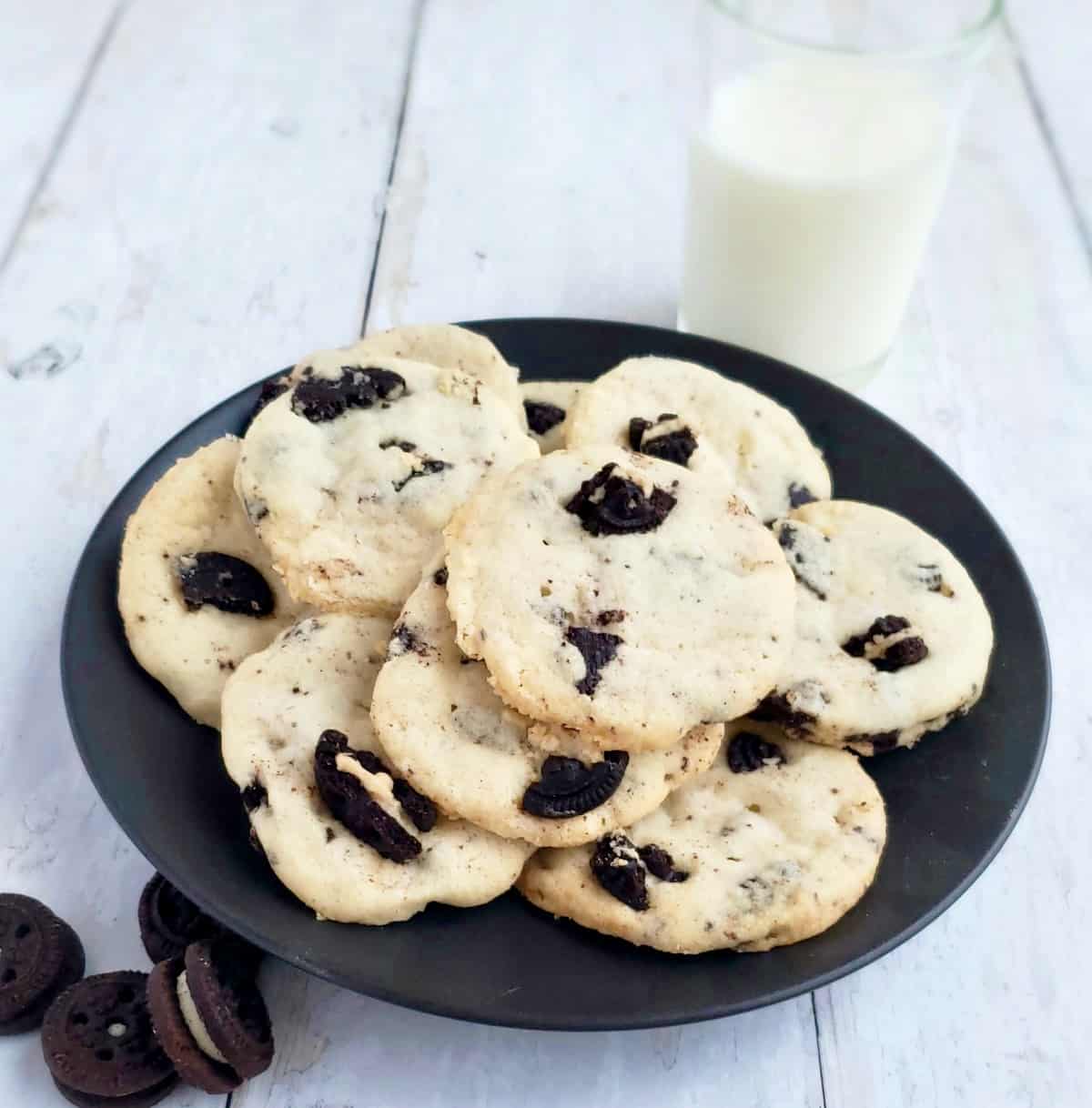 The traditional "cookies and cream" look is made with the white creme filling inside any chocolate sandwich cookies. I used Bud's Best bite-size Caco Chocolate sandwich cookies in the picture above. (An Alabama product!)
Any creme-filled chocolate sandwich cookies can be used to make these flavored shortbread cookies. Creme-filled does not mean "real cream"-filled.
Tip: The green Oreos are mint flavored but the red ones are not.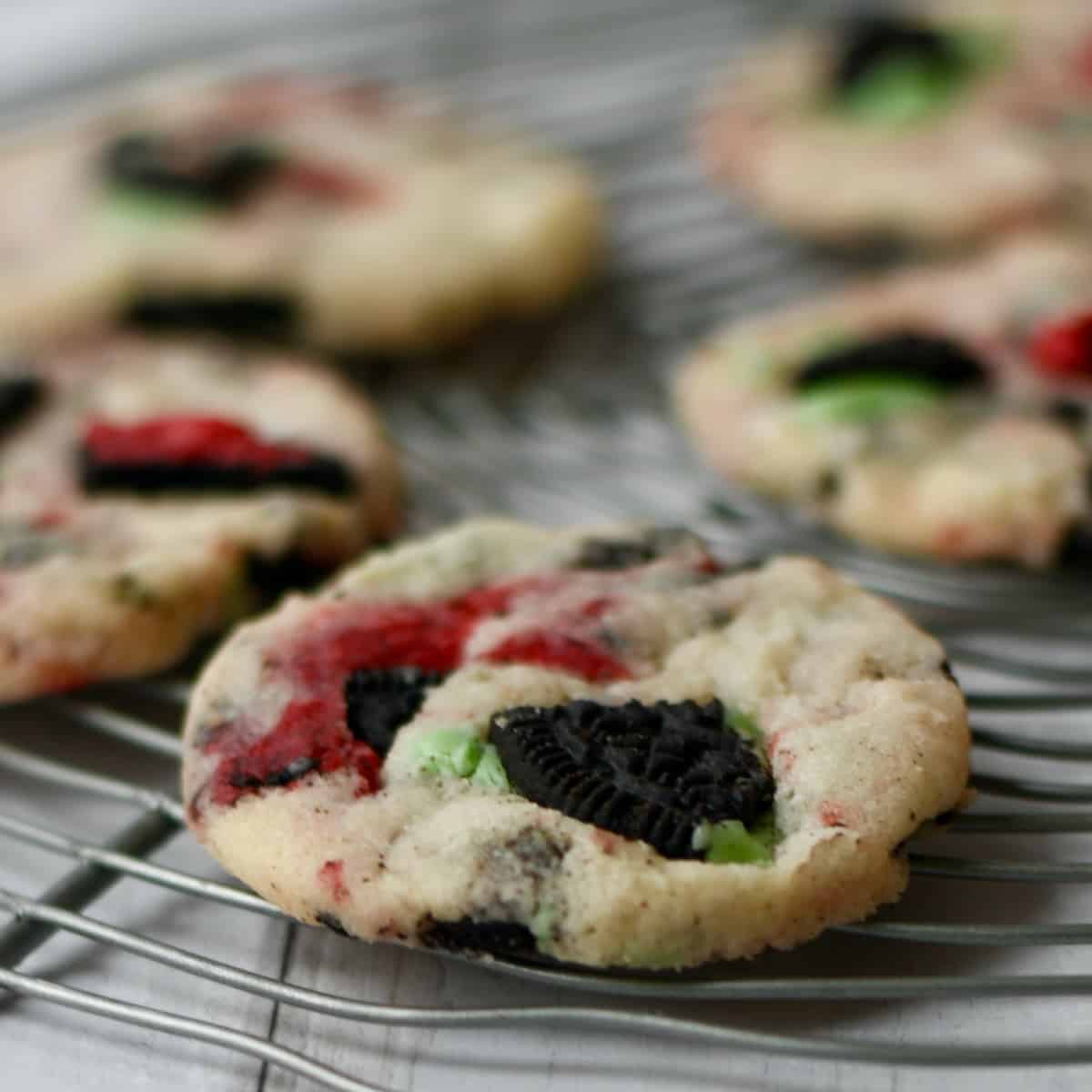 Shortcuts
These easy shortbread cookies can be made to go along with any holiday by choosing the filling color to match the occasion.
Butter- To keep it four ingredients, use salted butter. If you only have unsalted butter, add 1/2 teaspoon salt. Do not use margarine.
Sugar- Granulated white cane sugar works best. Brown sugar has molasses in it which introduces moisture you don't want in shortbread.
Flour- Avoid self-rising flour for this recipe. All-purpose flour doesn't have baking soda or baking powder, so use all-purpose flour.
Cream-filled chocolate sandwich cookies- This is a generic term for any brand of cookies that have a "creamy" filling between two crisp, thin chocolate cookies. Oreos is the most common brand.
For more Oreo dessert ideas, try my Cookies 'n Cream Fudge and Fried Oreos in Air Fryer with Crescent Rolls.
Ingredients
What you will need to make these Cookies and Cream Shortbread Cookies.
Scroll down to printable recipe for exact ingredient quantities.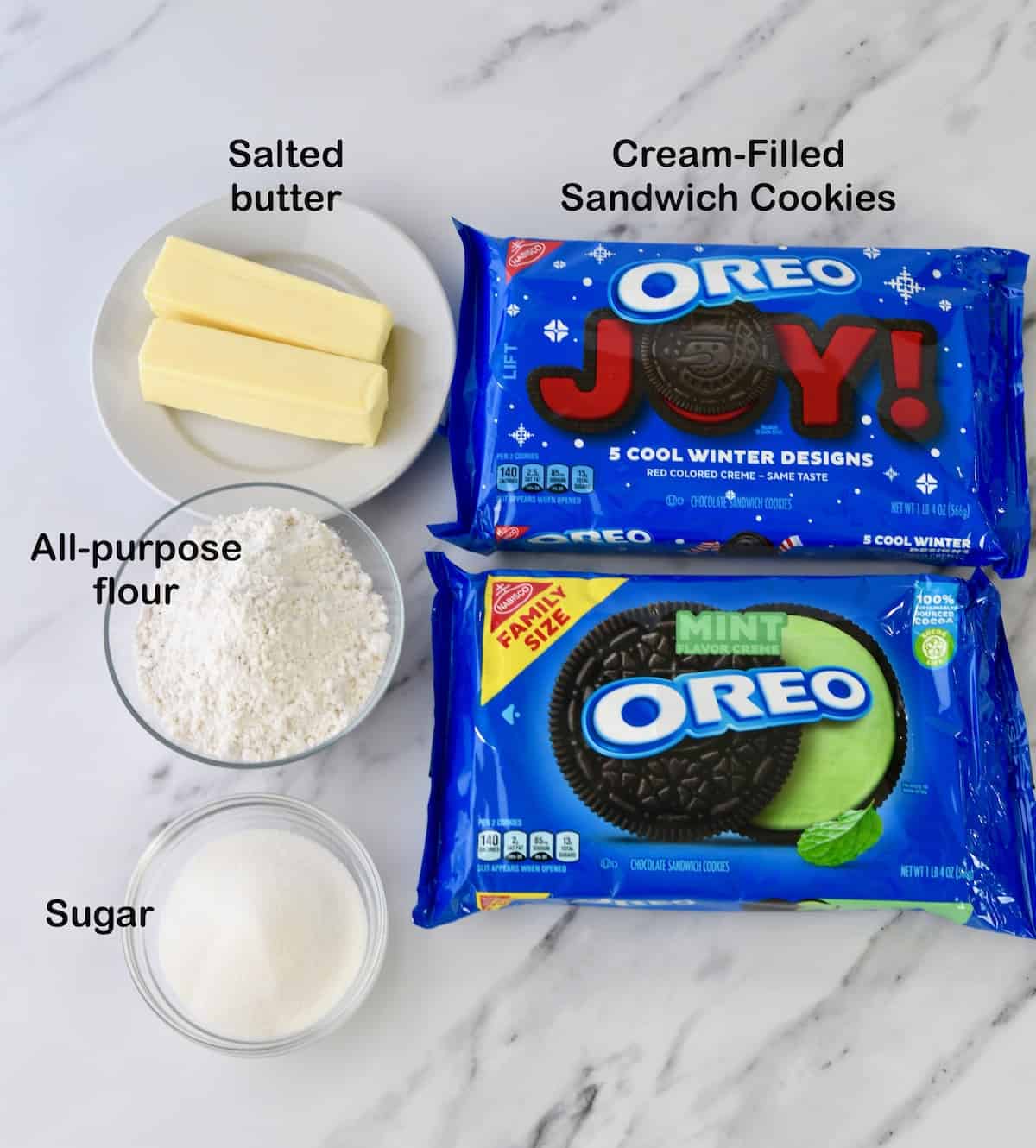 Tip: These are egg-free shortbread cookies. Technically, classic shortbread cookies do not contain eggs or leavening.
How to make these 4 ingredient cookies
These Oreo chunk cookies are super easy to make and oh, so buttery!
Scroll down to the bottom for the printable recipe with detailed instructions.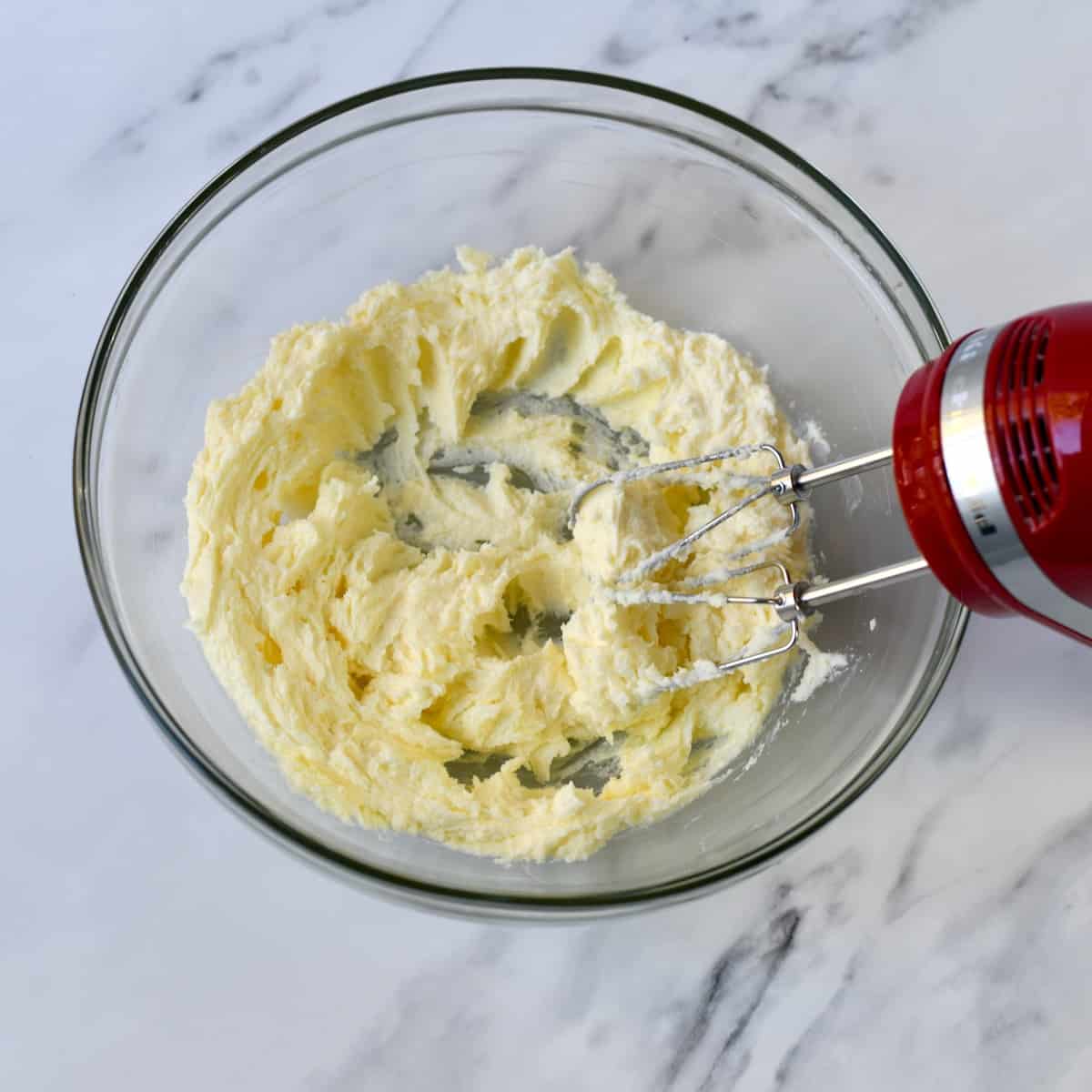 Beat the butter and sugar together until light and fluffy.
Add flour and beat just until dough is crumbly.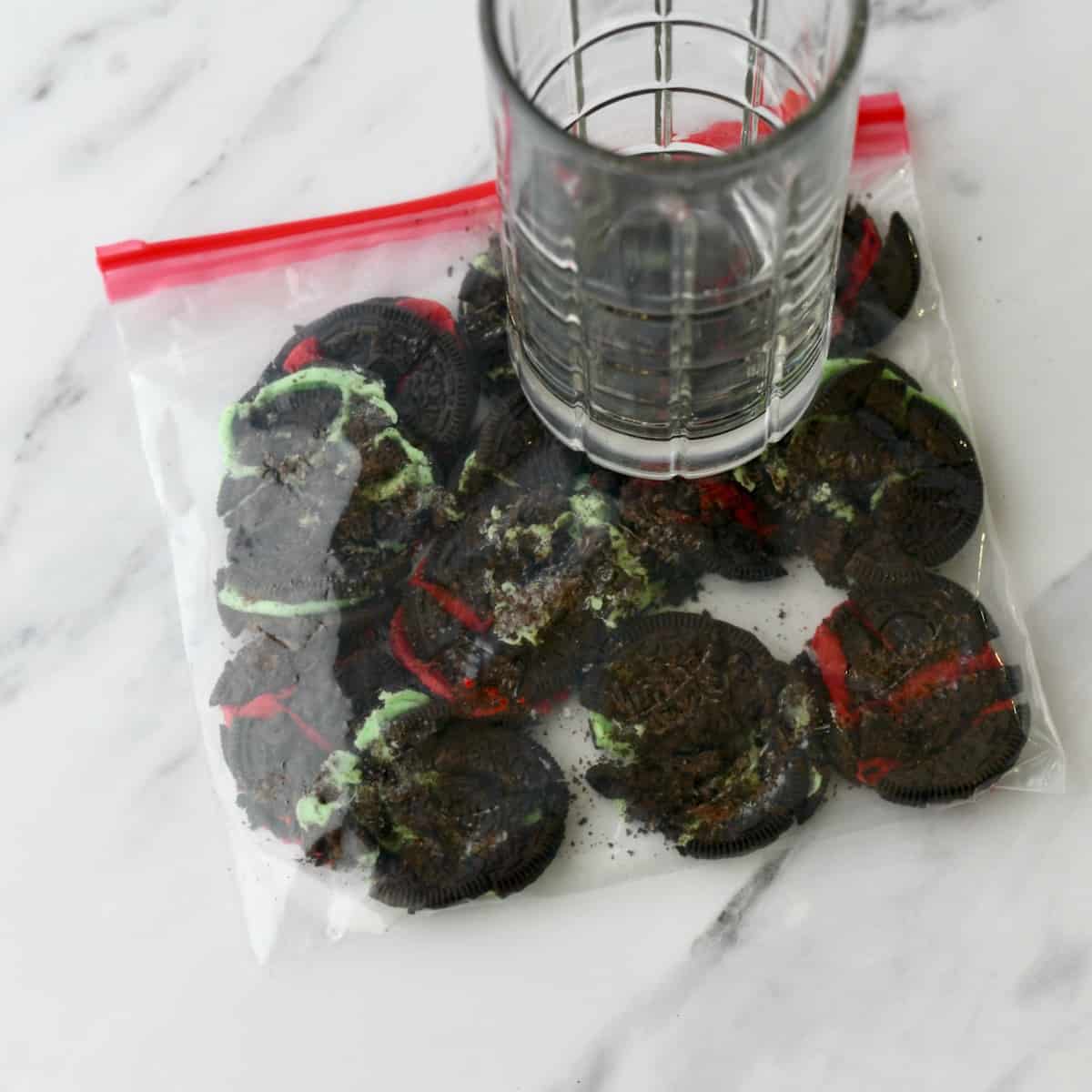 Break apart the cookies or coarsely crush them in a plastic bag with a heavy glass.
Add them to the dough and beat JUST until incorporated.
Tip: Over mixing the cookies into the dough creates a gray cookie.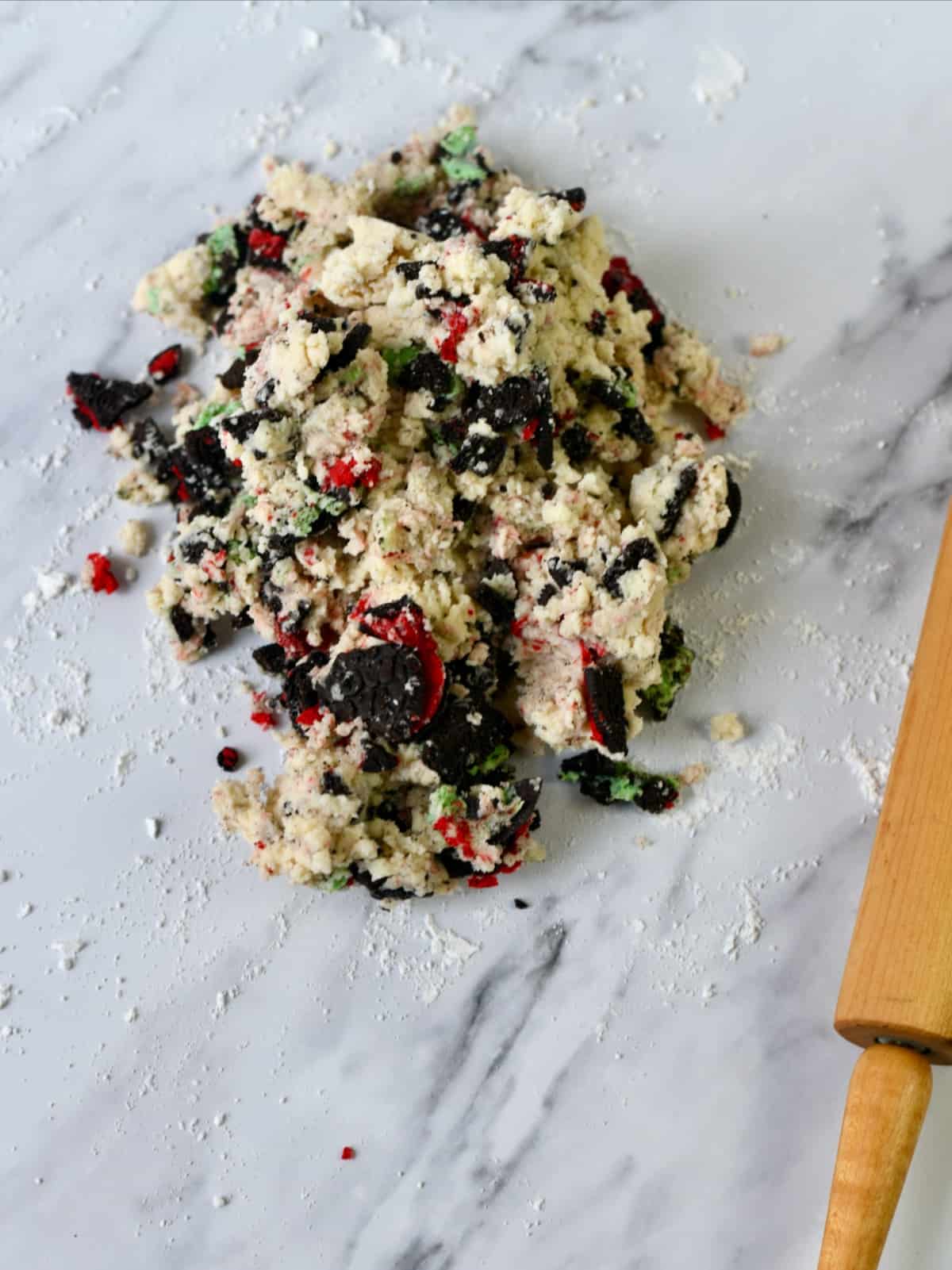 Dump out the crumbly dough on to a clean flat surface.
Gently press the dough together to form a ball or flat disk.
Tip: If your butter was too soft, the dough may be a little sticky. If so, place the crumbly dough in the fridge for 5 minutes and it will come together and roll out nicely!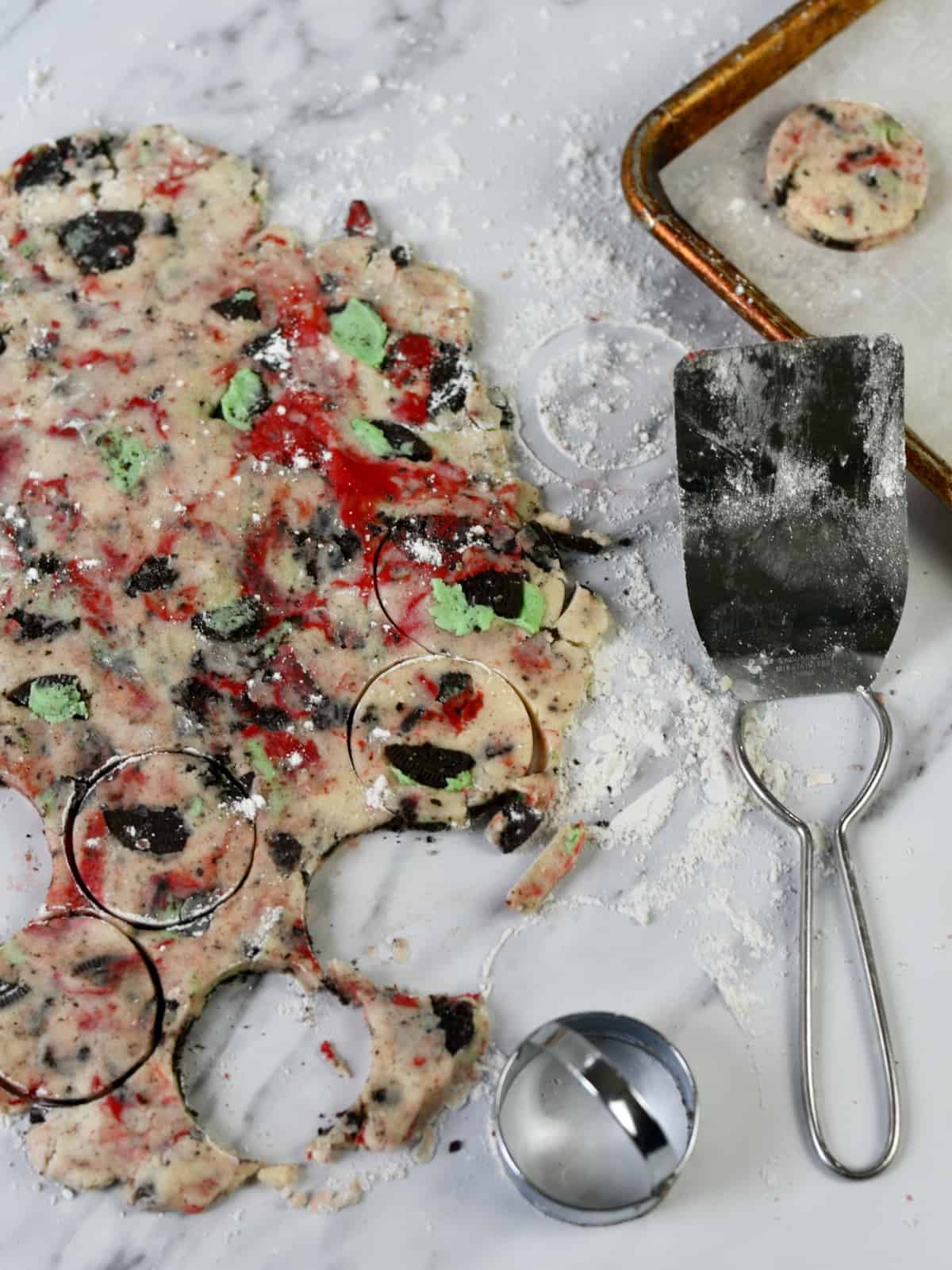 Roll out the dough according to full recipe below. Use a 2-inch (or close) cookie cutter and flat spatula to transfer them to the baking pan.
Place them on a parchment lined baking sheet and bake according to full recipe below.
Push together scraps of dough to re-roll dough to get 3 dozen cookies.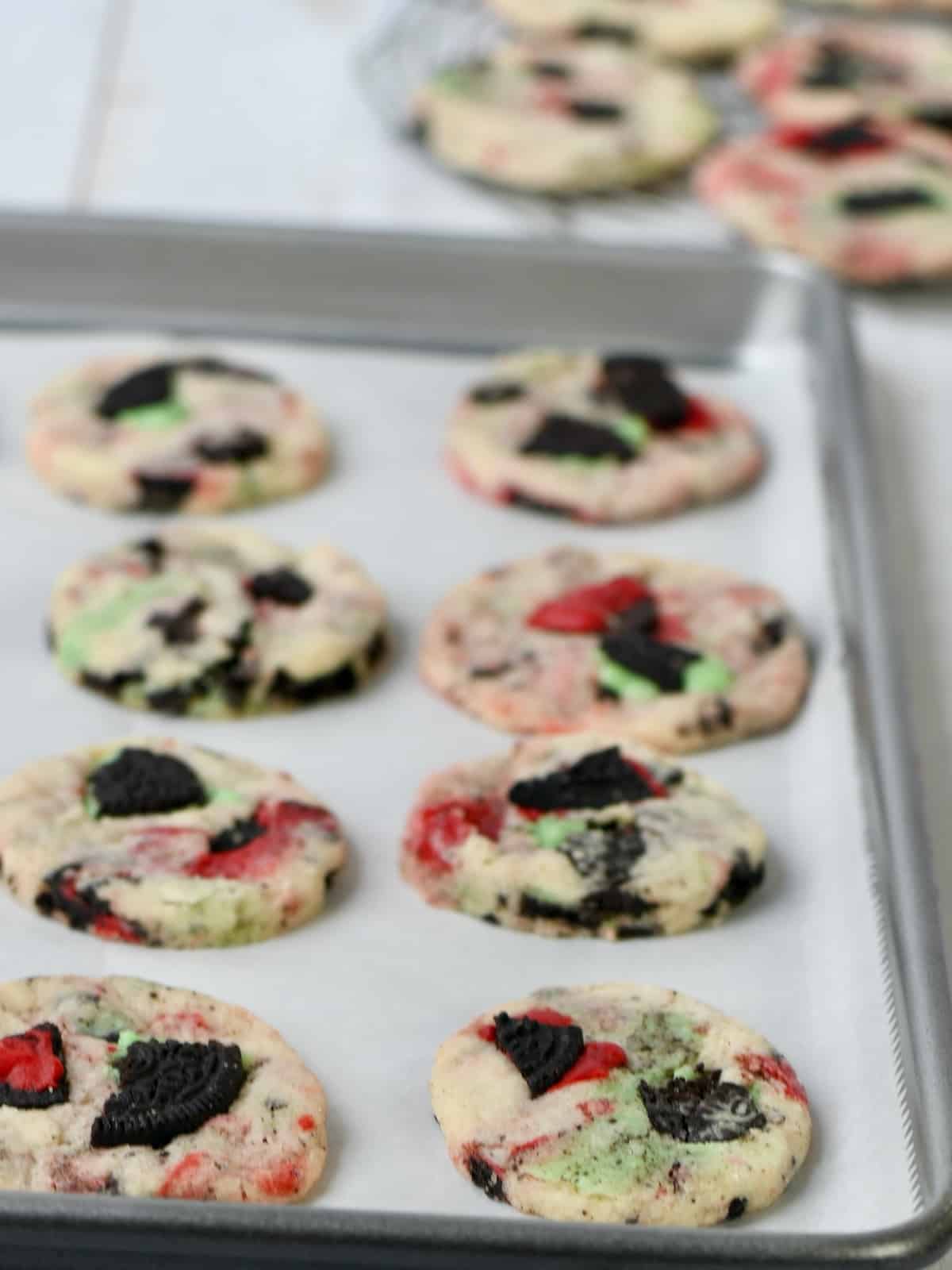 Pro Tip: Unlike many cookies, you don't want to bake them until brown on the edges. Shortbread is baked at a lower temperature and should just be barely brown on the bottom.
The cookies will crisp up as they cool.
Substitutions & Variations
Trade "this" for "that" in this ..... recipe.
Happy Birthday! - Use birthday cake Oreos with white cream filling and sprinkles. Before baking the cut-out cookie dough, roll the edges in birthday sprinkles before baking.
Bite-Size: Not only can you use small, bite-size chocolate sandwich cookies to crush for the cookie dough, you can choose to use a 1 inch cookie cutter to make bite-size shortbread cookies.
Sprinkles on edges: Before baking the cookies, roll the edges of the dough in sprinkles, sanding sugar, or edible glitter for an extra pop of color.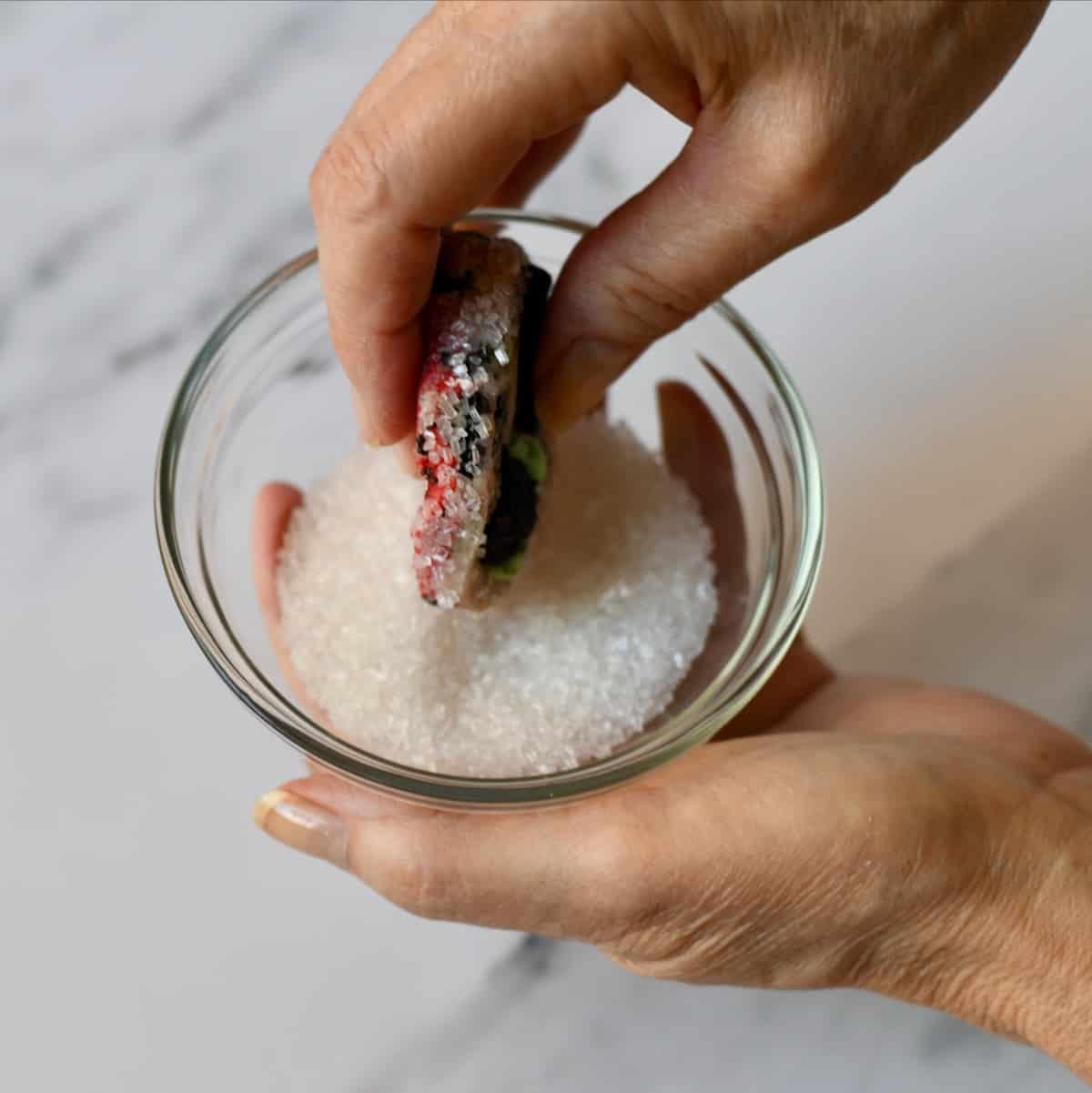 Helpful Information
Are Oreos dairy-free?
The short answer is yes, Oreo cookies do not contain dairy. Creme-filled on the package does not mean "real cream"-filled. They are also lactose-free. A popular way to eat these cookies is to dip them in milk.... This would not be a dairy-free way to eat Oreos.
What is the difference between shortbread and sugar cookies?
Classic shortbread contains only butter, sugar, and flour. Sugar cookies are softer and rise up when baked because they also contain leavening and egg.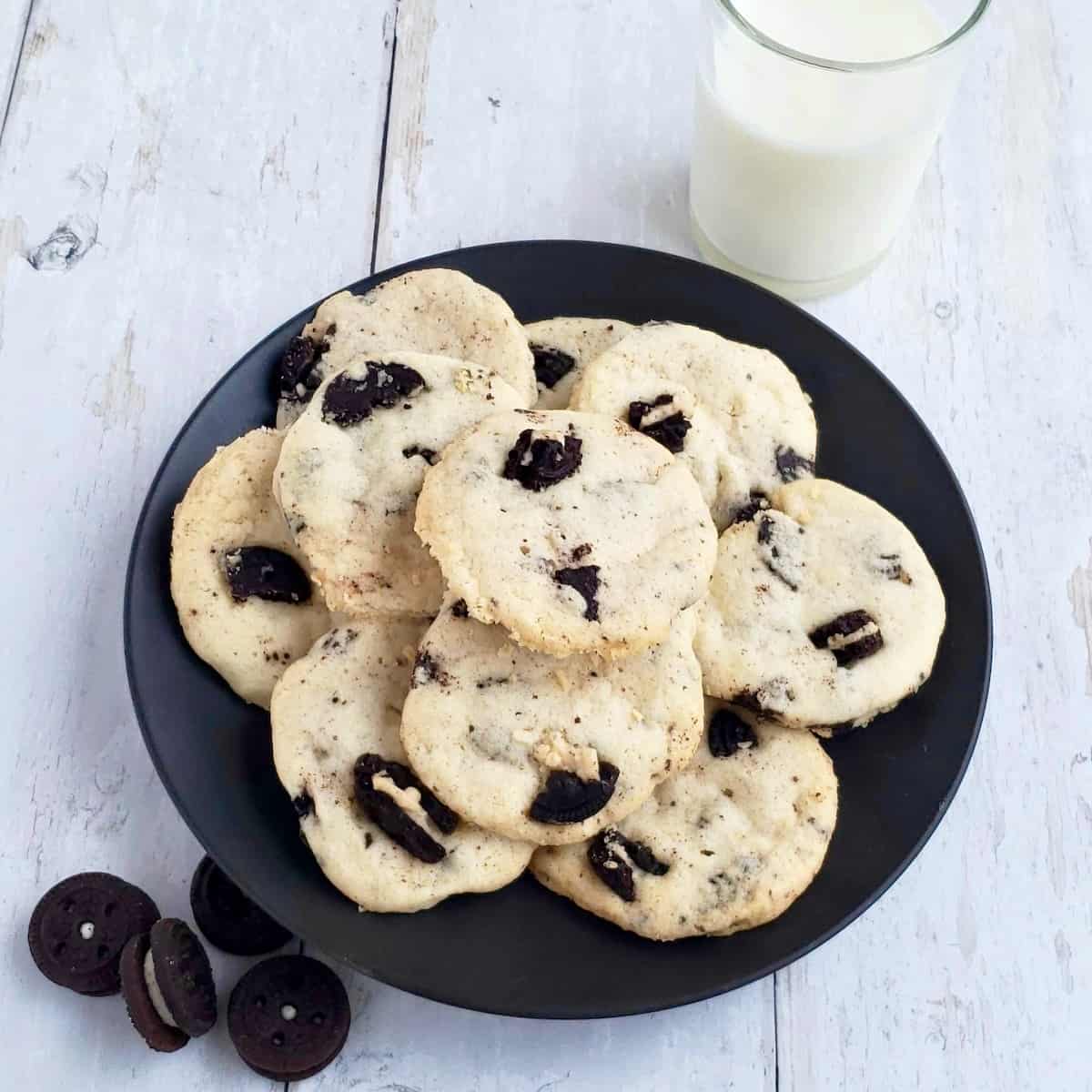 What to serve with Oreo shortbread cookies
Tall glass of cold milk, almond milk, coconut milk, or oat milk
Coffee, latte, espresso
Hot chocolate
Lemonade or iced sweet tea
Food Gifts
Cookies and Cream Shortbread Cookies make great food gifts for Christmas, cookie swaps, new neighbors, teacher gifts, and Valentines day.
Just change out the color of the filling in the chocolate sandwich cookies to match the occasion.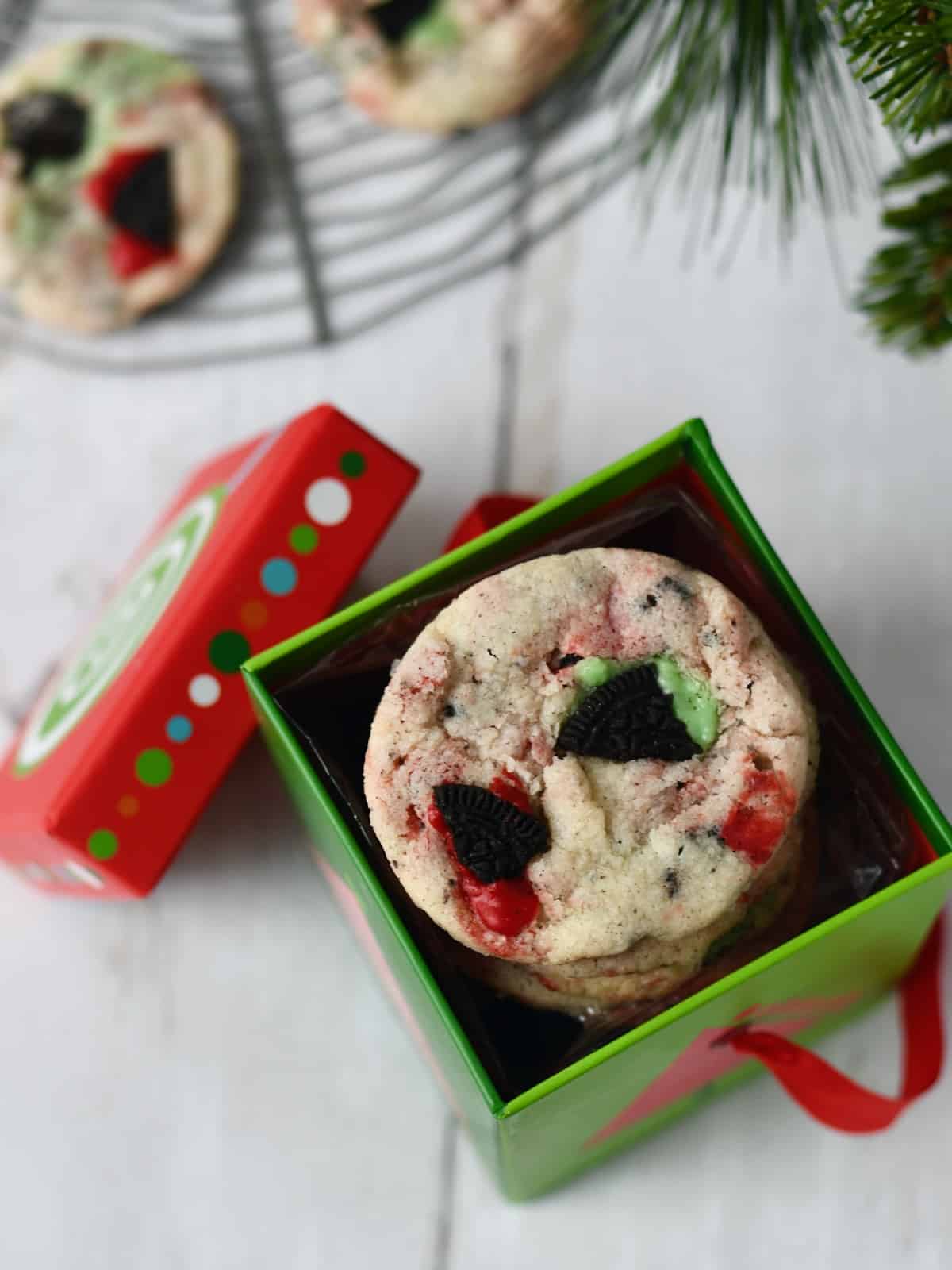 Storage
Refrigerator: Store any leftovers in the refrigerator, covered or in an air tight container.
Freezer: Freezing shortbread cookies with crushed Oreos is a great way to preserve them for several months. Storing them in a freezer zip top plastic bag is ok, but you run the risk of the crisp cookies breaking if they get bumped around in the freezer. I recommend placing them in an airtight freezer container.
Follow me on Facebook, Instagram, and Pinterest. Be social and share, y'all! Don't forget to sign up with your email so you don't miss a single post on my Southern shortcut recipes!
If you make this recipe I'd love to see it! Tag me on social media with #gritsandgouda or @gritsandgouda. Leave a comment below the printable recipe if you have questions or tell me how you liked the recipe. Don't forget to rate it 5 stars if you love it!
Want more recipes with Oreo cookies?
My family loves these Mint Oreo Cookie Truffle Balls. If you don't love mint, trade them out for another flavor filling. Change the color of sprinkles on top according to the holiday or special occasion.
Looking for things to make with Oreos?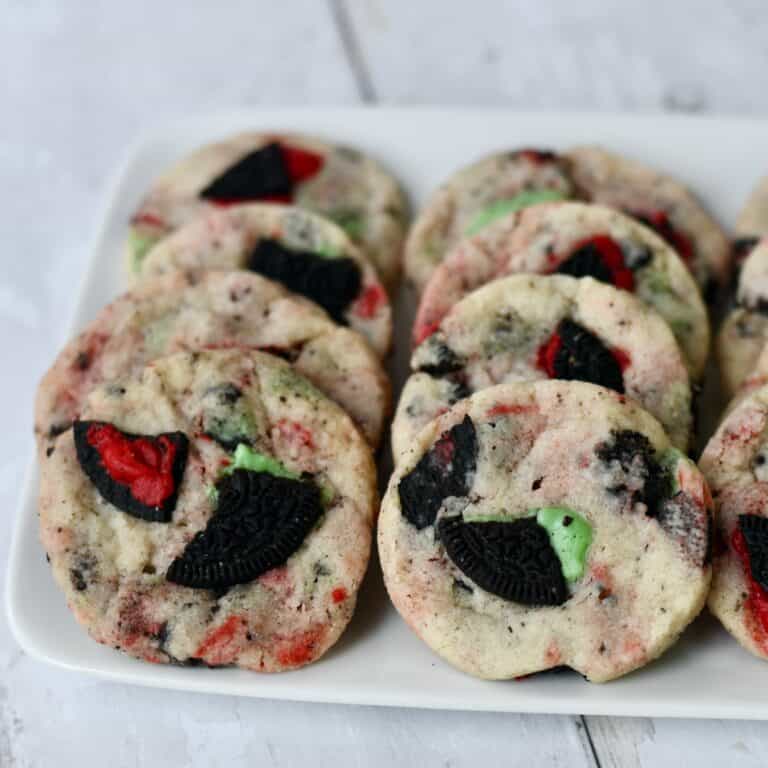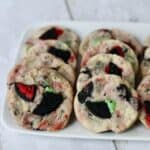 Print Recipe
Cookies and Cream Shortbread Cookies
Cookies and Cream Shortbread Cookies made with crushed Oreos. You'll want to make these for every holiday or when you're just craving a rich, buttery cookie to dunk in milk.
Ingredients
1

cup

salted butter

(softened)

2/3

cup

granulated sugar

2

cups

all-purpose flour

12

Oreos cookies or other creme-filled chocolate sandwich cookies

(6 ounces)
Instructions
Preheat oven to 300F degrees.

With an electric hand mixer, beat butter just until creamy. Add sugar and beat on medium speed until mixture is light and fluffy, about 2 minutes.

Add flour and beat on medium speed JUST until crumbly.

Break apart or coarsely crumble the cookies and add to the cookie dough. Beat on medium-low just until cookies are incorporated. Over mixing will turn the dough from white to gray.

Press dough together on a lightly floured flat surface to form a ball. Roll dough out with a rolling pin or press down with hands or a smooth cylinder glass to 1/4-inch-thickness.

Cut out cookies with a round 2 inch cookie cutter and place on a parchment or foil-lined baking sheet about 1 inch apart.

Push together the dough scraps and reroll. Cut out the cookies and place on another baking sheet or wait for the first one to completely cool after baking.

Bake cookies for 21 minutes. They will not be lightly browned but rather pale. Let cool 1 minute on the baking sheet, then transfer to a wire cooling rack.

They will crisp up as they cool.

Store in an airtight container at room temperature or refrigerator. Freezes well.
Notes
Note: I like to put the cookies in a quart size plastic bag and crush them with the bottom of a glass
Shortcuts:
Microwave very cold butter straight from the fridge 11 seconds on HIGH, turn over, 11 seconds again. (1100 watts)
Salted butter has salt in it so no need to add salt.
Food Styling Tip: Press extra pieces of crumbled cookie into the top of the cookie before baking.
Nutrition
Serving:
1
cookie
|
Calories:
102
kcal
Did you make this recipe?
If you love it, share it! Tag me on Instagram @gritsandgouda using #gritsandgouda Comment below before you go!
Nutrition analysis on GritsAndGouda.com recipes are mostly calculated on an online nutrition calculator. I am not a dietitian and nutritional information is an estimate and can vary based on products used.