No candy thermometer needed to make this easy Cookies and Cream Fudge recipe! Made with mini marshmallows, white chocolate chips, and Oreo cookies, it's at the top of my list of homemade candy to make each year during the holidays!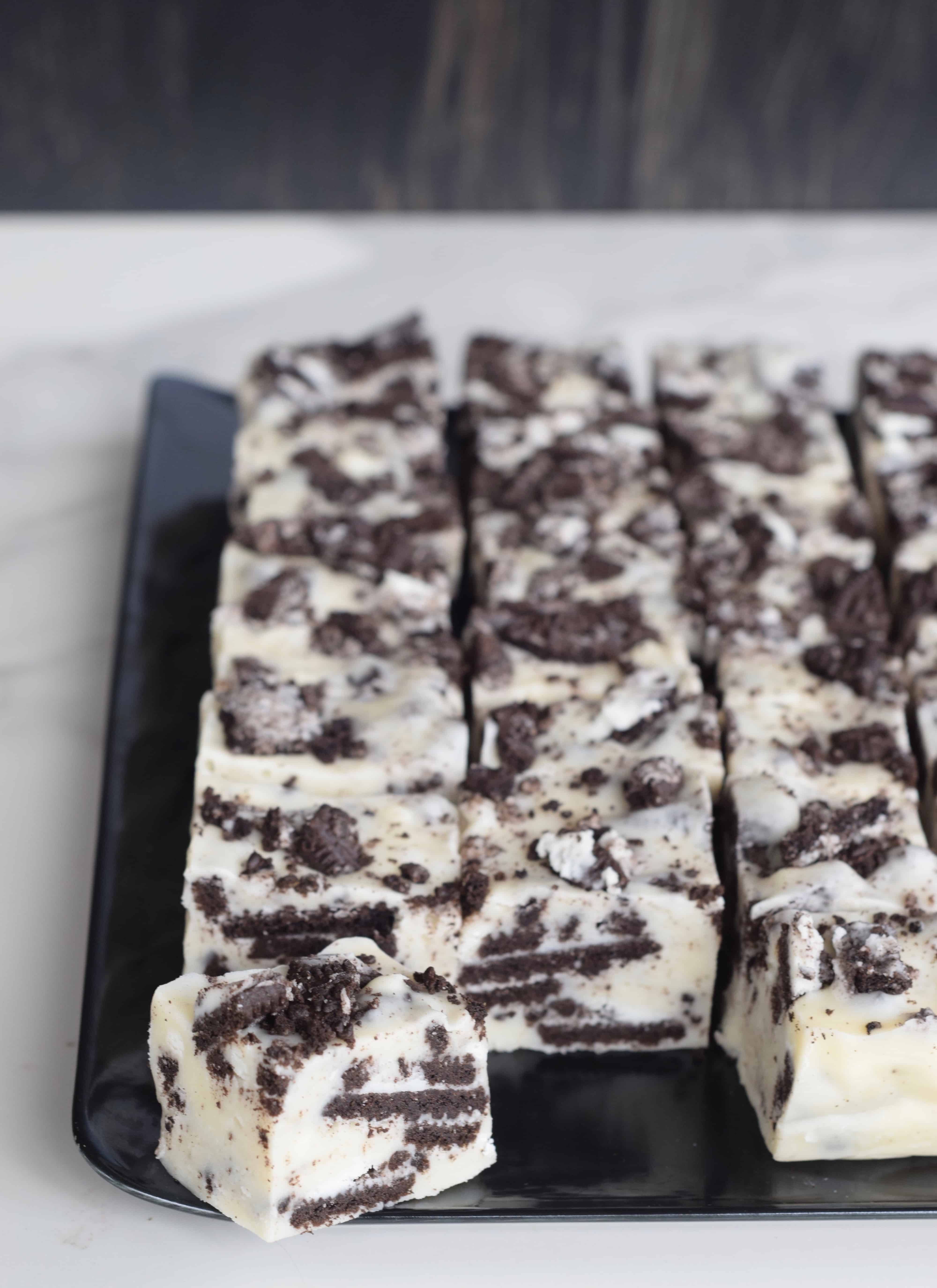 This is an all-time favorite at my family's Thanksgiving and Christmas dessert buffet. It's an Oreo Cookie Fudge recipe made without sweetened condensed milk.
It's almost but not quite as easy as my 2 Ingredient Peanut Butter Fudge recipe.
Marshmallow creme (that fluffy stuff) is so hard to get out of the tub and off the spoon, anyway, so I make this easy cookies and cream fudge recipe with mini marshmallows instead!
If you don't have mini marshmallows, it's ok to use a 7 oz tub of marshmallow creme to avoid making another trip to the store for just one ingredient!
Ingredients
Scroll down to printable recipe for Cookies and Cream Fudge for exact ingredient amounts.
Granulated sugar
Butter - Salted or unsalted
Evaporated milk
White chocolate chips
Mini marshmallows or marshmallow creme
Oreo cookies
How to make Cookies and Cream Fudge
Scroll down to the bottom of this post for the detailed, printable recipe. Pictures below will help guide you as you read the recipe.
Cook sugar, butter and evaporated milk in a large saucepan according to printable recipe below.
Stir in white chocolate chips and mini marshmallows, stirring until smooth and marshmallows are melted.
Stir in 2 1/2 cups of the crushed cookies. Reserve the rest to press into the top. DO NOT OVER STIR. This will make the fudge a gray color.
Pro Tip: Set a timer when boiling sugar mixture 3 minutes.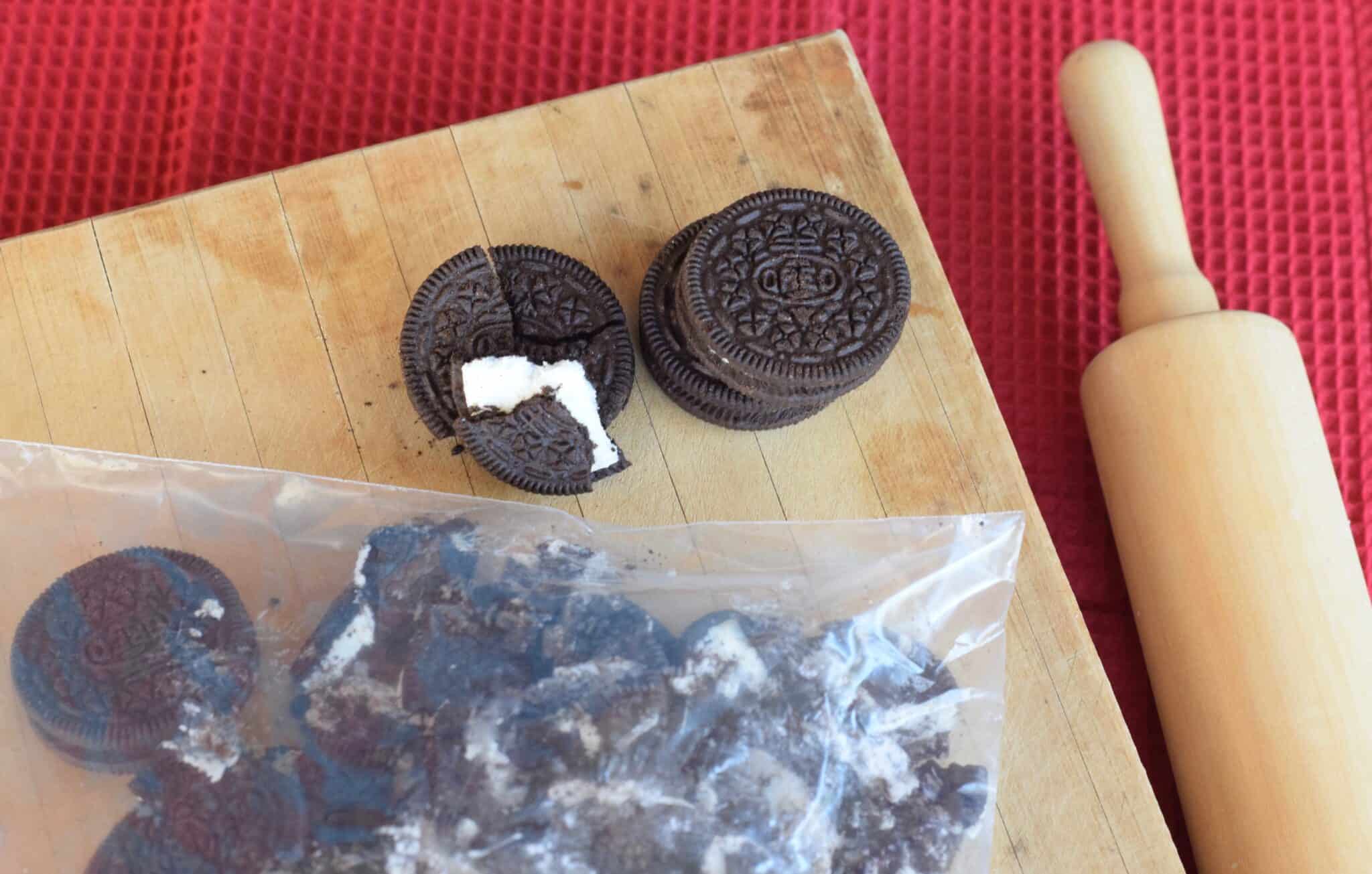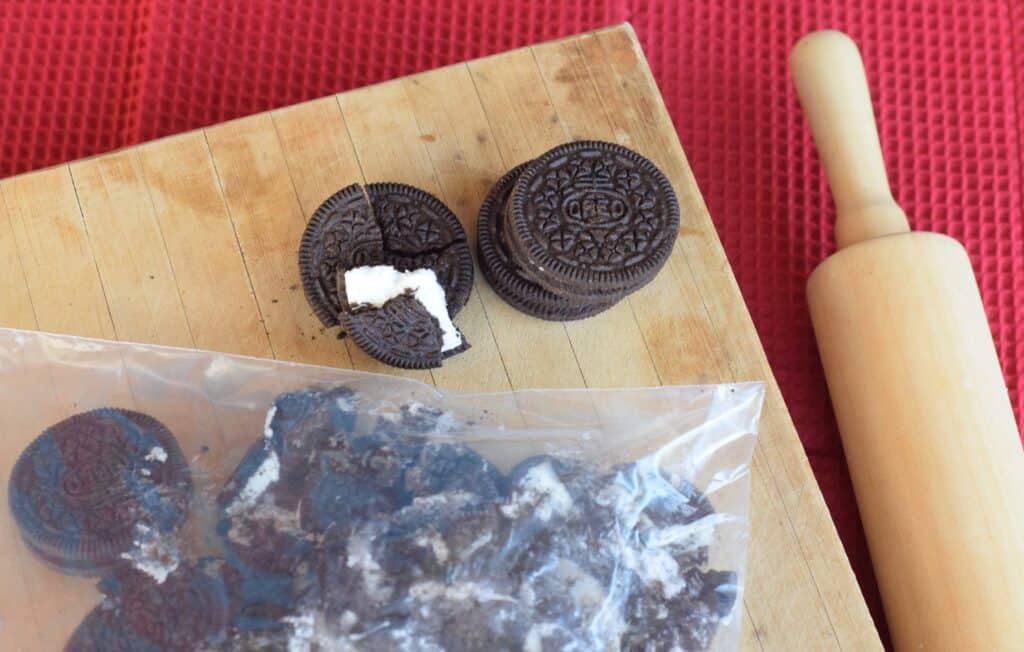 Pro Tip: Coarsely crush the cookies in a zip-top bag for easy clean up. This recipe uses 25 cookies.
Note to self: there are 36 cookies in a package.... If you're thinking what I'm thinking, that leaves nine cookies to enjoy before, during, or after fudge making! You're welcome.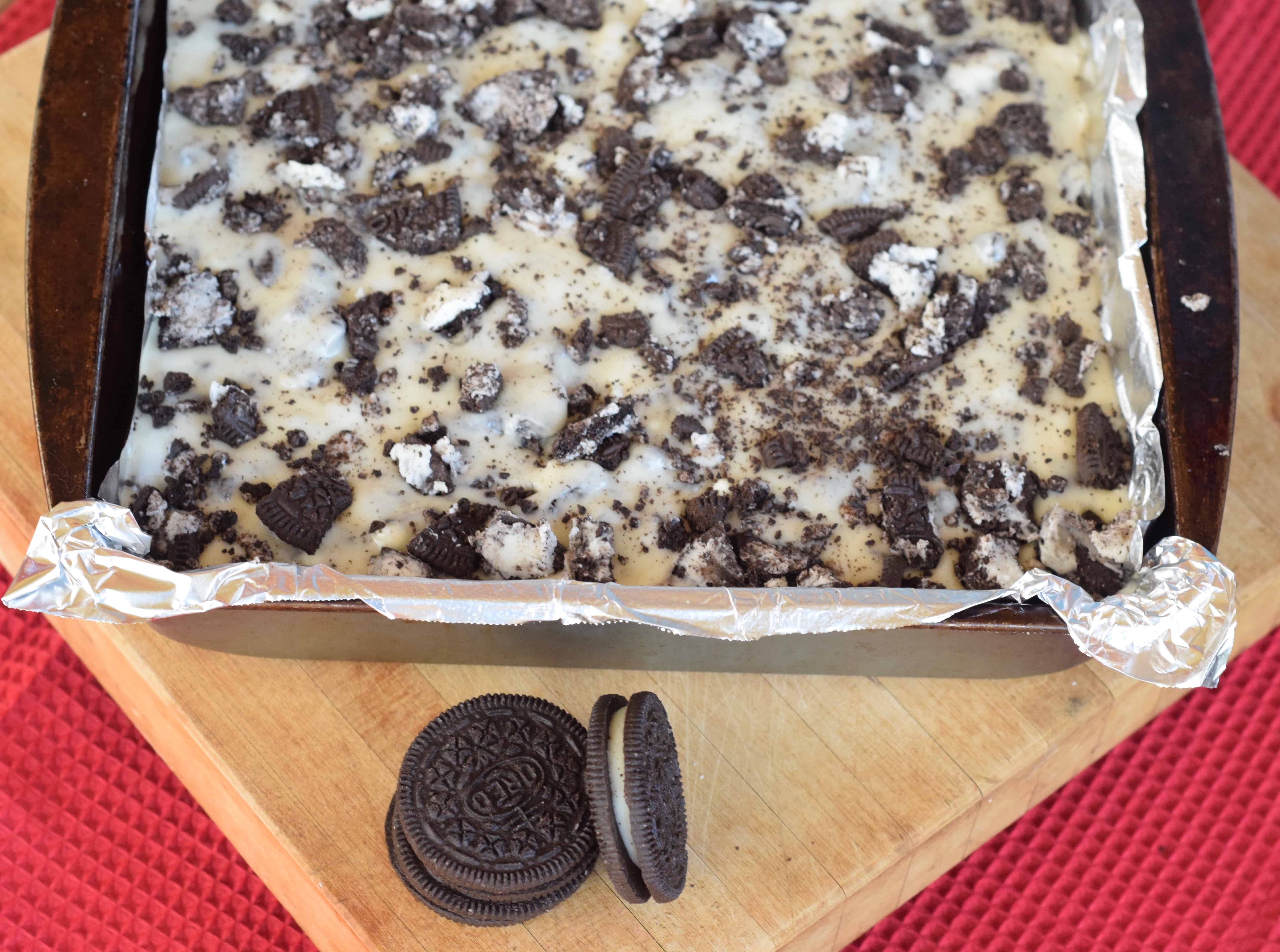 Did you notice the three cookies on the cutting board? Those are to snack on!
Pour the fudge mixture into the prepared pan. Press the remaining crushed cookies into the top.
Let cool completely on the counter about 2 hours or until set.
White chocolate vs. white candy melts and vanilla chips
White chocolate bars are made with cocoa butter. Cocoa butter results in a creamier white chocolate fudge.
More commonly and more affordable are vanilla-flavored Wilton white candy melts, Nestle Premiere white chips, and Hersheys white baking chips. They do not contain cocoa butter so they can't be called white chocolate. They melt easily and work well in this cookies and cream recipe.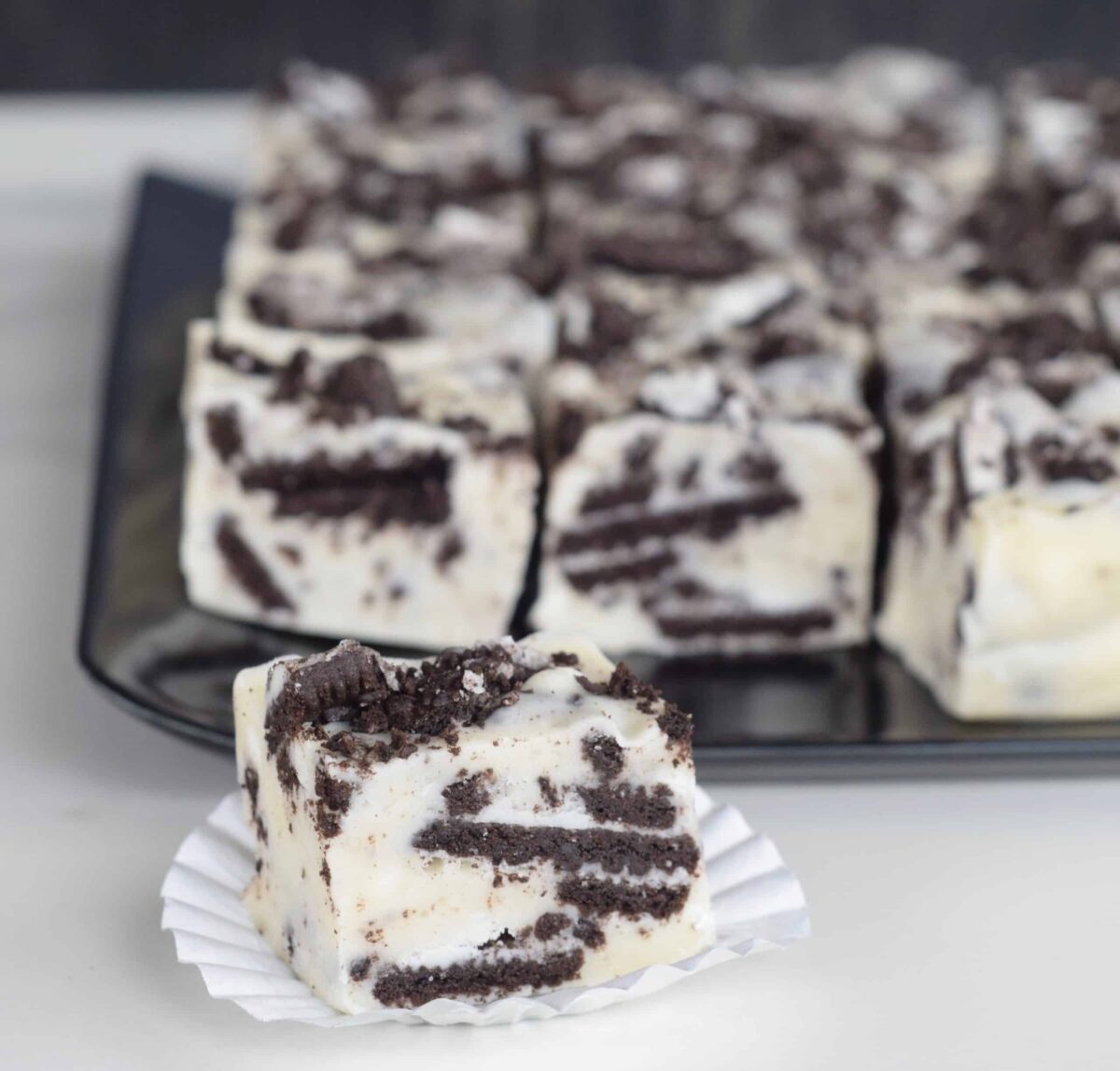 What pan should I use to make Oreo Fudge
If you don't have a 9-inch square pan, no worries! An 8-inch pan can be used. The fudge will just be taller and take a little longer to set up in the fridge.
Pro Tip: Lining the pan with aluminum foil or wax paper. It makes it so much easier to cut them into perfect slices by lifting the whole thing right out of the pan and cutting it on a cutting board.
No pan to scrub; just wipe clean. Parchment paper also works but tends to slide when you're pouring in the fudge.
Silicone square pan. I love these and used them when testing recipes for my Magic Cakes cookbook. Just pull back the edges and the fudge flips right out! If you don't own one of these, put it on your Amazon wish list for Christmas!
How to store Cookies and Cream Fudge
Once the sets up, the fudge does not have to stay in the fridge. It can be at room temperature. I would store it in the fridge if it's going to be a couple of days before you serve it.
It will soften back up to a nice texture after being at room temp for awhile. It will be very firm straight from the fridge.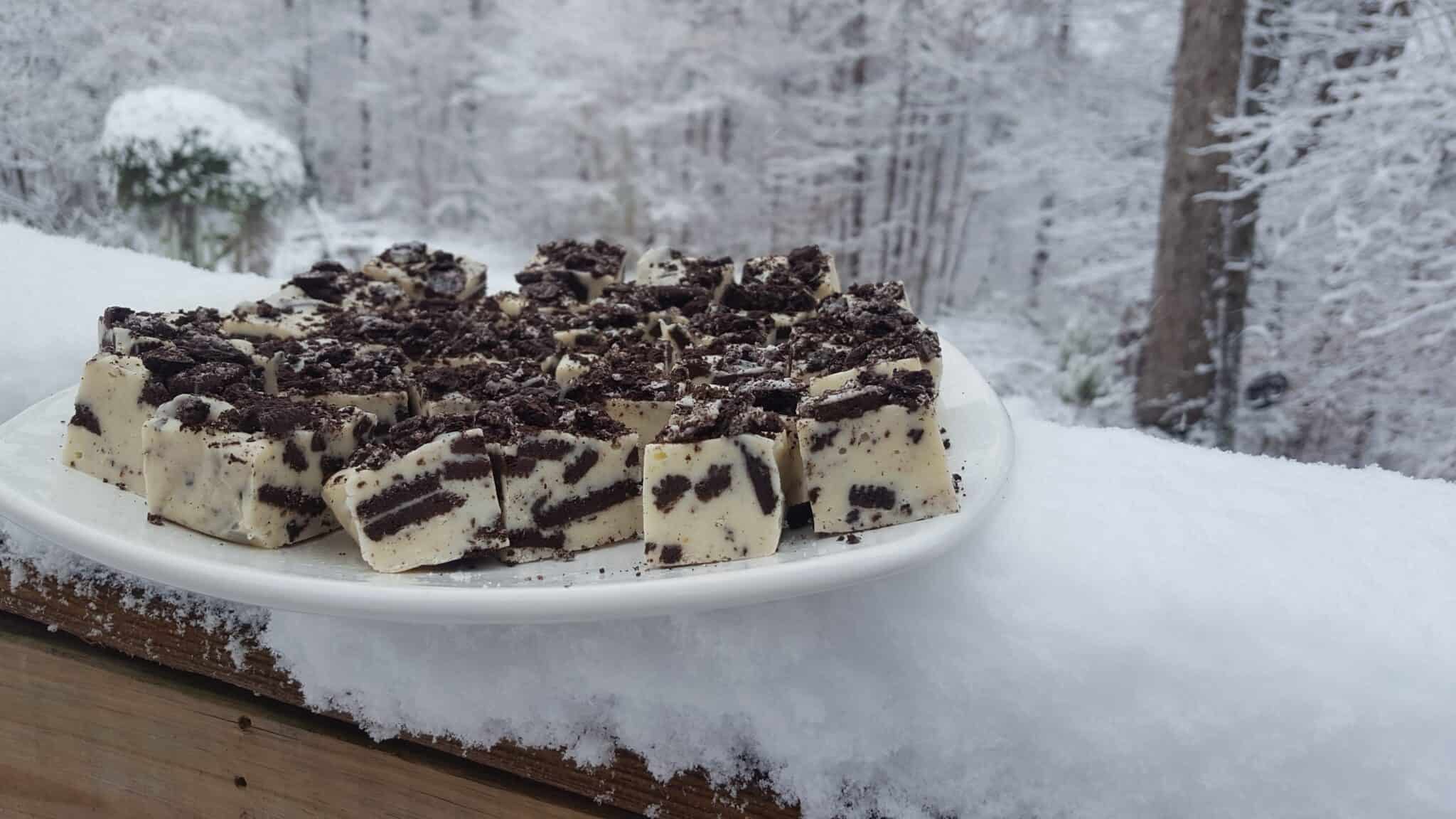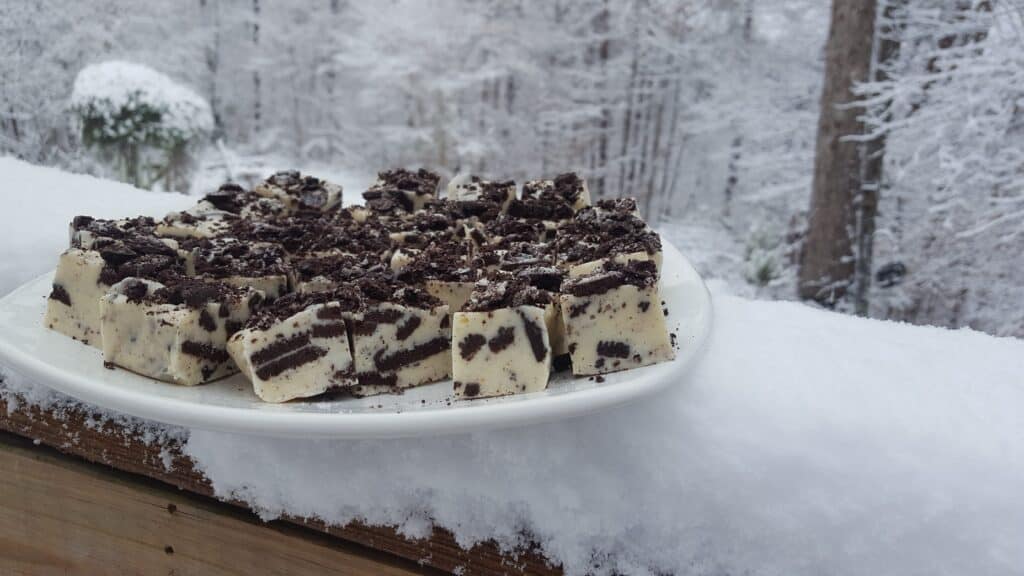 I made this Cookies 'n Cream Fudge the one day it snowed here in Alabama last year so I couldn't resist taking a picture.
Watch the videos
Watch my video segments below on ABC 33/40's Talk of Alabama and Fox6 Good Day Alabama where I show how to make Cookies and Cream Fudge. Click on the images to watch the video.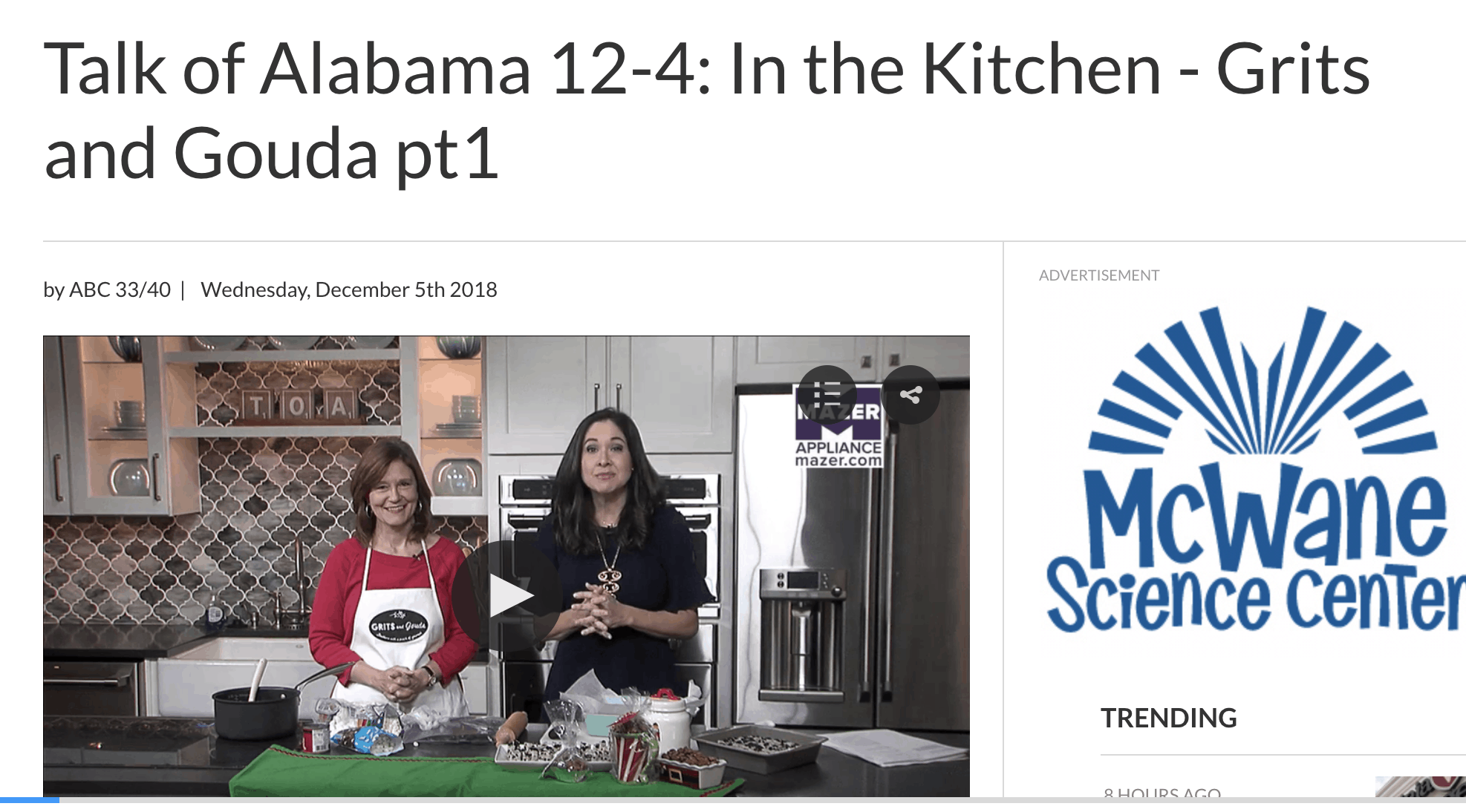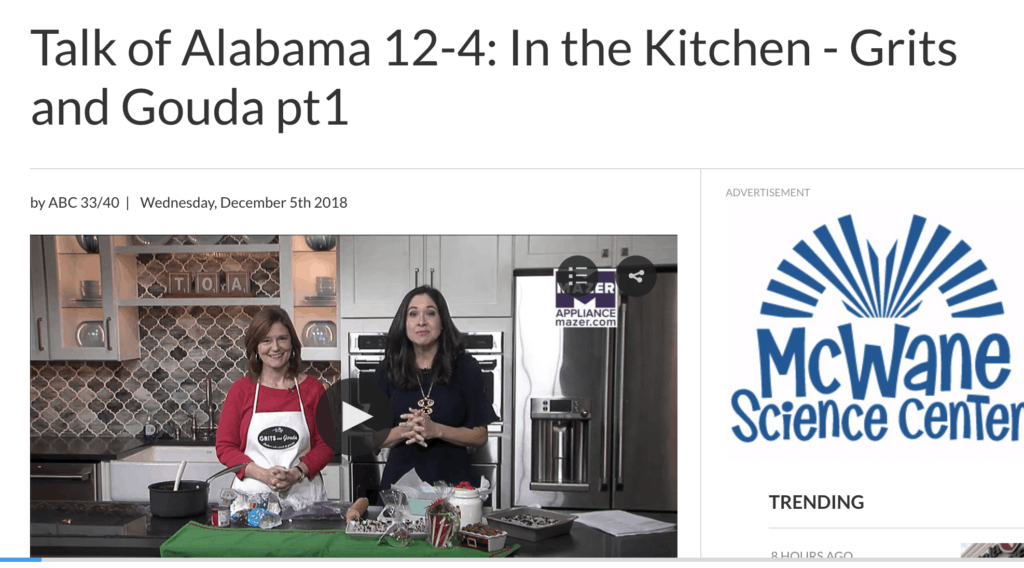 WBRC Good Day Alabama Video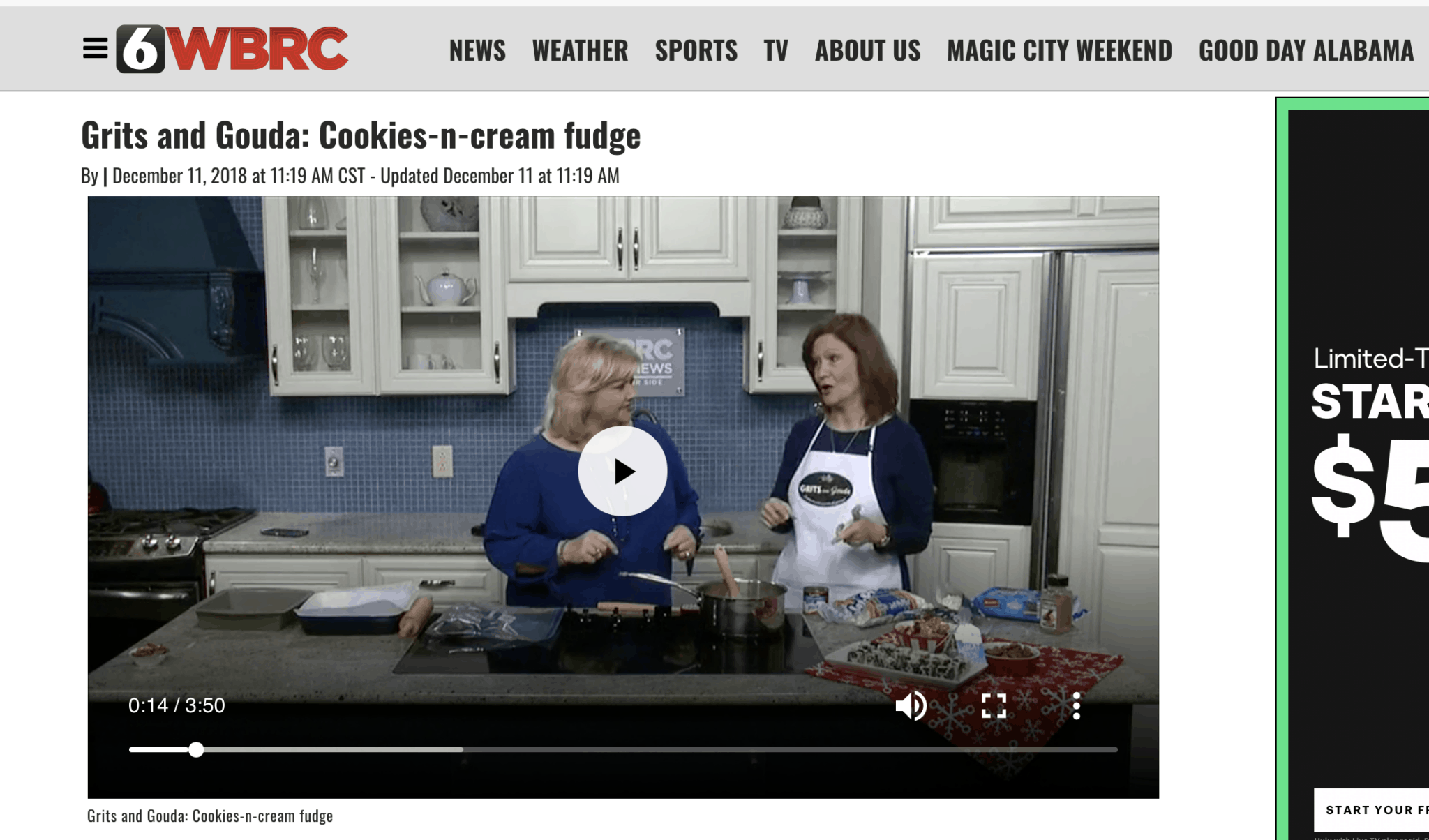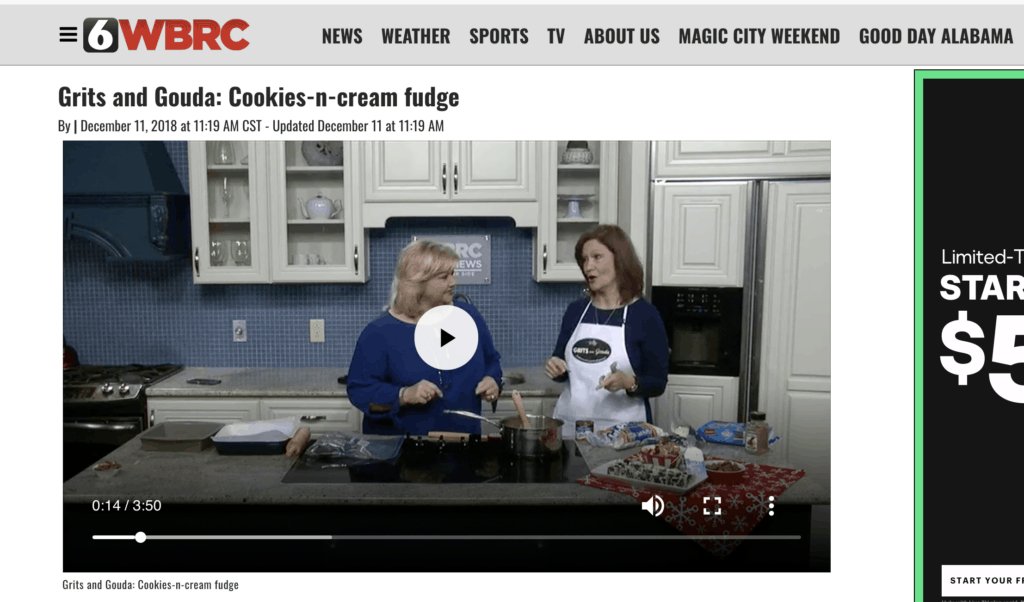 Other shortcut candies you will love
Microwave Cranberry Pistachio Brittle
3 Ingredient Cinnamon Sugar Pecans
Mint Oreo Cookie Truffle Balls
Follow me on Facebook, Instagram, Pinterest and YouTube. Be social and share, y'all! Don't forget to sign up with your email so you don't miss a single post on my Southern shortcut recipes!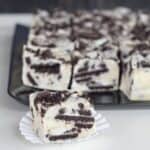 Print Recipe
Cookies and Cream Fudge
Easy Cookies and Cream Fudge made with Oreo cookies, evaporated milk, mini marshmallows and white chocolate chips. Makes perfect food gifts, too.
Ingredients
1

cup

granulated sugar

1/2

cup

salted butter

not margarine

1

5-oz can evaporated milk (2/3 cup)

1 1/2

12-oz packages white chocolate chips (3 cups)

1

7-oz jar marshmallow cream or 1 (10-oz) package mini marshmallows

3

cups

coarsely crushed Oreo cookies

about 25 cookies, divided
Instructions
To make it easy to remove fudge and cut into small pieces, line a 9-inch square baking pan with aluminum foil and spray lightly with cooking spray.

Stir together sugar, butter, and milk in a medium-size saucepan. Cook over medium

heat, stirring constantly, until mixture comes to a boil. Boil 3 minutes without stirring.

Set a timer; don't guess. Remove from heat and add white chocolate chips and

marshmallow cream; stir until both have melted and mixture is smooth. Gently stir in 2

1/2 cups crushed cookies.

Pour fudge in prepared pan and spread to the edges of the pan. Sprinkle remaining 1/2

cup crushed cookies over warm fudge and press down gently with fingertips. Let cool

completely on a wire rack (about 2 hours). You can speed this up by placing in the

refrigerator. Cut into 48 pieces (8x6).
Notes
Variation: White Chocolate Vanilla Bean Fudge Omit cookies. Use 2 packages white chocolate chips. Scrape 1 vanilla bean into cooked mixture when stirring in white chocolate chips.
Pan: If you don't have a 9x9 inch pan, an 8-inch square pan works. It just takes a little bit more time to set up and will be a thicker.
Tip: Lining the pan with aluminum foil makes it so much easier to cut them into perfect slices by lifting the whole thing right out of the pan and cutting it on a cutting board. No pan to scrub; just wipe clean. Parchment paper also works but tends to slide when you're pouring in the fudge.
Nutrition
Serving:
1
piece
|
Calories:
143
kcal
Did you make this recipe?
If you love it, share it! Tag me on Instagram @gritsandgouda using #gritsandgouda Comment below before you go!
I updated this recipe with valuable information November 25, 2022