Hands down, this is the most easy, creamy peanut butter fudge recipe and it's NOT made with marshmallow creme or powdered sugar! This foolproof 2 Ingredient Peanut Butter Fudge takes only 5 minutes to prep, no candy thermometer needed, and perfect for holiday food gifts!
Did I mention it's made in the microwave?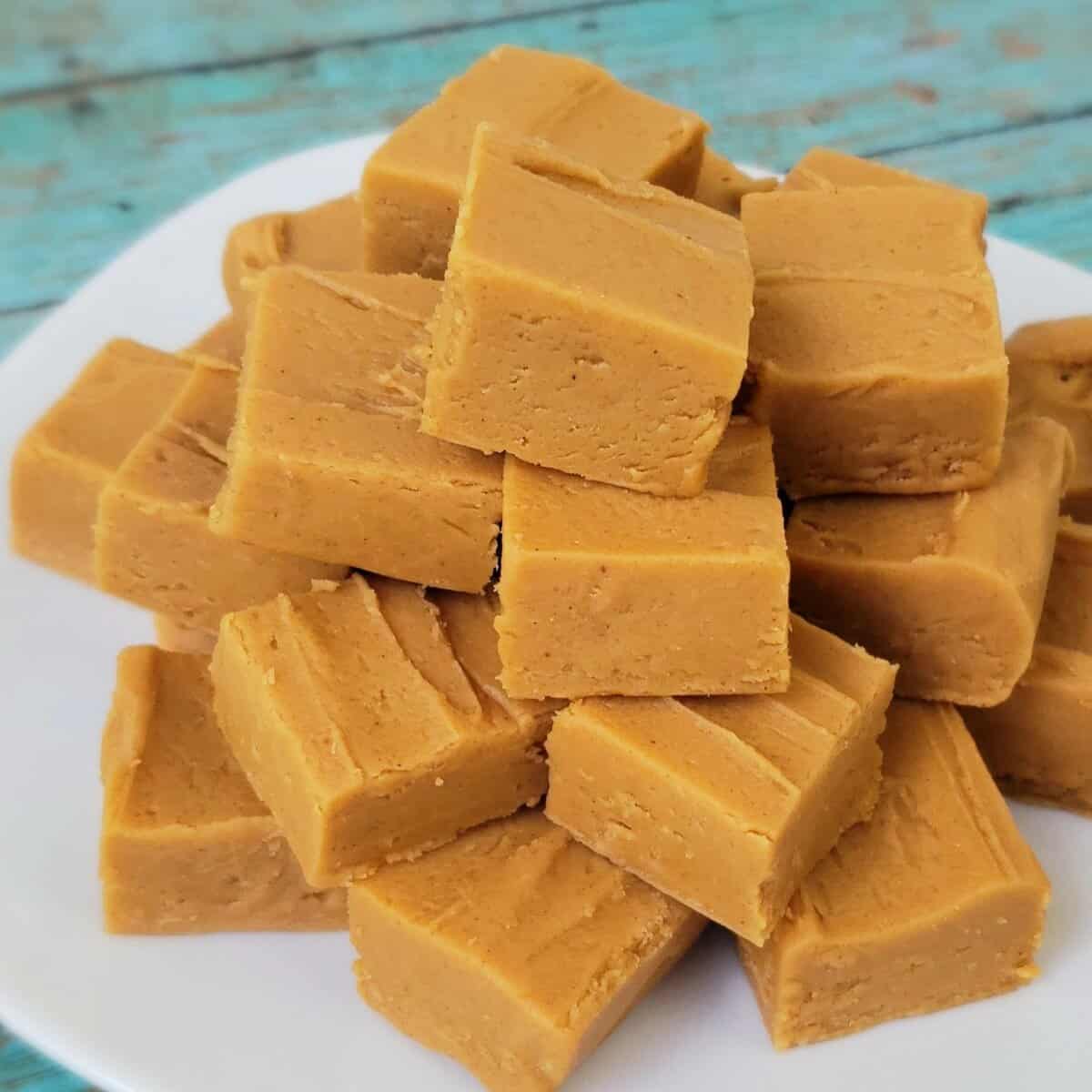 Just look at it! So smooth and creamy and peanut buttery. I could eat that whole plate by myself. But, I guess it's better to share...maybe.
Actually, this super simple halfway homemade candy really does make great Christmas food gifts... and teacher gifts...and welcome to the neighborhood gifts...and ...you get the idea!
If you're looking for a recipe to
Shortcuts
Only 2 ingredients!
It's made in the microwave.
No candy thermometer needed.
5 minutes prep time. Sets up in just 1 hour.
No need to measure the peanut butter and wash a measuring cup-just spoon out an entire (16.3-ounce) jar of peanut butter. (If you have a jar larger than this measure out 1 3/4 cups.)
Ingredients
Creamy peanut butter
Vanilla tub frosting (icing)
Scroll down to printable recipe for ingredient quantities.
How to make 2 Ingredient Peanut Butter Fudge
Unlike most quick & easy versions of fudge, like my Cookies 'n Cream White Chocolate Fudge, this easy recipe doesn't use marshmallows or marshmallow creme to thicken it.
Melt peanut butter and frosting together in the microwave and stir until smooth.
Pour the fudge mixture in to the pan lined with parchment paper or aluminum foil for easy removal.
Refrigerate until firm. Cut into squares.
Hint: Line the pan with parchment paper, wax paper, or aluminum foil to easily lift out the chilled fudge. This makes it so much easier to cut into even squares and prevents a sharp knife from cutting into your pan.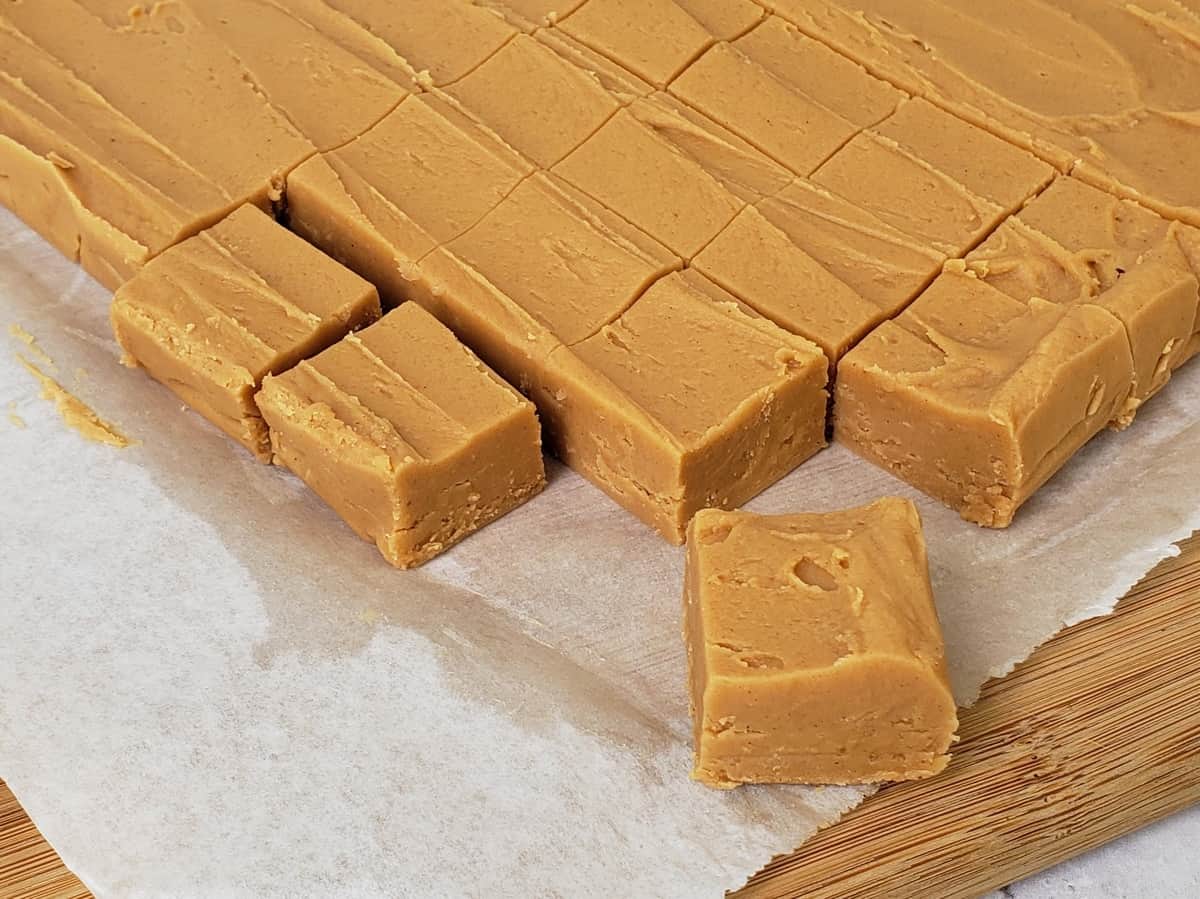 Can I make this fudge without a microwave?
Yes. You can still make this fudge if you don't have a microwave. Stir the peanut butter and frosting together in a medium-size saucepan. Heat over medium-low heat, stirring constantly, until smooth and both melt.
Substitutions & Variations
There are so many different flavors of fudge to make with this basic 2-ingredient fudge recipe! These are just a few I thought of in minutes.
Chunky Peanut Butter Fudge- Trade out the creamy peanut butter for chunky peanut butter.
Chocolate-Peanut Butter- Use chocolate frosting instead of vanilla.
Chocolate-Peanut Butter Swirl- Use chocolate frosting with peanut butter and dollop extra peanut butter on top immediately after pouring into the pan. Drag the tip of a table knife through the dollops to create swirls.
Candy Bar Peanut Butter- Chop your favorite candy bar such as Butterfinger, Hershey milk chocolate bar, or Reese's cups and press them into the top of the fudge after pouring.
Cookie Fudge- Coarsely crumble chocolate chip cookies and stir in before pouring and/or press into the top of the fudge.
Birthday Cake- I don't know about you, but I'd love my birthday cake flavor to be peanut butter! So, why not stir in a tablespoon or two of sprinkles.
Chocolate Covered Buckeye Squares- At my Holiday Cooking Show, someone suggested coating pieces of fudge in chocolate to resemble Reece's peanut butter cups.
I tried to figure out a way to make a PB & J version of this fudge but it was a little messy. Let me know if you solve this dilemma!
Pro tip
Not all tub frostings are the same! I tested this recipe with many brands and I found the best ones for this recipe were Betty Crocker and Aldi store brand. Other brands had a higher water content which didn't provide a smooth texture.
Also, do not use "whipped" frosting. Extra air has been incorporated into the frosting and will also give an undesirable texture.
Equipment
Microwave or saucepan
Spatula. I prefer this one to reach to the bottom of the peanut butter jar.
Parchment paper (optional)
Does peanut butter fudge need to be stored in the refrigerator?
While this fudge needs to chill in the refrigerator at least 1 hour to set up initially, it does not have to be refrigerated for storage. It stays firm on the counter.
Does 2-Ingredient Peanut Butter Fudge make good holiday gifts?
Absolutely! Not just for holidays, but year round food gifts. I make this easy sweet treat recipe for my husbands clients all the time. They fit perfectly in gift boxes, stack nicely in gift bags and looks impressive as a slab of fudge wrapped in plastic wrap and placed in a gift bag.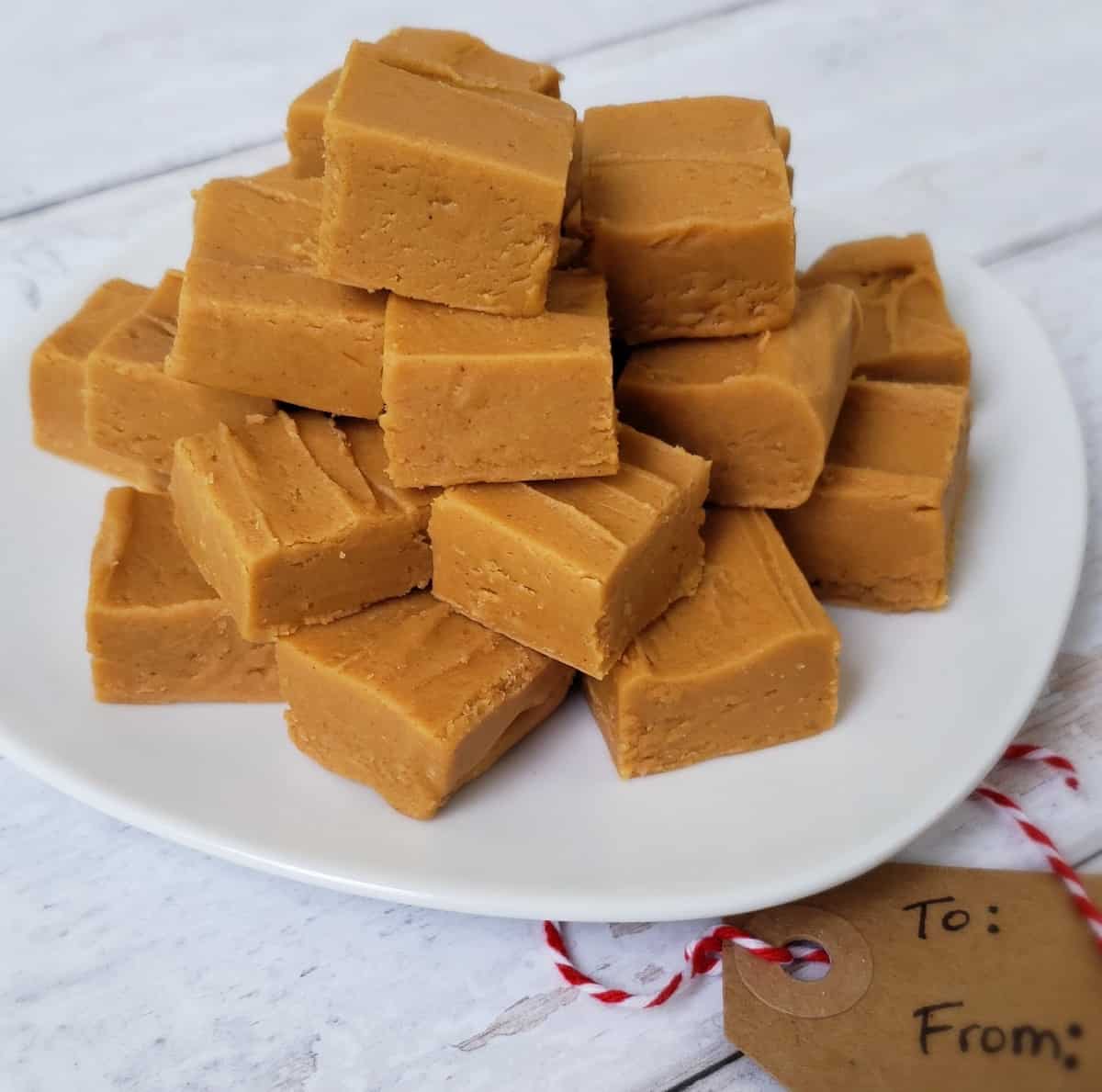 Follow me on Facebook, Instagram, Pinterest and YouTube. Be social and share, y'all! Don't forget to sign up with your email so you don't miss a single post on my Southern shortcut recipes!
If you make this recipe I'd love to see it! Tag me on social media with #gritsandgouda or @gritsandgouda. Leave a comment below the printable recipe if you have questions or tell me how you liked the recipe. Don't forget to give the recipe a rating of 5 stars if you love it!
Other shortcut candy recipes you will love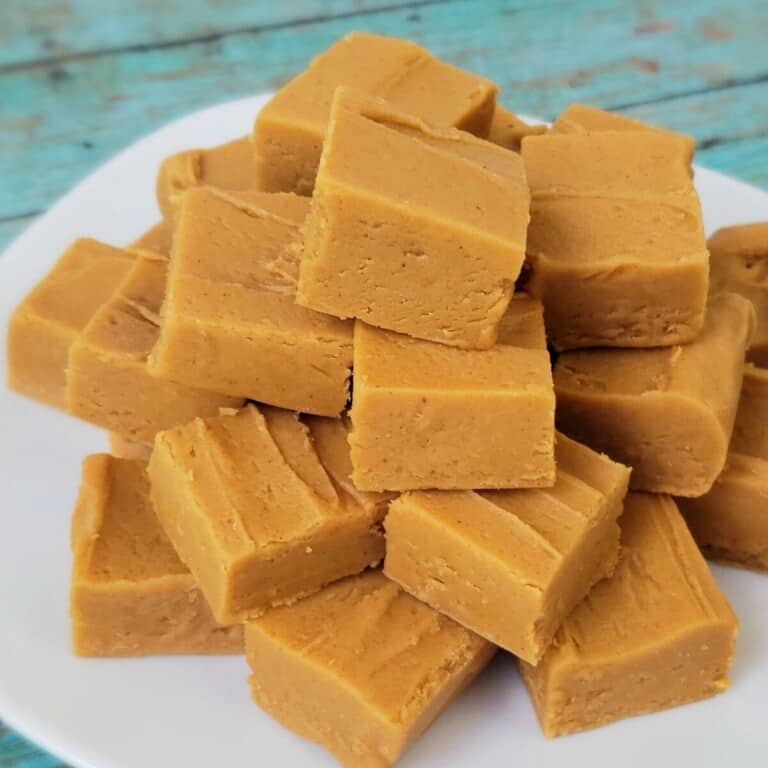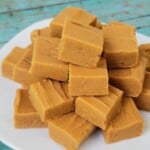 Print Recipe
2 Ingredient Peanut Butter Fudge
This super simple candy recipe has only 2 ingredients, 5 minutes to prep and it's made in the microwave without a candy thermometer!
Ingredients
1

16.3-ounce jar creamy peanut butter (1 3/4 cups)

1

16-ounce tub vanilla frosting (Betty Crocker or Aldi store brand)
Instructions
Line a 8x8 or 9x9 baking pan or dish with aluminum foil or parchment paper for easy lifting out of pan to slice.

Stir together peanut butter and frosting in a large microwave-safe glass bowl.

Microwave on HIGH 1 minute and stir until smooth. (1200 watts). Pour the peanut butter mixture into the pan, spreading to the edges with a knife or spatula.

Chill, uncovered, at least 1 hours or until firm. Once firm, the fudge can be cut into bite-size pieces or slabs.

Store in an airtight container at room temperature or in the refrigerator.
Notes
Note: Not all tub frostings are the same. Duncan Hines did not have as smooth a texture as Betty Crocker and Aldi because of the water content. Do NOT use "whipped" tub frosting.
Nutrition
Serving:
1
piece
|
Calories:
74
kcal
Did you make this recipe?
If you love it, share it! Tag me on Instagram @gritsandgouda using #gritsandgouda Comment below before you go!