This easy Instant Pot Turkey Breast and Gravy recipe is made with bone in turkey breast. Save the oven for the pies and sides this Thanksgiving and Christmas! The turkey gravy is made right in the pressure cooker.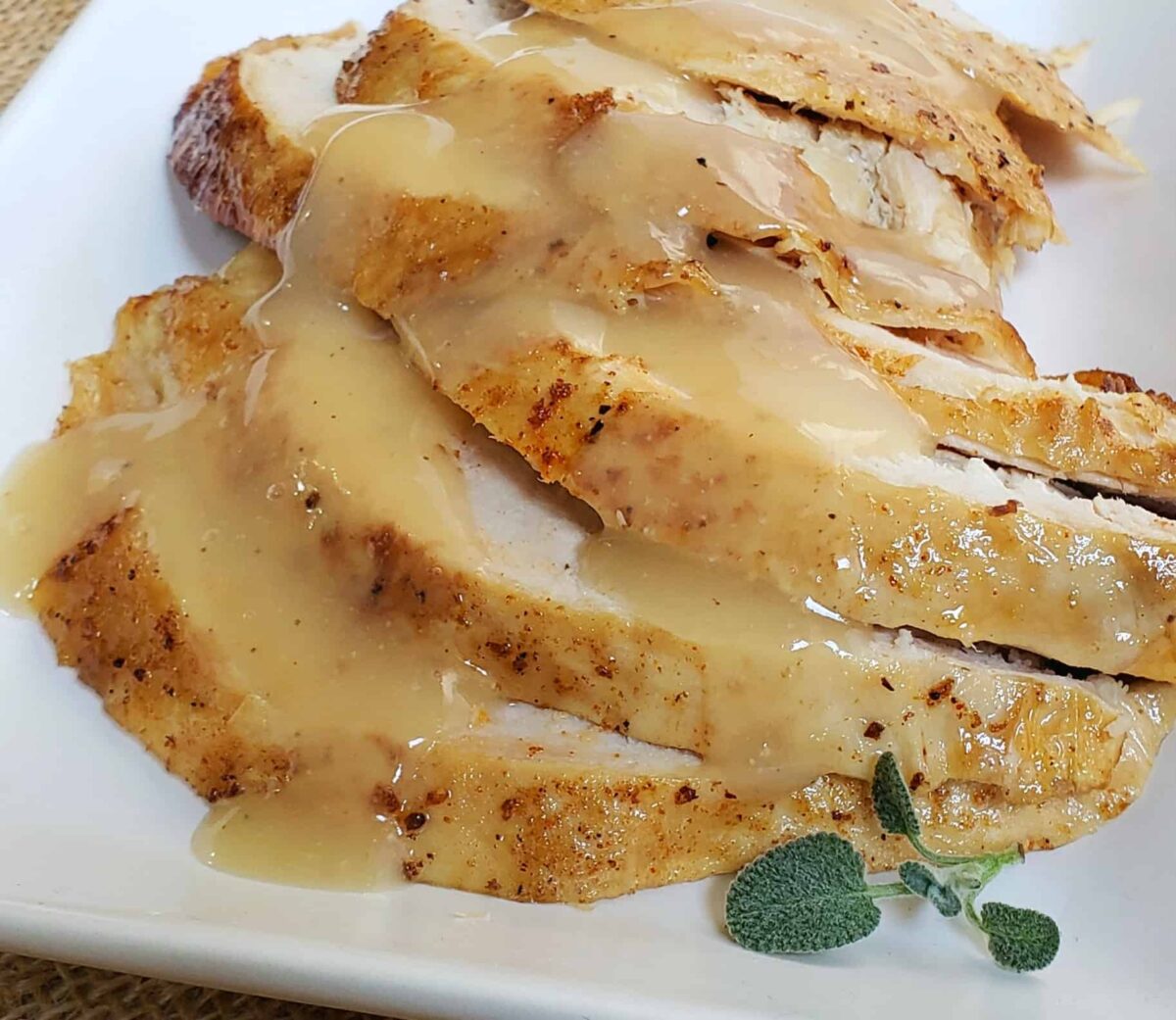 This cooking method for pressure cooker turkey will free up time to make all those family-favorite sides and desserts. It's my favorite Instant Pot turkey recipe.
I'm all in when it comes to using the Instant Pot this Thanksgiving and Christmas for the family dinner.
Although I love the dark meat on a whole turkey, most of my family prefers the white meat on the breast, so this year I decided to buy a bone-in turkey breast.
I cook it in my 6 quart Duo Instant Pot instead of roasting it in the oven to save time and oven space.
Why cook turkey breast in the Instant Pot?
Two reasons:
Quality time with my family
Oven space to bake sides and pie!
I have fond memories of my Grandma Wilson slow roasting a humongous turkey and bringing it over to our house for Thanksgiving. She would bake it in a large navy blue and not-so-white speckled enamelware roaster with a matching lid.
But this year, I want to offer turkey AND ham but we aren't serving an army so buying the smaller bone-in turkey breast and a small ham is perfect to please everyone.
I'll cook the turkey in the 6-quart Duo 7-in- 1 Instant Pot and bake the smaller ham in the oven at the same time as the Candied Roasted Sweet Potatoes.
One of the best things about cooking the turkey breast in the Instant Pot was being able to make the gravy right there in the Instant Pot because it captures all the drippings and you cook it on the saute setting after removing the turkey breast.
Ingredients
About 7 pound bone-in turkey breast
Butter
Paprika
Garlic powder
Salt
Chicken broth or water
Onion
Celery stalks
Cornstarch
How to cook turkey breast in the Instant Pot
To get the most juicy and flavorful turkey bone-in breast, put butter under the skin.
First, clip the membrane just under the skin with kitchen shears or a sharp knife. Then, rub the butter mixture under the skin and and on top of it.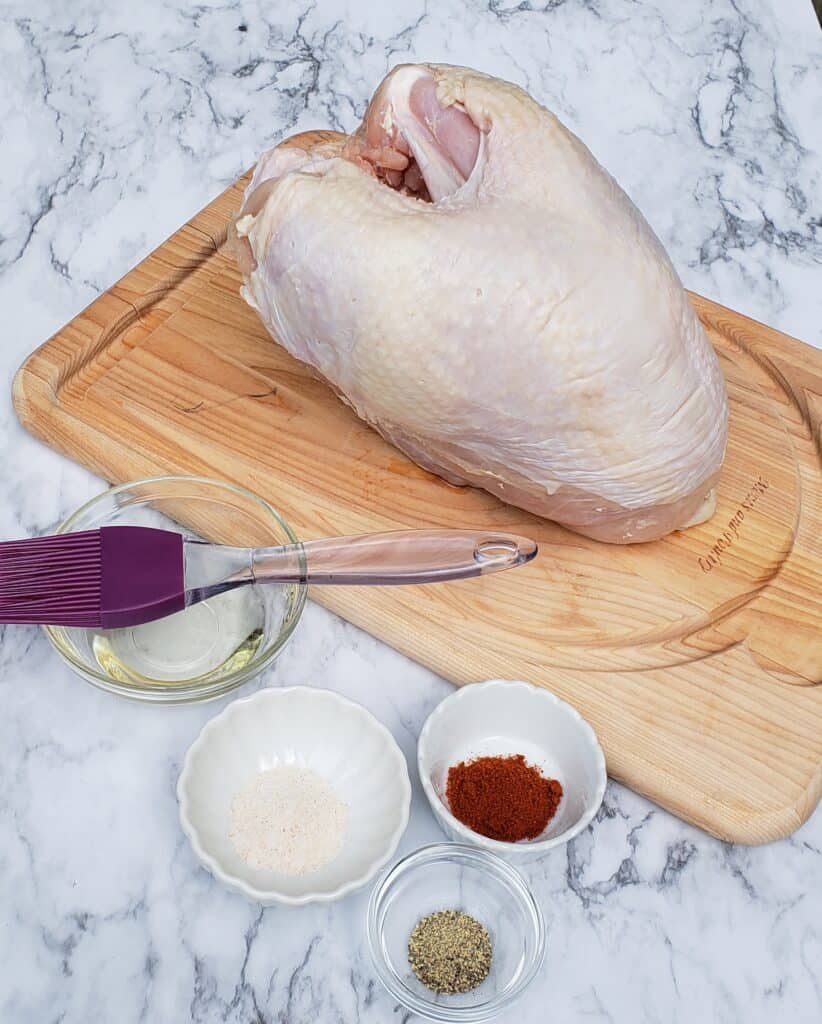 I also like to just brush olive oil or vegetable oil on the top of the skin, then sprinkle the paprika, garlic powder, and salt on the oil.
Both methods work great! If you choose the butter method be sure to pat the skin dry first or the butter mixture won't stick....it will just slide around.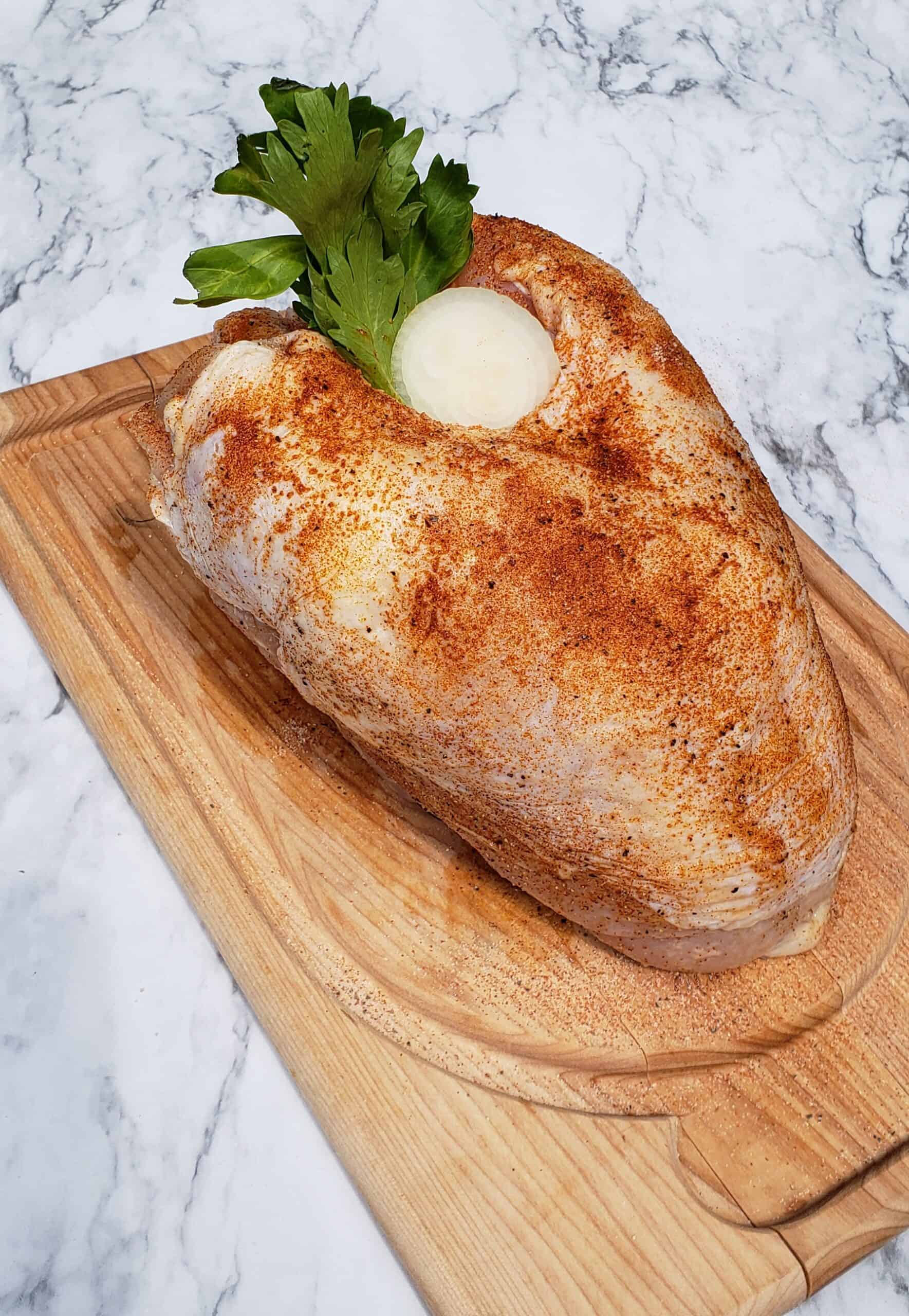 Don't toss those celery leaves! There's more flavor in the leaves than in the stalks so go ahead and stuff the turkey with the leaves as well as the stalks. I always include the leaves when I'm chopping celery for dressing, too.
After cooking the turkey breast according to detailed directions in the below, printable recipe card, remove the turkey breast with the trivet handles or two large spoons. Try to avoid using forks because you will release all the juices!
How do I get turkey skin crispy in the Instant Pot?
It's optional. To get that crispy skin on the turkey, place it under the broiler a few minutes. If you have an Instant Pot with the crisper lid, use that.
Place the turkey breast on a foil-lined baking sheet or pan, skin side up, and broil under the oven broiler 3 to 5 inches away from the coils 3 to 5 minutes or just until golden brown. You can also rub a little softened butter on the skin before broiling.
Of course, you can eat and serve it straight out of the Instant Pot but one of the best parts of the turkey is the crispy golden skin and why not have the best of both worlds of saving time and golden brown turkey with 3 minutes of broiling?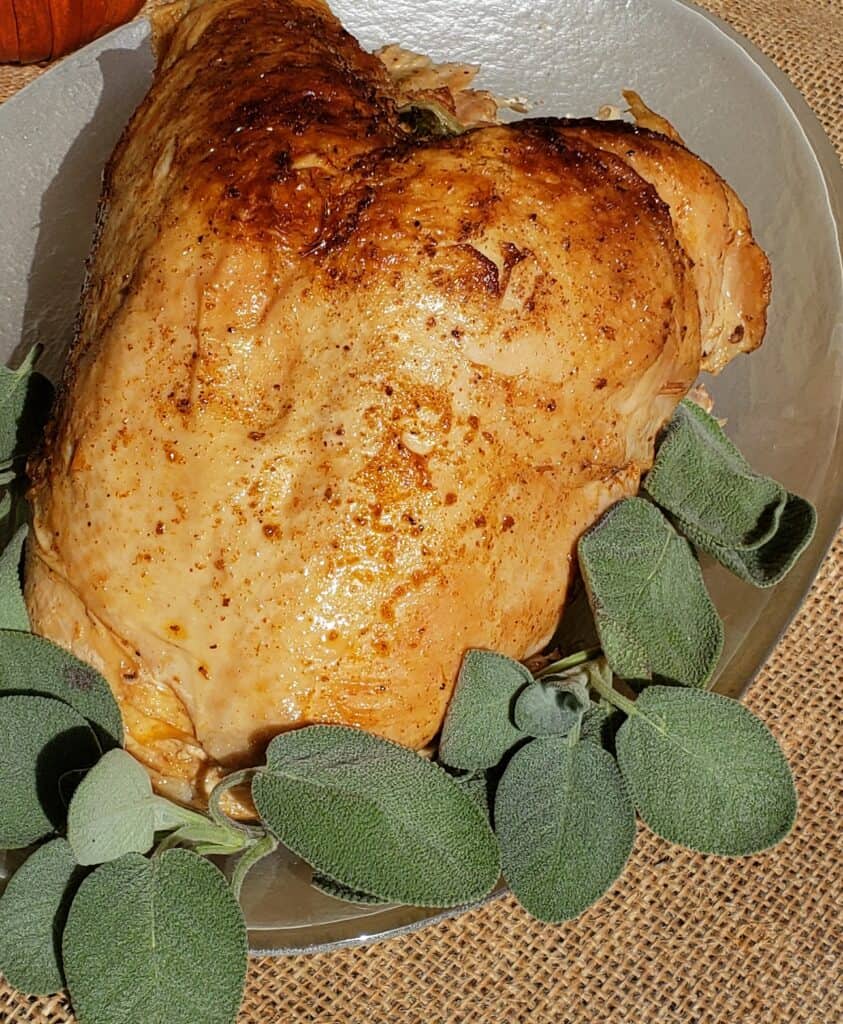 Let the turkey breast stand at room temperature at least 10 minutes so the juices can return to the center of the breast, then slice the breast and serve on a platter.
I've garnished mine with fresh sage from my garden but any herb will work. I like the presentation of sliced turkey breast better than serving it whole personally.
How to make Instant Pot turkey gravy
To make turkey gravy in the Instant Pot, simply measure 2 cups of drippings from the Instant Pot insert pot.
If you would like to make it as low-fat as possible, use one of these fat separators.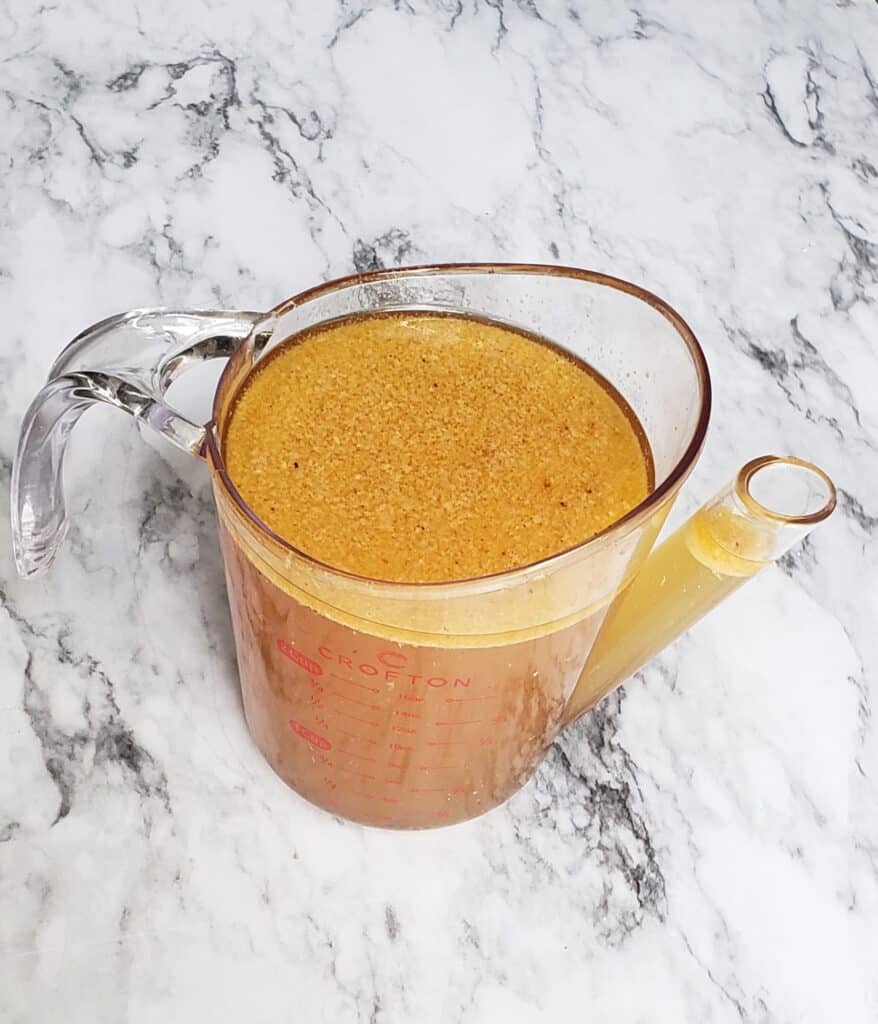 Combine cornstarch a the cold water in a little custard dish. This is important because if you add cornstarch to hot liquid or just drop it in a lot of liquid, it's hard to incorporate it and you get the dreaded lumpy gravy.
Use a whisk to incorporate the thinned cornstarch to the 2 cups of drippings in the electric pressure cooker and push the Saute button and cook, stirring constantly, just until slightly thickened.
I like my turkey gravy thinner than, say, country milk gravy you pour over biscuits and pork chops. I like to pour it over my turkey, mashed potatoes, dressing....pretty much half of my plate at Thanksgiving!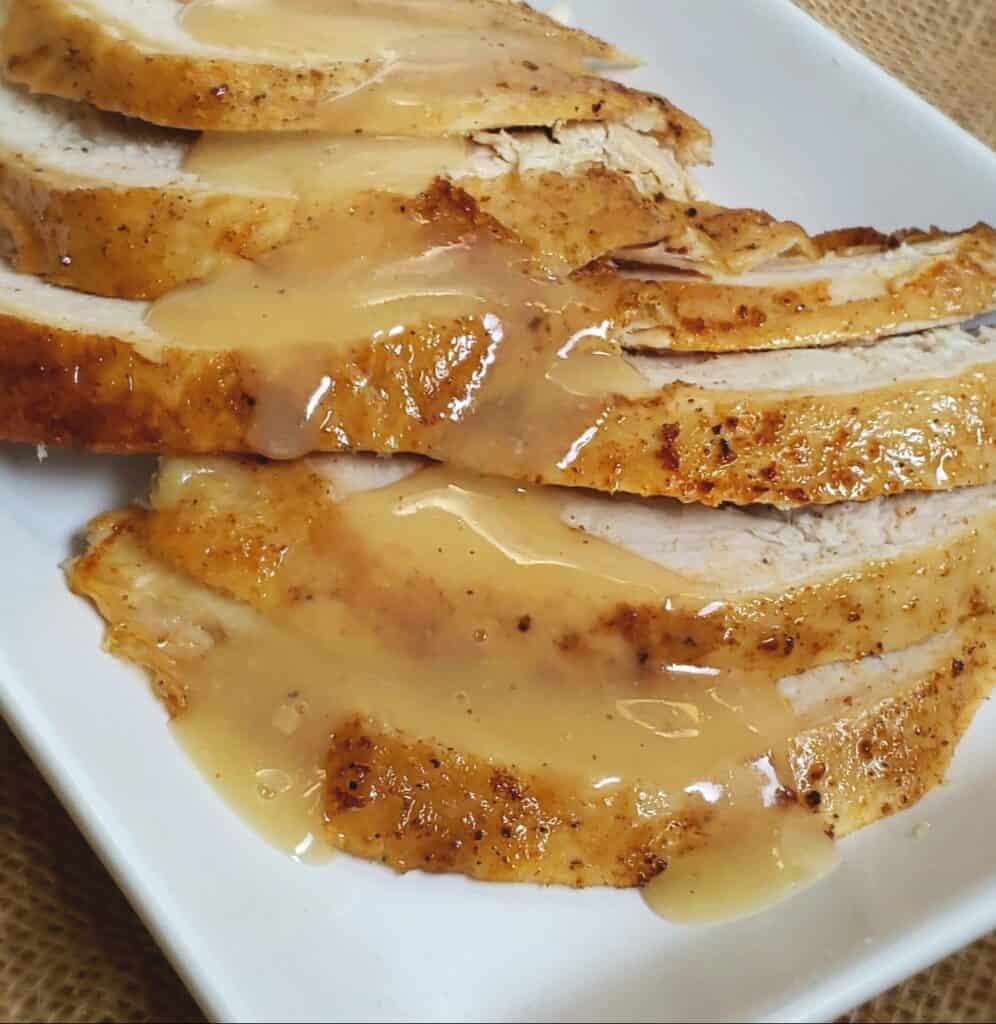 Oh yeah, it's the gravy that gilds the lily on this plate of Instant Pot turkey breast! I can't wait to make it again!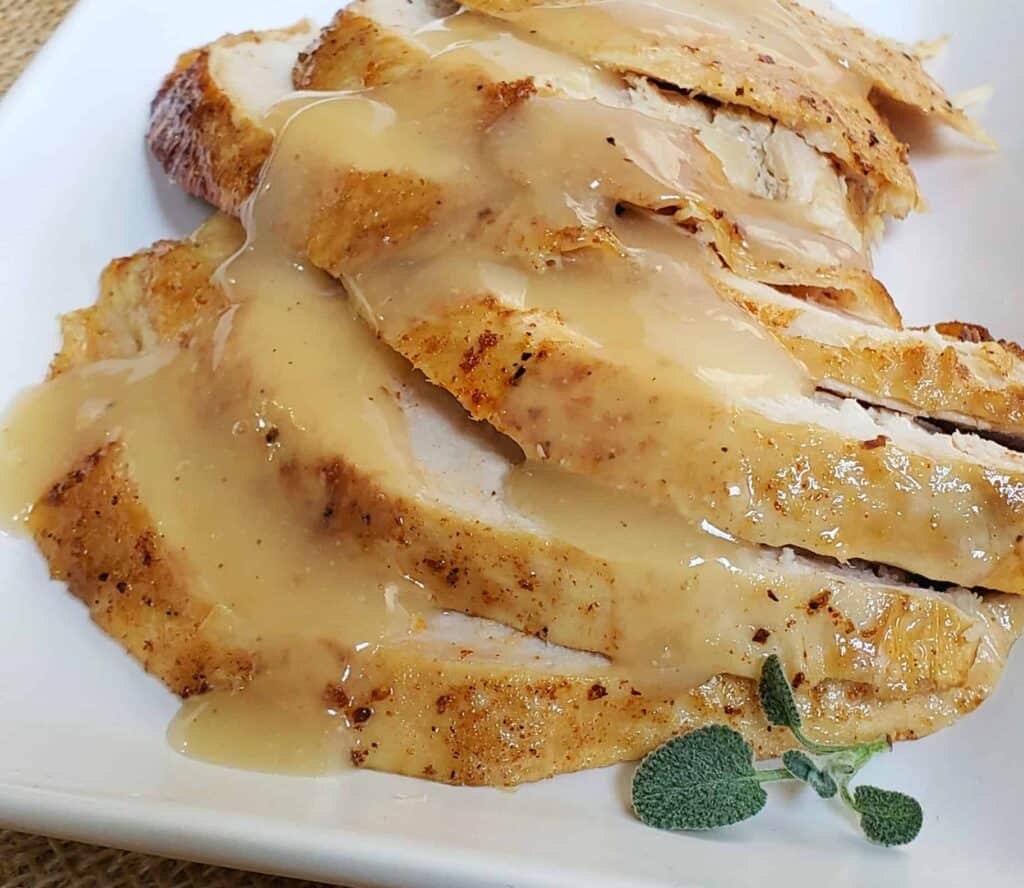 Garnish with a sprig of fresh sage or other fresh herbs, if you like. I like!
What if my turkey is smaller or bigger than the recipe?
No worries. Birds come in all sizes! For every pound of bone-in turkey breast cook in the Instant Pot 6 to 7 minutes. After natural release, be sure to check with an instant read thermometer to be sure it registers 165F degrees.
What sides go with bone-in turkey breast?
Here are some of my favorite Southern shortcut side recipes that go well with turkey breast made in the Instant Pot.
Featured in Holiday Cooking Show
I made this Thanksgiving main dish recipe at one of my first Annual Holiday Cooking Shows as an easy alternative to the traditional oven baked turkey.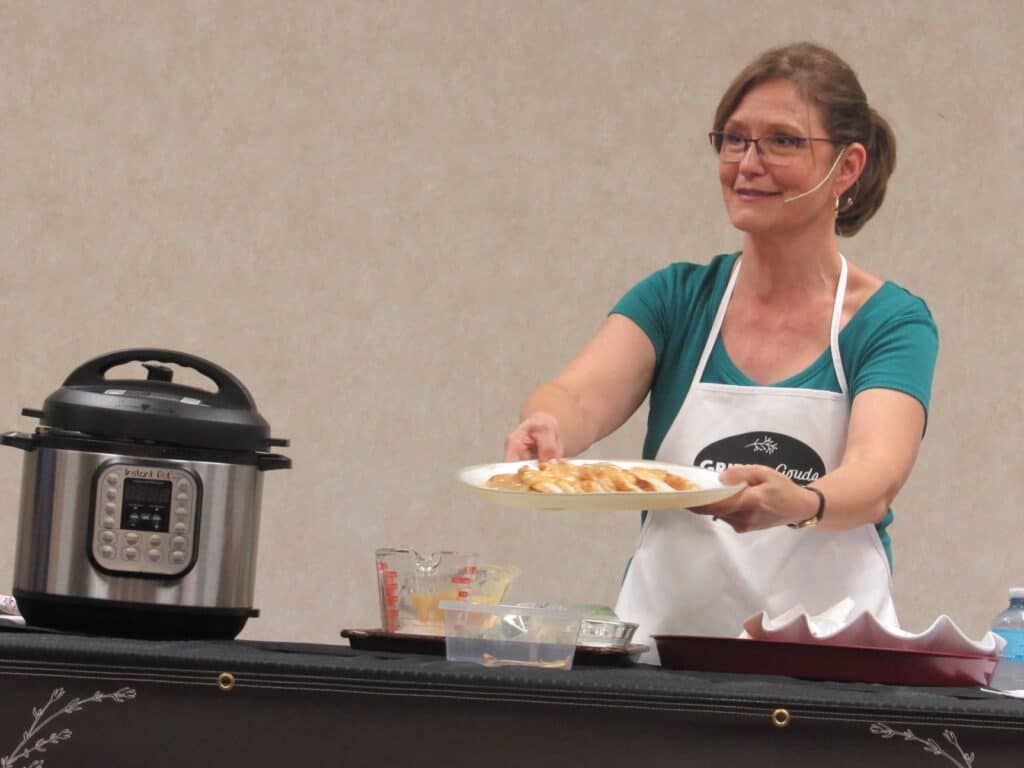 For dates and ticket information about my Annual Holiday Cooking Show that benefits Outdoor Ability Foundation check it out under my Cooking Classes page.
I show you how to make Southern shortcut recipes for your Thanksgiving and Christmas menus!
Try my Instant Pot Peanut Butter Swirl Cheesecake for dessert!
Other Thanksgiving recipes you will love
Creamy Fresh Green Bean Casserole (Keto, Gluten Free
Shortcut Broccoli Cauliflower Salad
Sausage Cornbread Dressing Cups
2 Ingredient Mini Pumpkin Pies
If you make this recipe I'd love to see it! Tag me on social media with #gritsandgouda or @gritsandgouda. Leave a comment below the printable recipe if you have questions or tell me how you liked the recipe. Don't forget to give the recipe a rating of 5 stars if you love it!
Follow me on Facebook, Instagram, Pinterest and YouTube. Be social and share, y'all! Don't forget to sign up with your email so you don't miss a single post on my Southern shortcut recipes!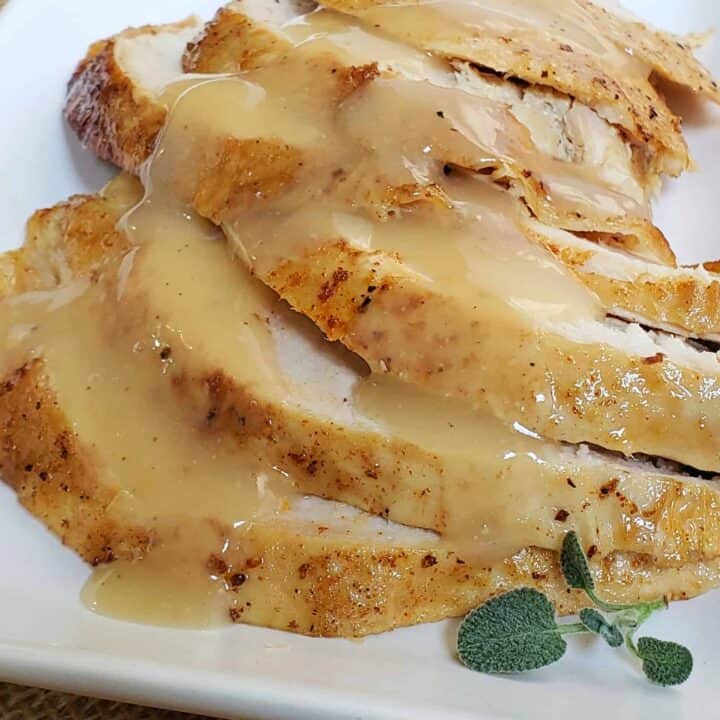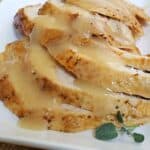 Print Recipe
Instant Pot Bone-In Turkey Breast and Gravy
All the flavor of roasted turkey in a fraction of the time with my Instant Pot Bone-In Turkey Breast and Gravy recipe.
Ingredients
1

7-pound bone-in turkey breast

3

tablespoons

butter

softened

1/2

teaspoon

paprika

1/4

teaspoon

garlic powder

1/2

teaspoon

salt

1 1/2

cups

chicken broth or water

1

small onion

quartered

2

small celery stalks

cut in half

2

tablespoons

plus 1 teaspoon cornstarch
Instructions
If the turkey breast is frozen, thaw according to package directions which may take several days. Remove the gravy mix, if any. Rinse the turkey breast and let it drain in a colander.

Pat it dry with paper towels. Loosen the skin on top of the breast with your fingers and a knife but do not cut it off.

Combine butter, paprika, garlic powder, and salt in a small bowl. Using fingertips, spread about 2 tablespoons of the mixture up under the skin.

Lay the skin over the mixture then spread the remaining mixture on top of the skin.

Place the trivet in the Instant Pot 6 qt Duo pan.

If the turkey breast has a cavity on the top, place the onion and celery there. If it is open, just place them in the Instant Pot around the turkey breast in the pan. The turkey breast is placed breast side up in the pan and pour in the chicken broth.

Place the lid on the Instant Pot and set valve to "sealing". Press "Pressure Cook" button, then -/+ button to 32 minutes on High Pressure.

It will take about 12 to 20 minutes to come to pressure, cook 32 minutes, then when it beeps, let it release pressure naturally (don't touch sealing valve) for 20 minutes.

If it hasn't release all the pressure, switch to "venting". Carefully open the lid away from your face when floating valve drops.

Preheat an oven broiler. Remove the turkey with two large metal spatulas or spoons. Forks will release all the turkey juices! Place it on a foil-lined baking sheet and broil it 3 to 5 inches from the broiler for 3 to 5 minutes or just until skin in golden brown.

Measure 2 cups of turkey drippings in the Instant Pot pan. Discard any remaining liquid, onion and celery (I actually save them for soup later). Remove the rack.

Combine 1 tablespoon water and cornstarch in a custard dish then pour into turkey drippings. Turn on the "Saute" setting.

Cook the gravy, stirring constantly about 8 minutes or until slightly thickened. Yield: 8 servings.
Notes
Shortcut: 1 teaspoon Mrs. Dash garlic and herb salt-free seasoning can be substituted for paprika and garlic powder.
Instead of combining softened butter and the spices, another easy method is to brush olive oil or vegetable oil on the turkey breast skin and then sprinkle the spices on the oil. Both work well!
Nutrition
Serving:
1
eighth
|
Calories:
314
kcal
Did you make this recipe?
If you love it, share it! Tag me on Instagram @gritsandgouda using #gritsandgouda Comment below before you go!
Nutrition analysis on GritsAndGouda.com recipes are mostly calculated on an online nutrition calculator. I am not a dietitian and nutritional information is an estimate and can vary based on products used.