All the crunchy veggies, crispy bacon and creamy, sweet & tangy dressing you love in homemade Broccoli Cauliflower Salad with easy shortcuts! This small batch recipe starts with a package of pre-cut broccoli and cauliflower florets plus dried cranberries, toasted almonds, and chopped red onion.
It's gluten-free, dairy-free and low-carb. Trade out the sweet and chewy dried cranberries for raisins and leave out the sugar and it's sugar-free. Now, everyone at your gathering can enjoy this crowd-favorite side dish.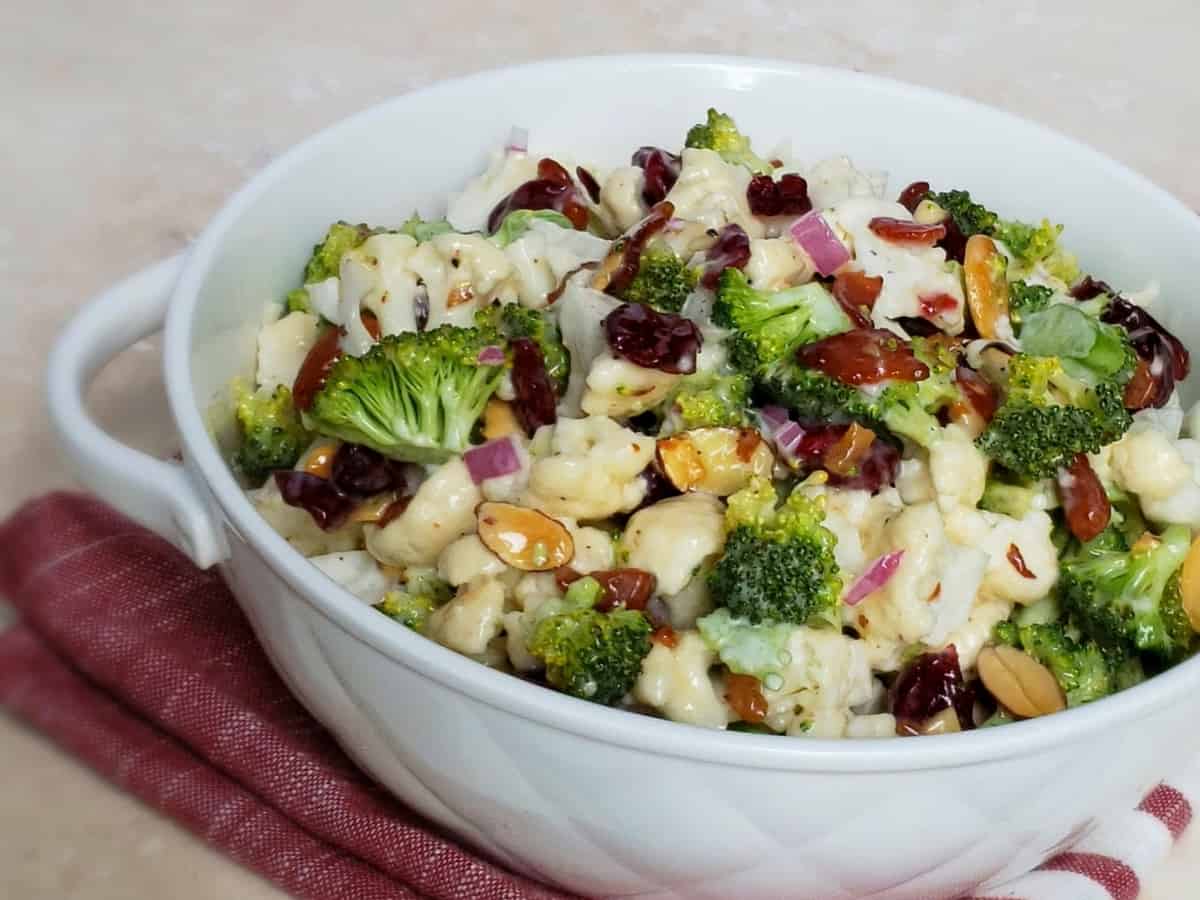 I'm all about making classic Southern recipes and drastically reducing prep or cooking time by giving the recipe a simple and quick shortcut...or two. This recipe is a perfect example!
A version of this marinated salad, Purple Cauliflower & Broccoli Raisin Salad, is what I make every single Thanksgiving and Christmas as a holiday side dish. I usually make it with white cauliflower, though.
In the summer, I serve it with our BBQ pulled pork and at our church potlucks.
Shortcuts
Pre-washed and pre-cut bag of broccoli and cauliflower. No need to buy whole heads of fresh broccoli and cauliflower for this quick & easy, small batch salad and side dish.
You can cook your own bacon in the skillet, oven, or air fryer. Or, use fully cooked bacon pieces (not artificially flavored bacon bits).
This is a small batch recipe compared to most broccoli-cauliflower salads.
Stir together a simple creamy dressing or use bottled, slightly sweet coleslaw-type dressing.
Make ahead tip
The salad ingredients can be combined in one bowl and the dressing in another up to 2 days ahead. This way, you can just stir them together right before serving and everything is still crunchy.
You absolutely can stir it all together the night before and the salad will be fairly crunchy the next day. Leftovers the next day are still delicious but after 2 days (if there's any left) it's past its prime.
Ingredients
Scroll down to printable recipe for ingredient quantities.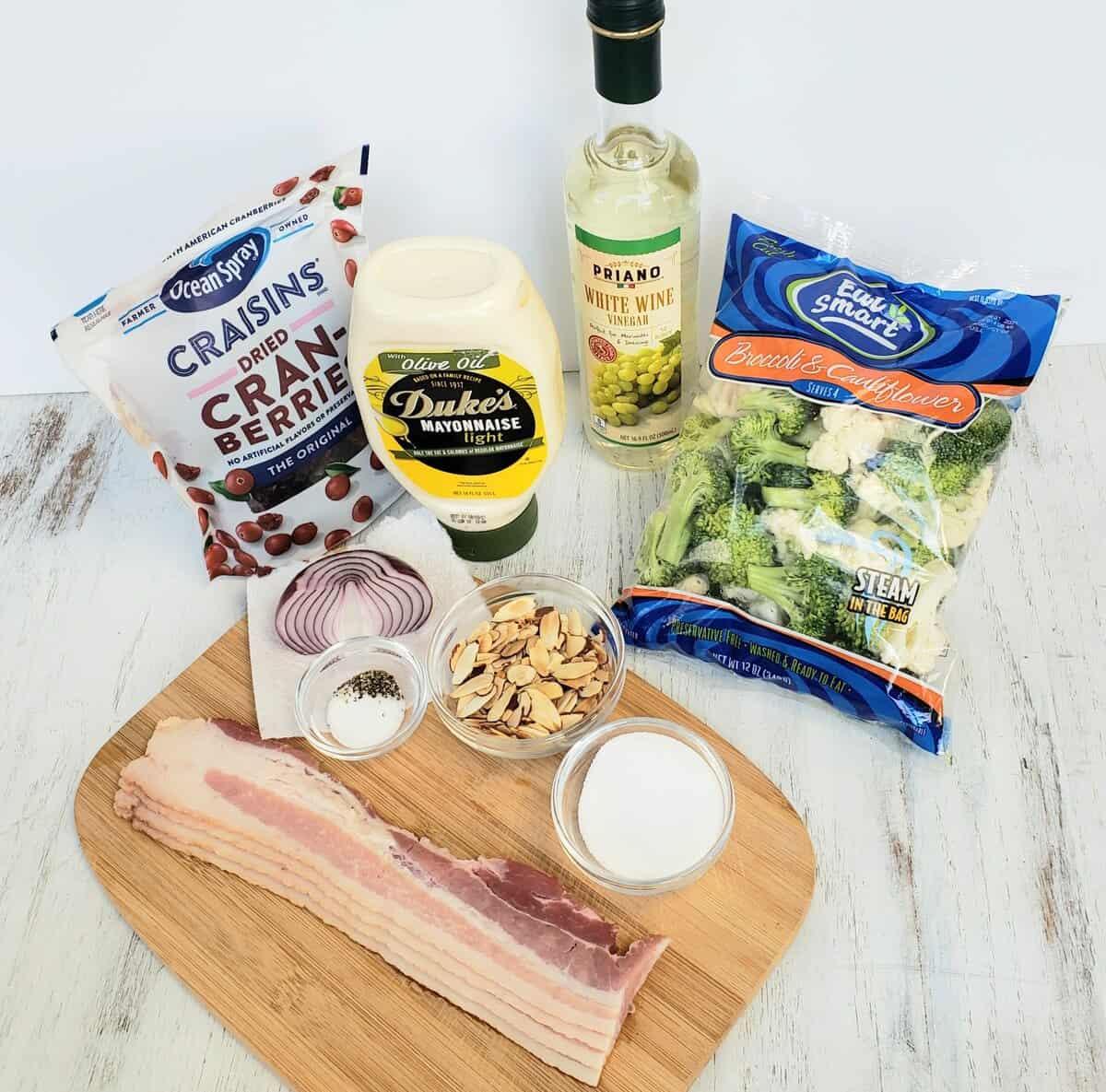 Bacon
Mayonnaise. I used Dukes olive oil light mayonnaise because it cuts a few calories to make it less "heavy" (And it's what I had in my fridge). Feel free to use any mayonnaise.
Sugar
White wine vinegar or apple cider vinegar
Salt
Black pepper
Twelve ounce bag of pre-washed and cut broccoli and cauliflower (Ignore the "steam in bag" directions
Craisins (sweetened dried cranberries)
Sliced or slivered almonds
How to make Shortcut Broccoli Cauliflower Salad
For complete, detailed directions scroll down for the printable recipe.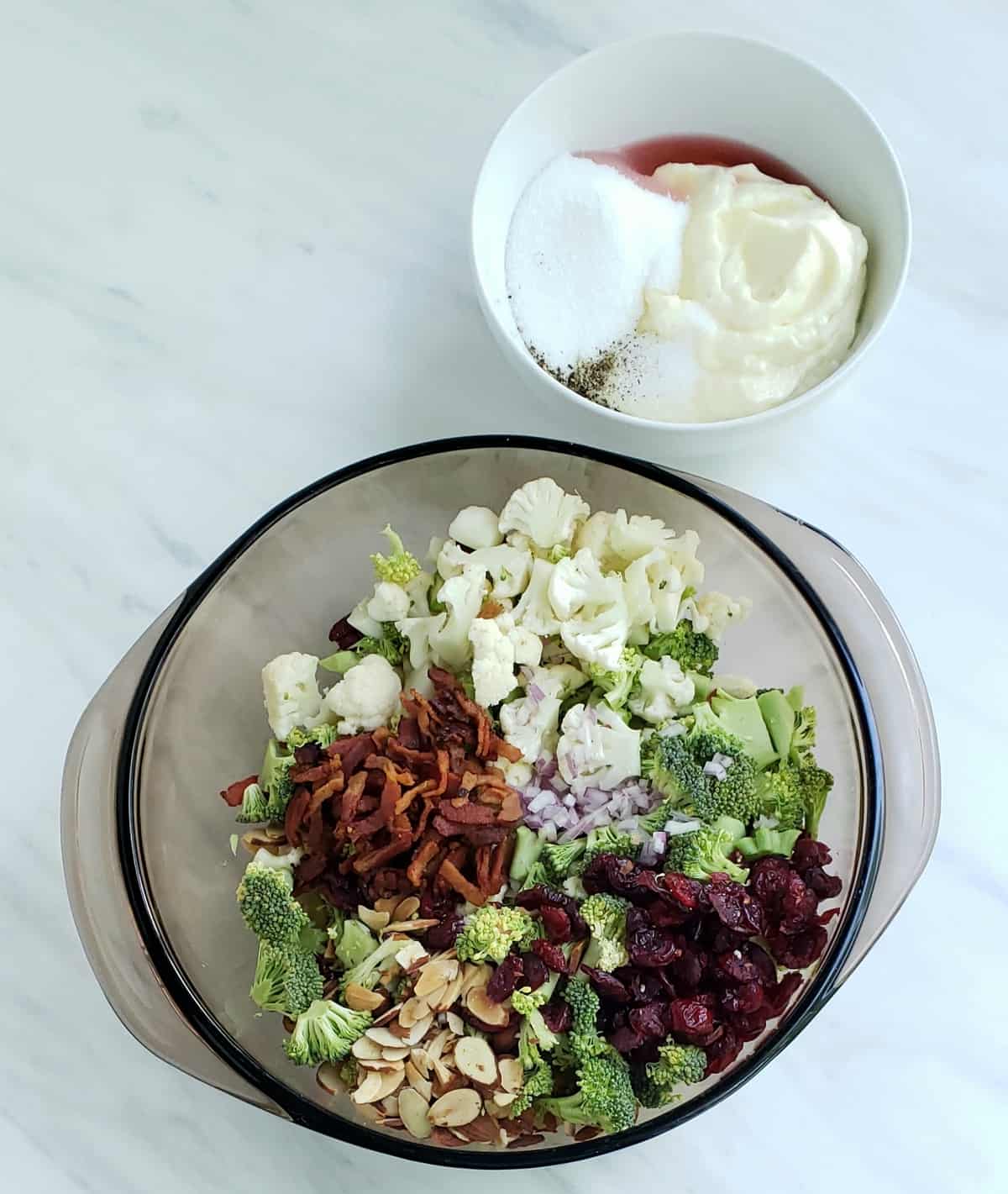 Cook bacon in a skillet, air fryer or oven.
Cut larger pieces of broccoli and cauliflower into small florets.
Toss all salad ingredients together in one bowl.
Stir together all dressing ingredients in a smaller bowl.
When ready to serve, stir in the dressing to coat the broccoli-cauliflower mixture.
Hint: I like to keep the dressing separate from the veggies until right before serving for maximum crunch. It's so fresh tasting this way.
Substitutions & Variations
Get ready for a long list! There are so many ingredients you can trade out to make it lower calorie, even quicker, and use what you have in your fridge and pantry.
Vegetables- Use all broccoli or all cauliflower. Trade out one or the other for halved or quartered Brussels sprouts. Try stirring in carrots, radishes or avocado.
Bacon- Fix it faster by using Hormel fully-cooked bacon pieces. You can crisp these up in the microwave at HIGH for 30 to 45 seconds.
Dried fruit- Dried raisins, golden raisins, chopped apricots, figs, cherries, and cherry flavored dried cranberries. Fresh apple would add a little more sweetness
Nuts- Sunflower seeds, pine nuts, walnuts, peanuts, pecans, pistachios, hazelnuts, and pepitas (pumpkin seeds).
Onion- Vidalia onion, green onions (scallions), chives
Creamy dressing- Instead of the sweetened homemade mayonnaise dressing, a quick fix is sweet coleslaw dressing. It's often found in the refrigerated section of the grocery store.
Add-ins- Cubed or shredded cheese such as Cheddar, Colby-Jack, Swiss, or Gouda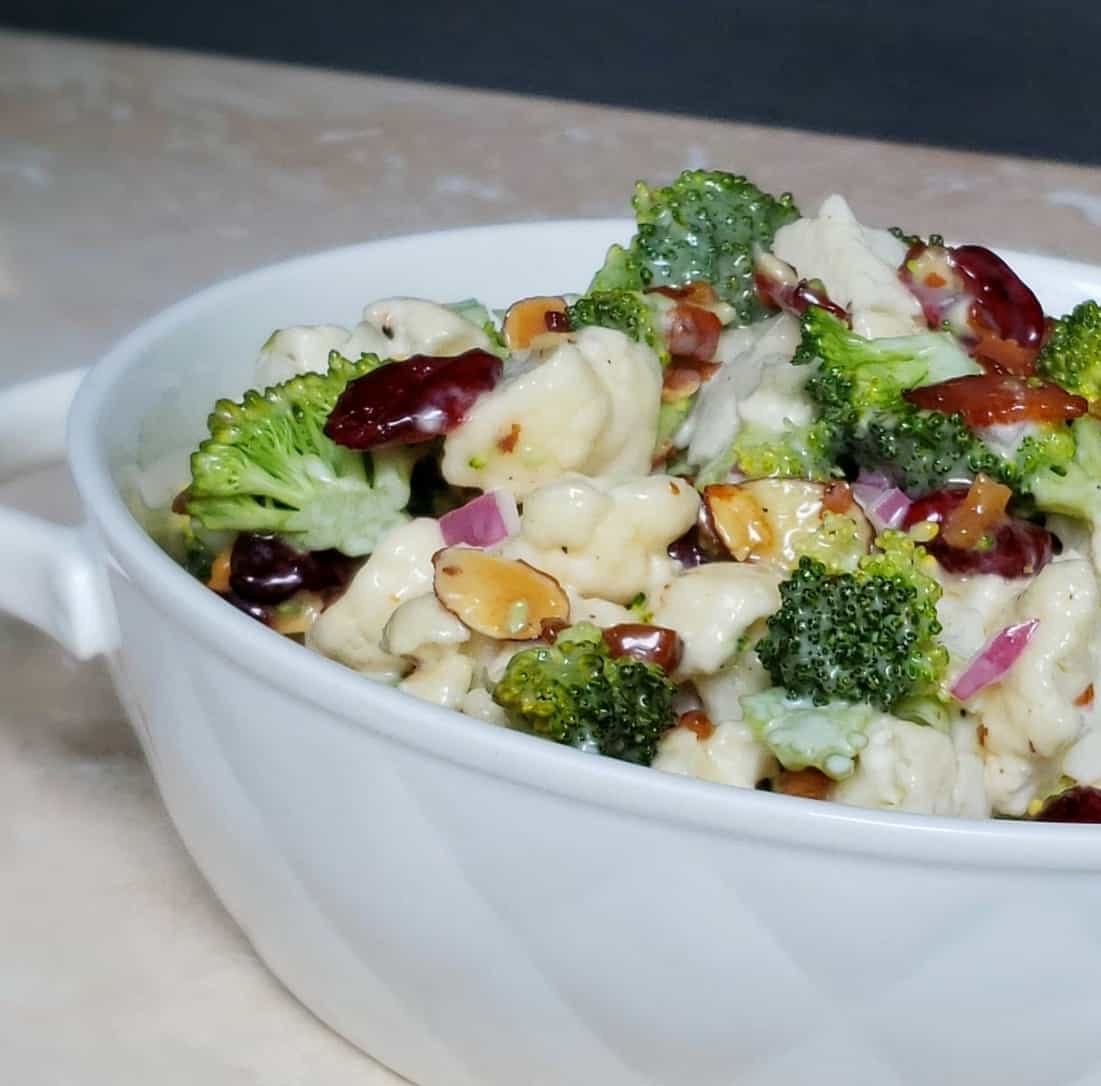 Can I make this recipe sugar-free?
Yes, you can leave out the sugar altogether. Maybe add in a little sugar substitute if your diet can tolerate artificial sweeteners. It will be a little more on the tangy side but still good.
Trade out the cranberries for raisins that are naturally sweet.
Lastly, make sure all your ingredients, including mayonnaise or store-bought dressing, is sugar-free.
Pro tip
Since the dressing is mayonnaise-based, the "creamy" look will go away after several hours and be replaced with a just-as-delicious-looking glossy coating of the salad mixture. If you love the creamy look, toss together right before serving.
Storage
Store in an airtight container and refrigerate up to 3 days or freeze up to 3 months.
Follow me on Facebook, Instagram, and Pinterest. Be social and share, y'all! Don't forget to sign up so you don't miss a single post on my Southern shortcut recipes!
If you make this recipe I'd love to see it! Tag me on social media with #gritsandgouda or @gritsandgouda. Leave a comment below the printable recipe if you have questions or tell me how you liked the recipe. Don't forget to rate it 5 stars if you love it!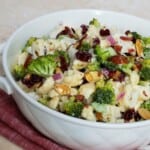 Print Recipe
Purple Cauliflower and Broccoli Salad
Ingredients
3 to 4

slices

bacon

1/2

cup

light or regular mayonnaise

2

tablespoons

sugar

1

tablespoons

white wine vinegar or apple cider vinegar

1/4

teaspoon

salt

1/8

teaspoon

freshly ground black pepper

1

(12-ounce)

package pre-washed and cut broccoli and cauliflower florets

(or 4 cups florets)

1/3

cup

sweetened dried cranberries

(I used Craisins)

1/4

cup

chopped toasted sliced or slivered almonds

1

tablespoon

chopped red onion
Instructions
Slice bacon crosswise on a cutting board into 1/2-inch strips. Cook in a nonstick skillet or cast iron skillet over medium-low heat 6 to 7 minutes or until crisp and brown, stirring occasionally. Drain on paper towels.

While bacon cooks, combine mayo, vinegar, salt, and pepper in a small bowl.

Cut any large broccoli and cauliflower pieces into very small florets and place in a bowl.

Add cooked bacon, cranberries, almonds, and onion in the bowl with broccoli and cauliflower. Pour the creamy dressing mixture over the salad and stir gently until completely coated, if serving immediately or within an hour or two. Store the dressing and vegetable mixture separately if making several days ahead.
Notes
Tip: Instead of cutting bacon on a cutting board with a knife, you can also cut them directly into the skillet with kitchen shears.
Nutrition
Serving:
0.75
cup
|
Calories:
186
kcal