Easy Southern Macaroni Salad is a classic side dish made with elbow macaroni and a creamy, tangy dressing. Although this make-ahead pasta salad is already simple, I give you plenty of shortcuts to make it even easier to serve at summer barbeques, cookouts, potlucks and picnics.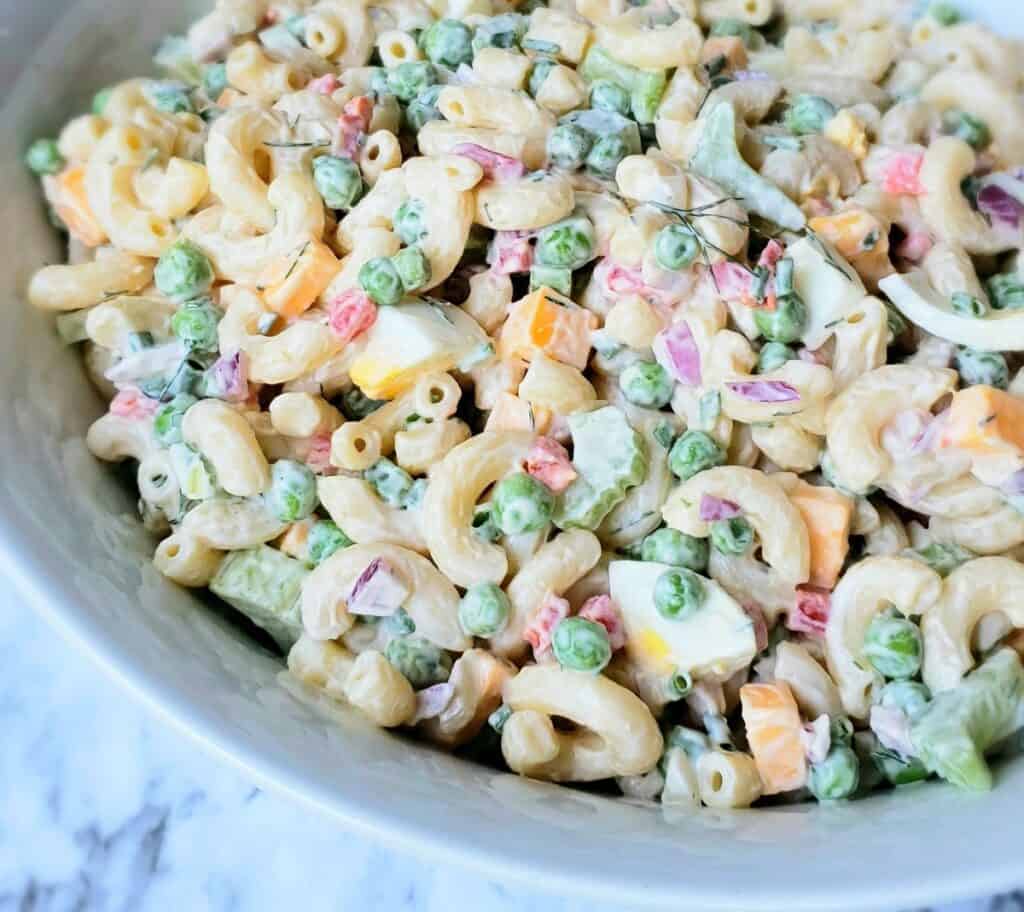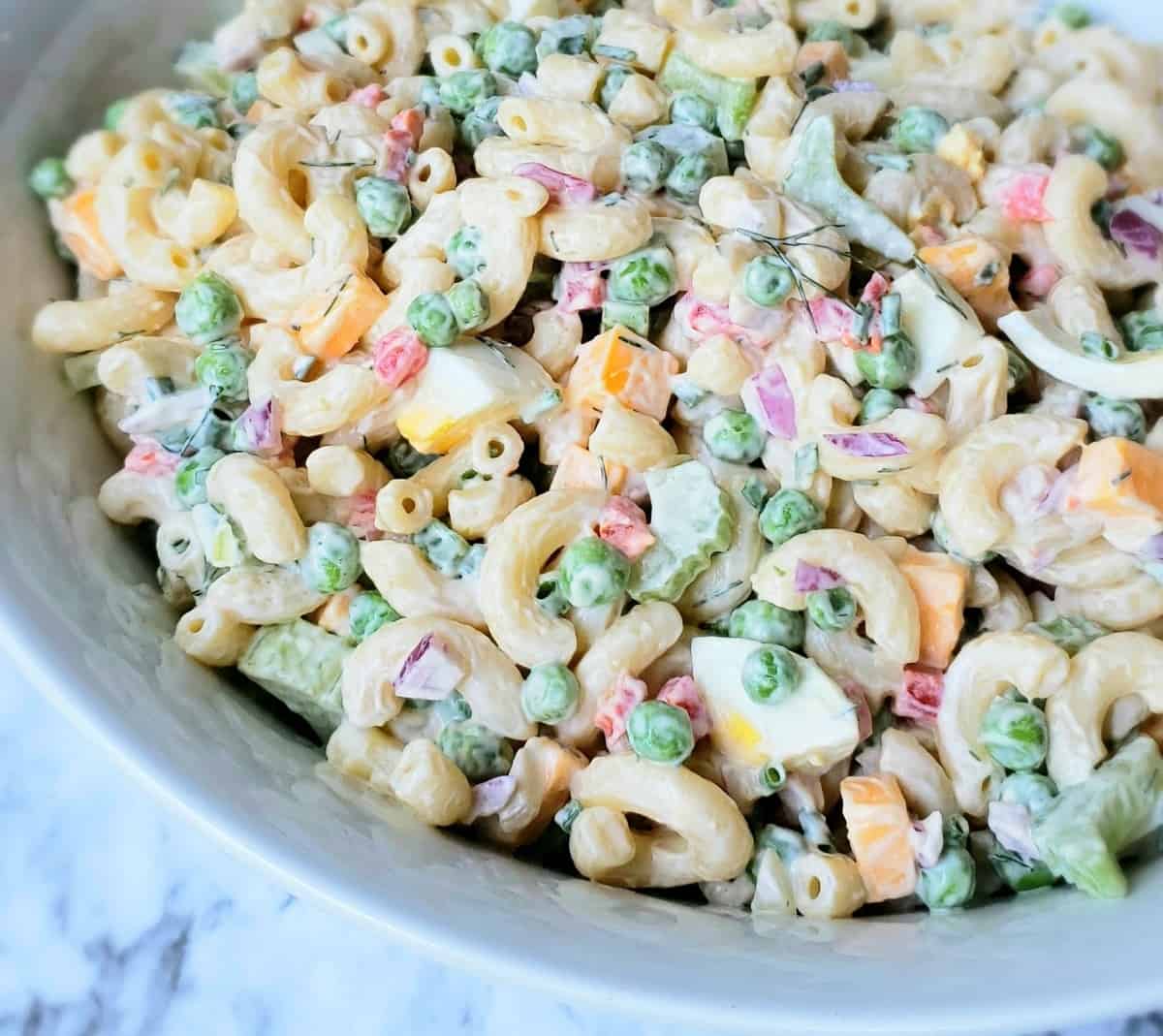 Don't be afraid to make substitutions according to what you have in your fridge and pantry or tailor this simple pasta salad to your own tastes. I have a long list of add-ins below to give you suggestions.
What are the shortcuts?
Many ingredients can be purchased already prepped or cooked such as elbow macaroni, boiled eggs, chopped onion, and cubed cheese.
Cooking the pasta the day before is a make ahead step which results in a shortcut the day you make it.
If you're boiling the elbow macaroni instead of using the package of ready pasta, I show you a tip that quick-thaws the frozen peas.
How to make Easy Southern Macaroni Salad
Scroll down to the bottom of this post for the detailed, printable recipe. Pictures below will help guide you as you read the recipe.
Prepare uncooked elbow macaroni according to package directions in salted water; drain and chill. Pro Tip: Make it ahead of time coated with 2 teaspoons vegetable or olive oil and keep in fridge up to 3 days before making the salad.
Optionally, microwave Barilla ready past, fully-cooked elbow macaroni to save even more time. Note: The pasta yield will be slightly less than cooking your own.
Chop ingredients including boiled eggs (I cook mine in the Instant Pot) and stir together in a large bowl.
Combine mayonnaise and mustard, salt and pepper and stir into the macaroni salad until all ingredients are well coated.
Cover and chill at least 1 hour for the flavors to meld and allow the salad to get good and cold.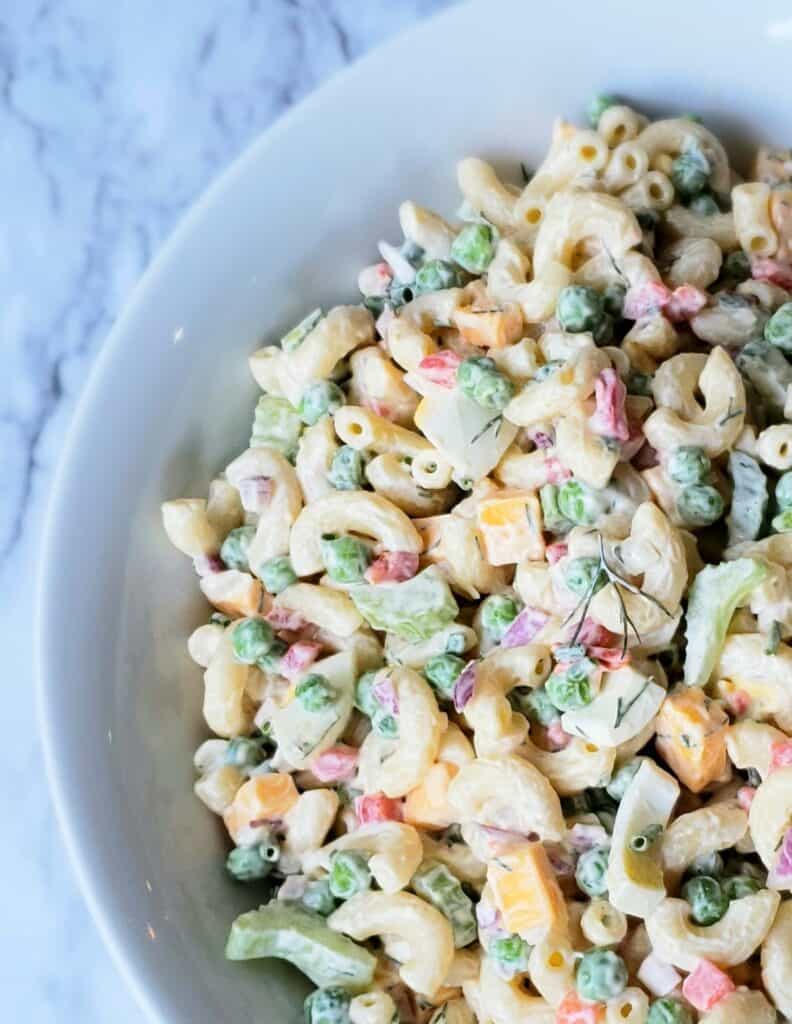 Creamy, colorful pasta salad with a crunch is how I would describe this old-fashioned classic side dish. This cool salad is perfect to serve alongside my Grilled Venison Burgers on a hot summer day.
I grew up eating a similar version of this macaroni salad and have fond memories of watching my mom make her own mayonnaise to stir in.
I like to make it as colorful as possible because we eat with our eyes, first, right? So, I use frozen English peas instead of canned, purple onion instead of white or yellow onion, and add fresh red bell pepper.
I'd love to hear in the comments below what you like to add to your own macaroni salad.
Substitutions and Add-Ins
Any similar shape and size pasta can be traded out for elbow macaroni such as ditalini, shells, and cavatapi.
Instead of red bell pepper, try yellow or green. Also, jalapeno pepper will add a little kick of flavor. A jar of diced pimiento pepper is a nice pantry item to add.
While Cheddar cheese is traditional, Monterey Jack, Pepper Jack, Colby Jack, Gouda, and American cheese can be substituted.
Don't like fresh dill? Add parsley... or not! You can leave it out.
Not a fan of English peas? Give your salad an antioxidant boost by stirring in edamame. Don't have frozen green peas? Canned peas will work in a pinch.
Looking to reduce a few calories? Use light or olive oil mayonnaise and 2% Cheddar cheese.
The Hawaiian version of Macaroni Salad is sweeter and always has shredded carrot.
Other popular American version add-ins are dill pickle relish, sweet pickle relish, green onion, sugar, sweet onion, celery seeds, crushed red pepper, tuna, chopped ham, yellow mustard, pickle juice, apple cider or red wine vinegar.
Can I double this recipe to make for a crowd?
Yes! Double or triple this macaroni salad recipe to suit the crowd size at your get-together. You really can't mess up this recipe because it's not like baking a cake. You can a little more or less of most any of the ingredients (except the dressing ingredients) and it will still turn out tasting yummy.
How long can macaroni salad sit out?
Macaroni salad can sit out at room temperature no longer than 2 hours according to the FDA. If the air temperature is above 90F degrees, it can only sit out for 1 hour.
How long will it last in the refrigerator?
Easy Southern Macaroni Salad will last in the fridge for up to 5 days. That gives you plenty of time to make it in advance when you have time plus time to savor the leftovers after your guests have left the party.
More summer side dishes you will love
Tomato-Basil and Vidalia Onion Salad
Sour Cream and Green Onion Potato Salad with Bacon
Purple Cauliflower and Broccoli Raisin Salad
Oven-Fried Okra (Air Fryer Option)
Follow me on Facebook, Instagram, Pinterest and YouTube. Be social and share, y'all! Don't forget to sign up with your email so you don't miss a single post on my Southern shortcut recipes!
If you make this recipe I'd love to see it! Tag me on social media with #gritsandgouda or @gritsandgouda. Leave a comment below the printable recipe if you have questions or tell me how you liked the recipe. Don't forget to give the recipe a rating of 5 stars if you love it!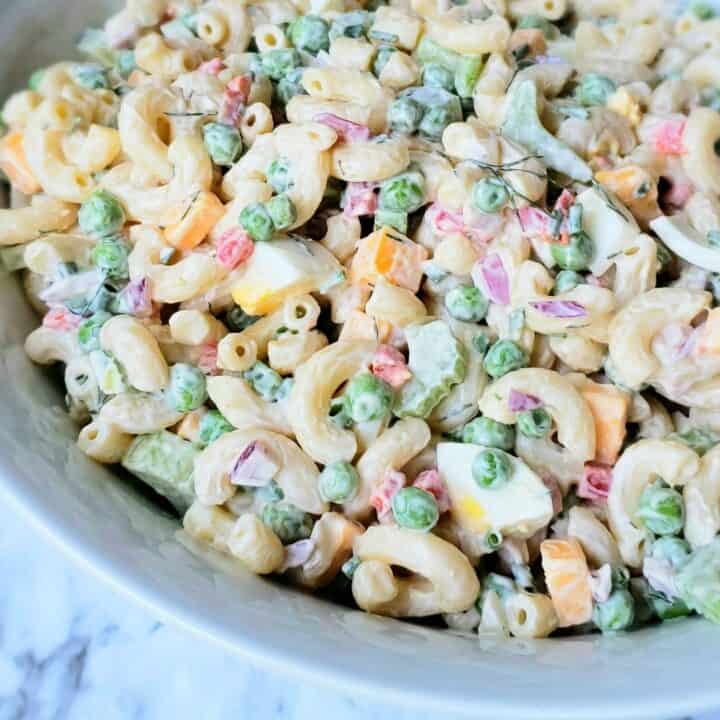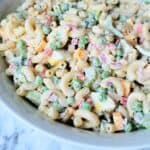 Print Recipe
Easy Southern Macaroni Salad | With Shortcuts
Easy Southern Macaroni Salad is a classic side dish made with elbow macaroni and a creamy, tangy dressing. Although this make-ahead pasta salad is already simple, I give you plenty of shortcuts to make it even easier to serve at summer barbeques, cookouts, potlucks and picnics.
Ingredients
1

8.5 ounce

package fully cooked, Barilla ready pasta-Elbows*

(or 8 ounces uncooked elbow macaroni cooked according to package directions)

1/2

cup

frozen baby English peas, thawed

(See notes for thawing tip)

3

ounces

cubed Cheddar cheese

2

large

boiled eggs, chopped

1/2

cup

chopped celery

1/3

cup

chopped red bell pepper

1/4

cup

chopped purple or sweet onion

1

tablespoon

chopped fresh dill or parsley (optional)
Tangy Dressing
1/2

cup

mayonnaise

1

tablespoon

Dijon mustard

1/2

teaspoons

salt

1/8

teaspoon

pepper
Instructions
Cook elbow macaroni according to package directions whether you choose the Barilla ready pasta or uncooked macaroni. Be sure to drain the macaroni well if choosing to boil uncooked pasta.

Let the pasta cool while chopping the salad ingredients. See my quick-chill tip in Notes.

Combine the remaining salad ingredients in a large bowl.

Stir together Tangy Dressing ingredients in a small bowl.

When the pasta is cool to the touch, add it to the salad ingredients and stir well. Stir in Tangy Dressing and stir gently until everything is coated.

Cover and let chill 1 hour to let the flavors meld and get the salad nice and cold before serving.
Notes
*Technically, you don't have to cook the Barilla ready pasta at all but I think that 1 minute of steaming in the microwave helps to soften the pasta a bit more than straight out of the bag.
To quick-chill the cooked pasta, spread it out on a small baking sheet and place in the fridge for 5 to 10 minutes.
Pro Tip: To quickly thaw English peas, toss them in the boiling pasta water right before you pour it out to drain the pasta. This can be done if you choose to boil uncooked pasta.
This macaroni salad is easily doubled for a larger crowd.
Nutrition
Did you make this recipe?
If you love it, share it! Tag me on Instagram @gritsandgouda using #gritsandgouda Comment below before you go!
Nutrition analysis on GritsAndGouda.com recipes are mostly calculated on an online nutrition calculator. I am not a dietitian and nutritional information is an estimate and can vary based on products used.