This Tomato-Basil and Vidalia Onion Salad recipe pairs the combination of grape tomatoes and basil with Georgia sweet onions. It's marinated in store-bought Italian salad dressing for a quick and easy summer side dish.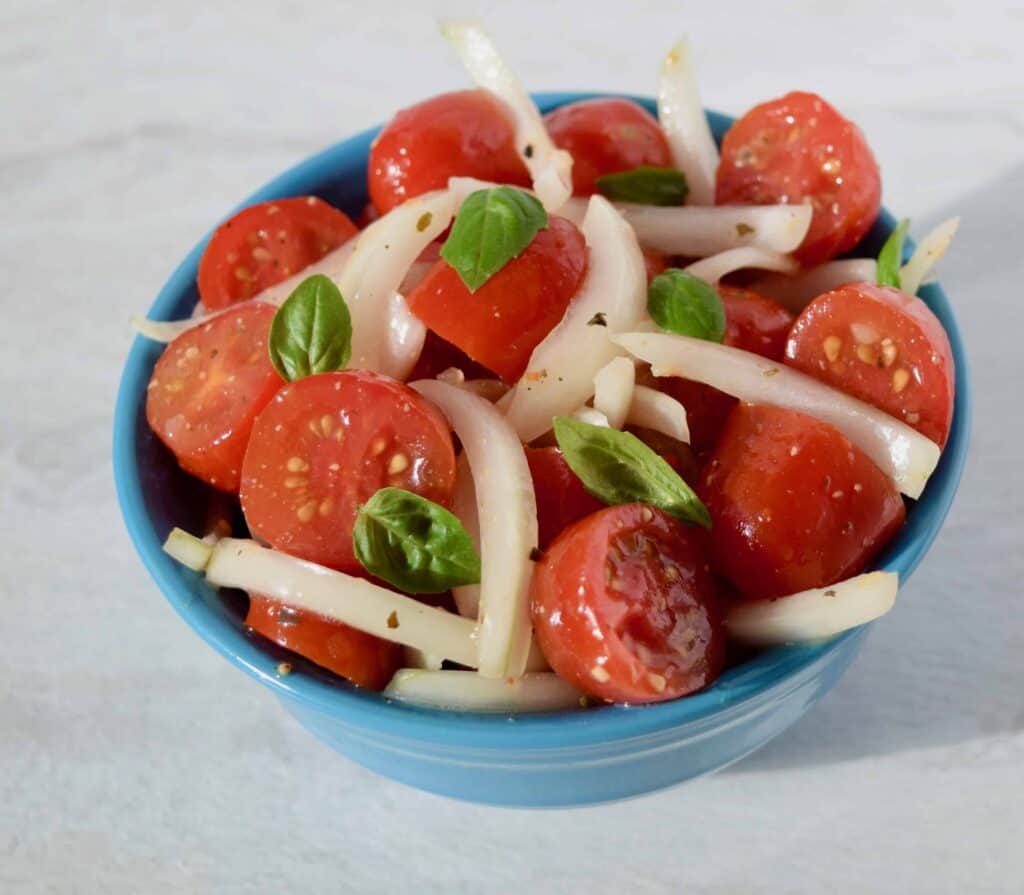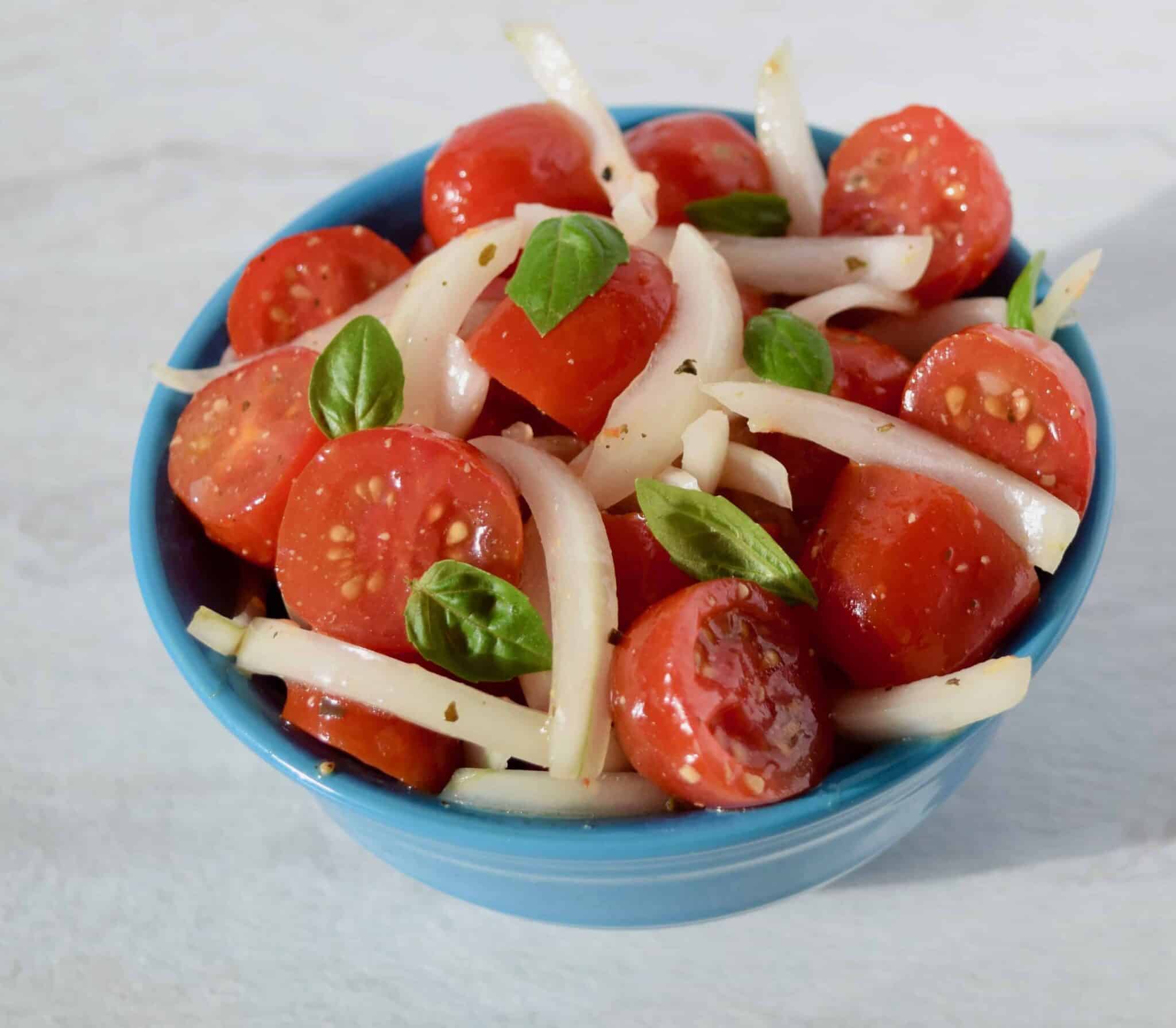 The buying season for Georgia-grown Vidalias is typically from April to June. Only 20 counties in southern Georgia are sanctioned to grow these sweet onions. The mild winters, lots of rain, and low sulfuric acid in the soil make them uniquely sweet.
In the summer, I pick the grape tomatoes and basil from my garden. During the other months, grape or cherry tomatoes are plentiful in the stores.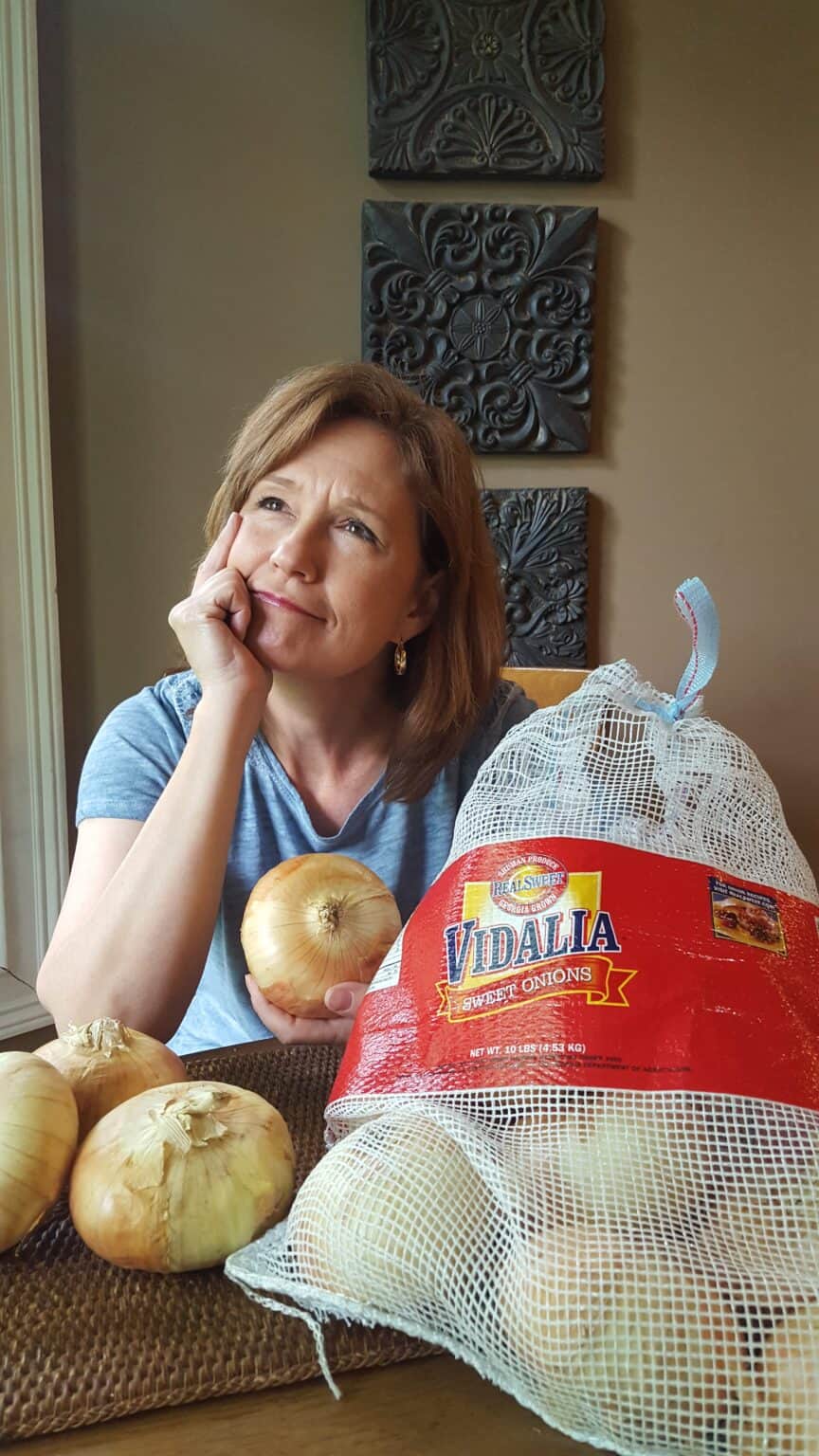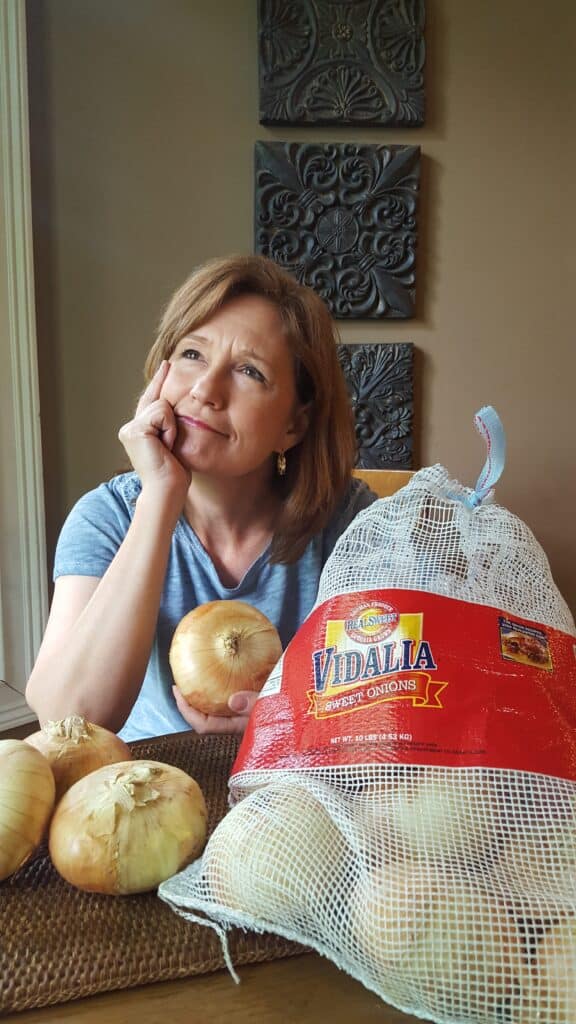 We Southerners know that once the Georgia Department of Agriculture sets the date for the first day of shipping these babies, we start watching for them in the stores!
Or, your husband brings home a 10 lb bag from the Civitans fundraiser!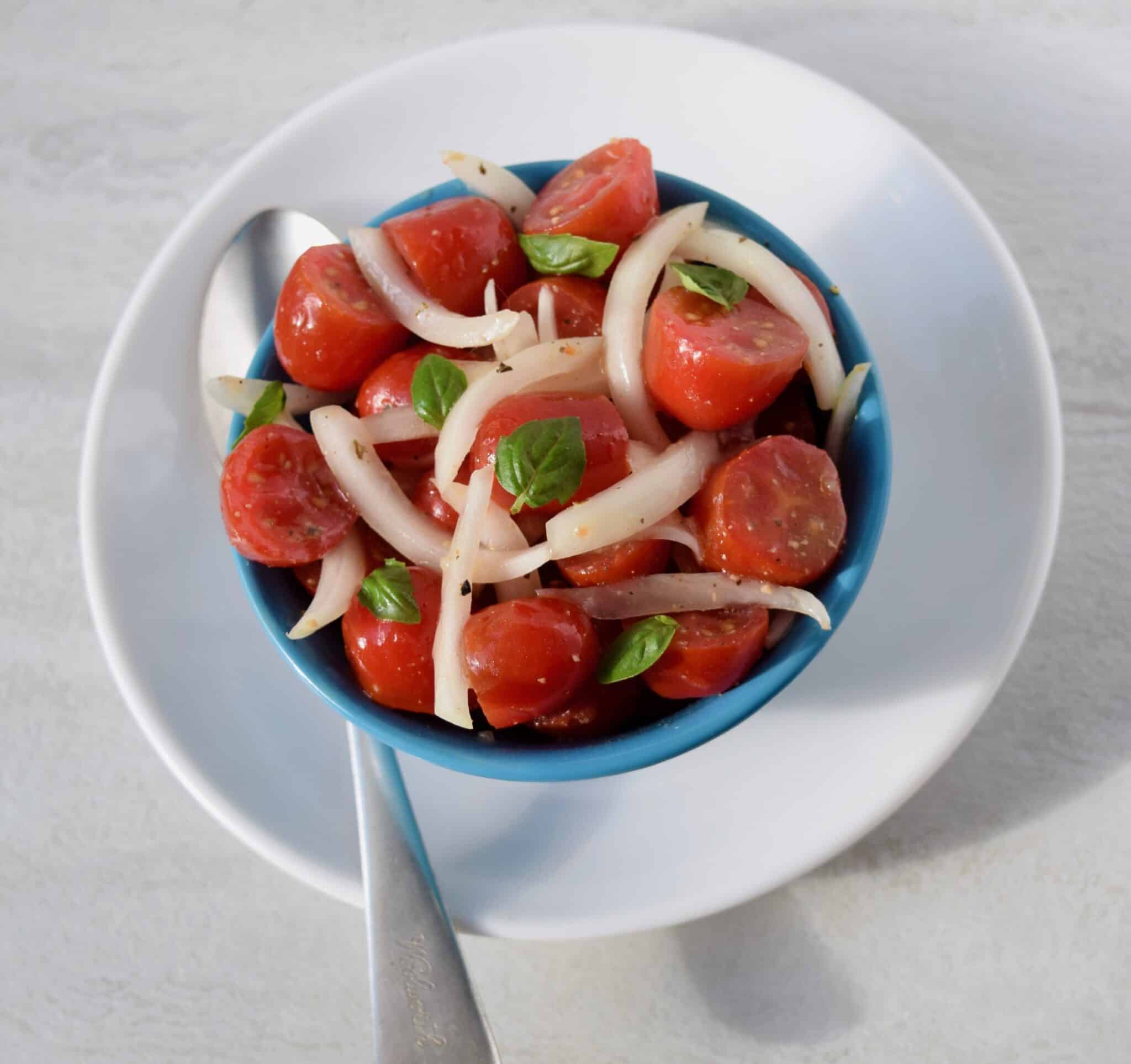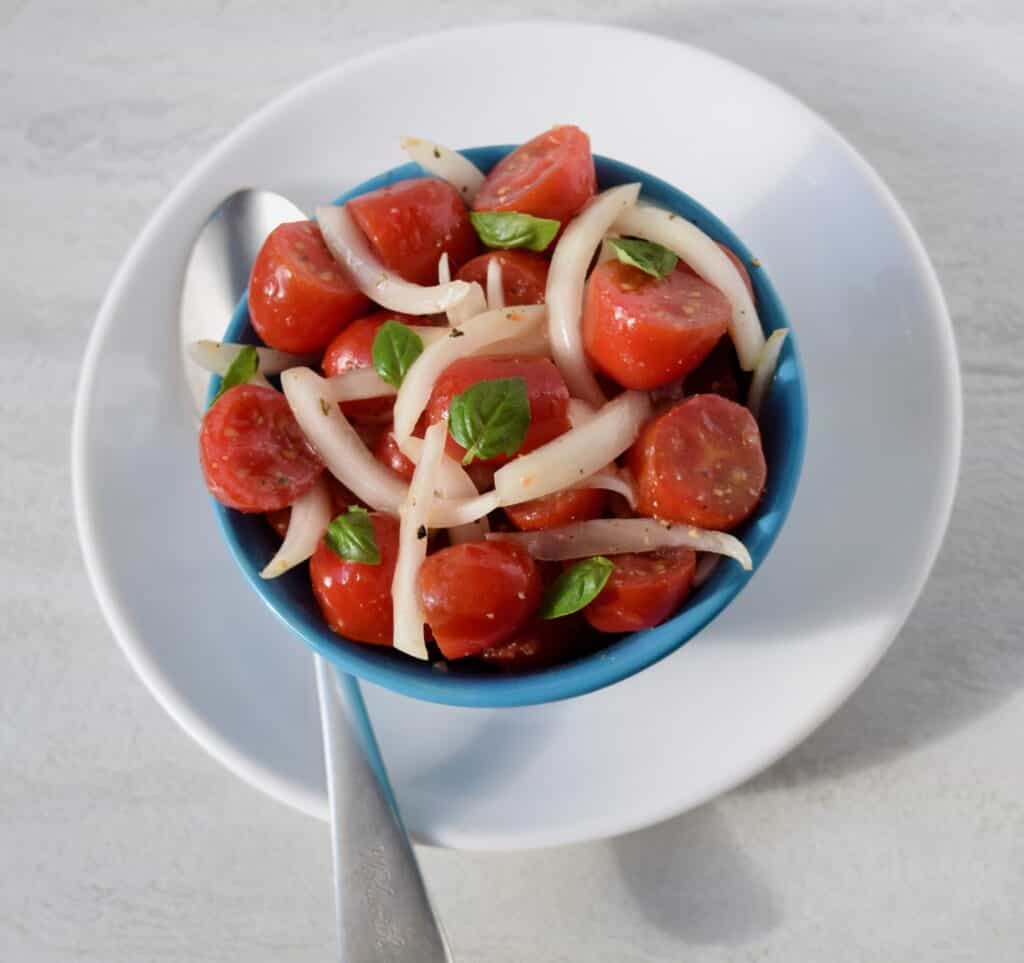 This is one of those super simple recipes you will want to make several times this summer before the Vidalia onion season comes and goes.
How can I serve this salad?
I make it as a side salad, pile it on a hamburger, or top a summer chopped salad with it.
Is it easy to make?
It's as simple as cutting grape tomatoes in half and cutting a Vidalia onion into slivers and marinating it in your favorite Italian or balsamic bottled salad dressing, then tossing in some fragrant tiny basil leaves. That's it!
Can I use another salad dressing?
Yes. For the salad in this picture, I used Ken's Steak House Lite Northern Italian with Basil & Romano Dressing & Marinade.
Another good choice is a Greek salad dressing and toss in some feta cheese and olives.
Pro Tip:
I'm partial to the flavor of a balsamic vinaigrette adds to the salad, but keep in mind it will discolor the tomatoes and onion.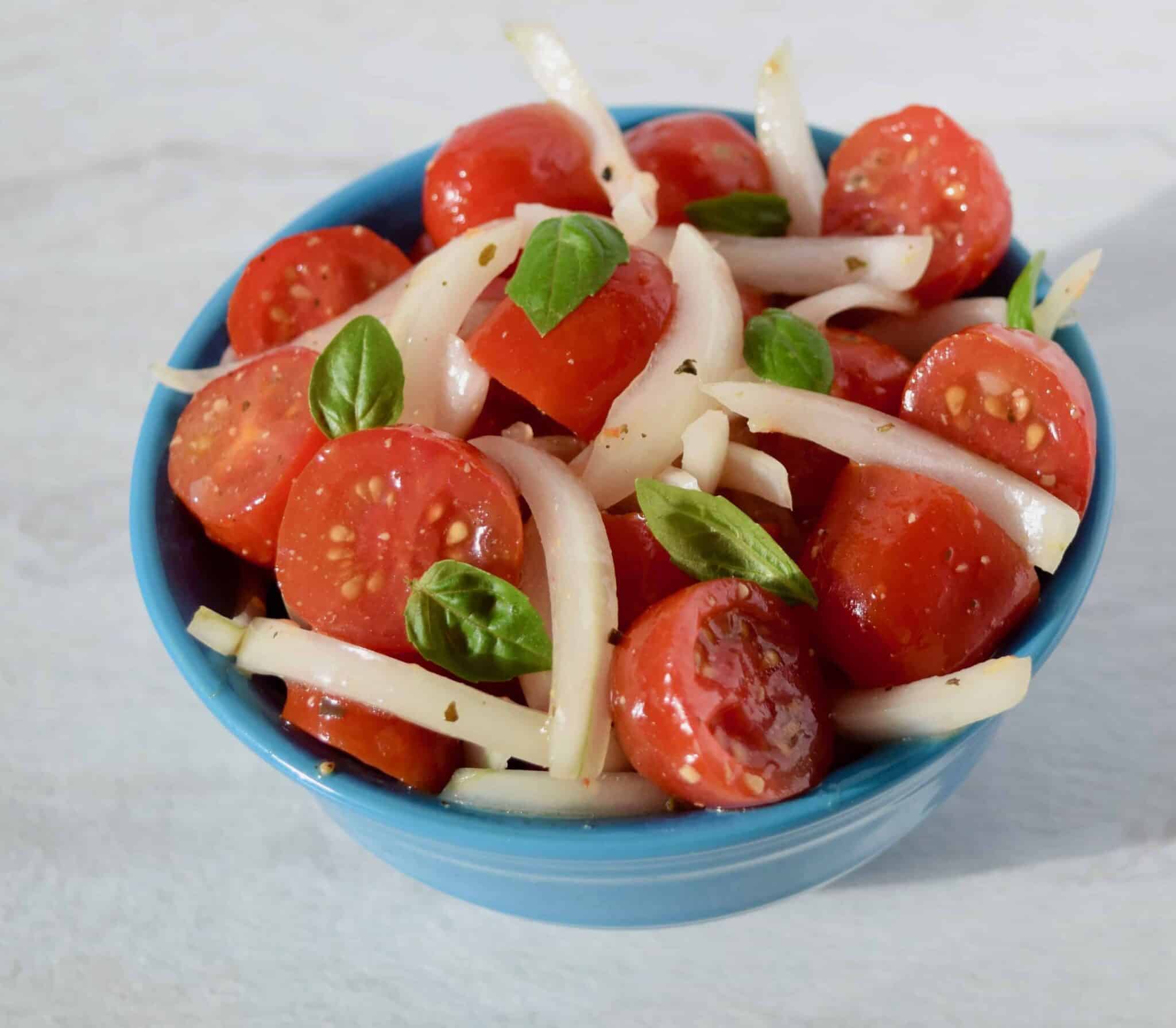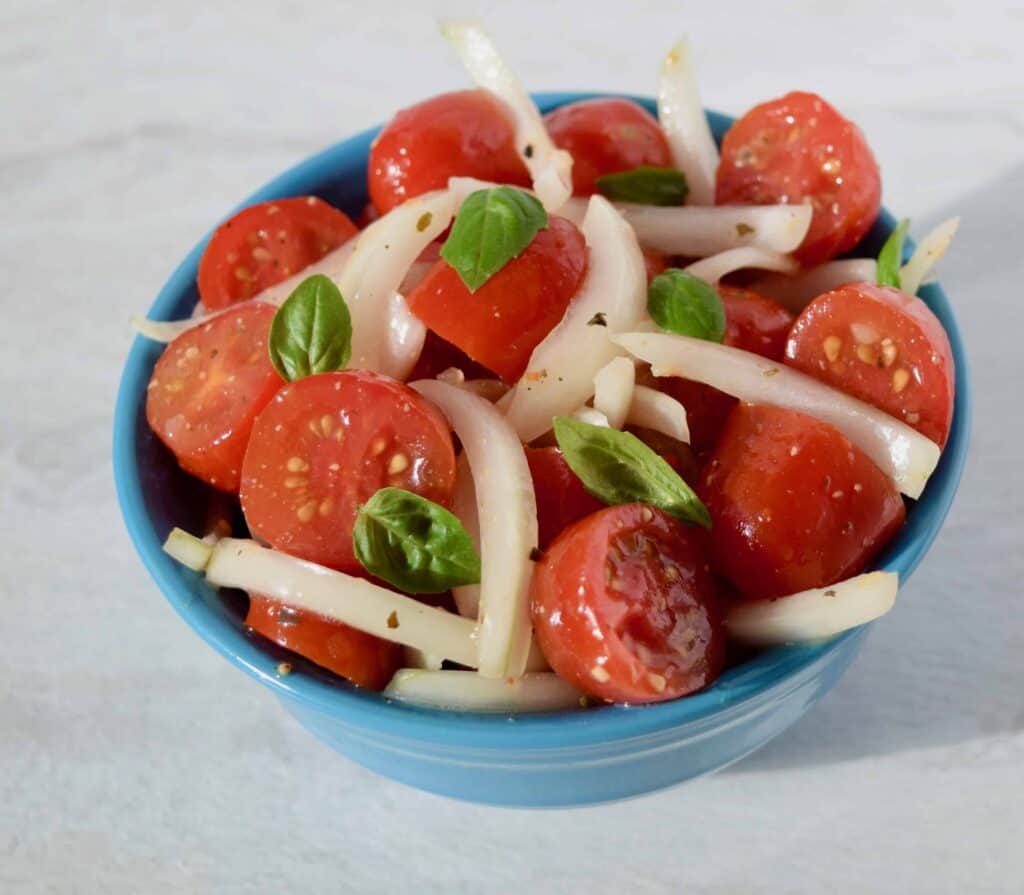 The flavors blend best when the salad marinates at least a few hours but mighty tasty when you just toss together and serve immediately.
Other shortcut salads you will love
Tri Color Quinoa and Tomato-Corn Salad
Sour Cream and Green Onion Potato Salad with Bacon
Purple Cauliflower and Broccoli Raisin Salad
Follow me on Facebook, Instagram, Pinterest and YouTube. Be social and share, y'all! Don't forget to sign up with your email so you don't miss a single post on my Southern shortcut recipes!
If you make this recipe I'd love to see it! Tag me on social media with #gritsandgouda or @gritsandgouda. Leave a comment below the printable recipe if you have questions or tell me how you liked the recipe. Don't forget to give the recipe a rating of 5 stars if you love it!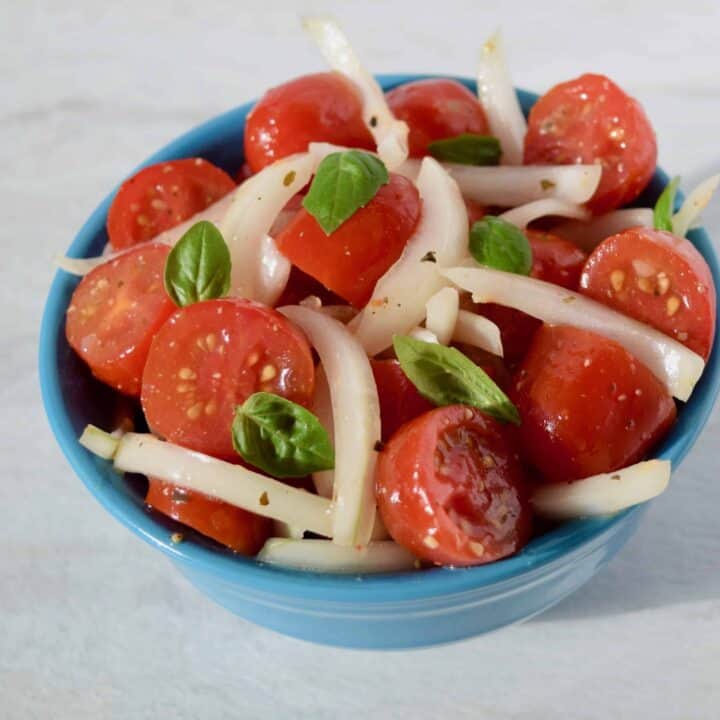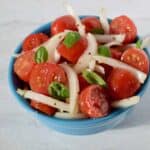 Print Recipe
Tomato-Basil Vidalia Onion Salad
The shortcut in Tomato-Basil Vidalia Onion Salad is using bottled salad dressing. The flavors blend best when the salad can marinate in the fridge a few hours.
Ingredients
1

10 oz

container grape tomatoes

(about 2 1/2 cups)

1/2

of one

small Vidalia onion

1/2

cup

good quality Italian salad dressing

(such as Ken's Steak House Lite Northern Italian with Basil and Romano)

2

tablespoons

tiny basil leaves or chopped basil
Instructions
Wash tomatoes and cut in half.

Cut onion into slivers by cutting vertically from top to bottom.

In a medium bowl, toss together tomato, onion, and salad dressing. Cover and marinate in the refrigerator at least 2 hours or overnight.
Notes
The basil can be added before marinating but be aware the basil may turn dark.
Nutrition
Did you make this recipe?
If you love it, share it! Tag me on Instagram @gritsandgouda using #gritsandgouda Comment below before you go!