I could eat this easy Tri Color Quinoa Salad for breakfast, lunch and dinner! Protein packed and loaded with veggies! You can literally make it up as you go through your fridge and pantry and have a different salad bowl each time. Feta. Chick peas. Hard cooked eggs. Roasted corn. Leftovers. Tomatoes or whatever you have in your fridge.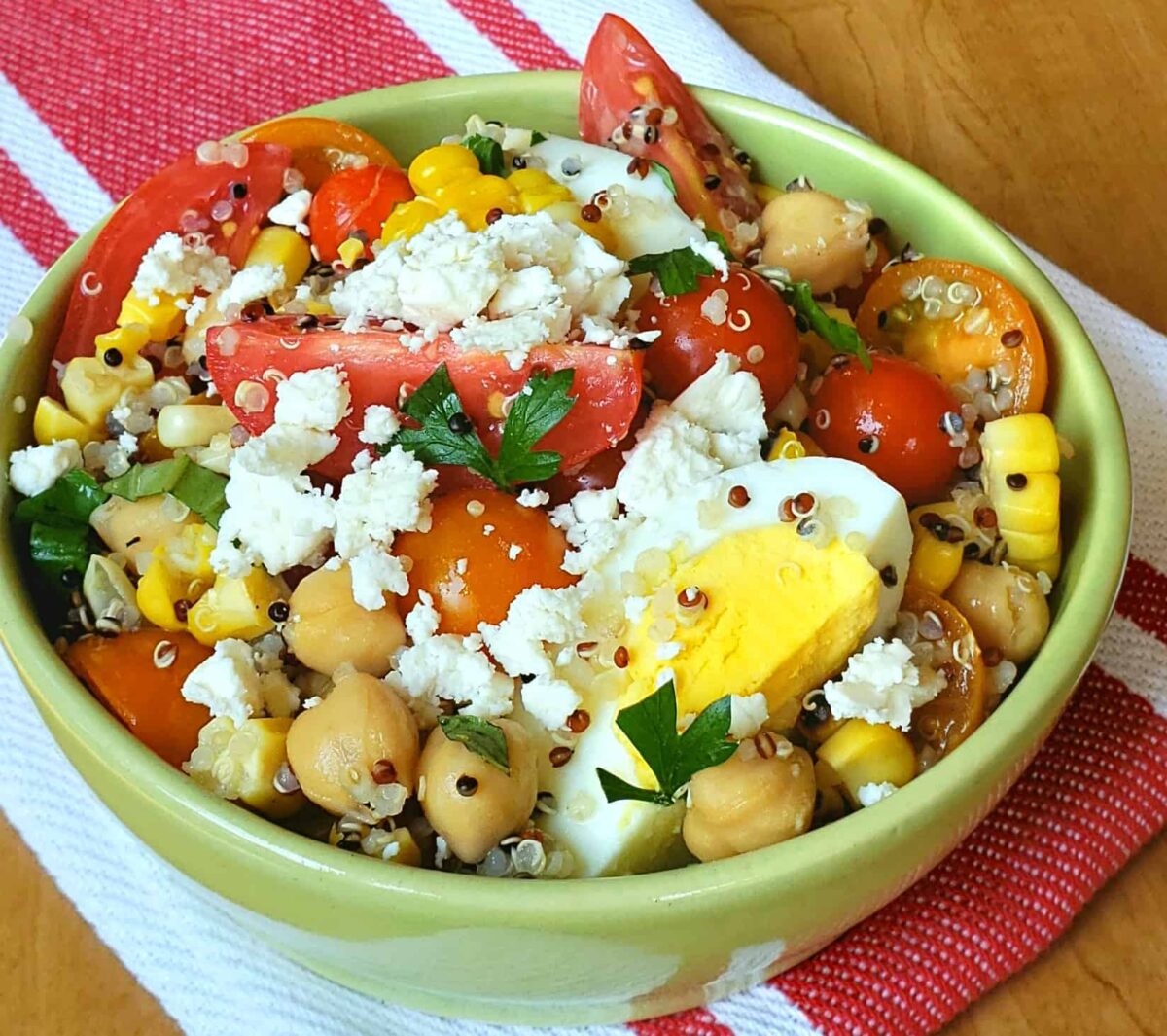 What's the shortcut?
Start with the shortcut ingredient, boil-in-bag tri color quinoa, and the rest of the salad is determined by what's in your fridge and pantry. No two of my quinoa or brown rice salads are the same.
One of my favorite lunches to make while working from home or to pack in lunchbox containers starts with quinoa or brown rice.
Of course, I'm going to start with a shortcut and that either means Success Rice's boil-in-bag tri-color quinoa or leftover brown or white rice.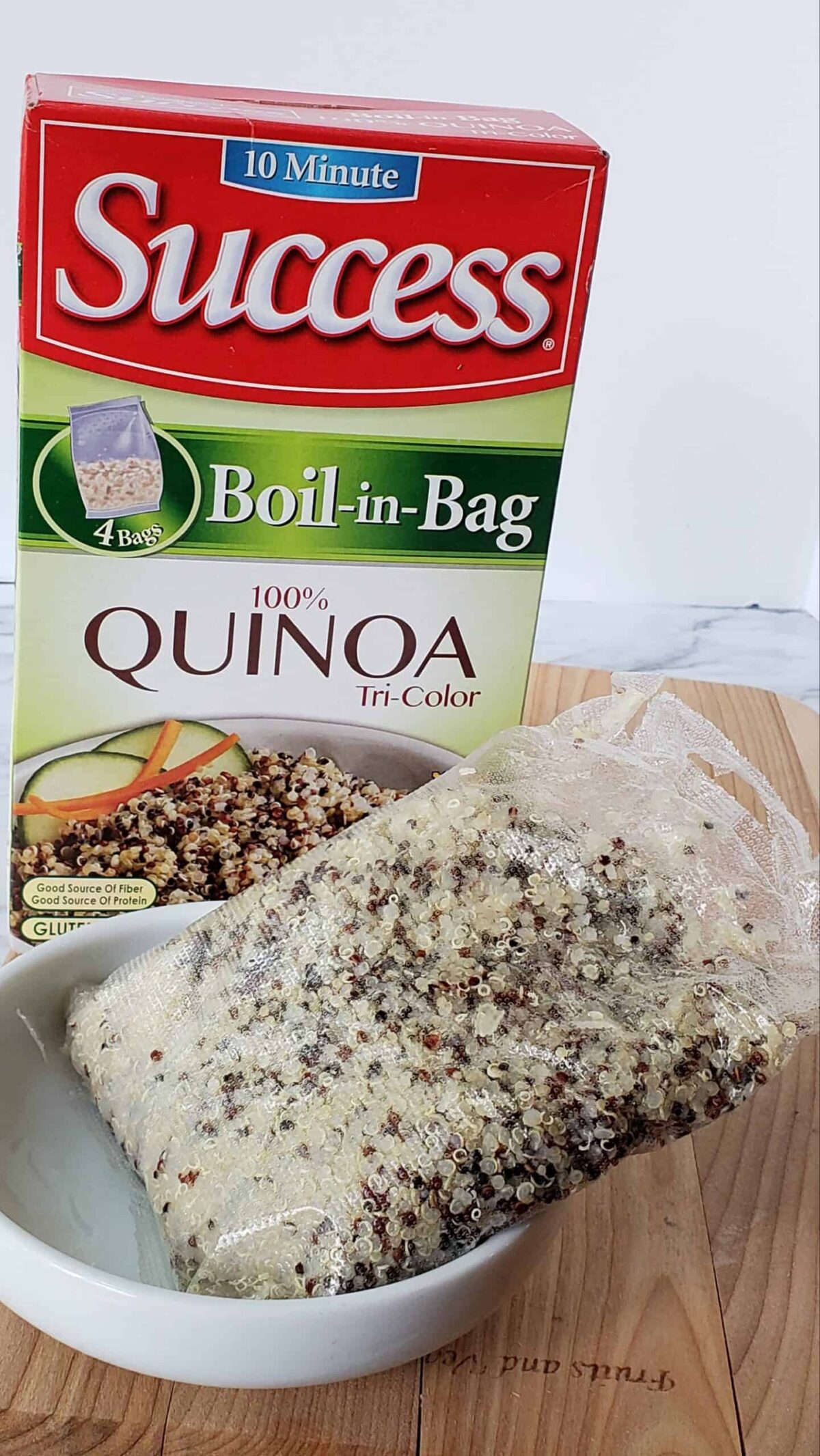 Use leftovers or what's in your fridge or pantry
Once I had my quinoa in the microwave (yep, even quicker), I headed to the fridge to see what treasures I could find. Fresh eggs from my friend in Gardendale. Score!
She said she had 27 chickens. I'm so jealous. I wonder if my neighborhood association would notice a few "bok boks" behind my house? Nah....
Growing up in Evening Shade, Arkansas, my chore was to feed our chickens. Now I have rooster PTSD issues after being chased up a gas tank by a Dominicker rooster with spurs 3 inches long!
(I never could remember what they were called as a child so I called them Black 'n Decker chickens.) I still love eggs, though!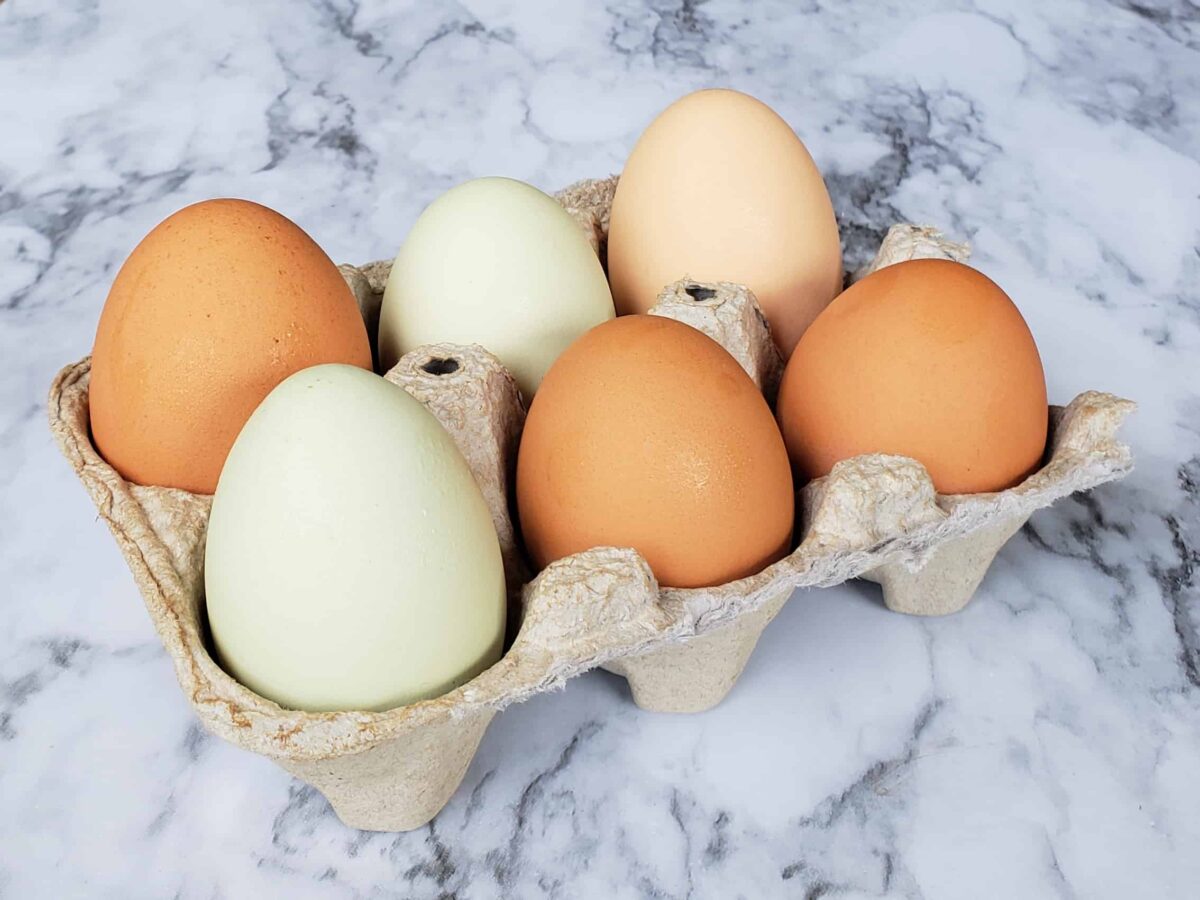 Once you've made hard cooked eggs in the Instant Pot, you will never boil them again. When you peel them, the shell literally rolls off the egg from top to bottom.
Find out how to hard cook or "boil" eggs in an Instant Pot here. It's really steaming them but I still call them "boiled" eggs.
Next, I spot 2 grilled ears of corn from our Thursday night taco dinner. Using a serrated knife (It tends to grip the corn kernels better) Hold each ear of corn firmly in the mixing bowl and cut off the kernels right in the bowl. One cup frozen and canned corn also works!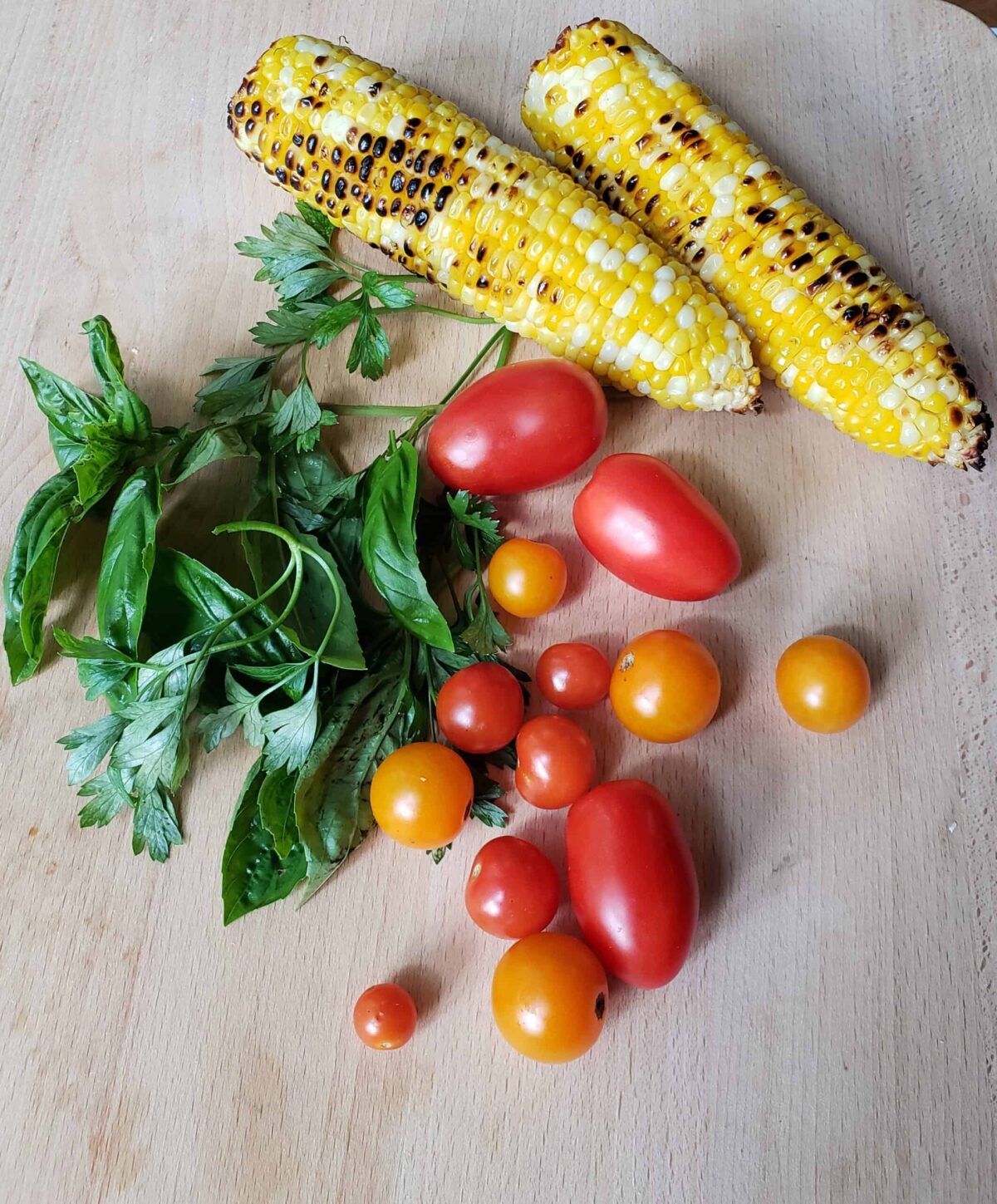 I'm off to my garden. My 15 foot by 6 foot little patch of earth is nothing compared to my mom's vast, organic garden that seemed to produce endless rows of English peas, potatoes, green beans, tomatoes of all kinds, lettuces, horseradish, and cucumbers. And that's just what comes to my mind first.
But, I am thrilled with my daily humble harvests. I claim the little round tomatoes, basil, and parsley but the baby Roma tomatoes came from my favorite Gardendale produce market.
Ok, so by now my quinoa is cooked and drained. The eggs are chilling in a bowl of ice water so I see what I might want to add from my pantry.
Use what you have in your fridge or pantry to make a similar salad
Notice I'm not running to the store for anything. If I didn't buy it on sale this week, already have it in my pantry or left over from earlier in the week, it's not going in the bowl.
I want to encourage everyone to buy what's on sale because what's on sale is what's in season.
Am I the only one obsessed with chick peas aka garbanzo beans? I seriously can eat them straight out of the can.
So, I'm munching on them as I try to decide between my 8 different bottles of salad dressing (at least 8) in the fridge.
The winner today is a creamy Greek herb dressing. It was a BOGO at Publix a week or two ago so I had to try it.
So, that meant I must have feta cheese, right? I never need an excuse to add feta to anything. Love it!.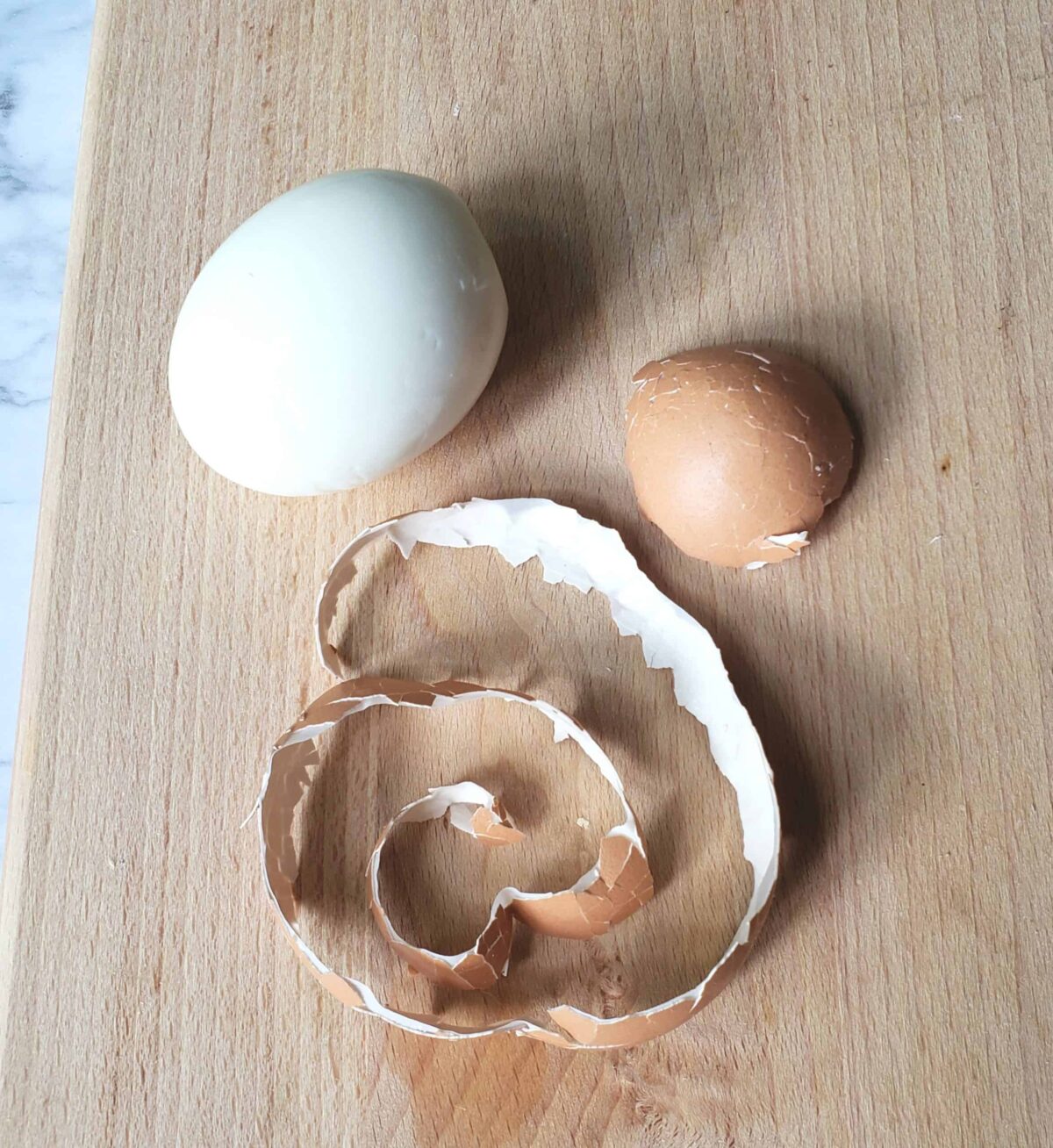 Look how easy these FRESH egg shells roll off the hard cooked egg when cooked in the 3-quart Mini Instant Pot. I call it the BABY Instant Pot.
My family loves hard cooked eggs as a snack or to pack in lunches so I went ahead and peeled all five of them and put 3 of them in a plastic container and put in the fridge.
In my post How to Make Instant Pot Hard Boiled Eggs, I show you how easy and quick it is to make hard cooked eggs in the Instant Pot. Natasha's Kitchen has a nice break down of how the eggs look at one minute increments.
So, this is how my salad is looking so far. I gave the basil and parsley a rough chop after this photo.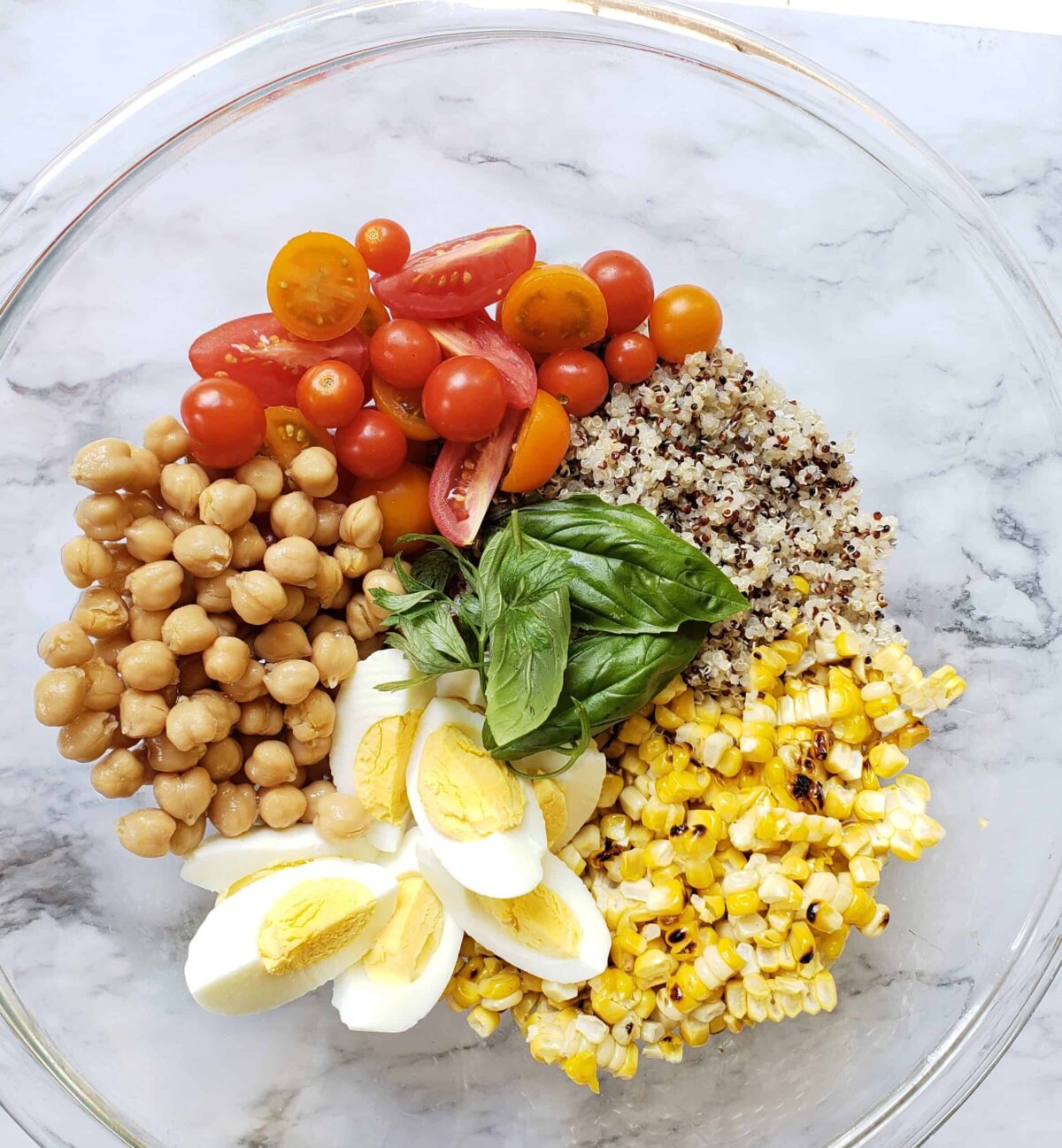 What's in your fridge and pantry that you don't see here?
Do you have avocado, canned artichokes, kalamata or green olives, pepperoncini peppers, leftover peas or rice, fresh spinach or arugula, cucumbers, radishes, or maybe matchstick carrots.
Those ingredients will make a delicious Meditteranean-style salad.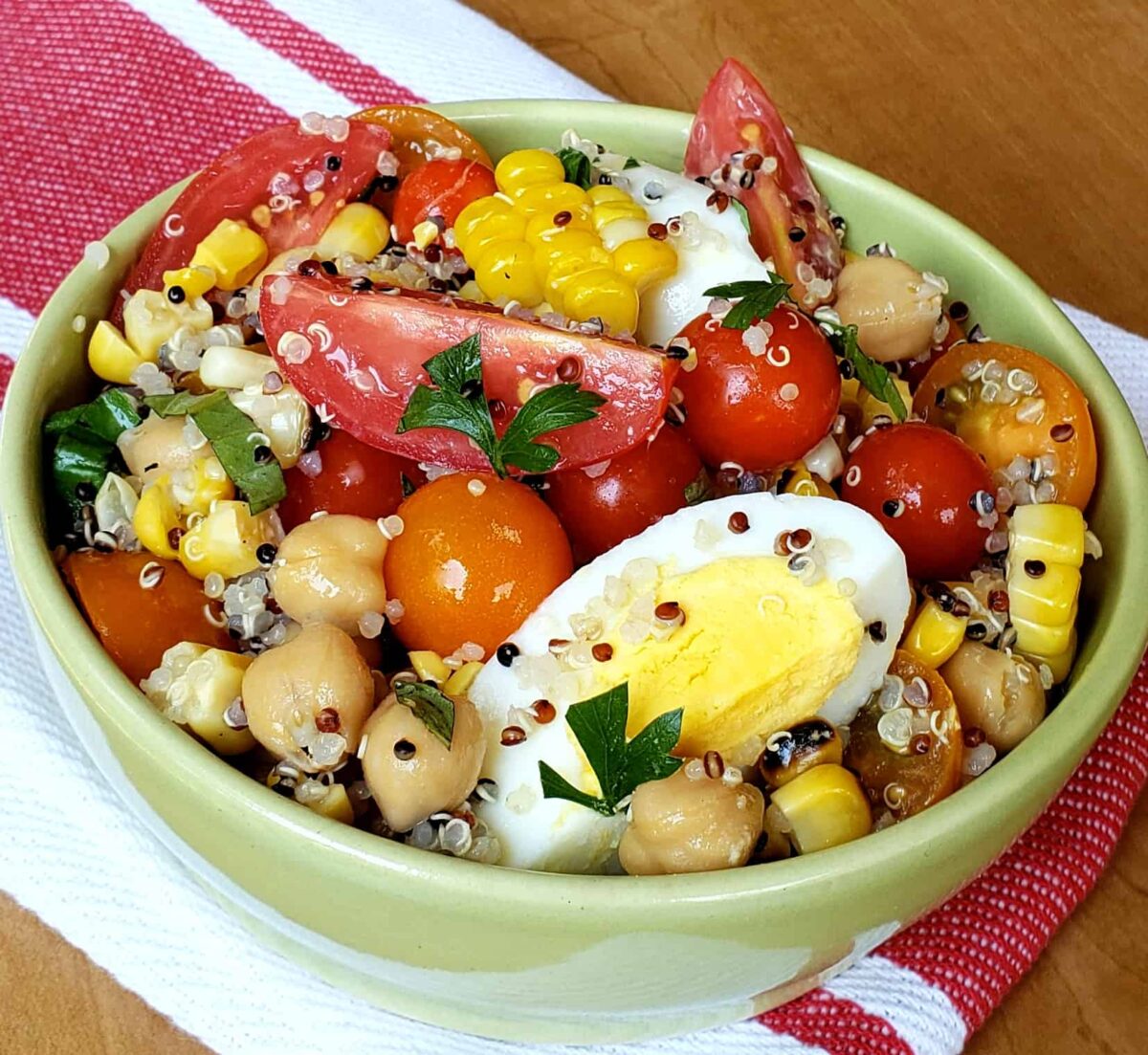 There's plenty of protein in this salad bowl from the chick peas, eggs, and quinoa but you could also add a little chicken or cooked pork chop.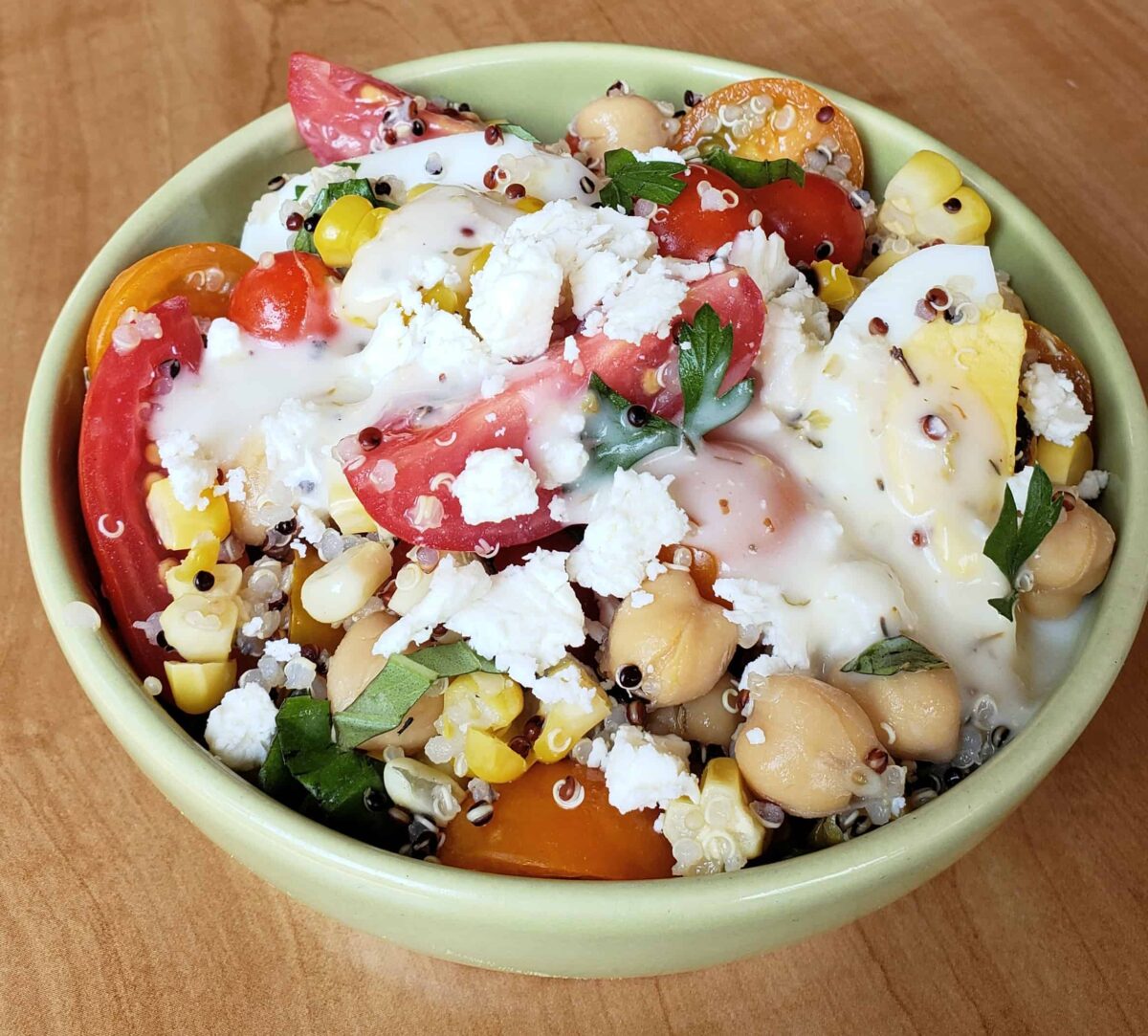 And there you have it! Tri Color Quinoa and Tomato Corn Salad. The ingredients aren't fancy but it sure looks beautiful.
It's made it with what I had in my pantry and in the fridge. And it's on the healthy side of the house menu!
The recipe is below but honestly, you don't need one. Just gather and toss what you have from the suggestions above.
Other pantry or leftovers recipes you will love
Pan-Seared Pork Chops with Fried Cinnamon Apples
Churros with Vanilla Icing for Dipping
Homemade Copycat Krispy Kreme Doughnuts
Bacon Sausage Strata Breakfast Casserole
Or just enter an ingredient in the SEARCH bar and see if I have a recipe to match your needs!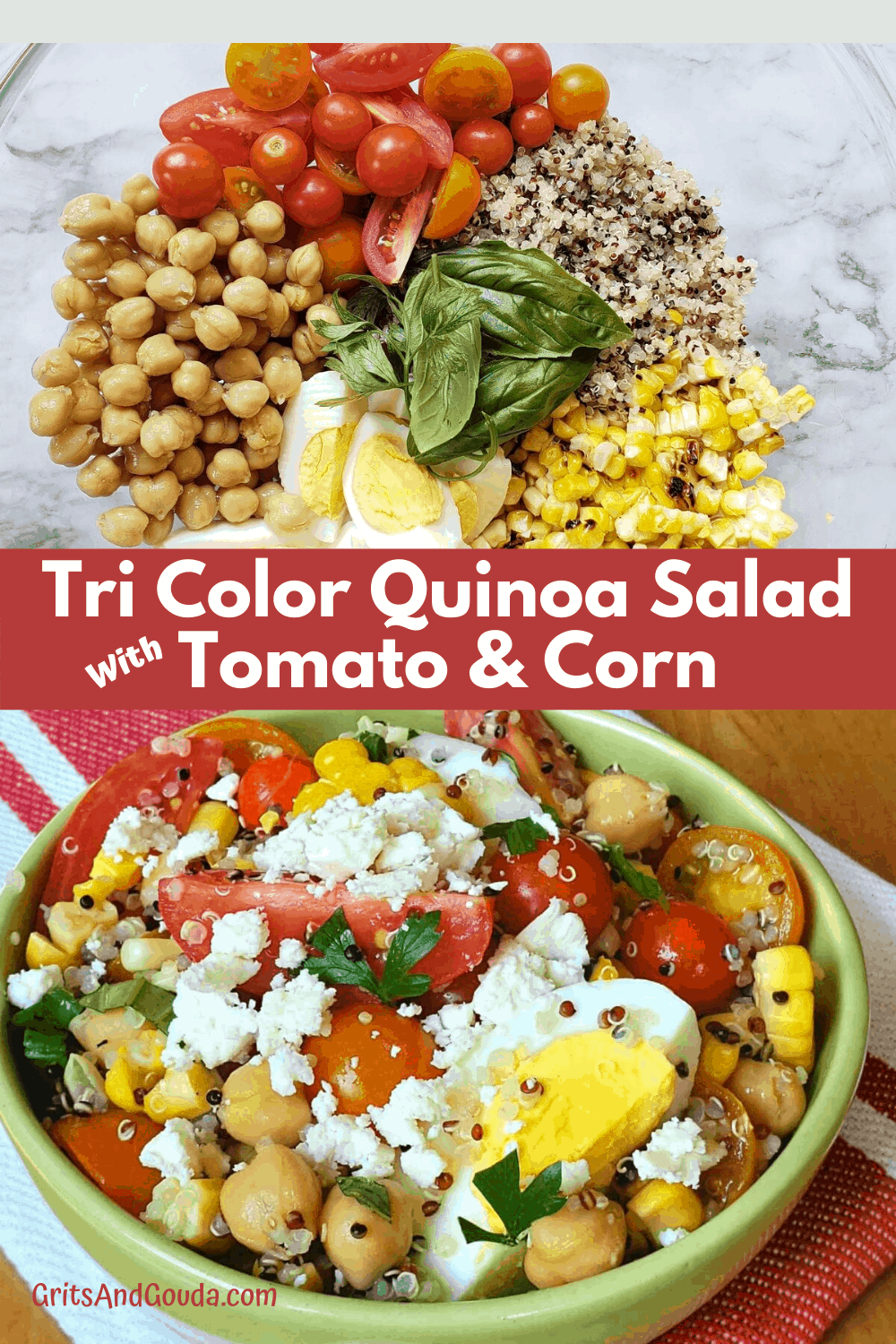 Want more shortcut recipes?
Be sure to follow me on Facebook, Instagram, and Pinterest. Don't leave before you send me your email address here so you don't miss a single post on my Southern shortcut recipes!

If you make this recipe I'd love to see it! Tag me on social media with #gritsandgouda or @gritsandgouda. Leave a comment below the printable recipe if you have questions or tell me how you liked the recipe. Don't forget to give the recipe a rating of 5 stars if you love it!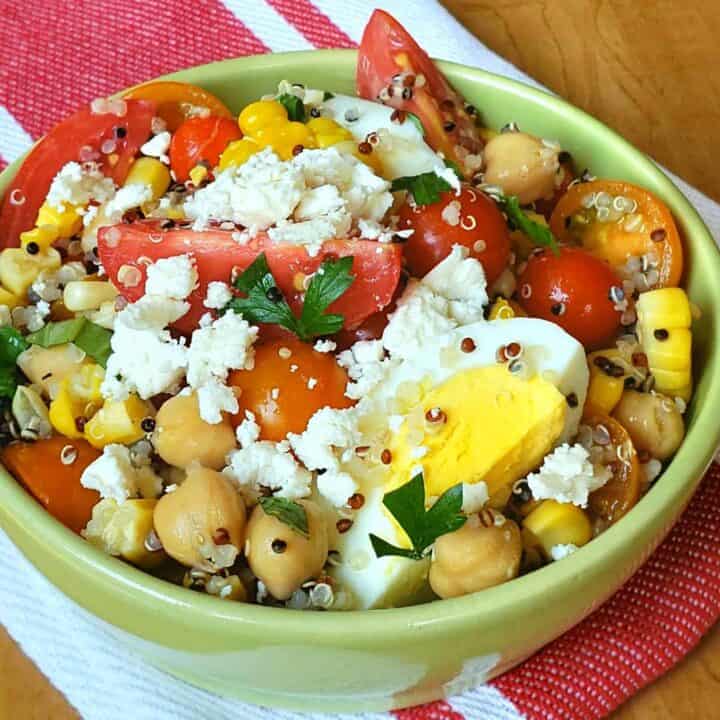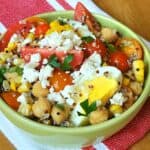 Print Recipe
Tri Color Quinoa and Tomato Corn Salad
You don't really need a recipe to make a quinoa-based salad. Just open up your fridge and pantry and build one with what you already have. If you're running low on ingredients, just make a list of some of your favorite things and mix it together with your favorite cheese and a drizzle of a vinaigrette dressing.
Ingredients
1

bag

Tri Color boil in bag quinoa

(Success Rice brand)

2

hard cooked eggs, quartered

1

15-ounce

can chick peas

(drained)

1

cup

cherry, grape, or chopped tomatoes

1

cup

corn kernels

(canned or 2 ears)

2

tablespoons

chopped fresh basil or parsley

(or both)

1

ounce

feta cheese

(about 3 tablespoons)

1/3

cup

creamy vinaigrette dressing

(I used Greek herb)
Instructions
Cook quinoa according to package directions and drain it.

Gently toss together all the ingredients. I like to hold out on pour on the dressing until ready to eat if I'm going to be the only one eating it or at least half will be put back in the fridge.
Notes
This is a perfect make ahead salad. If you are making it for lunches the next day, send the dressing separately in a plastic little container.
Be sure to check the expiration date on those salad dressings first!
Nutrition
Did you make this recipe?
If you love it, share it! Tag me on Instagram @gritsandgouda using #gritsandgouda Comment below before you go!