Easy homemade Churros recipe with Vanilla Icing for Dipping Sauce. Cinnamon-sugar coated strips of fried dough dipped in vanilla icing. These simple, homemade churros are crisp on the outside, soft and tender on the inside.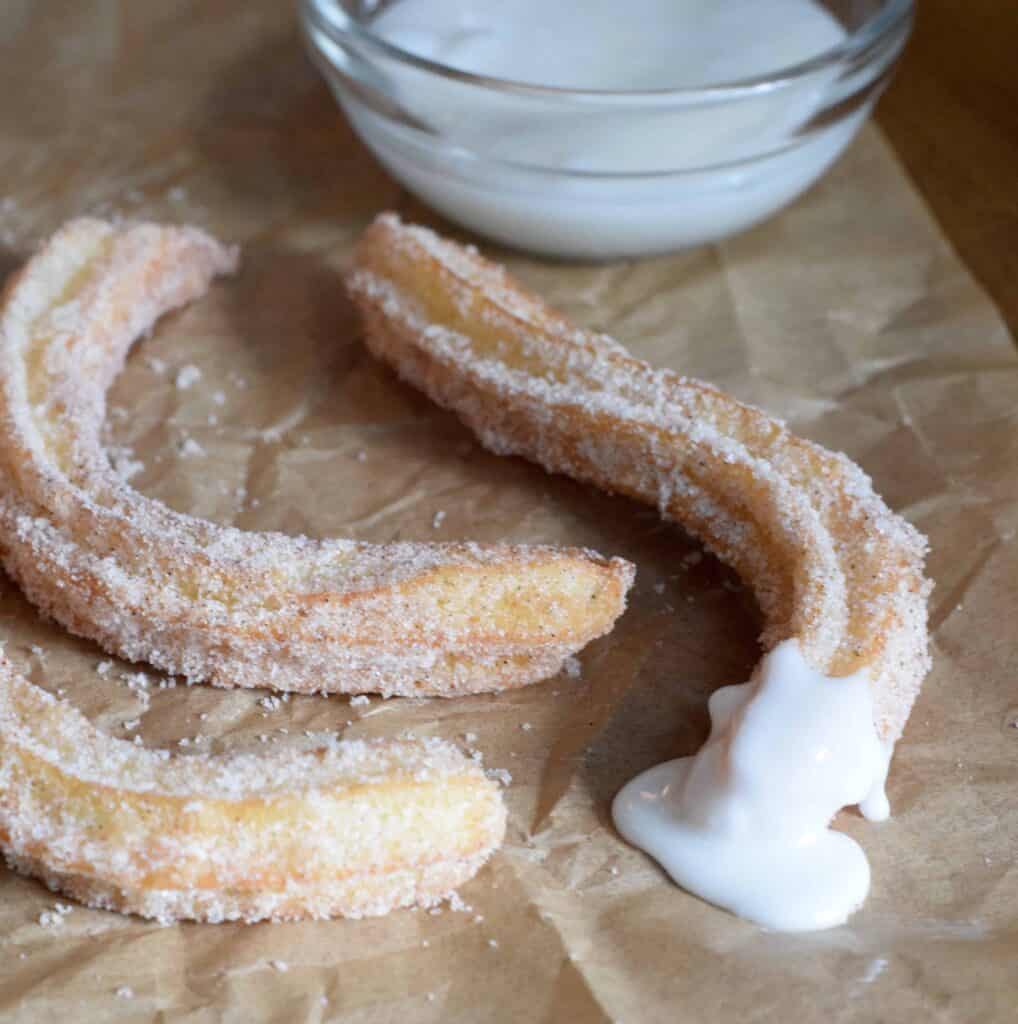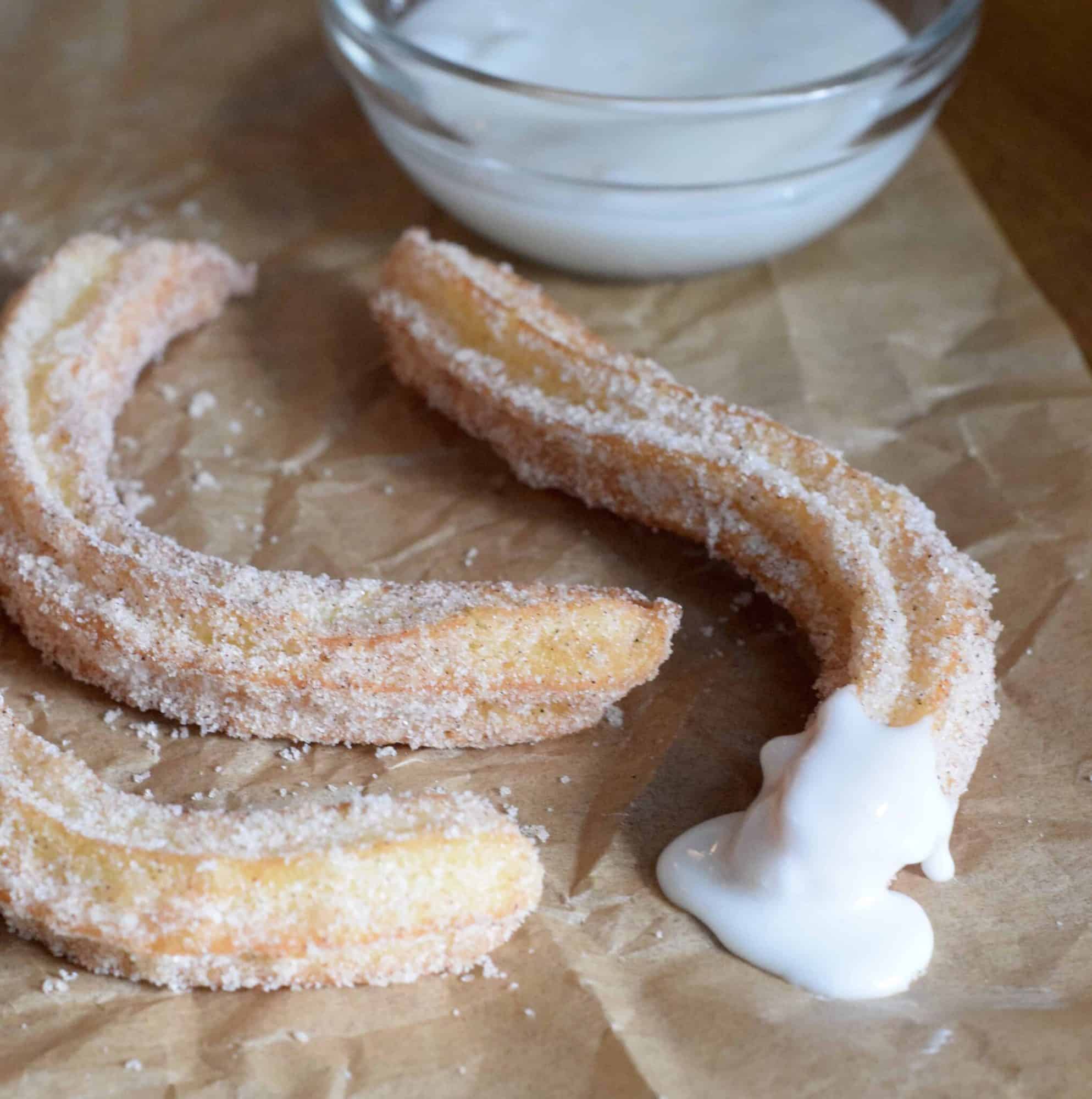 Churros are typically dipped in chocolate sauce or hot chocolate (Churros con Chocolate) but I'm fond of dipping them in vanilla icing like it's American cousin, the doughnut!
Is Easy Churros with Vanilla Dipping Sauce a shortcut recipe?
The short answer is no, but that doesn't mean they are difficult to make and they are made in a heavy saucepan, not a deep fryer! I do have a shortcut for the icing, though!
Icing shortcut: Melt a 16-ounce tub of vanilla icing in the microwave in a bowl for 30 seconds on HIGH.
Most of my recipes have shortcuts in them and fairly quick and easy. Sometimes, I share recipes that have special meaning from my Southern childhood and in this case, I'm sharing a family tradition of my own.
Some recipes are just worth a little extra time and this is one of them! This recipe still falls under the "easy" but not quick category.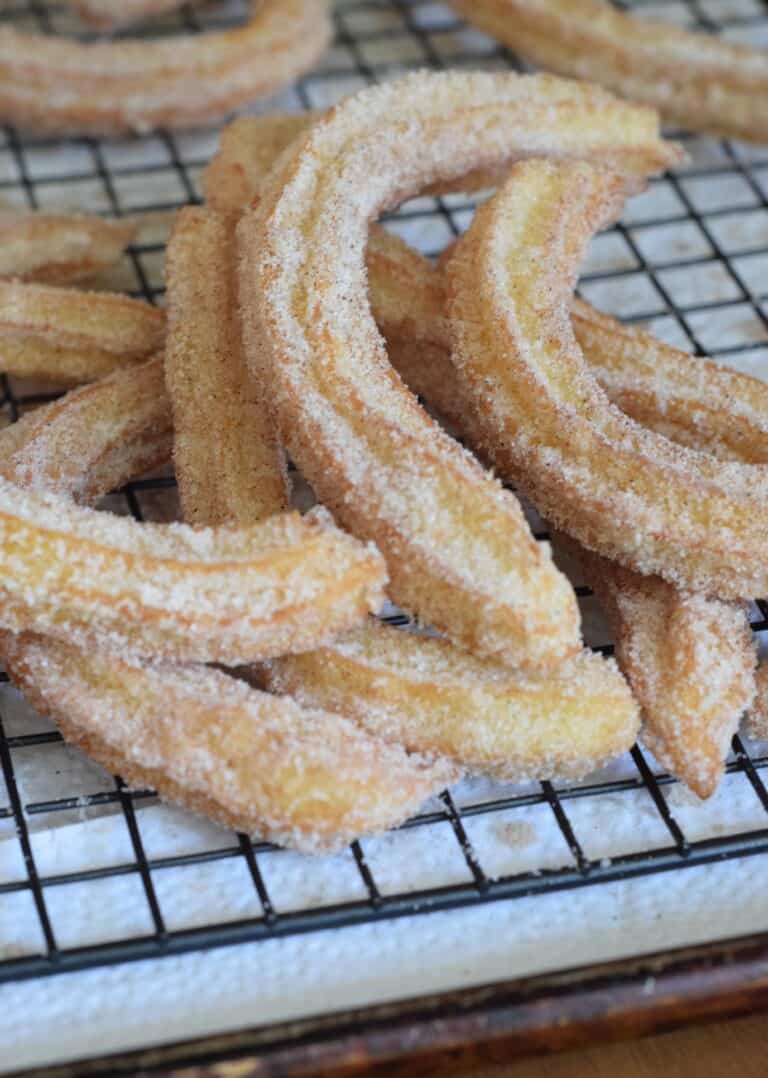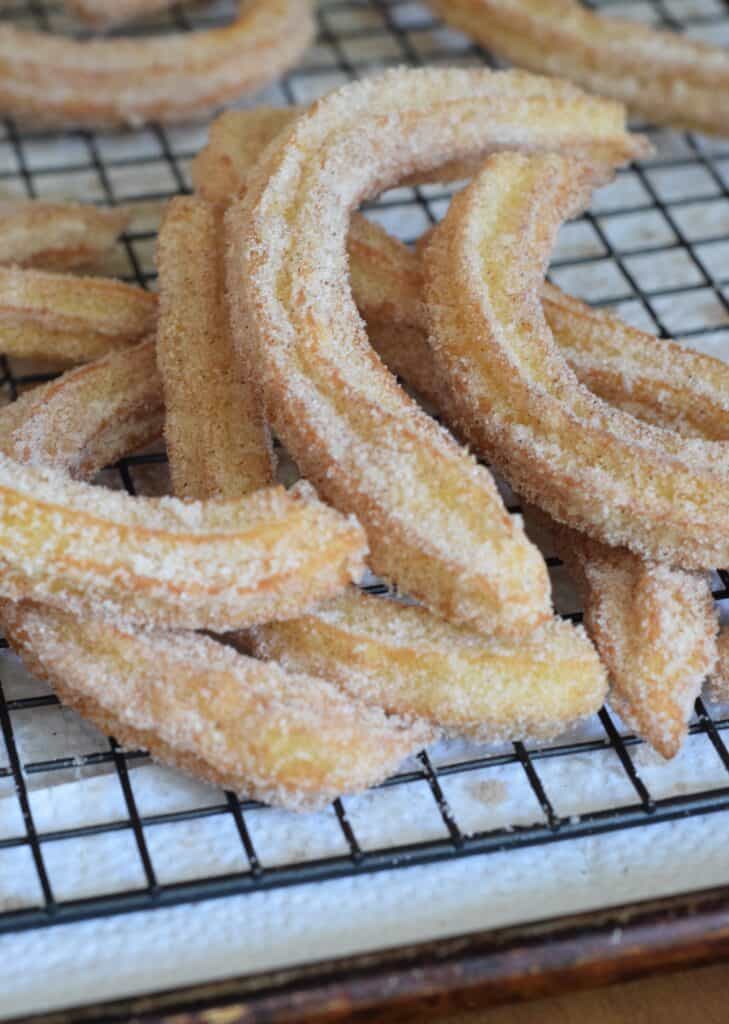 What are churros?
The history seems to be a little fuzzy. Most claim that churros are a Spanish descendant of a Chinese pastry. Others say the Portugese brought them back to Iberia from China where it gained its star-shaped edge and sweetness in Spain. Read more about the history of churros here.
Churros are actually pretty easy to make but I rarely deep fry so it worked out perfectly to use the same pot of oil that I used for the doughnuts the week before. I just let the oil cool, covered it, and put it in the refrigerator until Churro time the next week.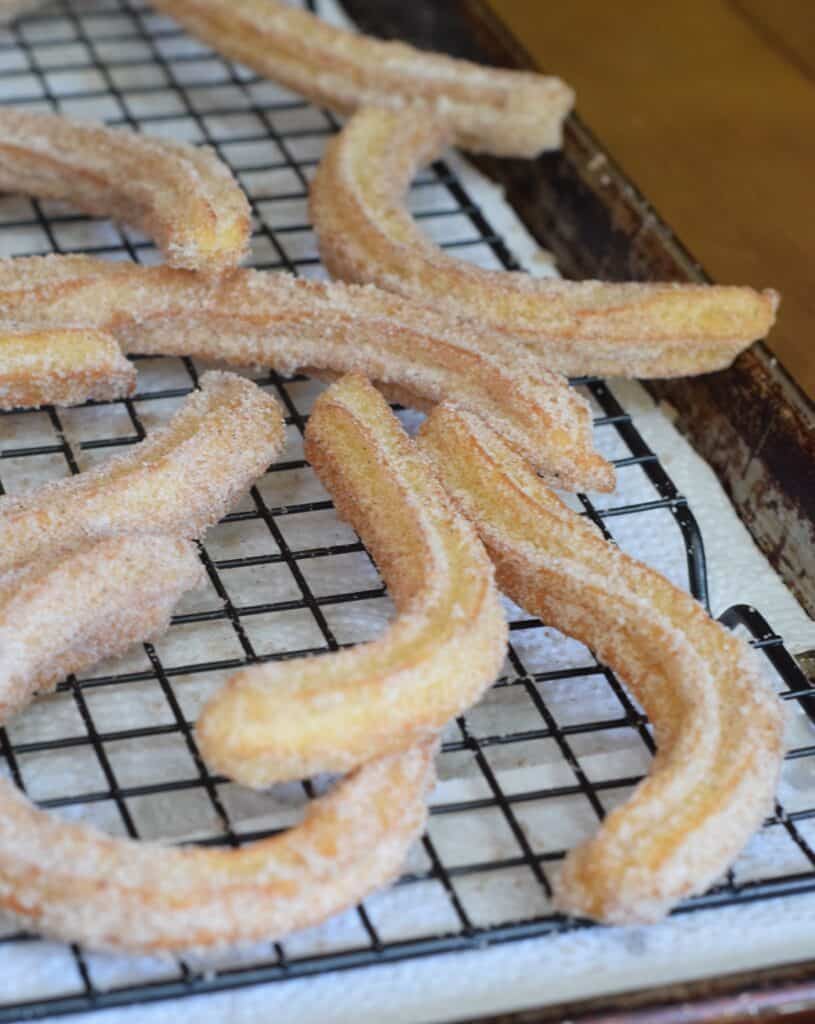 Churros are usually served with a chocolate dipping sauce but my girl loves to dip them (and everything else) in vanilla icing. It was her special summer recipe choice, so what did I do? I made vanilla icing, of course!
Traditions!
I am big on traditions and not just during the holidays. For as long as I can remember, every summer I let my kids pick out something special for me to bake for them. In the summer, I had more time to spend on recipes that typically took longer than others such as cinnamon rolls, cheesecakes, layer cakes, or experimenting on something they've always wanted to try but I'd never made before.
One summer, Grayson chose Homemade Krispy Kreme Copycat Doughnuts and Corinne chose Churros with Vanilla Icing Sauce. I'll have to admit, I was pretty excited about eating both of these!
Follow me on Facebook, Instagram, Pinterest and YouTube. Be social and share, y'all! Don't forget to sign up with your email so you don't miss a single post on my Southern shortcut recipes!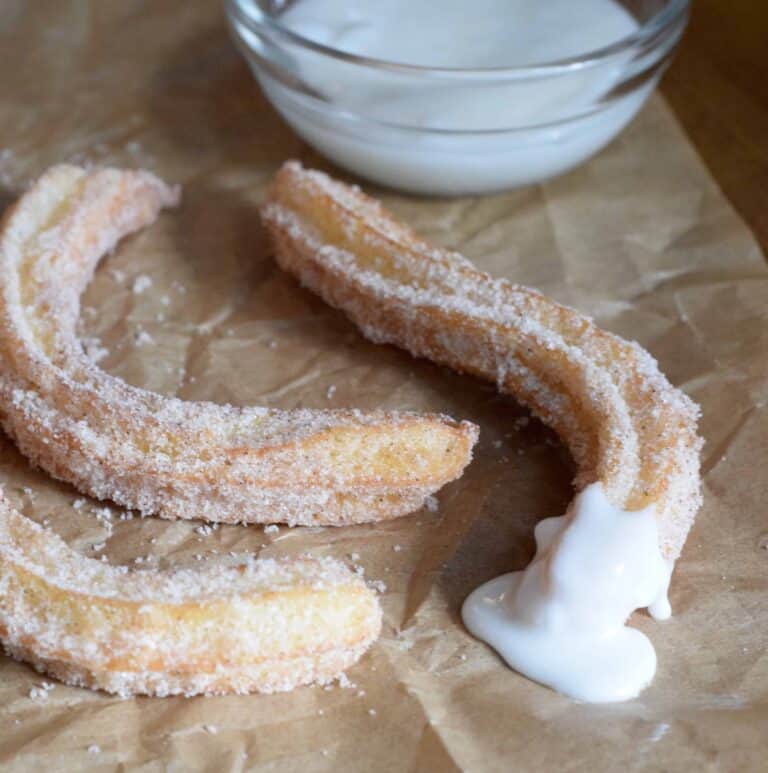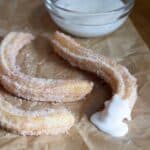 Print Recipe
Churros with Vanilla Icing for Dipping
Churros are typically dipped in chocolate sauce but my daughter likes to dip them (and everything else) in vanilla icing like the cinnamon sugar pretzel bites at the mall. So, what's a mom to do? I made them with vanilla icing, of course.
Ingredients
1

cup

water

1

tablespoon

sugar

1/8

teaspoon

salt

3/4

cup

salted butter

1

cup

all-purpose flour

2

large eggs

1

teaspoon

vanilla extract

4 to 5

cups

shortening or vegetable oil

Cinnamon Sugar:

1/2

cup

granulated sugar

1

teaspoon

ground cinnamon
Instructions
Combine water, sugar, salt, and butter in a medium saucepan. Place over medium high heat until butter is melted; bring to a boil.

Remove from heat and add flour all at once, stirring vigorously until all the flour is blended in and the mixture pulls away from the sides of the pan. Let cool 4 to 5 minutes.

Heat shortening or oil to 360° over medium high heat.

Prepare cinnamon sugar by combing sugar and cinnamon in a large zip-top bag.

Prepare vanilla icing by combining powdered sugar, half and half, and vanilla in a small bowl.

Meanwhile, add one egg to flour mixture and stir vigorously until egg is incorporated.

It will look like the egg is just sliding around but it will incorporate fairly quickly. Add second egg and vanilla and stir vigorously until egg is incorporated. You can do this with a stand mixer, but it's just more to wash.

Spoon dough into a large pastry bag fitted with a large 1M or #4 star tip.

With your dominant hand, squeeze about a 5-inch rope right over the hot oil. With your other hand cut it off with scissors. Fry 1 to 1 1/2 minutes on each side or until lightly browned then flip with tongs. Using your tongs, repeat the process frying 3 or 4 at a time. As you remove them from the oil, let excess oil drain back into the pan.

Immediately place the churro into the bag of cinnamon sugar gently tossing to coat.

Place the sugar coated churros on wire racks. Serve warm with vanilla icing or a

chocolate sauce if you prefer the more traditional dipping sauce.
Notes
Frying churros: The larger the pot you use, the more oil will be needed. If you use a tall saucepan instead of a large Dutch oven, you will need less oil to reach the depth needed. However, you won't be able to fry as many at one time, which will take longer.
Icing shortcut: Melt a 16-ounce tub of vanilla icing in the microwave in a bowl for 30 seconds on HIGH.
Nutrition
Serving:
1
churro
|
Calories:
134
kcal
Did you make this recipe?
If you love it, share it! Tag me on Instagram @gritsandgouda using #gritsandgouda Comment below before you go!