Apple and Roasted Butternut Squash Salad is loaded with all my favorite fall ingredients: tart crisp apples, buttery roasted butternut squash, bacon, candied pecans, mixed lettuces, goat cheese or feta, and homemade apple cider vinaigrette. I give you options to roast the squash in the oven or air fryer and several ways to shortcut this recipe.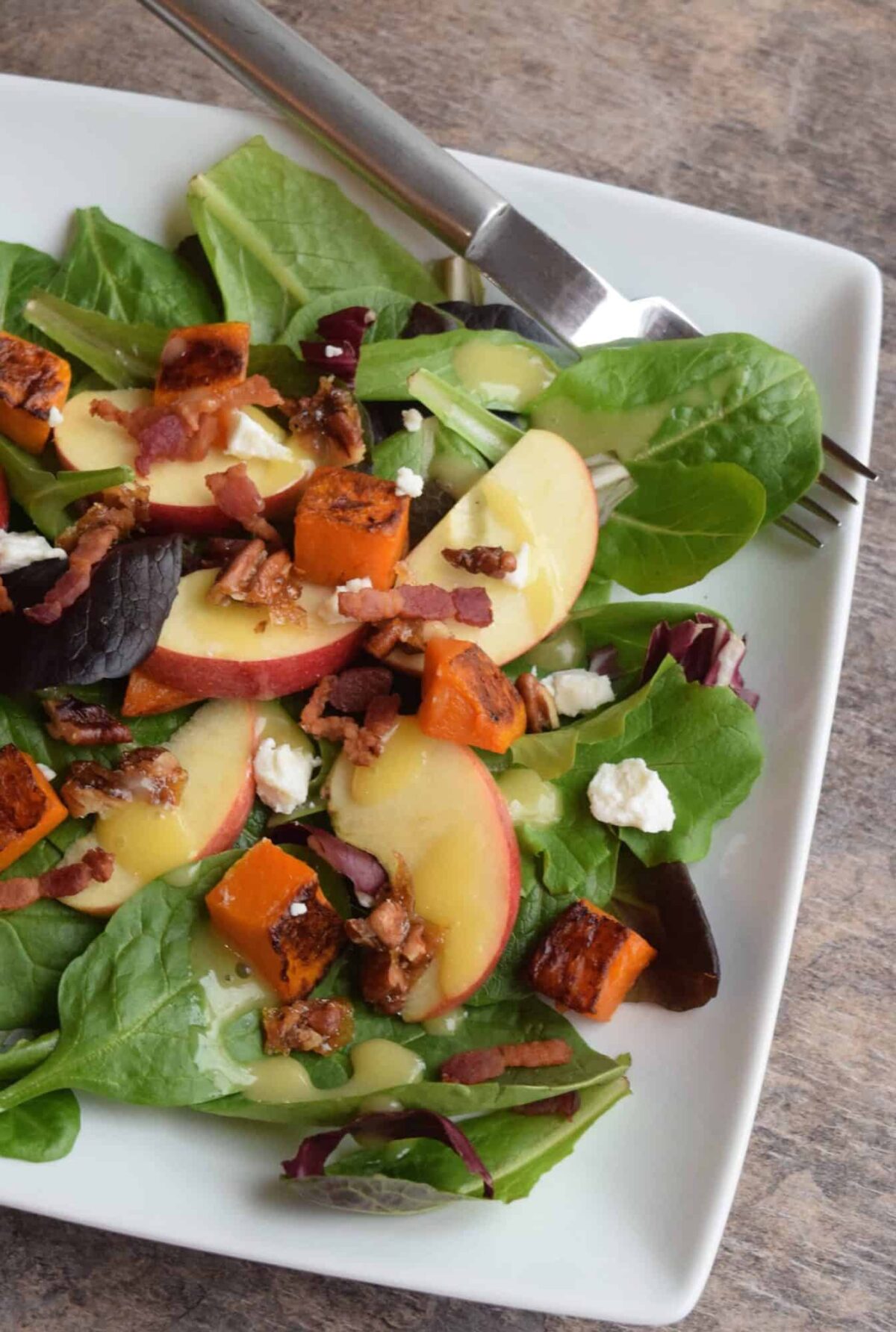 Post updated October 2021
I won! Many of you asked for my recipe Apple and Roasted Butternut Squash Salad when I told you I was one of the winners for Harvest Moon Cafe (Rome, Georgia) restaurant's recipe contest. It is listed below on a pic of their menu!
I also include an air fryer version to roast the butternut squash. Happy dance!
Scott and I visited Harvest Moon Cafe in the fall on one of our road trip adventures in Rome, Georgia. Harvest Moon was having a recipe contest, so after buying an assortment of apples at the Red Apple Barn in Ellijay, GA,
I came home and came up with Apple and Roasted Butternut Squash Salad, entered the contest and I won!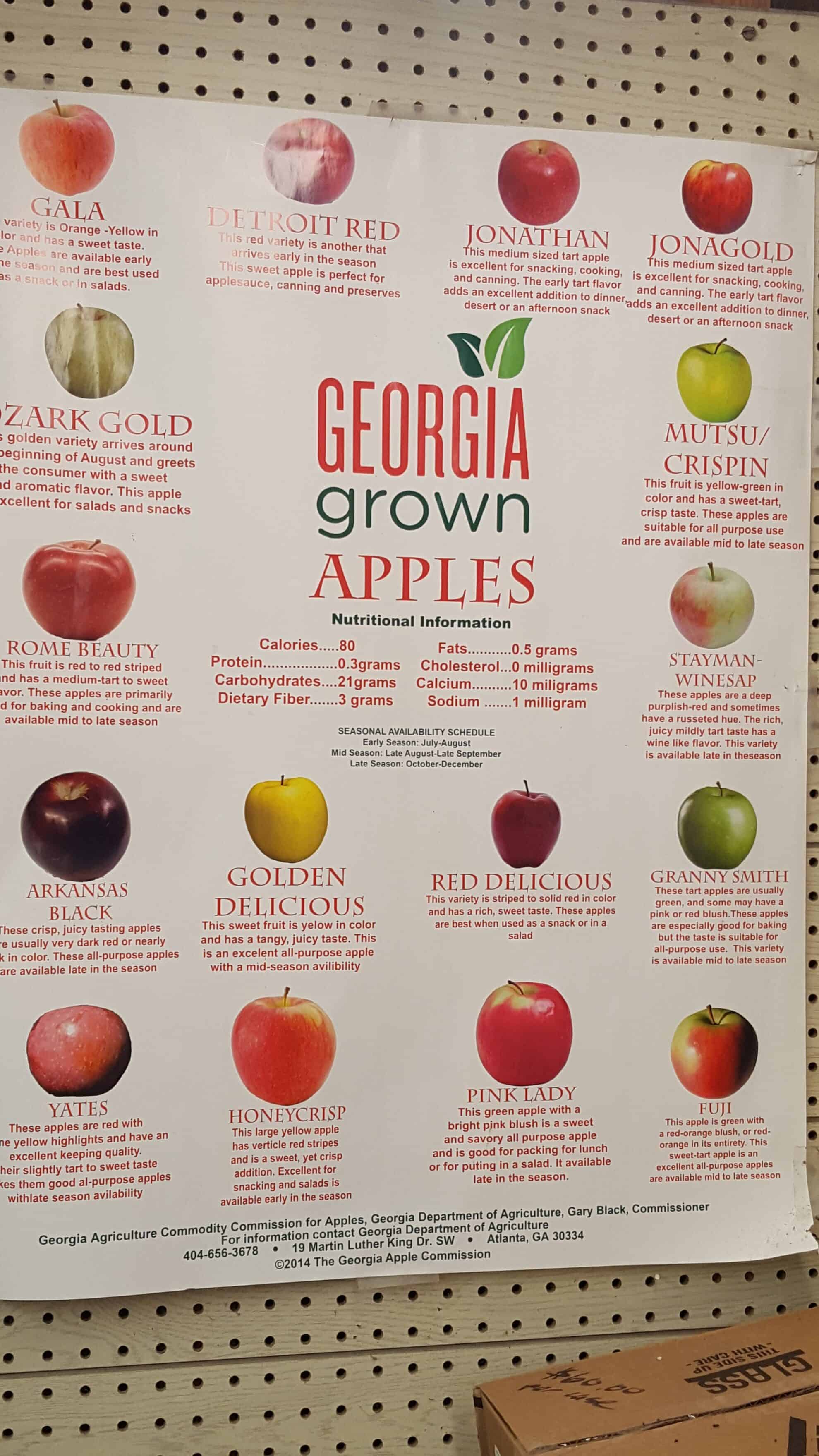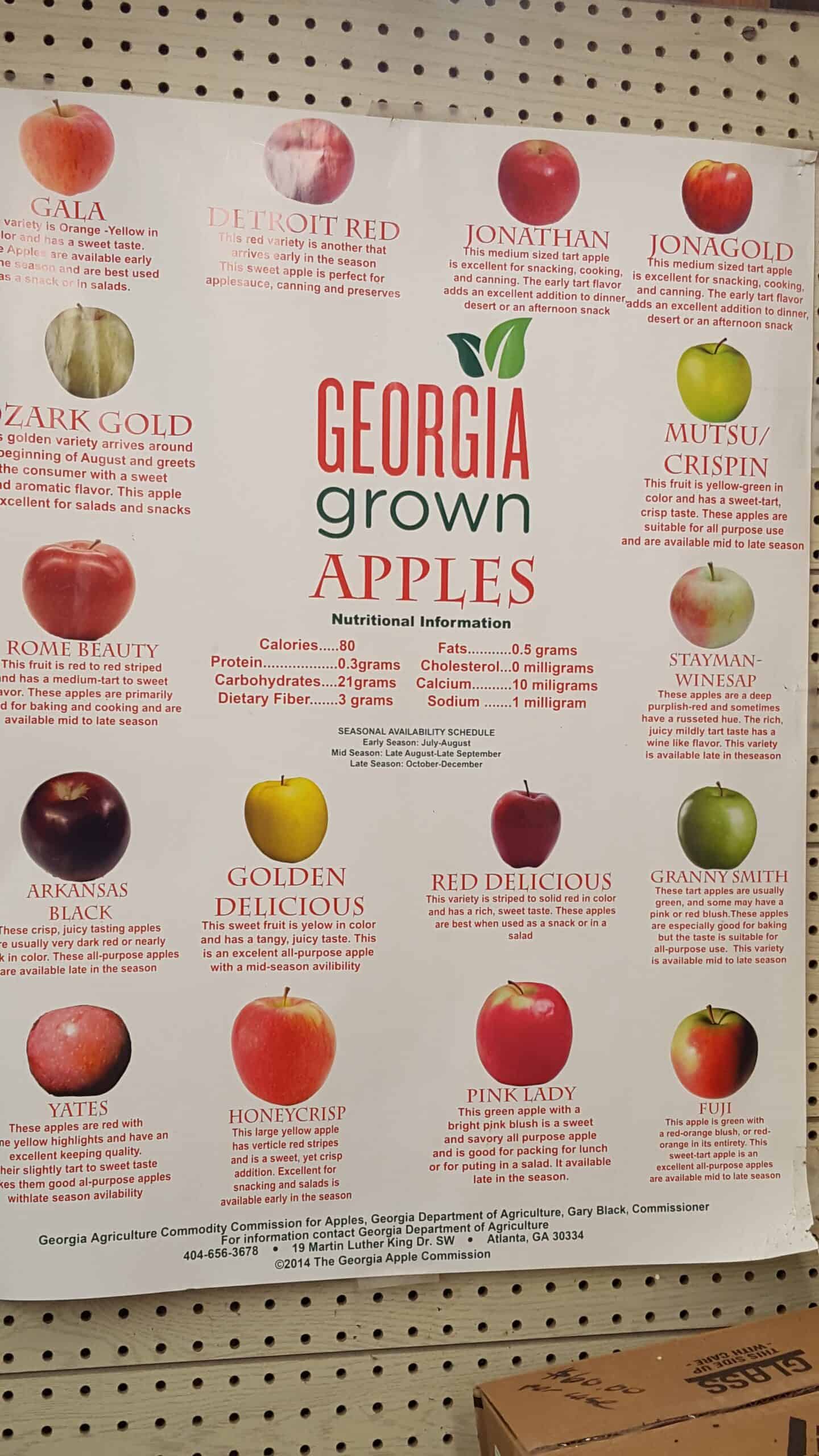 It was Christmastime in Rome (GA) and the trees in the middle of the historic downtown streets were twinkling with thousands of little lights.
We hailed a Roman Chariot which turned out to be a holiday-decorated 9 seater golf cart with a charming driver. I couldn't stop talking about the clever name of our chosen mode of transportation.
It gave me the idea to give our golf cart shuttles for the Gardendale Magnolia Festival (yes, shameless plug-you must come) "The Magnolia Express". We are hanging magnolia wreaths in the back of the golf carts.
The Roman Chariot dropped us off at the recommended Harvest Moon Cafe. Sometimes you can tell by the vibe in the restaurant and the decorations on the walls you are going to like the food and this was certainly the case.
The card on the table said they were having a recipe contest and the winner's recipe would be on the Spring menu-so I entered and won!
I wasn't able to travel back to GA for the tasting but they sent me this flyer. To see the Spring menu on their website click here. I also screenshotted (is that a word?) it here because they will change their menu at some point.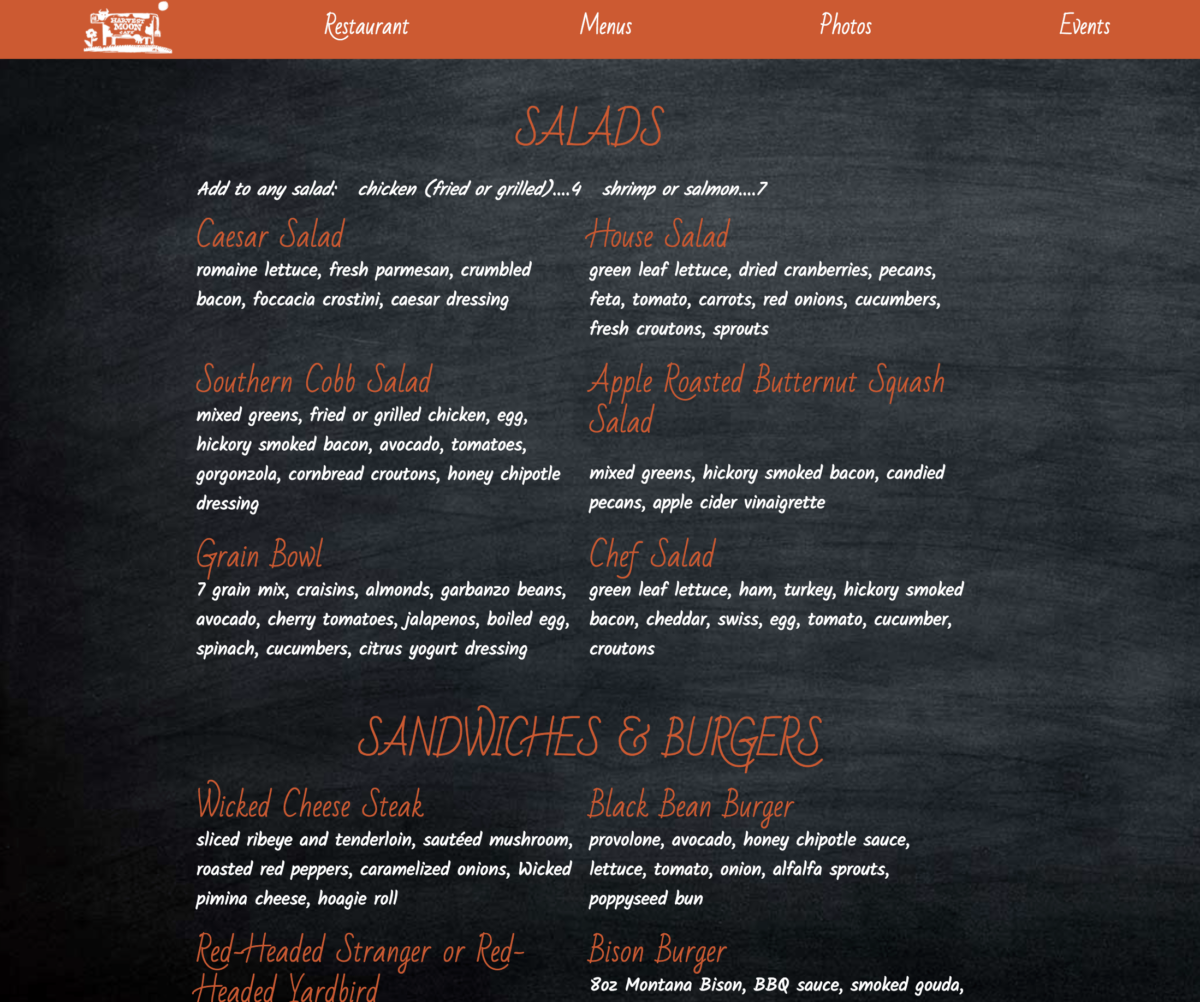 So that's how this yummy salad came about. Enough reminiscing and on to the recipe!
Shortcuts
Apple and Roasted Butternut Squash Salad is not one of my typical shortcut recipes but several of the components can be purchased and not made from scratch to shorten the recipe.
Buy cubed butternut squash (fresh or frozen)
Buy pre-sliced apple slices
Buy candied pecans sold near the salad croutons or snacking nuts section
Buy apple cider vinaigrette
Many grocery stores sell cubed butternut squash in plastic containers in the refrigerated area in the produce section. You can also use frozen, thawed butternut squash, but you won't need to roast it long.
It's basically already cooked. You just want to get a little char on the frozen, thawed squash for the look and flavor.
Candied pecans and almonds are sold next to the croutons. Or, honey roasted peanuts would be yummy.
Panera Bread now sells a Fiji Apple Vinaigrette in the refrigerated section of the produce department and butternut squash can be purchased already cubed.
Those shortcuts ought to save you a lot of time. Here we go....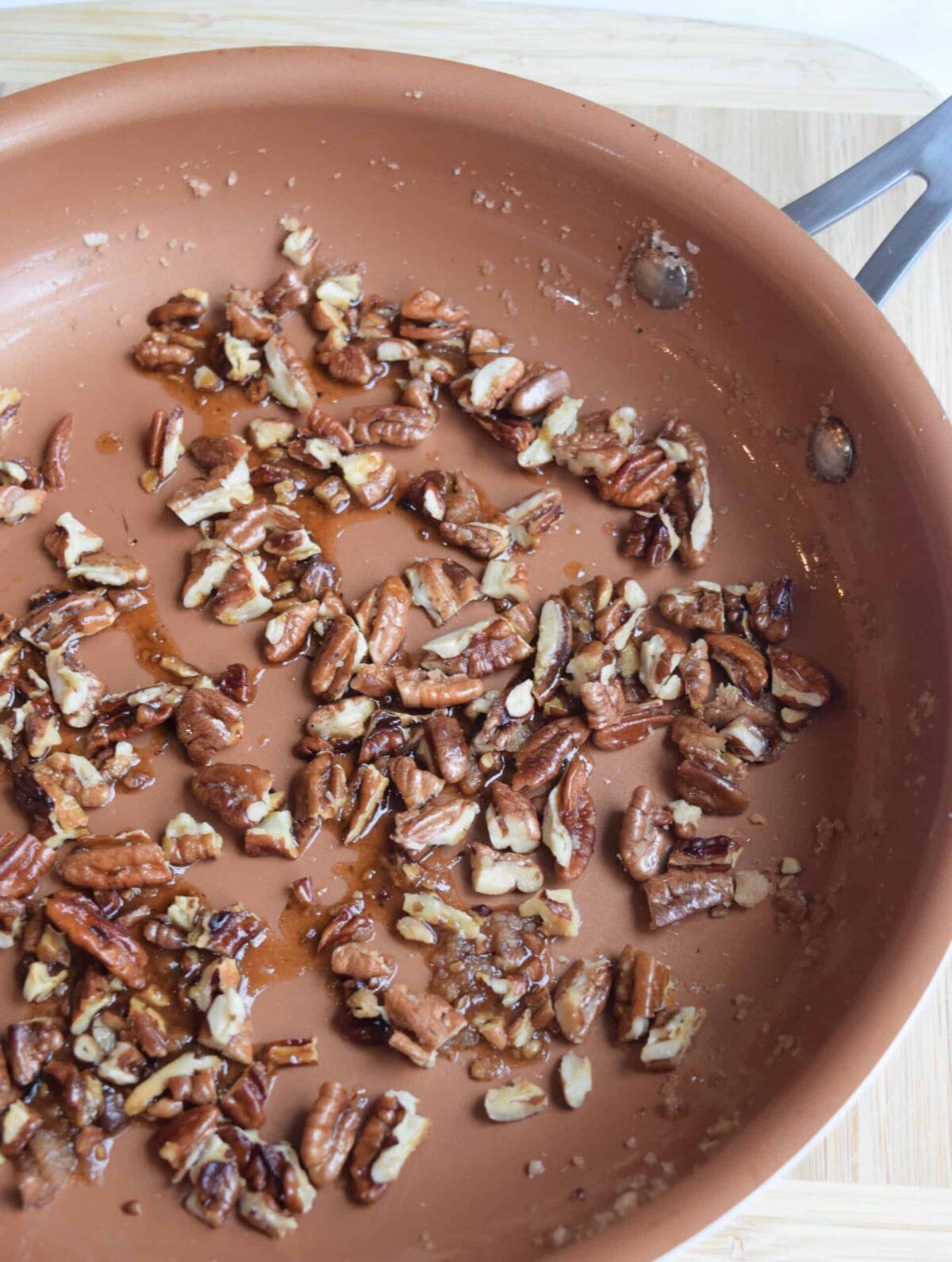 First, make the candied pecans. At first, you will think the granulated sugar will NEVER melt. Be patient. It will.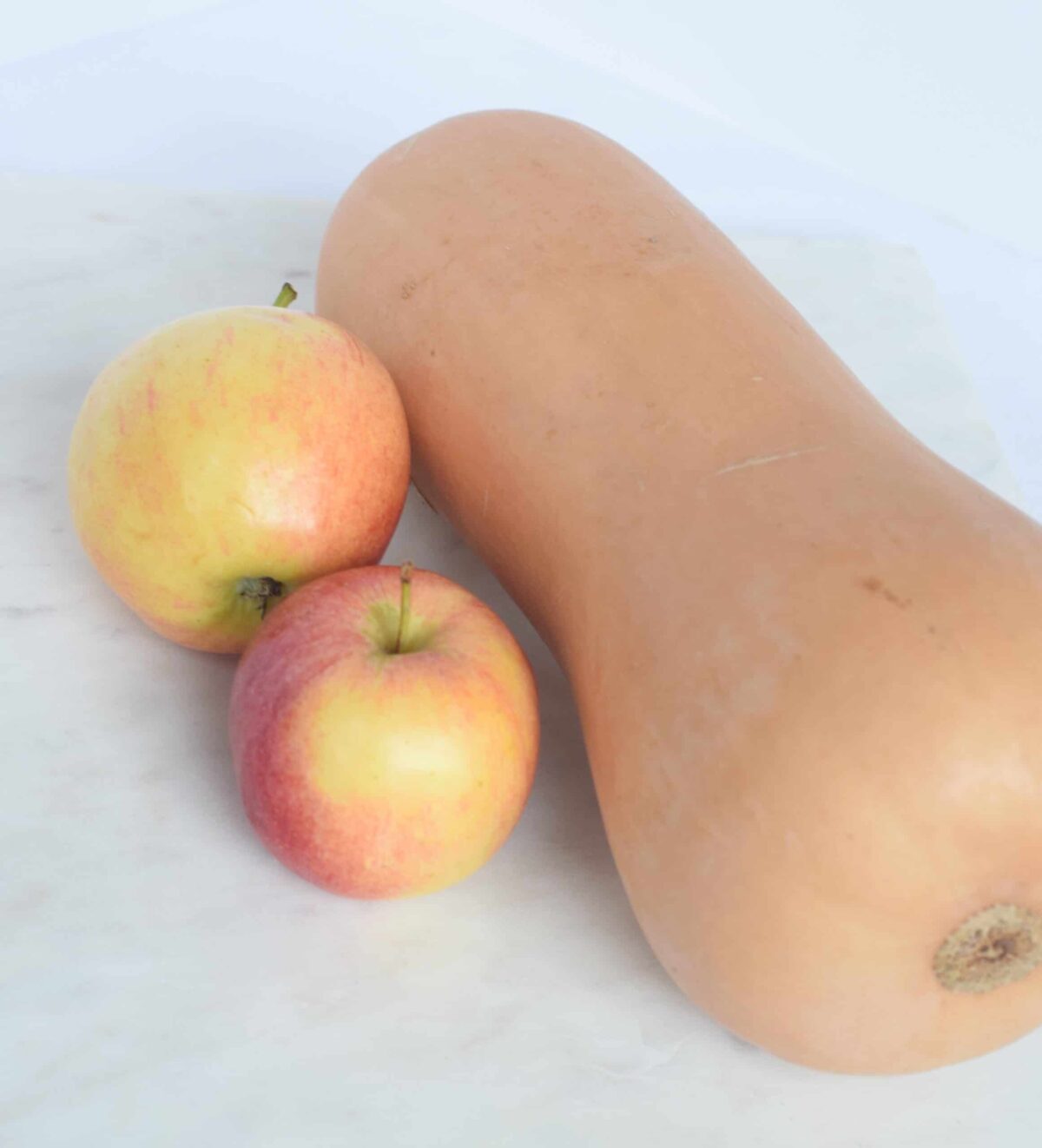 Next, cube the butternut squash.
Pro Tip
My best tip for cutting butternut squash is to Microwave it on High 1 minute. It magically softens the squash skin so you can cut it in half fairly easily with a large chef knife.
I use the OXO Y peeler to remove the tough peel before cutting the squash in half. The shape allows you to pull down with more force than a regular vegetable peeler. Trust me. It makes a huge difference.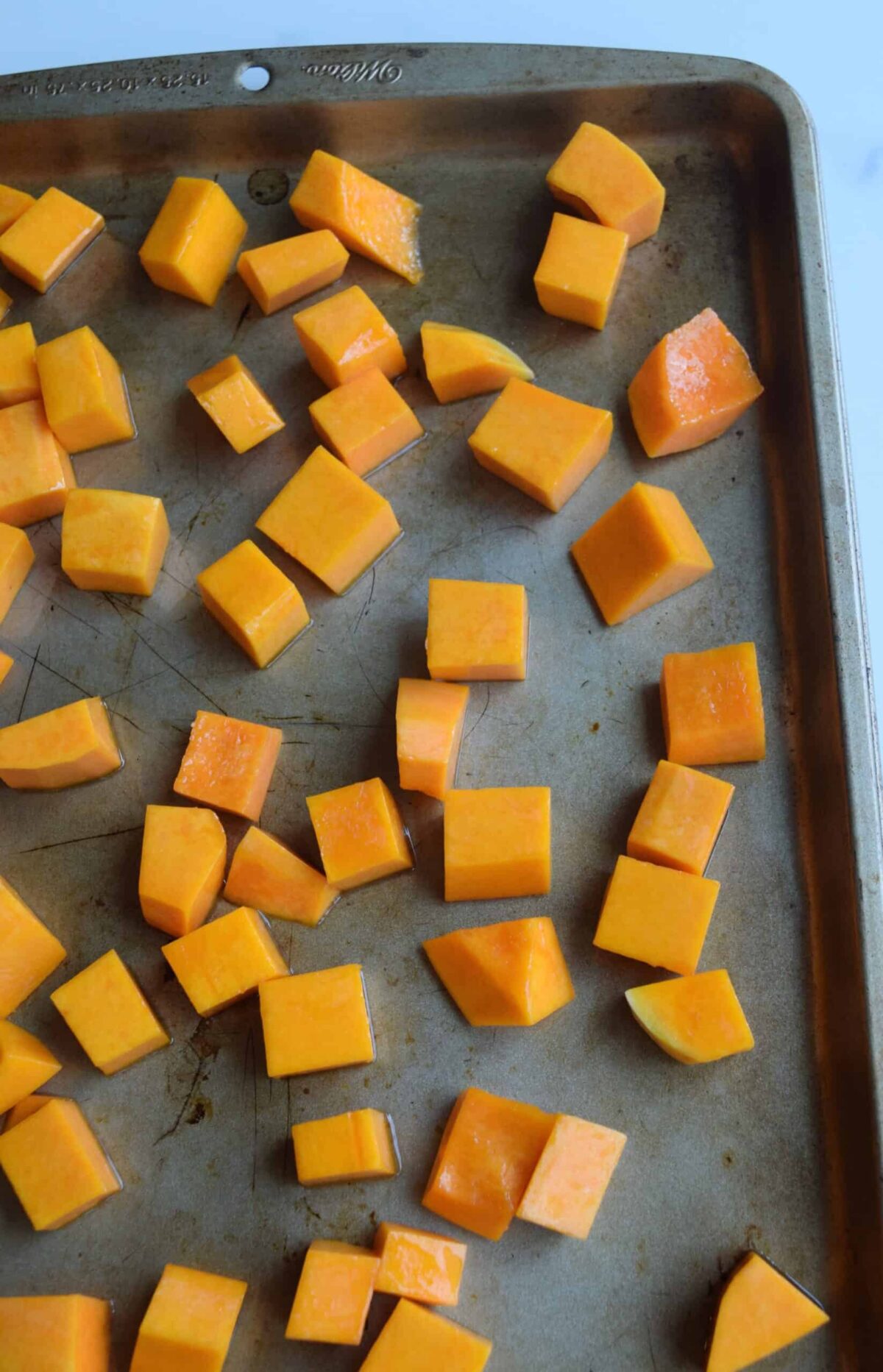 High heat is a must when you are roasting vegetables. Don't be tempted to stir often. In the recipe, I tell you to bake 12 minutes or until bottoms are lightly browned. If you don't see brown, don't turn them!
The browned edges not only look good in the salad, the caramelized natural sugar tastes amazing!
Can I roast butternut squash in an air fryer?
Yes! I actually recommend this shortcut now that I own one unless I'm making a large amount of squash. I love it! It cuts the time in half.
Keep in mind, I'm cooking 1/2-inch cubes here so they will take a little longer the larger you cut them.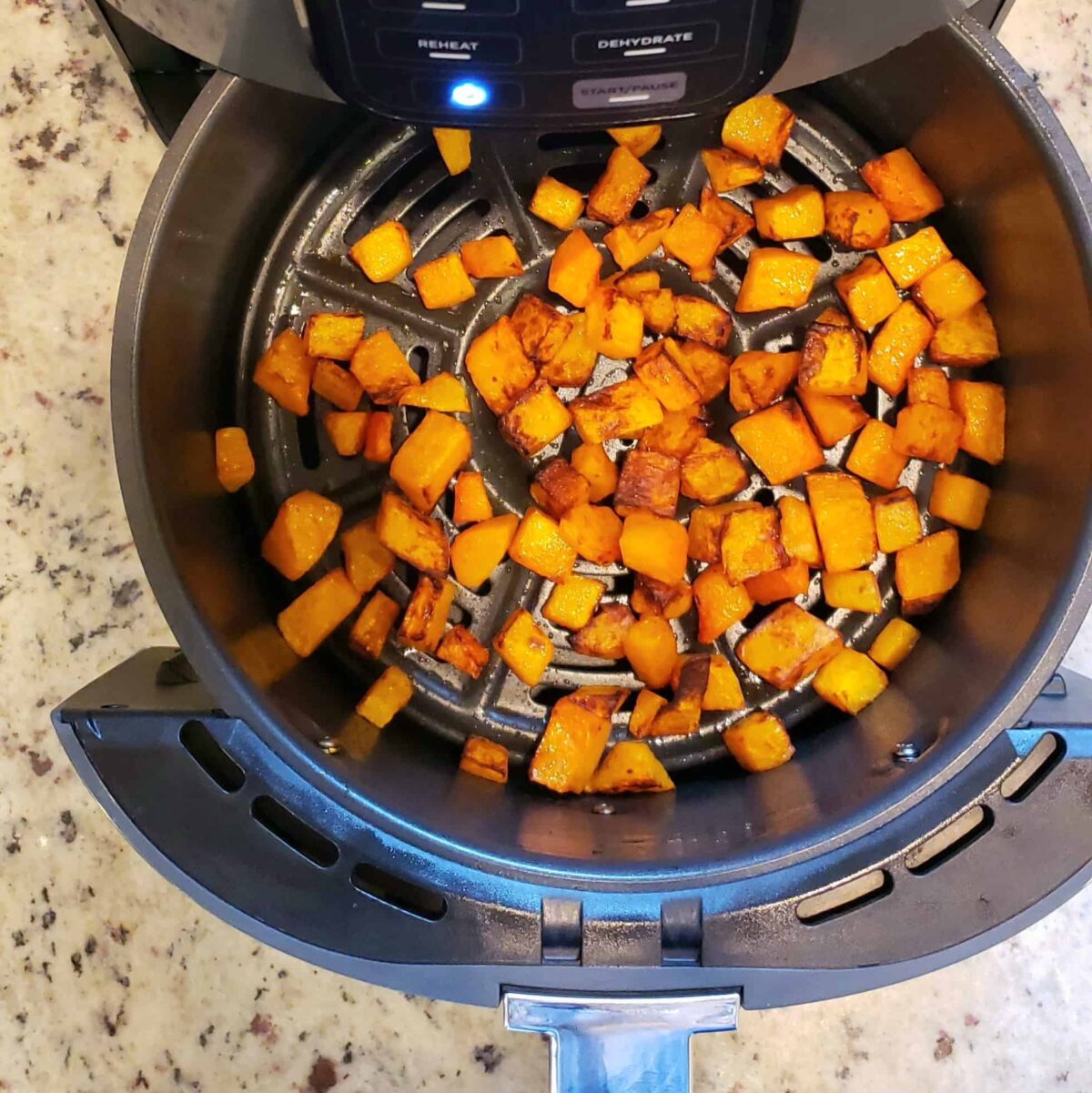 How to roast butternut squash in the air fryer
Air-fry roast butternut squash in 10 minutes!
Just preheat the air fryer for 3 minutes, toss the squash cubes with a tiny bit of olive oil and air-fry or roast them at 390F to 400F degrees for 8 minutes. Stir or shake them.
Cook an additional 2 minutes and check for doneness.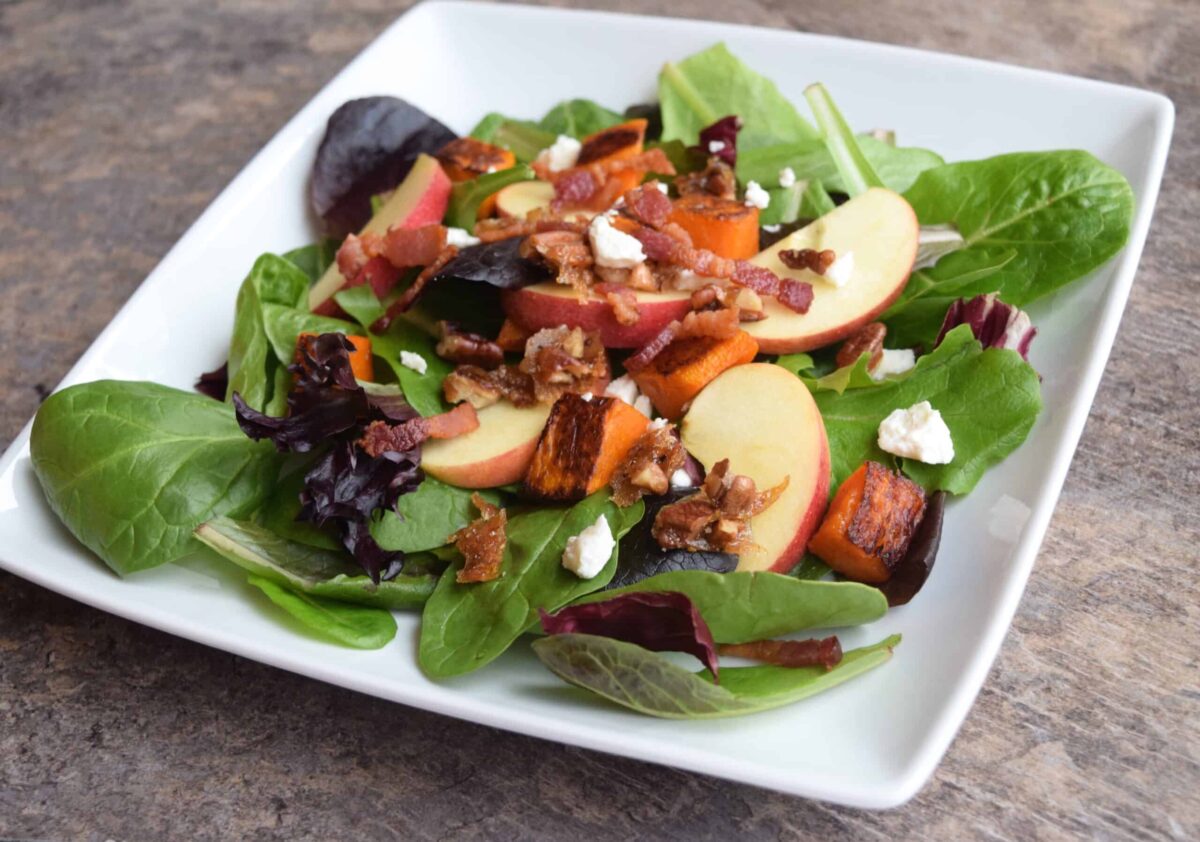 Arrange all the "particulates" as we call them in the food styling world on top of the mixed greens. You really can't go wrong with any apple so pick your favorite!
What apples can I use in this recipe?
My recipe calls for Stayman-Winesap and Pink Lady because that's what I bought at the Red Apple Barn on my trip and I wanted to use their local apples. Any snacking apple like Gala, Fuji, or Honeycrisp will be yummy.
Can I substitute another vinaigrette?
Yes, blackberry vinaigrette sounds yummy to substitute here. Trade out my Black Raspberry (or Blackberry) Vinaigrette for the Apple Cider Vinaigrette. It will also be a beautiful contrast against the butternut squash.
Another purchased vinaigrette that would work is Sweet Vidalia Onion Salad Dressing. It's sweet and tangy with a hint of onion.
Pin for later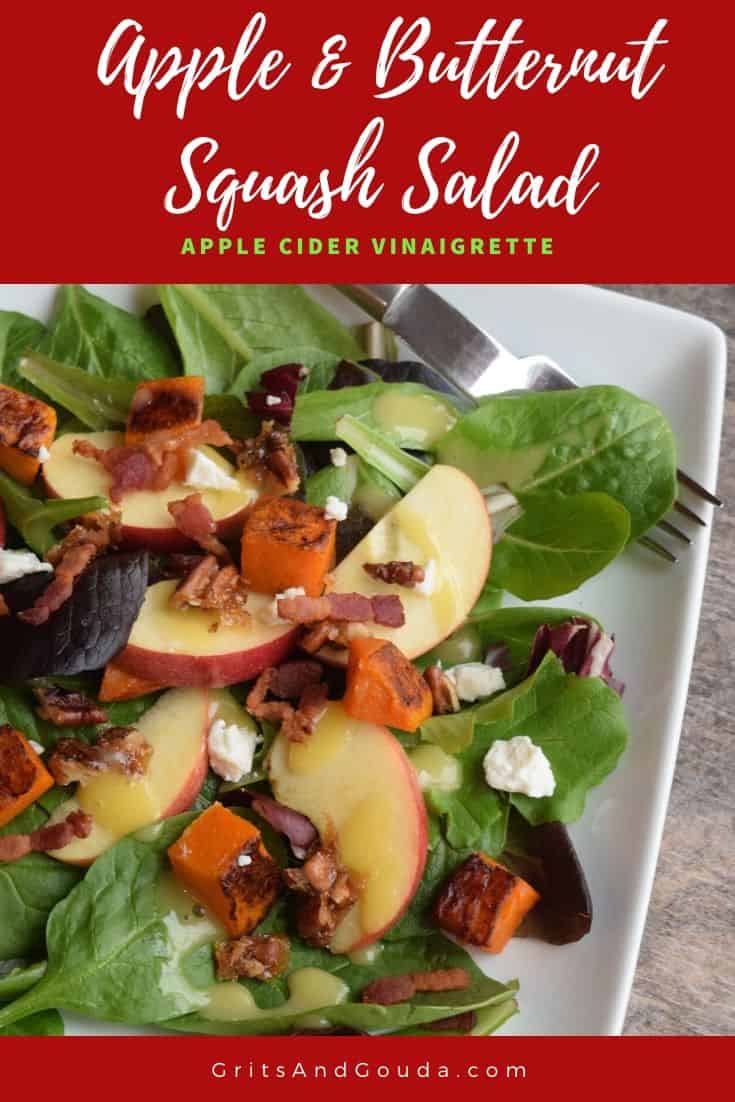 More Salads you may enjoy
Broccoli Raisin and Purple Cauliflower Salad
Tri Color Quinoa and Tomato Corn Salad
Sour Cream and Green Onion Potato Salad with Bacon
Shortcut Broccoli Cauliflower Salad
Follow me on Facebook, Instagram, Pinterest and YouTube. Be social and share, y'all! Don't forget to sign up with your email so you don't miss a single post on my Southern shortcut recipes!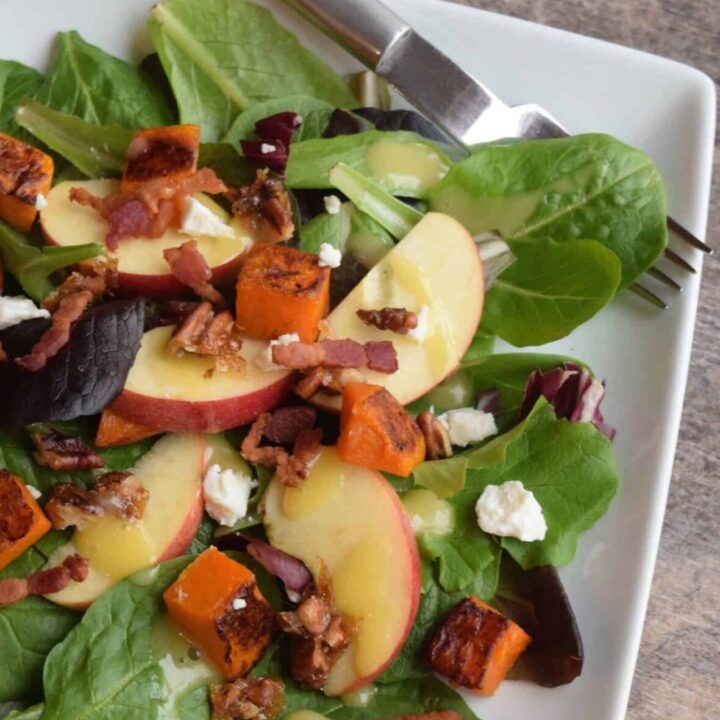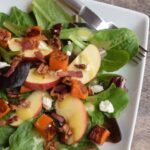 Print Recipe
Apple and Roasted Butternut Squash Salad
While on a road trip adventure to Rome and Ellijay, GA, I entered a recipe contest at the Harvest Moon Cafe restaurant. I won! It's really four easy recipes in one. It has all the fall feels!
Equipment
sheet pan, skillet, or air fryer (optional)
Ingredients
1

small butternut squash

1

tablespoon

olive oil

2

medium-size Stayman-Winesap or Pink Lady apples, or your favorite apple

thinly sliced or 1/2-inch cubes

9

cups

mixed spring greens that include arugula

3

slices

applewood bacon

cooked and crumbled

1

4-oz log goat cheese, crumbled
Candied Pecans
1

tablespoon

salted butter

1 1/2

tablespoons

granulated sugar

1/2

cup

coarsely chopped pecans
Apple Cider Vinaigrette
1/3

cup

honey

1/3

cup

apple cider vinegar

OR 1/4 cup fresh apple cider + 1 1/2 tablespoons lemon juice

1

tablespoon

Dijon mustard

1/4

teaspoon

pressed garlic or 1 teaspoon grated shallot

2/3

cup

extra-virgin olive oil or olive oil

1/4

teaspoon

salt
Instructions
Preheat oven to 425 degrees.

Peel, seed and cut butternut squash into 1/2-3/4-inch cubes; toss with olive oil and salt. Spread them out in a small roasting pan or baking sheet. Bake for 12 minutes or until bottoms are lightly browned then turn them with tongs. Bake an additional 5 minutes or just until slightly soft. You don't want them mushy but certainly not crunchy. Remove from pan and let cool.
Candied Pecans
Melt butter in a small heavy-duty or cast iron skillet over medium heat; add sugar and pecans. Stir often about 5 to 6 minutes or until pecans are toasted and sugar is melted and lightly golden. Let them cool in skillet or on a plate. Break apart when cooled
Apple Cider Vinaigrette
Whisk together first 4 ingredients, then slowly add oil, whisking quickly.

Place spring greens on six salad plates; sprinkle with roasted butternut squash and arrange with apple. Top with bacon, Candied Pecans, and goat cheese. Drizzle each serving with about 2 tablespoons Apple Cider Vinaigrette. Yield: 6 servings.
Notes
Air Fryer option to roast butternut squash:
Preheat the air fryer for 3 minutes and air-fry or roast 1/2 inch cubes from one small butternut squash at 390 degrees for 8 minutes. Stir or shake them. Cook an additional 2 minutes and check for doneness. Cook longer for larger cubes.
Shortcuts:
Buy cubed butternut squash (fresh or frozen)
Buy pre-sliced apple slices
Buy candied pecans sold near the salad croutons or snacking nuts section
Buy apple cider vinaigrette
Nutrition
Did you make this recipe?
If you love it, share it! Tag me on Instagram @gritsandgouda using #gritsandgouda Comment below before you go!