Can you believe with Shortcut White Bean and Chicken Chili, you don't have to soak beans? You don't even have to use a pressure cooker or slow cooker to make it. Read on to find the shortcut in the recipe.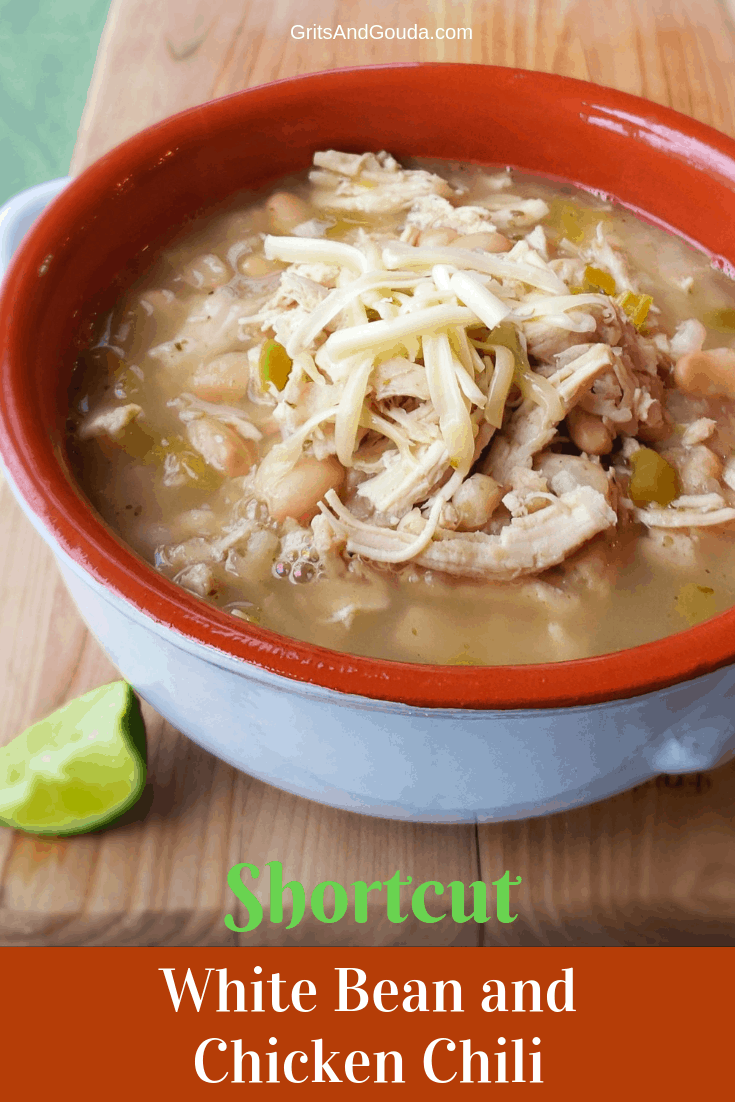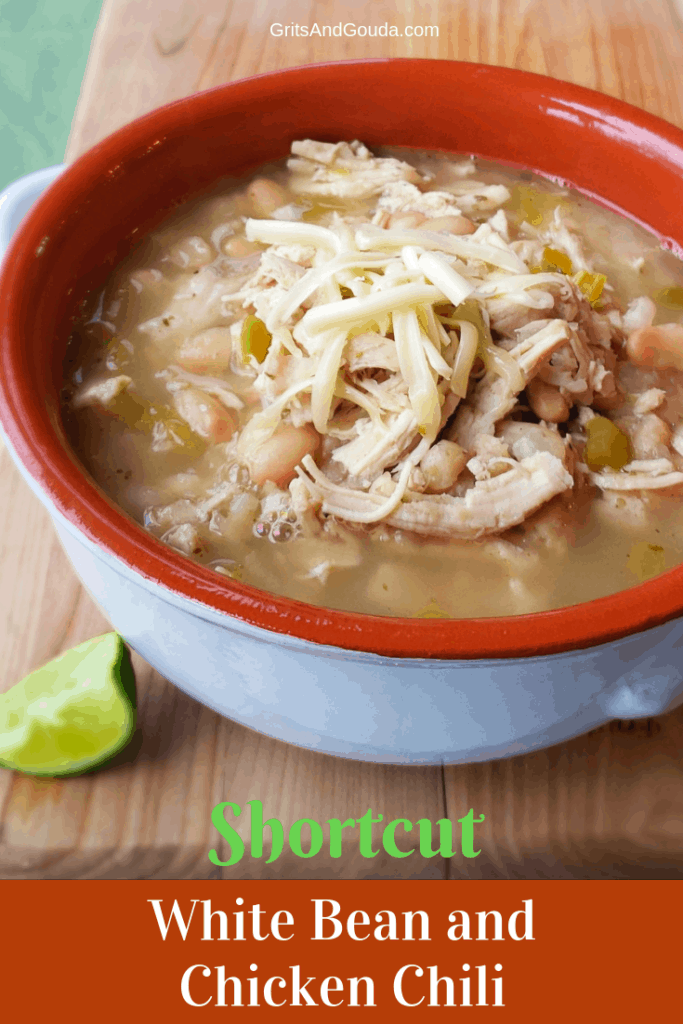 Here's the shortcut
Shortcut White Bean Chicken Chili is in my Top 3 go-to soups/stews/chilis. This soup fits the bill whether it's Winter and I am nesting with a cup of hot soup on the couch or it's Summertime and I need to make something quickly that serves a crowd for a church potluck. (You know the weather here in Alabama is pretty much the same both seasons-just different degrees of warm!)
Using canned Navy or Great Northern beans is a big shortcut but here's one more. Instead of simmering chicken on the bone in water (which could be a long time if it's a whole bird) I like to use rotisserie chicken or bake chicken breasts while I'm prepping the soup.
How to bake chicken breasts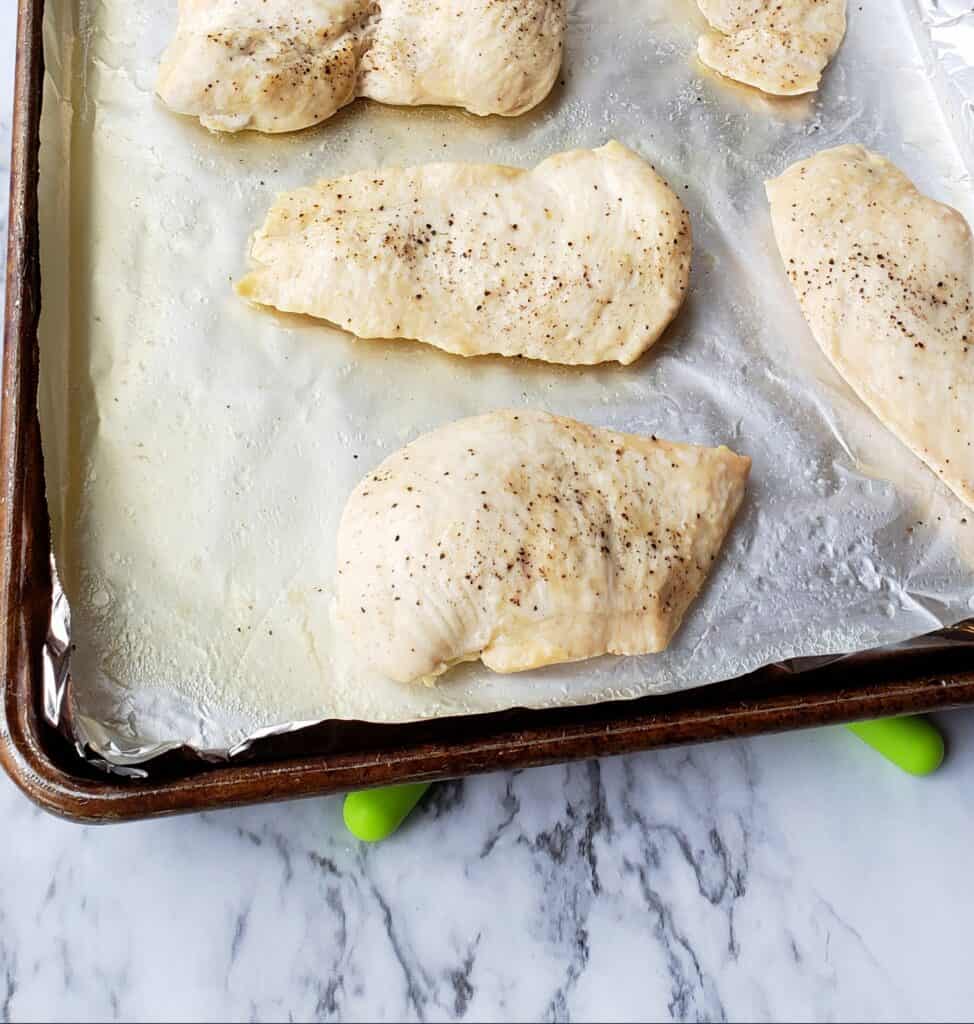 Just bake small breasts at 350 degrees for 25 minutes or until they reach 165 degrees. (The green legs sticking out of from under the pan are my favorite silicone trivets-they fold up and store in the drawer!
You will need about 4 cups of shredded or chopped cooked chicken so if you can only find those huge chicken breasts, I recommend slicing them in half (making them thinner, not shorter) and only using 2 or 3 of them.
Another shortcut is to buy a rotisserie chicken and use both the breast and dark meat.
How do you check chicken breasts for doneness?
My favorite way to check any meat or poultry for doneness is an infrared thermometer. You literally just point and "shoot" and it tells you the internal temperature of the meat. I don't have to wash the thermometer or worry if I've sterilized it well enough.

How do you shred cooked chicken breasts?
Baked chicken breasts shred best when they are warm right out of the oven. Use two forks to pull the chicken apart and cut into bite-size pieces, if necessary. If you don't want to shred the chicken, you can always just chop it.
Another tip is to place a kitchen towel under your cutting board so it doesn't slide around.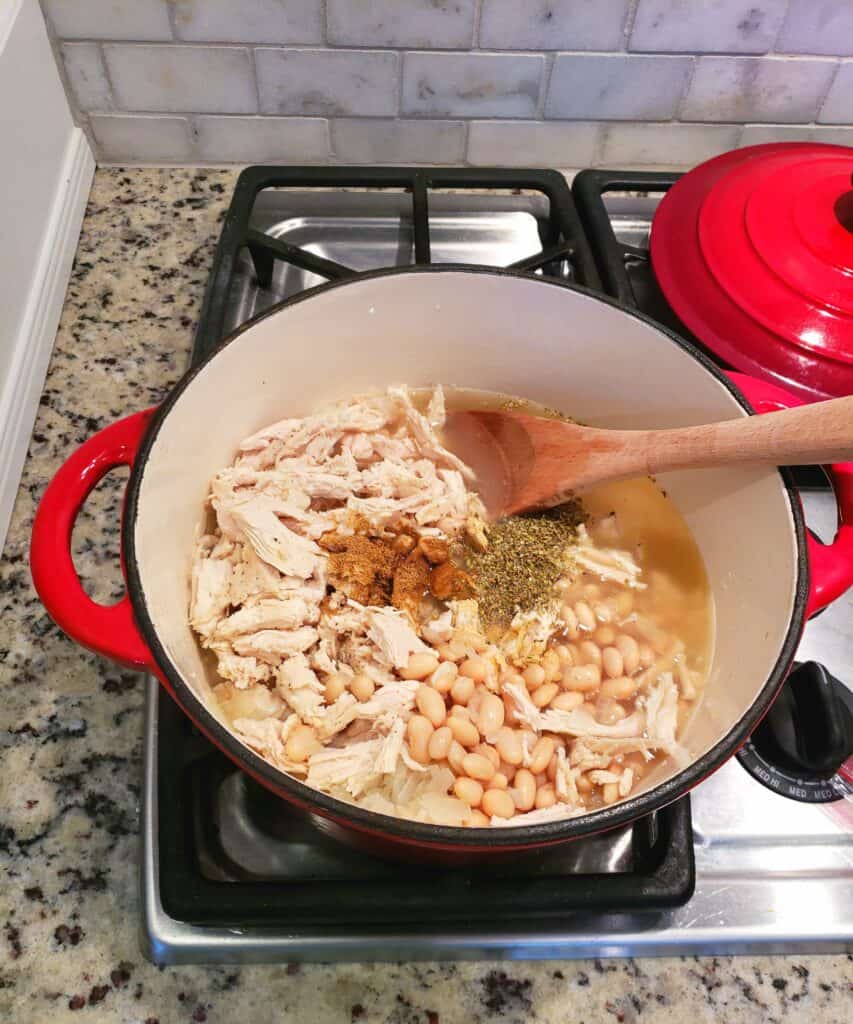 Simmer all the ingredients on the stovetop for 15 minutes.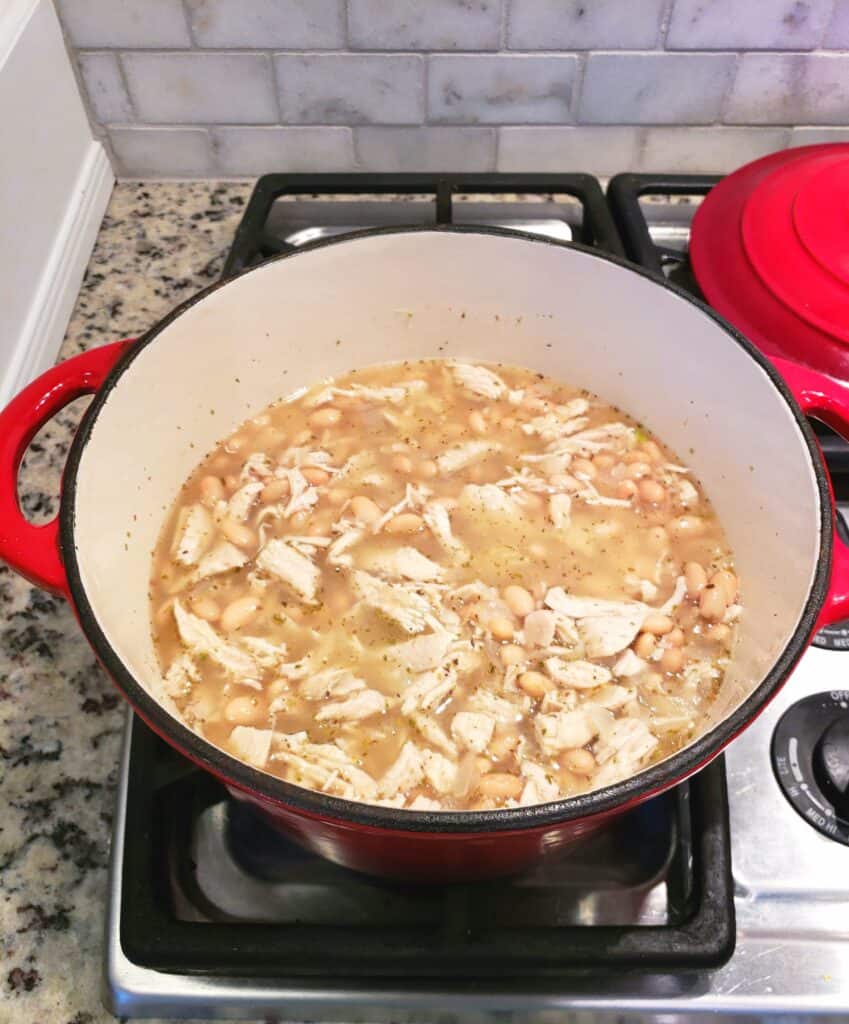 Can I use dried beans instead of canned?
Yes. I like to cook dried beans in the Instant Pot because it's cheaper and I know exactly what goes in the pot.
You will need 1 3/4 cups dried beans to make the same amount as 3 (14.5-ounce) cans of white beans. Dried beans triple when cooked. No need to soak dried beans before cooking in the Instant Pot.
Place dried beans in the Instant Pot and cover with water (about 3 cups). Add 1/2 teaspoon salt, if desired. Seal the lid and turn the pressure valve to "sealing". Press "pressure cook" and adjust the time set to 30 minutes. It will take about 15 minutes to come up to pressure, then cook 30 minutes. Then, Natural Release (which means do nothing for 20 minutes). Quick Release to release any remaining pressure. Remove lid.
How can I make my soup thicker?
If you would like a thicker, less brothy soup, mash half of the beans before adding or just partially mash them in the soup pot with a potato masher or fork.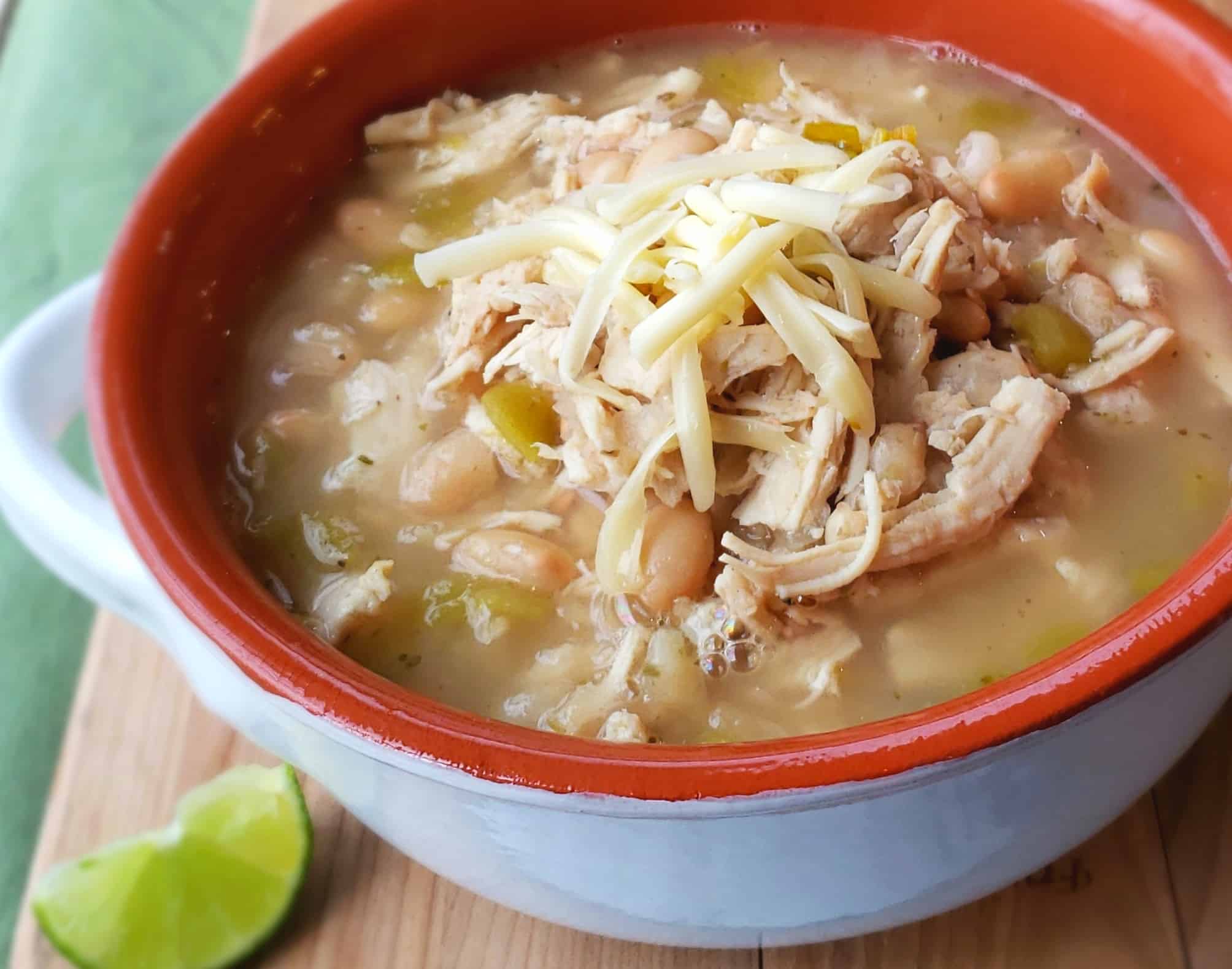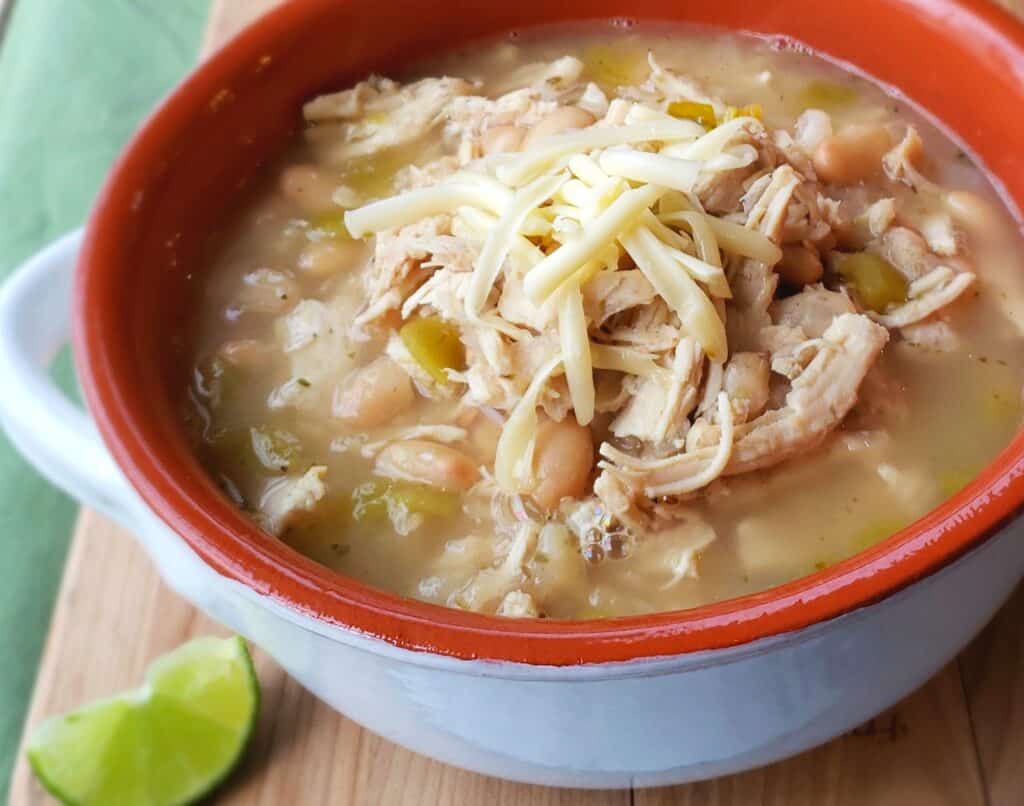 Monterey Jack Cheese and lime juice are just two of my favorite toppings for this soup. Add sour cream, cilantro, and salsa if you like.
Cornbread is the perfect bread for this soup. Try my Vidalia Onion Cornbread. Tortilla chips is a possibility, too!
Watch the ABC33/40's Talk of Alabama Segment on Shortcut White Bean and Chicken Chili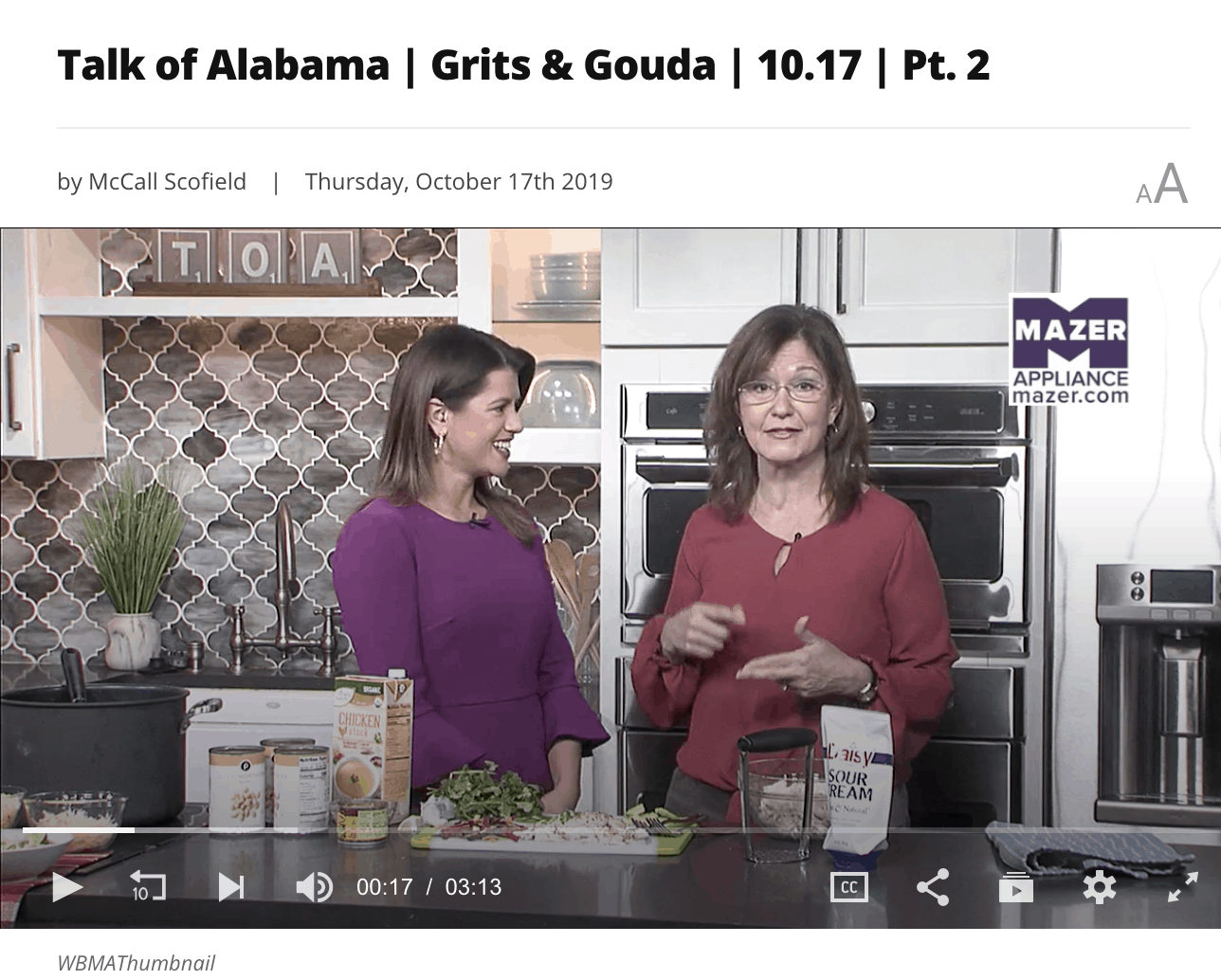 Watch the WBRC Good Day Alabama Segment on Shortcut White Bean and Chicken Chili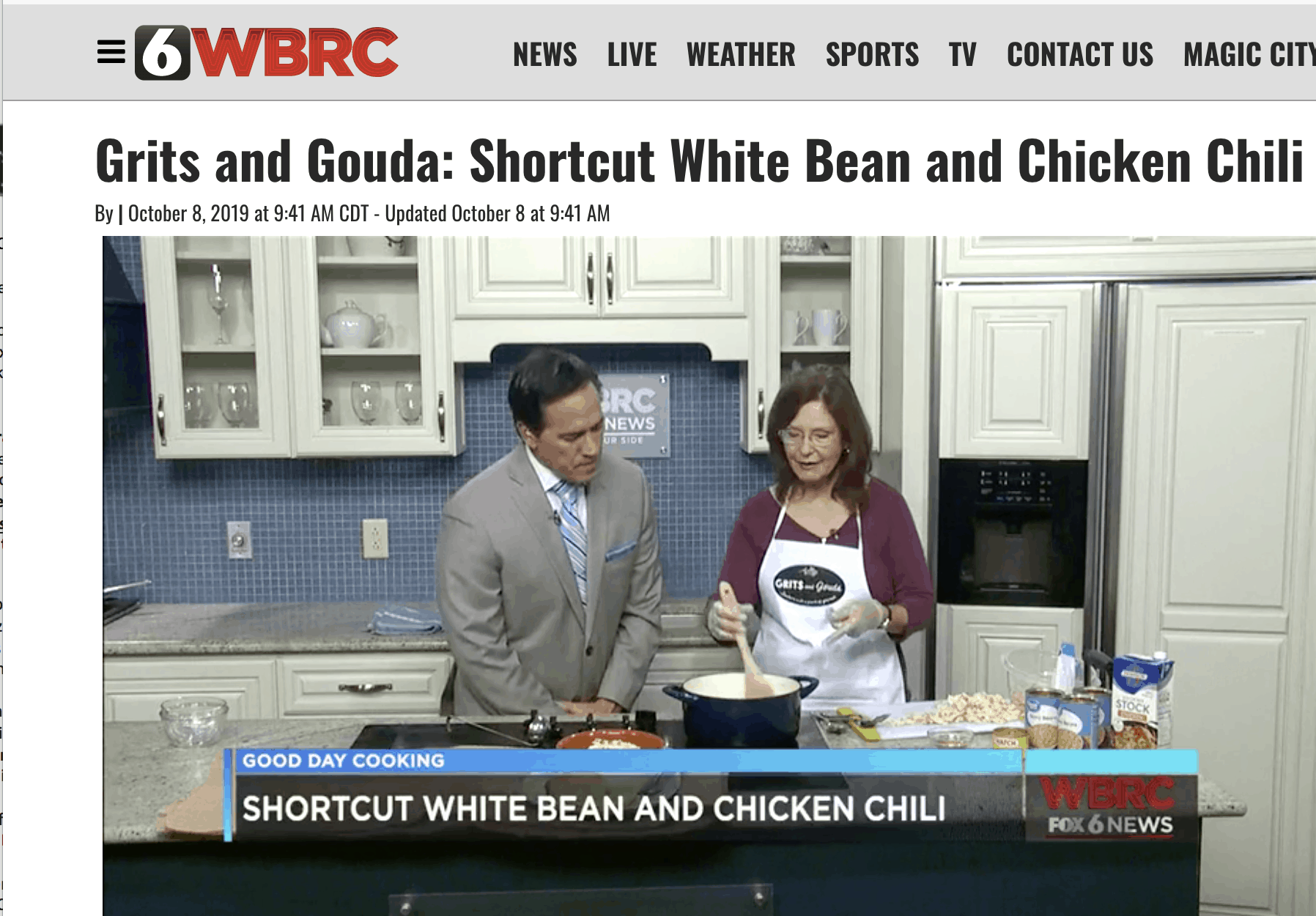 More shortcut soups to enjoy:
Shortcut Tomato and Bread Soup
Instant Pot Collard Greens and Navy Beans


For more Southern shortcut recipes be sure to follow me on Facebook, Instagram, Pinterest and Twitter . Don't leave before you send me your email address on the home page side bar so you don't miss a single post!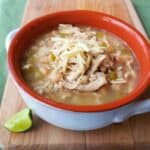 Print Recipe
Shortcut White Bean and Chicken Chili
Shortcut White Bean Chicken Chili has all the flavor of slow cooked beans and chicken but uses canned beans so you can get dinner on the table quicker!
Ingredients
5

small

chicken breasts (about 1 1/2 pounds)

or 4 cups shredded or chopped cooked

1

tablespoon

canola or olive oil

1/4

teaspoon

salt

1/4

teaspoon

ground pepper

optional

1

small

onion, chopped

1 cup

3

cloves

garlic, minced

or 1/2 teaspoon garlic powder

1

tablespoon

olive oil

1

32 oz

carton chicken broth or stock

4 cups

3

15.5 oz

cans Great Northern or Navy beans

drained

1

4.5 oz

can chopped green chiles

1 1/2

teaspoons

ground cumin

3/4

teaspoon

dried oregano or 1 tablespoon fresh

1/4

teaspoon

salt

4

oz

shredded Monterey Jack cheese

Lime wedges and cilantro (optional)

Sour Cream (optional)
Instructions
Preheat oven to 350 degrees.

Line a large, rimmed baking sheet with aluminum foil (for easy clean up) and place the chicken on the foiled coated with cooking spray. Sprinkle with salt (and pepper), if desired. Bake for 25 minutes or until the chicken reaches 165 degrees with an instant read thermometer.

Meanwhile, chop the onion and garlic. Cook the onion and garlic in 1 tablespoon oil in an 8 quart pot over medium heat, stirring often until onion is almost tender.

Add chicken broth to deglaze the pan then add the green chiles, cumin, oregano, and salt.

When the chicken is done, place the breasts on a cutting board and shred by pulling it apart with two forks. You may have to cut some of the pieces into bite size pieces. Add the chicken to the soup mixture. Cover and bring to a boil over medium-high heat. Reduce heat to a simmer and simmer 15 minutes.

If you prefer a more creamy texture, partially mash the beans with a potato masher right in the pot.

Serve in bowls and top with cheese and if desired a squeeze of fresh lime, cilantro and sour cream.
Notes
Additional shortcut:  I often use Rotisserie chicken and chop or shred it.