Muffaletta Dip with an Alabama Twist-Venison Salami
The traditional Muffaletta Sandwich deconstructed as a dip and served with French bread crostini. Salami, capocolla, provolone cheese, green olives, black olives, pepperonccini peppers, and last but not least, Giardiniera (Italian pickled vegetables) make up the tangy, bold flavors of Muffaletta Dip, but I add an Alabama twist-Venison Salami.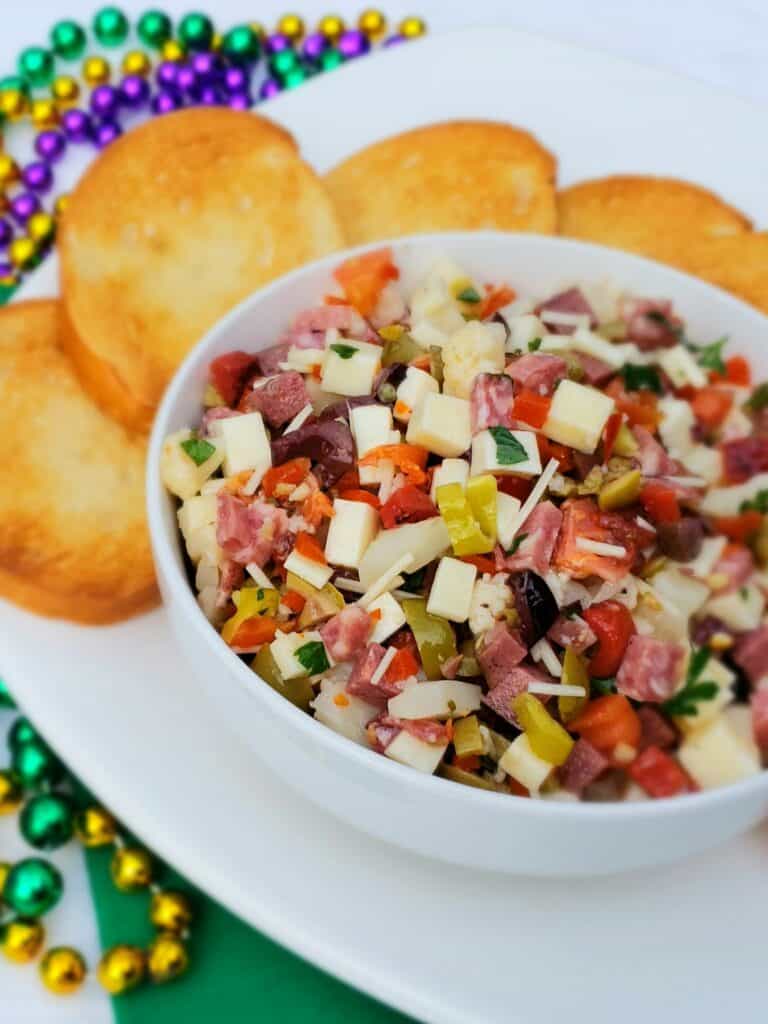 I took the layers of meats and cheeses and chopped them up along with the chopped olive and pickled veggie salad. Instead of stuffing a loaf of french bread with it to make the sandwich, I toasted slices of French bread and served it with the Muffaletta Dip as crostini.
Why use Venison Sausage?
In short, because I have a deep freeze full of venison of all cuts including sausage, ground venison, backstrap (tenderloin), stew meat, roasts, cube steak, bologna and salami. Here in Alabama, my husband and son hunt for deer to put food on the table that we know is lean meat and we know where it comes from. We believe in "from woods to table".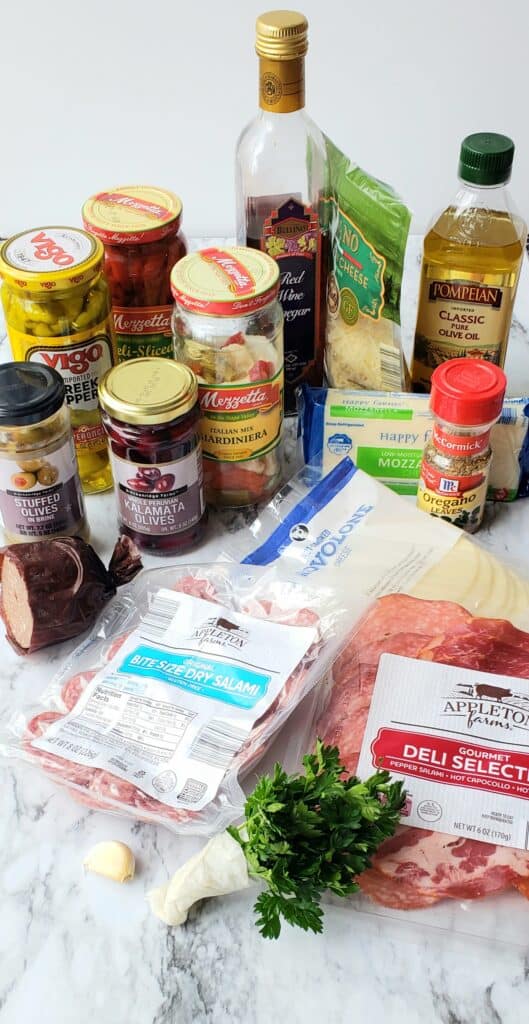 If you've ever been to New Orleans or a NOLA inspired deli, chances are you have eaten a Muffaletta or sometimes called Muffuletta. As you can see, the ingredient list in Muffaletta Dip can be extensive.
I keep several of these things in my fridge like kalamata olives. Black olives are popular, but my family violently opposes them. We love pepperonccini peppers in salads and with our pizza. I always have a drawer full of cheese.
On the frugal side, you can actually buy green olives, roasted red peppers, and kalamata olives at the Dollar Tree. Aldi is my go to store for cured meats and cheeses for a good price.
What is the shortcut?
You don't have to make the whole sandwich, layer it with meats and cheese, and wrap it up. You simply chop everything you see in the bowl. It's a stretch, but it's still a shortcut to eating olive salad on bread.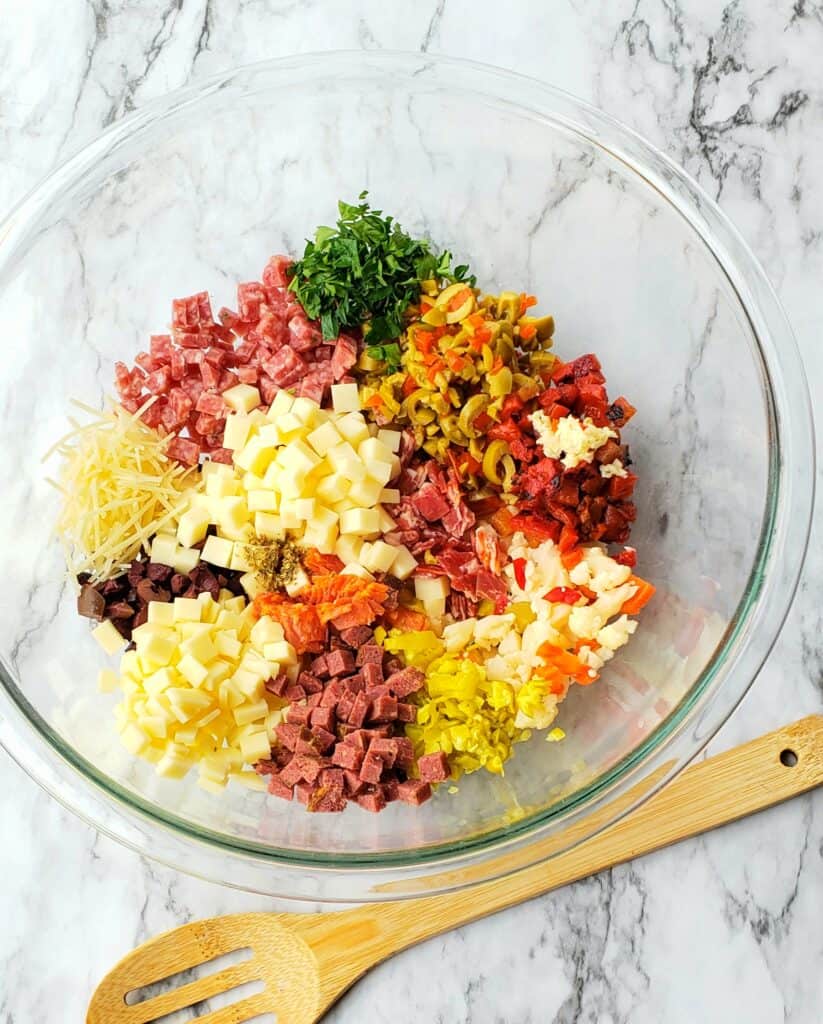 Finely chop the pickled veggies, olives, peppers. Mince the garlic and parsley. Dice the cheeses and meats. Stir in the red wine vinegar (or liquid from pickled veggies or kalamata olives) and olive oil.
One of the keys to this flavorful dip is to let the flavors have time to meld together. Cover it and let it stand in the fridge for at least 2 hours. Overnight is even better. But who can wait? I dove in as soon as it was finished and it was YUMMY!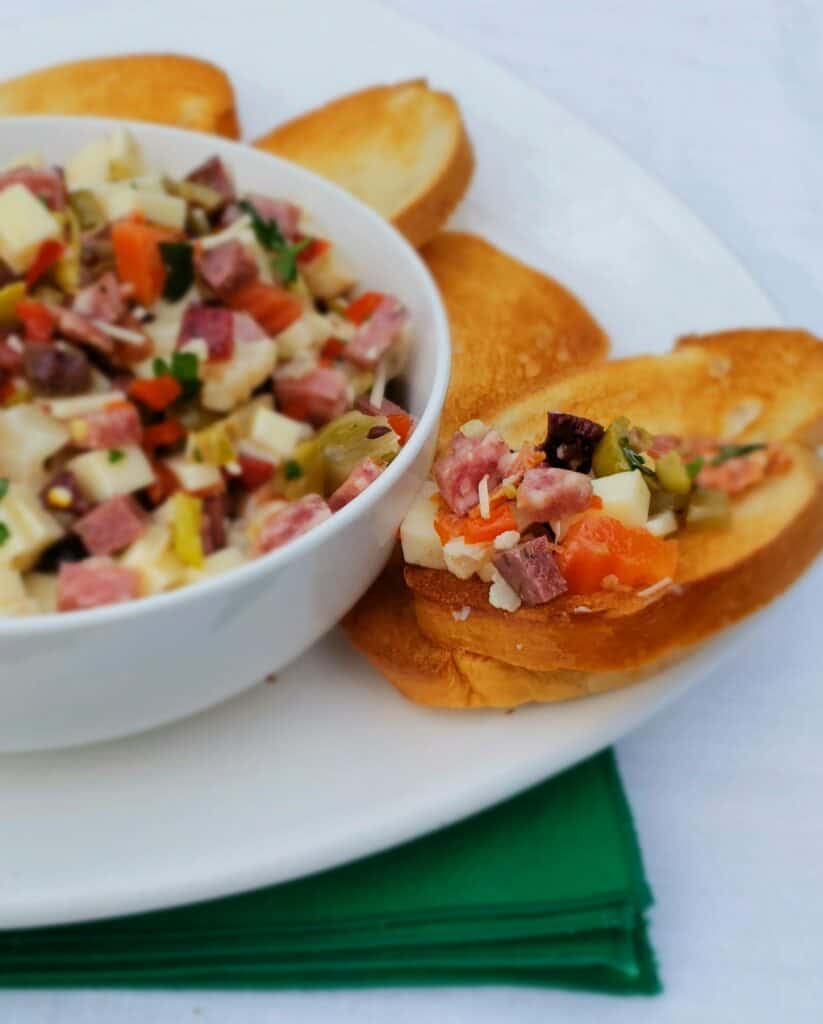 Muffaletta Dip is perfect served with French bread crostini for any occasion not just Mardi Gras or Fat Tuesday.
You can watch the video below where I make Muffaletta Dip on ABC 33/40's Talk of Alabama morning show with Nicole Allshouse.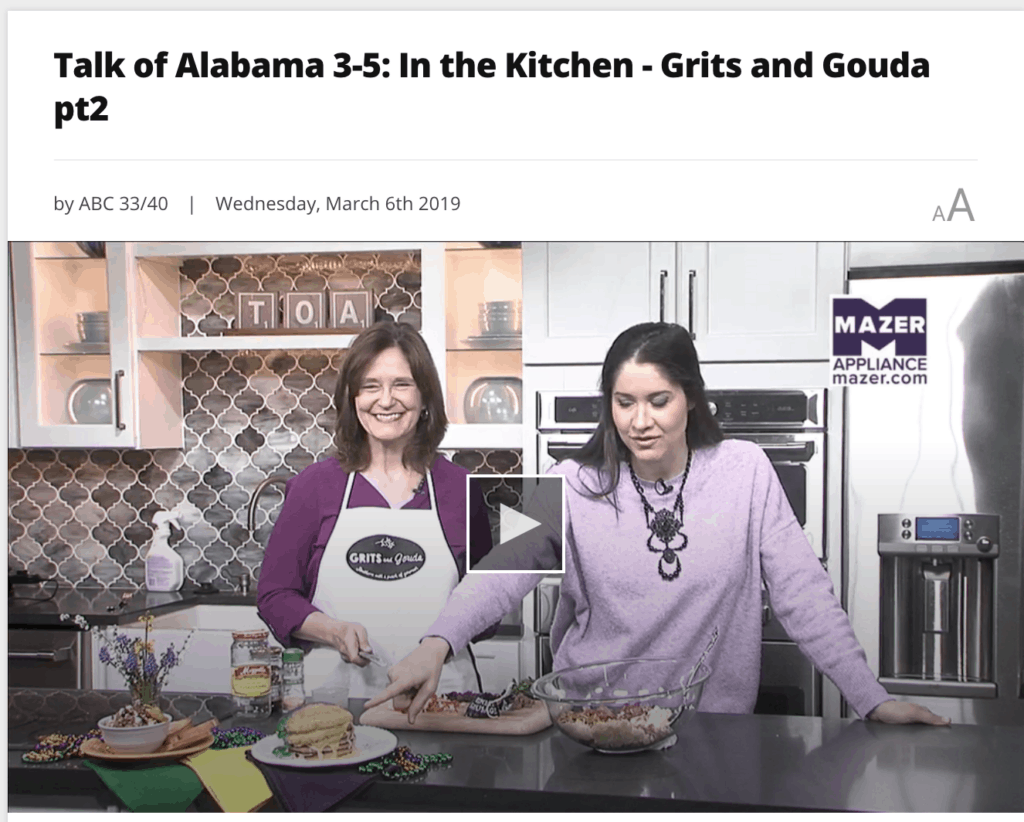 Comment below if you make these and let me know how they turned out!
Be sure to follow me on Facebook, Instagram, Pinterest and Twitter . Don't leave before you send me your email address here so you don't miss a single post on my Southern shortcut recipes!