Pimiento Cheese with Fire-Roasted Peppers? I know. I know. It's bordering on Southern heresy to use anything but the little bottle of diced pimiento peppers in this iconic Southern snack, appetizer, and sandwich spread-Pimiento Cheese. The good news is fire-roasted peppers also come in a bottle. You don't have to roast your own-I didn't.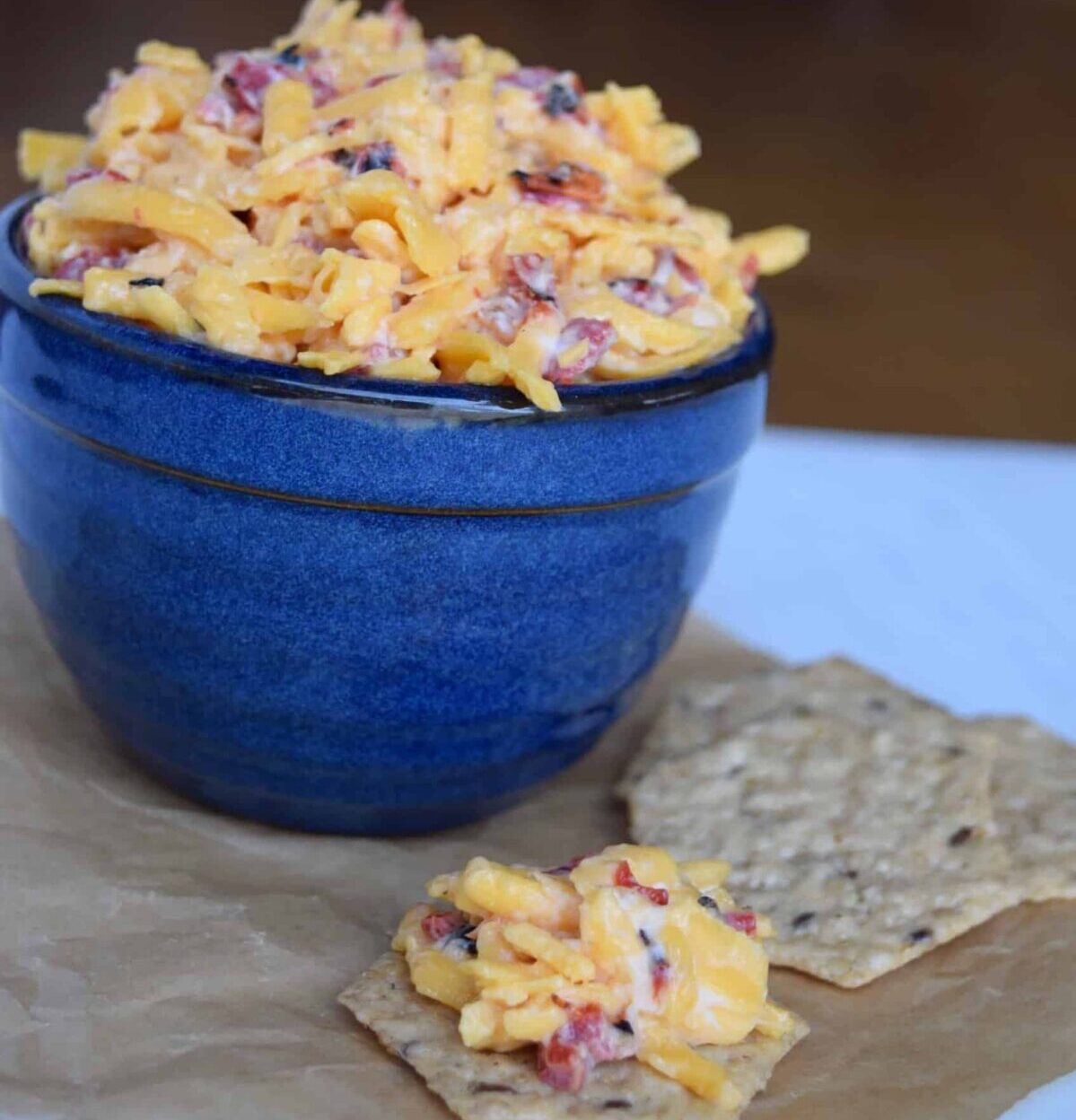 It doesn't get much more Southern than Pimiento Cheese aka Paminna Cheese! It's a simple concoction of cheese, mayo, and pimiento peppers and often, cream cheese.
This is a pantry-friendly variation using what you might have on hand on your shelves.
Click on the picture or link to watch the video from my appearance on WBRC Good Day Alabama showing you how to make it and also how to roast your own peppers on a gas burner.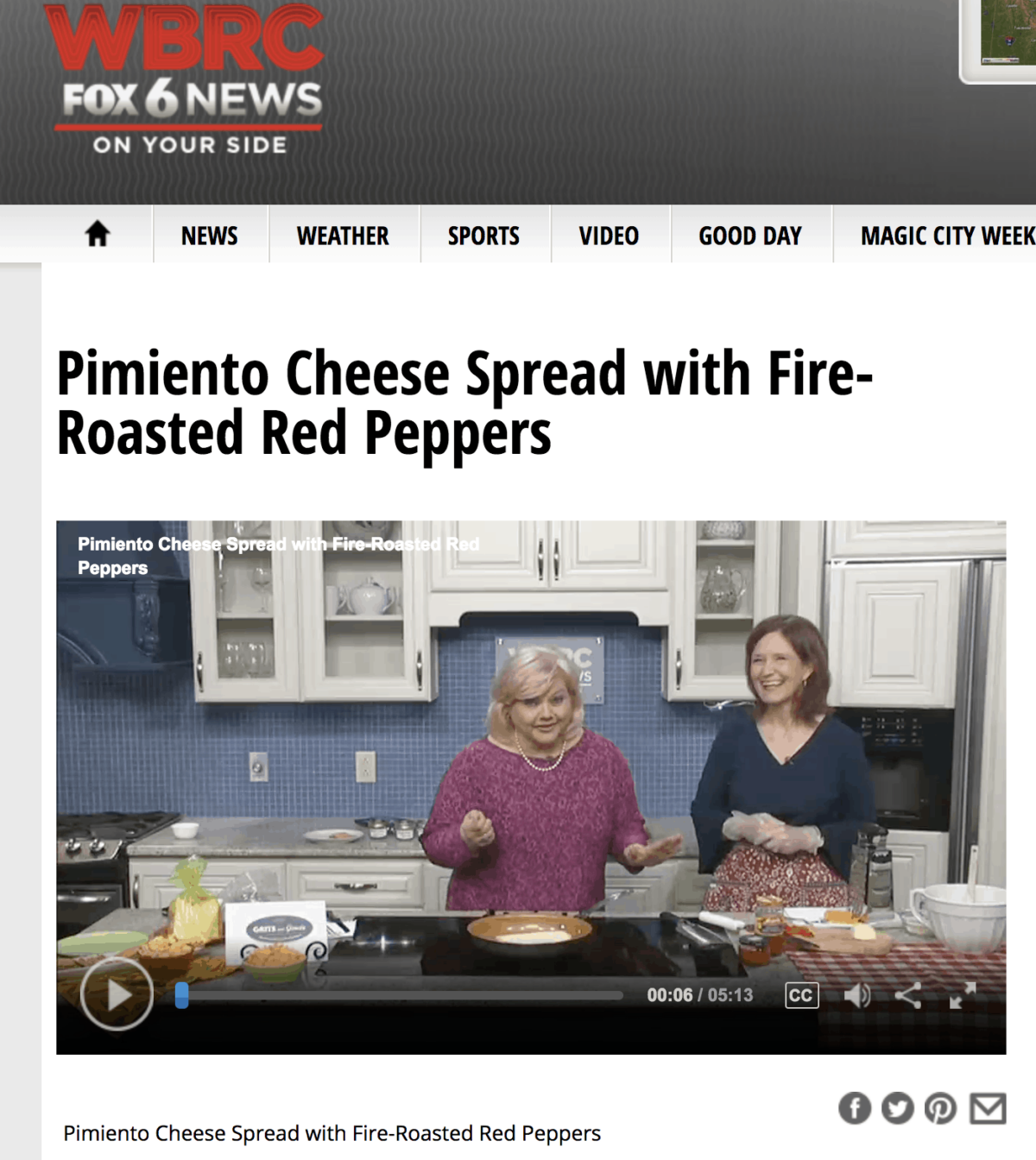 For complete, detailed directions scroll down for the printable recipe.
What can I add to pimiento cheese spread?
The most common add-ins are grated or minced onion, onion powder, garlic powder, hot sauce, cayenne pepper, and ground black or white pepper.
I'm kinda partial to my Jalapeno Pimiento Cheese recipe. It has a lot higher cream cheese to Cheddar cheese ratio than this recipe but it's super creamy.
The jalapeno gives it a kick of flavor and crunch, as well as a pop of green color to go with the red pimientos.
I like my Cheddar cheese the sharper the better and freshly grated.
If you buy pimiento cheese in a tub in the grocery store be careful to read the label. Many are not cheese at all, rather, cheese "food". What does that even mean anyway?
I can handle American cheese if it is real cheese and not the plastic cheese that is made from some cheese but with added saturated vegetable oil, emulsifiers, and dyed orange with coloring agents.
Does that make me a cheese snob or just a lover of real food?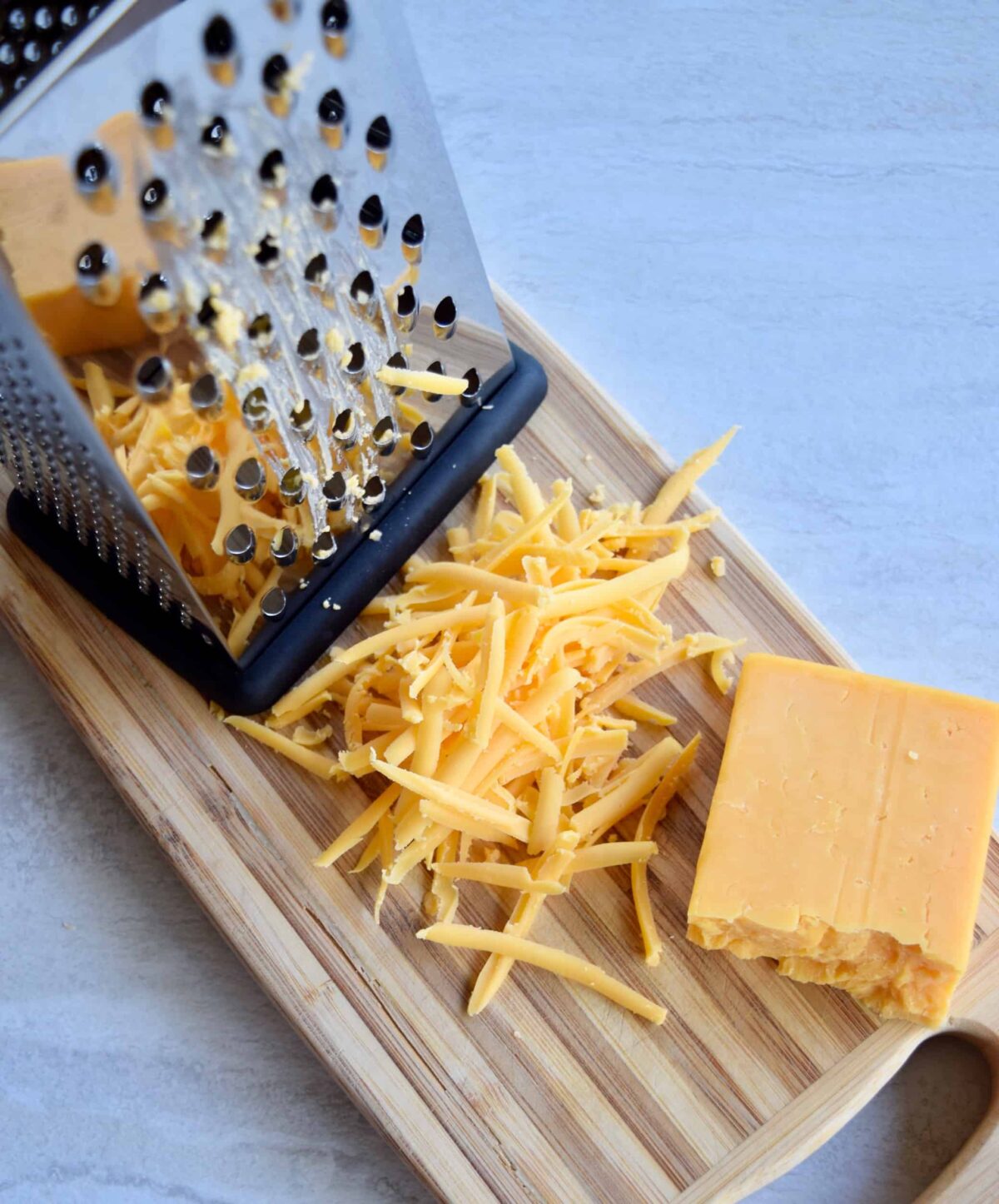 Pimiento vs. Pimento
Why do I spell it pimiento instead of pimento? It goes back to my days in the Oxmoor House (Southern Living, Cooking Light cookbook division of what used to be Southern Progress, then Time Inc. Food Studios and most recently Meredith) test kitchen.
Our editing style spelled it pimiento because that is the original way Merriam Webster Dictionary spelled it. It is Spanish for pepper.
Since the dictionary had a second spelling of the word, pimento, and it refers to the tree from which allspice is made, our editing style went with the first spelling. I looked and it is spelled both ways on jars of the sweet pepper.
Out of habit and years of editing recipes for Oxmoor House, I still spell it pimiento instead of pimento. How do you spell it?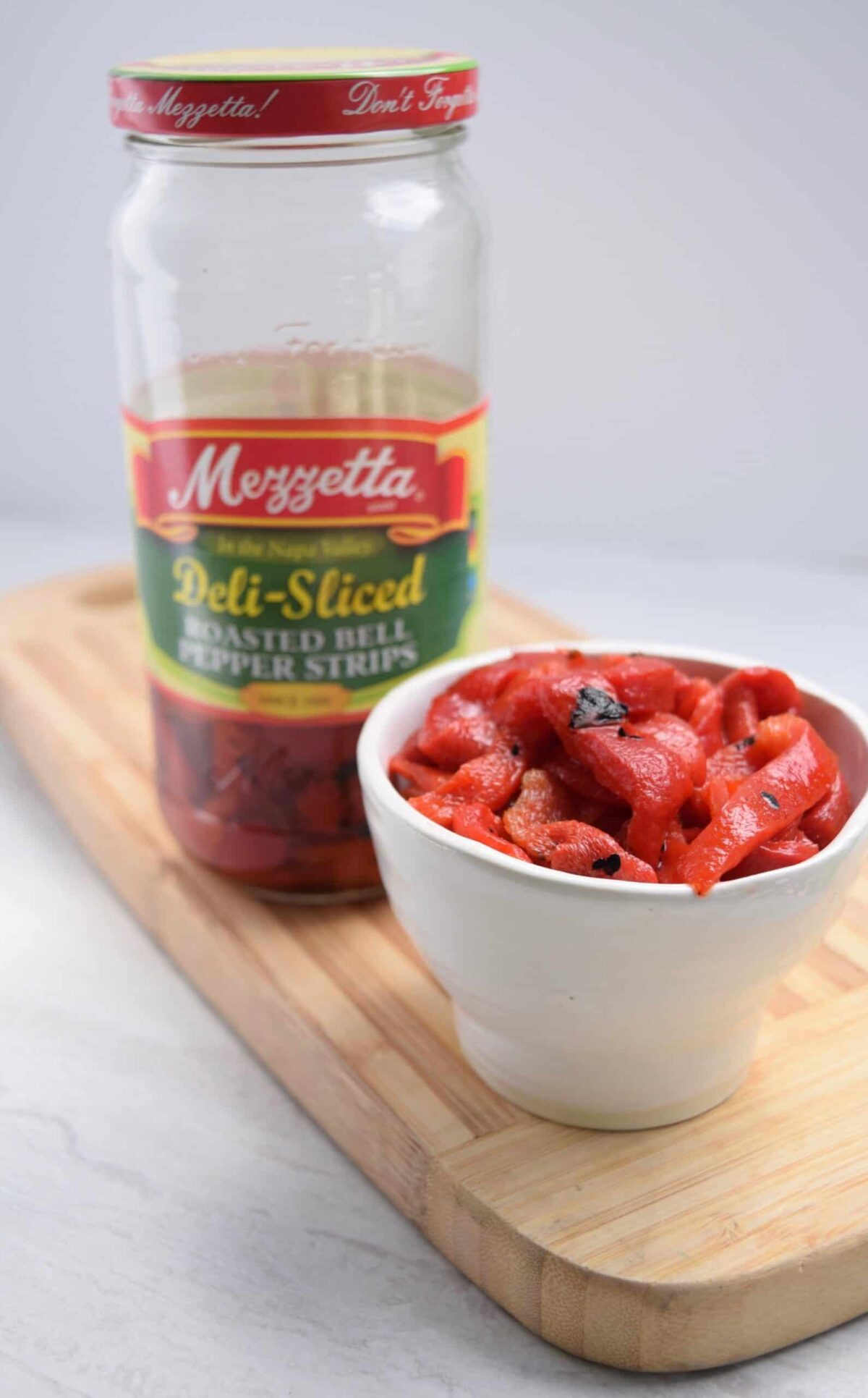 What is the best way to serve Fire Roasted Pimiento Cheese
Let me count the ways to serve this creamy, savory spreadable treat
On a Ritz cracker (because everything's better on a Ritz, right?)
On a picnic
In a lunchbox sammich at the school cafeteria
Spread on water crackers and served on a silver platter at a wedding
Piled high between two slices of white bread and sealed in green plastic bags at the Masters golf tournament (iconic sandwich at the Masters)
After work spread on a Crunchmaster multi-seed cracker (I'm addicted to these crackers too)
And my most recent favorite way to serve pimiento cheese is in a grilled cheese sandwich with crumbled bacon!
I can eat Pimiento Cheese in it's purist form but I do tend to experiment with flavors and textures-have you ever added chopped green olives with the pimiento already in the olive!? Yes, I like to play with my food! ha ha
What's the shortcut?
Pimiento Cheese with Fire Roasted Peppers recipe uses the jar of fire roasted peppers as the shortcut in this recipe and not roasting your own. I was drawn to the jar of roasted red peppers in my fridge when I did not have the cute little jar of pimiento peppers recently.
I love the extra flavor the little charred bits add. I'm a huge fan of roasting my own red bell pepper over my gas burner but you have to plan ahead to have red bell peppers on hand.
I always have a jar of roasted bell peppers, but not always fresh bell peppers.
How to roast your own peppers
It's super simple to roast your own red bell peppers. Just turn on your gas burner and place a red bell pepper on it with tongs. You can also place it over a hot grill grate. When the pepper is charred in that spot, rotate it about one fourth of the way and let it char that side. Continue until the entire pepper is charred. Quickly drop it in a paper bag. A zip-top plastic bag will also work. Close it and wait 10 minutes. The charred skins should slide right off. I don't work too hard to remove all the charred bits because I like the flavor. Now, all that's left is to remove the seeds inside and chop it up.
On Good Day Alabama, I made a grilled cheese sandwich on sourdough bread with my Fire-Roasted Pimiento Cheese and it was a big hit! Mickey Ferguson was loving the ooey gooey, melty cheese!
Who's ready to make Pimiento Cheese with Fire-Roasted Peppers?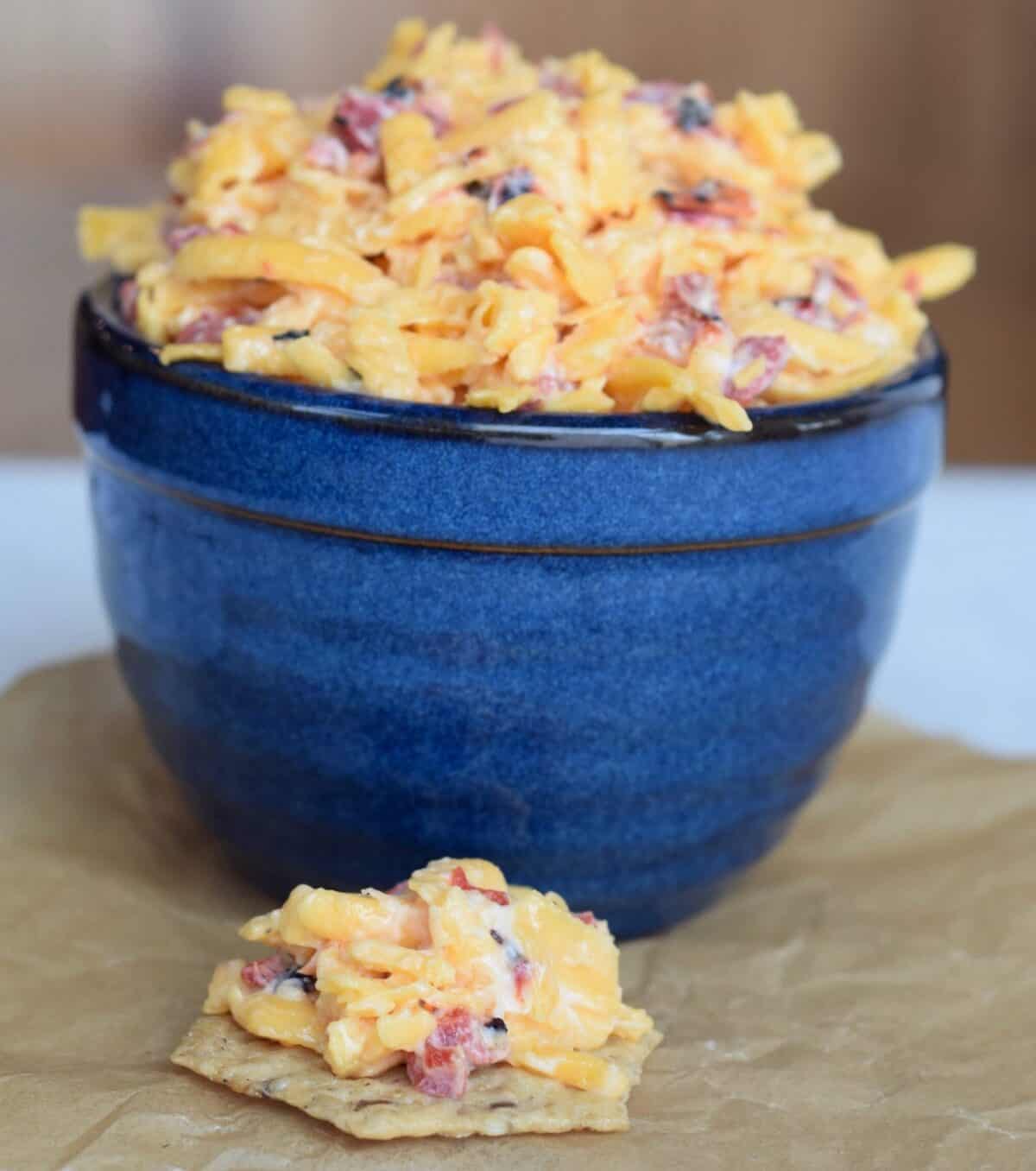 PIN IT FOR LATER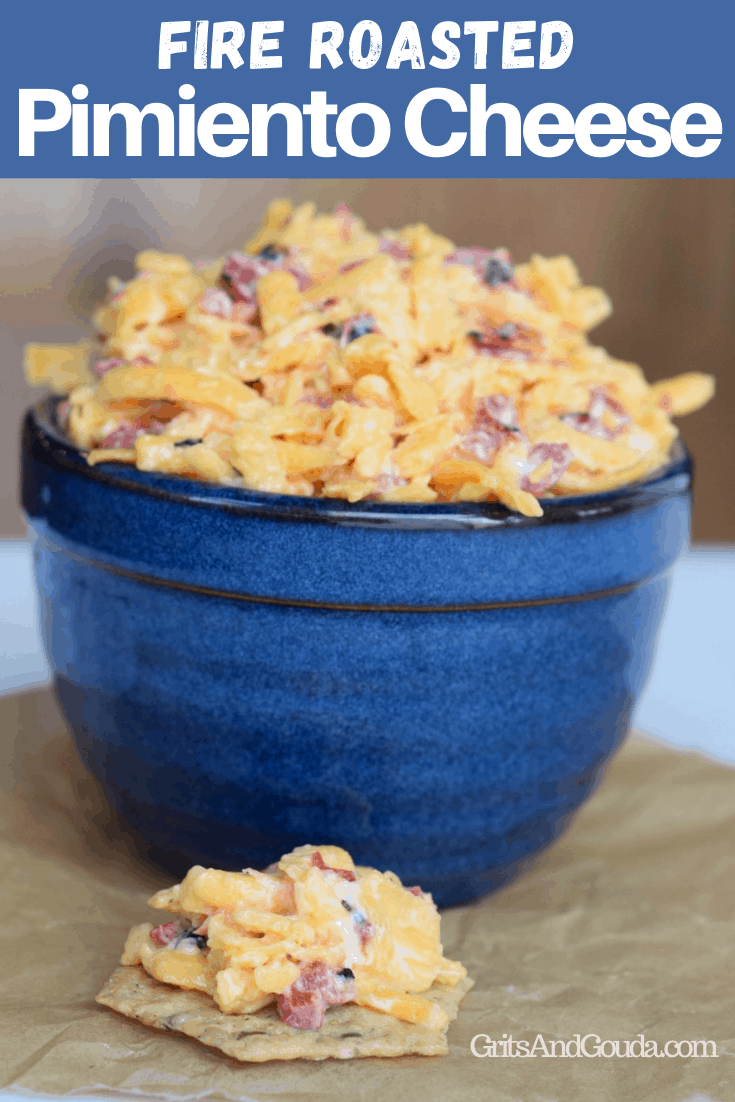 Other yummy snacks & Appetizers you will love:
Muffuletta Dip with an Alabama Twist
Bacon Tomato Dip (BLT Dip)
Bacon-Wrapped Cheesy Tater Tots
Be sure to follow me on Facebook, Instagram, and Pinterest. Don't leave before you sign up here so you don't miss a single post on my Southern shortcut recipes!
If you make this recipe I'd love to see it! Tag me on social media with #gritsandgouda or @gritsandgouda. Leave a comment below the printable recipe if you have questions or tell me how you liked the recipe. Don't forget to rate it 5 stars if you love it!
Pimiento Cheese with Fire-Roasted Peppers
I know. I know. It's bordering on Southern heresy to use anything but the little bottle of diced pimiento peppers in this iconic snack, appetizer, and sandwich spread. But in my defense, fire-roasted peppers can also come in a bottle so you don't have to roast your own.
Ingredients
1

8-oz block mild or sharp Cheddar cheese, shredded (I like Cabot Vermont Sharp)

1/4

cup

mayonnaise

2

tablespoons

cream cheese

1 ounce, softened

2

tablespoons

chopped bottled fire-roasted red peppers or bottled diced pimiento peppers

1

teaspoon

grated sweet onion or 1/4 teaspoon onion powder

1/4

teaspoon

salt

Crackers

My favorite new cracker is Crunchmaster Multi-Seed crackers
Instructions
Combine all ingredients in a medium size bowl until all ingredients are incorporated. You can also use an electric hand mixer. Spread on crackers for a snack or appetizer or between bread for a sandwich. For low-carb dipping try using fresh carrot "chips" or kettle potato chips.