Bacon-Wrapped Cheesy Tater Tots taste like bite-size loaded baked potatoes and only 3 ingredients! Perfect finger food or appetizer for homegating, tailgating, Holiday parties, or even Sunday brunch. Make them in even less time with my air fryer instructions.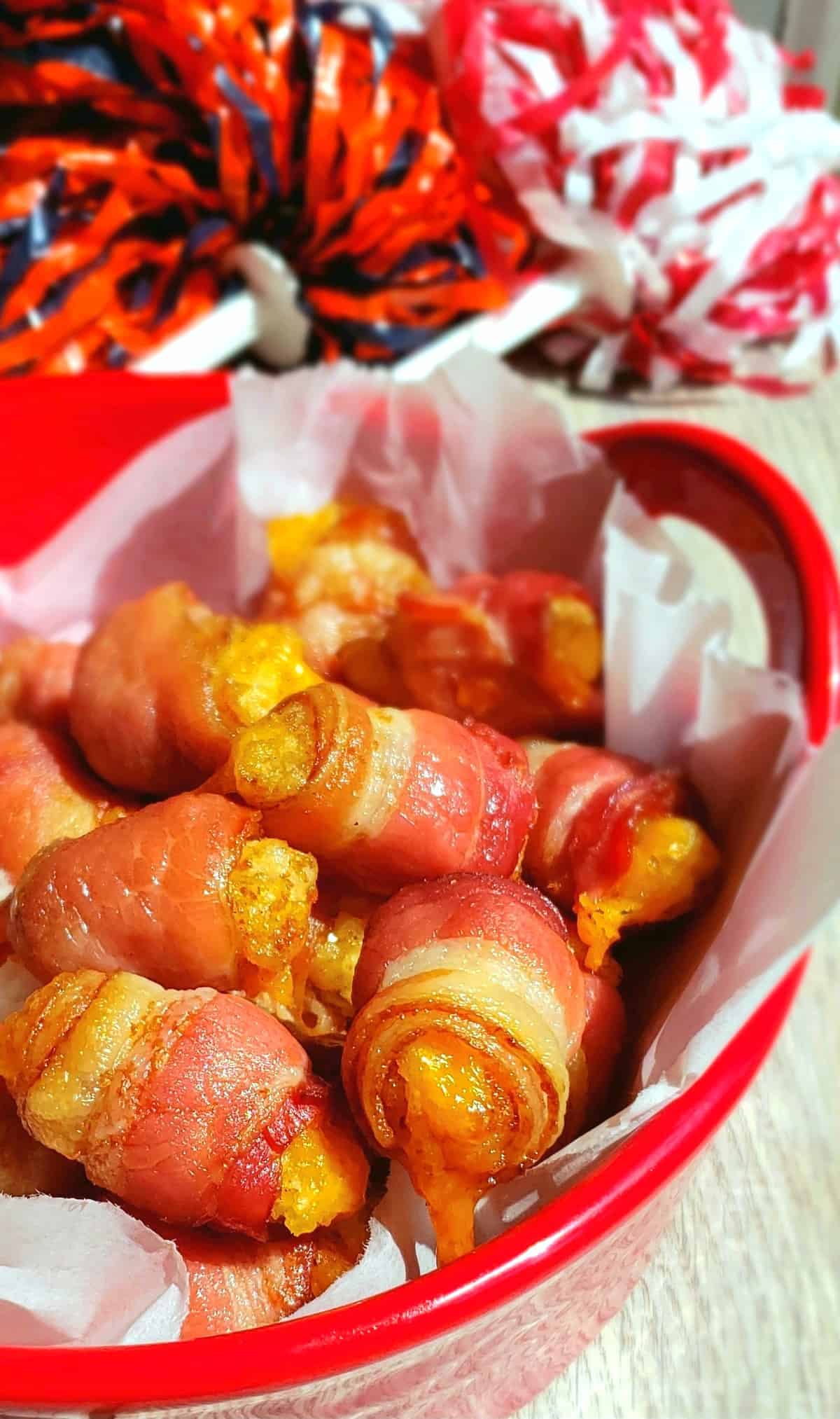 Here in the South-more specifically Alabama-fall means college football. We look forward to the first Saturday of college football like a child looks forward to Christmas morning.
Anything with bacon in it is going to be a hit at your party but when you wrap bacon around a tater tot stuffed with cheese, it's like serving "poppable" bites of loaded baked potatoes.
How to make Bacon-Wrapped Cheesy Tater Tots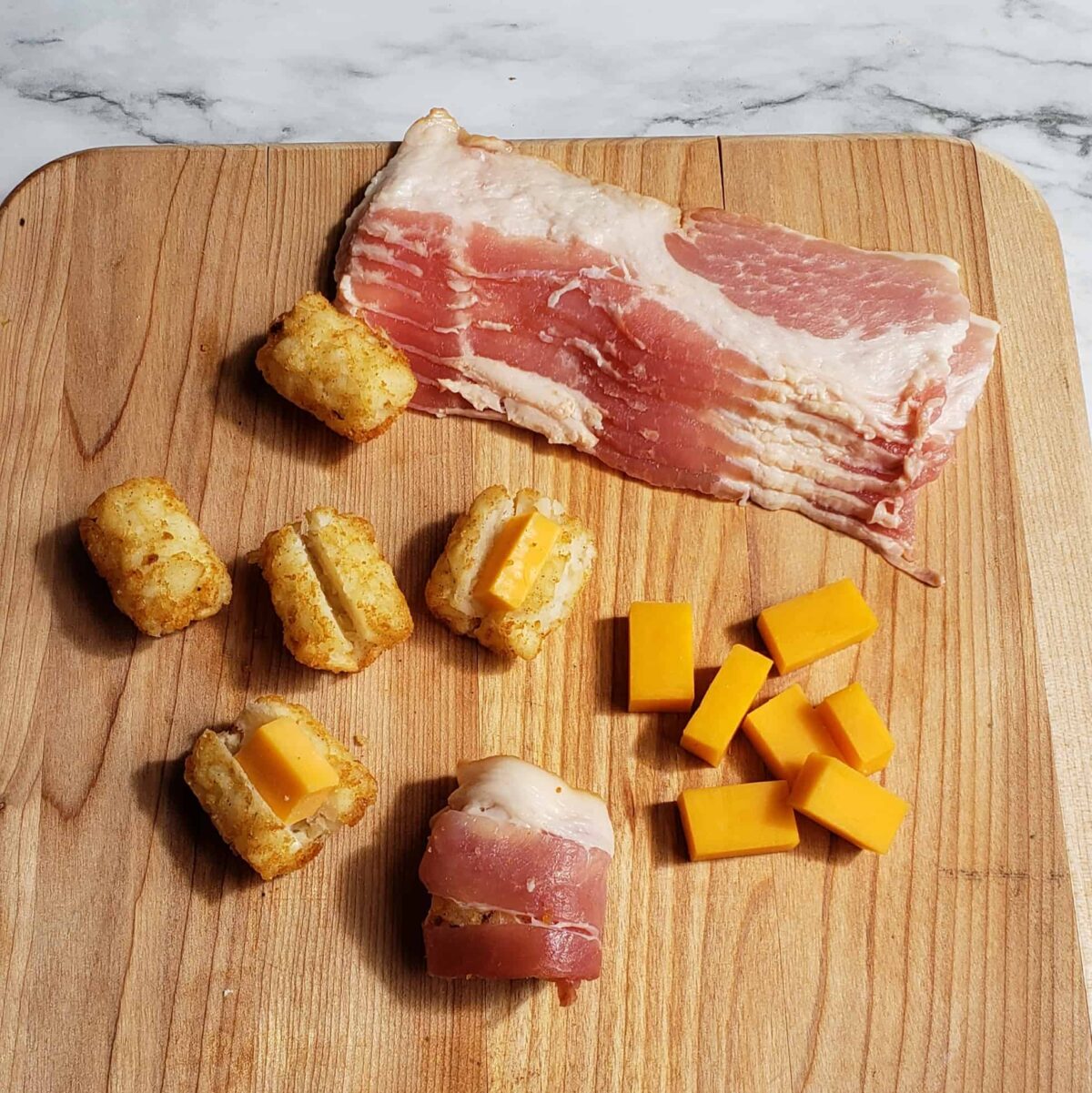 The assembling of this tasty snack is simple but I don't know about you but I'm a visual learner so here is the process in a picture.
Be sure to only partially thaw the tator tots or they tend to fall apart. Don't worry about completely enclosing the cheese in the tater tot; the bacon will hold it all together.
Line your rimmed baking pan with aluminum foil. I learned the hard way this is not the time to use parchment paper. Aluminum foil makes for easy clean up and I'm all about easy clean up! I feel that the grease seeps through parchment paper.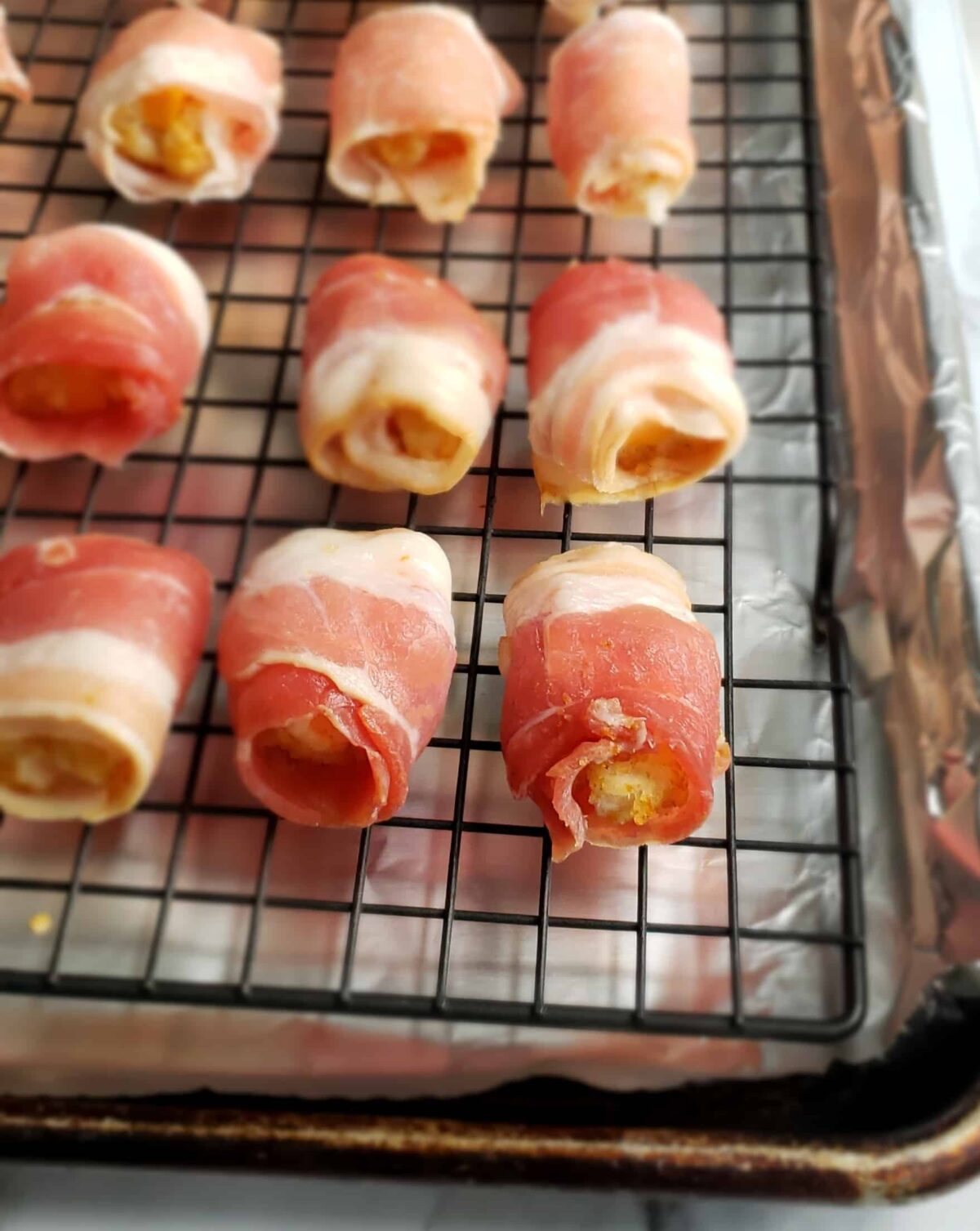 Bake at 400F for 25 to 30 minutes or until the bacon is done and edges are crispy. This may be a personal preference as to how brown and crispy you like your bacon.
Tip:
Don't use thick bacon. You want the bacon to be thin enough to wrap around the tater tot and crisp up in the oven in about 25 minutes. Thick back doesn't wrap that well with the small tots and takes much longer to cook all wrapped up.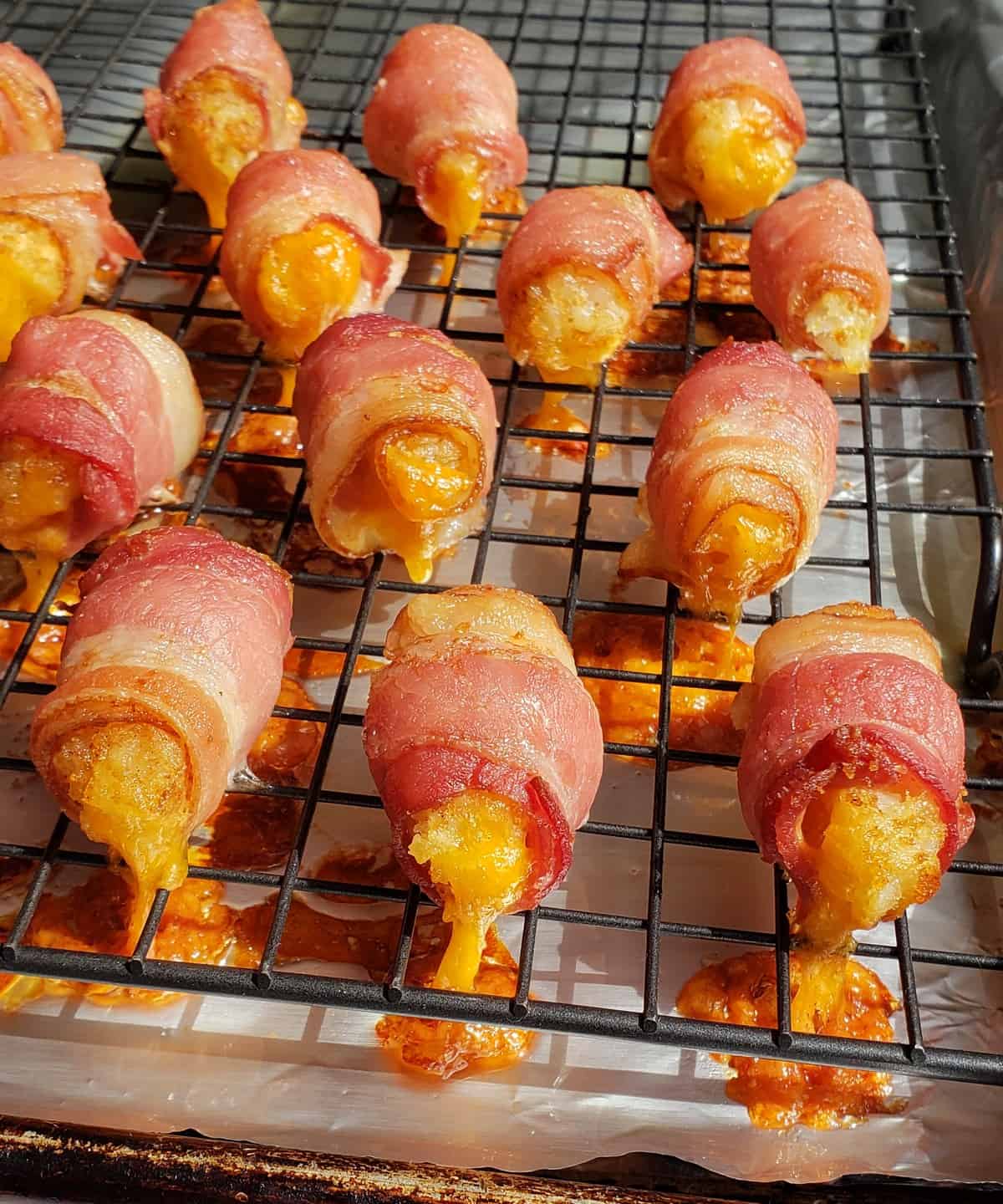 You've heard of a cheese pull. Well, say hello to the cheese drip! This is my favorite part.
I scraped up the toasted cheese that dripped onto the foil and it was so yummy! If you prefer more cheese to stay inside the potato just wrapped the bacon so that the ends are covered better.
How to make Bacon-Wrapped Cheesy Tater Tots in the Air Fryer
First, preheat the air fryer for 3 minutes.
Follow the same procedure to wrap the bacon around the cheese-filled tater tots as above with oven-baked Bacon-Wrapped Cheesy Tater Tots.
Then, arrange the appetizers in a single layer in the air fryer, whether it is a basket-style or oven-style air fryer. Cook on Air Fry at 390F or 400F for 15 minutes or until bacon is done and edges are browned and crispy.
More bacon recipes
Sour Cream and Green Onion Potato Salad with Bacon
Tomato and Vidalia Onion Pie with Bacon
Bacon-Wrapped Venison Backstrap Roast
Bacon-Wrapped Dove Jalapeno Poppers
PIN FOR LATER
Watch my tv segments for making Bacon-Wrapped Cheesy Tater Tots
WBRC Fox 6 Good Day Alabama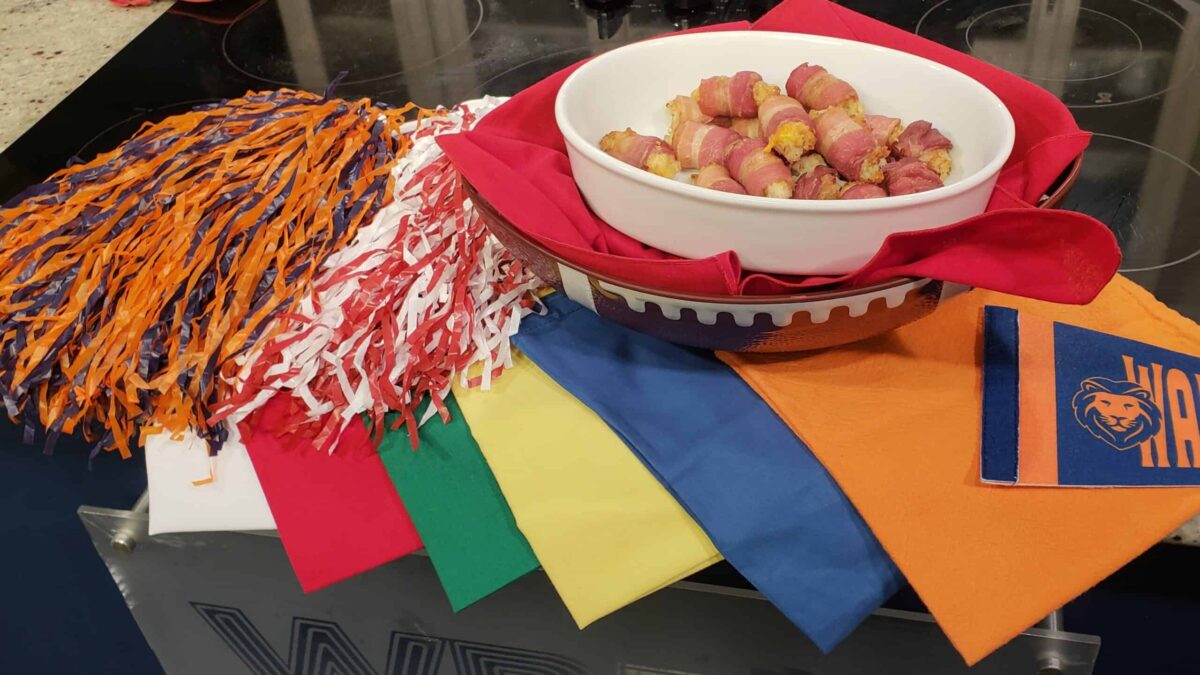 ABC 33/40 Talk of Alabama Part 1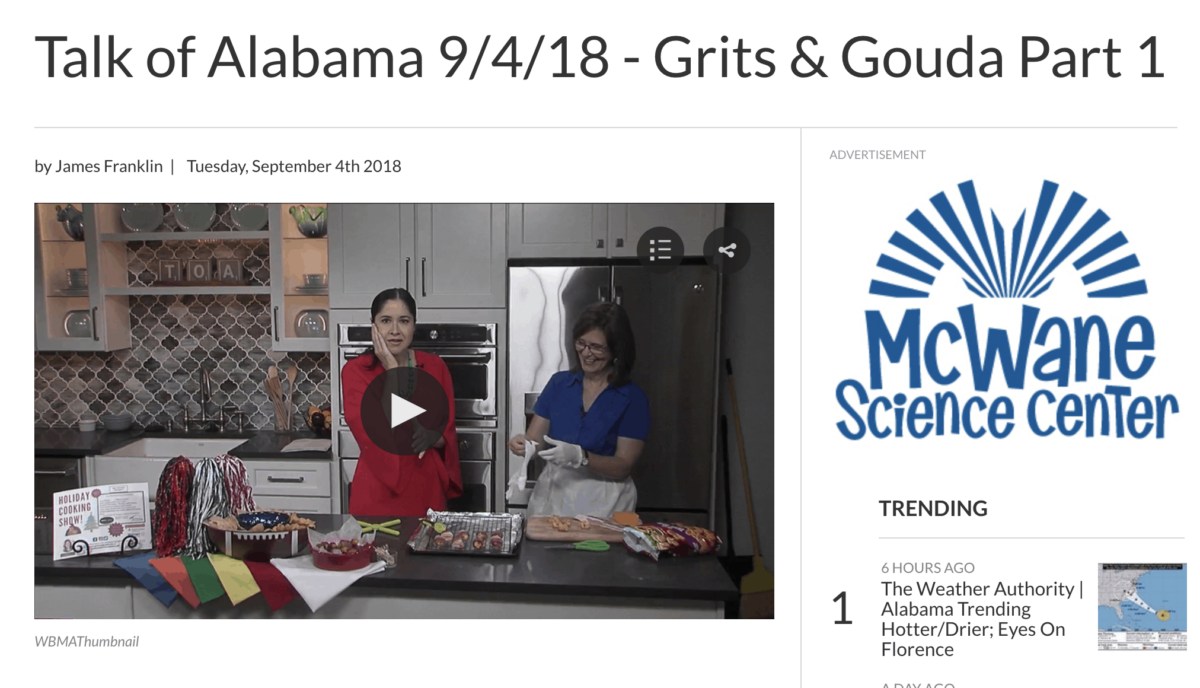 ABC 33/40 Talk of Alabama Part 2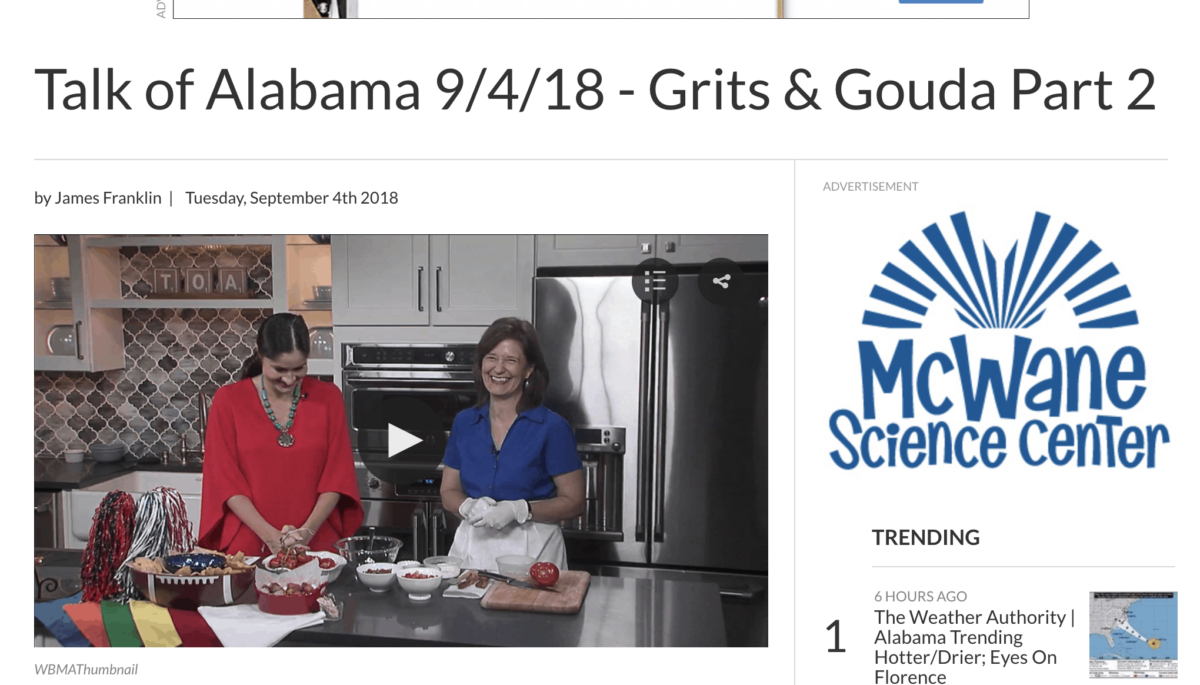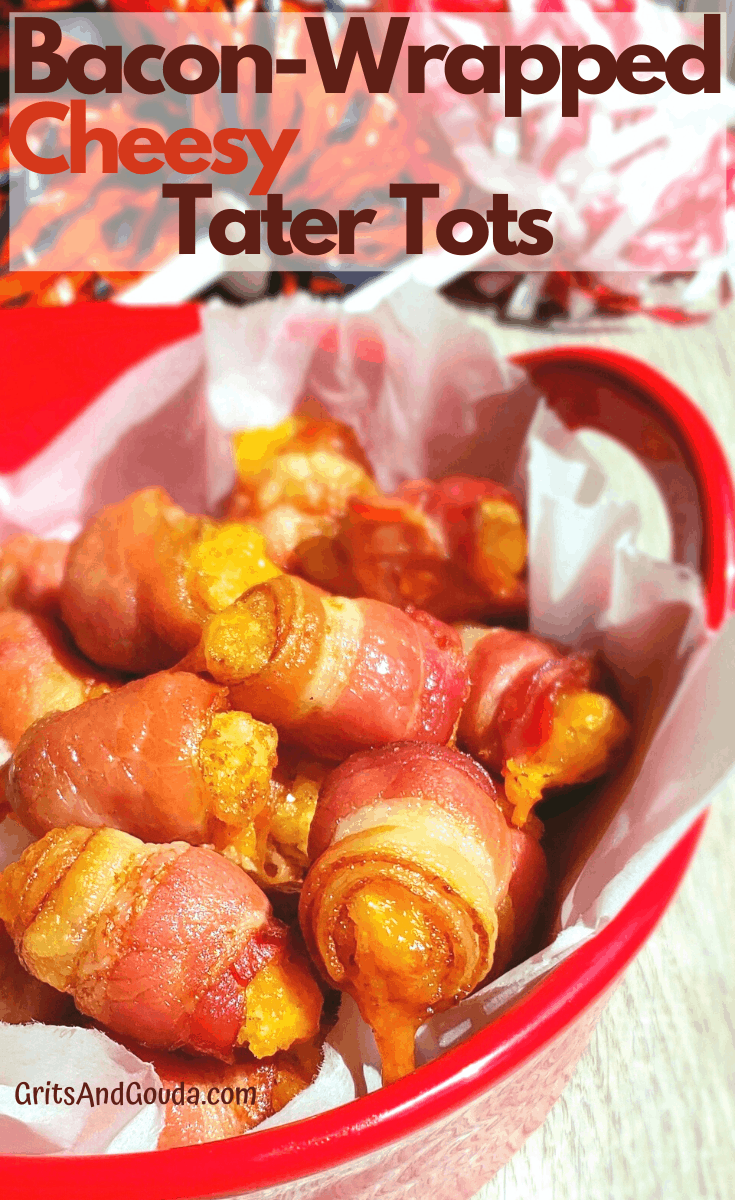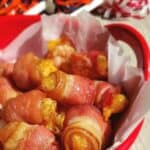 Print Recipe
Bacon Wrapped Cheesy Tater Tots
These cheesy bites of potato and bacon are perfect for snacks, appetizers, party food and even breakfast! That's right- they taste just like a bite-size breakfast casserole and only 3 ingredients!.
Ingredients
3

ounces

Cheddar cheese from an 8 ounce block

24

frozen tater tots

12

slices

bacon

cut in half (avoid thick-cut bacon)
Instructions
Preheat oven to 400 degrees. Line a large rimmed baking sheet pan with aluminum foil and place a cooling rack on the foil.

Cut cheese into 1/4-inch thick x 1-inch long sticks.

Place tater tots on a paper plate or microwave-safe plate and microwave on HIGH for about 45 seconds or until partially thawed. They will tend to fall apart if they are completely thawed. With a sharp or serrated knife, make a slit lengthwise halfway into the tater tot. Insert a piece of cheese and press the tater tot together around the cheese.

Wrap a piece of bacon (remember they are cut in half) around the filled tator tot and place on the prepared cooling rack. Bake for 25 minutes or until bacon is done and crisp around the edges.

Serve warm.
Notes
Note: Try seasoned or onion-flavored tater tots for added flavor.
Nutrition