Easy Instant Pot Boiled peanuts are the fastest way to make this classic Southern salty snack. Often found at road side stands and local convenient stores where they are boiled in a pot for hours and hours. You can have the best boiled peanuts, plain or spicy, in about an hour to enjoy for game day!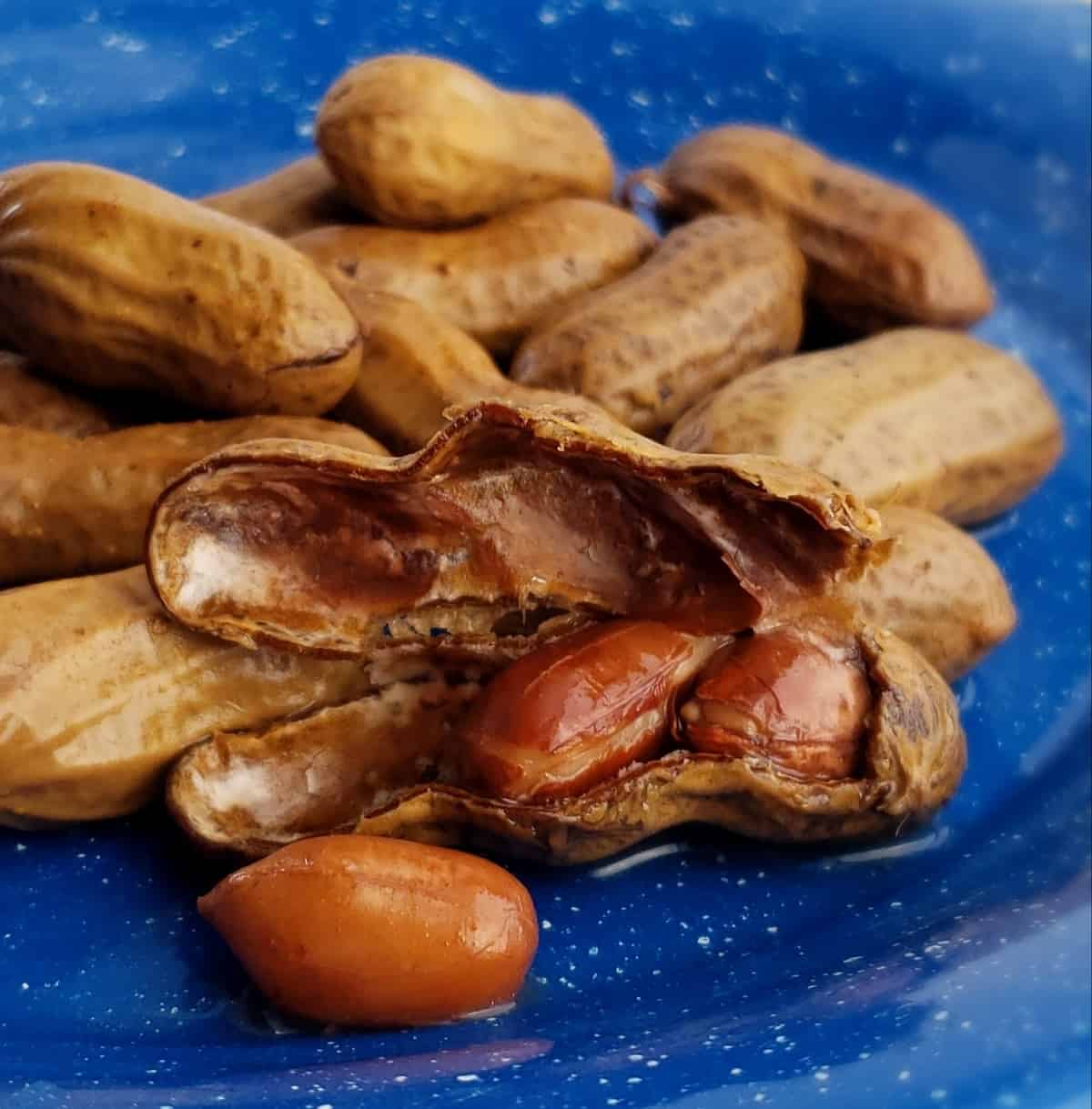 If you're not from the South, it may sound crazy to boil a "nut". You're probably used to eating peanuts roasted at a baseball park or a roadhouse steak restaurant.
After you realize peanuts are actually a legume like a chickpea, it makes more sense to boil them, but I'll admit when I first moved to Alabama and saw the sign "Boiled Peanuts", I was doubtful.
Scroll down to read about my first encounter with boiled peanuts.
Why cook Boiled Peanuts in an Instant Pot?
Boiled Peanuts couldn't be easier or quicker to make than in an Instant Pot pressure cooker.
Boiled peanuts are one of those Southern delicacies that you just know takes hours to cook on the stovetop. The Instant Pot solves that problem and cooks them in about an hour.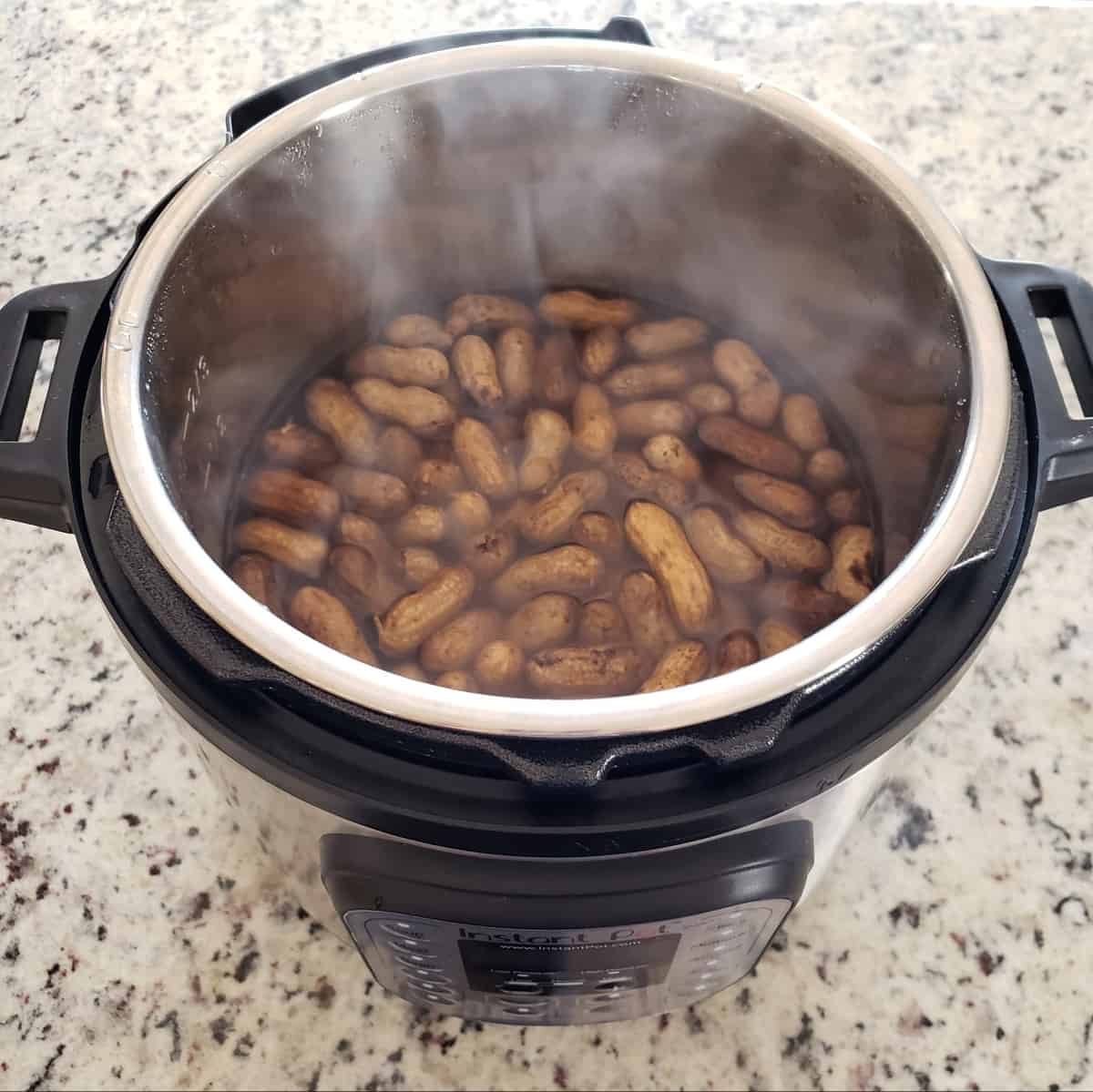 Where and when to buy raw peanuts
Now, truth be told, I made these when Publix had raw (not green) peanuts on sale BOGO (buy one get one). You can still buy raw ones in the produce section year round. Don't mistake them for green peanuts or roasted peanuts.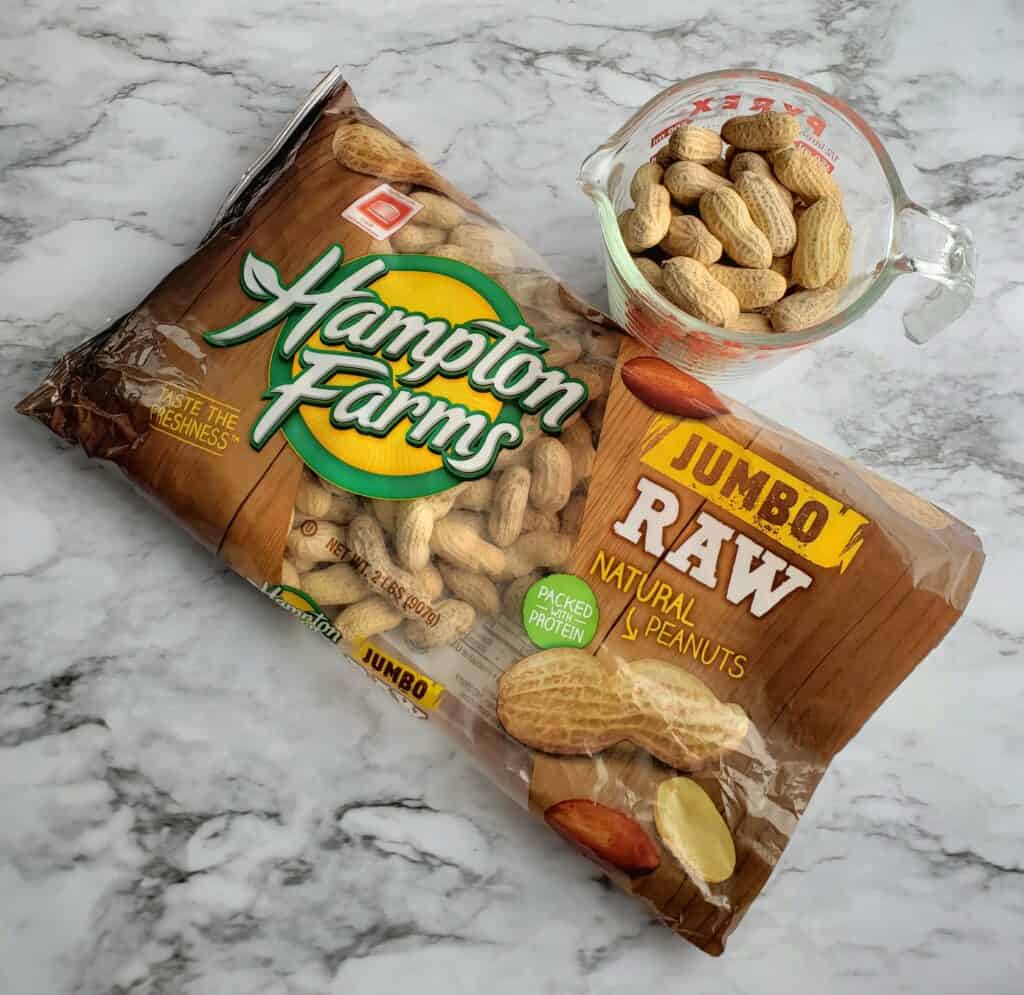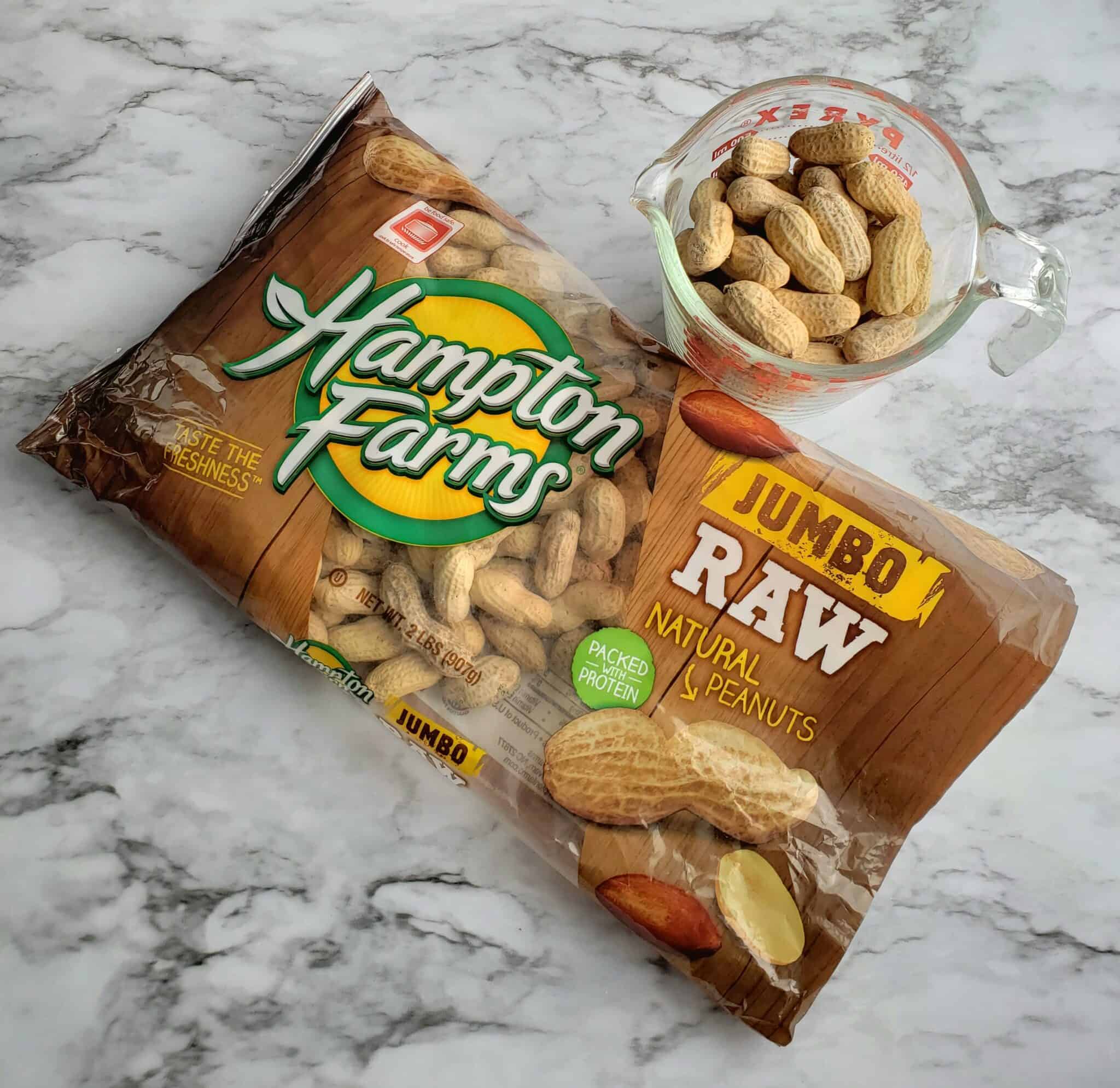 Green peanuts are freshly harvested peanuts and are highly perishable so they might not be as available as raw peanuts. Raw peanuts are air-dried but not cooked or roasted.
Can I make Instant Pot Boiled Peanuts with green peanuts?
Yes. If you are lucky enough to find green peanuts in the mid summer to fall season. Since they are not dried, they contain more moisture and will not take as long to cook.
I cooked 1 pound of them for 42 minutes at HIGH pressure with water to cover them and 3 tablespoons of salt. I used 4 cups of water-they actually float to the top. I let them naturally release because that allows the shells soak up more of the salty water, making the peanuts saltier.
I used my 3-quart Instant Pot for 1 pound of green peanuts because they weigh more per ounce.
Raw Peanuts vs Green Peanuts?
Green peanuts are freshly harvested, uncooked peanuts with 35% to 50% moisture content.
Raw peanuts are uncooked peanuts that have been dried to reduce the moisture to between 7% and 10%. Both can be bought shelled or in the shell at grocery stores and farmers markets.
How do I serve boiled Peanuts?
Make them when you tailgate or "homegate" for the big football game, baseball, or soccer game or concession stand. Serve them at Halloween and birthday parties or Homecoming bon fires.
Actually, you will HAVE to make them yourself in the winter because I doubt there are any roadside shacks after Halloween.
Homemade peanuts are ten times better than the can of boiled peanuts in the grocery store.
This is one of those recipes, like soup, that gets better the next day. My favorite part is the salty, slurpy liquid and it is more prevalent when the peanuts soak in the fridge after cooking.
Where can I buy peanuts to make Instant Pot Boiled Peanuts?
Green peanuts are sold close to harvest time in Alabama from August to October usually at farmers markets, local grocery stores, and specialty produce sections.
Raw peanuts in the shell are sold year round in the produce section of a grocery store.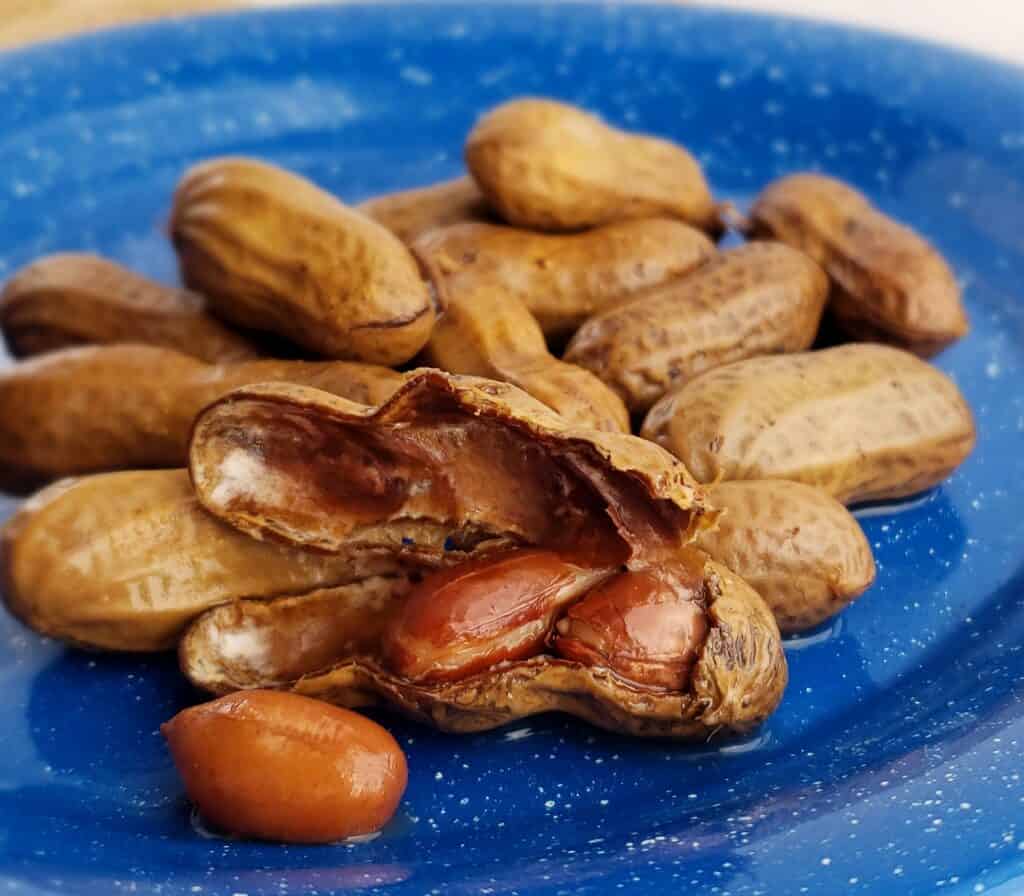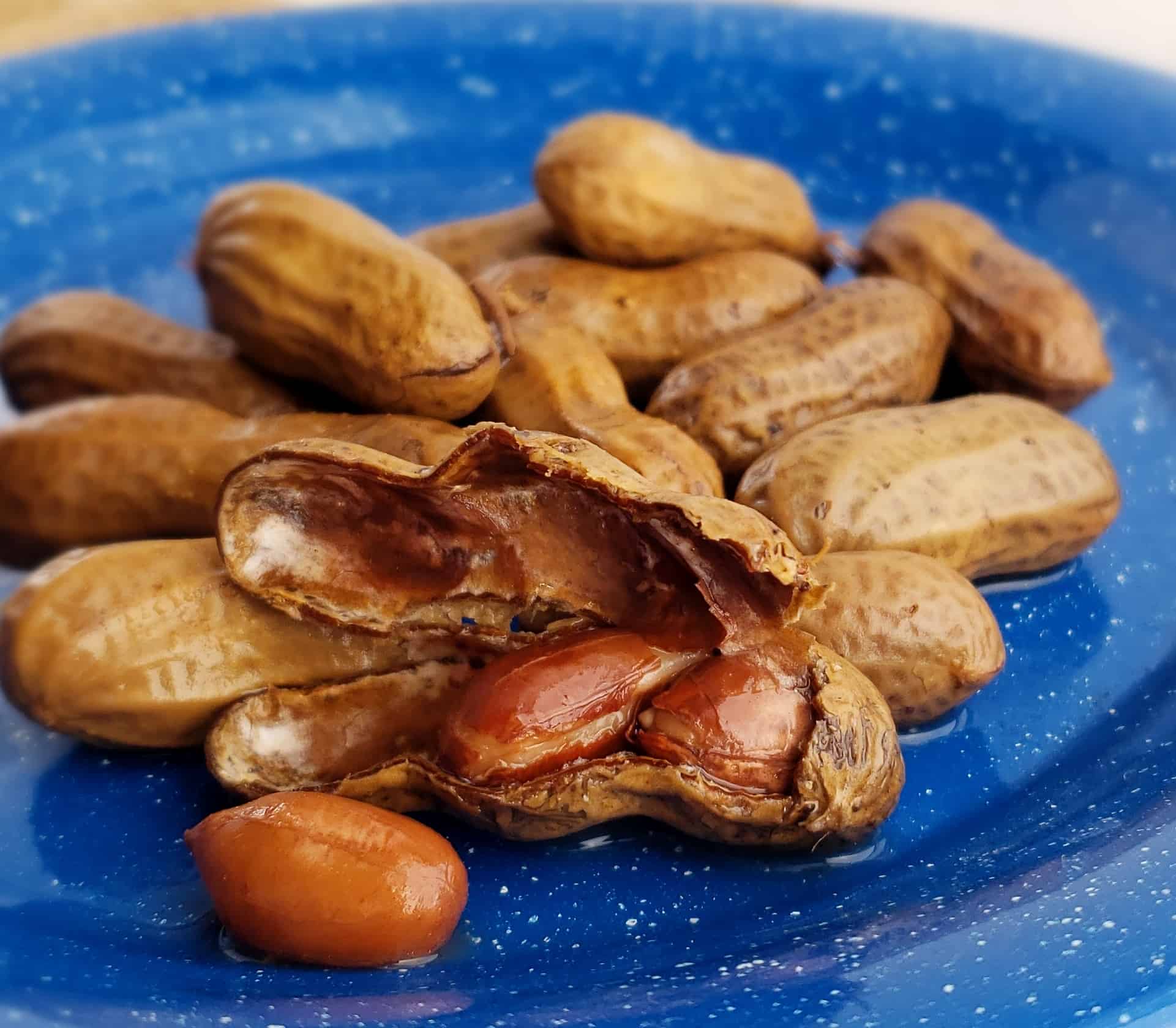 How to easily cook Boiled Peanuts in the Instant Pot
Scroll down for detailed, printable recipe.
Use a 6- to 8 quart Instant Pot multi-function pressure cooker.
If you grow them yourself or buy them at a farmers market with dirt on them, make sure you have washed them thoroughly.
Add 1 pound raw peanuts (recipe easily doubles) in the shell in the pot that sits inside the Instant Pot base. You can turn the trivet that comes with the Instant Pot upside down on the peanuts to hold them down, if you like.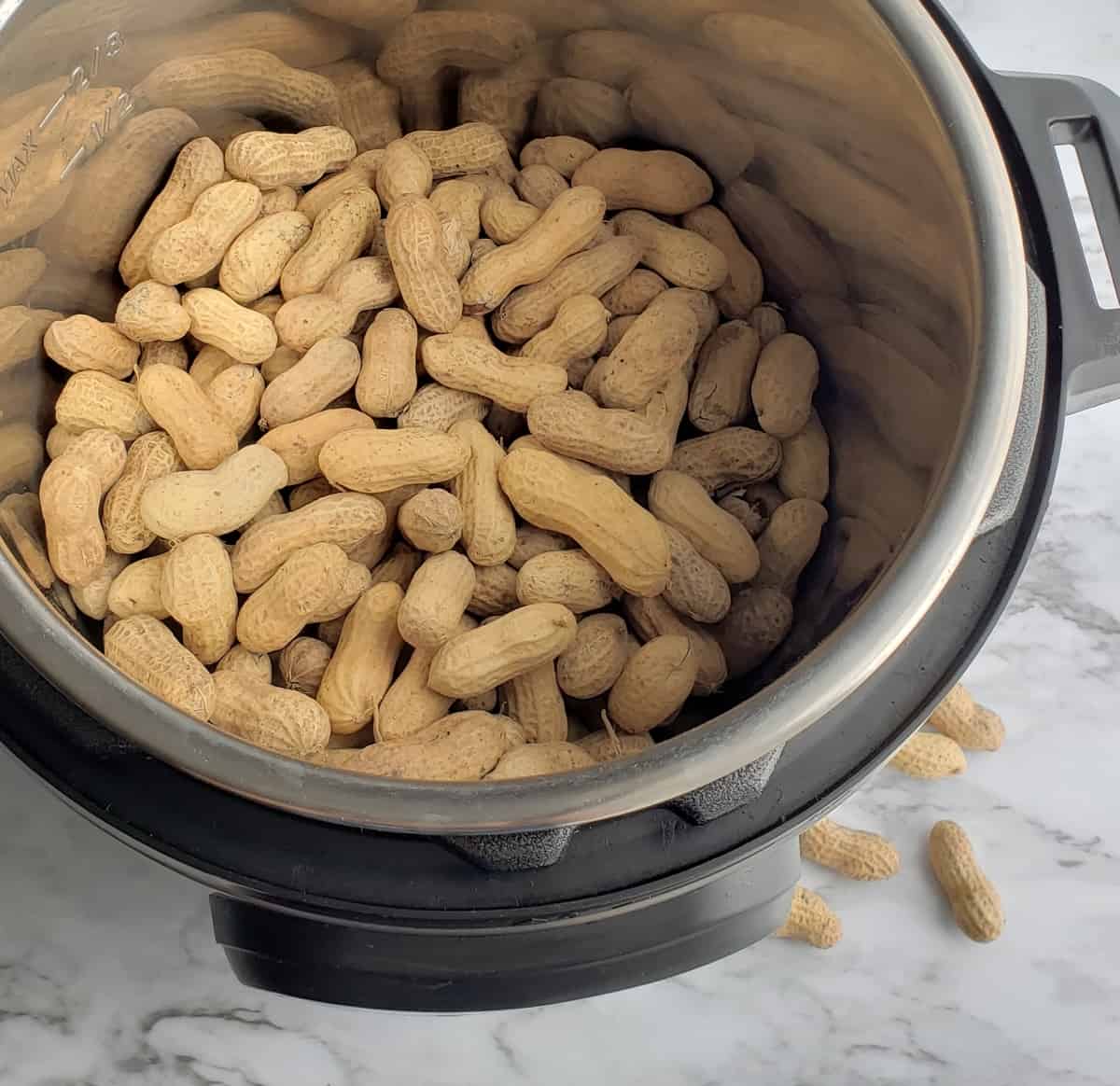 Add 1/4 cup salt or sea salt and 6 cups of water or enough to just cover them (although they tend to float) to the Instant Pot, stirring to distribute the salt. The peanuts will float to the top and that's ok.
Pro tip: If you don't want the peanuts to float to the top, place the metal rack that comes with the pressure cooker on top of the peanuts. It will weigh them down, forcing them into the salty water.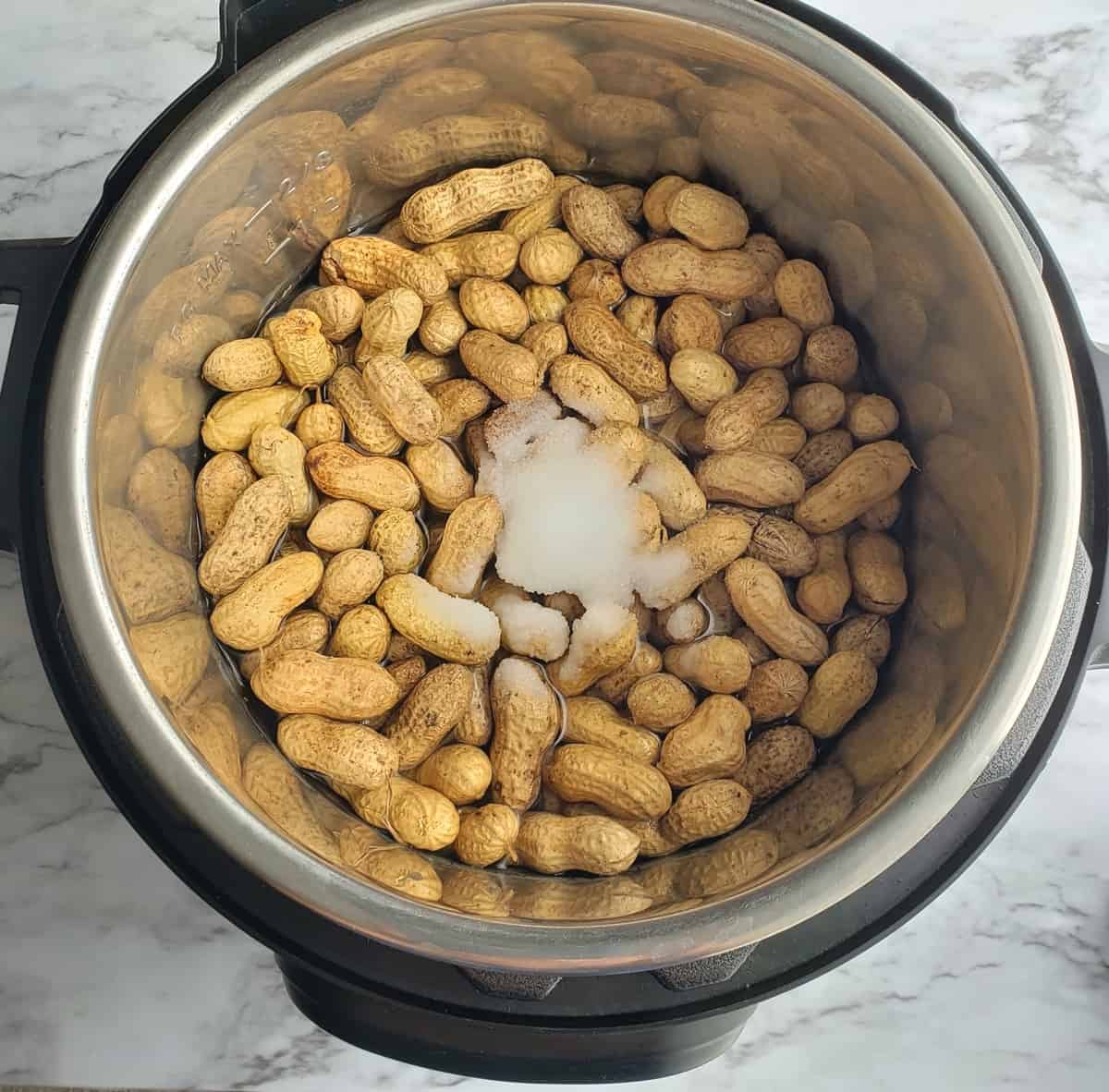 I researched plenty of boiled peanut recipes and several swore by sea salt and others used Hawaiian salt but you know me, I like to use what I have on hand, so I used table salt and they were perfect!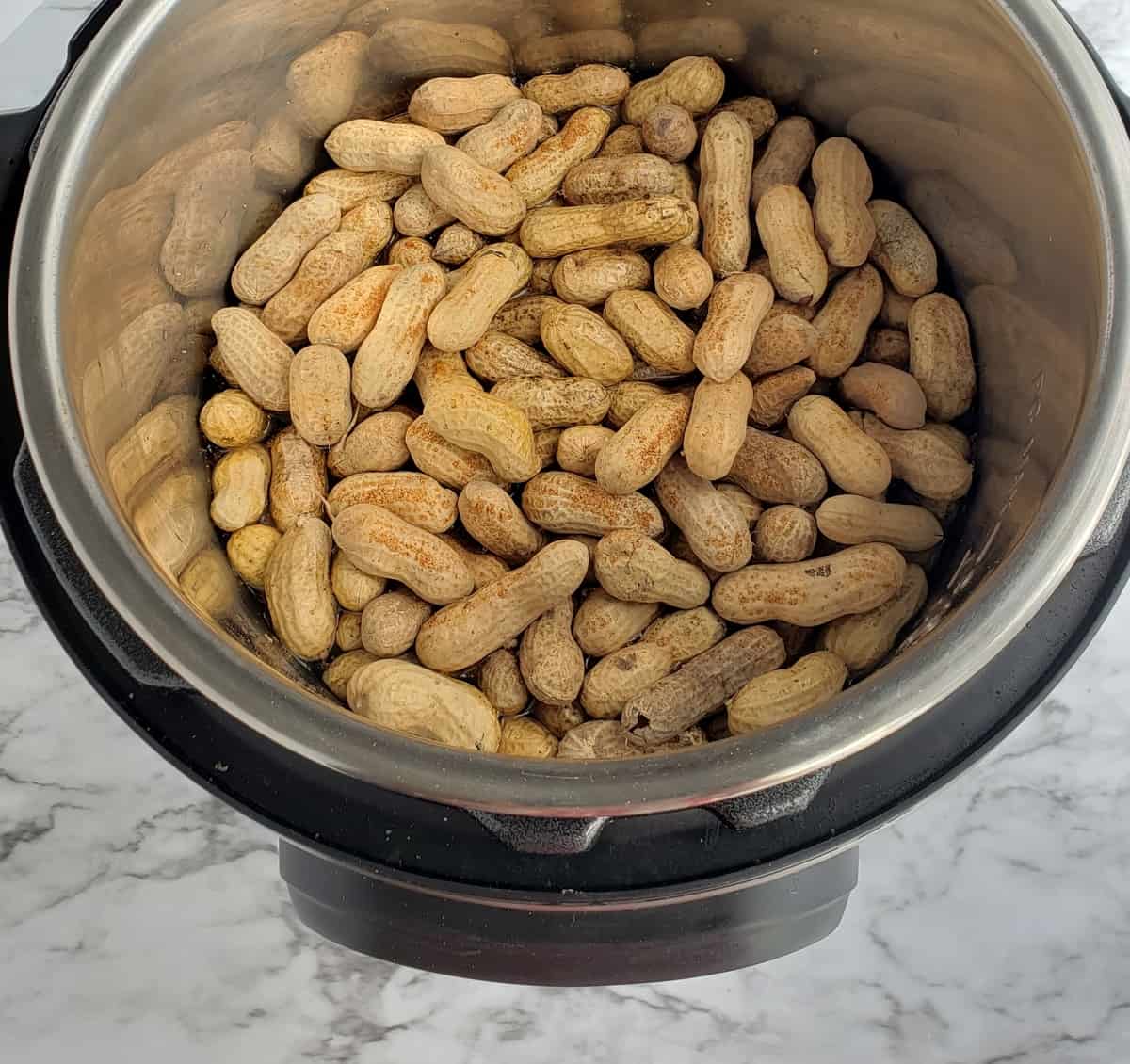 Spicy Boiled Peanuts in the Instant Pot: Add a tablespoon (or two) of Tony Cachere's Creole seasoning if you want a little kick in your boiled peanuts. Add another tablespoon if you prefer them spicy. The longer they steep in the liquid, the more flavor is absorbed.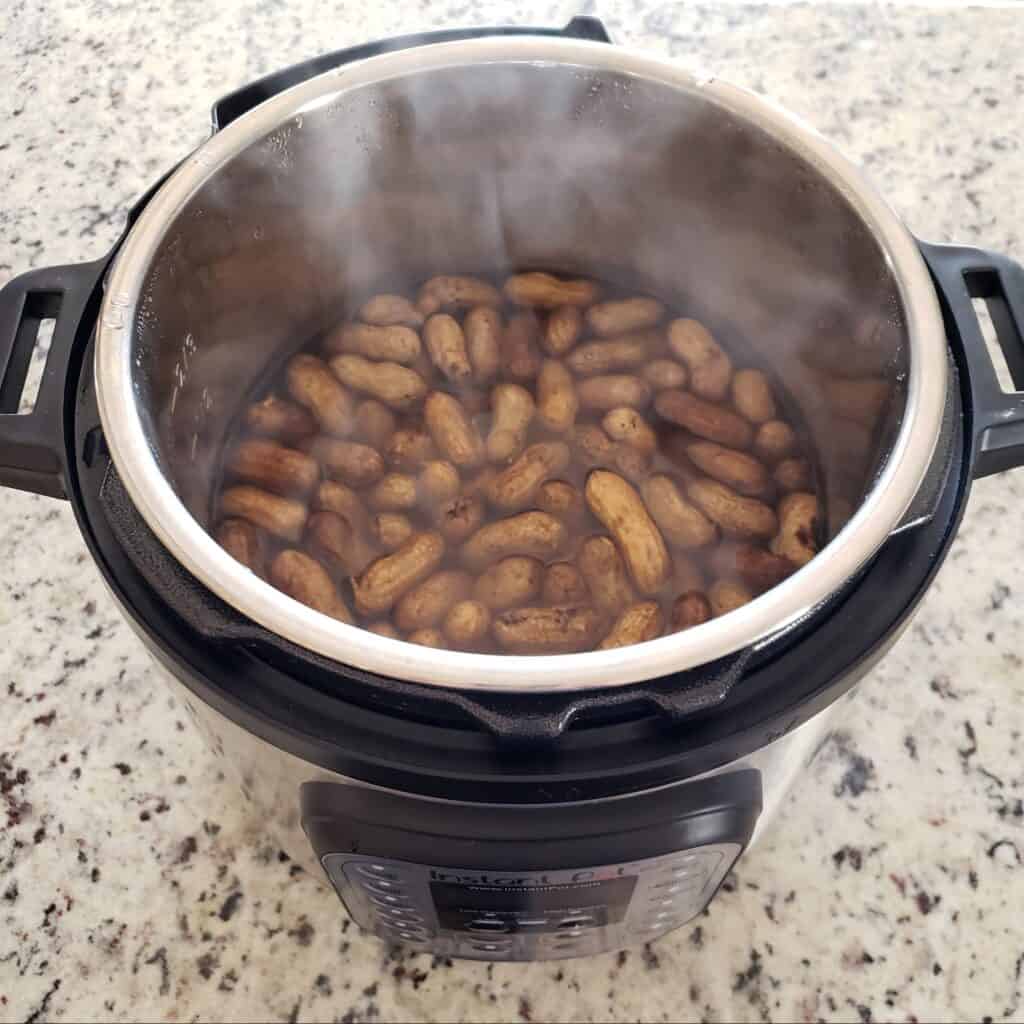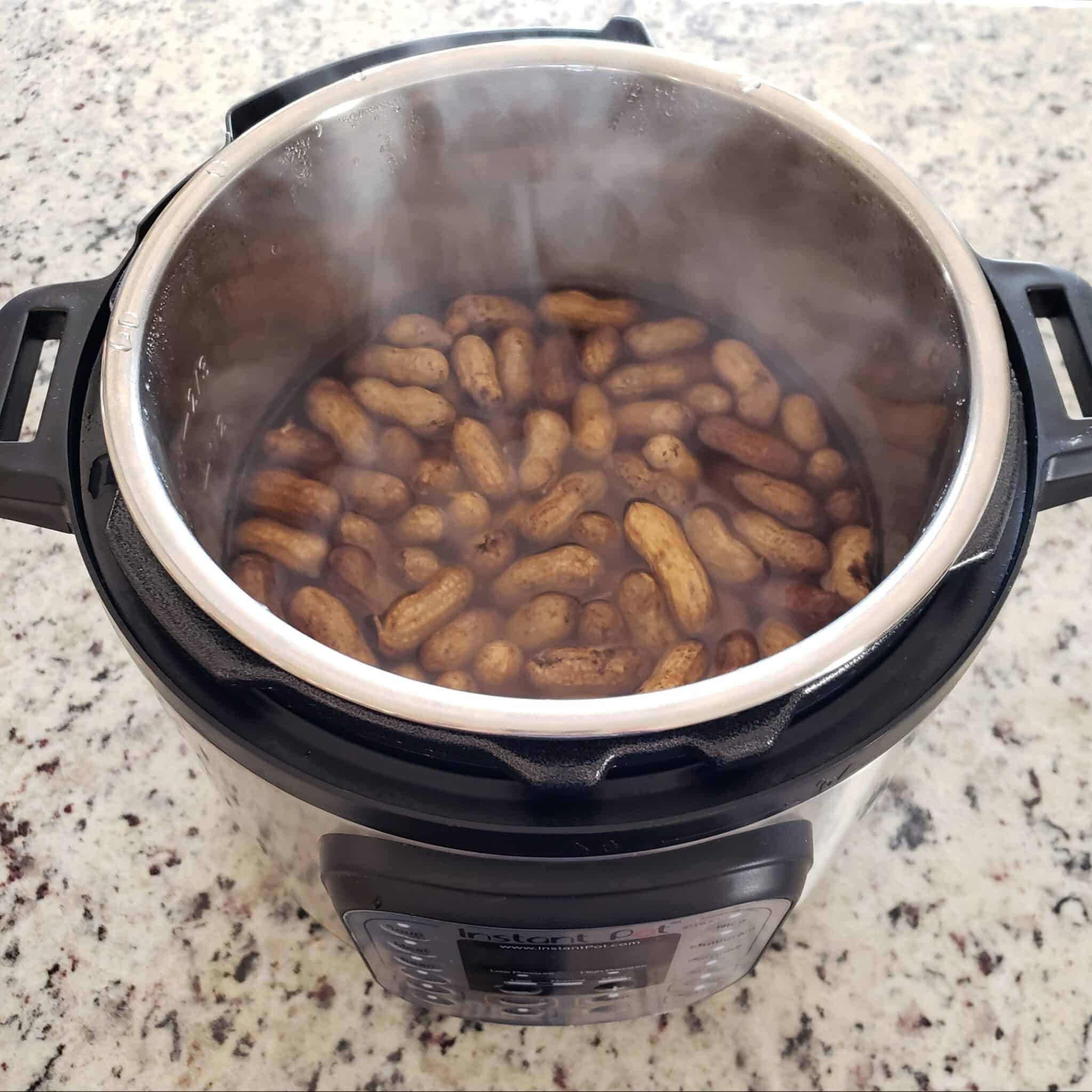 Cook raw peanuts 70 minutes on high pressure for peanuts that are similar texture of a chickpea.
Be sure to push the valve over to sealing and not venting to cook them. After 70 minutes of cooking time, let it naturally release pressure (NRP).
Mine took 25 minutes to release the pressure naturally. You can keep them in the Instant Pot for hours by pressing the Keep Warm button.
If you like them "slurpy-style" where they are soft and mushy and "slurp" them right out of the shell-juice 'n all, add another 10 to 15 minutes. I have decided 70 minutes is just the way I like them, sort of in the middle.
Pro tip: The peanuts inside absorb more of the flavor if they sit in the water (in the fridge) overnight.
Why add vinegar to boiled peanuts?
I think it might be possible that the acid in the vinegar aids in breaking down the shell walls of the peanuts to let the salty water enter in a little better. No proof here-just a bit of food science pondering.
Some folks love the flavor of apple cider or white vinegar added to the boiled peanuts brine. The flavor will be faint but vinegar will add another layer of flavor like salt and vinegar potato chips. Simply trade out 1/2 cup white or apple cider vinegar for 1/2 cup of the water. This is optional and I usually leave it out.
I had never heard about adding vinegar to a pot of boiled peanuts before cooking them until recently. My friend and fellow Southern food blogger, Stacey Little creator at Southern Bite, told me someone had passed along that tip to him.
I'm a huge fan of apple cider vinegar and truly believe it is God's natural gift to humankind. It will almost cure all, clean all, and kill all (weeds/poison ivy). So, if someone tells me it may enhance the flavor of peanuts while boiling ....I'm inclined to believe them!
Is it ok to serve Easy Instant Pot Boiled Peanuts at room temperature
Let the boiled peanuts cool enough so you don't burn your tongue and enjoy them hot or at room temperature. The quality control manager (and former caterer) comes out in me when it comes to storing safely boiled peanuts because of food safety.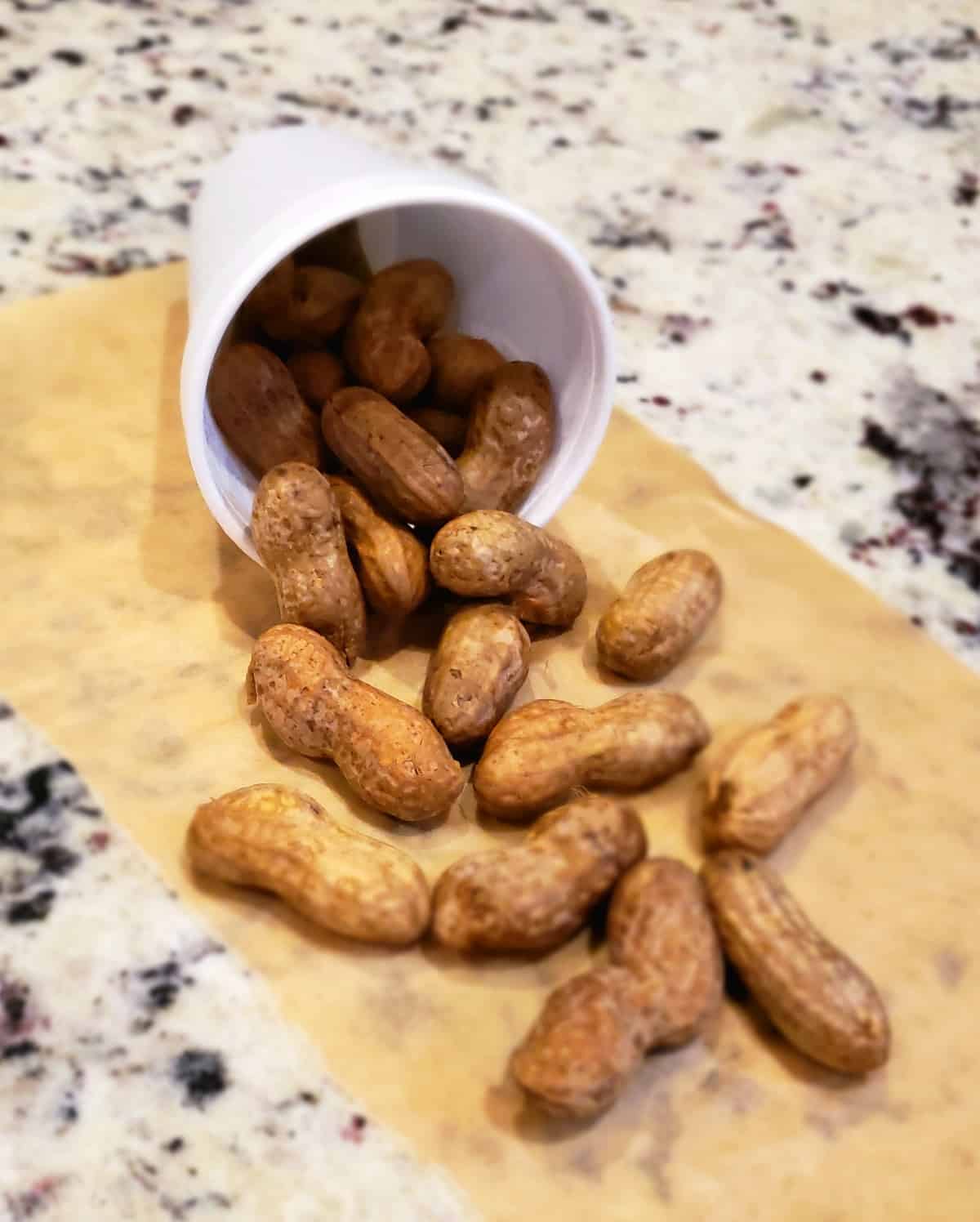 As with any food stored in the danger zone (between 40 degrees and 140 degrees), food borne illnesses can occur. Room temperature is 72 degrees so it's in the danger zone. Instant Pot Boiled Peanuts should not be the danger zone temperature for more than 1 hour.
You can keep them warm and out of the danger zone temperatures by setting your Instant Pot to Keep Warm and serve them right out of the Instant Pot.
When stored in the refrigerator, boiled peanuts can keep up to 10 days. Here's a handy guide from Do You Cook With Me that also tells you how to freeze boiled peanuts.
Can I boil peanuts in the slow cooker?
Yes! Fortunately, the Instant Pot has a slow cooker function. If you only have a slow cooker, no worries. Either way, just slow cook the peanuts on HIGH 8 hours or overnight or until desired softness. If you like them pretty soft, count on up to 12 hours or soak the peanuts in the shell overnight, first.
My first encounter with boiled peanuts
I'm a newbie to boiled peanuts and to be honest, the first time I saw a boiled peanut shack (seriously a shack) I turned my nose up and said out loud, "Gross!" It was alongside a road in Mississippi with a hand-written sign that simply stated Boiled Peanuts.
I was on my way from Arkansas to Birmingham, Alabama to interview for the test kitchen position at Oxmoor House (Southern Living cookbooks publisher at the time). The four lane 278 highway (now I22) from Memphis to Birmingham was not yet finished so I traveled the two lane 78 highway (which I loved getting to drive through the quaint small towns-unless I was in a hurry).
I was working as a quality control manager in a large hospital as my first job right out of college and food safety was my job! The sight of an outdoor kettle cooking goobers to a mushy pulp sounded unappealing to me.
What is this fish inside my peanut?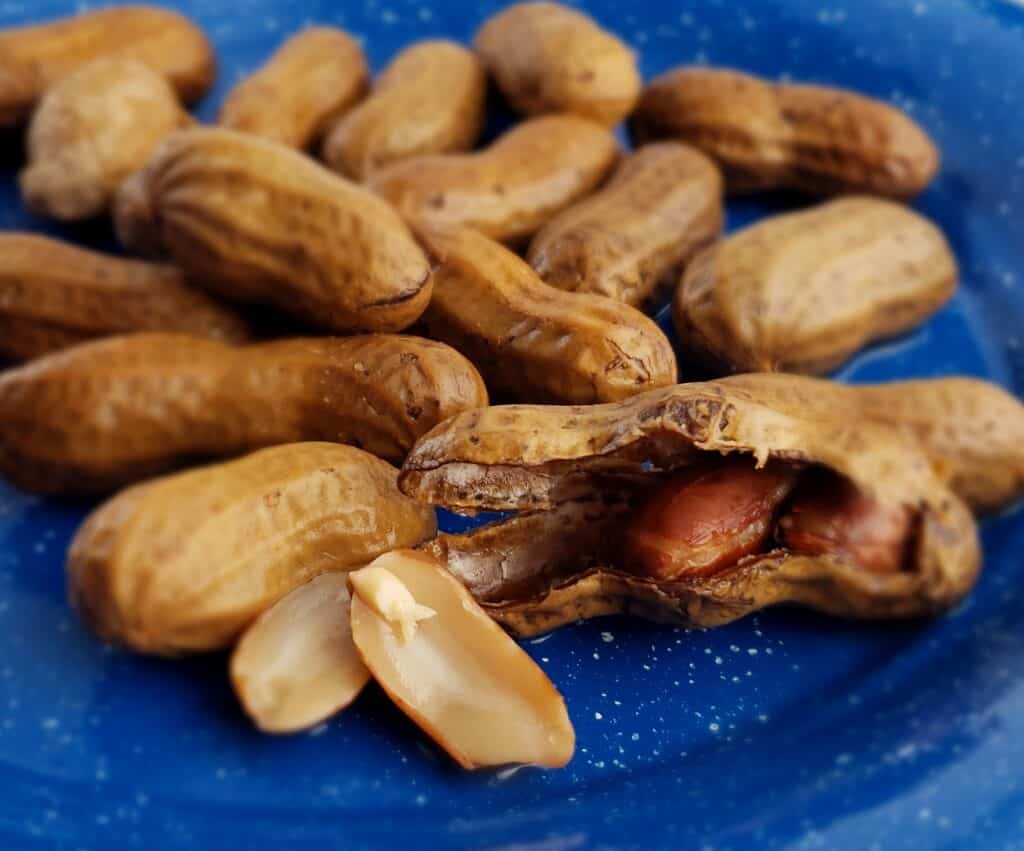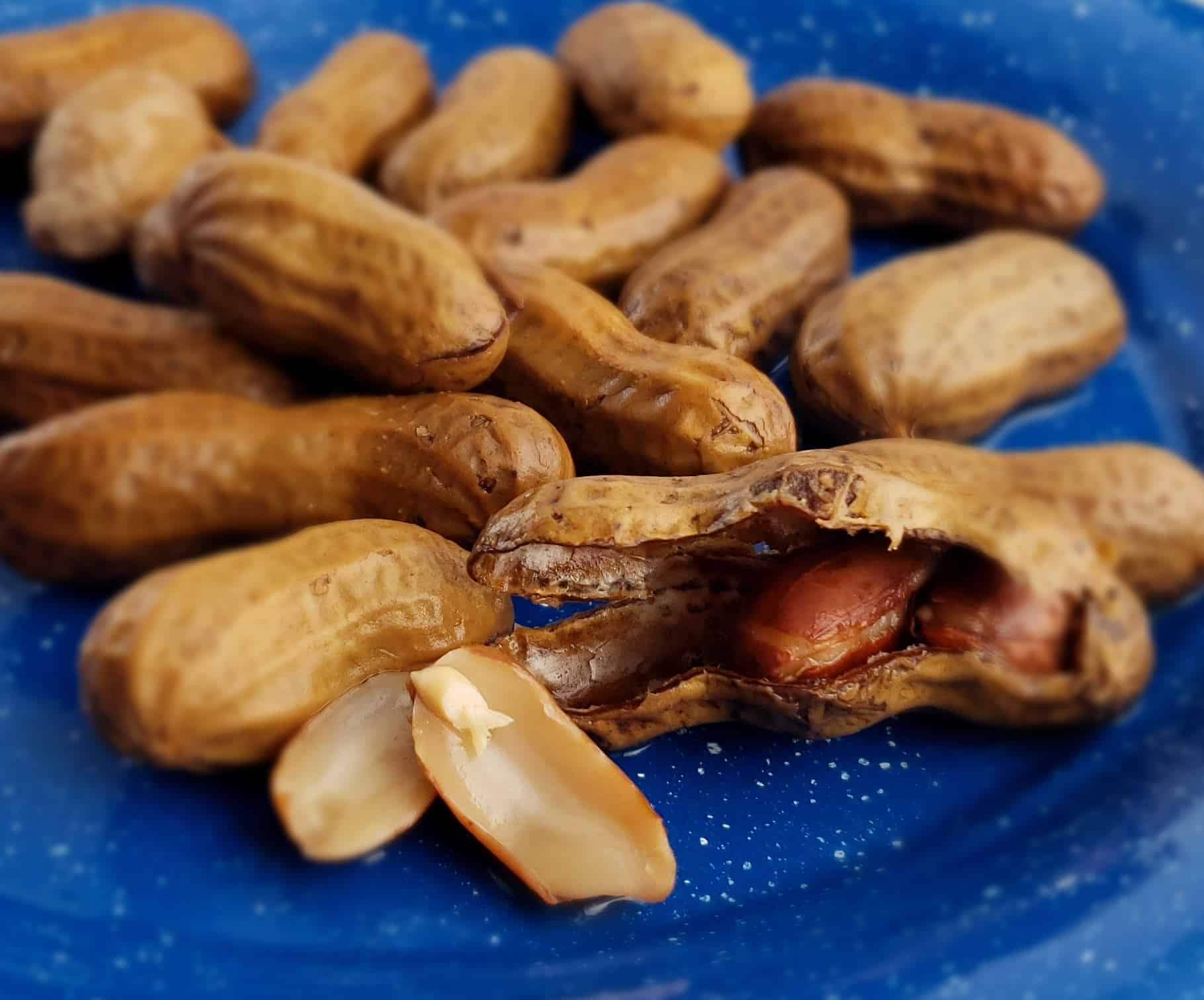 Have you ever noticed the inside of a peanut has something that looks like a fish?
As a child, I remember cracking open peanuts my dad would grow and oh-so-carefully biting into the peanut so as not to disturb the "fish" inside.
I would eat the "fish" first, then eat the rest of the peanut. I never knew why there was a fish inside peanuts, so I did a little research recently and, of course, it's not a fish at all. It sure was a fun tradition, though.
The fish-shaped nub inside a peanut is the embryo of the "seed". The peanut is the seed.
Follow me on Facebook, Instagram, and Pinterest. Be social and share, y'all! Don't forget to sign up with your email so you don't miss a single post on my Southern shortcut recipes!
If you make this recipe I'd love to see it! Tag me on social media with #gritsandgouda or @gritsandgouda. Leave a comment below the printable recipe if you have questions or tell me how you liked the recipe. Don't forget to give the recipe a rating of 5 stars if you love it!
Nutrition analysis on GritsAndGouda.com recipes are mostly calculated on an online nutrition calculator. I am not a dietitian and nutritional information is an estimate and can vary based on products used.
Updated February 5, 2022 with valuable information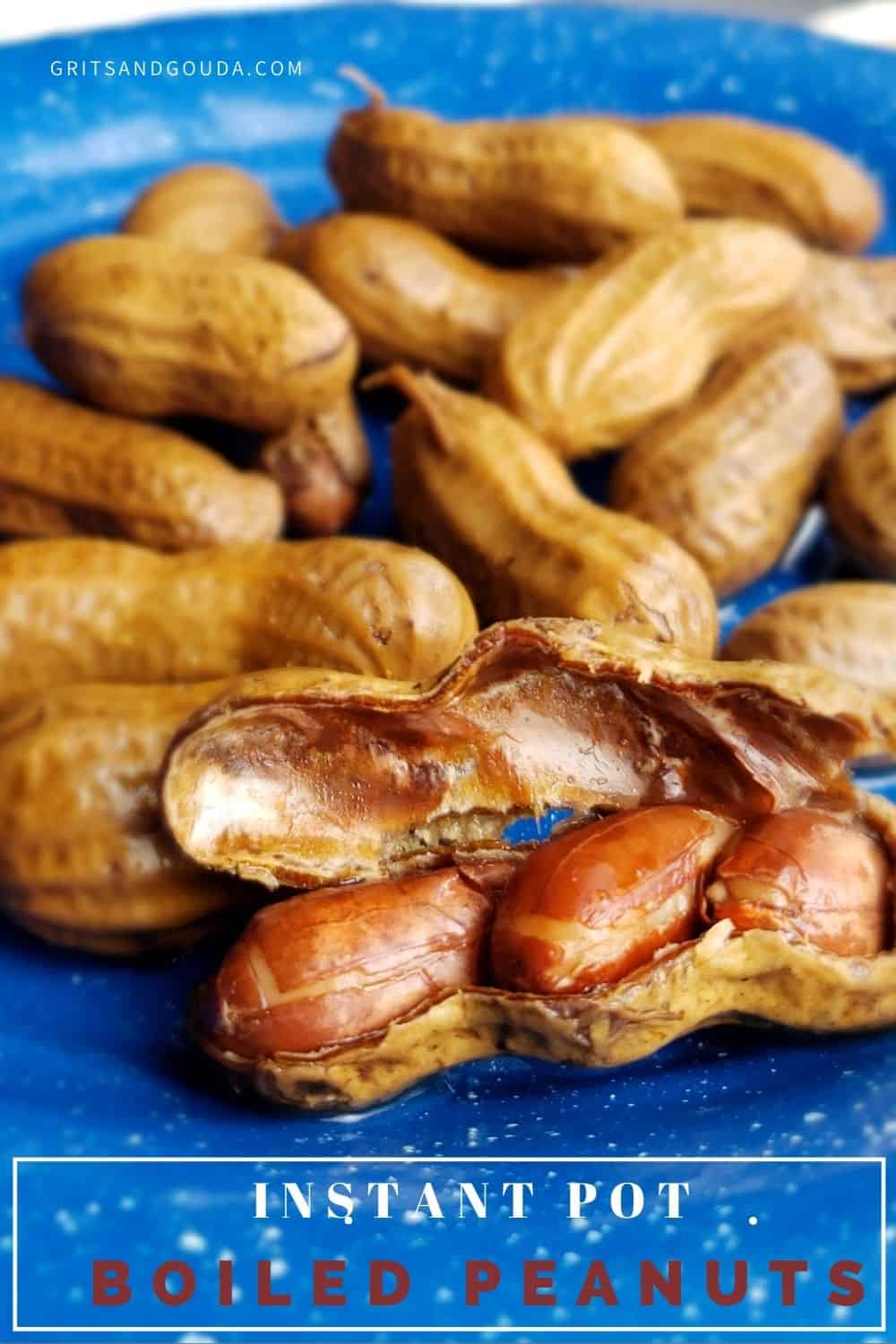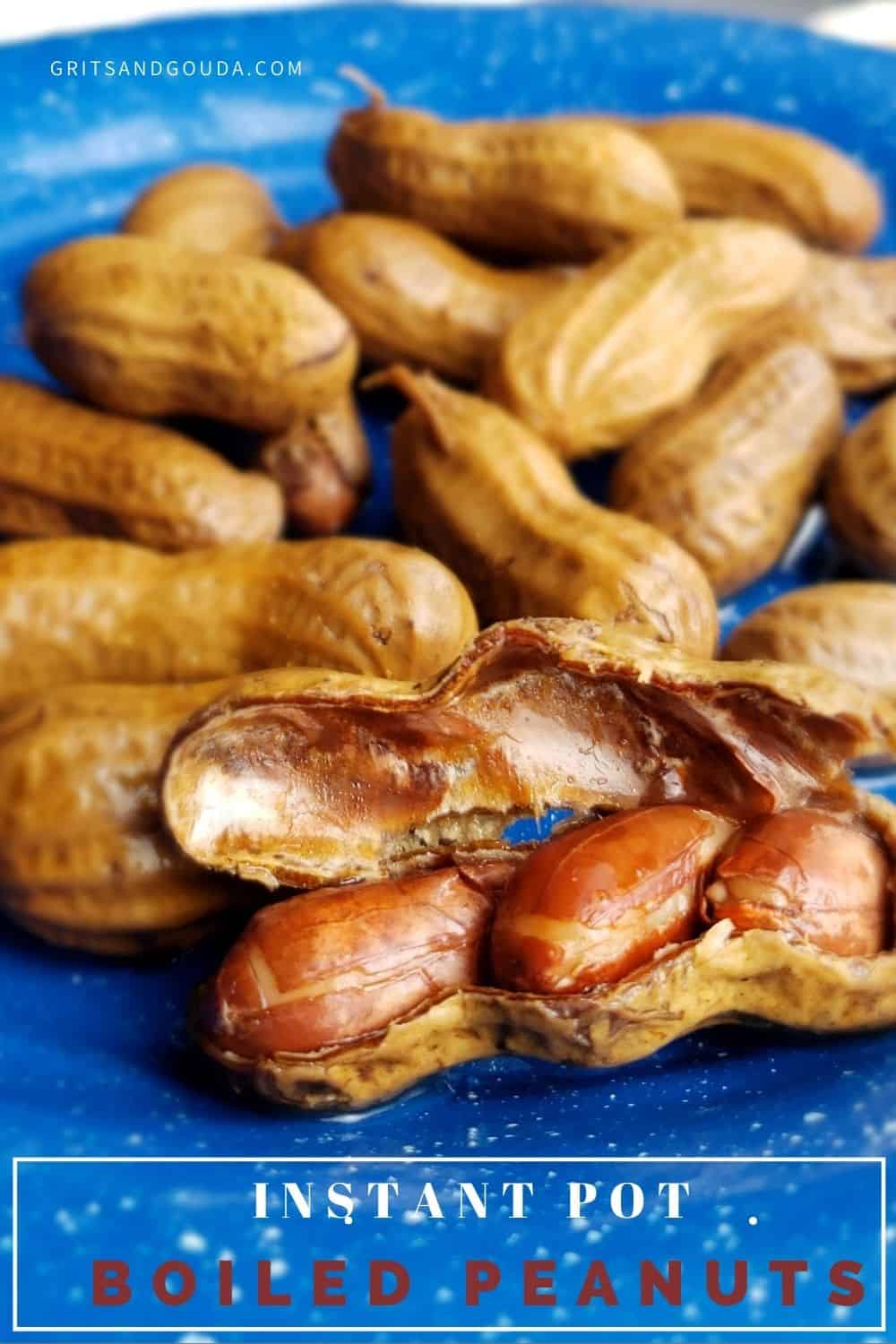 Where can I find more information about peanuts grown in the South?
Here are two excellent resources for your in-depth questions about peanuts grown in Alabama, Mississippi, Florida, and Georgia.