Perfectly Crunchy Vidalia Onion Rings are crunchy on the outside; sweet and tender on the inside and made with Georgia Vidalia onions. This Southern recipe is perfect paired with a grilled burger for a backyard BBQ or cookout.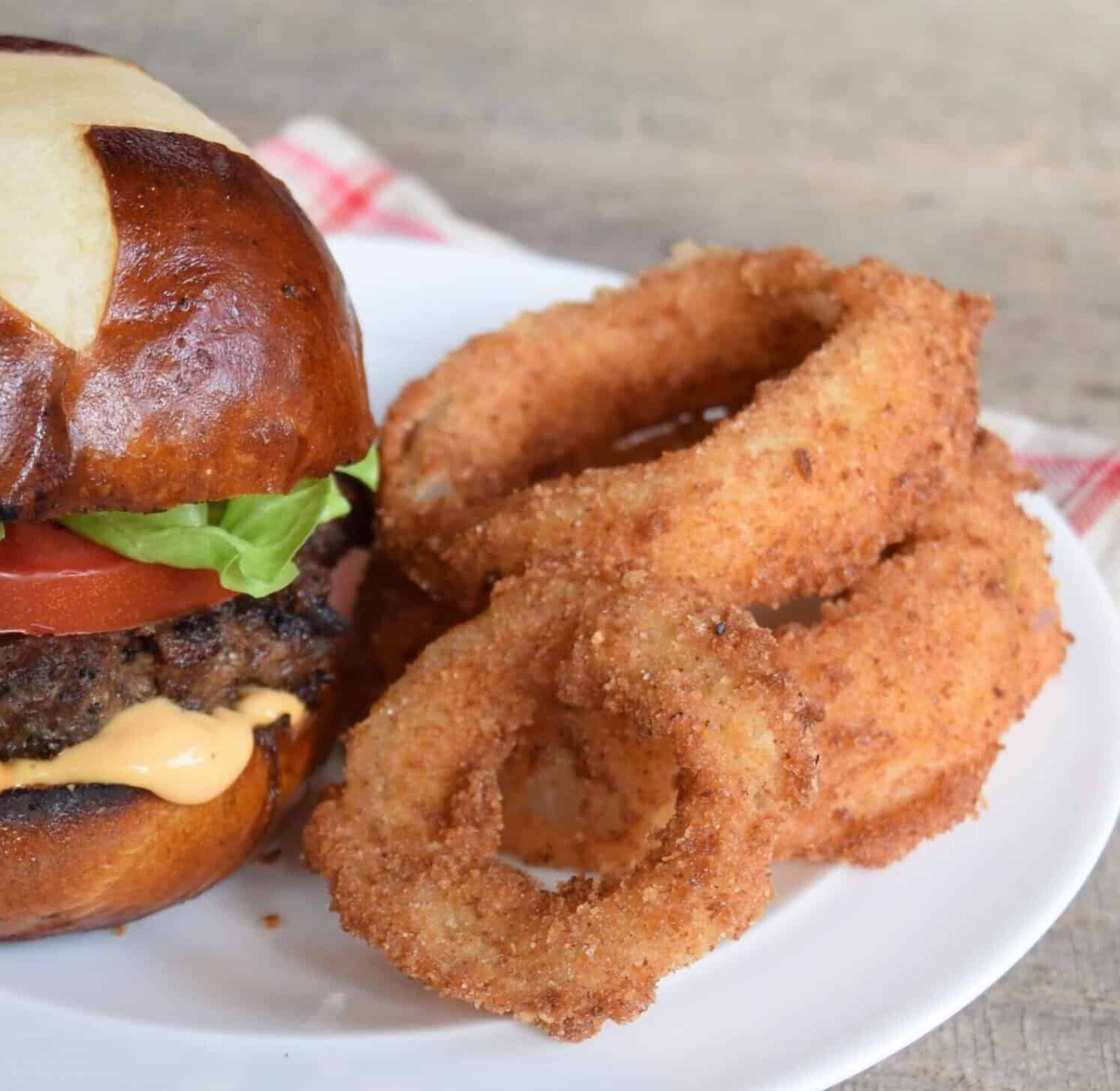 I'm ready for Spring in Alabama Y'all! I long for the peonies to be blooming, wearing sundresses and sandals, and sweet Vidalia onions are in season! Perfectly Crunchy Vidalia Onion Rings are one of my favorite Southern side dishes to go with my Grilled Venison Burgers.
What's the shortcut in this recipe?
This onion ring recipe falls into the "Worth the Effort" category. Although I do show you how to freeze cooked onion rings for easy heating in the oven or air fyer and uncooked rings for a make ahead version.
What's the trick to crunchy homemade onion rings?
Perfectly Vidalia Onion Rings are crispy on the outside and tender on the inside. Be sure to toss the separated rings in flour before dipping in the thin batter. Don't skip this step. This prevents the batter from sliding off. It gives it something to cling to.
I used plain, dry breadcrumbs. Frugal Tip: You can find this at the Dollar Tree. I could have also used Panko Japanese bread crumbs but I only had Italian Style in my pantry and I didn't want the Italian seasoning on the onion rings and I love the texture the breadcrumbs give them.
Extra Southern crunch option
Another option for a little extra crunch and Southern flavor is to trade out 1/4 cup breadcrumbs for 1/4 cup cornmeal. Yum!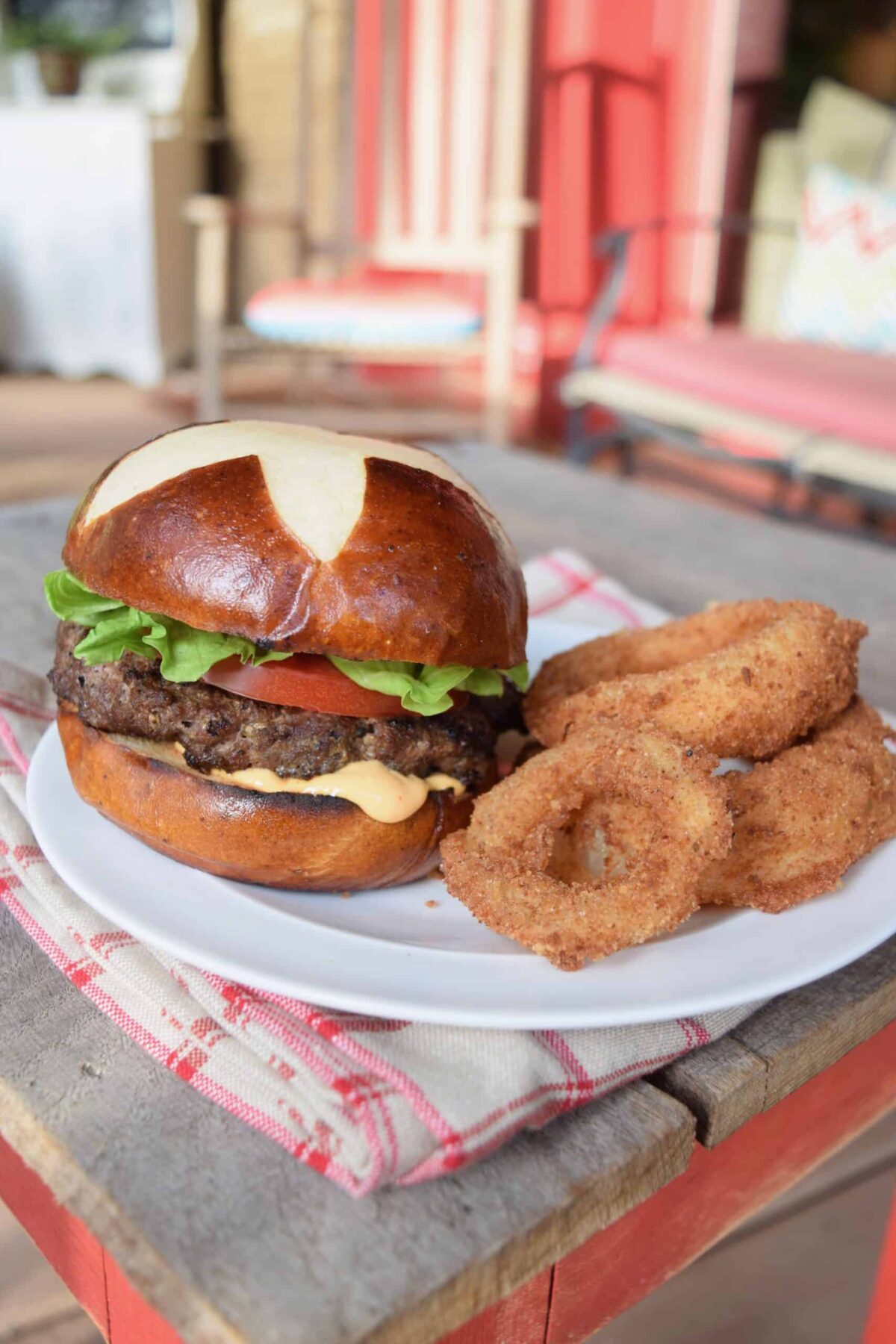 Can I air fry Vidalia Onion Rings?
Yep! The key is to quick-freeze the coated rings of onion slices on a baking sheet first. Why? Because the coating tends to drip through the racks on an air fryer, losing some of the crunchy coating.
Coat all the onion rings and place on a parchment or foil-lined baking sheet and freeze for 2 hours. At this point, you can place them all in a freezer zip-top bag for later use or cook them in the air fryer.
Preheat air fryer on 400 degrees for 3 minutes. Spray the onion rings with an oil spray (not aerosol cooking spray). Cook at 400 degrees for 8 minutes or until golden brown on the top side. Turn onion rings over and cook 2 to 3 more minutes or until golden brown on the other side.
Which oil is best for frying?
Here in the South, we love our deep-fried foods but I'm always looking for ways to eat a little healthier. Vegetable oils (soy and canola) may be the most commonly used oils to "deep fry" but they are also highly processed.
If you are looking for a healthier option (although healthy deep frying seems like an oxymoron), consider using extra light olive oil or refined coconut oil. Extra light olive has a higher smoke point than extra virgin and regular olive oil.
I used about 2 inches of vegetable oil in a 4-quart saucepan to fry the onion rings-3 or 4 at time. I think 360 degrees is the perfect temperature to deep-fry them. Watch them closely! Thirty seconds on each side may be enough. The golden color is what you are looking for. Drain them on a layer of paper towels between every other batch.
I prefer to cut them about 1/2 inch thick because I like a lot of onion in my onion rings. They just melt in your mouth when you make them with Vidalia onions!
Healthier oils: I try to eat on the healthier side of the spectrum with treats like fried onion rings added in moderation.
To read more on healthier oils to use when frying by Calorie Secrets click here.
How to bake Vidalia Onion Rings
No one should be deprived of these crunchy, sweet onion rings! Baking or air frying them is an option if you are avoiding fat or just don't want to dispose of a pan full of oil afterwards.
To bake these, preheat the oven to 375 degrees and follow the steps to coating the onion rings. Line a baking sheet with aluminum foil or parchment paper and place the onion rings on it. Bake for 15 to 20 or until the coating is golden brown and the onions are as tender as you like them.
I suggest cutting them a little thinner than 1/2 inch if you are baking them so the onion will get done before the crust gets too brown.
Vegetable oil (soy and canola) has a high smoke point and one of the most commonly used oil for frying but chemicals are used to extract the oil. Extra light olive oil and
How to freeze crunchy Vidalia onion rings
Cooked onion rings. Place the onion rings in a large freezer zip-top plastic bag or freezer container with a tight lid.
Coated, uncooked onion rings. Coat the onion rings as directed in the recipe and place in a single layer on a baking sheet pans that will fit in your freezer. Freeze 2 hours or until completely frozen. Gently place them in a large freezer zip-top plastic bag or freezer container with a tight lid.
How can I reheat frozen onion rings
Reheating frozen cooked onion rings. To reheat and keep that crispy outside crust, place in a single layer on a foil-lined baking sheet and bake at 400 degrees for about 15 minutes. If reheating them in the air fryer from the freezer, bake or air fry them at 375-390 degrees for 8 minutes and check them for browning.
Frying uncooked, coated frozen Perfectly Crunchy Vidalia Onion Rings. Heat oil in a large heavy pot as directed in the recipe to 360 to 375 degrees. Gently place them in the hot oil and fry 3 or 4 at a time for about 2 minutes on each side or until golden. Drain on paper towels.
How to store Vidalia Onions
Check out VidaliaOnions.com for the best storage tips and the Southern history behind these super sweet onions.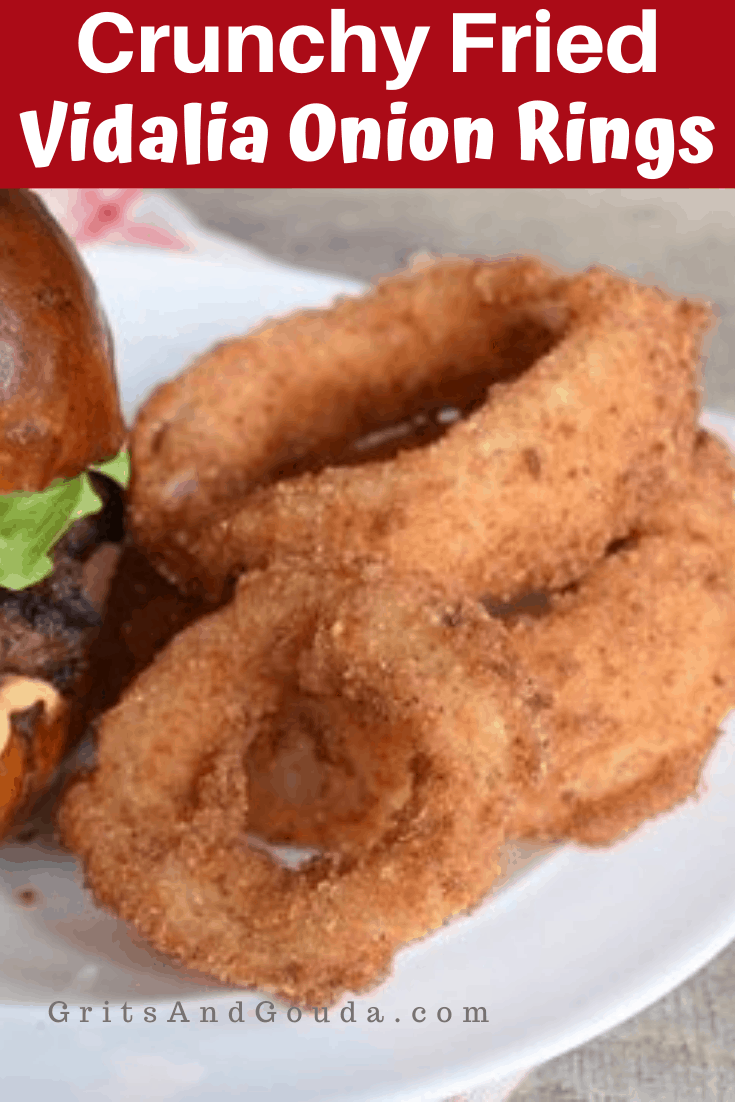 My husband bought a 10 pound bag of Vidalia onions from Vidalia, Georgia as part of a Civitans fundraiser. I immediately started thinking of all the recipes I could make with Vidalia onions: Vidalia Onion and Tomato Pie, Caramelized Onion Baked Dip, Vidalia Onion Cornbread, Fajitas, Onion Jam, Grilled Onion Salad, Vidalia Onion Rings, Vidalia Onion and Tomato Salad, Sweet Heat Pickles and Onions, and French Onion Soup.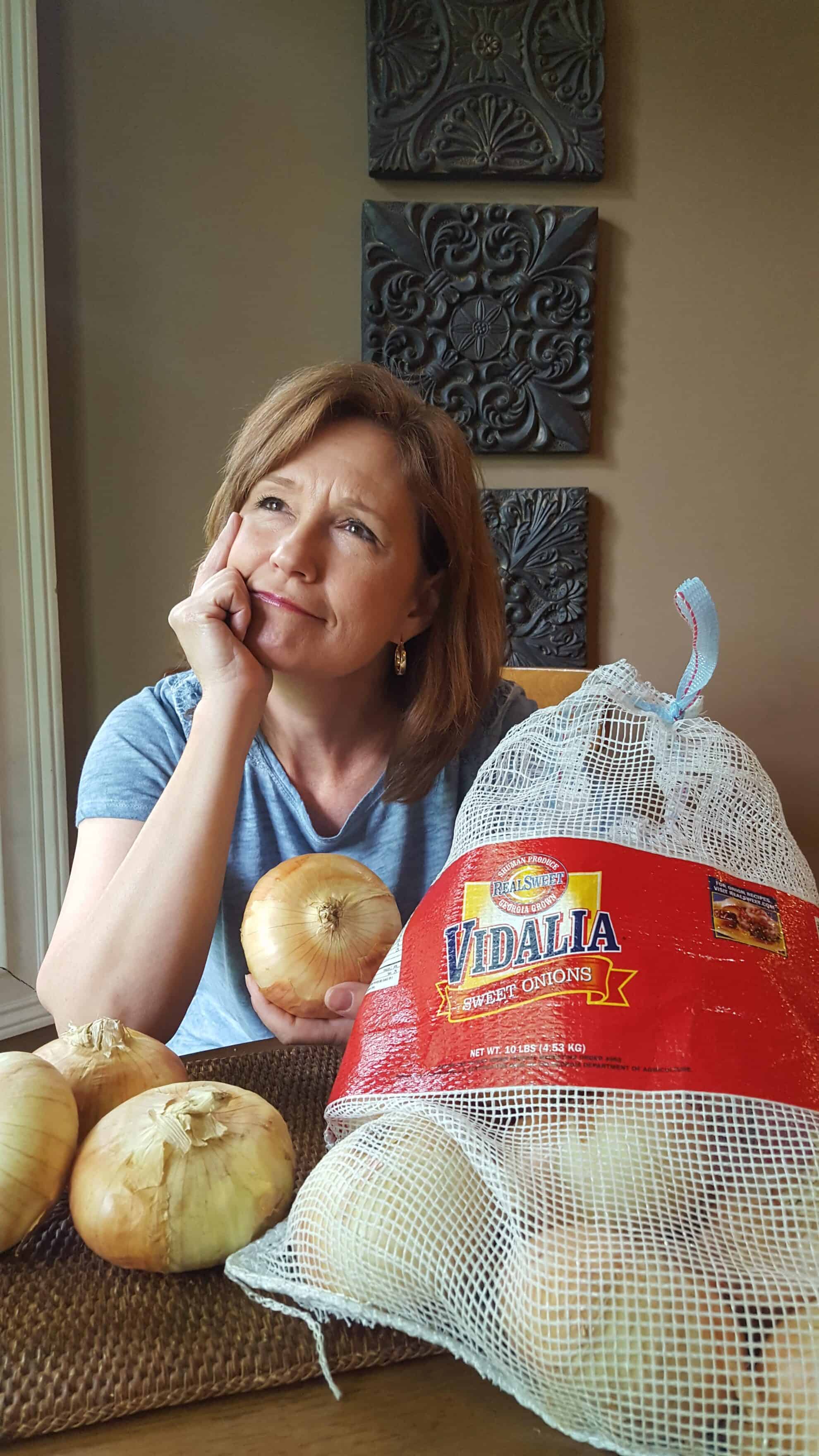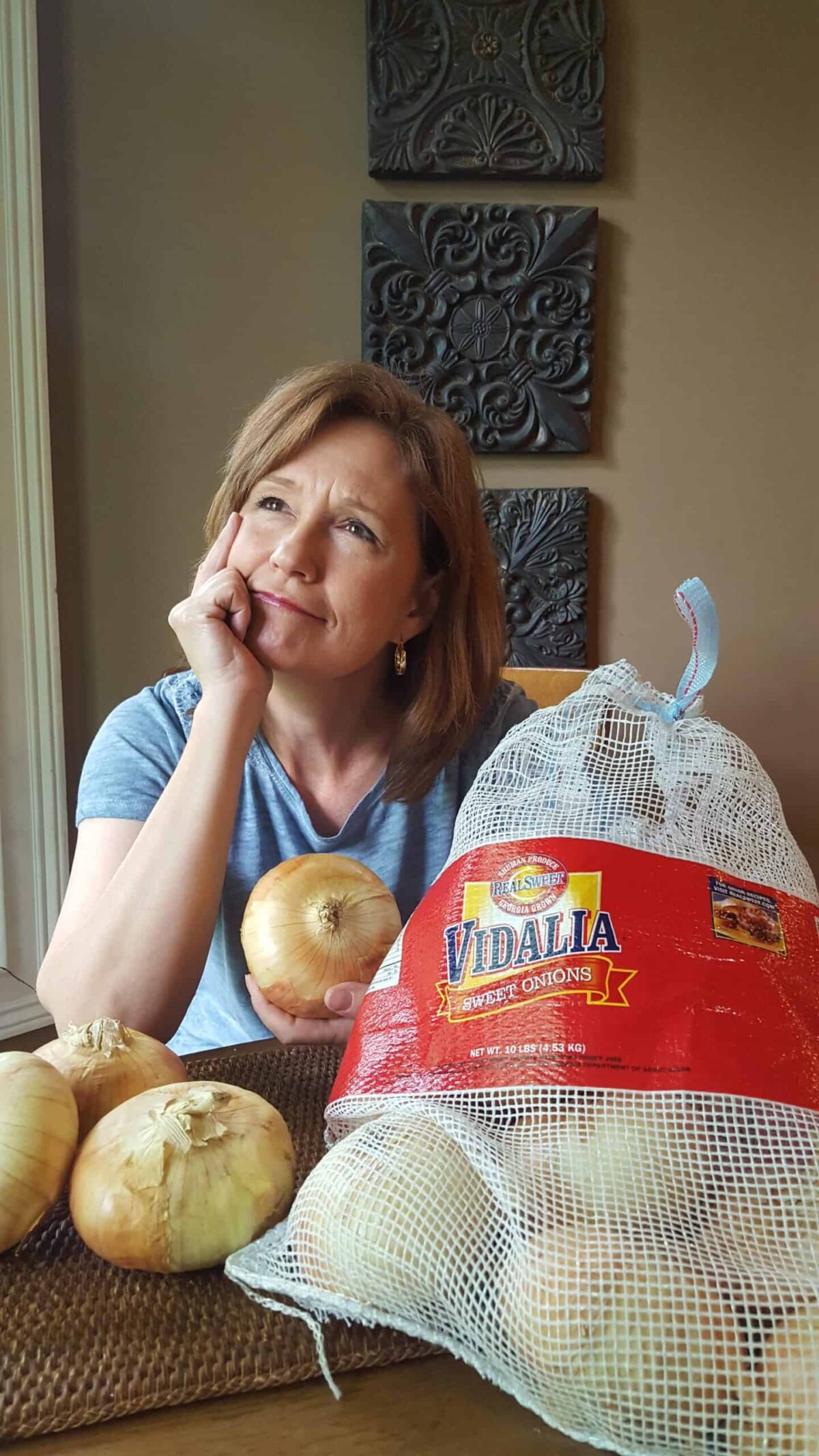 Other Vidalia onion recipes you will love
Shortcut Sweet Heat Pickles and Vidalia Onions
Vidalia Onion Cornbread with Caramelized Onion Fans
Tomato with Vidalia Onion Pie with Bacon
Vidalia Onion and Grape Tomato Salad
Follow me on Facebook, Instagram, Pinterest and YouTube. Be social and share, y'all! Don't forget to sign up with your email so you don't miss a single post on my Southern shortcut recipes!
Here's my recipe for Perfectly Crunchy Vidalia Onion Rings. Let me know if you make them and leave a comment below!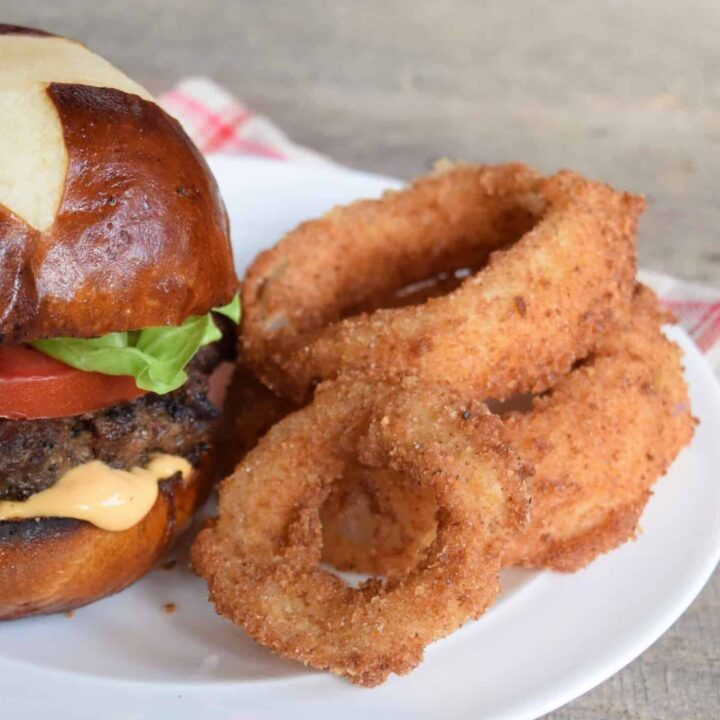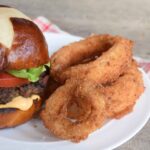 Print Recipe
Perfectly Crunchy Vidalia Onion Rings
Spring is Vidalia onion season here in the South! These onion rings are sweet and crunchy and only require about 30 seconds in the oil to make them crispy on the outside and tender on the inside.
Ingredients
3

cups

vegetable oil or extra light olive oil

2

Vidalia onions

3/4

cup

all purpose flour

divided

1

teaspoon

salt

divided

1/2

cup

milk or buttermilk

1

large egg

1

cup

fine, dry breadcrumbs
Instructions
Heat vegetable oil in a 4-quart saucepan or pot over medium-high heat until temperature reaches 360 degrees.

Meanwhile, cut off the ends of the onions and remove the thin peel on the onions. Slice the onions into 1/2-inch thick slices and separate them into individual rings.

Combine 1/4 cup flour and 1/4 teaspoon salt on a dinner plate.

Combine remaining 3/4 cup flour and remaining 3/4 teaspoon salt in a medium size bowl. Whisk together the milk and egg in a measuring cup then add to the flour mixture in the bowl. Whisk together until smooth. The batter will be thin.

Place the breadcrumbs in a dinner plate. Toss each onion ring in the flour and salt mixture, pressing flour on to the rings. With the other hand, dip the ring in the batter. With the first hand, place it in the breadcrumbs and gently press them into the battered ring. Keep one hand for batter and one hand for flour and breadcrumb mixture. This will keep your fingers from clumping with balls of batter and flour/breadcrumbs.

Gently fry onion rings, 3 or 4 at a time in hot vegetable oil 30 to 45 seconds on each side or until golden brown. Drain rings on paper towels.
Notes
For a little Cajun kick, add 1/8 to 1/4 teaspoon cayenne pepper to the breadcrumbs.
Any onion can be used if Vidalia onions are not in season.
Nutrition
Did you make this recipe?
If you love it, share it! Tag me on Instagram @gritsandgouda using #gritsandgouda Comment below before you go!