A simple freezer jam recipe that tastes like fresh strawberries because it's a no-cook strawberry freezer jam! If we run out of this Easy Strawberry Freezer Jam with Sure-Jell, I hear about it loud and clear from my family because a plain biscuit is a sad sight at breakfast.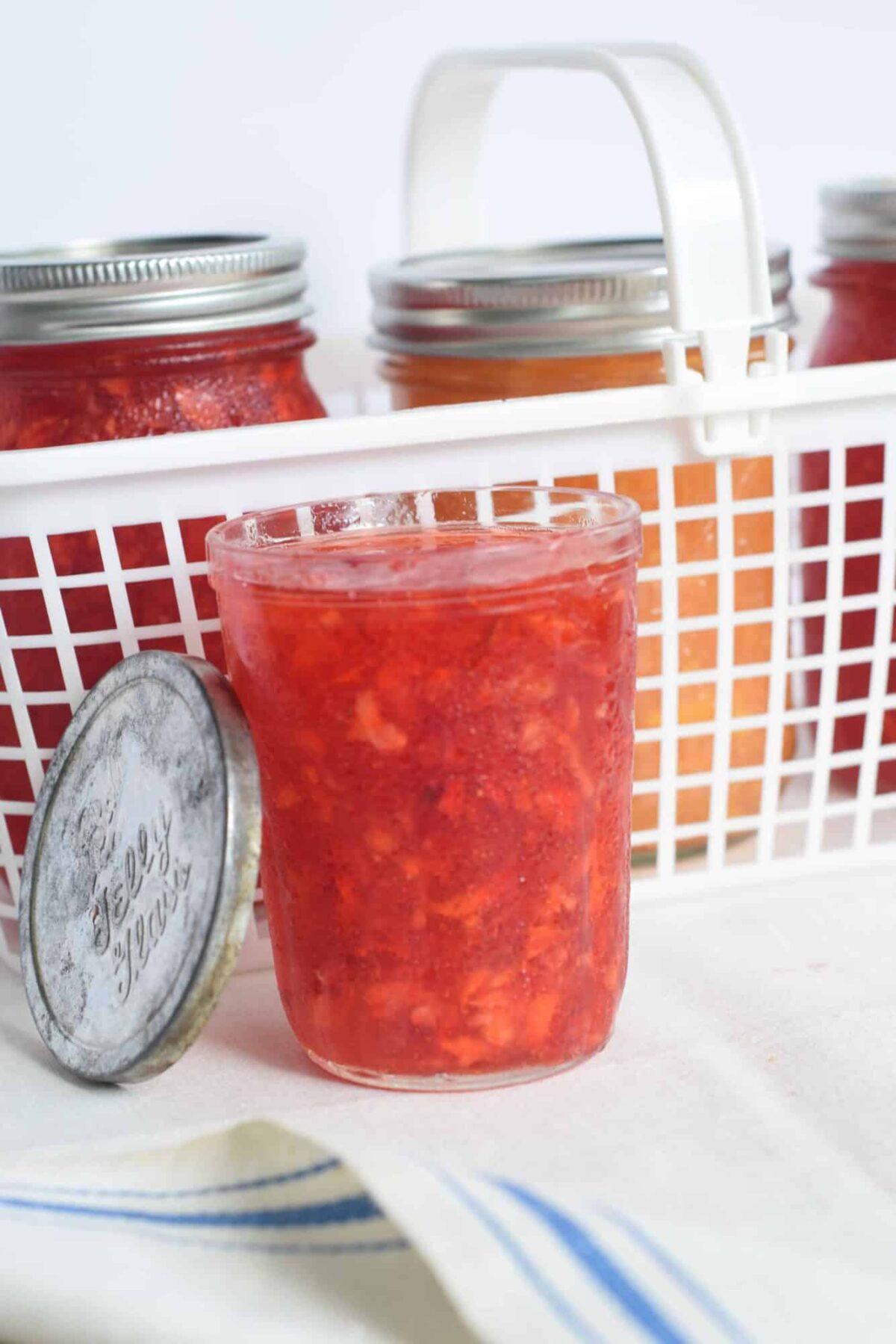 This 3 ingredient strawberry freezer jam recipe (if you don't count water) starts with fresh strawberries and is made in minutes with no candy thermometer or boiling water bath needed.
While growing up in Evening Shade, Arkansas, my family used to pick wild strawberries down by the stream near our house to make strawberry freezer jam. When my children were small, we would visit the U-Pick farms and pick our own strawberries to make the jam.
Now, I often just buy the freshest strawberries at the market so I can continue to make the jam every year to take us through the Winter months.
What's the shortcut?
Freezer jams take less time to make primarily because you are not cooking it down on the stovetop and sealing the jars in a water bath.
When I was the test kitchen director for Oxmoor House cookbooks, we also produced Weight Watcher's magazine. On behalf of the magazine, I was able to travel to Santa Maria, CA to visit their Driscoll brand strawberry fields and processing plant.
Even the humongous berries were juicy and full of flavor. I especially liked eating the creative recipes the chosen chefs prepared using these strawberries.
I was four months pregnant with my first child on that junket so I may or may not have eaten my weight in strawberries!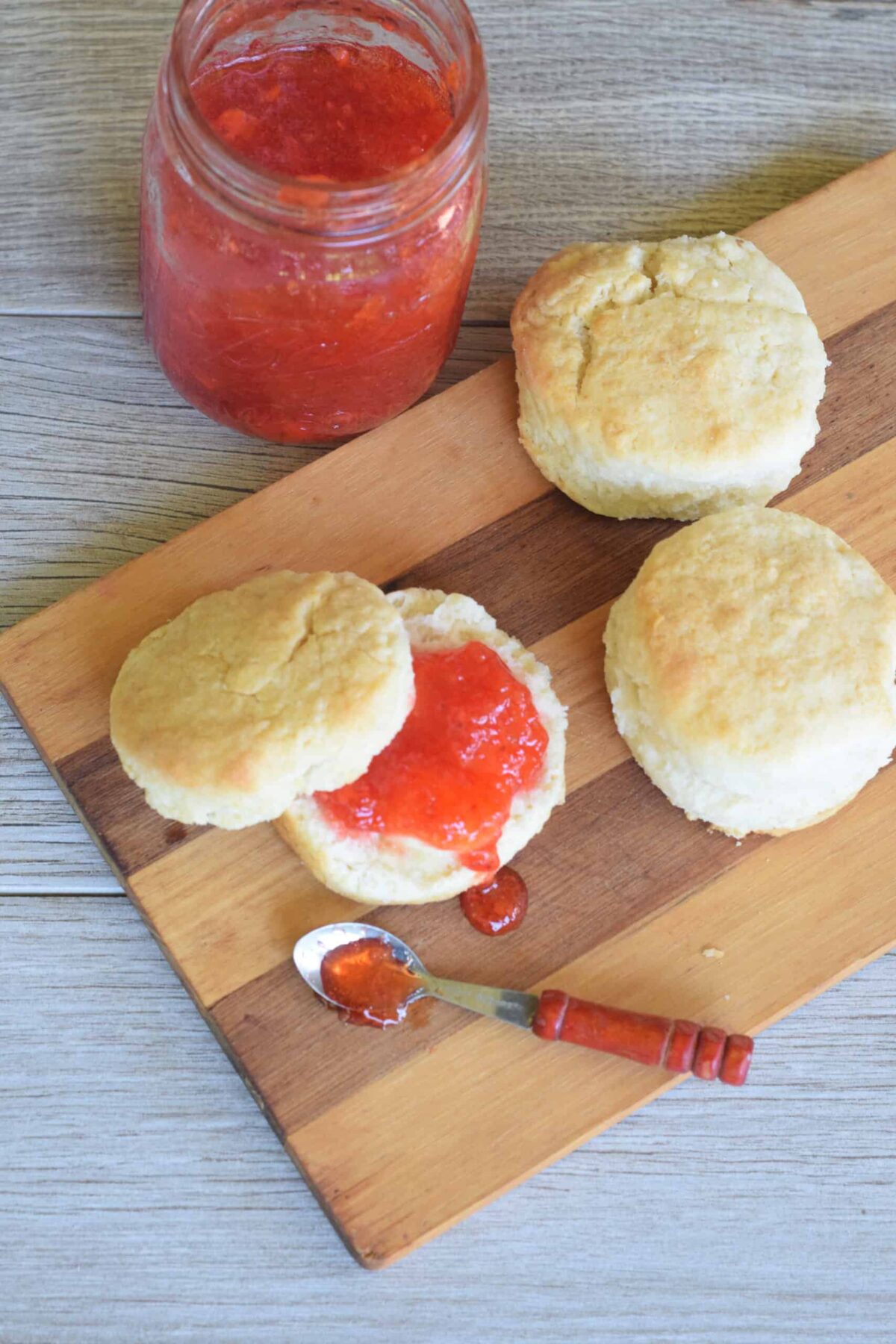 My favorite way to eat Easy Strawberry Freezer Jam is on my 2 Ingredient Biscuits fresh from the oven with butter, of course! These are my go-to biscuits not just because they are fail proof, flaky, and tender but because they are only 2 ingredients.
I always have those ingredients on hand. And no, it's not the biscuit mix in a box!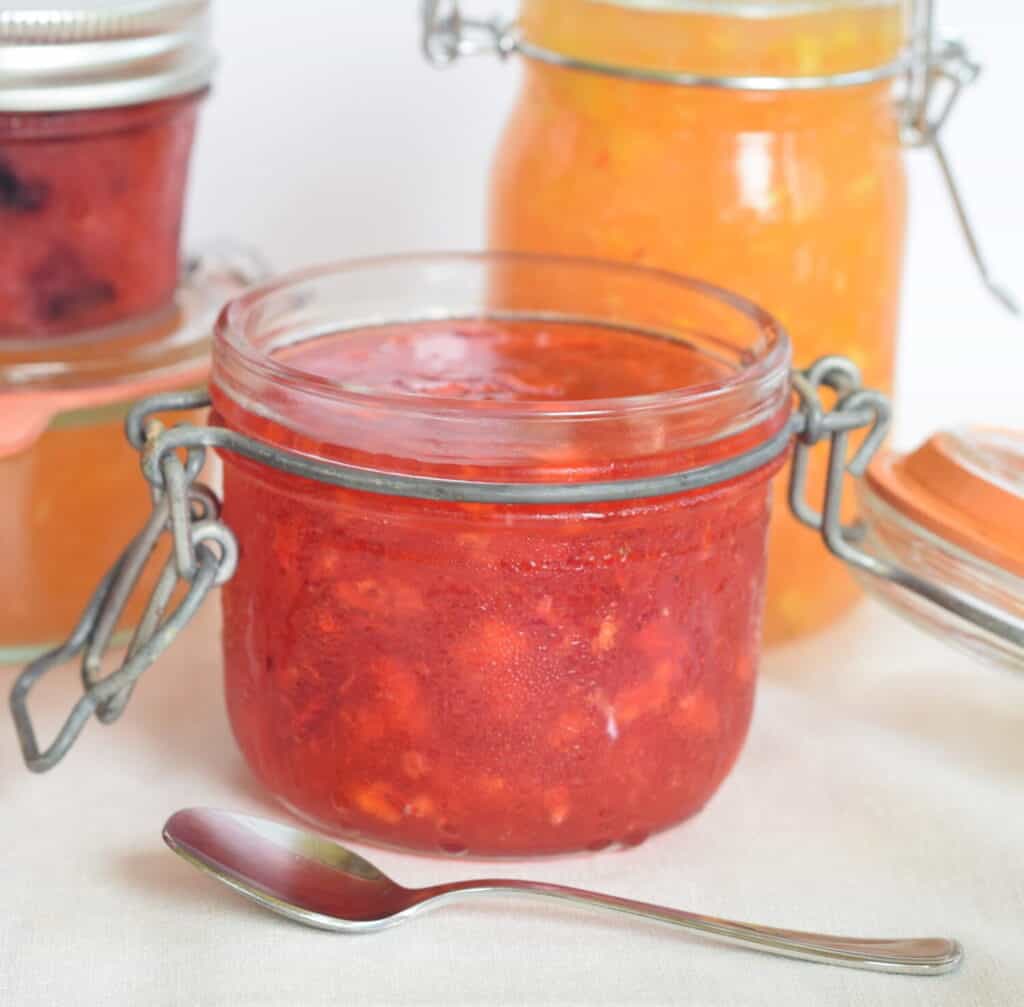 Do glass jars break in the freezer?
It is possible but if you follow these tips to avoid glass breaking in the freezer you won't have any problems.
Be sure the Mason jars are tempered and say on the box ok to use in freezer. Non-tempered glass has air bubbles in it and tends to cause the glass to break when frozen.
Choose wide mouth jars or at least jars that are NOT narrow at the top. The "shoulders" of a jar tend to cause them to crack if they are filled all the way to the top.
Screw on lids loosely until the jam is frozen. You can always go back later and tighten them gently.
Leave a full 1/2 inch headspace at the top of the jar to allow for expansion when frozen. Foods can expand up to 9% after freezing. (Disclaimer: In my photos of Easy Freezer Strawberry Jam, I filled them up to the top for food styling purposes.)
Avoid letting the glass jars touch in the freezer. I saw a tip once to put jars of jam or broth in a sock so they don't touch other jars. Another idea was to put jars right back in the box the jars come in to ensure they do not touch each other.
Lastly, I often freeze jam in freezer-safe plastic containers.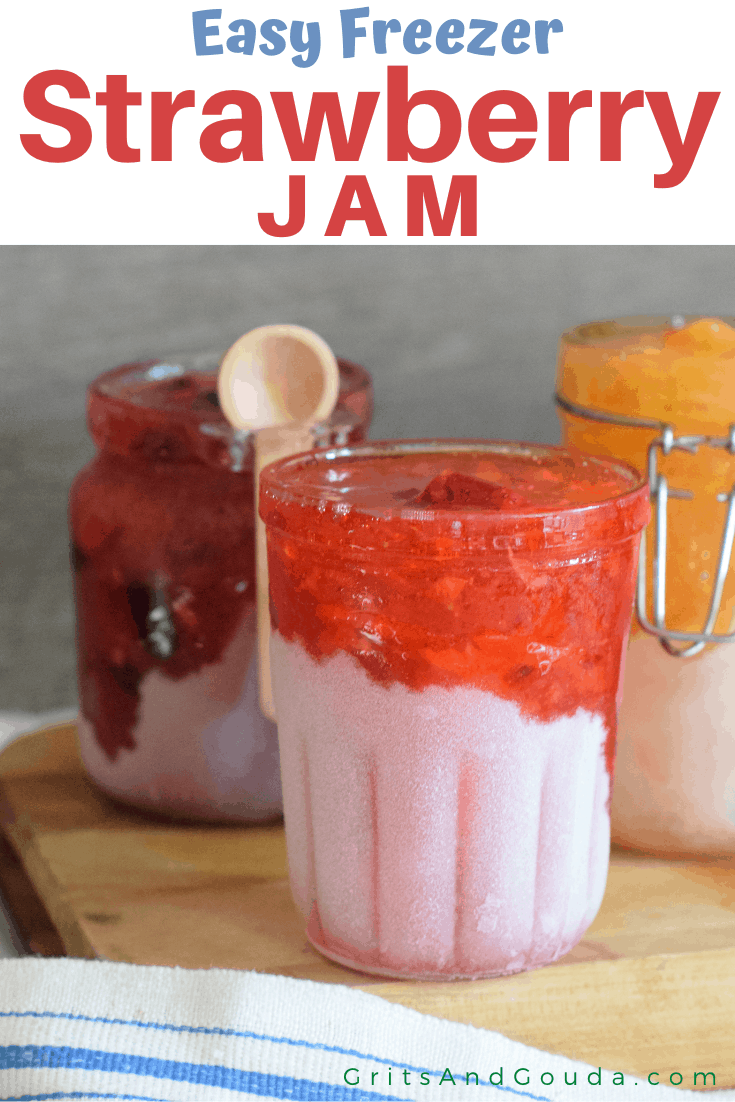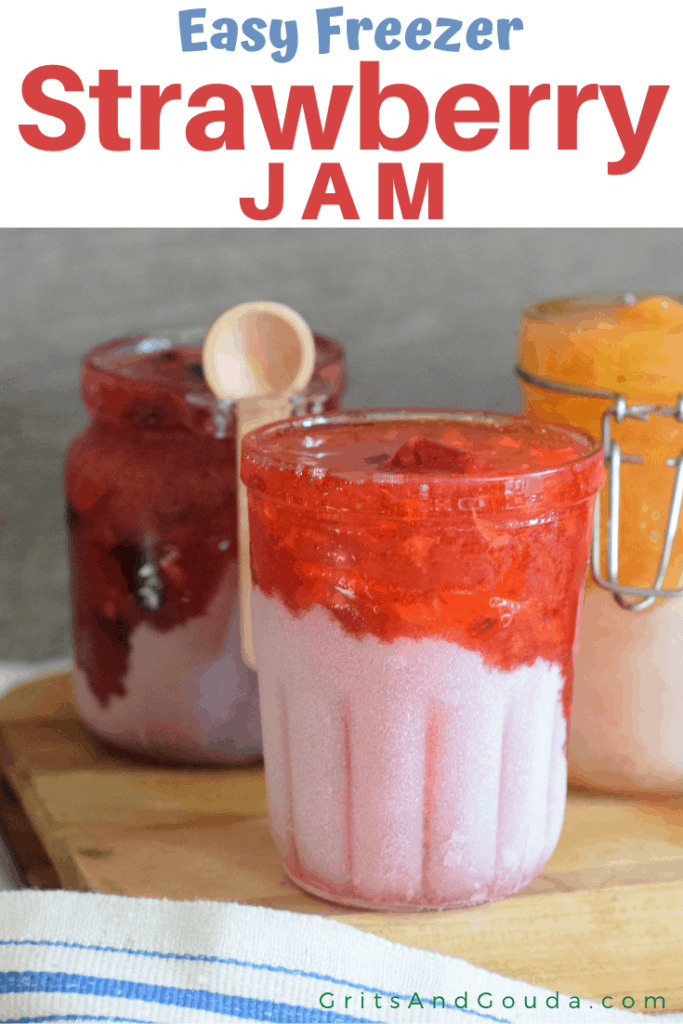 More Shortcut Jams and Jellies Recipes
If you make 2 Ingredient Biscuits or Easy Strawberry Freezer Jam, let me know how you liked them by leaving a comment below.
Follow me on Facebook, Instagram, Pinterest and YouTube. Be social and share, y'all! Don't forget to sign up with your email so you don't miss a single post on my Southern shortcut recipes!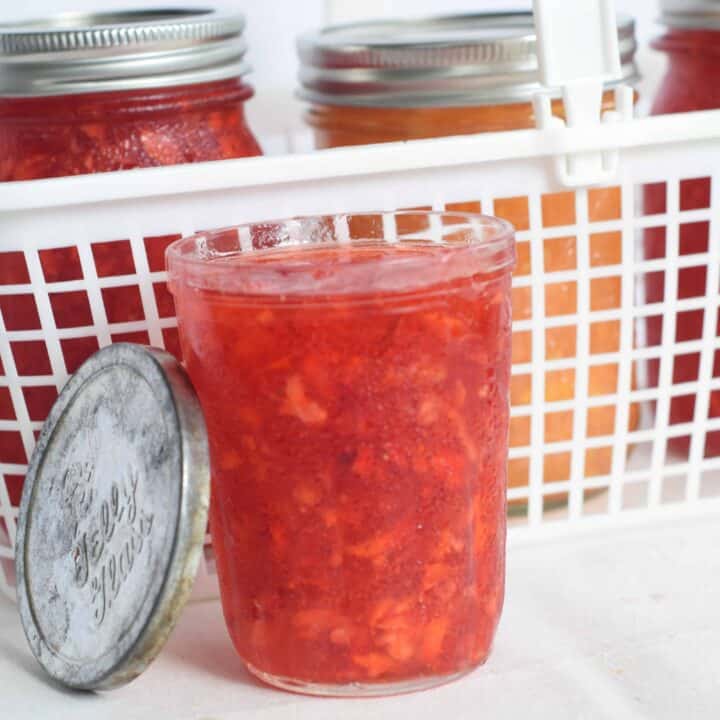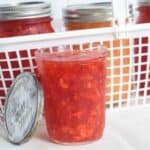 Print Recipe
Easy Strawberry Freezer Jam
This no cook Easy Strawberry Freezer Jam recipe is made in 30 minutes with Sure-Jell pectin. I'll show you how to make freezer jam and no canning experience needed.
Ingredients
2

cups

mashed

or pulsed in food processor strawberries

4

cups

sugar

1

1.59-ounce pouch Sure-Jell powdered fruit pectin

3/4

cup

water
Instructions
I like to pulse the hulled strawberries in the food processer rather than mash them. It

saves so much time and I'm assured a piece of strawberry in every bite of jam. Just

remember, pulse to look coarsely chopped-not pureed.

Combine strawberries and sugar in a large bowl. Let stand 10 minutes, stirring

occasionally.

Meanwhile, combine pectin and water in a small saucepan, stirring constantly. Bring to a boil over medium heat, stirring constantly. Boil 1 minute. Gradually add pectin mixture to strawberries, stirring well. Stir 3 minutes or until sugar is almost dissolved.

Spoon strawberry mixture into plastic or glass 1-cup freezer jars. Wipe rims and cover

with lids. Let stand at room temperature overnight. Freeze until firm. Store in freezer.

Thaw in refrigerator before serving.
Notes
Food Gift. Vegan. Gluten Free. Fat Free. Preserves.
Nutrition
Serving:
1
tablespoon
|
Calories:
35
kcal
Did you make this recipe?
If you love it, share it! Tag me on Instagram @gritsandgouda using #gritsandgouda Comment below before you go!