The prep for Slow Cooker Fig Jam is literally just a few minutes and the crock pot does all the work-almost. Easy fig jam recipe with no pectin!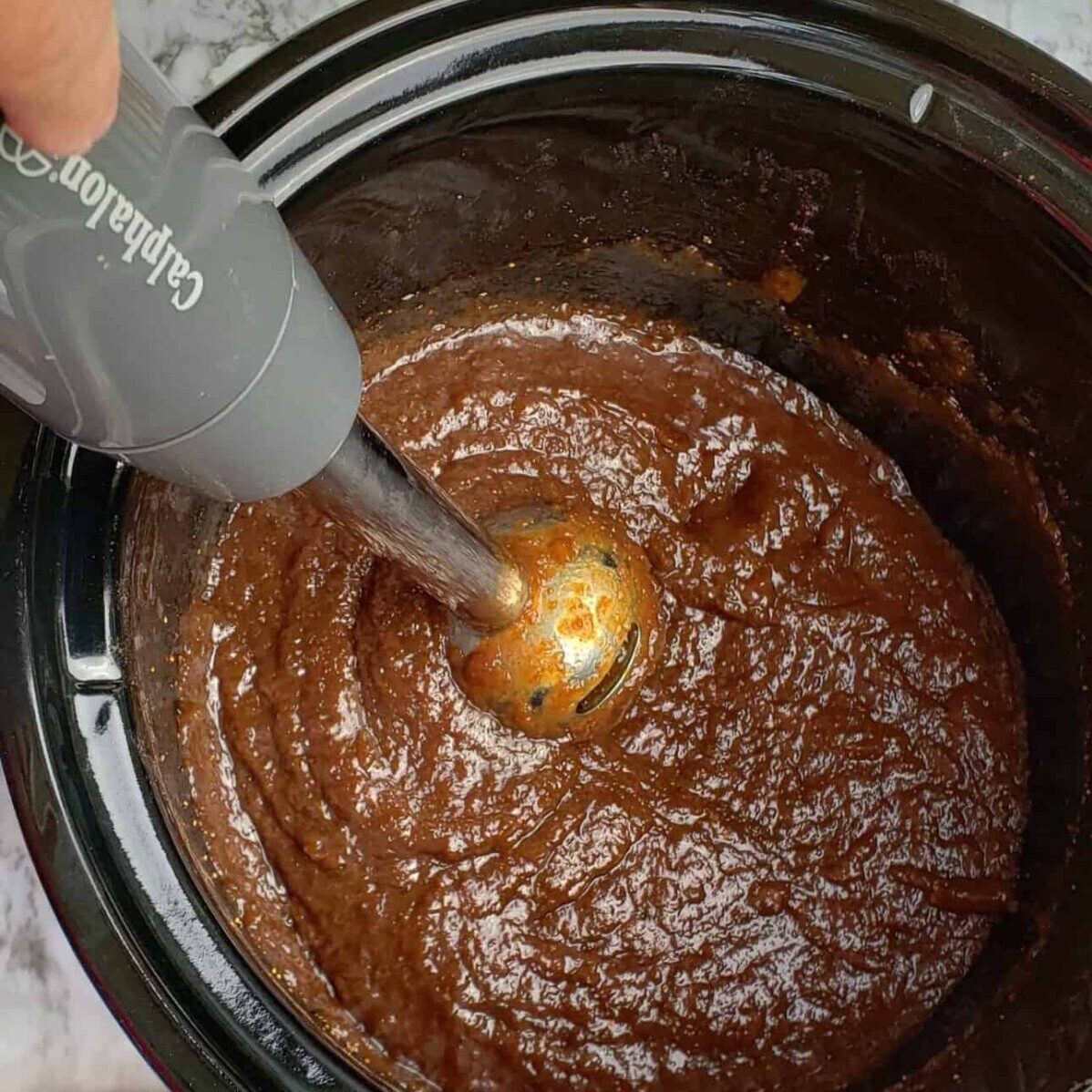 This hands-off method is the best way to make fig jam. This has to be the easiest small batch fig jam recipe I've made. You'll learn how to make fig jam without pectin.
It tastes just like a fresh fig spread when you slather it on my 2 Ingredient biscuits.
Another favorite recipe to make using this slow cooker fig jam recipe is Fig Jam Cake. I often top it with whipped cream and Easy Fig and Lemon Preserves.
When are fresh figs in season?
Many figs have two seasons
A smaller producing season in June
Typical major producing season from August to September
California figs have the perfect environment for growing figs so you can usually find them fresh in stores from mid-May til mid-December.
For my second batch of jam (after I used the bartered figs): The hybrid green figs on my trees are in peak season from mid August to mid September.
I don't usually have enough ripe figs at the same time to make this jam so I bought one container of Black Mission figs when they went on sale to supplement them. When they cook down into jam, you never know the difference! Since figs are fragile, jam is a great way to use your over-ripened figs.
Shortcuts:
The slow cooker allows you to walk away without having to babysit it on the stovetop and constantly stir.
No pectin needed. It saves an ingredient and a step!
It's not necessary to "can" them in fruit jars. It keeps well for several weeks in the fridge with a tight lid. But I do often process half pint jars in a water bath and give them as gifts.
Snipping the stems with scissors.
How to make Fresh Fig Jam
If you're looking for green fig recipes, perfect! I've used ripe green figs to make this jam recipe many times. Mine are a Calimyrna hybrid.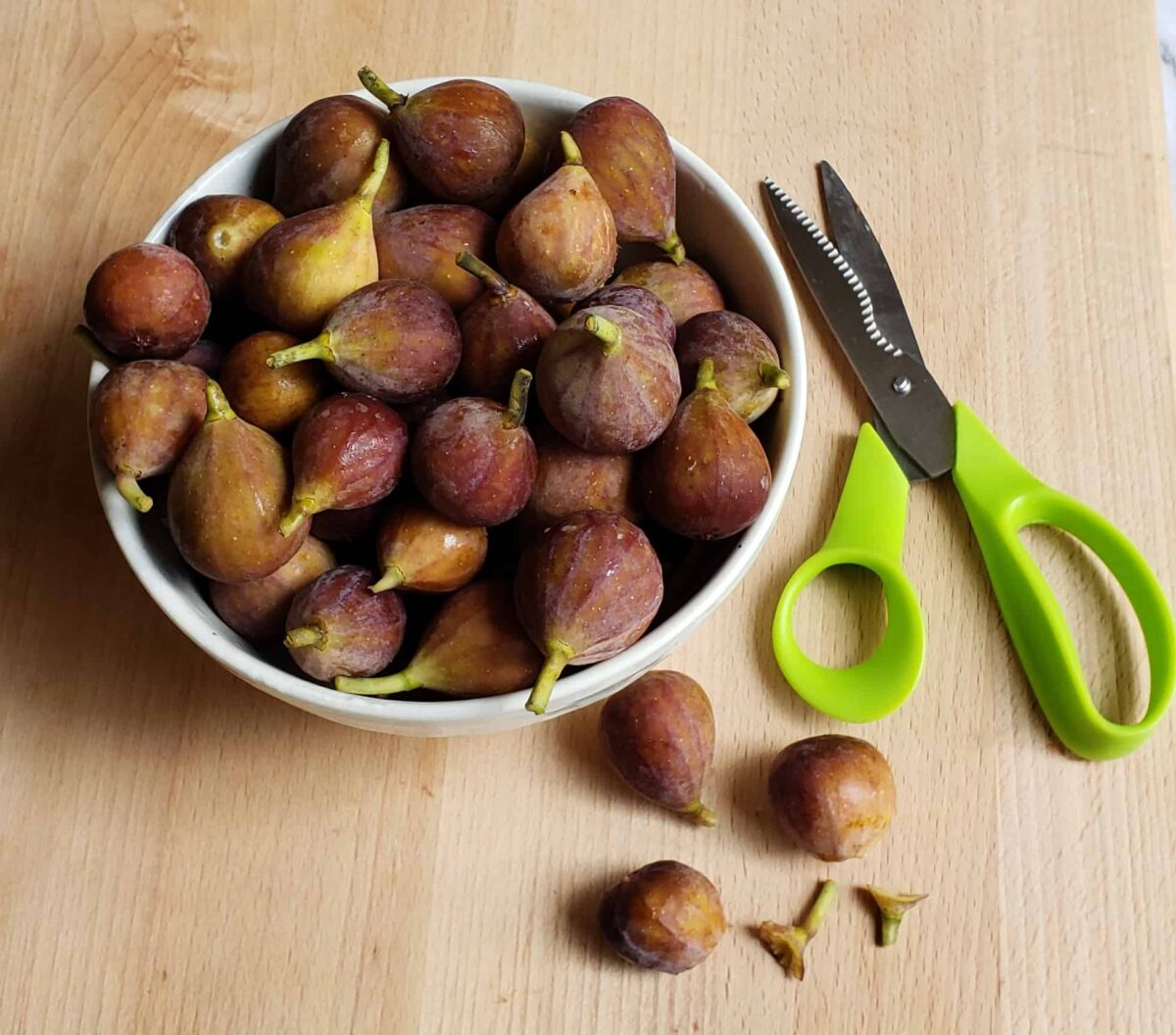 Snip ends of fresh figs with scissors or with a sharp knife on a cutting board.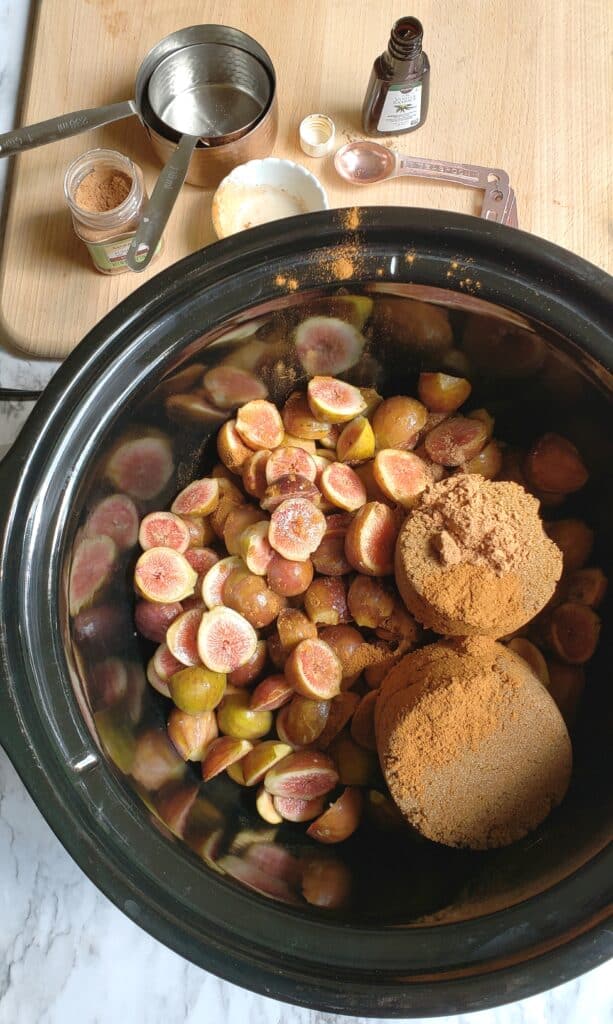 Combine all the ingredients in the slow cooker. Give it a good stir and put the lid on it and turn it on. That is too easy! I cooked mine for 3 hours on HIGH but it could go a little longer and not burn. Make sure you stir it occasionally.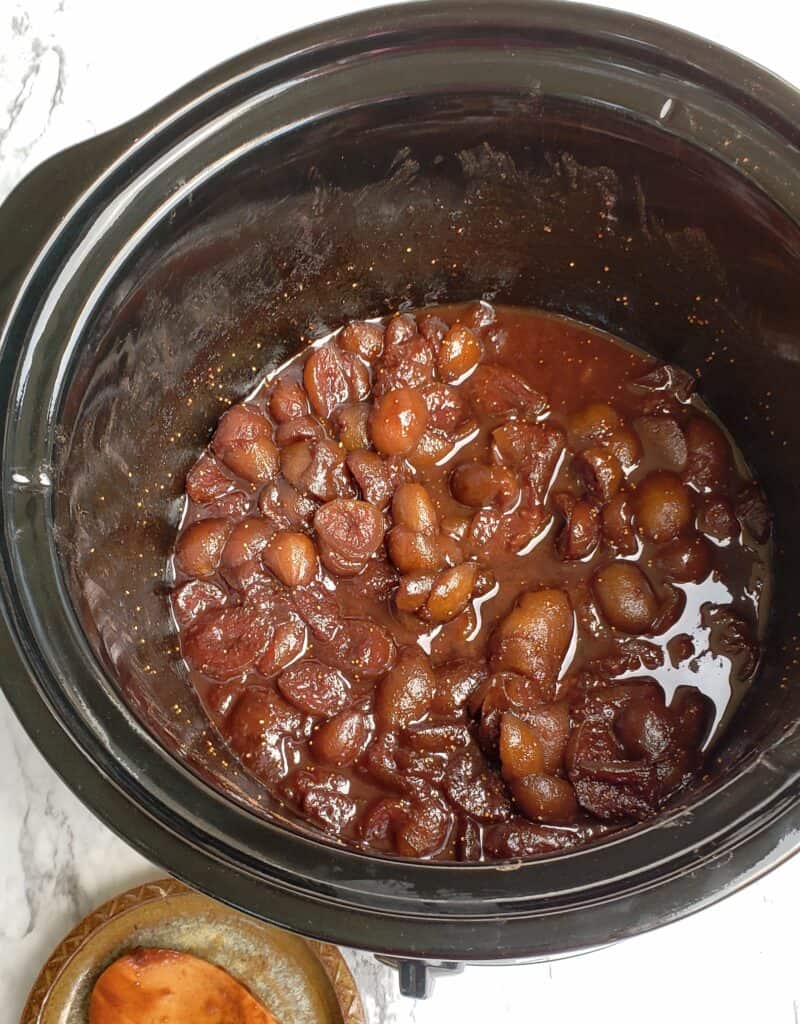 You may be thinking, "That doesn't look like jam to me!". Just one more step and you are there. If you have an immersion hand blender, just stick it right in the slow cooker crock and blend until smooth.
What if I don't have an immersion blender?
If you don't have an immersion blender, no worries. Wait until the mixture has cooled at least 30 minutes and place it in a food processor or large blender and pulse until smooth.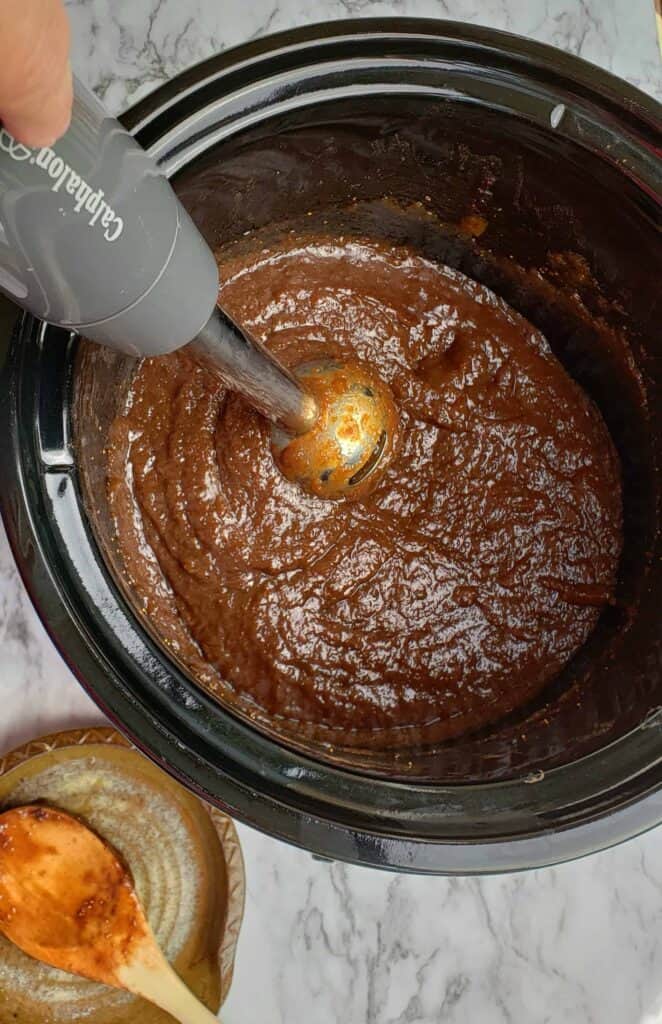 At this point, you can pour the jam into jars or containers with tight lids and keep it in the fridge for several weeks.
Or, you can process (can it) the jars for 5 minutes in a water bath in a stock pot and store them on a cool dry shelf.
Why is my fig jam not thickening?
This happened to me on one of my batches.
After researching possible causes, I decided to edit this recipe and add more sugar and 2 tablespoons lemon juice.
Possible reasons why fig jam may not thicken:
Figs aren't ripe-Ripe figs contain the most natural pectin.
Jam didn't cook long enough.- Making jam without powdered pectin is a matter of cooking it down to evaporate the liquid. In a slow cooker, it takes longer than on a stovetop because it holds in the moisture.
Lemon juice not acidic enough. Fresh lemons vary in acidity with soil and weather conditions. The best lemon juice is bottle lemon juice because the PH is regulated and consistent.
What can I do if my fig jam doesn't thicken?
Here are two options to help thicken your jam if it doesn't thicken after 8 hours in the slow cooker.
If your jam seems more like syrup at the end of 8 hours, remove the lid and stir occasionally until it reaches jam consistency, cooking on HIGH heat setting.
Sprinkle 1 tablespoon low-sugar powdered pectin over the mixture and stir in well. Cook on HIGH heat setting on the slow cooker, stirring constantly, until the jam thickens.
Can I used overripe fruit to make jam?
The great thing about making jam is that the whole fruit is used and it doesn't matter if the fruit is slightly blemished and it's actually best to use ripe or over ripe fruit for jam.
So what's your excuse for not making a batch of Slow Cooker Fig Jam? Keep a lookout for a neighbor with a fig tree so you can barter!
What can I serve fig jam?
Besides spreading on my 2 Ingredient Biscuits, one of my favorite recipes using fig jam is Fig Jam Cake. You can make it with buttercream maple frosting or eat it plain as a snack cake.
The fig cake only uses one cup of the jam so you still have plenty to enjoy at breakfast.
You can also use store bought fig jam but you might have to find it at a festival or local market.
Funny Story About My Bartering Experience
Don't have a fig tree of your own? Read my funny story of how I knocked on a "distant neighbor's" door and asked if I could barter for picking figs from their huge fig tree.
Other fig recipes you will love:
Maple Buttercream Frosting and Fig Jam Cake
Fig Jam Cake Made with Slow Cooker Fig Jam
Follow me on Facebook, Instagram, Pinterest and YouTube. Be social and share, y'all! Don't forget to sign up with your email so you don't miss a single post on my Southern shortcut recipes!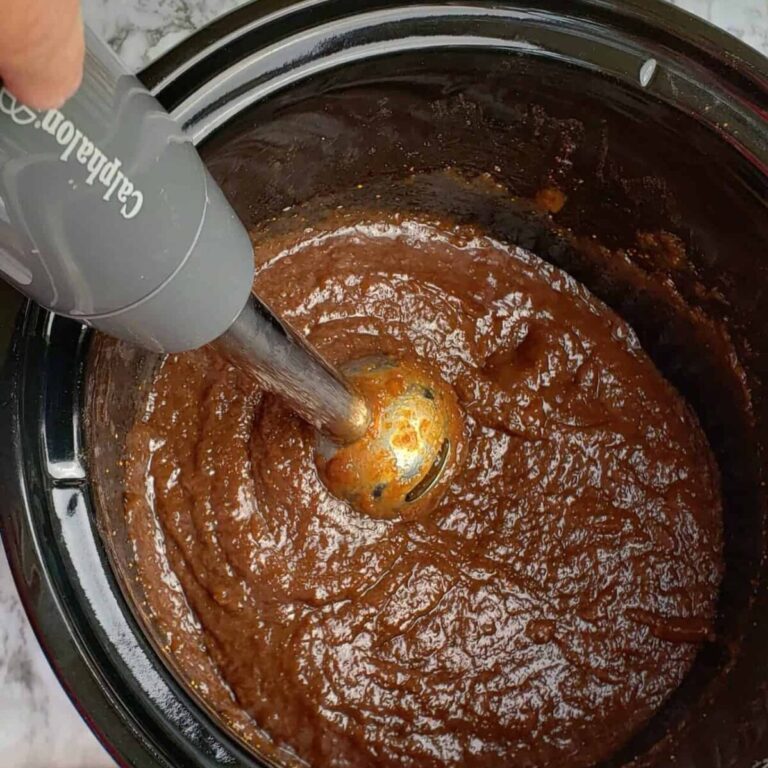 Print Recipe
Homemade Fig Jam (Slow Cooker)
The hybrid green figs on my trees are in peak season around mid August.. I don't usually have enough ripe figs at the same time to make this jam so I bought one container of brown turkey figs when they went on sale to supplement. When they cook down into jam, you never know the difference! Since figs are fragile, jam is a great way to use your ripe figs.
Ingredients
5

cups

whole fresh figs

about two 16-oz containers

2

cups

dark brown sugar or 1 1/2 cups light brown sugar + 2 tablespoons molasses

1

teaspoon

ground cinnamon

or 1 teaspoon pumpkin pie spice

1

teaspoon

vanilla extract

(optional)

2

tablespoons

lemon juice
Instructions
Wash figs gently in a bowl of cold water; drain well. Remove stems and cut figs in half.

Combine all ingredients in a 4-quart slow cooker, except vanilla. Cover and cook on LOW for 8 hours or HIGH for 4 hours, stirring once or twice in the first 30 minutes. Let cool 30 minutes. Add vanilla, if using.

Using an immersion blender in the slower cooker crock, puree mixture until almost smooth. The fig mixture can also be poured in a large food processor, once cooled, and pulsed until almost smooth.

Pour jam into sterilized jars with lids and let cool completely. Store in refrigerator or freezer. Jam can also be processed in a water bath for 10 minutes and stored at room temperature. Here are directions on how to seal your jars using a stock pot for the water bath.
Notes
To preserve fig jam longer and give as gifts you can process half pint jars in a water bath for 5 minutes. This is a way to "can" the jars without pressure canning.
Snipping the stems off fresh figs is easy using scissors
An emersion blender makes quick work of blending the cooked fig mixture but a regular blender will work fine.
Any variety of fresh figs can be used to make this fig jam.
Nutrition
Serving:
1
tablespoon
|
Calories:
75
kcal
Did you make this recipe?
If you love it, share it! Tag me on Instagram @gritsandgouda using #gritsandgouda Comment below before you go!
Nutrition analysis on GritsAndGouda.com recipes are mostly calculated on an online nutrition calculator. I am not a dietitian and nutritional information is an estimate and can vary based on products used.
Pin to Pinterest!