Easy homemade Fig Jam Cake made with my Slow Cooker Fig Jam can be served as a simple snack cake or dressed up with a drizzle of my Fig and Lemon Preserves and a dollop of whipped cream. For a shortcut, you can purchase fig jam if you don't have time to make homemade fig jam.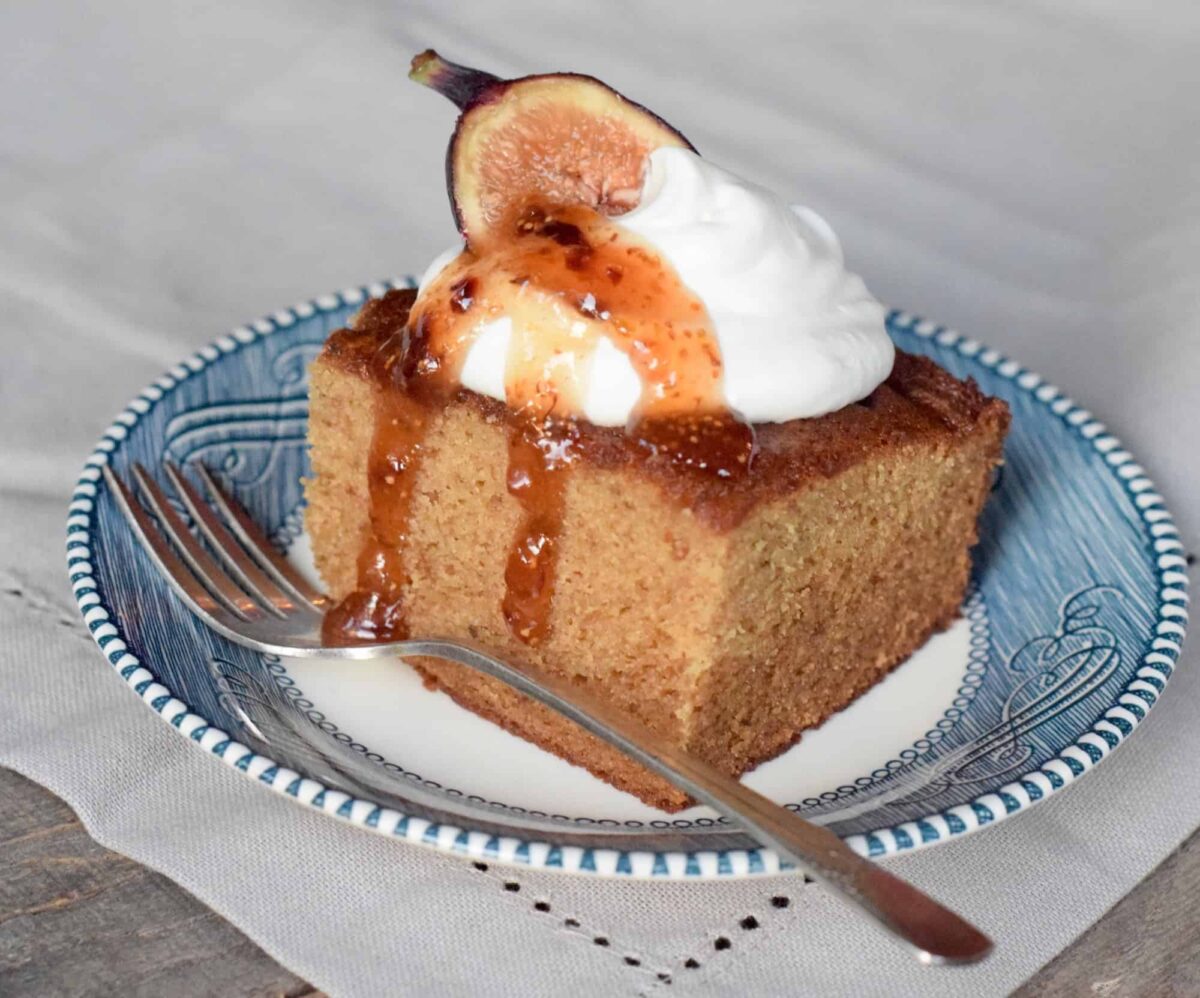 My friends, the Knoops, shared their backyard fig harvest with me recently. My figs were almost gone so I was grateful for the bounty.
I had enough figs from their gifting to make Fig and Lemon Preserves, Slow Cooker Fig Jam, Fresh Figs with Cream Cheese and Wildflower Honey, and this easy Fig Jam Cake made with my Slow Cooker Fig Jam.
We ate this cake in our lunches for several days without whipped cream or jam on top. It just got better each day. It reminded me of an old-fashioned snack cake I used to make to send in my parents lunches when I was a teenager-yes, we believed in a homemade dessert in every lunch!
One of my chores/duties growing up in Evening Shade, Arkansas was to bake desserts that could be packed in a lunch box because at one point, both my parents worked long hours in the summer. My sister tended the garden and my brother took care of the animals.
I was perfectly satisfied doing the cooking. That was right up my alley. Even though we didn't have A/C at the time, it was still way cooler inside the house with the box fans in the windows than outside in the Arkansas heat chopping endless rows of potatoes!
What kind of figs can I use to make Fig Jam Cake?
The short answer is any fig will work fine in making the Slow Cooker Fig Jam. If you are using store-bought jam and just garnishing with figs, make sure they are ripe and free from bruises.
Five of the most common figs are Adriatic, Black Mission Figs, Brown Turkey, Kadota, and Calimyrna.
For more information on different kinds of figs, The Spruce Eats has beautiful pictures and details descriptions.
I have one Purple Mission Fig tree, two hybrid trees similar to the Kadota, and one Brown Turkey.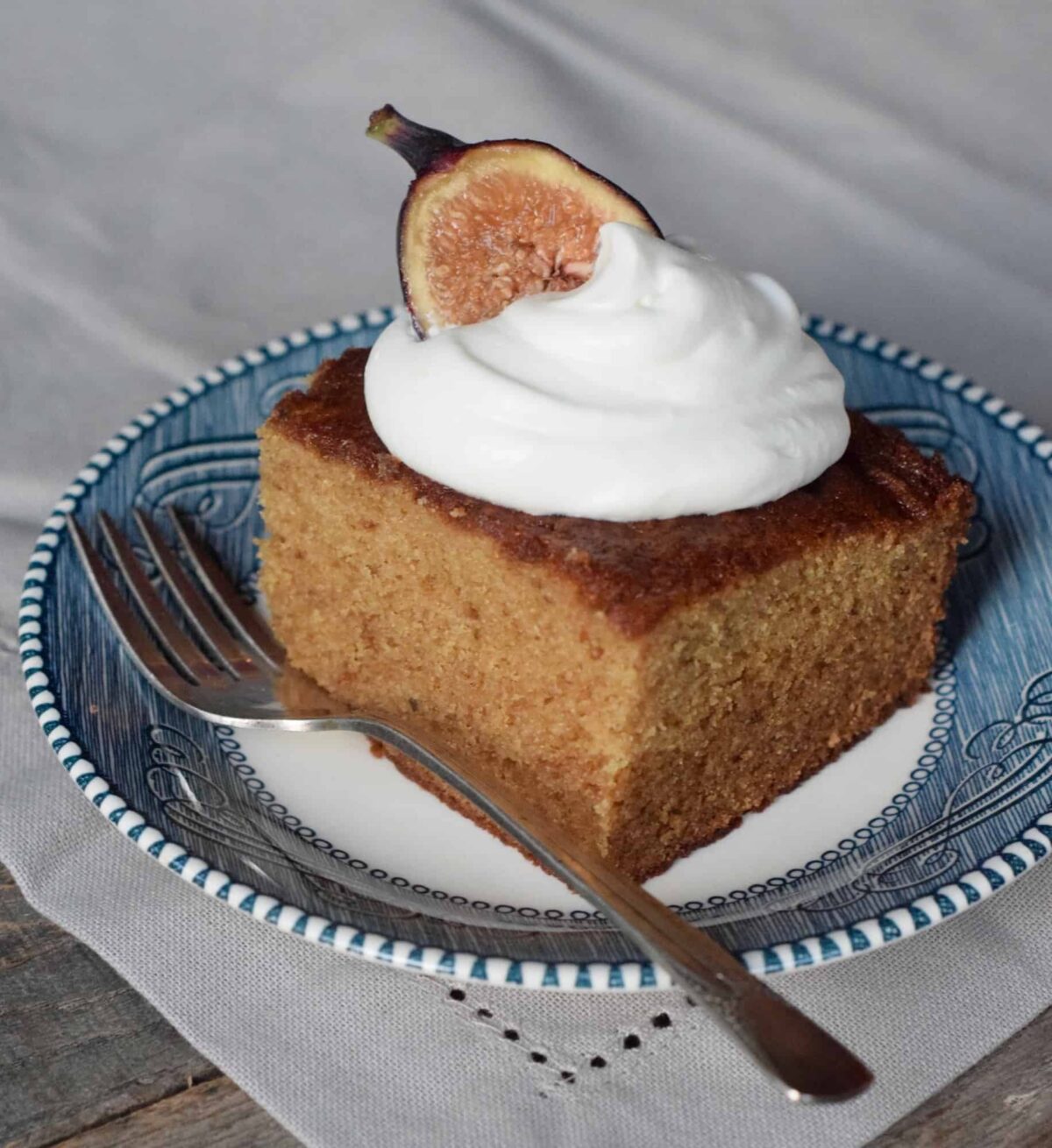 I baked the cake in this picture in a 9x9" square pan and baked it for 35 minutes and it gives you nine tall pieces of cake.
Maple Buttercream-Frosted Fig Jam Cake is the same cake batter just baked in a 13x9" baking pan for 23 minutes and cut into 30 small pieces to serve as a pick up size dessert for a church devo, office party, or baby shower.
Dress it up with whipped cream, Fig and Lemon Preserves, and a fresh fig half or simply slice and eat warm. Yum!
Shortcut:
If you don't have enough figs to make my Slow Cooker Fig Jam you can substitute store-bought fig jam. Keep in mind jelly is no the same as jam, so be sure to read the label carefully. Jam contains the whole fruit and jelly is made with just the juice/liquid.
If you make this recipe I'd love to see it! Tag me on social media with #gritsandgouda or @gritsandgouda. Leave a comment below the printable recipe if you have questions or tell me how you liked the recipe. Don't forget to give the recipe a rating of 5 stars if you love it!
Follow me on Facebook, Instagram, Pinterest and YouTube. Be social and share, y'all! Don't forget to sign up with your email so you don't miss a single post on my Southern shortcut recipes!
Other fig recipes you will enjoy:
Maple Buttercream-Frosted Fig Jam Cake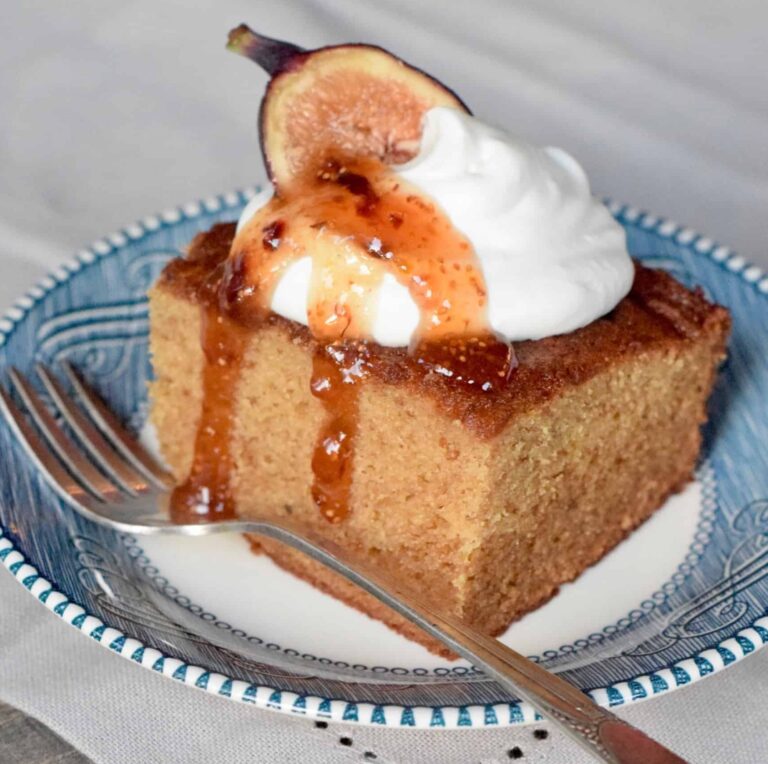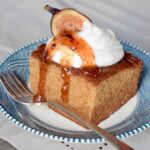 Print Recipe
Fig Jam Cake with Slow Cooker Fig Jam
This rich, dense fig cake gives you a double shot of fig goodness! Once inside the cake, adding to the moist texture and again topped with homemade fig preserves and whipped cream. Double yum! Visit

GritsAndGouda.com

for Slow Cooker Fig Jam and Fig and Lemon Preserves recipes or use store-bought fig preserves or jam. Unadorned, this cake packs well in lunch boxes and lasts for days in an airtight container.
Ingredients
3/4

cup

salted or unsalted butter

softened

1/2

cup

light brown sugar

1/2

cup

granulated sugar

3

large eggs

1/2

cup

milk

1

teaspoon

vanilla extract

2

cups

all-purpose flour

1

teaspoon

baking soda

1

cup

Slow Cooker Fig Jam

Or store-bought fig jam

Sweetened Whipped Cream for topping

Fig and Lemon Preserves for topping

Search "fig" for recipe on blog
Instructions
Preheat oven to 350°.

Beat butter and sugars in a large mixing bowl with an electric mixer on medium-high speed until light and fluffy (about 3 minutes). Add eggs on medium-low speed, one at a time, beating just until combined. Add milk and beat just until combined.

Combine flour and baking soda in a bowl or large paper plate. Gradually add flour mixture to mixing bowl, beating on low speed. Add Fig Jam and beat on medium-low speed just until combined. Spoon batter into a greased 9-inch square baking pan. Bake for 35 to 38 minutes or until a toothpick inserted in center comes out clean. Let cool completely in pan on a wire rack. Serve with a dollop of sweetened whipped cream and Homemade Fig and Lemon Preserves, if desired.
Notes
You can substitute store bought fig jam for my homemade Slow Cooker Fig Jam but don't accidentally purchase fig jelly.
Did you make this recipe?
If you love it, share it! Tag me on Instagram @gritsandgouda using #gritsandgouda Comment below before you go!