Enjoy the taste of Southern peaches this winter by making peach freezer jam this summer! I added orange peel strips to this easy peach freezer jam to make Peach Freezer Marmalade. To make jam instead of marmalade, just leave out the strips of orange! Freezer jams and jellies are super easy and no water bath or pressure canning needed.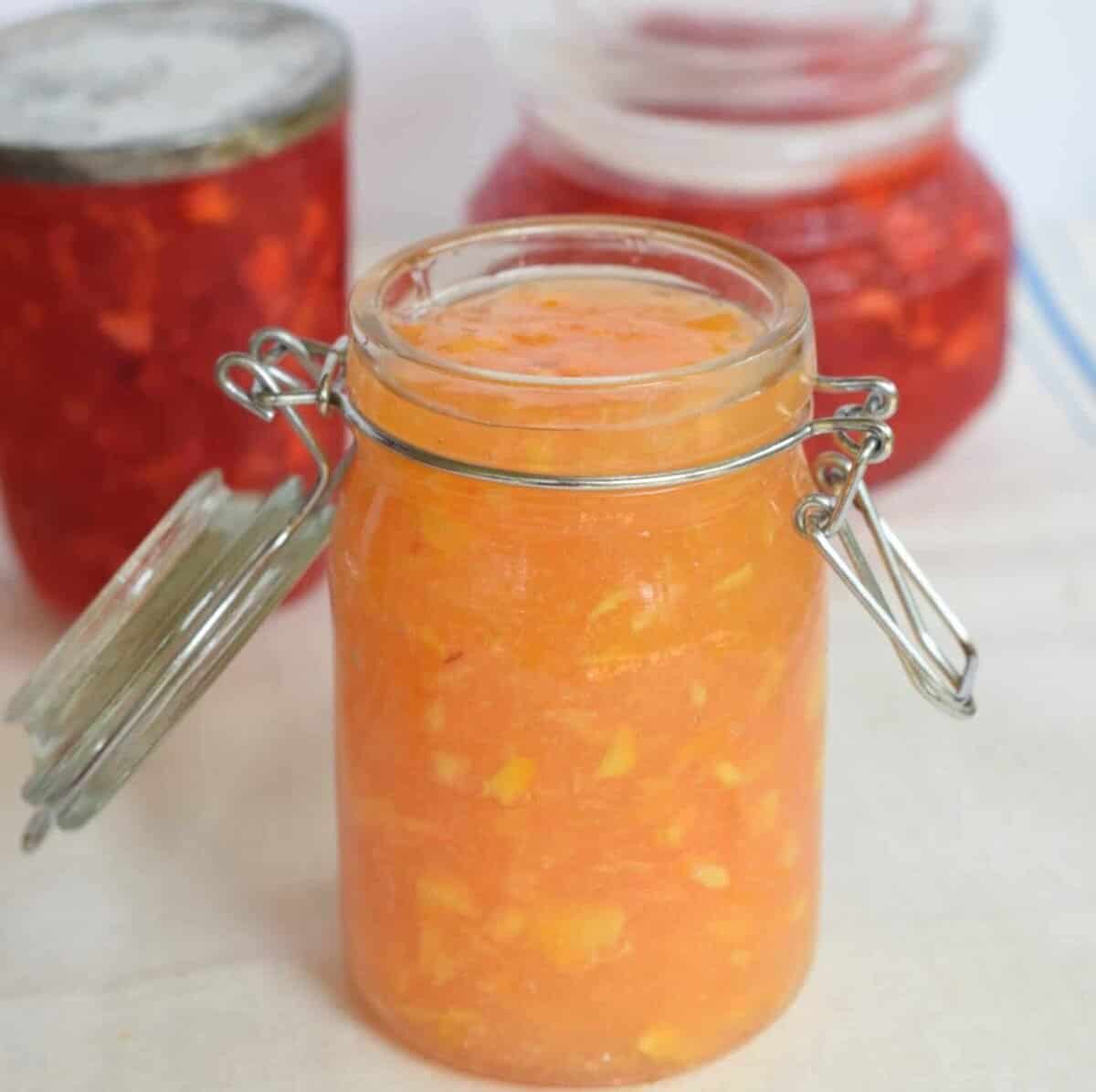 I have fond memories of slathering mom's homemade peach jam on a piece of her homemade bread. It was my favorite after school snack!
(Note: I know the jar above is filled past the appropriate 1/2 headspace needed for expansion in the freezer...it's a food styling thing.)
I've made several batches from her recipe and while I love the jam-and the memories-I don't love having to stir the mixture for at least 30 minutes while it cooks down. Nor do I love having to process the jars in a water bath canning process.
Freezer jams are my jam!
I am completely done from start to finish in 30 minutes when I make freezer jams. It's just that easy!
What's the shortcut?
The shortcut in this kind of jam and marmalade recipe is not having to put them in a water bath or pressure canning. Just put them in the freezer until ready to enjoy. Place them in the fridge overnight for spreading consistency.
Are all types of pectin the same?
In Peach Freezer Marmalade, the fruit is not cooked so it tastes like a fresh, ripe peach spread on your hot buttered biscuit. Freezer jams are thickened with pectin rather than simmered on the stovetop for a long time.
I experimented with Sure Jell MCP (Modified Citrus Pectin) powdered pectin, Ball Freezer Pectin (Instant pectin), and good ol' reliable Sure Jell powdered pectin that you boil 1 minute in water.
Hands down, the traditional package of Sure Jell pectin worked best. It gelled (firmed up) on the first try. The MCP and Ball instant pectin resulted in a very soft-set marmalade that I was not satisfied with. I read the directions in the package to retry the second batch (basically adding a little more sugar and pectin) and it ended up fairly close to the Sure Jell traditional pectin.
How to make Peach Freezer Marmalade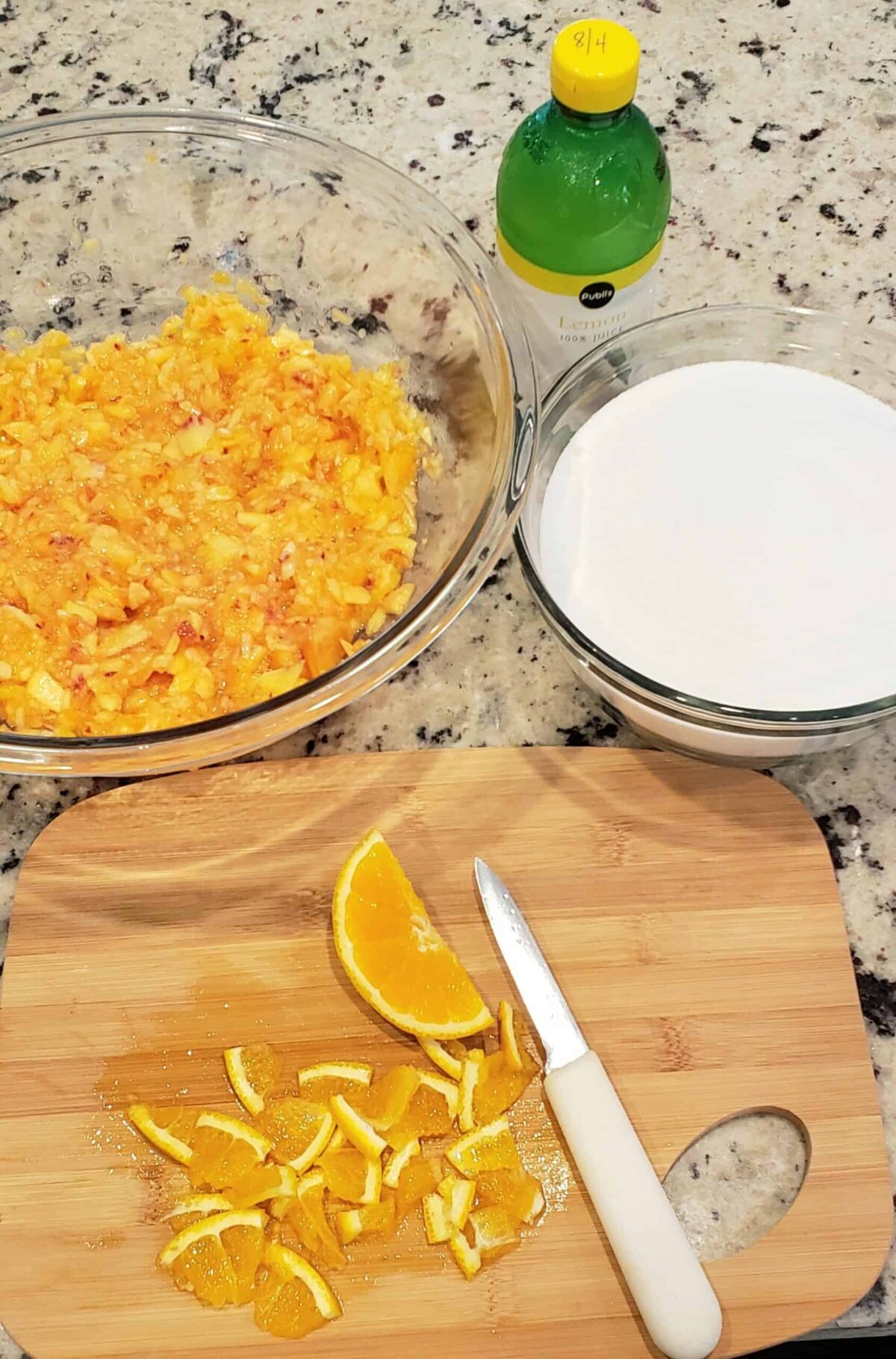 Adding small slices of orange with the peel changes Peach Freezer Jam to Peach Freezer Marmalade. Remove the seeds and slice a quarter of an orange and add to the chopped peaches.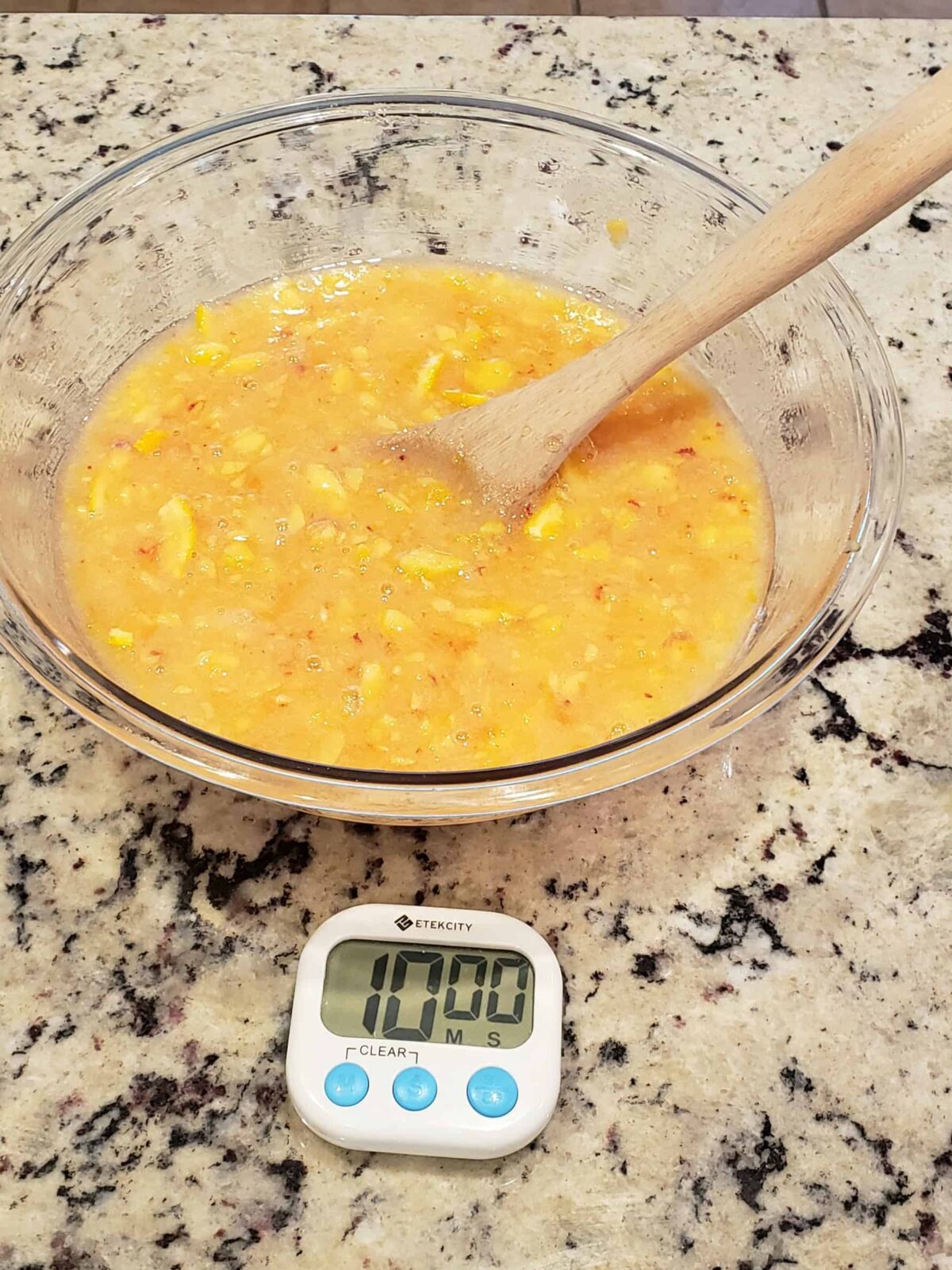 Combine 3 cups of chopped peaches, orange slices and 4 1/2 cups sugar in a large bowl. Let it stand at room temperature 10 minutes.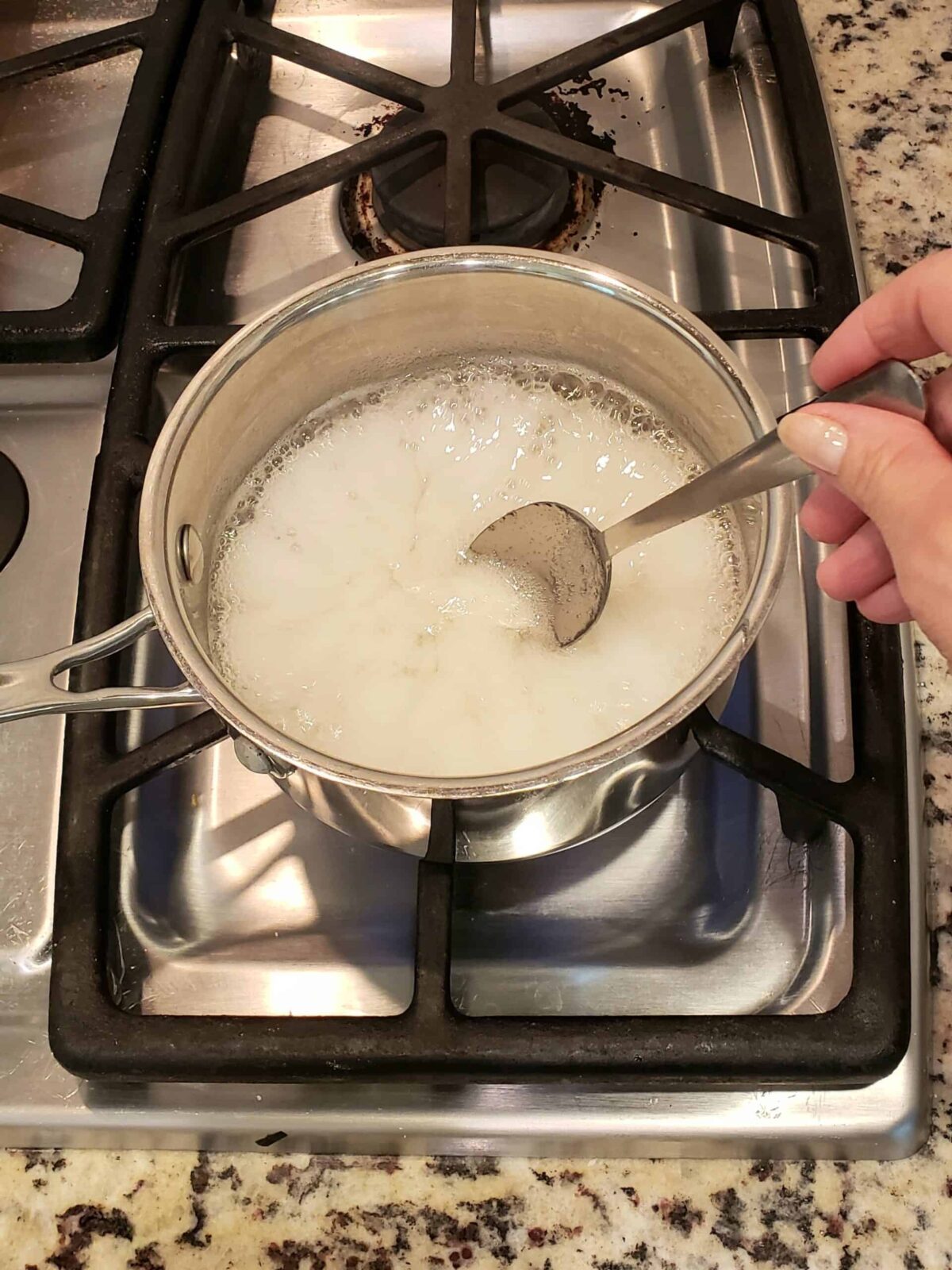 Meanwhile, combine the powdered pectin and water in a small saucepan, then bring it up to a boil and boil it 1 minute. Quickly, stir it into the peach and sugar mixture.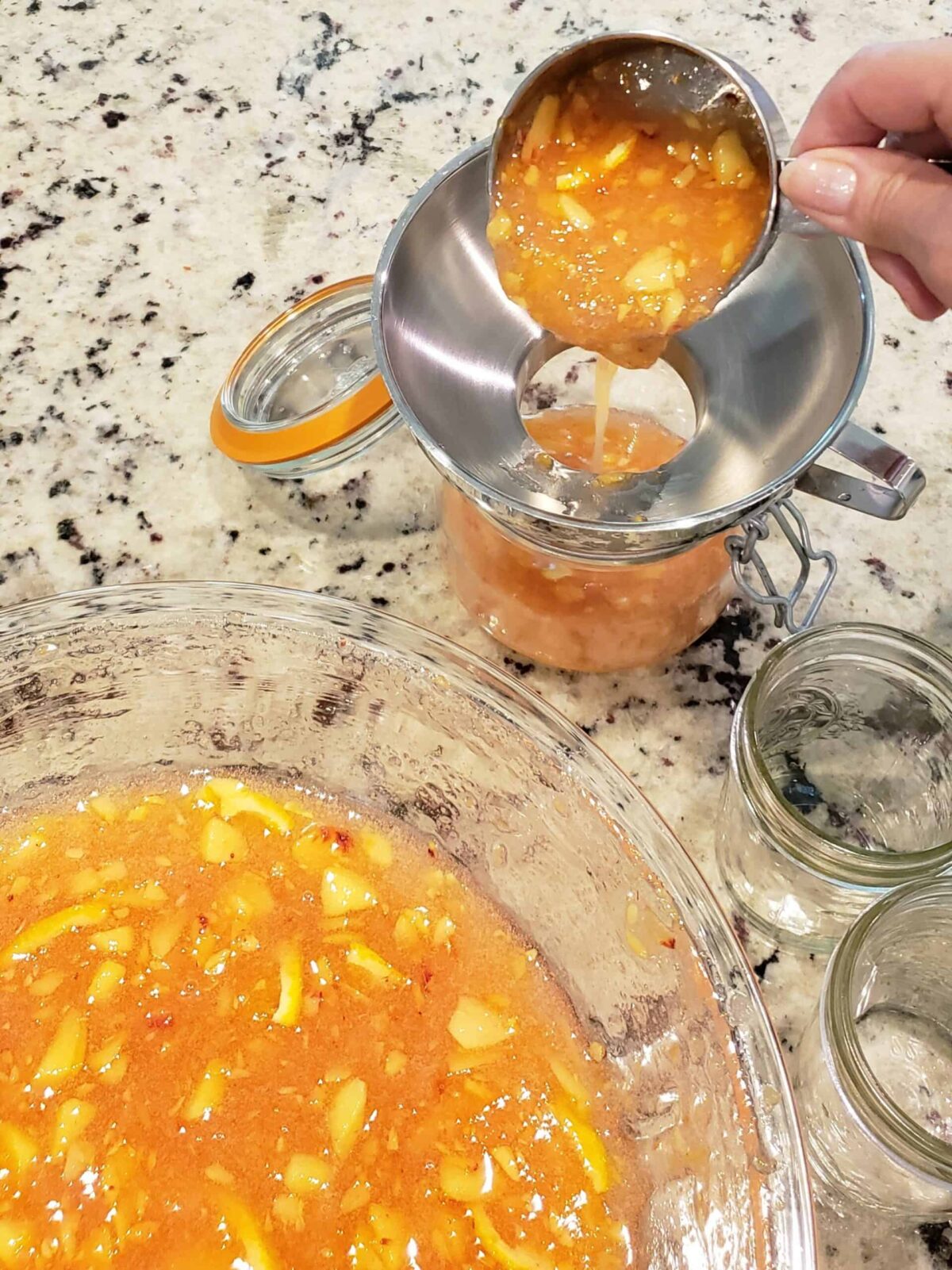 Spoon peach marmalade mixture into glass jars or plastic freezer containers using a canning funnel to prevent spills.
Since the marmalade will be kept in the fridge or freezer, no need to process the jars in a canner or water bath!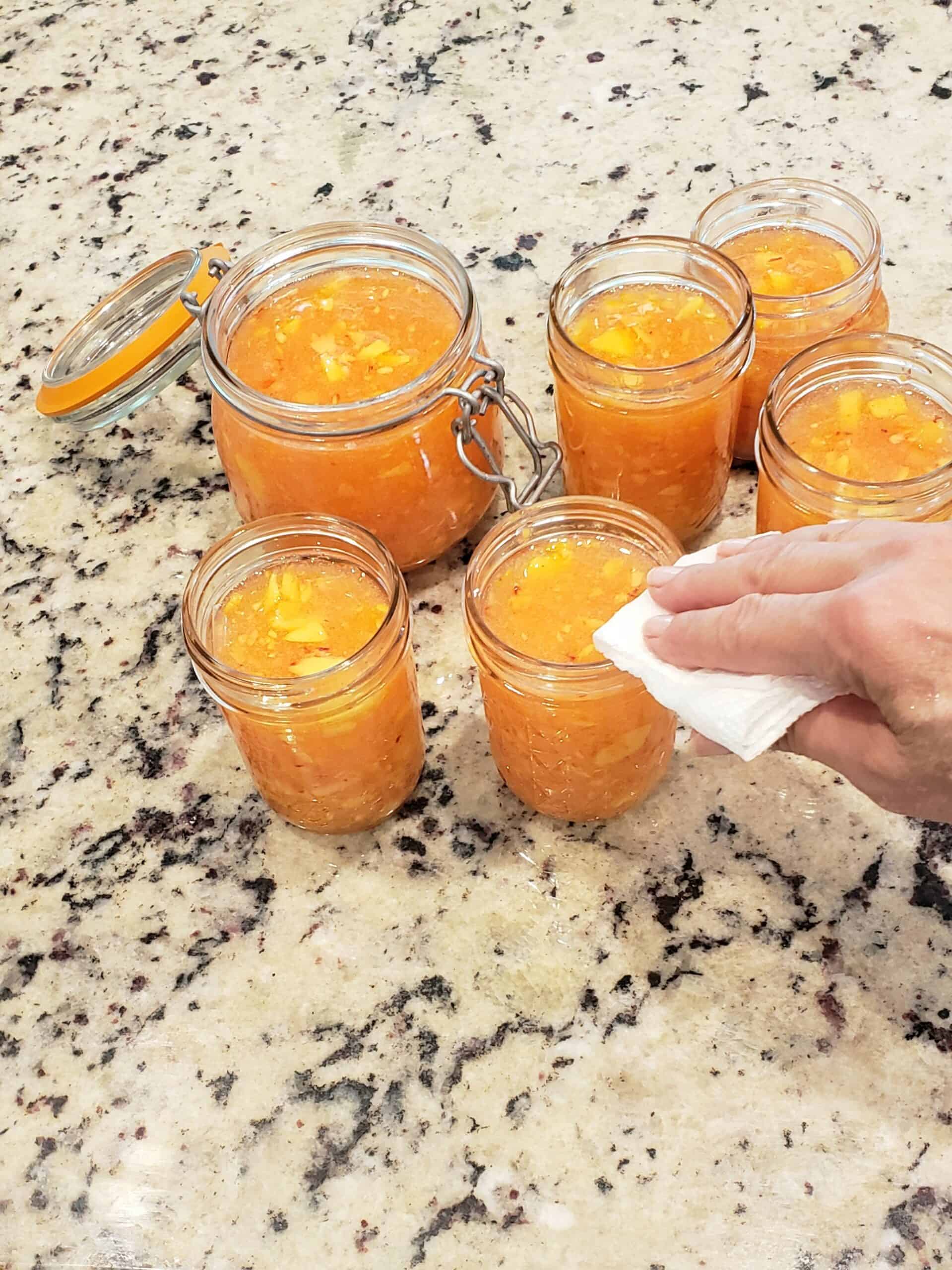 Be sure to wipe the rims with a damp paper towel before screwing on the lids. Peach Freezer Marmalade will keep in the freezer up to 1 year and in the fridge 3 weeks. Thaw it in the fridge overnight from the freezer.
What can I eat with marmalade?
For my easy 2-Ingredient Biscuit recipe go here.
I'm a biscuit girl, myself, but I also love toasted English muffins. Thinking outside the box, you can pour the marmalade over pan-seared chicken breasts-especially if your marmalade doesn't set up.
Freezer jams are not just for biscuits and toast! Freezer jams are perfect for topping vanilla ice cream and sprinkling a few toasted nuts and whipped cream and you have a yummy sundae. I also love to heat it up and pour it over pancakes as a glaze or syrup.
Marmalade vs. Jam
For my Strawberry Freezer Jam recipe click here. Jam, jelly, and marmalade.
What's the difference? Basically, jam is made with the whole fruit, jelly is made with only the juice of the fruit, and marmalade is made with or includes citrus fruit or at the very least the peel of an orange.
The white part of the orange is called "pith" and is bitter. Believe it or not, the whole orange, minus the seeds, are often used in marmalades. I grew up cooking and eating my mom's peach "jam" as we called it. I was always fascinated that she threw in the entire orange into the blender and added it to the pot of sugar and mashed summer peaches.
There is actually pectin in the pith (white part) of the orange, so that alone ought to help set up the marmalade.
Last summer I was obsessed with making freezer jam as each fruit that came into season! The main attraction was not having to stir a hot, bubbly..and often splattering...pot of jam for at least 30 minutes.
Secondly, freezer jam captures the fresh taste of the fruit because it's typically not cooked at all so when I slather my biscuits with it later on in the Winter, it takes me right back to the taste of sweet summer berries while I watch the snow fall outside......oh, wait!
I got a little carried away... I do live in Alabama so, we actually don't see a lot of snow. But, it does get cold enough to reminisce about long hot days of summer....now, those we certainly have plenty of!
Can I make freezer jam with this recipe?
To make Peach Freezer Jam, just omit the orange pieces. No other change needed.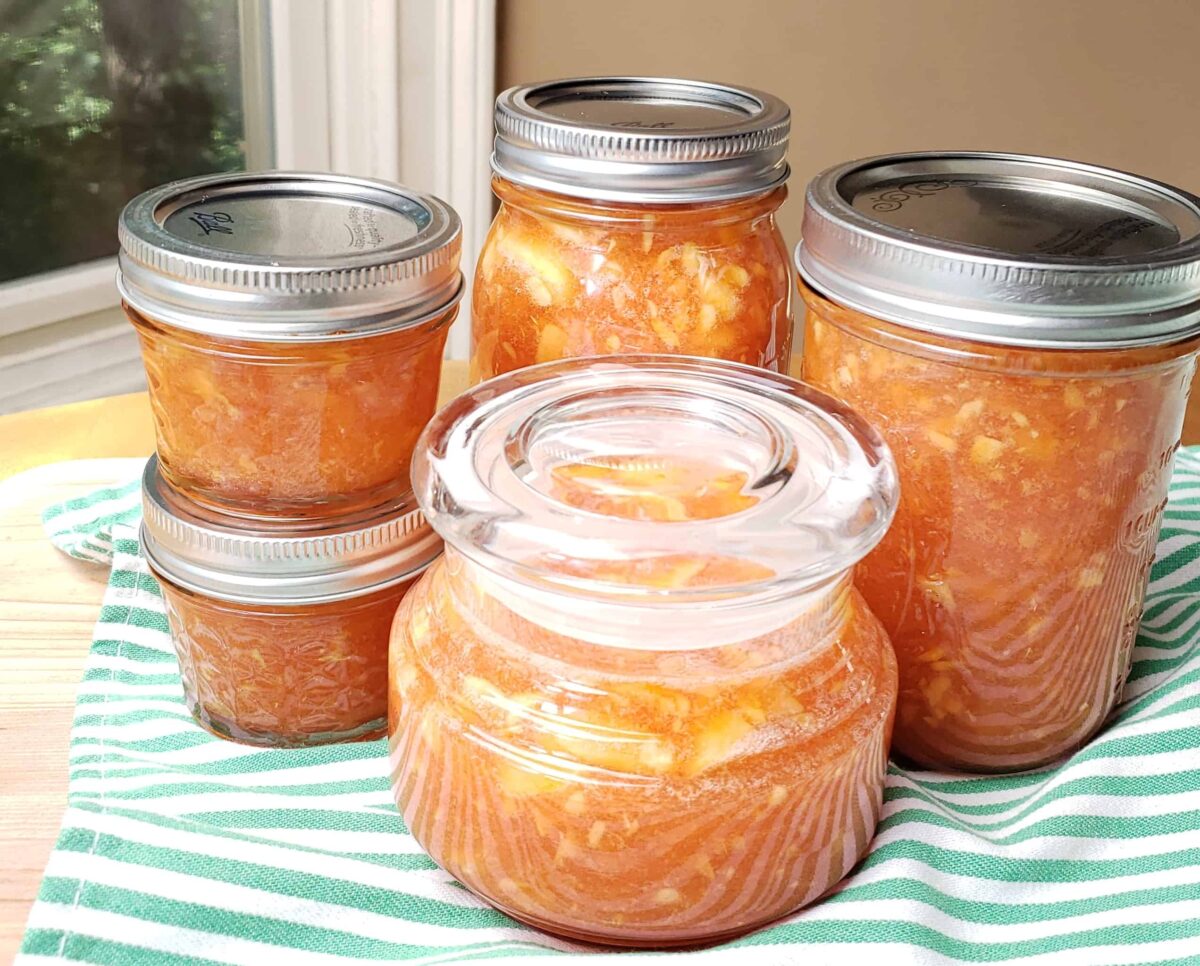 Watch the video on ABC 33/40's Talk of Alabama
Click on the image below to watch the video.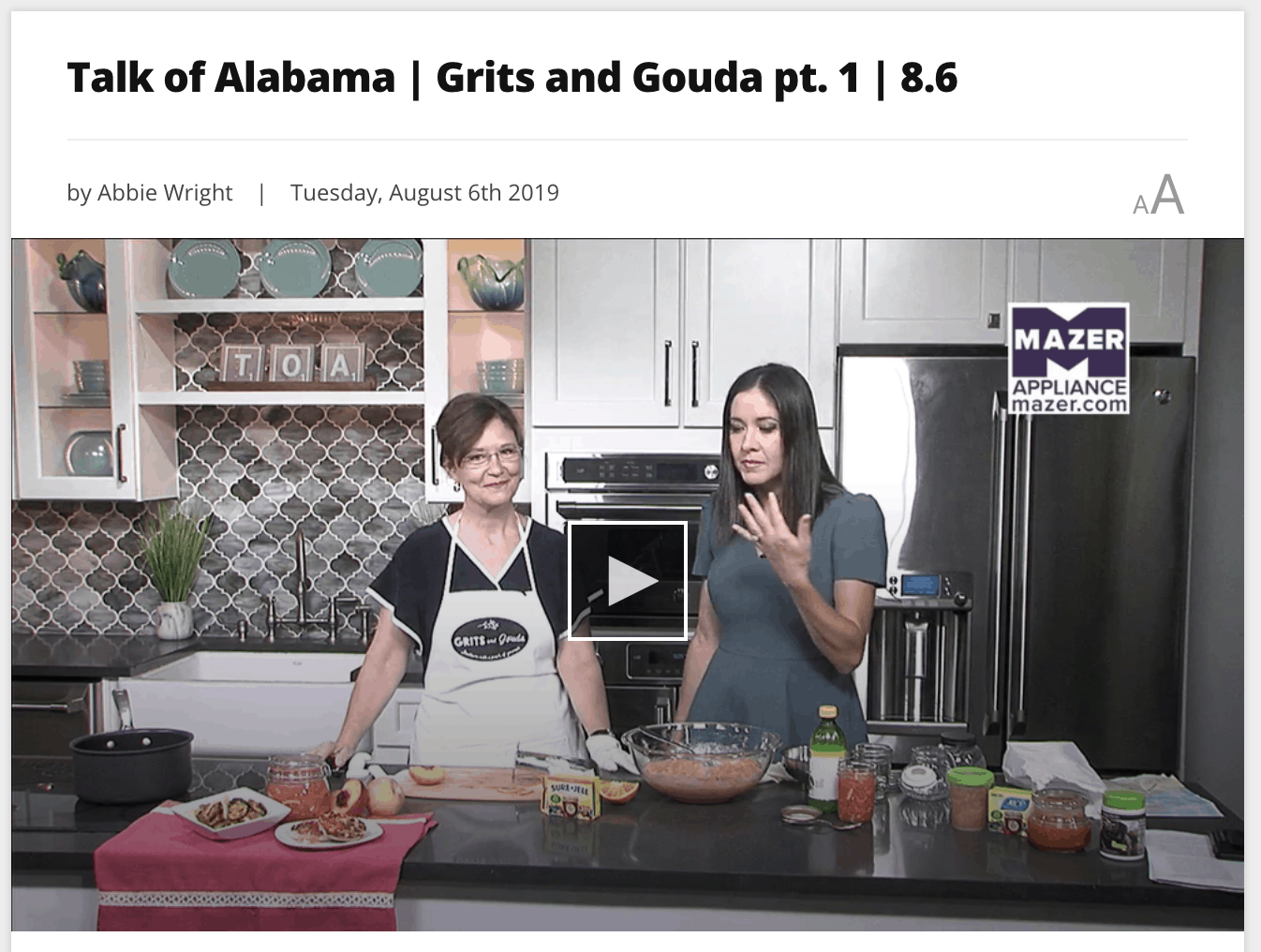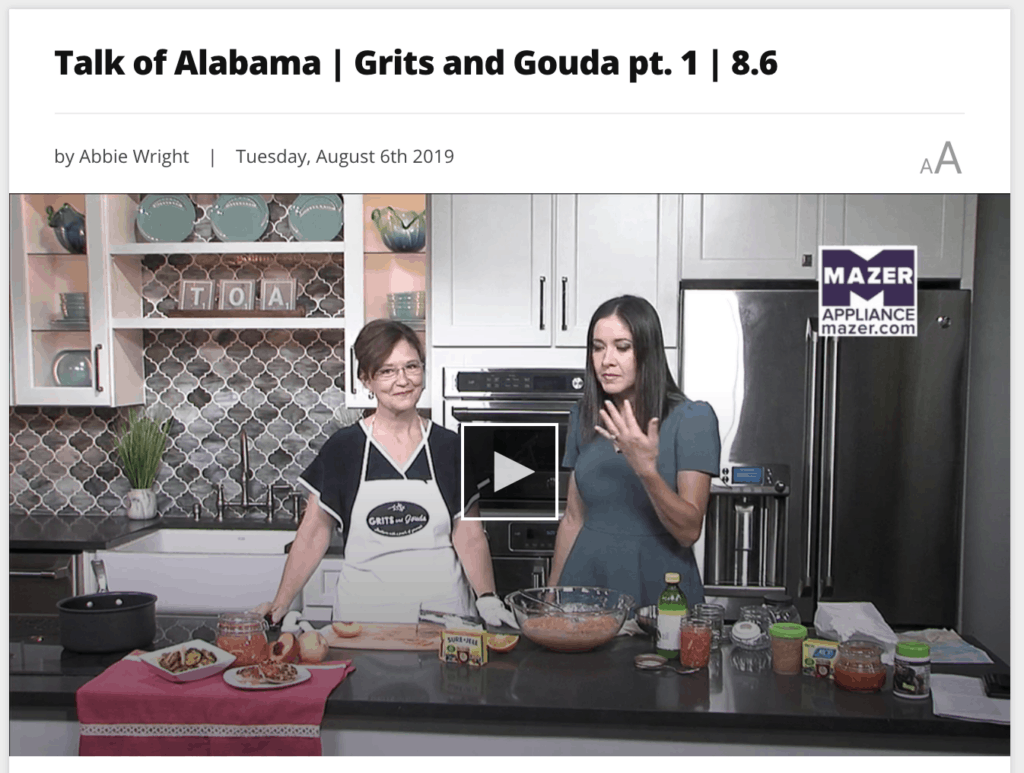 Follow me on Facebook, Instagram, Pinterest and YouTube. Be social and share, y'all! Don't forget to sign up with your email so you don't miss a single post on my Southern shortcut recipes!
If you make this recipe I'd love to see it! Tag me on social media with #gritsandgouda or @gritsandgouda. Leave a comment below the printable recipe if you have questions or tell me how you liked the recipe. Don't forget to give the recipe a rating of 5 stars if you love it!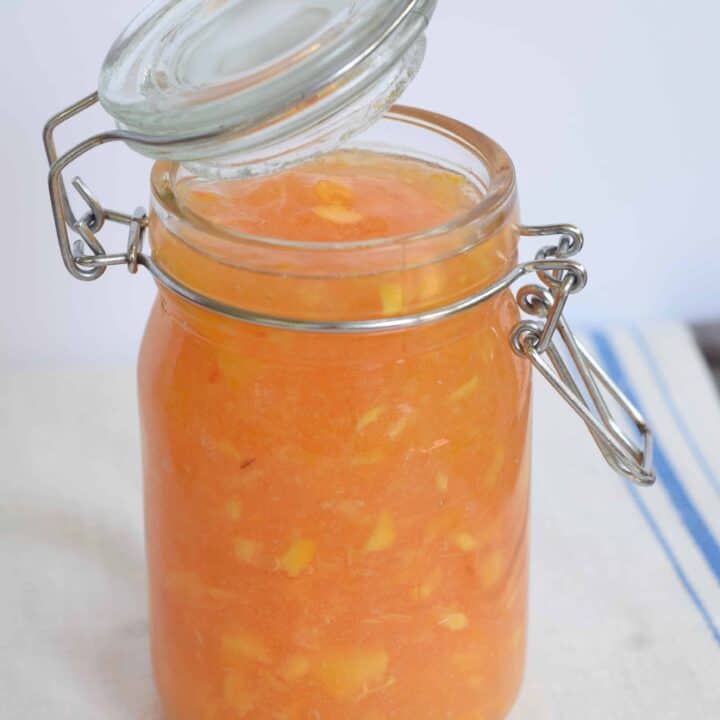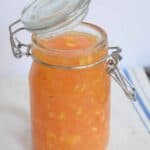 Print Recipe
Peach Freezer Marmalade
Marmalade is basically jam made with citrus fruit. A purist will tell you that it is made with bitter Seville oranges but my mom always just used an entire naval orange…minus the seeds…so that's what I do. The white part of the orange is called pith. For most recipes, you want to avoid the pith, but for marmalade, it adds not only a little bittersweet flavor, but the pectin found in pith helps to ensure your marmalade will set.
Ingredients
3

cups

chopped or mashed

or pulsed in food processor ripe peaches (about 4 large peaches or 2 pounds)

1/4

small naval orange

4 1/2

cups

sugar

1

1.59-ounce pouch powdered fruit pectin

Sure-Jell original

3/4

cup

water

2

tablespoons

lemon juice

(bottled is best here)
Instructions
I like to pulse the peaches in the food processer or finely chop them. Mashing them sometimes creates too much juice. Peel, pit, and cut peaches into quarters, then pulse just enough to chop them-not puree them-or finely chop them on a cutting board. Transfer chopped peaches to a large bowl.

Remove seeds from the orange quarter and slice into thin strips or triangles. Add the orange and lemon juice to the peaches and stir in sugar. Let stand 10 minutes, stirring occasionally.

Meanwhile, combine pectin and water in a small saucepan, stirring constantly. Bring to a boil over medium heat, stirring constantly. Boil 1 minute. Gradually add cooked pectin to peach mixture, stirring well. Stir about 3 minutes or until sugar is almost dissolved.

Spoon peach mixture into plastic or glass 1-cup freezer jars. Wipe rims and cover with lids. Let stand at room temperature overnight. Freeze until firm. Store in freezer. Thaw in refrigerator before serving.
Notes
Gift. Vegan. Gluten Free. Fat Free. Preserves.
Nutrition
Did you make this recipe?
If you love it, share it! Tag me on Instagram @gritsandgouda using #gritsandgouda Comment below before you go!