This Candied Roasted Sweet Potatoes recipe is a delicious quick and easy alternative to a Southern sweet potato casserole topped with pecans. Perfect for Thanksgiving, Christmas, Easter or summer potluck dinner. Only 5 ingredients and no slicing into rounds or mashing, so very little prep time!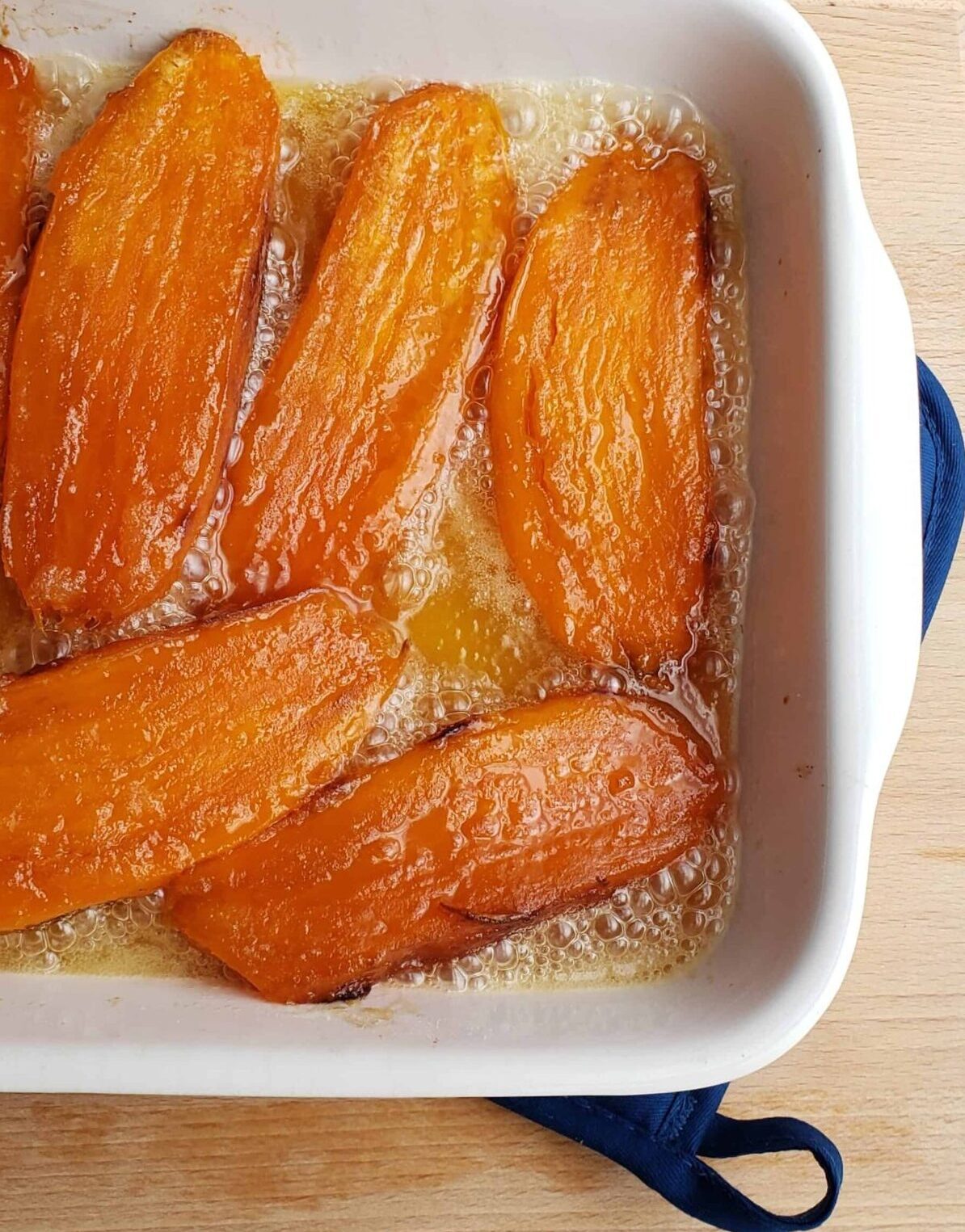 You can see in the picture the "sticky sweet" candied texture that may become your family's new side dish tradition this holiday season. You'll never buy a can of candied yams again!
Where did I get the original recipe?
Scroll down to the bottom for the printable recipe with detailed instructions.
This recipe started from a recipe I chased down at a church potluck! Many years ago, our church potlucks always had these sticky-sweet (in a good way) sweet potato halves that I always looked forward to adding to my plate. I finally investigated and found the sweet lady that brought them. Mrs. Connie Parker, who has since passed on to be with Jesus, was happy to share her recipe for Candied Sweet Potatoes with me.
Making the recipe my own with a tasty shortcut
Her recipe instructed me to boil the potatoes and did not top them with marshmallows. They were simply wonderful as they were. But, after several years of making them this way, I decided to try roasting the sweet potatoes. When I boiled them, they tended to hold some of the water and I had to keep a watch on them so they wouldn't boil over or run out of water in the pan.
When I roasted them, they peeled easily and the roasting concentrated the rich flavor of the sweet potato, caramelizing the natural sugar in them and clean up was a breeze.
I typically top half of the candied sweet potatoes with mini marshmallows and broil them because half of my family likes them plain and half likes the marshmallow pull they get from the melted marshmallows-kinda like a pizza cheese pull!
At my recent Holiday Cooking Show that benefited my husband and son's nonprofit Outdoor Ability Foundation I put on a pair of pearls and donned a vintage 1950's apron to prepare this recipe in honor of Mrs. Connie Parker.
She was an amazing cook and fine Christian woman. I talked about how we can take our favorite holiday recipes that are steeped in tradition and tweak them a bit to either make them healthier, more convenient or timesaving, or add a twist to them like I did with roasting instead of boiling them.
What's the shortcut?
Roasting sweet potatoes for easy peeling and added caramelized flavor is a hands-off alternative to boiling potatoes.
Sweet potatoes can be roasted up to 3 days in advance before candying them. This make ahead step saves time on the day you plan to serve them.
How to Roast Sweet Potatoes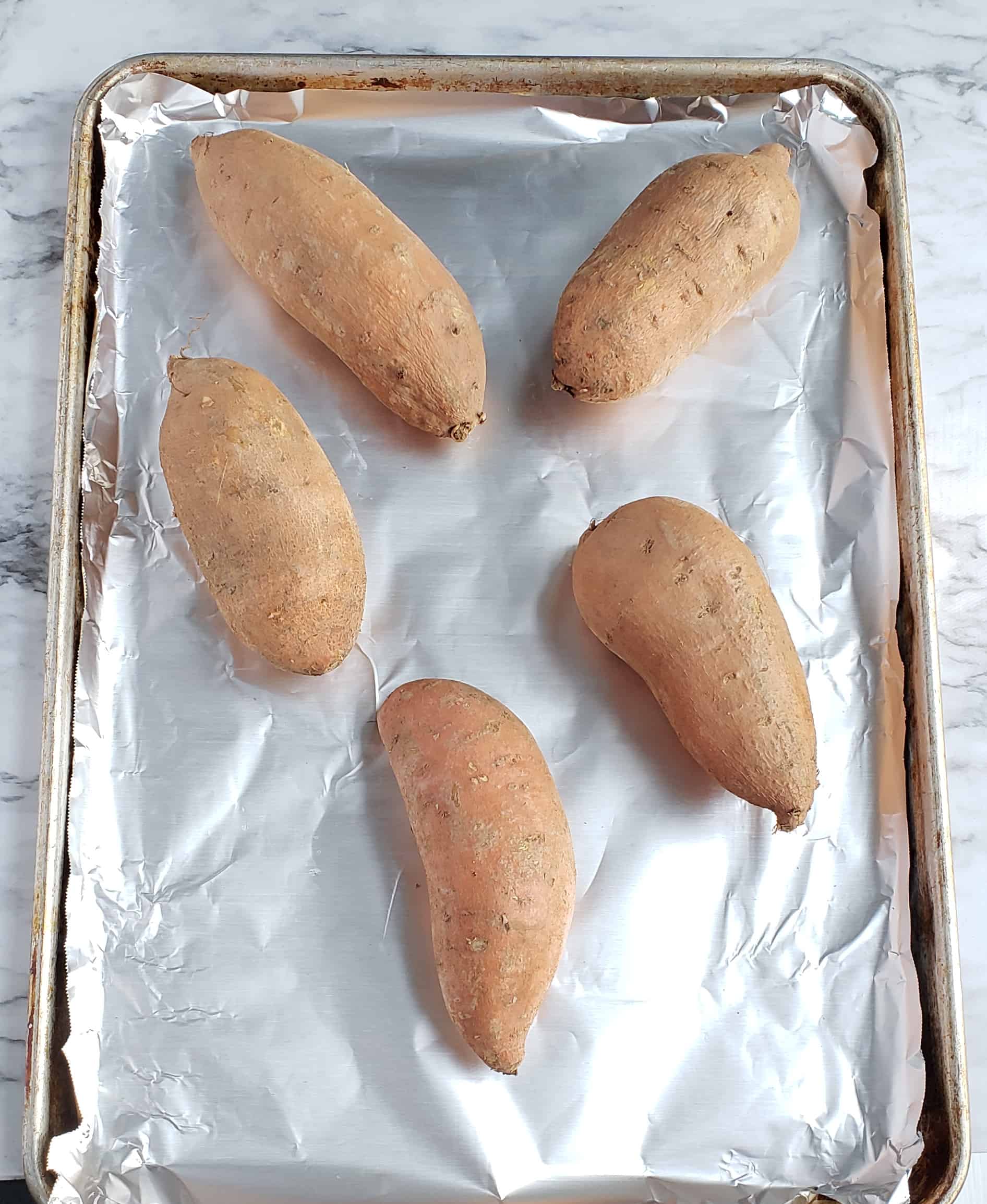 Let's get started by roasting the sweet potatoes- not to be confused with yams. Read the difference between sweet potatoes and yams here from Kitchn.
First place 5 or 6 small sweet potatoes on a foil-lined baking sheet. Do not pierce with a fork or knife! If you do, as the sweet potatoes caramelize inside the skins, the brown sugar-like goodness will ooze out and drip onto the foil.
So, these bake a little differently than baking potatoes where you want to pierce them to release steam.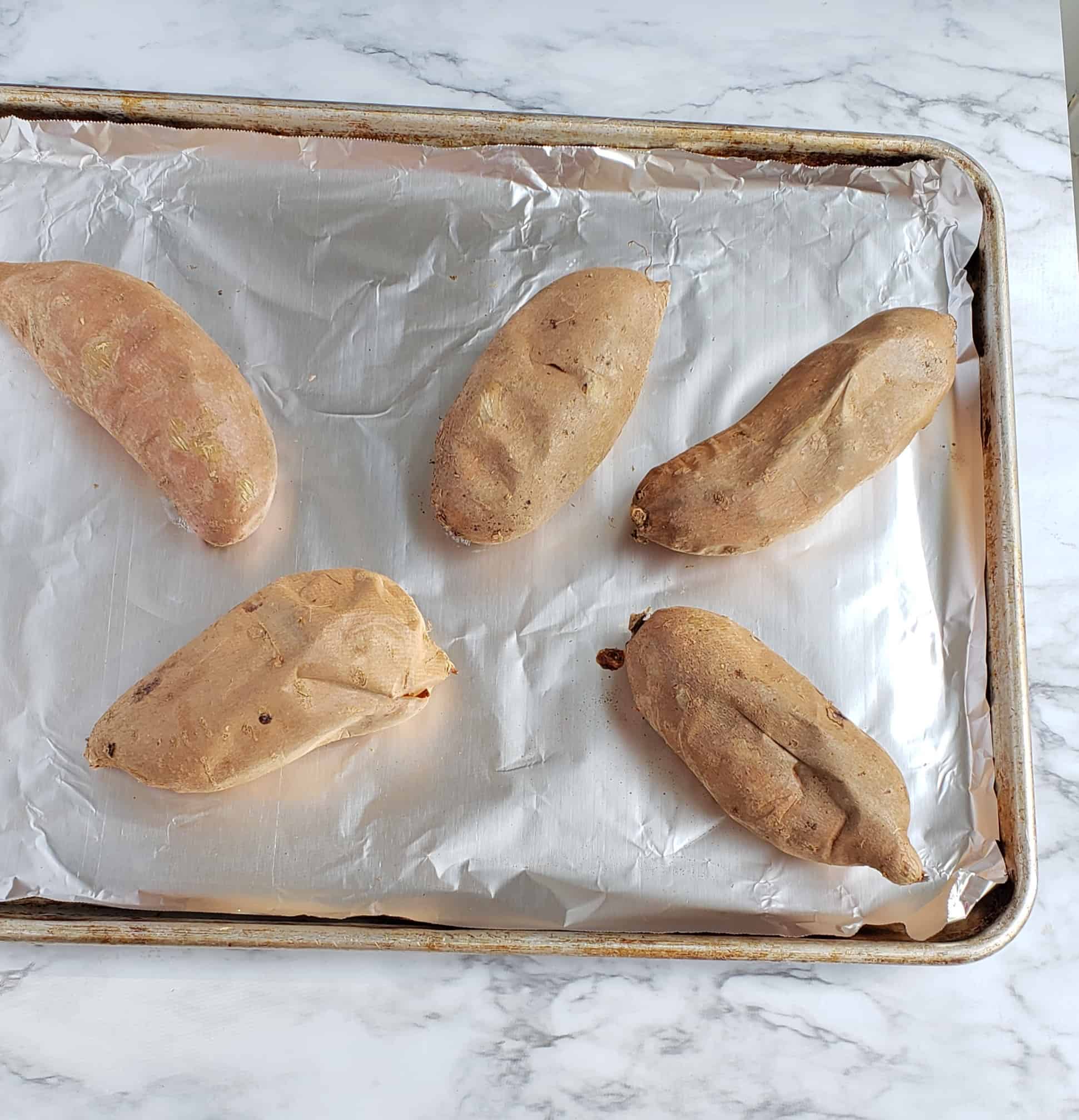 That's it! It's that simple to roast sweet potatoes. They can be baked several days ahead and left in their "jackets" in a zip-top bag. They are actually delicious eaten just like this or with a little bit of butter and cinnamon sugar.
Can I roast sweet potatoes in my air fryer?
Yes! I do this all the time. For this recipe, you will need a larger air fryer like the toaster oven-style models or one that will fit 5 sweet potatoes at one time.
No need to preheat the air fryer first. Place the sweet potatoes right on the rack in the air fryer. Cook at 375 to 380 degrees for 35 to 40 minutes, depending on the size of the sweet potatoes.
No need to turn them halfway. DO NOT prick the sweet potatoes. The caramelized sugars will run out and burn in the bottom of the air fryer. They will caramelize nicely inside their jackets.
How to remove the skins or "jackets" from sweet potatoes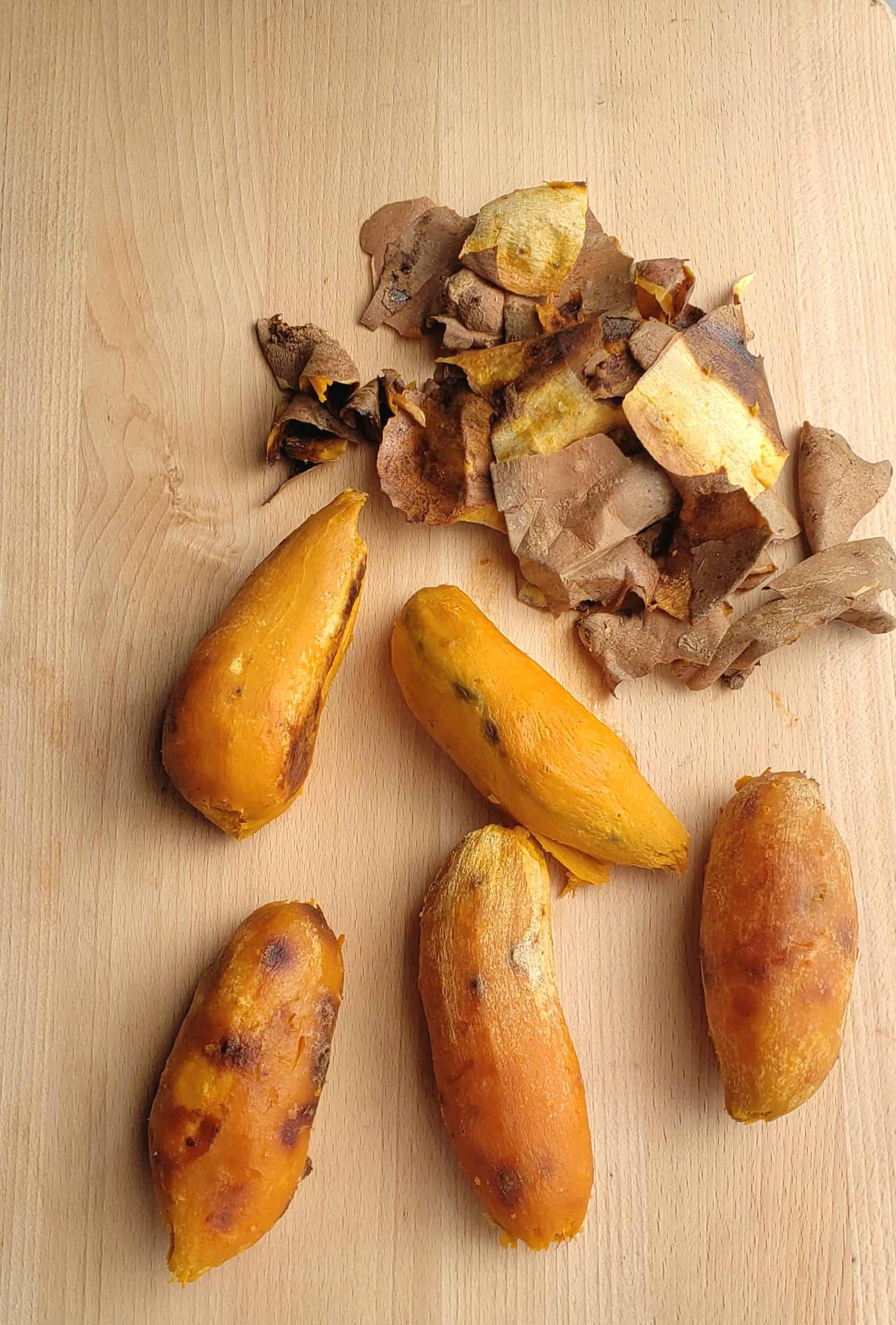 The size of the sweet potatoes will determine how many you can fit into the casserole dish. The skins should easily pull off when the potatoes are cooled. Cut them in half lengthwise.
How to make this recipe
Scroll down to the bottom of this post for the detailed, printable recipe. Pictures below will help guide you as you read the recipe.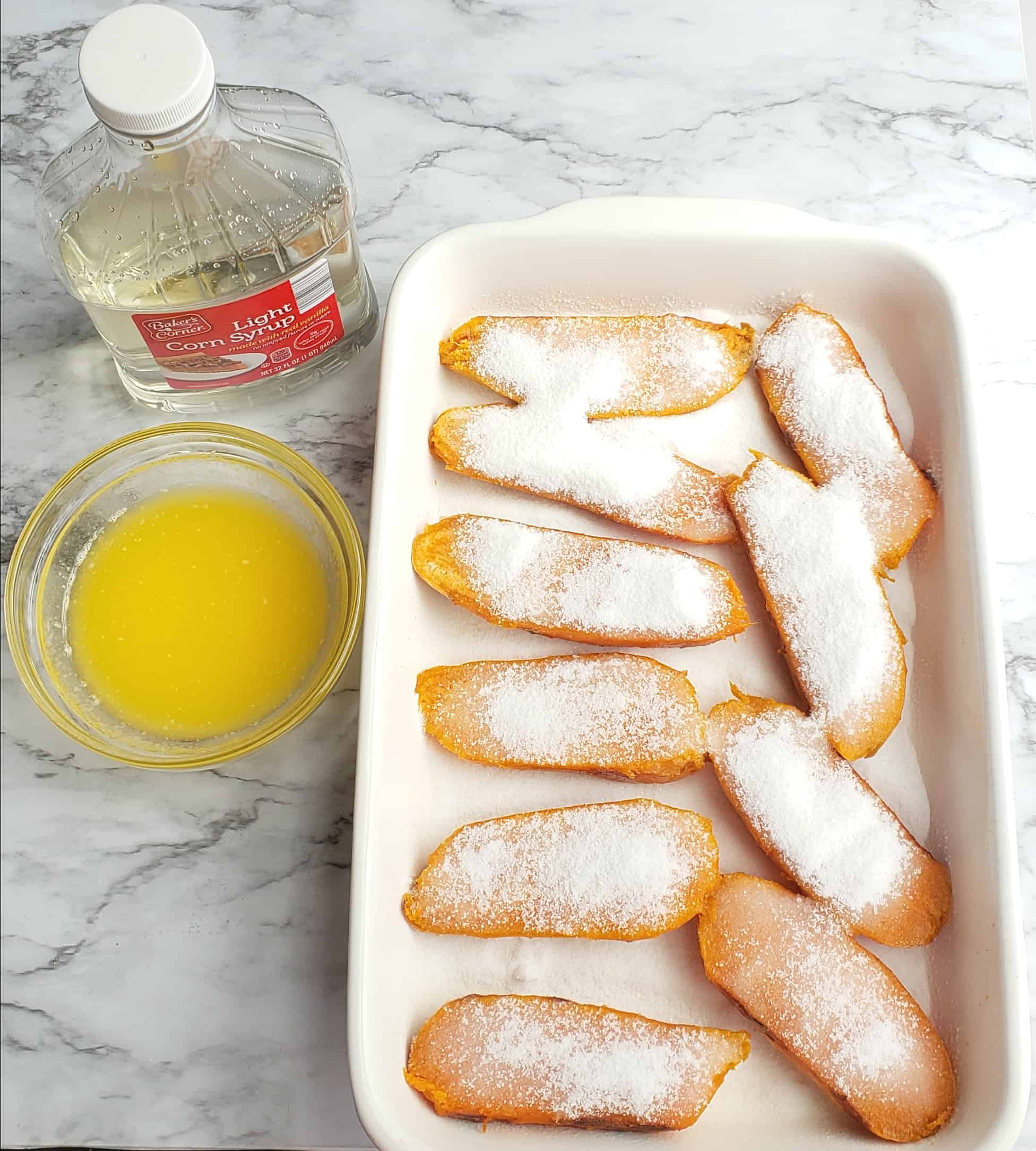 Yes, 1 1/2 cups of sugar is a lot of sugar to pour over the potatoes but remember these are "candied" sweet potatoes! Next comes the corn syrup which prevents the sugar from crystalizing.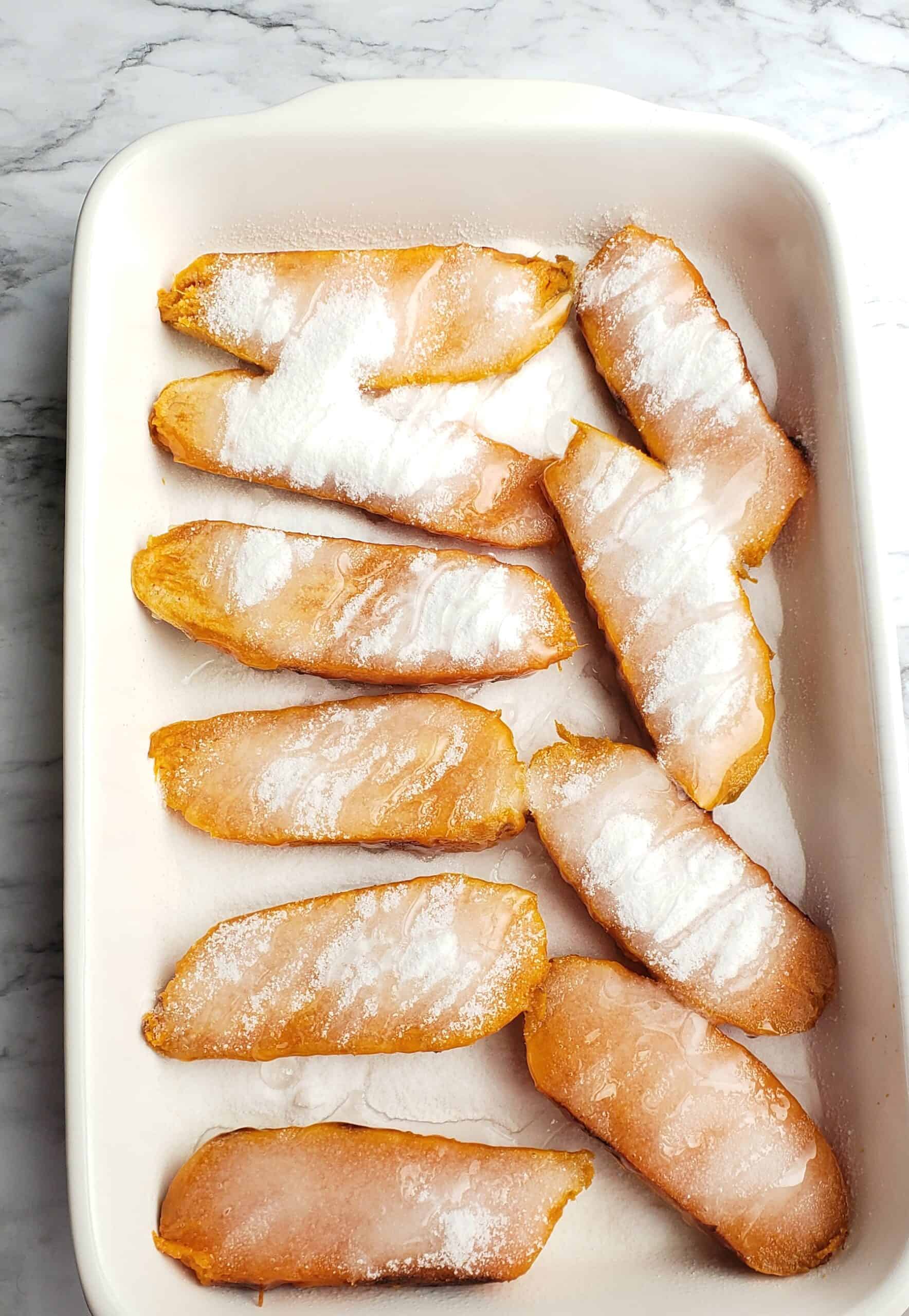 And finally, butter. Mrs. Parker dotted her potatoes with butter, but as a shortcut (since the butter was going to melt anyway) I just melted it first and drizzled it over the potatoes.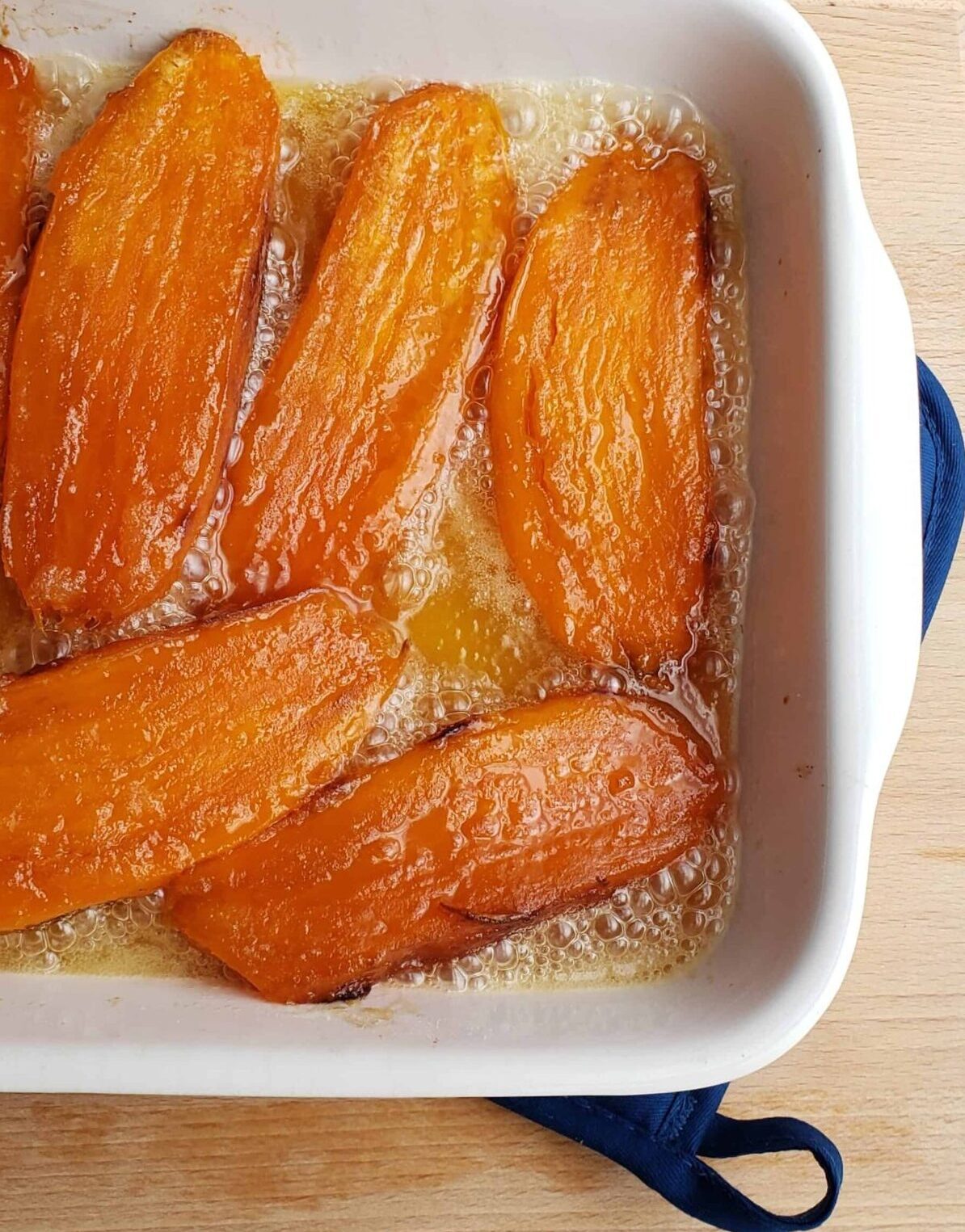 Can you hear them sizzle? Bake for 40 minutes, uncovered. They are now candied in all their glistening glory!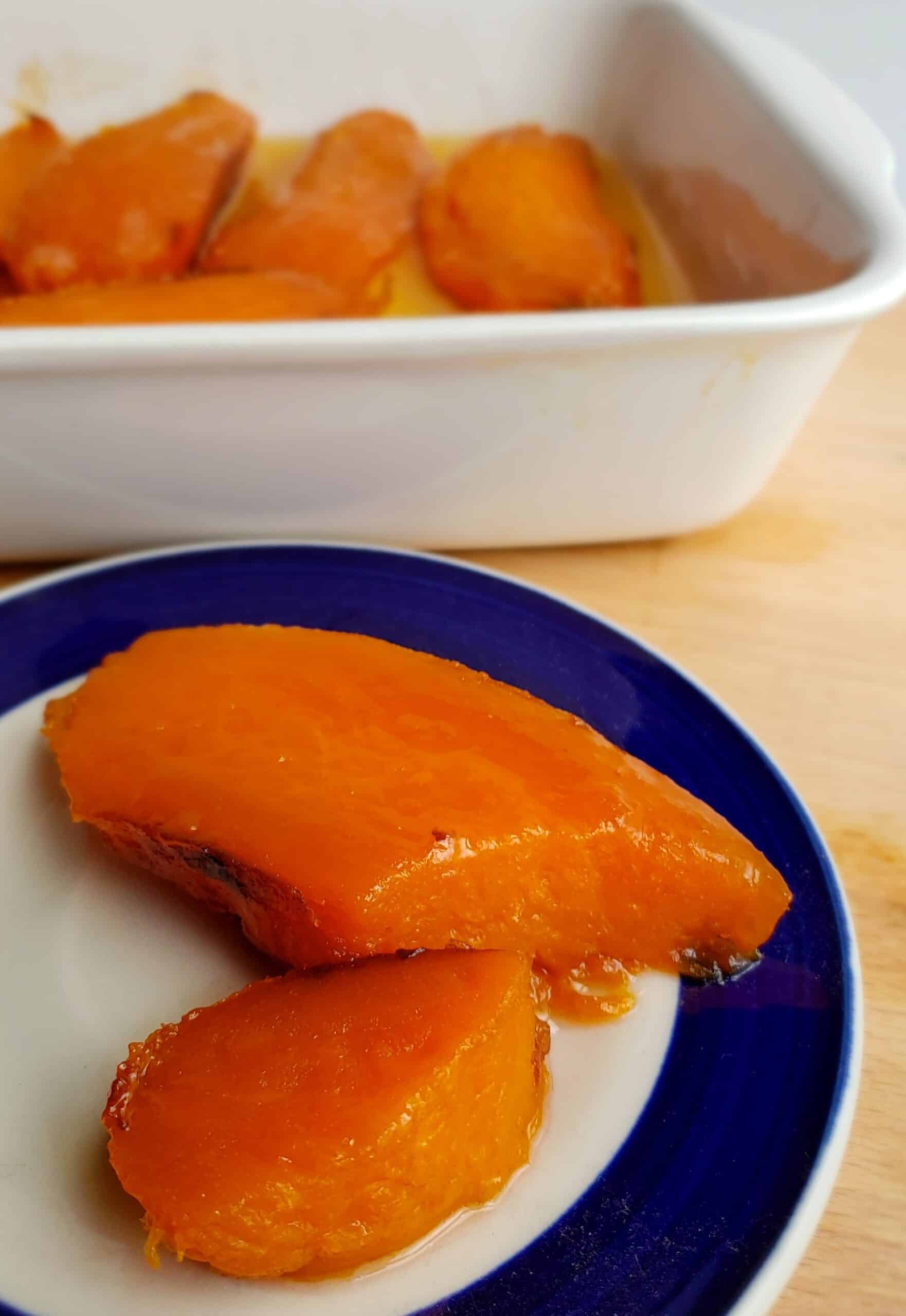 They are ready to serve just as they are and this is what they looked like at the church potlucks. You can see why I chased down the owner of the recipe, right?
Can I add marshmallows?
About half my family loves toasted marshmallows on the candied sweet potatoes and the other half prefers them "naked" like this.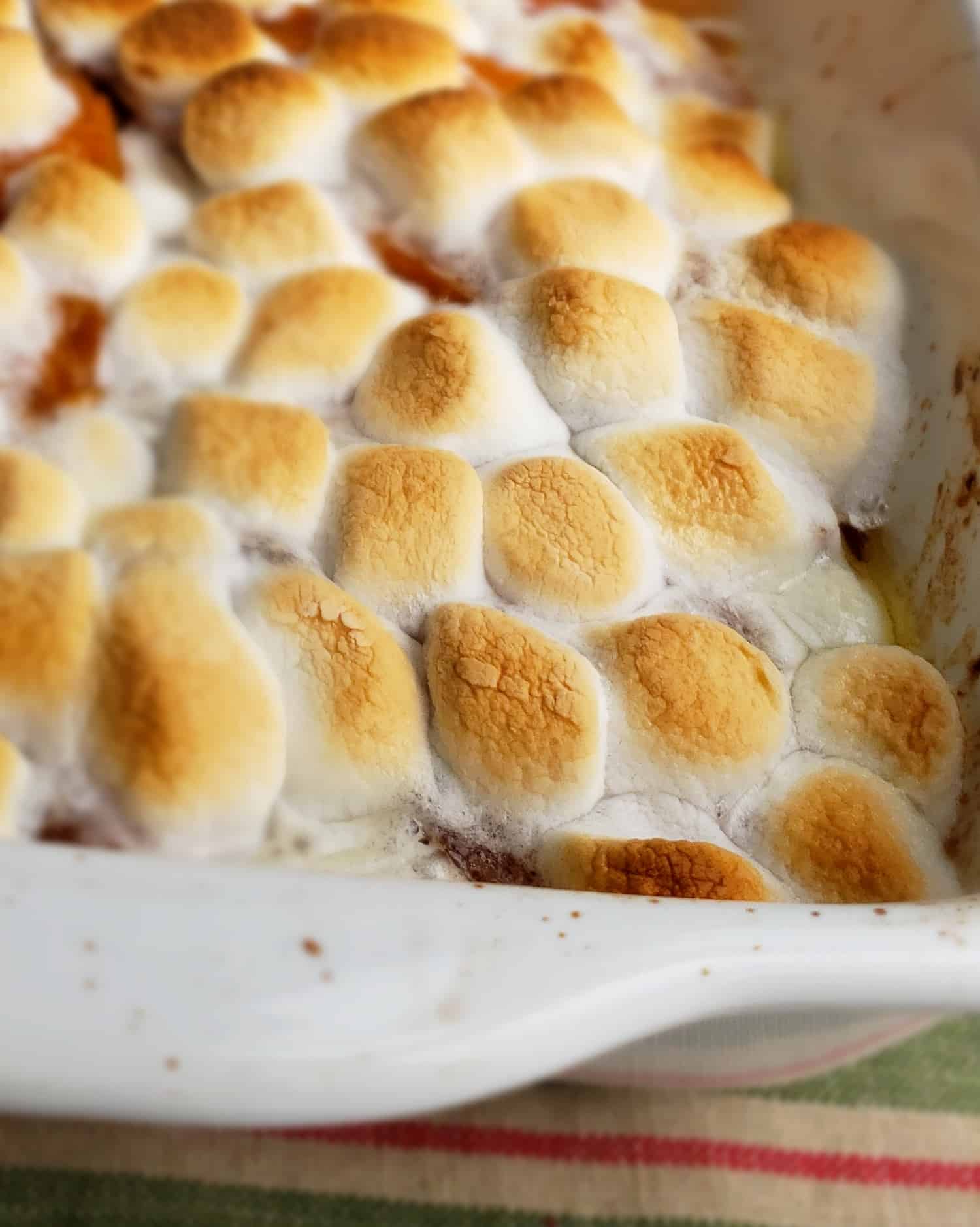 If you want to "gild the lily" and add mini marshmallows, just broil them for a couple of minutes-be sure to watch them closely- right before serving.
After broiling the marshmallows is not a good time to put them back in the fridge for storage unless you reheat the whole thing in the oven before serving-the marshmallows tend to stick to the spoon.
I've eaten my share of cold candied sweet potatoes straight from the fridge the day after Thanksgiving, too!
Can I freeze it ahead of time?
Yes! You can roast the sweet potatoes ahead of time and freeze those separately or you can go ahead and bake the whole recipe, cover it with foil and freeze it. Some casserole dishes now come with a lid.
Put it in the fridge 2 days ahead of time and let it completely thaw before heating up in the oven or microwave. Hold off on adding marshmallows until after it thaws for best results.
Bake it covered for 20 minutes, then uncovered for 10 and it should be hot and bubbly. Add marshmallows and broil 1 minute or until toasty, if you choose to add them.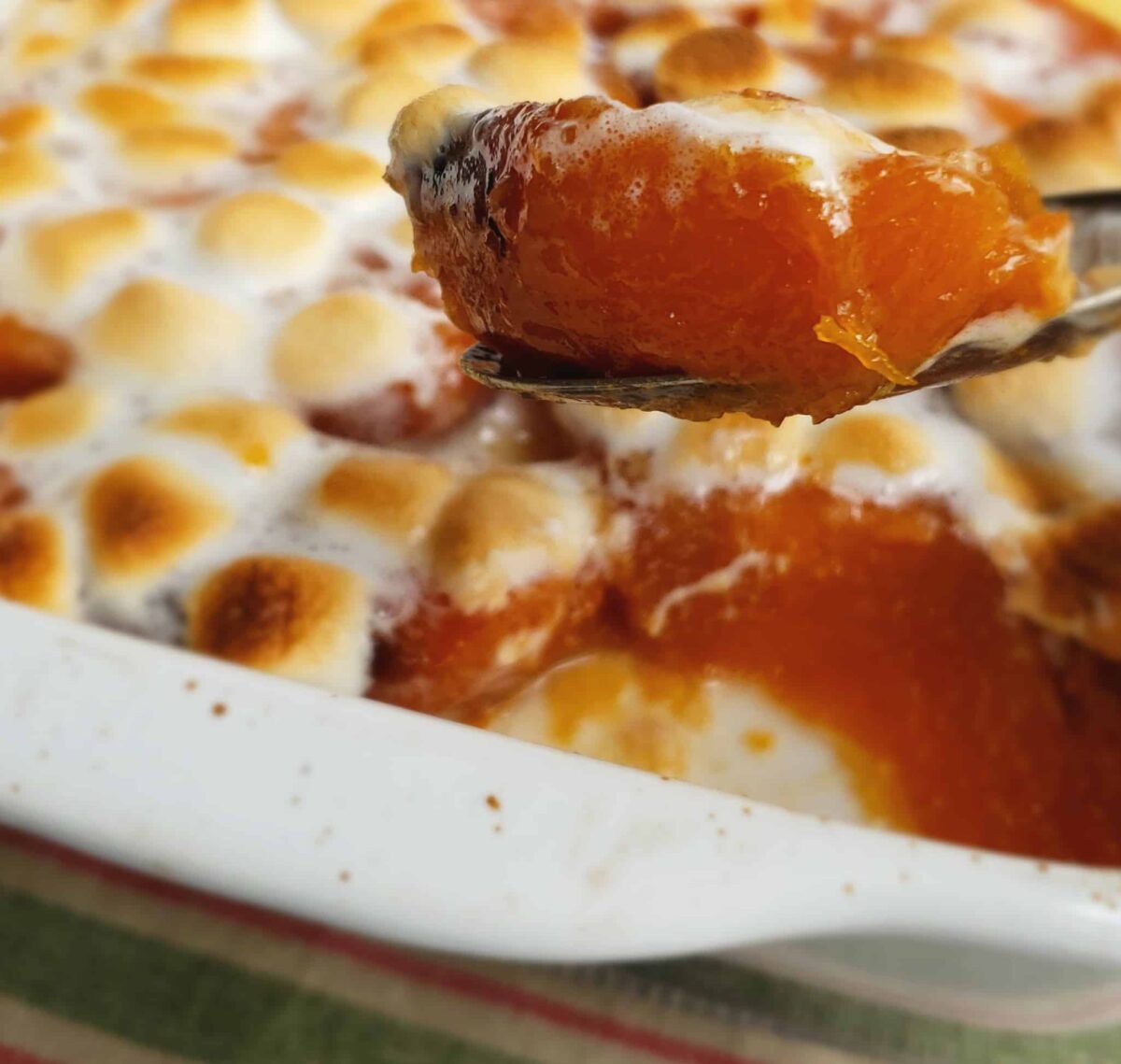 We all have our favorite recipes for Thanksgiving or Christmas that we absolutely must have on the buffet table or it isn't complete, right?
My family in Arkansas feels the same way but we have a tradition of every family bringing a new recipe to the feast in ADDITION to the well-loved faves. If you like that idea, maybe this will be your new recipe to introduce to your family.
To watch my segment for Candied Roasted Sweet Potatoes on ABC 33/40's Talk of Alabama click on the image below.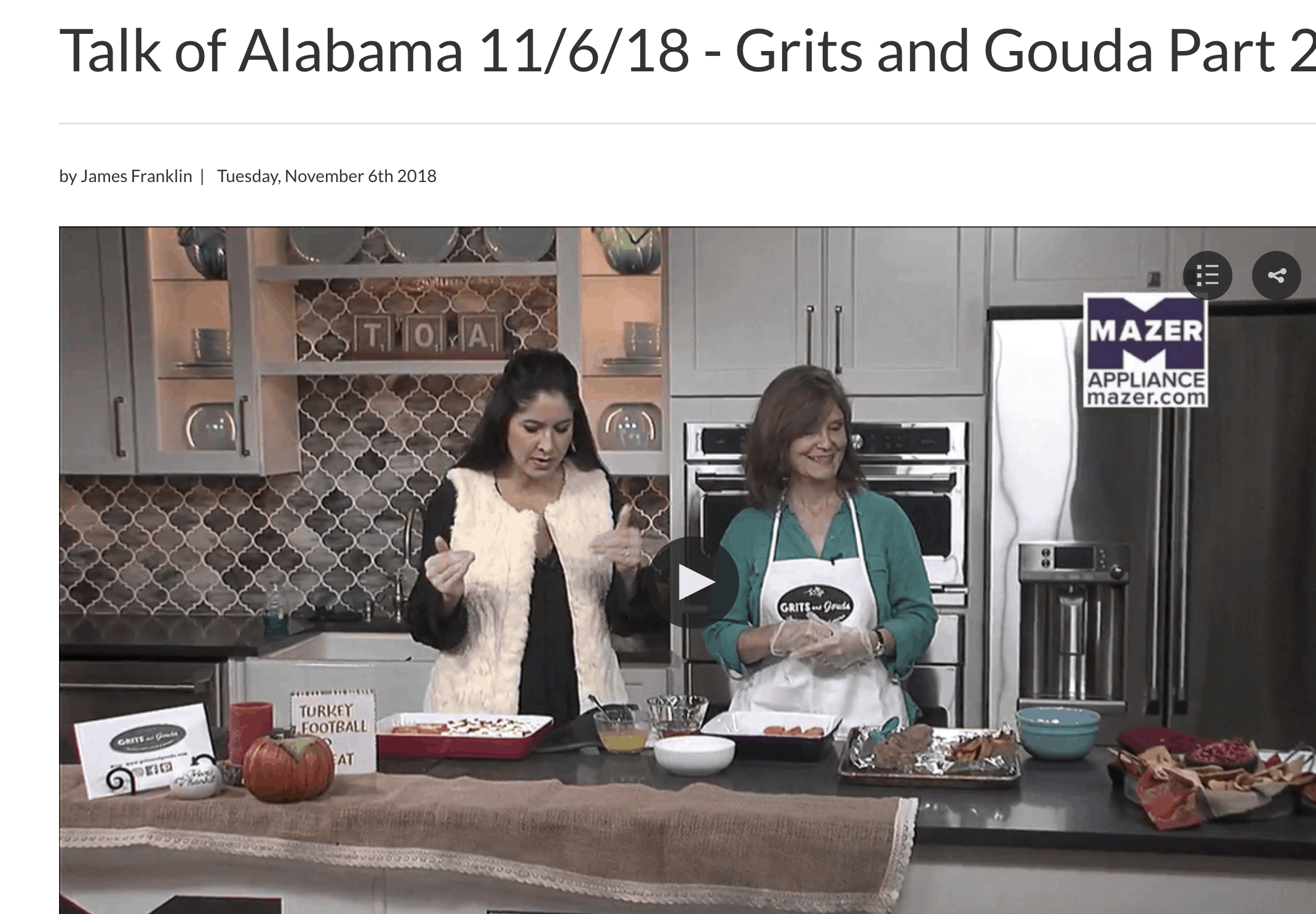 I'd love to hear from you in the comments below or on my social media posts what are your family recipe traditions that you feel are "must haves".
The sweet potato is Alabama's state vegetable
As of April 2021, the sweet potato is officially Alabama's state vegetable! The idea for the bill was submitted by a Harvest homeschool class. The state fruit is the blackberry and I have the perfect Wild Blackberry Crisp recipe for you to try.
PIN IT FOR LATER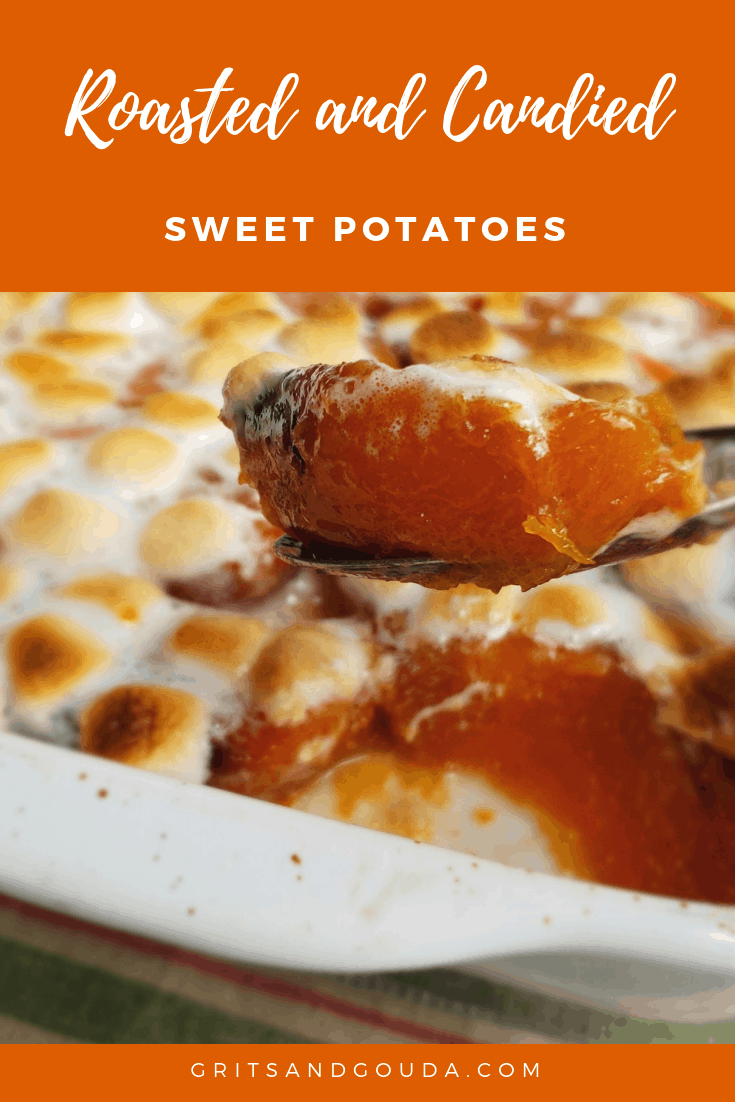 Be sure to follow me on Facebook, Instagram, and Pinterest. Don't leave before you sign up here so you don't miss a single post on my Southern shortcut recipes!
If you make this recipe I'd love to see it! Tag me on social media with #gritsandgouda or @gritsandgouda. Leave a comment below the printable recipe if you have questions or tell me how you liked the recipe. Don't forget to rate it 5 stars if you love it!
Candied Roasted Sweet Potatoes
Altered from the late Mrs. Connie Parker's recipe. She shared her version with me many years ago after years of bringing it to church potlucks. I roast my sweet potatoes instead of boiling them and melt the butter instead of dotting with cold butter.
Ingredients
5 or 6

small to medium sweet potatoes

1 1/2

cups

granulated sugar

1/2

cup

light corn syrup

1/2

cup

salted butter

melted

2

cups

mini marshmallows

optional
Instructions
Preheat oven to 375°. Place sweet potatoes on a foil-lined baking sheet. Do not poke holes in potatoes. Roast potatoes for 45 minutes to 1 hour or until a fork easily pushes to the center of the potatoes when tested. Let cool completely. This step can be done 3 days in advance.

Remove skins from potatoes and cut in half lengthwise; place them in an ungreased 2-quart or 13x9-inch casserole dish. Pour sugar evenly over sweet potatoes. It's ok for it to spill over between the potatoes. Drizzle the corn syrup over the sugar. Do not stir. Drizzle everything with butter. Bake for 40 minutes or until sugar is melted and bubbly.

If adding marshmallows, change oven to broil. Sprinkle marshmallows on sweet potatoes and broil 1 to 2 minutes or until lightly toasted.
Notes
To roast sweet potatoes in an air fryer: Place the sweet potatoes right on the rack in the air fryer. Cook at 375 to 380 degrees for 35 to 40 minutes, depending on the size of the sweet potatoes.
Shortcuts:
Roasting sweet potatoes for easy peeling and added caramelized flavor is a hands-off alternative to boiling potatoes.
Sweet potatoes can be roasted up to 3 days in advance before candying them. This make ahead step saves time on the day you plan to serve them.
Nutrition
This recipe was previously posted. I updated it with helpful information and improve user experience.