Similar to a Southern blackberry cobbler, this Easy Wild Blackberry Crisp with Pecan Streusel recipe is made with juicy berries and topped with a sprinkling of crunchy pecans and oatmeal. Make them in individual serving dishes or one baking dish. Don't have a bramble of wild blackberries in your back yard? Berries from the farmers market or grocery store are delicious in this summer dessert, too!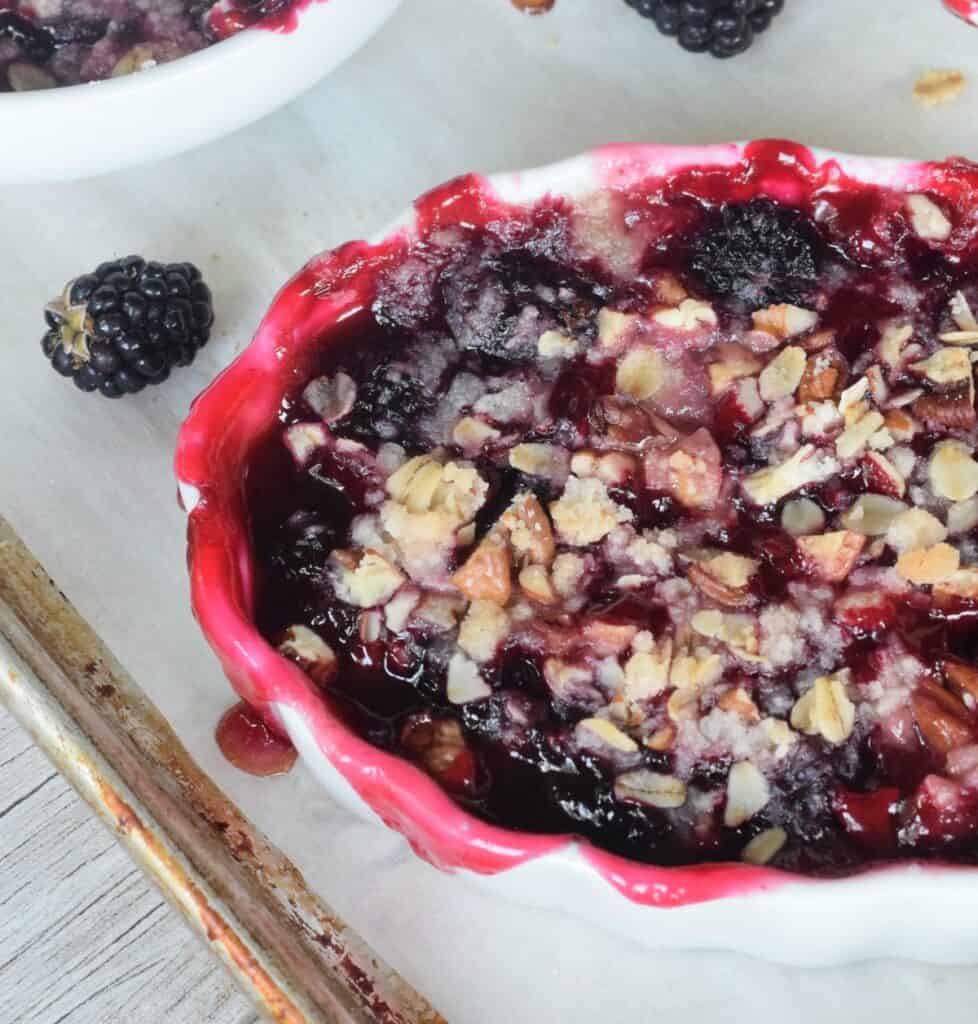 Wild blackberries grow right behind our house here in Alabama so I have a ready supply of these juicy berries to forage for crisps, cobblers, and jelly-for free!
Fun fact: Did you know the blackberry is Alabama's state fruit? It was named in 2004 after a campaign led by third graders from Fairhope, Alabama. How cool is that!
What's the shortcut?
Baking crisps and cobblers in individual-size ramekins, mini cast iron skillets, baking pans, or pie plates take less time to bake... and less time to pick so many berries.
My tip for cutting butter into thin slices and pressing into sugar, then flour with a fork eliminates the need for a pastry cutter.
The option to use cinnamon-sugar instead of sugar and ground cinnamon eliminates an ingredient. Cinnamon-sugar can be found at the Dollar Tree.
Why make individual-size crisps and cobblers?
If you are picking wild blackberries, it might be hard to harvest large amounts of fruit at a time needed for a full-size cobbler.
When you only want to make enough dessert with no leftovers... sigh.
Buying a basket fresh berries at a farmers market can get expensive. Mini desserts require fewer berries, therefore, they cost less to make.
I include directions in the printable recipe below to make this recipe in a baking dish.
What's the difference in a crisp and a cobbler?
A crisp has a baked fruit base with a simple, crunchy topping typically made of flour, sugar, and butter and sprinkled on top. It often includes nuts and oats. A cobbler has a baked fruit base and topped with biscuit-like dough, dumplings, or pie dough dropped or rolled and place on top before baking. Cobblers sometimes have pie crust on the top and bottom like a double-crust pie.
Can I use berries from the store instead of wild blackberries?
Absolutely! The cup measure will be the same and it will actually take fewer berries in number because wild blackberries are much smaller than store-bought berries.
Can I use frozen berries?
Yes. Frozen blackberries can be substituted for fresh berries. After thawing frozen berries, drain them in a colander. Gently pat them with a paper towel to remove excess water. Frozen berries may produce a bit more syrup when baked, but I'm not complaining about that!
How to make this fruit crisp
Scroll down to the bottom for the printable recipe with detailed instructions.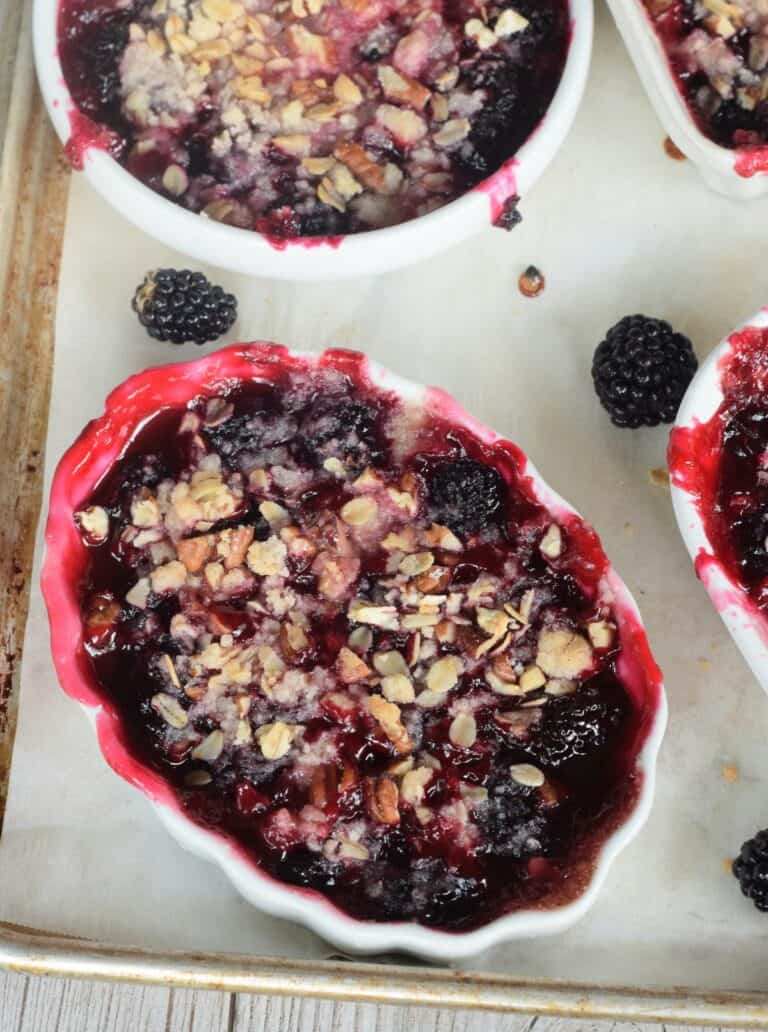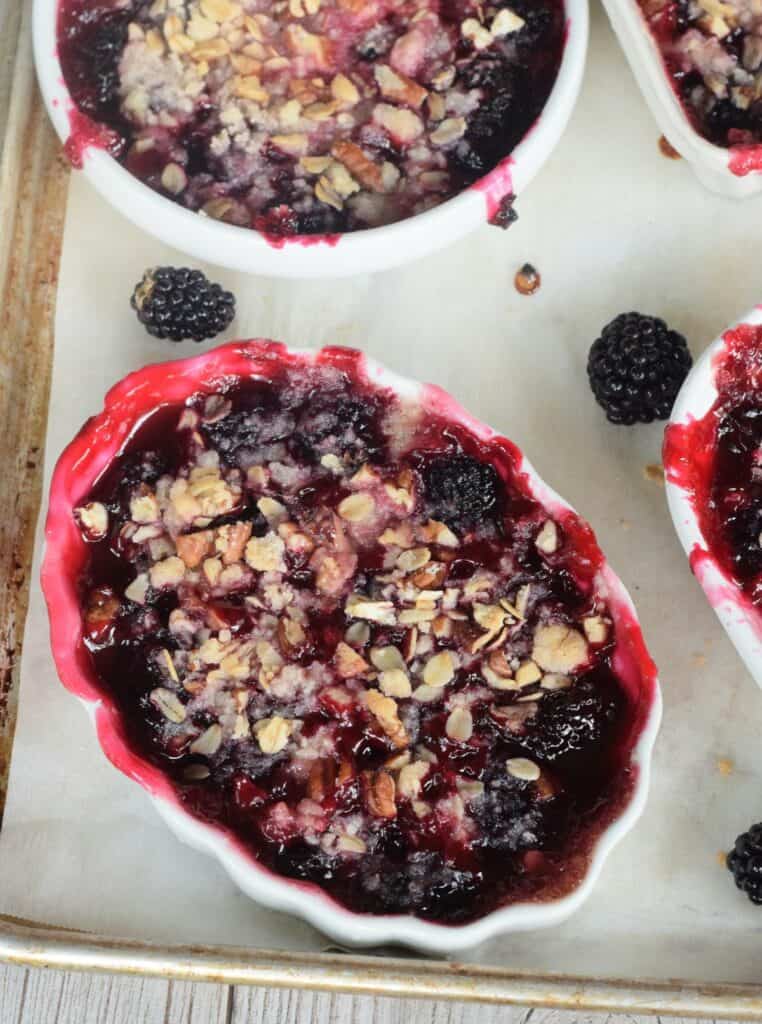 Can I make this in one baking dish?
Yes. Simply spoon the berry mixture in a greased 8x8 baking pan or dish or 1 1/2 quart casserole dish. Then, sprinkle the streusel topping over the berry mixture. Bake for 35 minutes or until lightly browned on top and liquid is bubbly. Let stand 5 minutes before serving.
What else can I make with wild blackberries?
Any recipe that calls for blackberries and raspberries can be made with wild blackberries. Here are some ideas.
Tips and Substitutions
Make a Mixed Berry Crisp by combining any combination of blackberries, raspberries, blueberries and strawberries.
Try peanuts, almonds, pistachios or walnuts instead of pecans.
Quick-cooking oats can be used in place of old-fashioned oats. I don't recommend steel-cut oats for this recipe because they take much longer to cook.
Gluten-Free version: For the streusel topping, trade out the all-purpose flour with almond flour.
This recipe can be made in an 8x8-inch baking dish, if you prefer one larger dessert to mini desserts. Directions in the NOTES of the printable recipe below.
Be sure to let the crisps cool at least 5 minutes right out of the oven. The hot blackberry syrupy liquid will thicken slightly.
My shallow (1-cup) creme brulee dishes do not match. I often buy them at thrift stores.
How to pick wild blackberries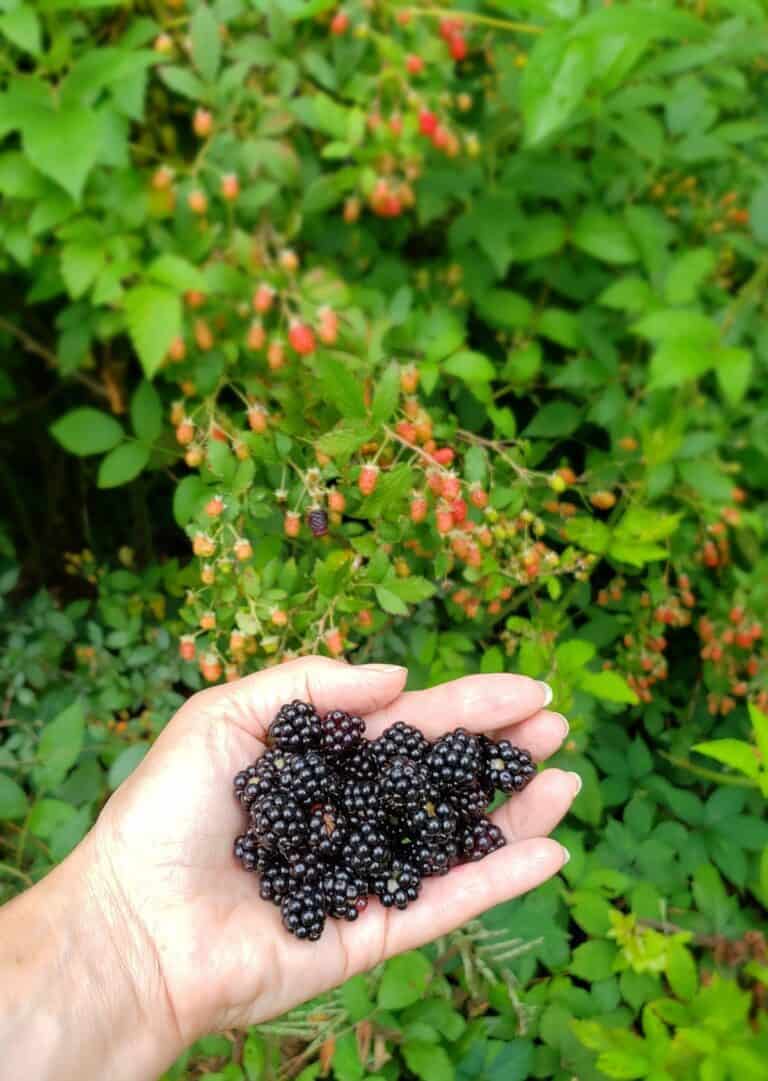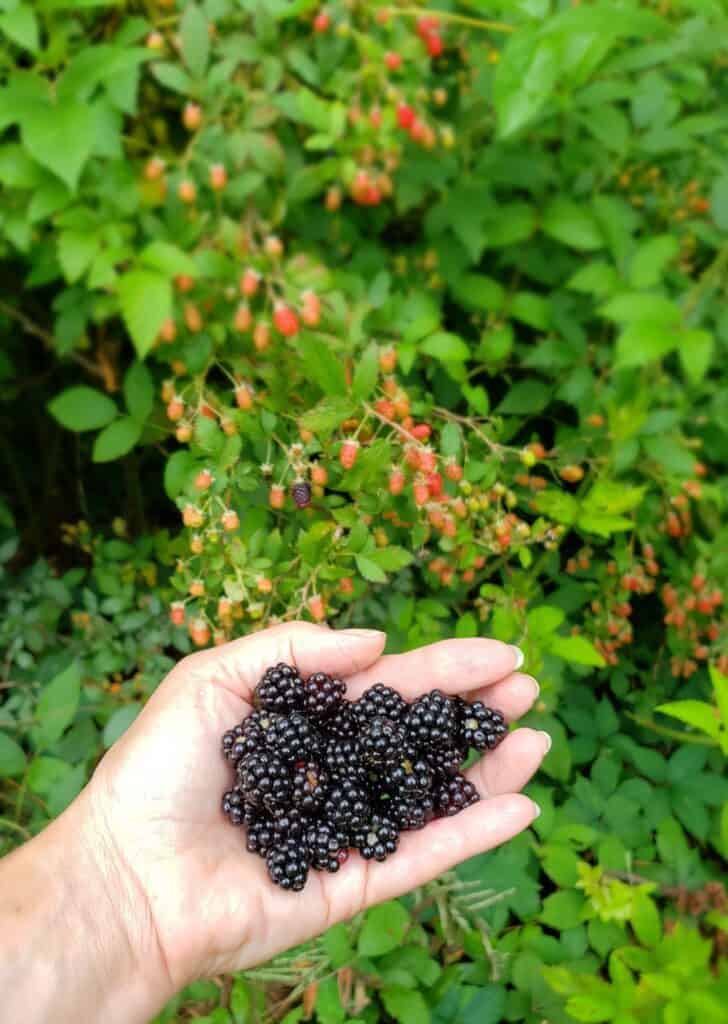 Growing up in Evening Shade, Arkansas, we kids would strap on a plastic gallon milk jug by the handle with the top cut out to our belts and head to the wild blackberry patches down Bear Creek Road. The jug would sit just below our waist and we would have both hands free to pick berries....and pick the briars off that would latch on to our skin and clothes with a vengeance.
We would sell a WHOLE GALLON of berries for seventy five cents. That was hard earned money, right there! (I remember eating almost more than I picked so my Mom had to supplement my jug to have a full gallon).
Follow me on Facebook, Instagram, and Pinterest. Be social and share, y'all! Don't forget to sign up with your email so you don't miss a single post on my Southern shortcut recipes!
If you make this recipe I'd love to see it! Tag me on social media with #gritsandgouda or @gritsandgouda. Leave a comment below the printable recipe if you have questions or tell me how you liked the recipe. Don't forget to rate it 5 stars if you love it!
More summer desserts you will love