This No-Churn Peanut Butter Ice Cream is creamy homemade ice cream without the ice cream machine and messy salt and ice. I've added sweet and salty honey roasted peanuts for extra peanut flavor and a bit of crunch. No-fuss, no-cook and only 4 ingredients. It checks all the boxes for a perfect shortcut Southern summer dessert.
I have to confess up front that I am a bonafide peanut-butter-aholic and lover of all things peanuts and peanut butter.
You'll find lots of shortcut peanut and peanut butter recipes here on the blog like 2 Ingredient Peanut Butter Fudge and Easy Instant Pot Boiled Peanuts. You can find a whole collection of them in my roundup post of 10 Easy Peanut & Peanut Butter Recipes.
This recipe is a super easy version of a classic peanut butter ice cream without the time-consuming process of dragging out the old-fashioned ice cream maker.
What does no-churn mean?
No-churn ice cream means the recipe doesn't require an ice cream machine that uses a paddle in the middle to churn the ice cream mixture. The movement of churning the ice cream incorporates air into the custard or cream mixture.
By whipping the heavy whipping cream first, this technique substitutes the machine's paddle churning air into the ice cream with similar texture results.
Shortcuts
No hand-cranked or electric ice cream freezer machine or Donvier machine needed.
The ice cream base is a no-cook recipe so no homemade custard to make.
Just a few minutes prep needed before placing in the freezer to firm up.
No messing rock salt and ice to clean up and dispose of later.
Ingredients including honey roasted peanuts
Scroll down to printable recipe for ingredient quantities.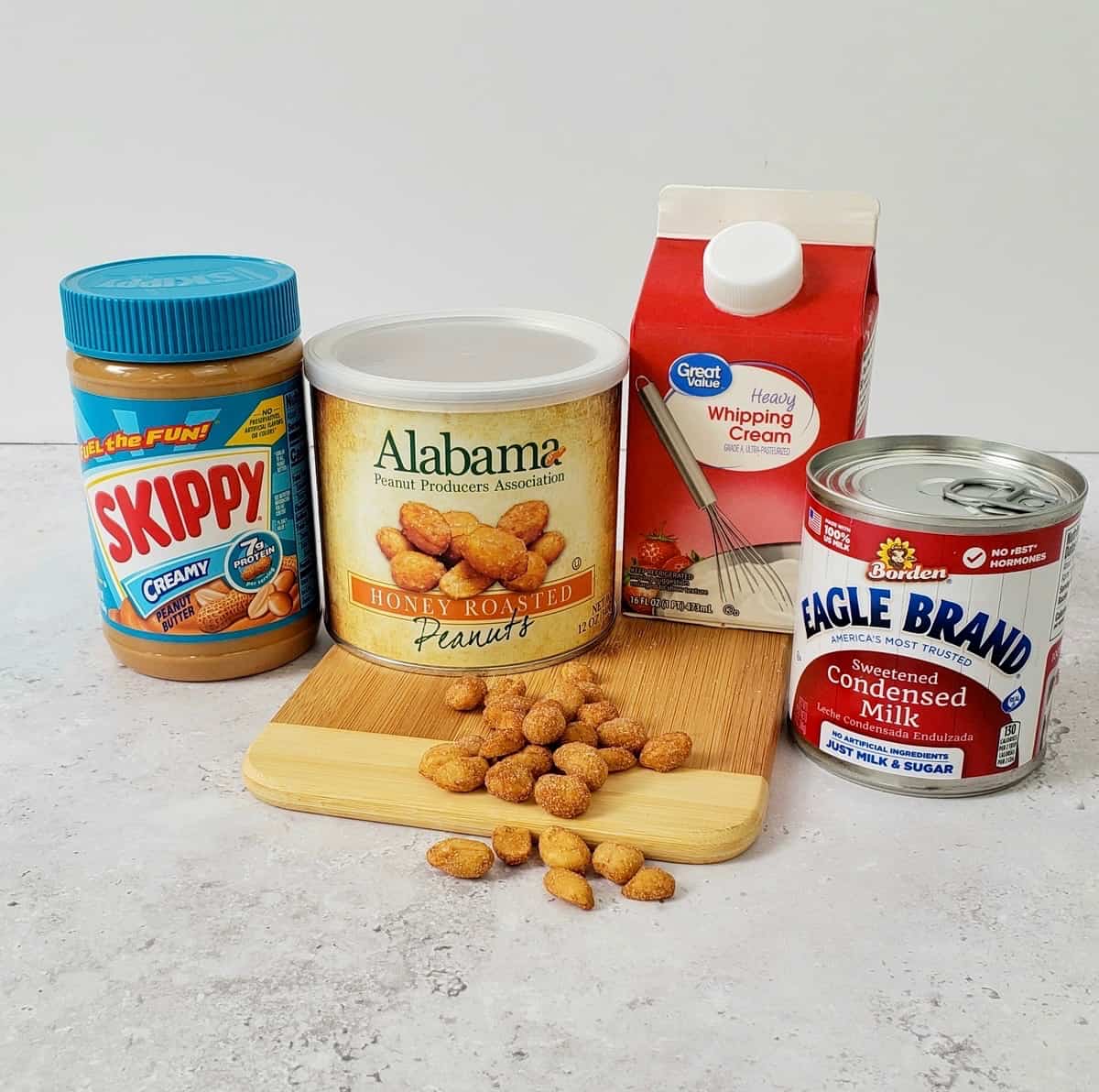 Heavy whipping cream- This is different than just regular whipping cream. While, I've made it with regular whipping cream, the higher fat ratio in heavy whipping cream makes the best ice cream texture and consistency.
Sweetened Condensed Milk- Milk that has been sweetened, then condensed into a thick mixture. NOT evaporated milk.
Peanut Butter- I chose creamy peanut butter and added honey roasted peanuts. Natural creamy peanut butter didn't seem to work well. It wasn't as smooth and...well... creamy.\
Honey Roasted Peanuts- While this ingredient is optional in order to make the basic peanut butter ice cream, I love how it adds an extra layer of that sweet and salty peanut taste and just enough crisp bits of peanuts to suit my taste. It's perfectly fine to leave them out, if you like.
You know I'm a huge fan of shopping local and supporting local farmers. I love to use the honey roasted peanuts from Alabama Peanut Producers Association you see in the picture above. Not an affiliate link, just showing some local love. They sell them on their website and ship them to you!
How to make No-Churn Peanut Butter Ice Cream
Scroll down to the bottom for the printable recipe with detailed instructions.
Beat the heavy whipping cream until stiff peaks form. (See detailed instruction in printable recipe below.)
Combine peanut butter and sweetened condensed milk.
Fold the whipped cream into the peanut butter mixture gently with a spatula.
Tip: Avoid stirring the whipped cream in with a spoon or too long because it tends to deflate the air whipped into the whipped cream.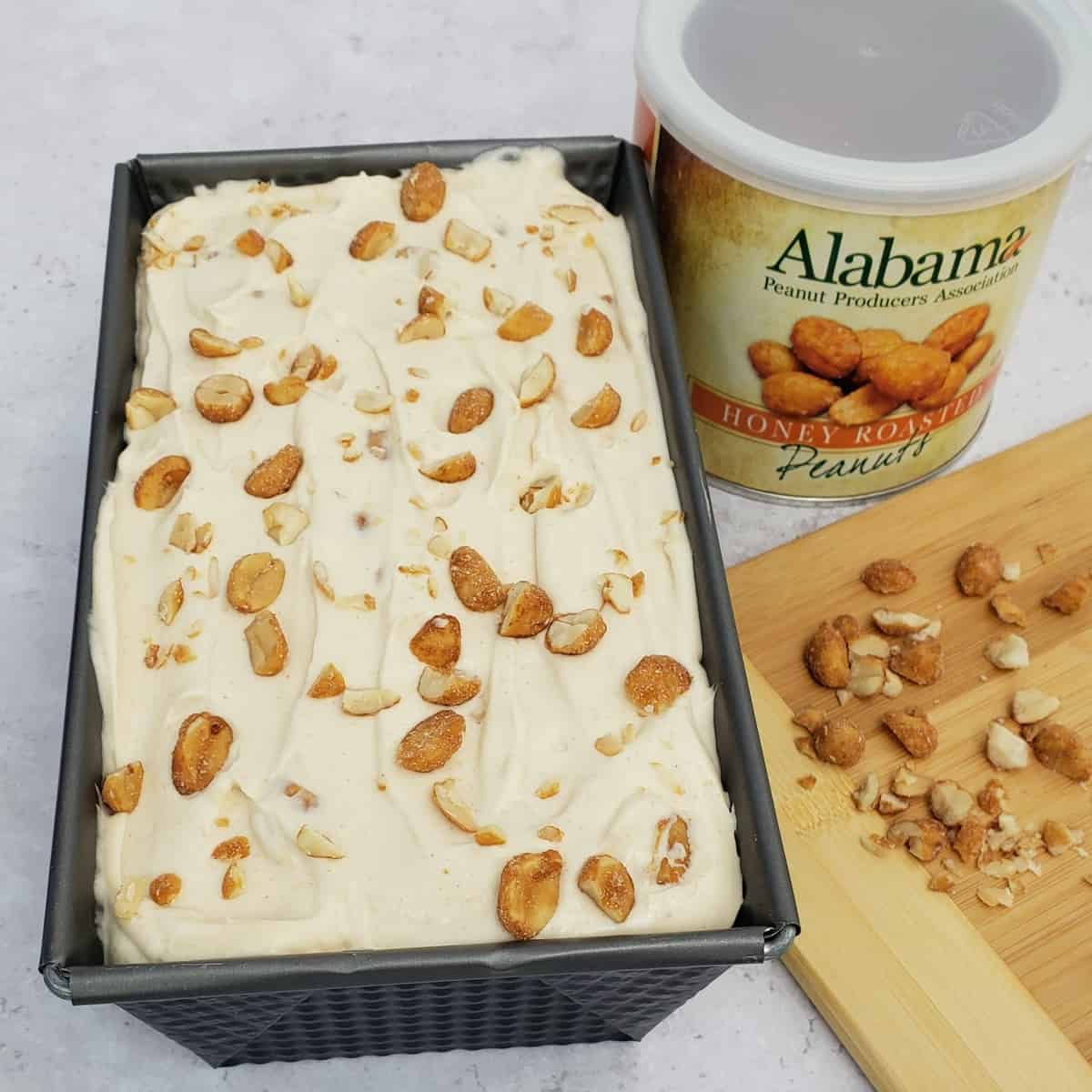 Fold in the peanuts. (optional)
Pour the ice cream mixture into an ungreased loaf pan or high-sided dish.
Sprinkle extra peanuts on top, if you like.
Cover and freeze until firm.
Substitutions & Variations
No churn peanut butter swirl ice cream: add an extra 1/2 cup of peanut butter and fold it in at the end and do not blend it in all the way so as to leave swirls of peanut butter.
No churn chocolate peanut butter ice cream: fold in 1 cup melted semisweet chocolate chips or 3 to 4 tablespoons cocoa powder into the whipped whipping cream before adding the peanut butter and sweetened condensed milk.Trade out cocktail peanuts for honey roasted peanuts.
Omit peanuts and use crunchy peanut butter.
For a smooth and creamy ice cream leave out the peanuts and use creamy peanut butter.
Ice cream mix-ins: peanut butter cups, Oreo cookies, mini chocolate chips, peanut butter chips, fudge topping,
Tip: How to melt semisweet chocolate chips in the microwave. Place the chocolate chips in a microwave-safe bowl and microwave on HIGH for 30 seconds at a time, stirring after each time until chips are smooth and melted.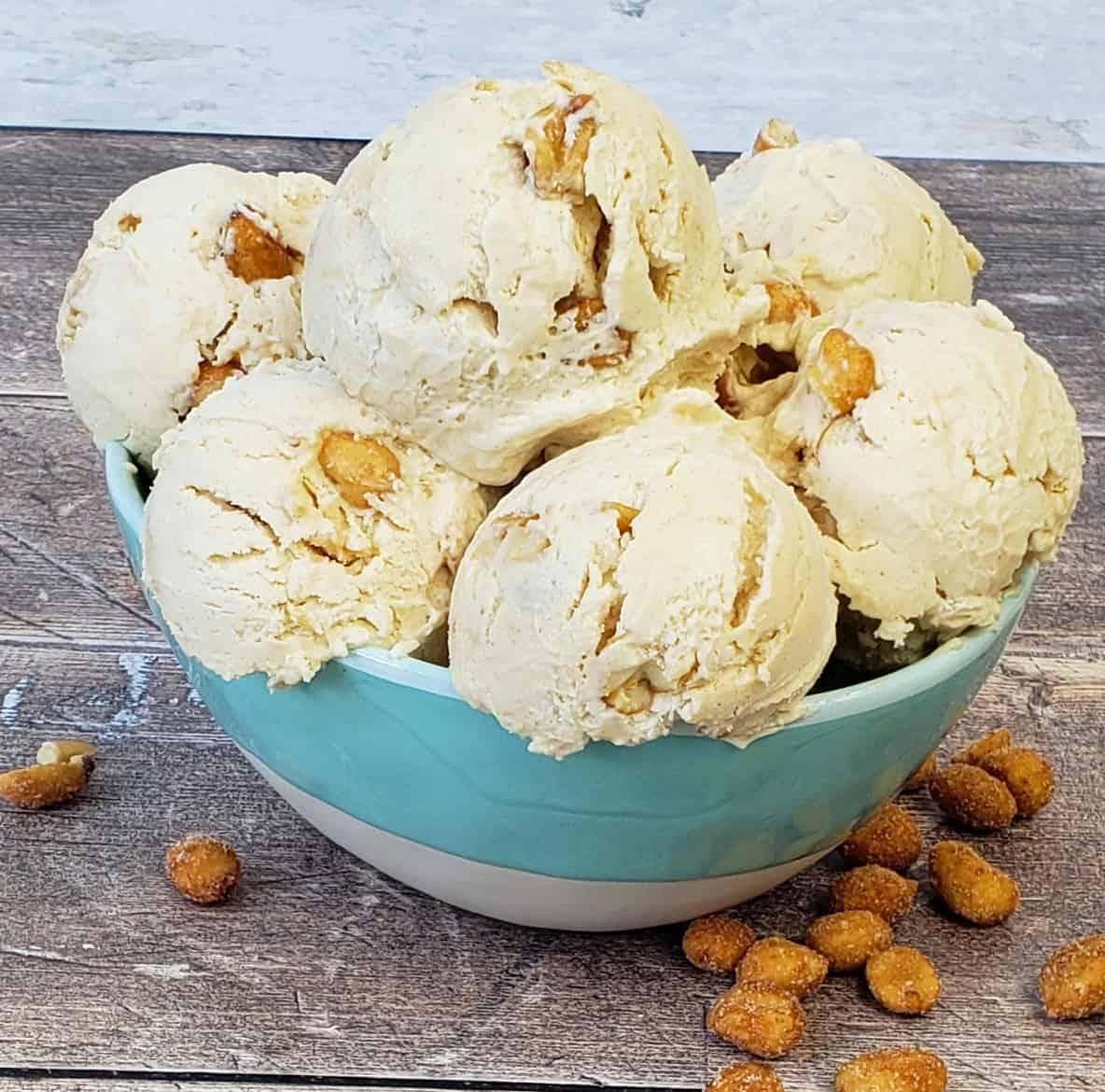 Helpful Information
What is the difference in heavy whipping cream and whipping cream?
The difference is fat content. According to the US Food and Drug Administration, regular cream has a fat content between 30 to 35% fat. Heavy whipping cream must have at least 36% or more.
Can I use fat-free sweetened condensed milk?
Absolutely. If you want to save a few calories, don't skimp on the whipping cream fat content, but you can substitute regular sweetened condensed milk with the fat-free version. There's also a sweetened condensed coconut milk for a tropical version.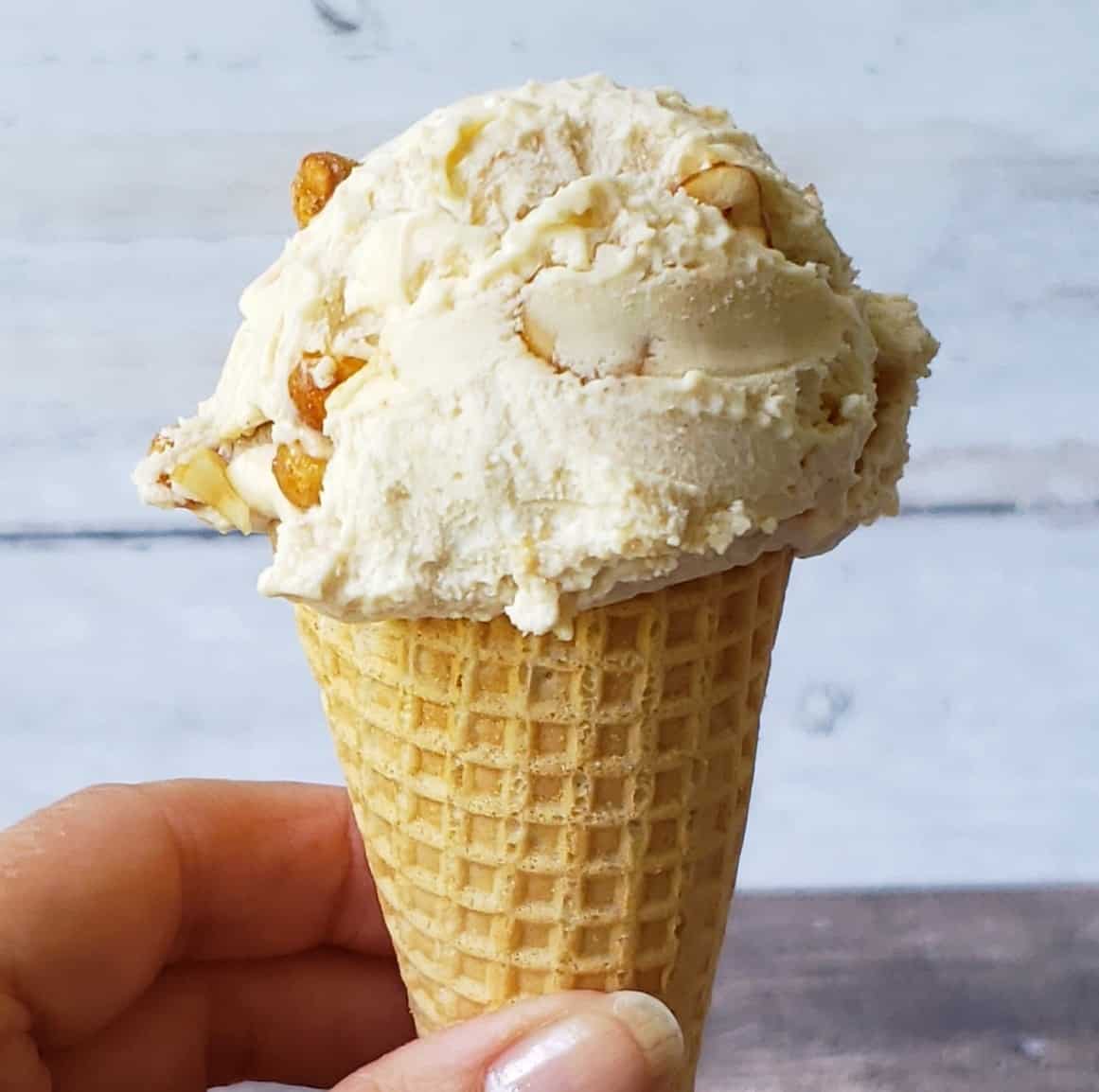 How to store No Churn Peanut Butter Ice Cream
Store any leftovers in the freezer, covered or in an air tight container for up to 2 months.
Follow me on Facebook, Instagram, and Pinterest. Be social and share, y'all! Don't forget to sign up with your email so you don't miss a single post on my Southern shortcut recipes!
If you make this recipe I'd love to see it! Tag me on social media with #gritsandgouda or @gritsandgouda. Leave a comment below the printable recipe if you have questions or tell me how you liked the recipe. Don't forget to rate it 5 stars if you love it!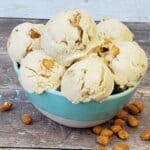 Print Recipe
No-Churn Peanut Butter Ice Cream with Honey Roasted Peanuts
With only 4 ingredients and no ice cream machine needed, this smooth and creamy no-churn peanut butter ice cream has an intense peanut butter flavor and packed with crunchy honey roasted peanuts.
Ingredients
2

cups

heavy whipping cream

16-ounces

1

14-ounce can sweetened condensed milk

1/2

cup

creamy peanut butter

3/4

cup

honey roasted peanuts, divided

coarsely chopped
Instructions
In a large bowl or stand mixing bowl, add whipping cream. I use a hand mixer but a stand mixer will work fine. Start out on medium-low speed for 1 minute to help prevent the cream from splashing.

Beat on medium speed 1 minute, then increase to high speed and beat just until peaks are firm enough they don't slump back in the bow. This is called firm peaks but don't go too long or you'll have cottage-cheese-looking cream.

In a medium bowl, stir together sweetened condensed milk and peanut butter.

Add the peanut butter mixture to the whipped cream by folding the whipped cream into the peanut butter mixture with a rubber or silicone spatula. Fold just until combined. Don't over mix. Fold in 1/2 cup of the peanuts. Pour the ice cream mixture into a 9x5 inch loaf pan or 8x8 inch square pan. Sprinkle the remaining 1/4 cup peanuts.

Cover with plastic wrap, then aluminum foil and freeze at least 3 hours or until firm enough to scoop.
Notes
Add-ins & substitutions: Fudge sauce, Reece Cups, chunky peanut butter, salted peanuts.
Storage:

Store in the freezer, covered well, up to 3 months.
Tip: Be careful to fold in whipped cream and not overmix which will deflate the light and airy texture of the ice cream.
Nutrition
Serving:
1
twelfth
|
Calories:
356
kcal
Did you make this recipe?
If you love it, share it! Tag me on Instagram @gritsandgouda using #gritsandgouda Comment below before you go!
Nutrition analysis on GritsAndGouda.com recipes are mostly calculated on an online nutrition calculator. I am not a dietitian and nutritional information is an estimate and can vary based on products used.