Sweet Tea Tiramisu Trifle for Two
Sweet Tea Tiramisu Trifle for Two is my Southern shortcut skinny version of the Italian dessert, Tiramisu. It's typically made with espresso and/or rum soaked ladyfingers and layered with mascarpone cheese and whipped cream.
Tiramisu means "pick me up" or "cheer me up".  Well, here in the South, sweet tea is what cheers us up! The calories from sweet tea, not-so-much. That's why I love Southern Breeze Cold Brew Sweet Tea-it's all the sweet with zero calories!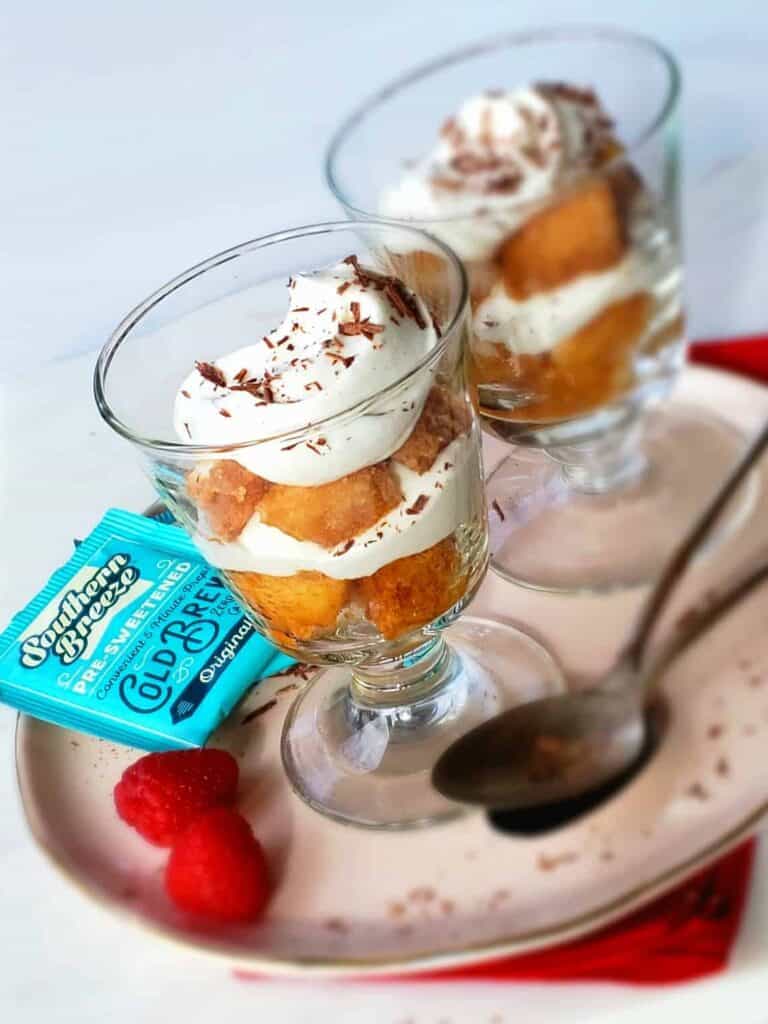 This post is sponsored by Southern Breeze. As always, all content and opinions are my own.
I'm a "tea"totaler, so no rum in this recipe! The classic version of Tiramisu is loaded with fat and calories (and oh so good!) and makes at least 8 servings that might hang out in my fridge tempting me to overeat. My shortcut version (also, oh so good!) is made with Southern Breeze zero-calorie sweet tea and only makes 2 servings-just enough for my husband and me. It's half the calories with all the YUM!
Only spending 15 minutes to make a romantic dessert for my husband and me (while not having a pan of leftovers tempting me to eat the whole thing) cheers me up, too! For this special occasion, I don't need to make a dessert that serves more than two servings. I know I will end up eating it all and that cancels out the entire week at the gym, right?
To top it off, I don't have to make a whole pitcher of sweet tea just to make this show-stopping dessert. Southern Breeze's Sweet Tea bags are single-serve size and pre-sweetened. These tea bags are cold brew so I don't have to wait for the hot water to cool down before I soak the angel food cake cubes.
How to make Sweet Tea Tiramisu Trifle for Two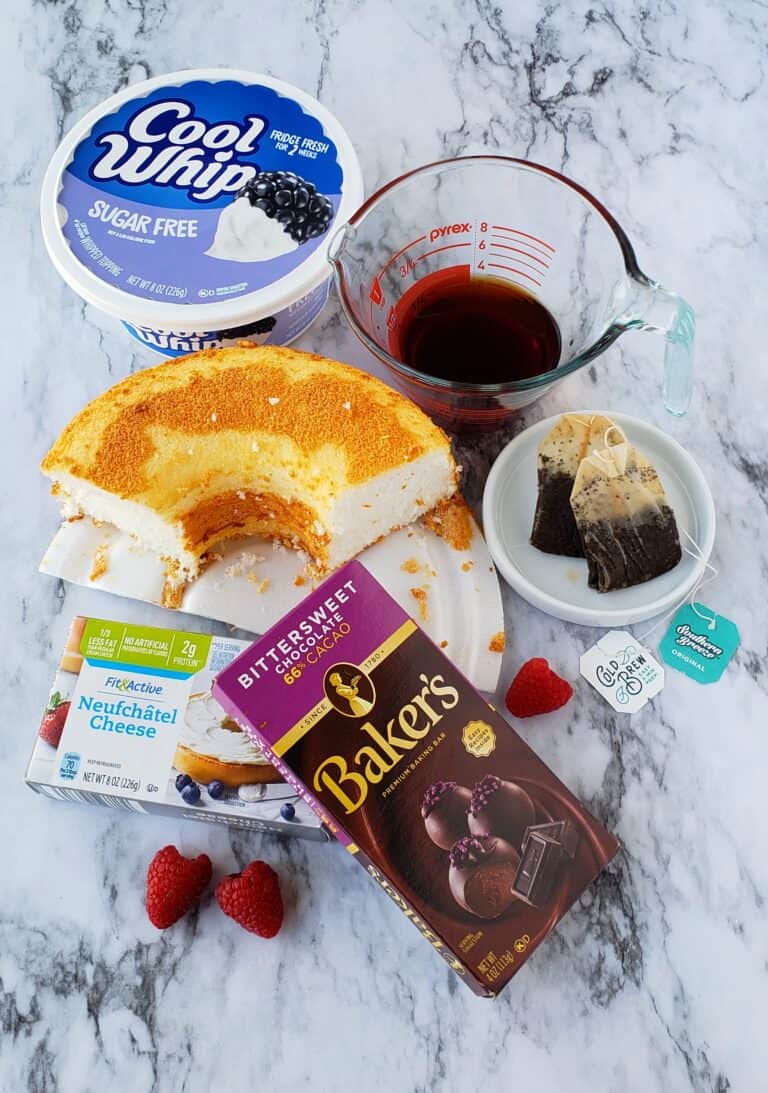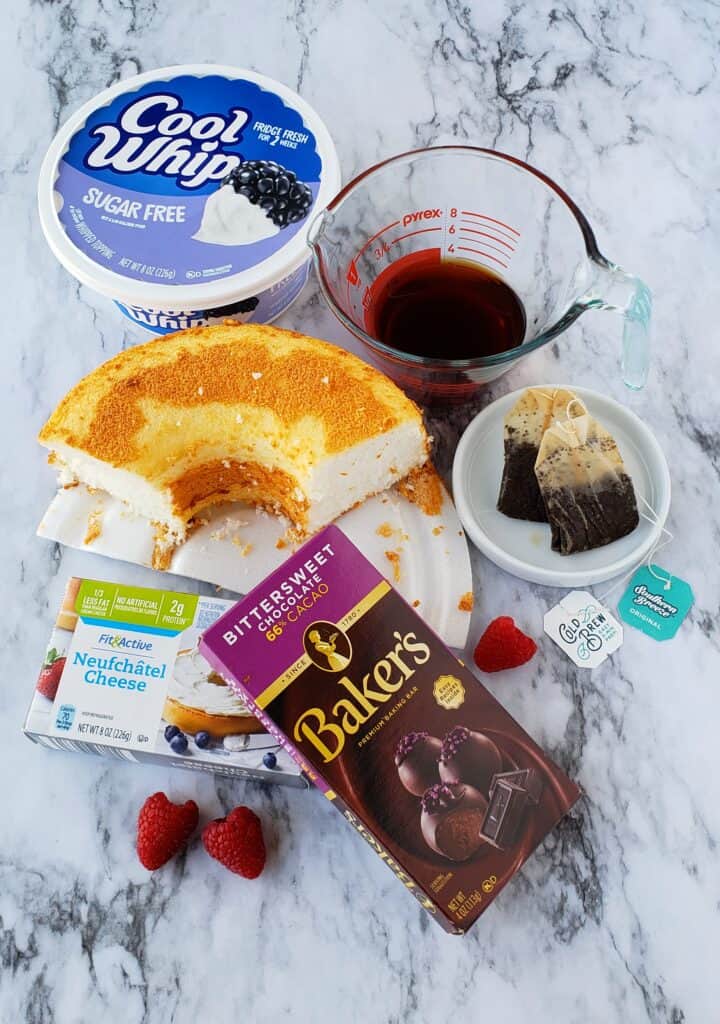 I wanted to make this in time for Valentines Day with traditional Ladyfingers. Turns out, they tend to be a seasonal item for the standard grocery store. No worries! Angel food cake is fat-free and cholesterol-free. It's a great substitute and readily available all year round. Score! Sometimes you can find it sold in "half-cake" size on the day-old bakery cart (which is perfect for soaking up tea) and also in the smaller loaf size at Walmart.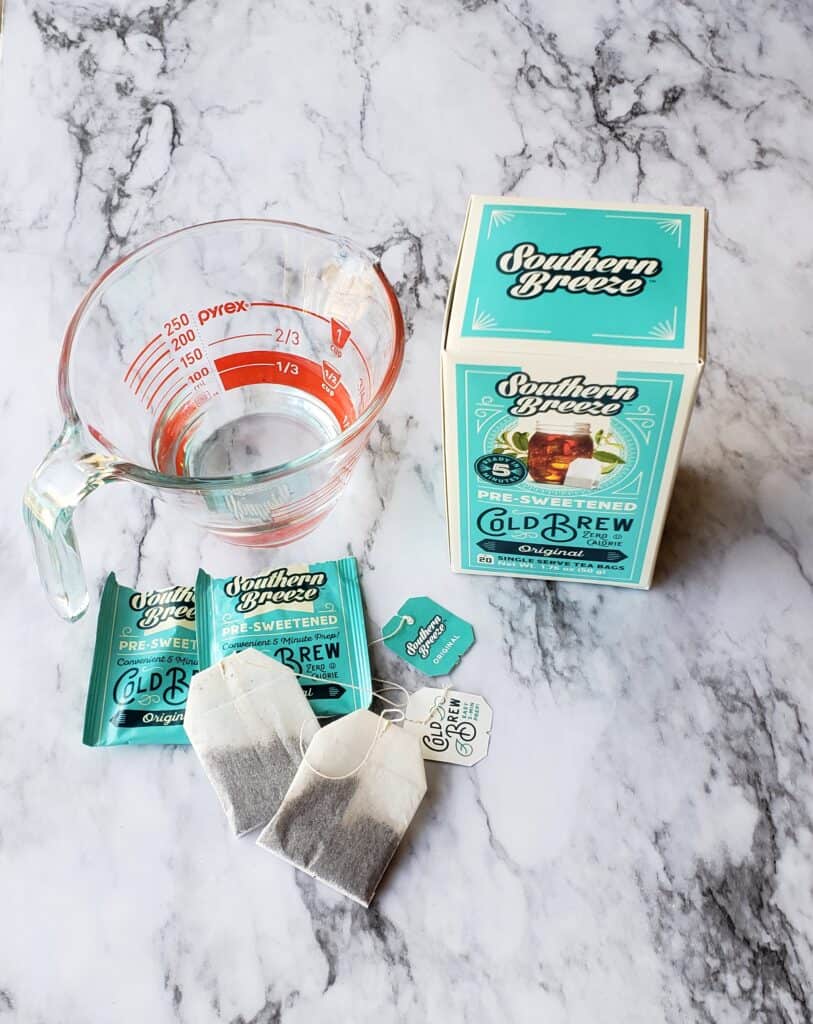 The first step to make Sweet Tea Tiramisu Trifle is to steep 2 bags of Southern Breeze Original sweet tea in 1/2 cup water for 10 minutes. That is twice the amount of tea bags and half the amount of water for a regular glass of iced tea to create a strong tea mixture.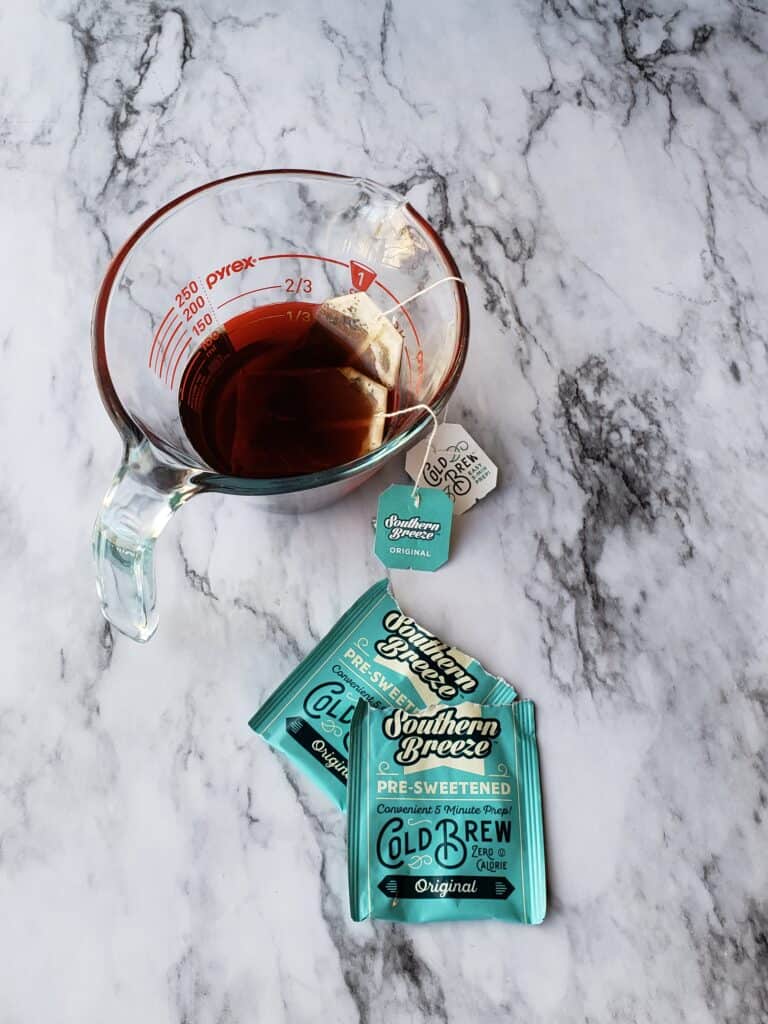 This is a concentrated sweet tea mixture because the Italian Tiramisu is made with espresso or strong coffee so I am going for a strong tea flavor, here.
Here's how to make a glass of iced sweet tea with Southern Breeze Sweet Tea to enjoy while you prepare Sweet Tea Tiramisu Trifle. Pour 8oz of water over 1 tea bag, let steep for 5 minutes, toss out the tea bag and pour over ice!
For FREE SHIPPING on your 1st order of Southern Breeze use promo code: SOUTHERNBREEZE. Click on the image below to order now.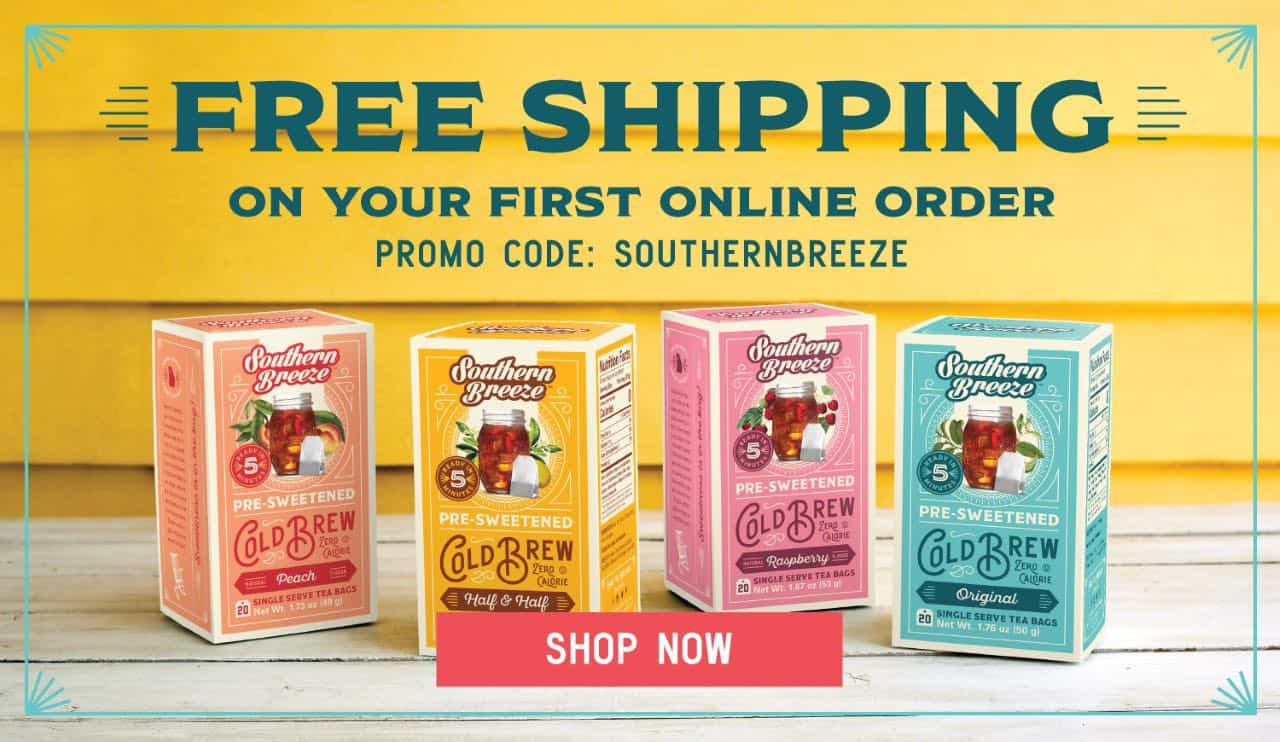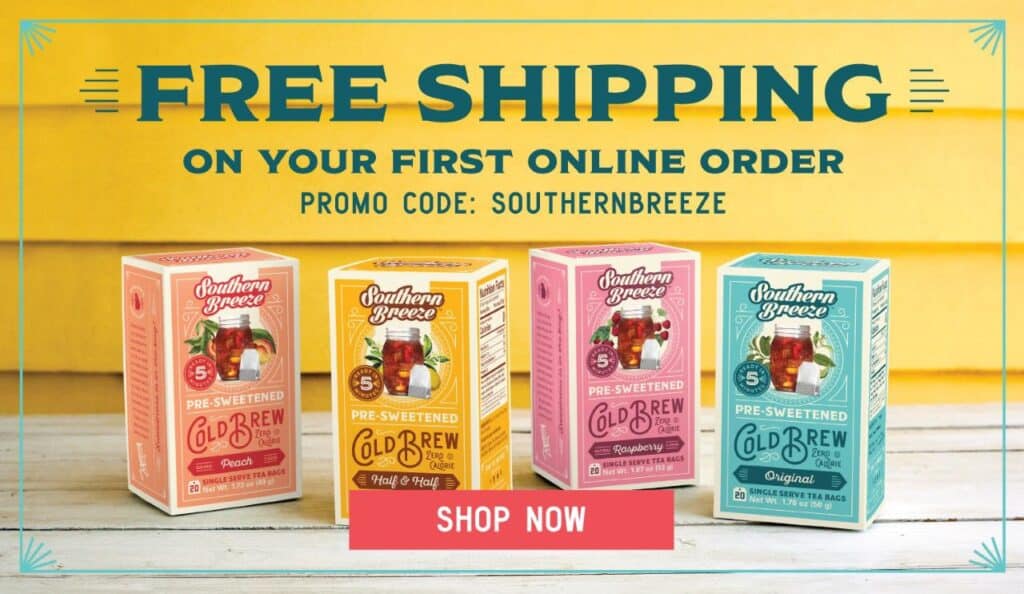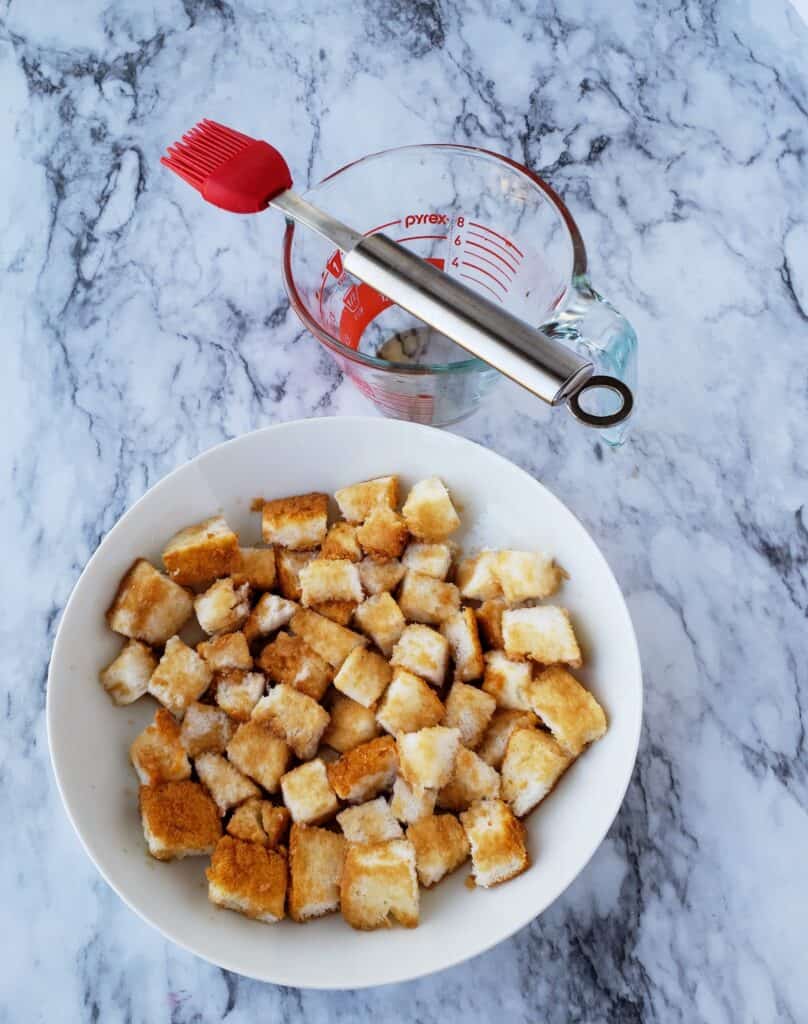 Brush or drizzle the concentrated tea mixture over the cubed angel food cake. The cake will absorb it very quickly.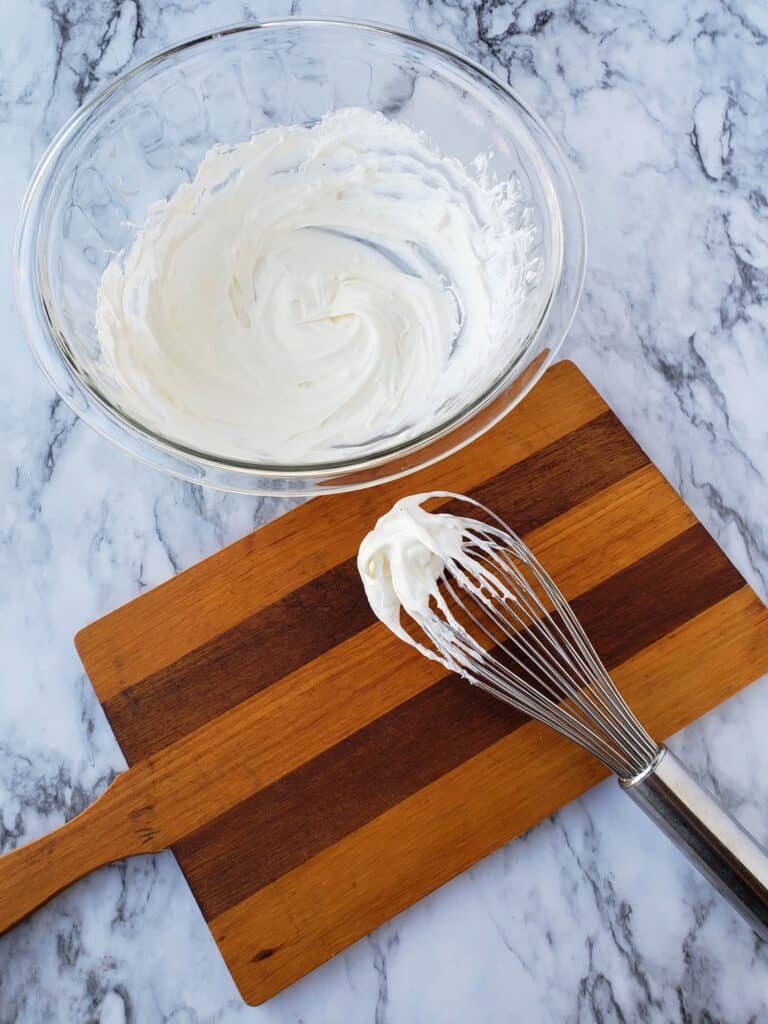 No mixer needed here. Neufchatel is soft like Mascarpone cheese that is typically used in classic Tiramisu. Just stir together Neufchatel and sugar-free Cool Whip with a wire whisk to create a creamy mixture to layer between sweet tea-soaked angel food cake cubes.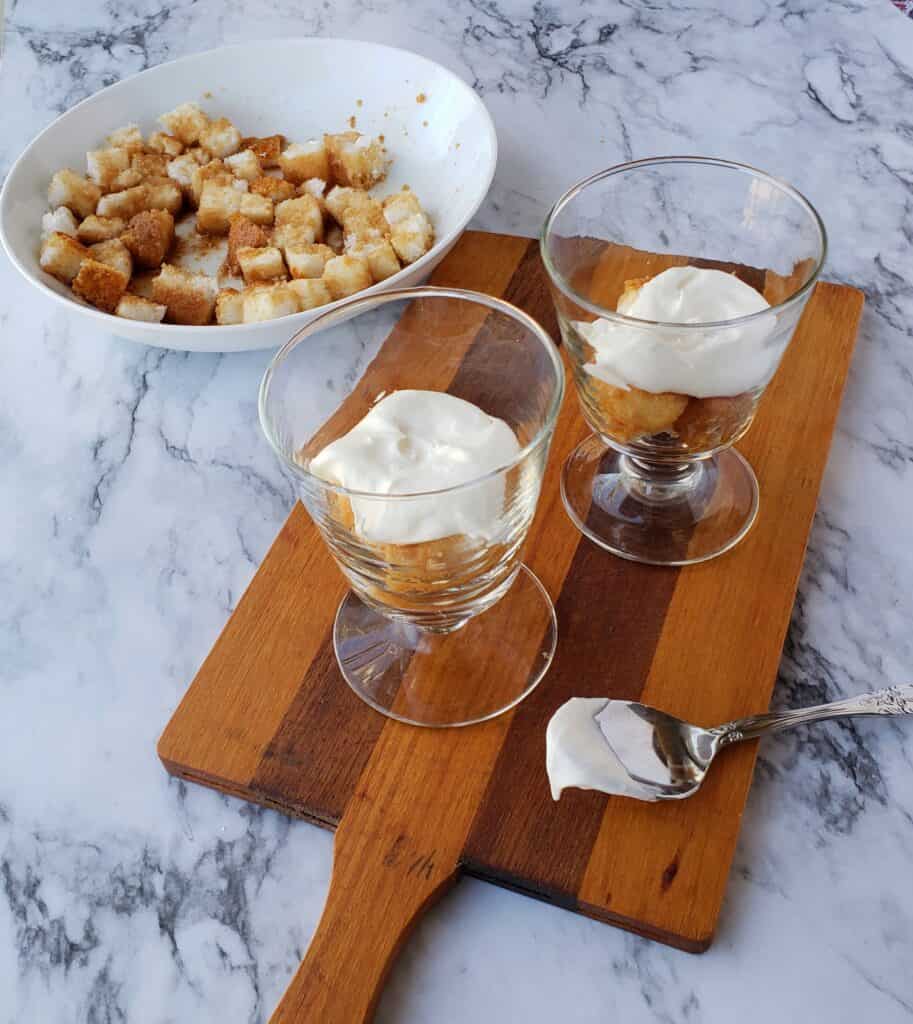 Layer half of the soaked cake cubes in small dessert dishes, then half of the creamy mixture; repeat with remaining cake and creamy mixture, dolloping the creamy mixture on top. Then, sprinkle with grated bittersweet chocolate. Simply use a vegetable peeler to scrape the side of the chocolate baking bar to create shavings.
Options:
Cocoa powder is traditionally sprinkled on top of Tiramisu and would work fine on my recipe, but the bittersweet chocolate adds very few calories and is a perfect pairing with the fresh raspberries. Strawberries can be traded out for the raspberries. Southern Breeze Raspberry flavor tea bags can be used instead of Original flavor. Lite Cool Whip can be used in place of sugar-free Cool Whip. If you are on the Keto diet and fat is not an issue, go for the mascarpone cheese and whipping cream instead of Neufchatel and Cool Whip!
So many options in this recipe. So few calories. How sweet it is!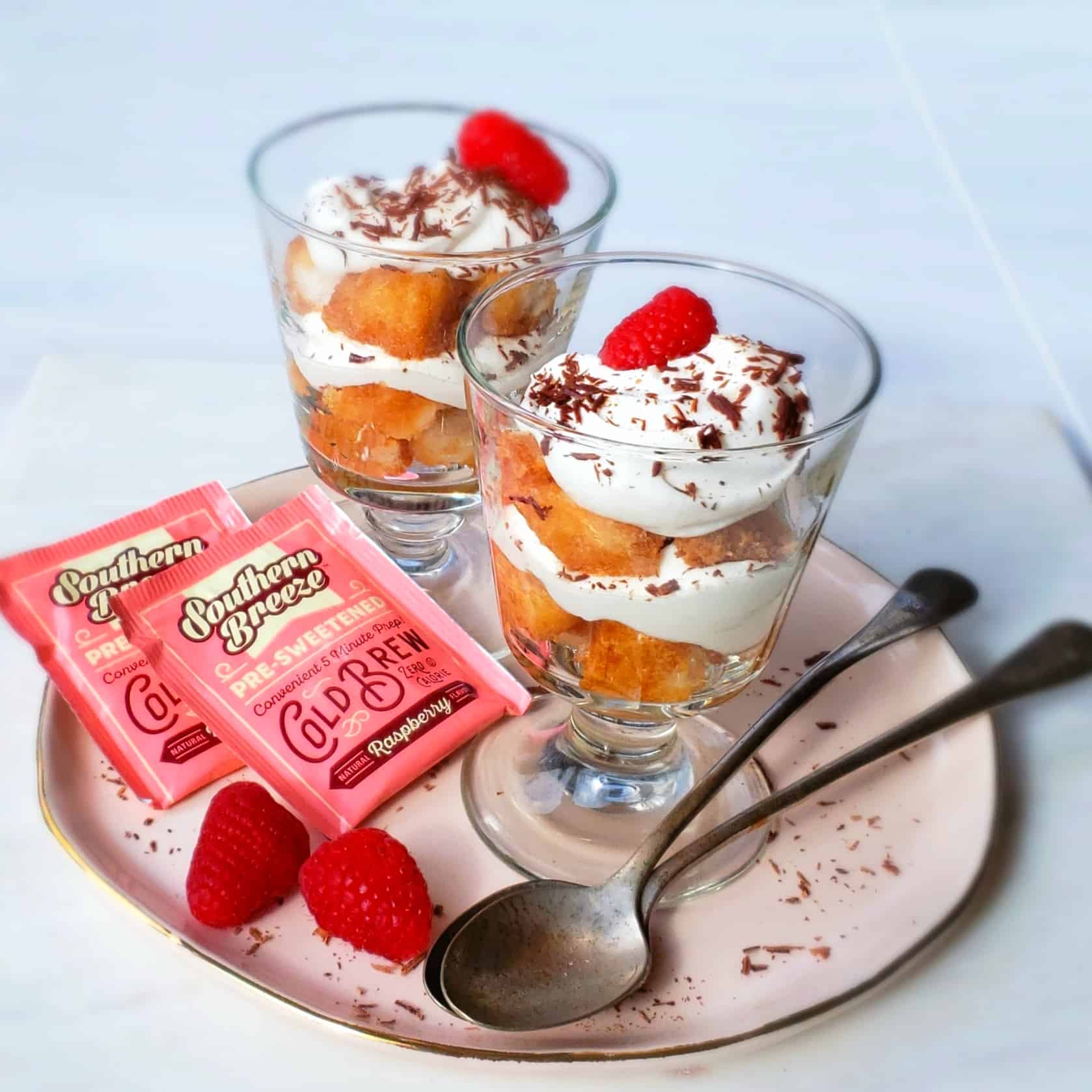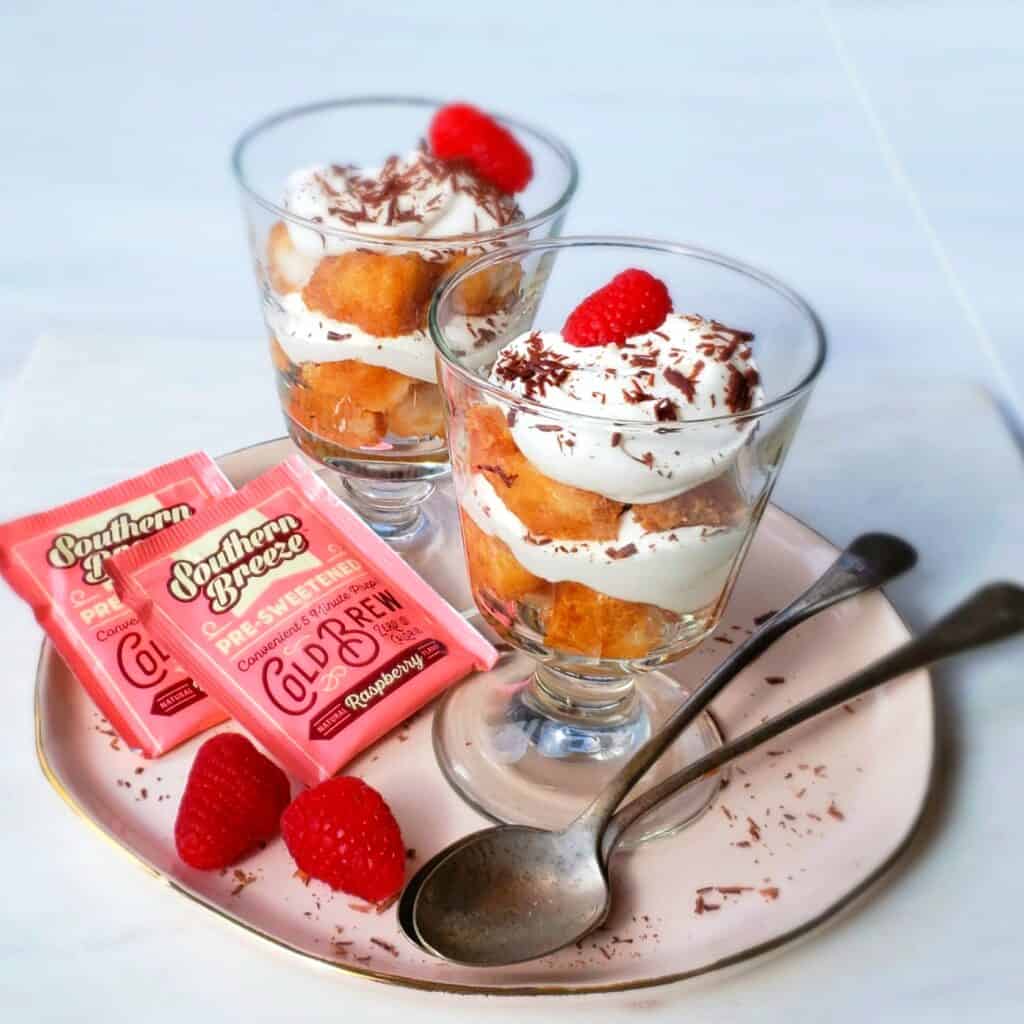 Sweet Tea Tiramisu Trifle for Two can be made with the Southern Breeze Raspberry flavor sweet tea, also. (Original flavor is used in this recipe) Southern Breeze also has peach and Half-n-Half (lemonade/tea) flavors. I served it with two antique Woolworth ice tea spoons my mom gave me from my Grandma's estate. They may be soda fountain spoons, but they look like iced sweet tea spoons to me.
I garnished with fresh raspberries and chocolate shavings. Chocolate shavings look really fancy but these couldn't be easier to make. I just used my vegetable peeler to scrape down the narrow sides of the bittersweet chocolate baking bar. Shave the chocolate directly onto the dessert because they are fragile and actually melt on your fingertips. You can also shave them onto a paper plate, then sprinkle them on when you are ready to serve.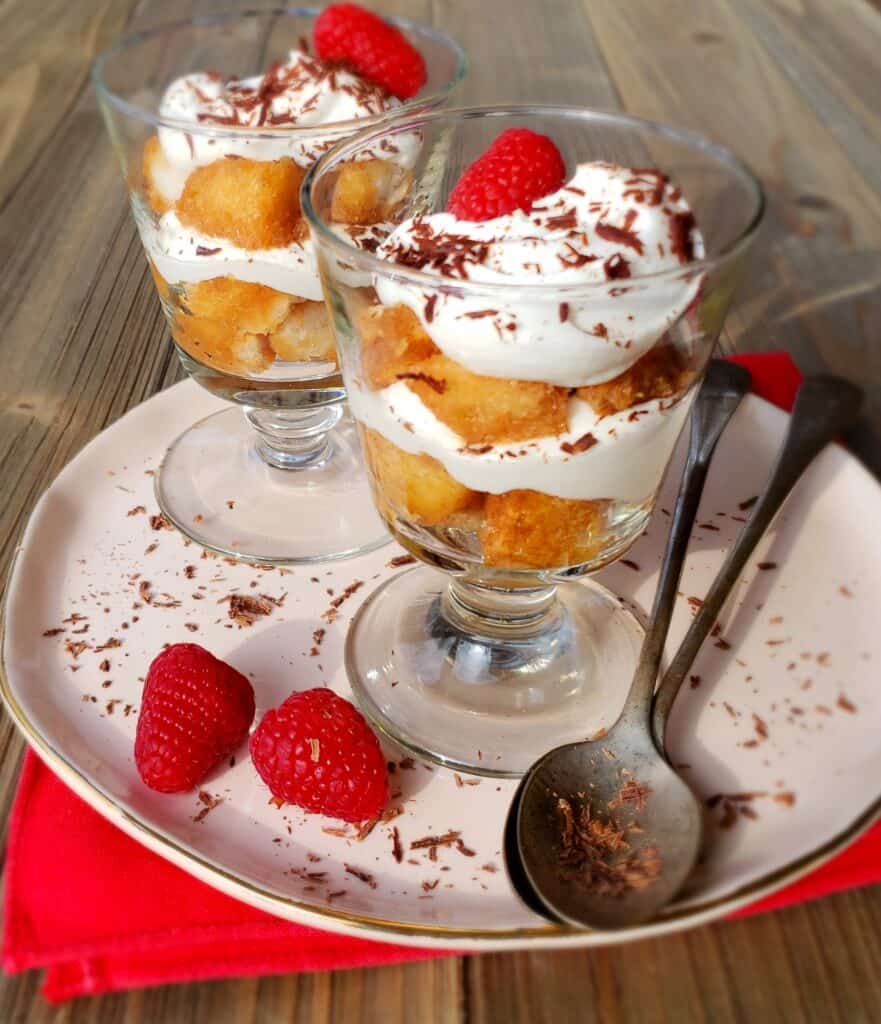 Be sure to follow me on Facebook, Instagram, Pinterest and Twitter . Don't leave before you send me your email address here so you don't miss a single post on my Southern shortcut recipes!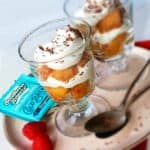 Print Recipe
Sweet Tea Tiramisu Trifle for Two
This is my Southern shortcut skinny version of the Italian dessert, Tiramisu. It's typically made with espresso and/or rum soaked ladyfingers and layered with mascarpone cheese and whipped cream. My version is ready to eat in 15 minutes.
Prep Time15 mins
Total Time15 mins
Servings: 2 servings
Ingredients
1/2 cup cold water
2 single serve Southern Breeze Original flavor tea bags
1.5 ounces angel food cake, cut into 1/2" cubes (about 1 1/2 cups)
1/2 cup sugar-free or lite non dairy whipped topping, thawed
2 ounces Neufchatel cheese (1/4 cup)
1 tablespoon bittersweet chocolate shavings
Fresh raspberries
Instructions
Pour water over tea bags and let steep for 10 minutes. Remove the tea bag.

Place the cake cubes in a shallow bowl or rimmed plate. Brush the cake cubes with the strong tea or drizzle it over them and toss well to coat.

Combine Neufchatel and whipped topping in a bowl with a wire whisk until smooth.

Arrange half the soaked cake cubes evenly in the bottom of two dessert dishes. (Half pint jars work well, too!) Spoon half of the whipped topping mixture evenly in the two dessert dishes. Arrange the remaining half of cake cubes evenly in the dishes. Dollop the remaining whipped topping mixture on top of cake cubes.

Sprinkle with chocolate shavings and garnish with fresh raspberries. Serve immediately or refrigerate until ready to serve.