No-Knead Yeast Rolls (also called Southern Spoon Rolls) have all the flavor of a homemade dinner roll that bakes in a muffin tin. They are elegant enough to accompany a steak dinner or serve at your holiday meal. Easy enough for beginners to whip up and serve along side a steaming bowl of soup.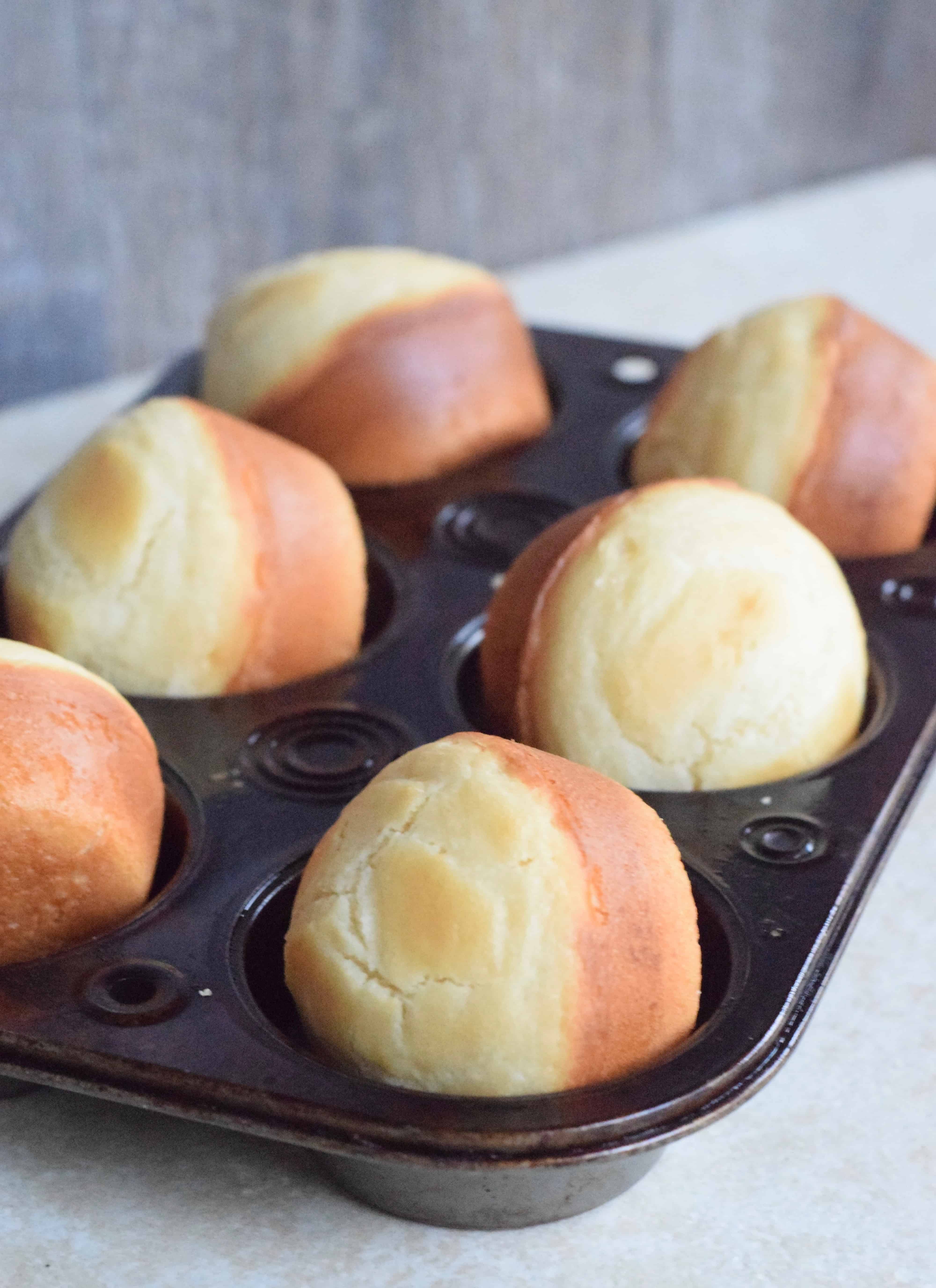 When you want to serve homemade dinner rolls but don't have time to let it rise twice, shape them into balls, and watch to make sure they don't over proof? You make this super easy bread recipe!
Not to mention the sheer heavenly aroma of fresh baked bread coming from your kitchen!
Serve leftover rolls for breakfast or make my 2 Ingredient Biscuits if there aren't any leftovers.... which is very likely!
What can I serve with these easy yeast rolls?
Slather these warm yeast rolls, sometimes called Spoon Rolls, with Homemade Butter or maybe Easy Freezer Strawberry Jam, Freezer Pepper Jelly, or Slow Cooker Fig Jam.
These rolls are easy enough to for a weeknight meal like Instant Pot Chicken Bacon Ranch Alfredo or Slow Cooker Spinach Chicken Lasagna.
Plus, they are fancy enough to grace your holiday table alongside Instant Pot Pepper Jelly Ham, Instant Pot Turkey Breast and Gravy, Sausage Cornbread Dressing Cups, Fresh Green Bean Casserole and Cranberry Jalapeno Salsa.
Is this a make-ahead recipe?
Yes. These muffin-shaped dinner rolls are perfect for the holidays since you mix the batter the night before baking them. I've also heard them called 24-hour rolls for this reason.
The batter rises in the fridge overnight, then you "spoon" them into the muffin pans. That's why they are often called spoon rolls.
This is a perfect make ahead recipe for Thanksgiving and Christmas. Stir together the batter and keep in the refrigerator for a few days until ready to bake them off all at once or in batches.
Don't let the muffin shape fool you, these absolutely have the texture and flavor of a yeast roll. Without kneading or shaping the dough or waiting for a double rise time.
Can I freeze No-Knead Dinner Rolls?
These rolls freeze like a dream! After baking and cooling to room temperature, place them in freezer, zip-top bags and gently press out as much air as possible as you seal them. Then, freeze up to 3 weeks.
Let them thaw in the fridge overnight or on your counter for a couple of hours. To reheat and recreate the slightly crisp edge, simply bake at 350 degrees for 10 minutes or until thoroughly heated.
You can also just microwave them one at a time for a quick snack straight from the freezer on HIGH about 45 seconds. Microwave an additional 15 seconds at a time, if needed.
Substitutions
Trade out melted butter for vegetable oil (salted or unsalted)
If you use rapid-rise (instant) yeast, it won't take as long to rise in the fridge or counter. While that is a shortcut, the batter might not last as many days in the fridge as active dry yeast.
Don't have self rising flour? Here's how to make your own self rising flour.
Add a little extra flavor by stirring in 1/2 cup Cheddar or Parmesan cheese.
Kick it up a little with 1/4 teaspoon ground cayenne pepper to serve with soup or chili.
Pro Tip
If you don't have a cooling rack, just use a table knife to tilt the rolls sideways right in the muffin pan. This will allow them too cool without moisture condensing on the bottom of roll.
Follow me on Facebook, Instagram, Pinterest and YouTube. Be social and share, y'all! Don't forget to sign up with your email so you don't miss a single post on my Southern shortcut recipes!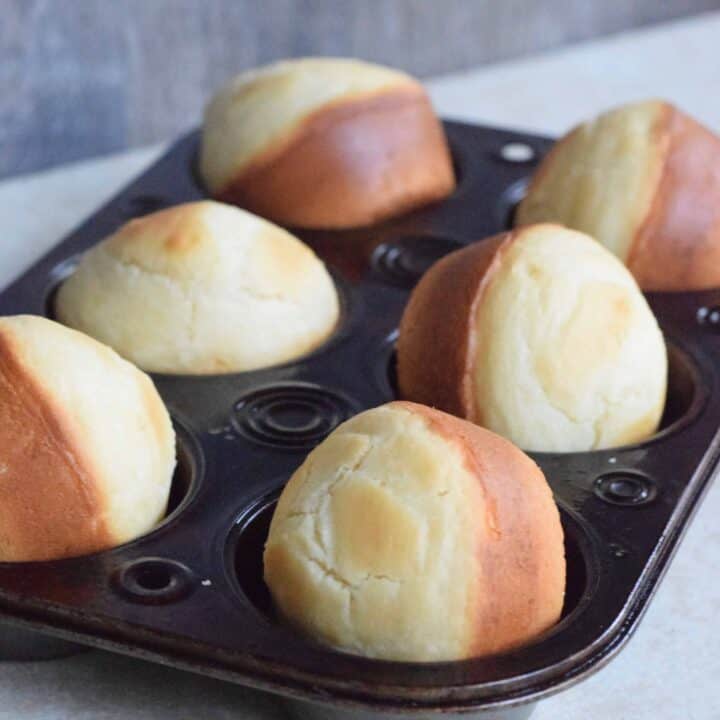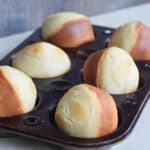 Print Recipe
No Knead Yeast Rolls
All the flavor of a homemade yeast dinner roll with the ease of a muffin batter. These rolls are also known in the South as spoon rolls.
Ingredients
1

1/4-oz package active dry yeast

3

tablespoons

warm water

105° to 110°

1

large egg

1/2

cup

vegetable oil

1/4

cup

granulated sugar

2

cups

lukewarm milk

or microwave 1 minute on HIGH

4

cups

self-rising flour
Instructions
Stir together yeast and warm water in a small bowl or 1-cup glass measuring cup; let stand 5 minutes or until yeast is dissolved and foamy.

Beat the egg in a large mixing bowl with an electric mixer just until lightly beaten. Add dissolved yeast mixture, oil, and sugar, beating well. Gradually add milk, beating on medium-low speed.

Gradually add flour, beating just until combined. Cover bowl with plastic wrap or lid and refrigerate at least 4 hours up to 3 days before baking.

Preheat oven to 350° when ready to bake and serve.

Stir batter well before spooning into greased muffin pans, filling three-fourths full. Bake for 25 minutes or until tops are golden and sides are lightly browned.
Notes
Be sure to pay attention to the type of yeast you use. Active dry is what you want for this overnight recipe. Fast-rising or rapid rise yeast will work if you want a shorter rise time and let the dough rise in a warm place instead of in the fridge overnight.
Pro Tip: If you don't have a cooling rack, just use a table knife to tilt the rolls sideways right in the muffin pan. This will allow them too cool without moisture condensing on the bottom of roll.
Nutrition
Did you make this recipe?
If you love it, share it! Tag me on Instagram @gritsandgouda using #gritsandgouda Comment below before you go!
This recipe has been updated with helpful information.