Homeschooling? Are your kids home from school for vacation or an extended period of time? Or are you just looking for something fun to do with your kids on the weekend? Teach your kids math and science by getting them in the kitchen to make homemade butter in a jar and having fun at the same time!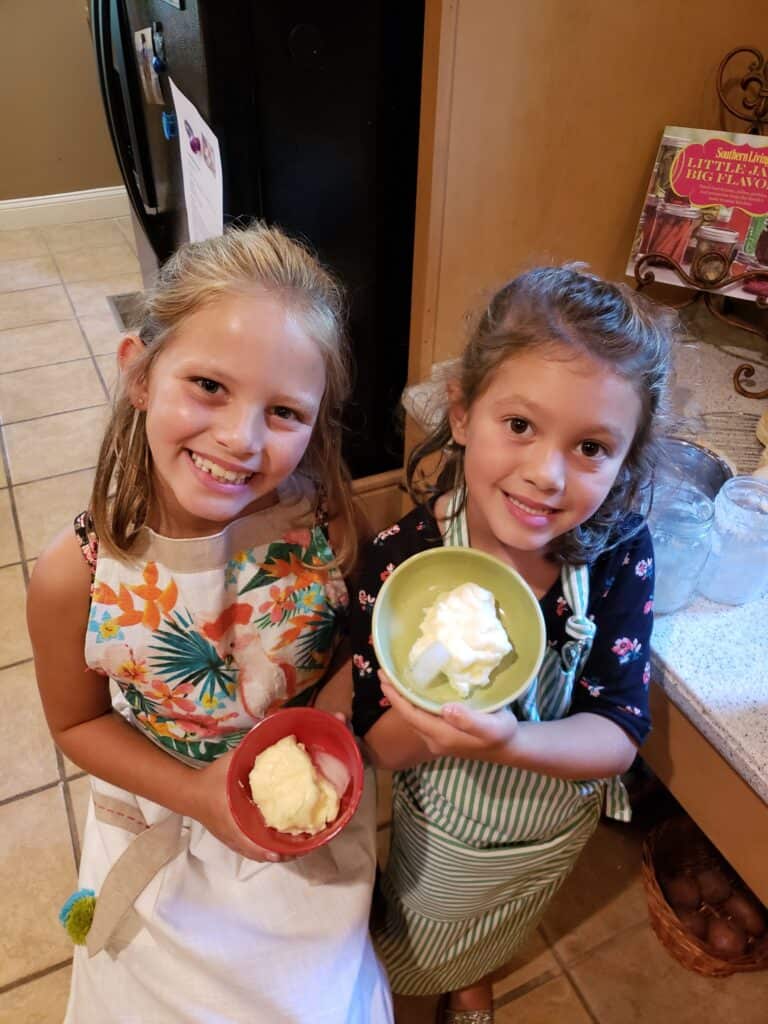 I'm a strong believer in giving kids responsibility (or boring chores as they called it) as early as 2 years old when they can pick up their toys off the floor. Teaching kids to help in the kitchen with meal prep or clean up is part of that twofer of responsibility and learning math and science. I call it productive learning-they learn math and science and dinner gets made at the same time! You don't have to homeschool your kids to teach them math and science in the kitchen.
I didn't start homeschooling until my oldest child was in 10th grade, but I started teaching them fractions with a measuring cup and a ruler when they were very young. I would sit them on the counter and let them play with flour and a measuring cup while I baked. When possible, I would let them measure and stir until they graduated to completely making recipes on their own-including my son. Don't forget there are more male chefs than female chefs in the world.
My two sweet friends from my Sunday school class in the picture above came to my house after church recently and we made Homemade Butter in a Jar. Annsley, the older sister, was my sous chef on my chef segment of Talk of Alabama.
We made 2 Ingredient Biscuits and Homemade Butter in a Jar as part of my Back to School segment to encourage parents to get kids in the kitchen to teach them math and science while having fun with them. (You can see the cube of ice still in their butter bowls.)
We focused on math with the 2 Ingredient Homemade Biscuits and concentrated on the food science of making butter from whipping cream. You can make butter in a food processor or stand mixer (I recommend having a bowl cover if using a mixer) and, yes, those methods will take less time than using a Mason jar, but if you want your kids to have "hands-on" experience with the physical change (not chemical change) that happens and have FUN doing it, then use the jar method.
Click on the two pictures below to watch the ABC 33/40's Talk of Alabama segment with my sous chef Annsley making Homemade Butter in a Jar.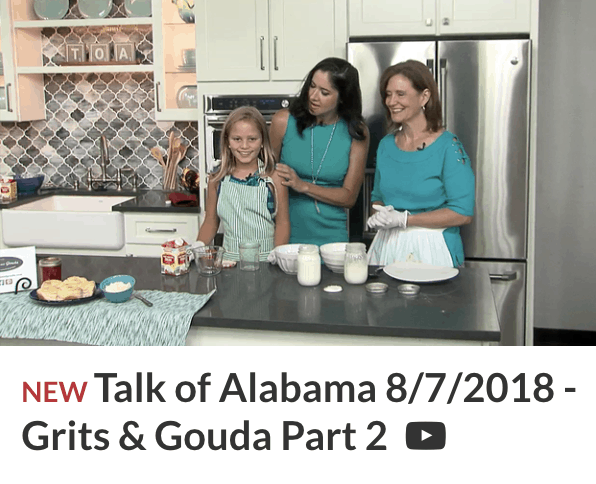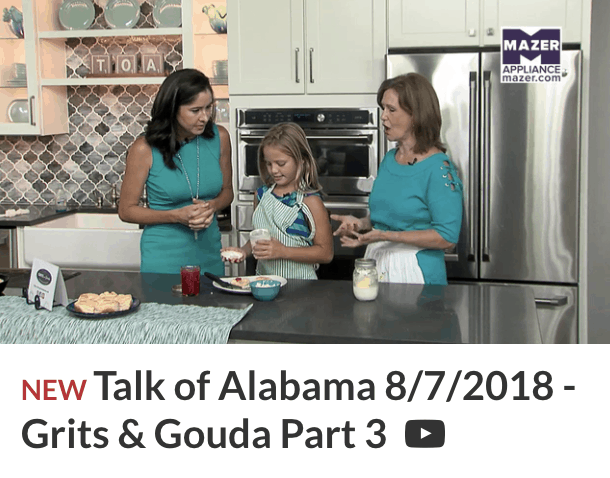 To watch the segment on WBRC's Good Day Alabama click on the picture below. Janice Rogers and Mike Dubberly took turns shakin' the butter. The biscuits were gone in minutes after the segment.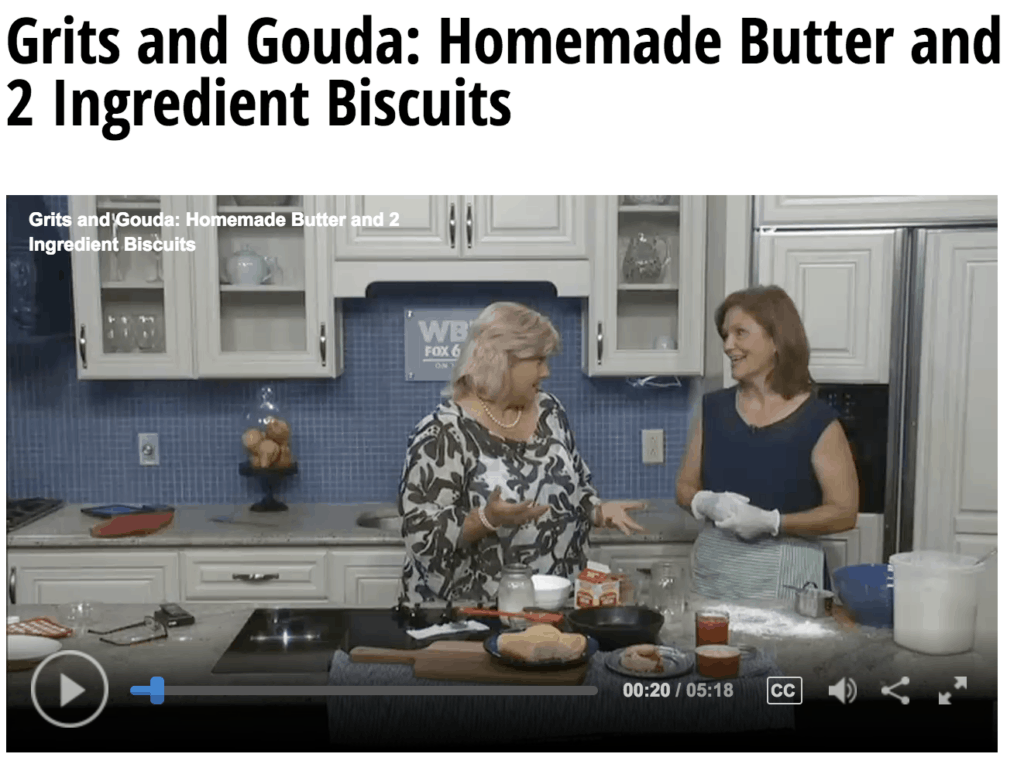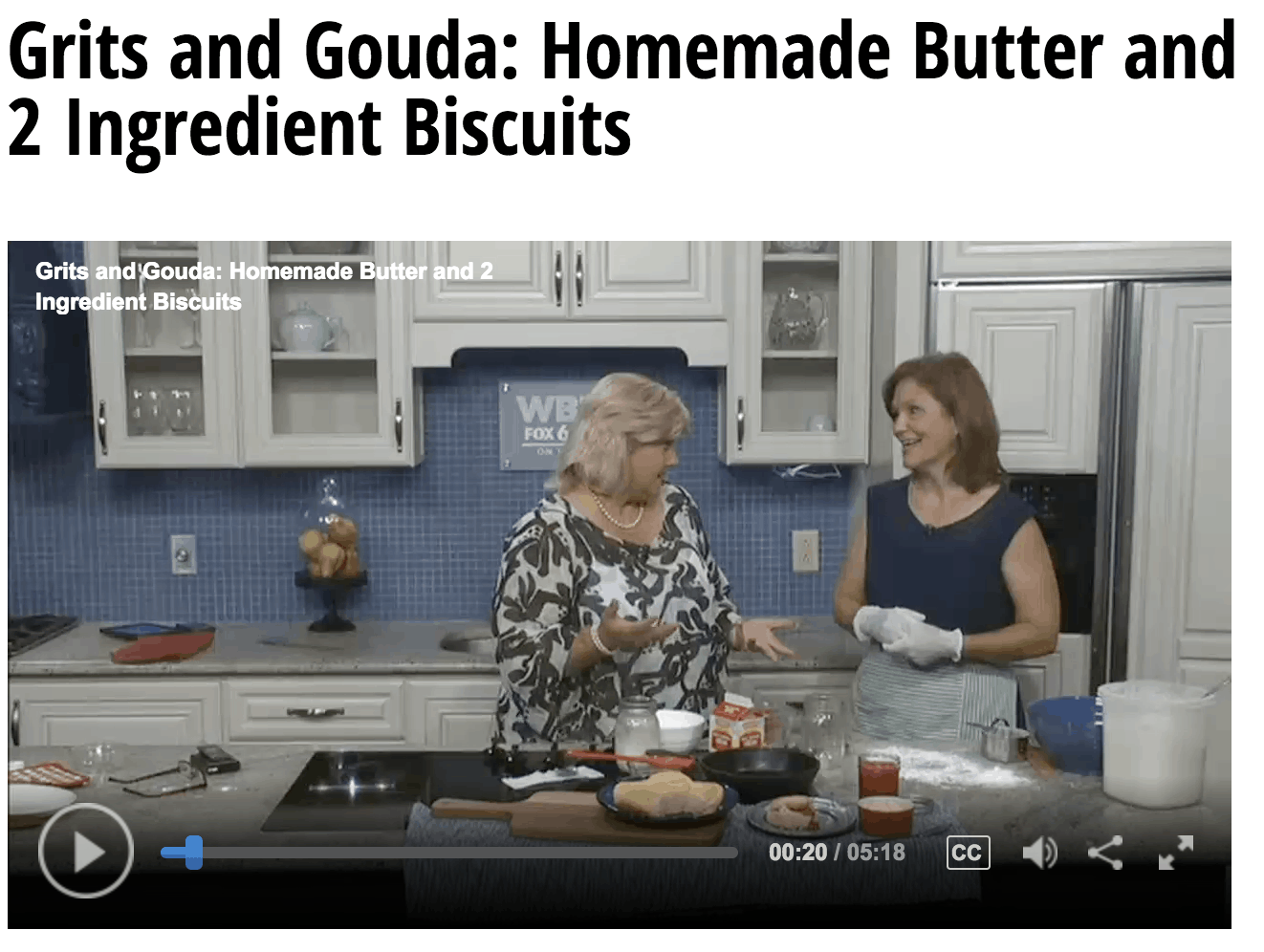 What is the difference between whipping cream and heavy whipping cream?
Heavy whipping cream is defined by 35% fat in most countries but in the United States we require 36% fat to qualify. Mathematically, it makes sense that if you start with 1 cup of heavy whipping cream that is about 33% fat that it would yield 1/3 cup fat when it separates from the milk leaving about 2/3 cup skim milk in the jar.
How to make butter with one ingredient!
To make 1/3 cup of butter, pour 1 cup of heavy whipping cream into a pint jar.
Simply shake the jar back and forth and up and down for about 15 minutes and you will have a ball o' butter and "buttermilk". I highly recommend turning on some music while you shake, shake, shake!
Yes, the popular Taylor Swift song Shake It Off is perfect. Or my favorite from the 80's is Shake It Up from The Cars. I have some hilarious videos of these sweet girls dancing around the kitchen shaking their butter. I joined them in a Conga Line dance but that didn't make it to video! ha
This buttermilk is not soured unless you leave it on the counter for hours like our great grandparents did. When the fresh cow's milk was left on the counter at room temperature so the cream would rise to the top, acid-producing bacteria was introduced and when the cream was churned, the milk that separated from the cream was what we think of today as slightly sour buttermilk. The buttermilk we buy from the store today is cultured which means the lactic acid bacteria is placed in the milk to ferment it which gives it the sour taste.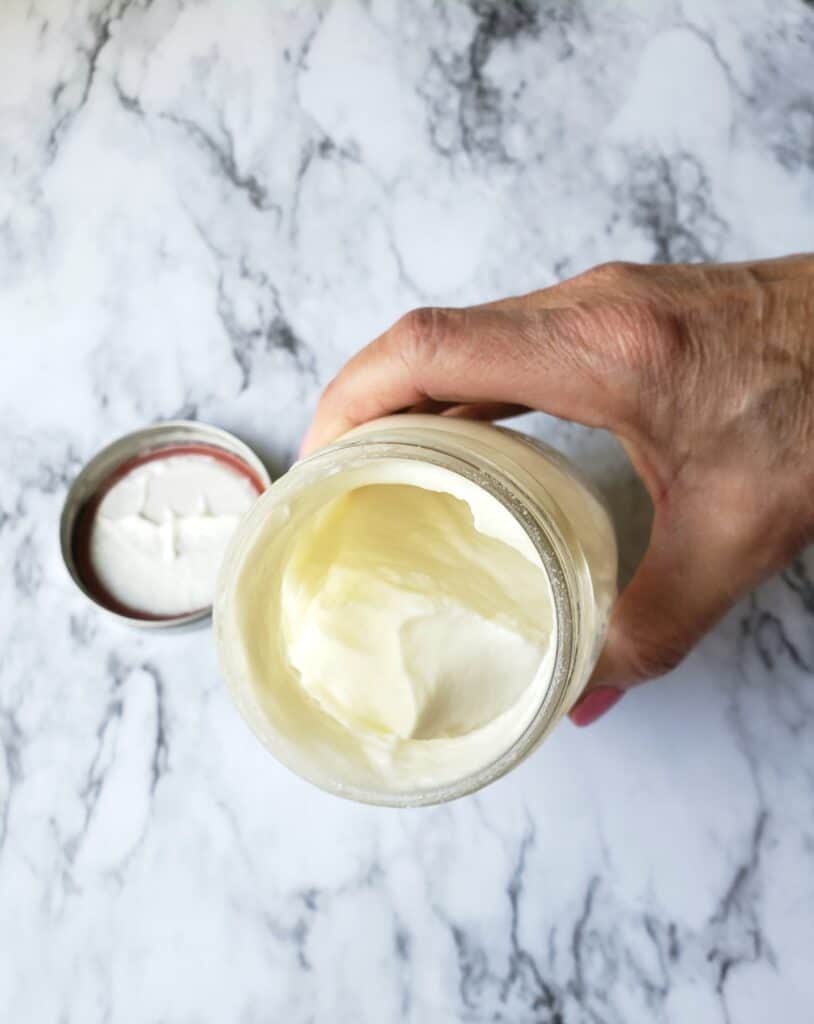 After 10 minutes of vigorous jar shaking, you will no longer be able to hear or feel the "sloshing" from the cream hitting the sides of the jar. Open the jar and you will see "whipped cream". Don't give up! It's easy to think nothing is happening but you will be surprised how quickly it will go from whipped cream to butter.
All this sloshing around in the jar is forcing the fat molecules to bump into each other and break the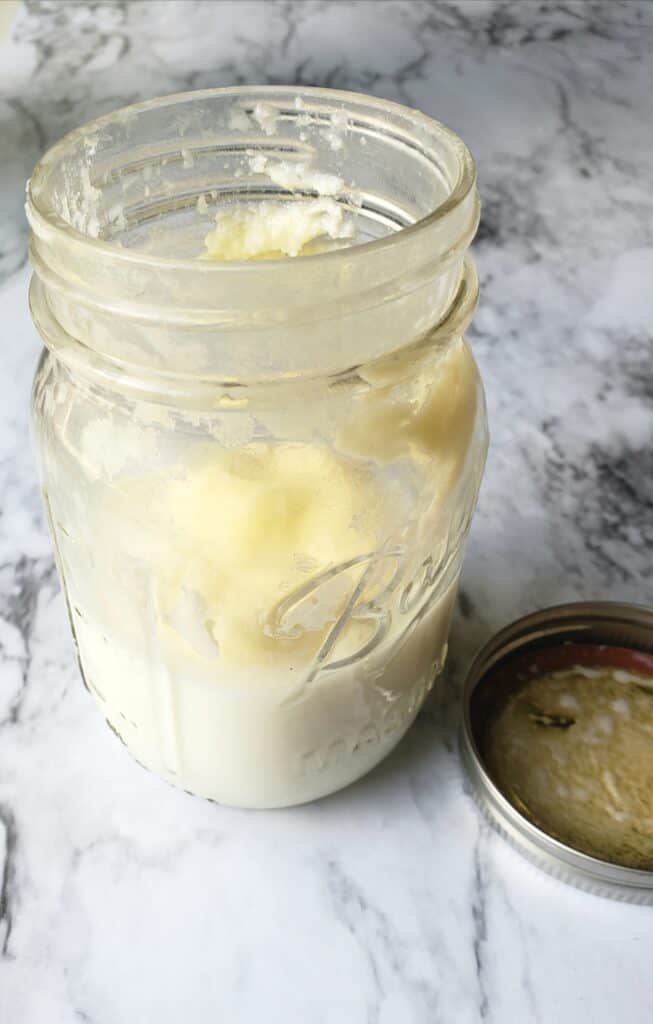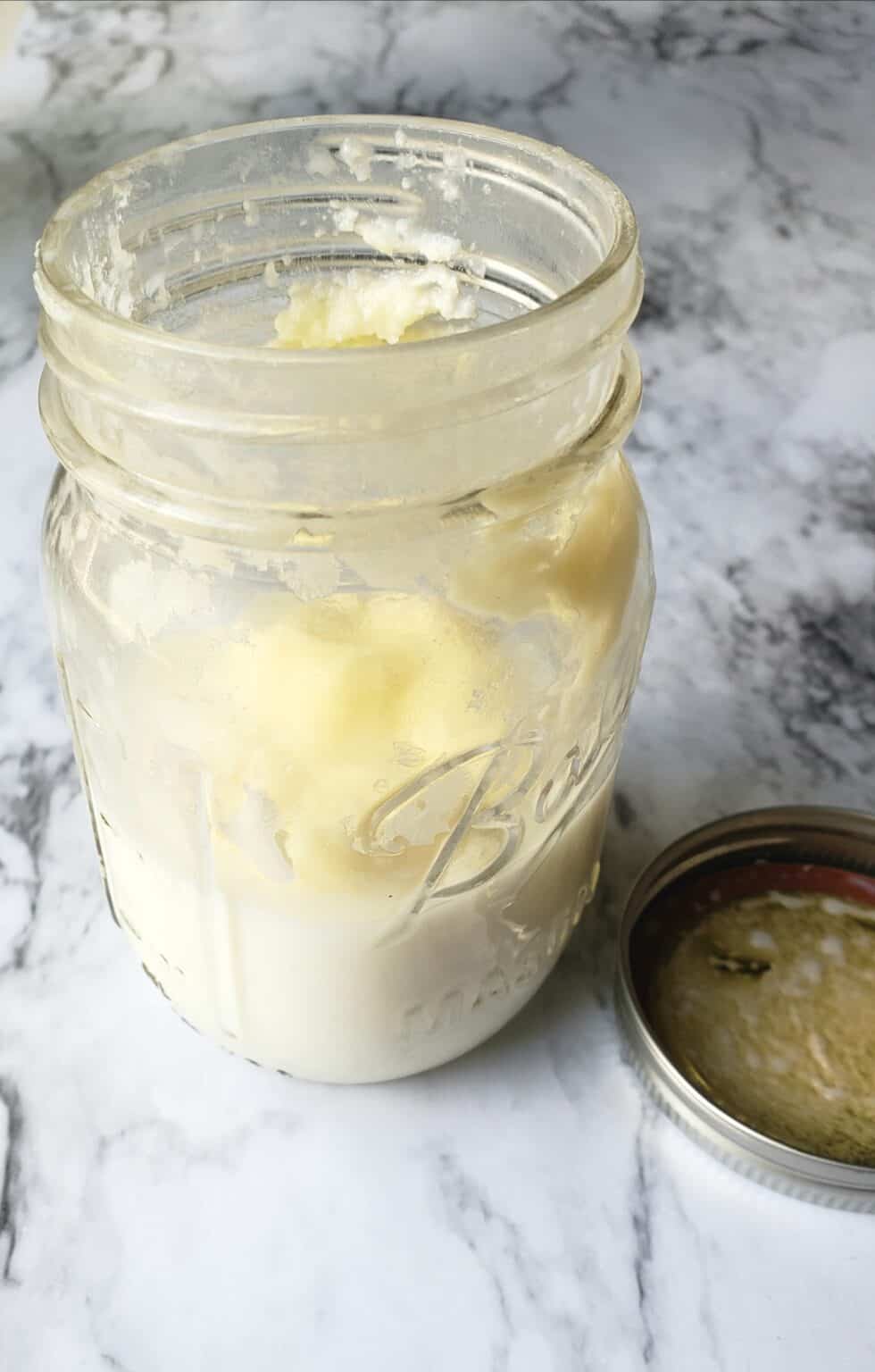 In about 5 more minutes, the sloshing will return and you should see through the glass jar the yellow ball of butter in the middle surrounded by milk. You can drink this milk and use it anyway milk is called for in a recipe. Keep in mind, it is not whole milk which is 4% fat. It will be closer to skim milk (1/2%) to 1% milk.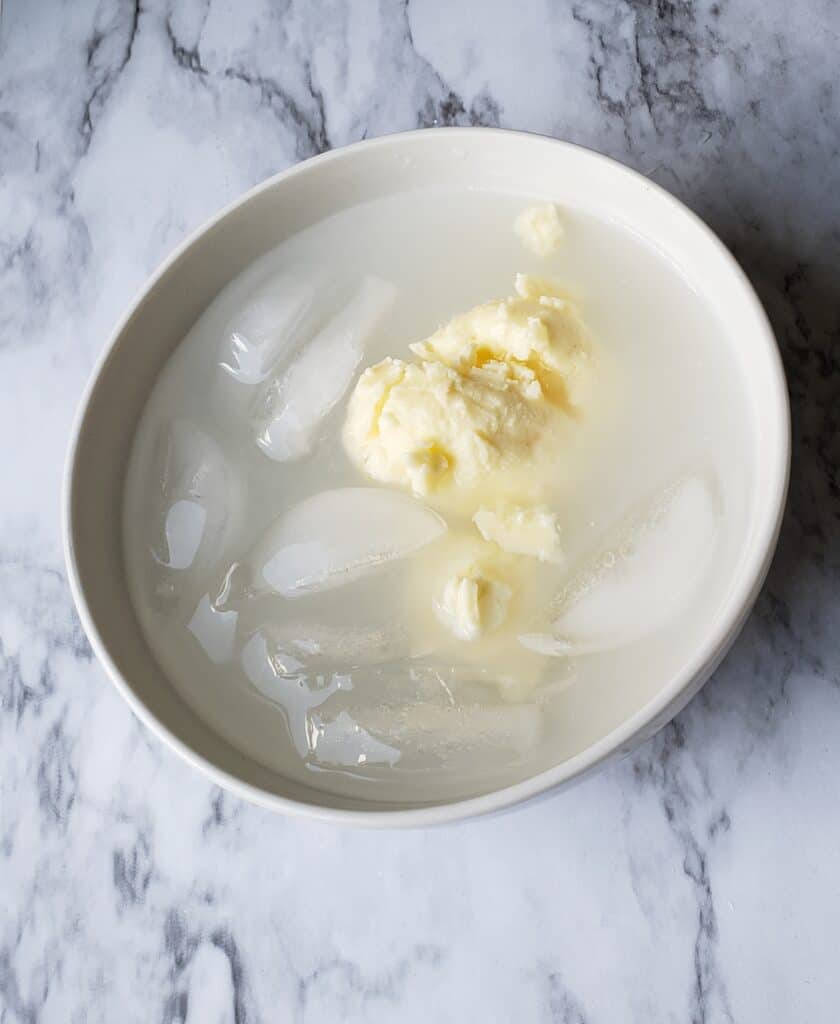 Rinse the clump of fresh butter in a bowl of ice water, squeezing out the milk with your fingers.
Change the water and do it again to make sure all the milk is out of the butter. Milk has sugar in it and over time, it will make the butter rancid.
Around my house, it's not really a problem because we eat it so quickly with my Strawberry Freezer Jam or Peach Freezer Marmalade. Using your fingers, "knead" in salt for salted butter. If you add the salt at the beginning, you will have salted milk, also.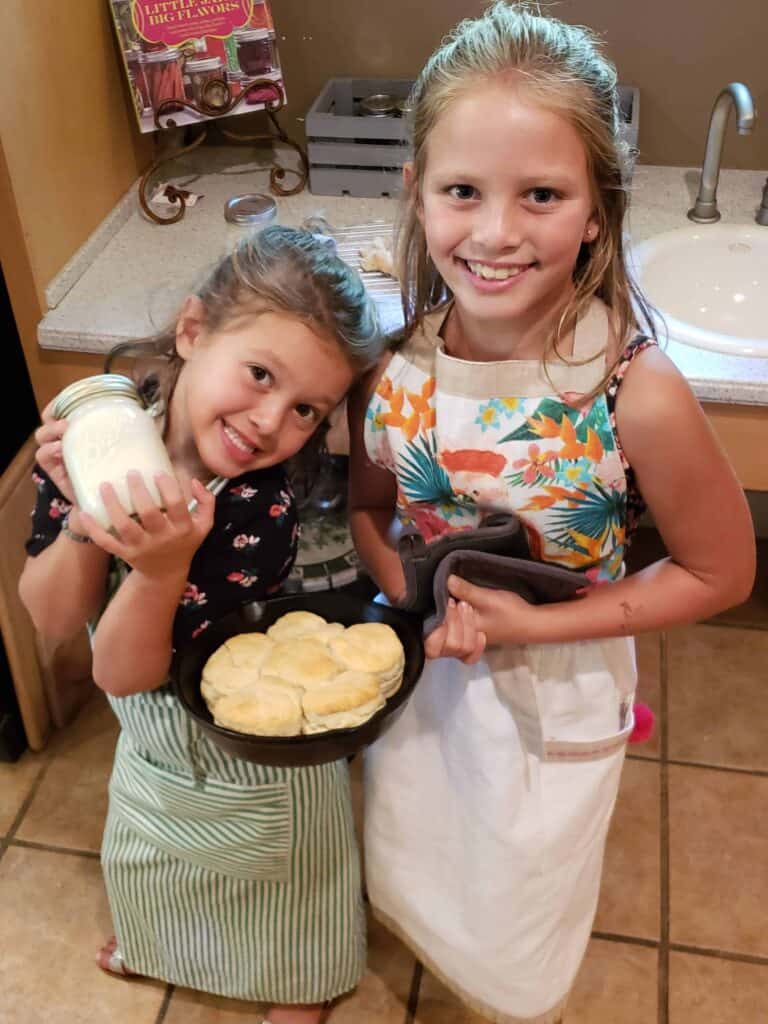 Here's the final product from our fun day in the kitchen having fun, eating homemade food, and learning math and science. It was a perfect day.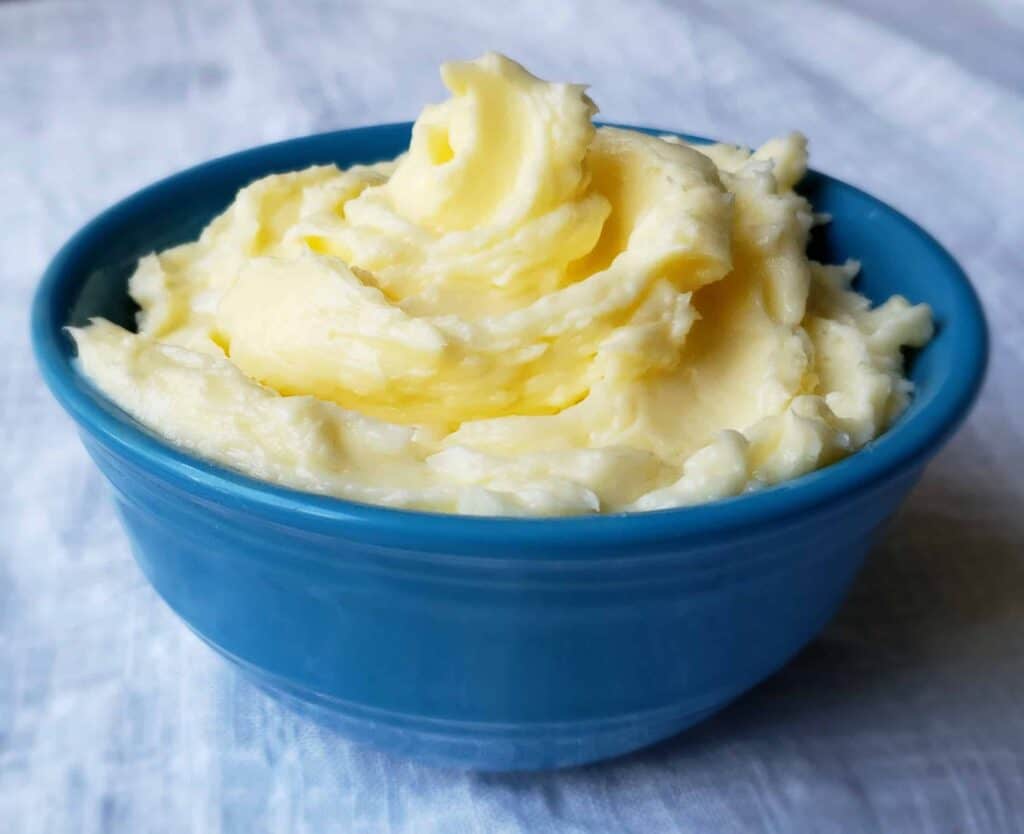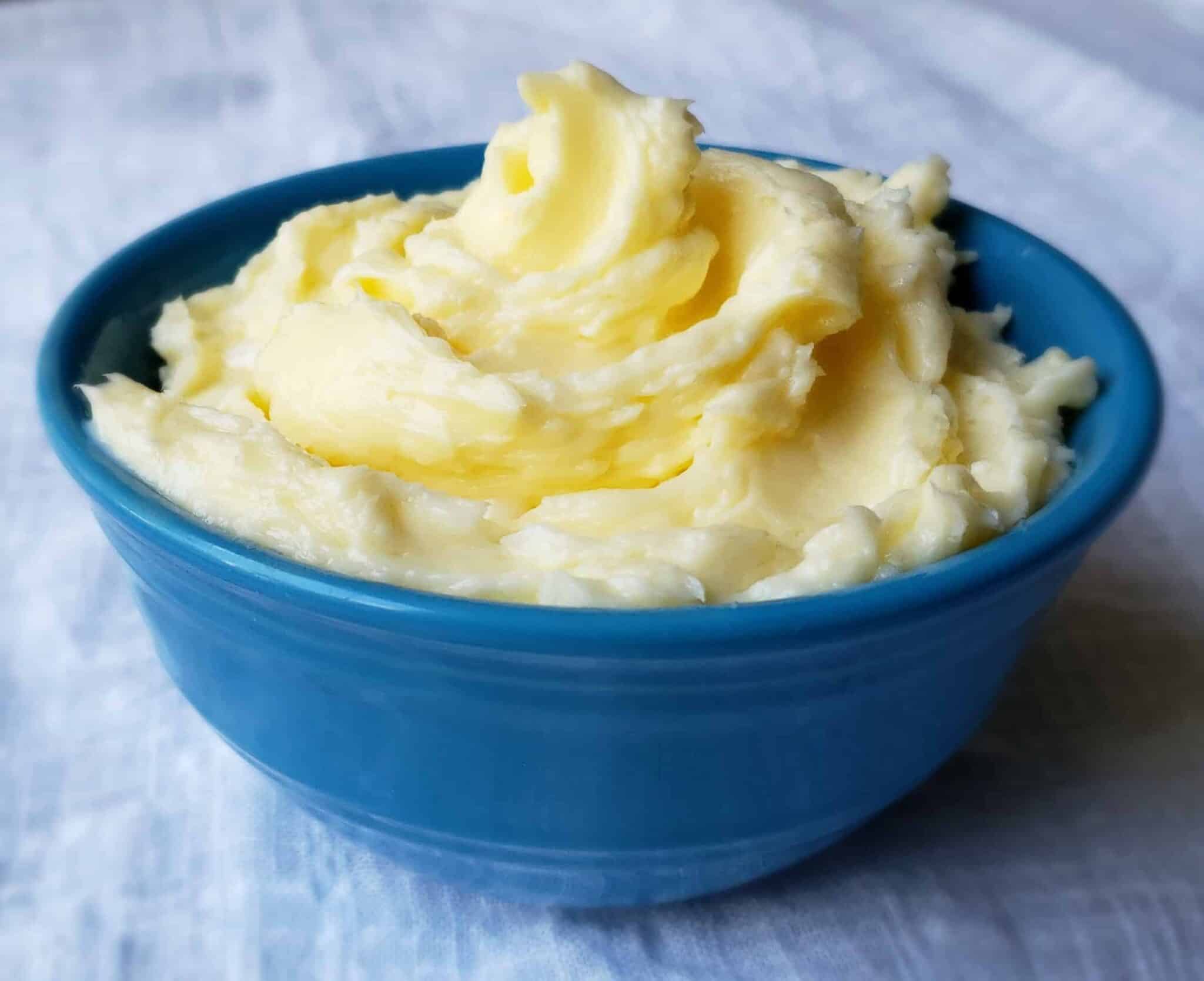 Other easy recipes to make with kids
2 Ingredient Biscuits from Scratch
Chocolate Covered Strawberries Disguised as Carrots
Fruity Marshmallow Cereal Treats with White Chocolate
Naturally Dyed Deviled Eggs and Easter Eggs
Be sure to follow me on Facebook, Instagram, Pinterest and Twitter . Don't leave before you send me your email address here so you don't miss a single post on my Southern shortcut recipes!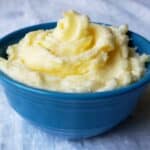 Print Recipe
Homemade Butter
Whether you want all natural ingredients in your cooking or want to teach your kids food science and where their food comes from, this is a great recipe and couldn't be easier! Just shake whipping cream in a jar until the butter solids separate from the milk and voila!-butter.
Ingredients
1

cups

heavy whipping cream

at least 35% fat

1/4

teaspoon

salt

(optional)
Instructions
Pour 1 cup heavy whipping cream and salt into a pint jar or a 2-cup container with a lid. Shake the jar back and forth or up and down for approximately 15 minutes.

At 10 minutes you will have whipped cream. At this point, you won't feel any "sloshing" back and forth in the jar. Don't give up! Continue to shake the jar and in a few minutes the fat will start to separate from the milk and the "sloshing" will return. At first, it will look like a curdled mess-that's progress!

At 15 to 16 minutes you should see a ball of butter in the middle of the jar. Remove the butter and place it in a bowl of ice water. Tap water is too warm and may actually melt the butter. Squeeze the butter in the ice water to remove the milk. Drain the water and repeat to make sure all the milk is removed. Milk has sugar in it which could cause bacteria to grow and reduce the amount of time it can stay fresh in the fridge which should be about one week.

For salted butter, knead in the salt at this point. If you add the salt at the beginning, you will also have salted milk at the end.

Pat the butter dry with a paper towel and place on a sheet of plastic wrap. Using the plastic wrap, shape it into a log, then roll it up into the plastic wrap for storage. I like to place the log into a zip-top bag to make sure it is air-tight.
Did you make this recipe?
If you love it, share it! Tag me on Instagram @gritsandgouda using #gritsandgouda Comment below before you go!