Naturally Dyed Easter Deviled Eggs are a colorful Southern side dish made with natural dyes from ingredients you already have on hand. Avoid the chemicals of commercial dyes and learn how to make green, pink, yellow, and blue deviled eggs. Serve these naturally dyed Easter eggs deviled or simply sliced open showing their vibrant colors.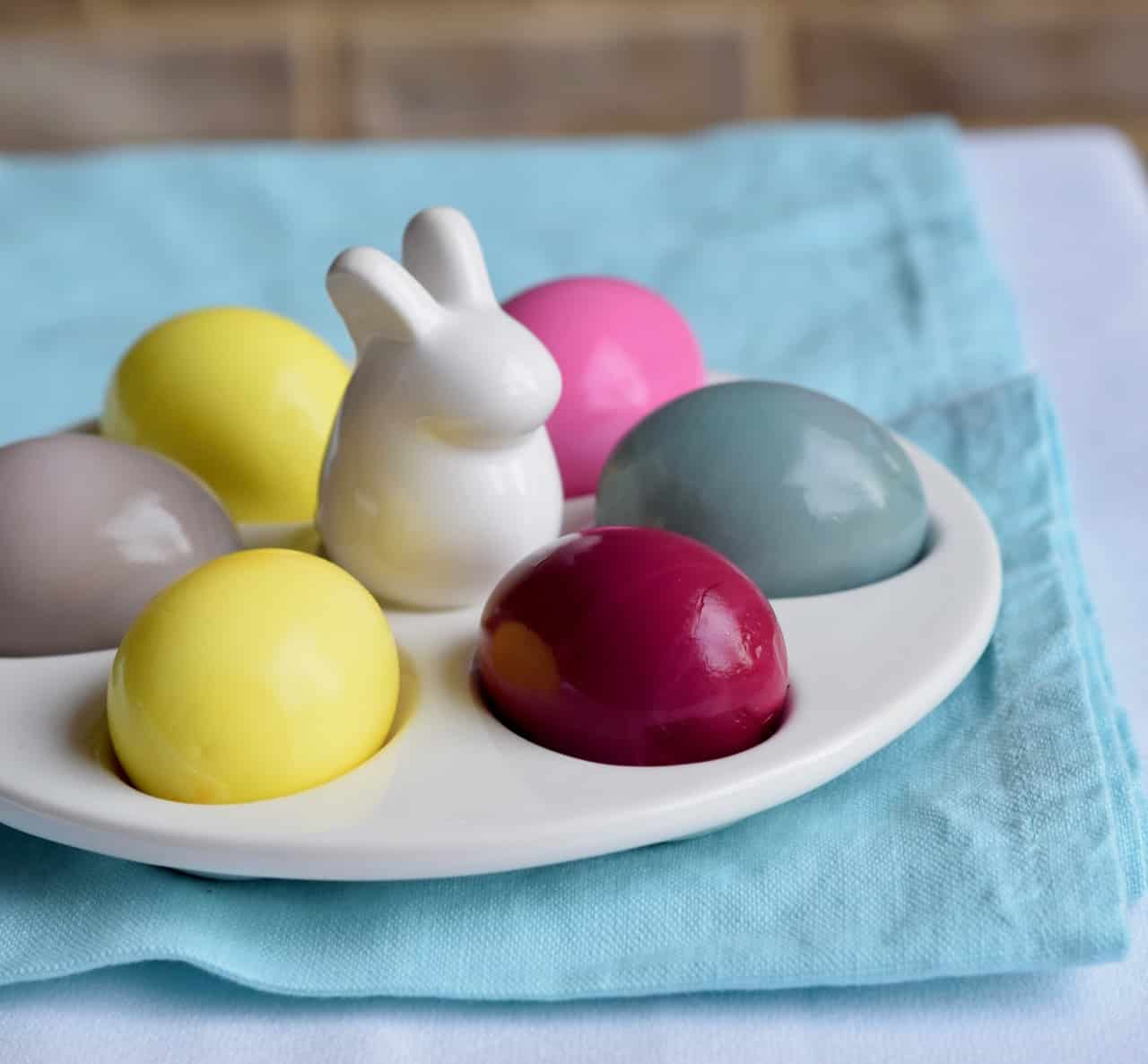 Are you having second thoughts about dying your Easter eggs this year in harmful chemical dyes? Me too! I have already done the work for you.
I experimented with what was already in my fridge and pantry to dye my eggs natural ingredients. Then I went as far as turning the vibrant colored eggs into Deviled Eggs. I saved money and my family's health!
Hippity Hoppity Easter's on its way! I wanted to add a little color to my deviled eggs this year for Easter but I didn't like the idea of dying them in commercial dyes since I was going to peel them first.
You know me, being the frugal gal I am, I didn't want to go buy a lot of groceries just for this experiment so I opened my fridge, freezer, and pantry doors and went treasure hunting.
For complete, detailed directions scroll down for the printable recipe.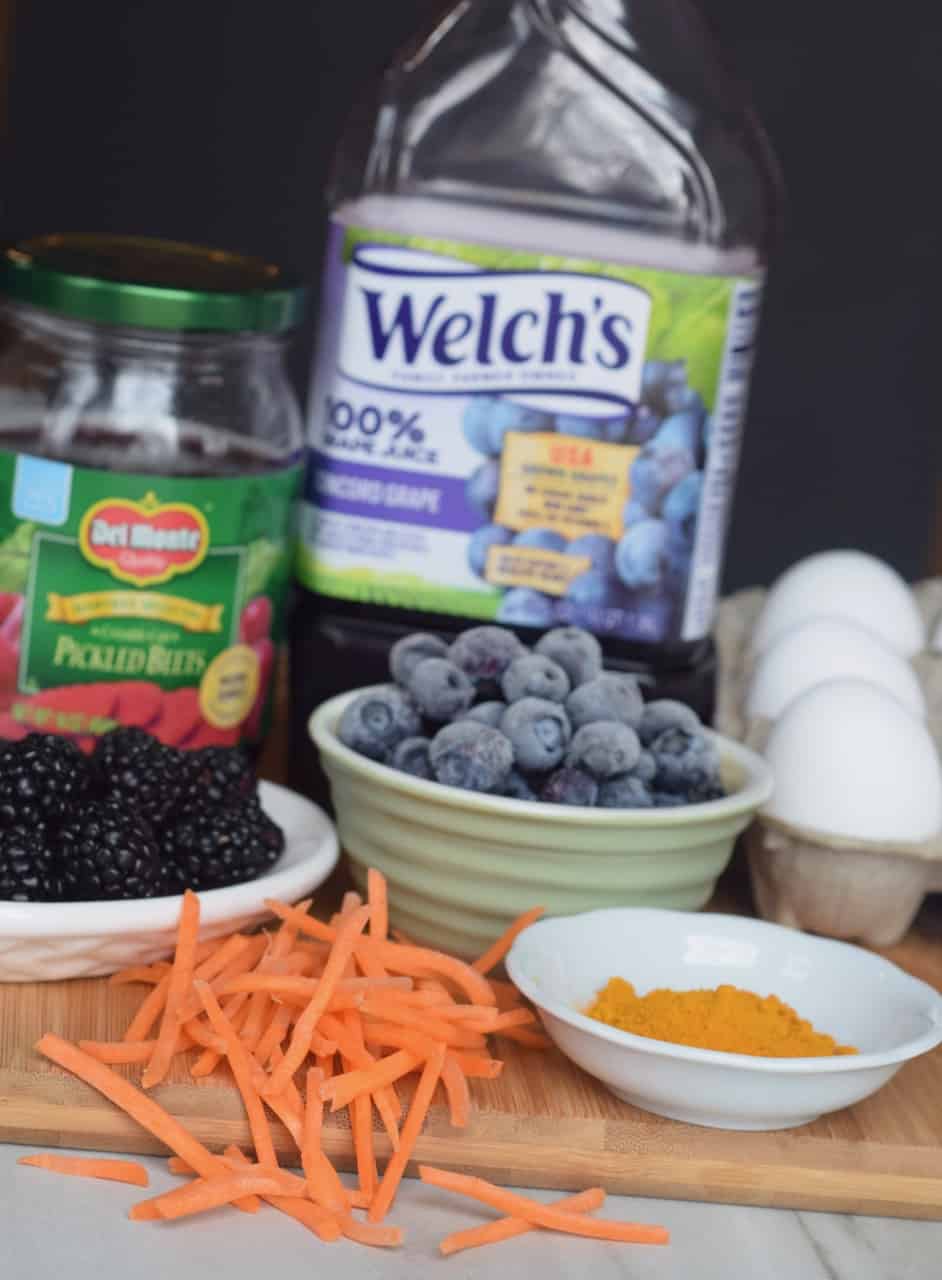 Natural dyes for Deviled Easter Eggs
Grape juice
Pickled beet juice (I'm the only one in my family that will eat them but I love them)
Fresh blackberries
Frozen blueberries
Matchstick carrots (Did not dye well. I don't recommend.)
Powdered turmeric.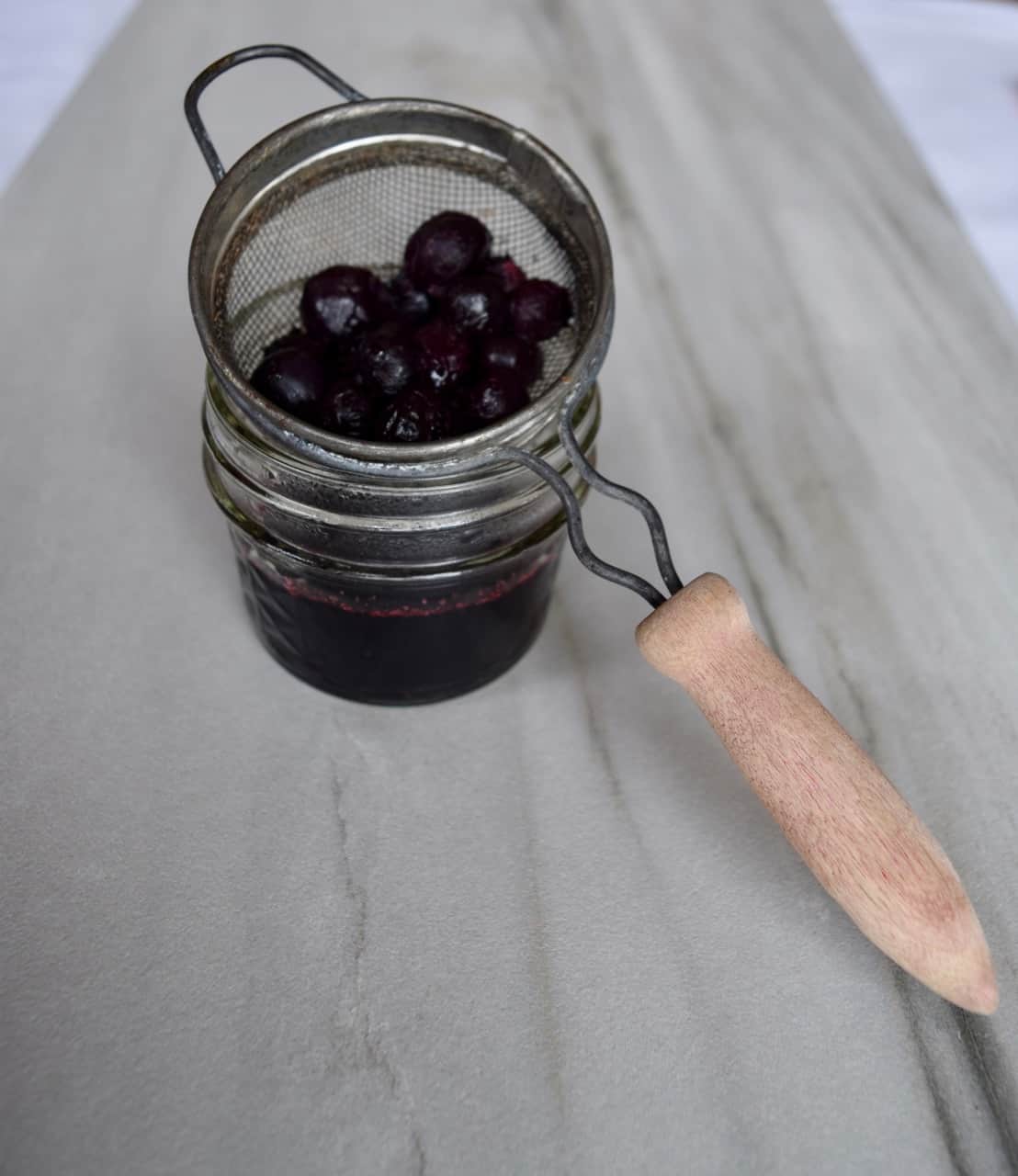 How to dye eggs with natural food dyes
Put the blueberries, blackberries, and turmeric in three separate small pans
Add 1 1/2 cups water to the pans and brought the mixture to a boil. I turned off the heat and let the pans stand for 10 minutes.
Strain the berries through a metal sieve. Don't throw out the berries! Save them for your breakfast cereal or top your ice cream with them. I strained the turmeric mixture with a very fine mesh sieve.
No prep for bottled grape juice.
The carrots were a bust. Cook them in water for about 30 minutes and unlike the berries, the water stayed practically the same color. I just added the carrots to the chicken and orzo soup I made for dinner.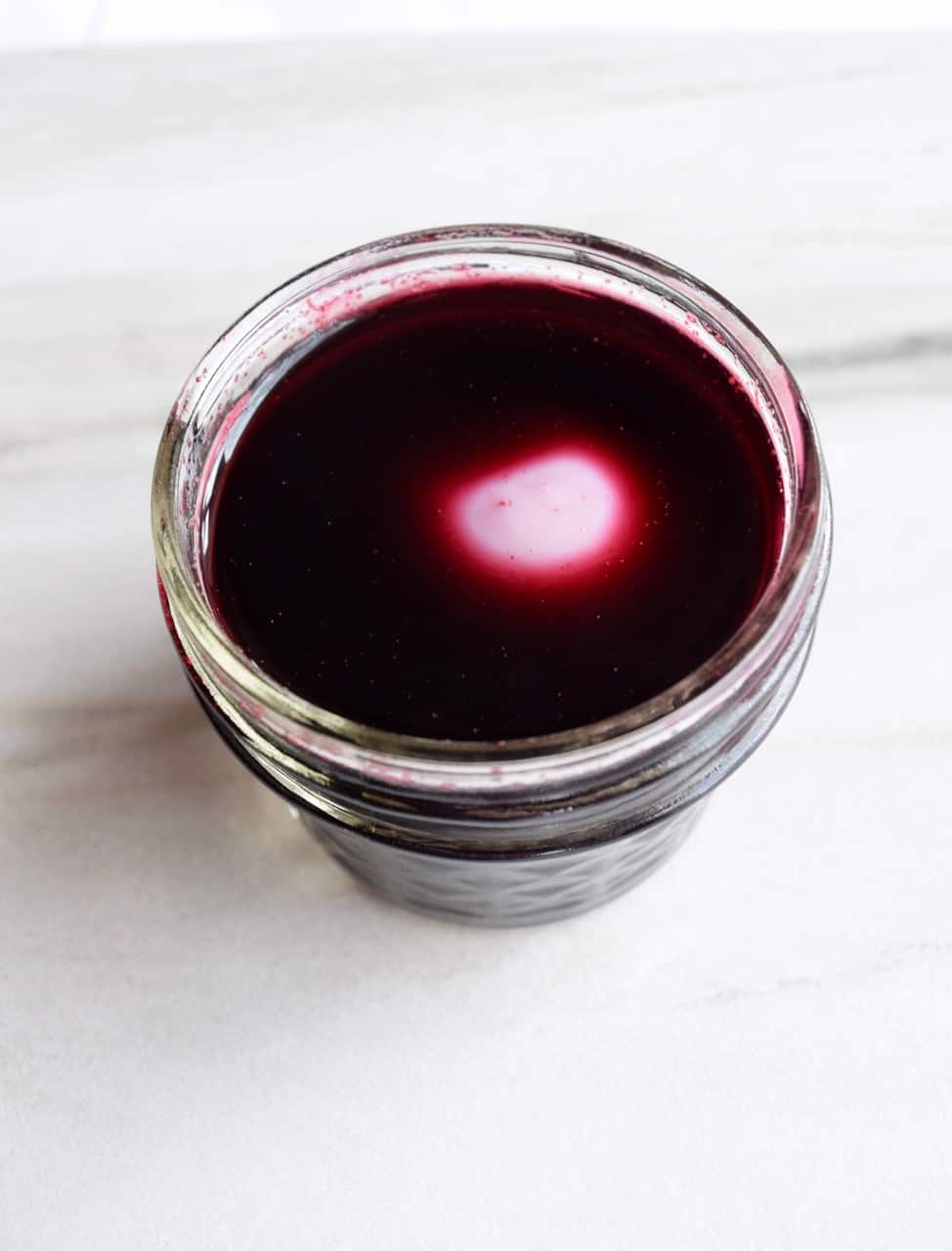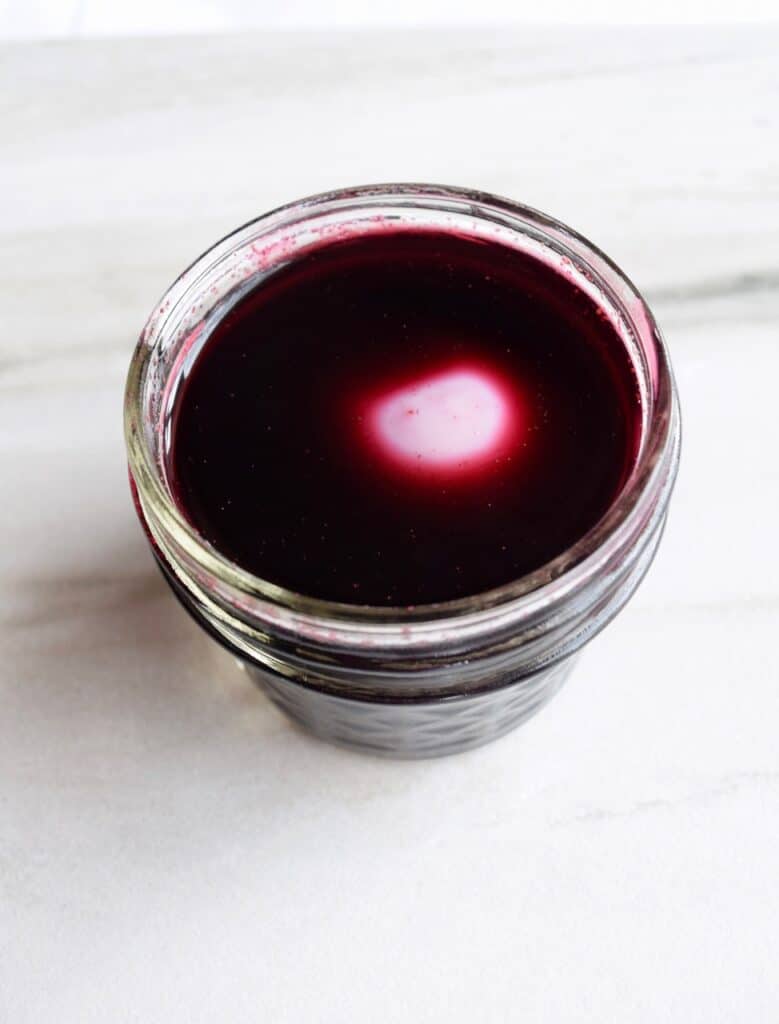 How to hard cook eggs
Hard cooked eggs in the Instant Pot
I cooked these eggs in the Instant Pot using the 5-5-5 method. This is my favorite method because the shells just roll off. Seriously!
Here's my step by step directions on How to Make Hard Boiled Eggs in the Instant pot.
If your pressure cooker or Instant Pot didn't come with a trivet, you will need one for hard cooked eggs. You can order one here. You don't have to purchase one that stacks eggs. I simply stack an entire dozen eggs on top of each other.
Hard cooked eggs on the stovetop
You can also cook them on the stovetop.
Place cold eggs in a large saucepan.
Add cold water, covering about 1 inch of the eggs. Bring to a boil, uncovered, over medium heat.
When the water is boiling, remove from the heat and cover the pan with a lid. Set a timer for 10 minutes.
Drain the water and put the eggs in a large bowl of ice water. After the eggs are completely cool, you can peel them.
How to dye naturally... that sounded awkward...
Here's how the rest of the process goes.
Place 1 cup of strained berry juice, grape juice, and strained turmeric liquid in small fruit jars or cups.
Add 1 to 2 teaspoons vinegar and gently drop in peeled, boiled eggs. The vinegar helps the egg absorb the color.
The pickled beet juice doesn't need any vinegar because it already has it in it.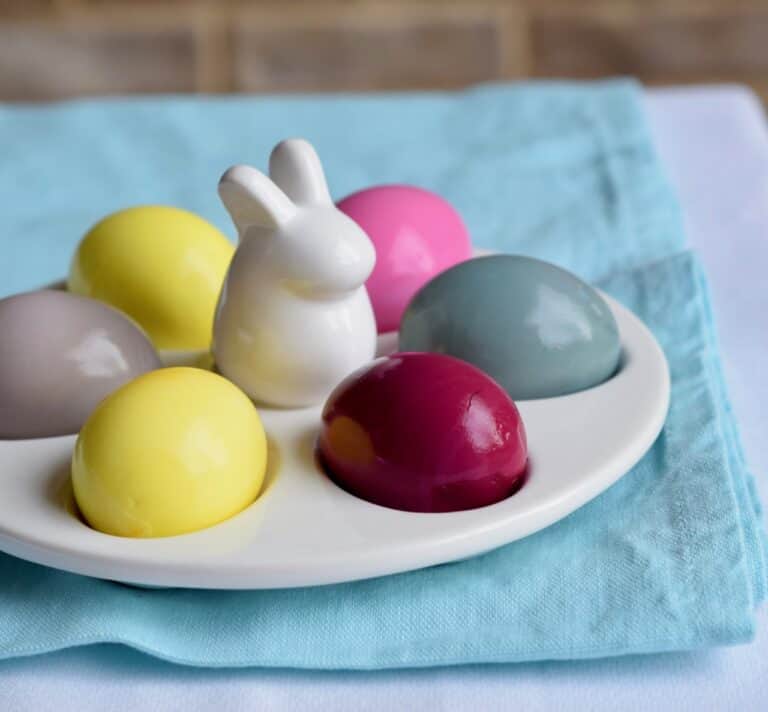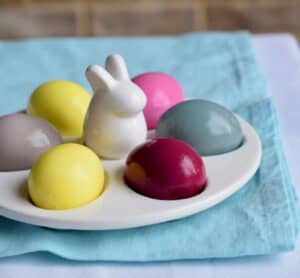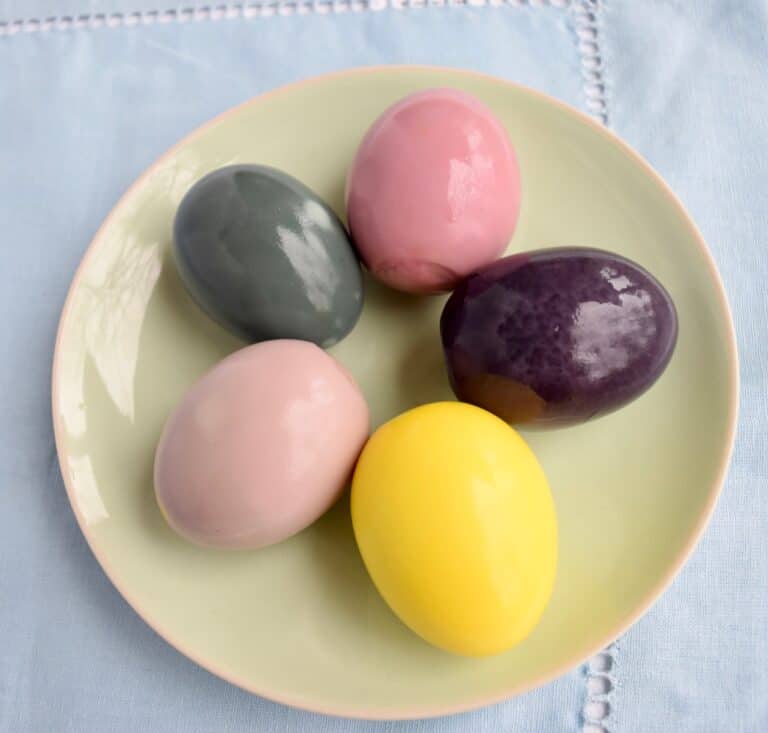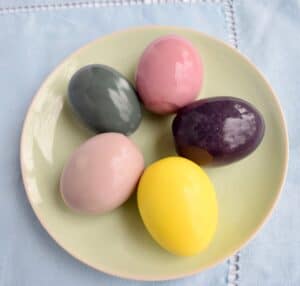 As you can see, the colors vary depending on how long you leave the eggs in the liquid.
Vibrant, ruby color egg in the left picture was steeped in pickled beet juice overnight (basically pickled eggs).
Lighter shades of pink and mauve were left in pickled beet juice for 10 to 15 minutes.
Lavender egg on the far left in the the left picture came from blackberries
Blue egg on the right of the left picture and at 10:00 o'clock on the right picture came from blueberries.
Jewel-toned purple egg came from the grape juice.
All three yellow eggs came from the turmeric, dyed different lengths of time.
The group of eggs in the right picture reminds me of the Comfort Colors t shirt colors. If you twist my arm, my favorite would have to be the pickled beet egg steeped overnight partly because I LOVE pickled beets and partly because it's a ruby egg!
How to serve naturally dyed eggs.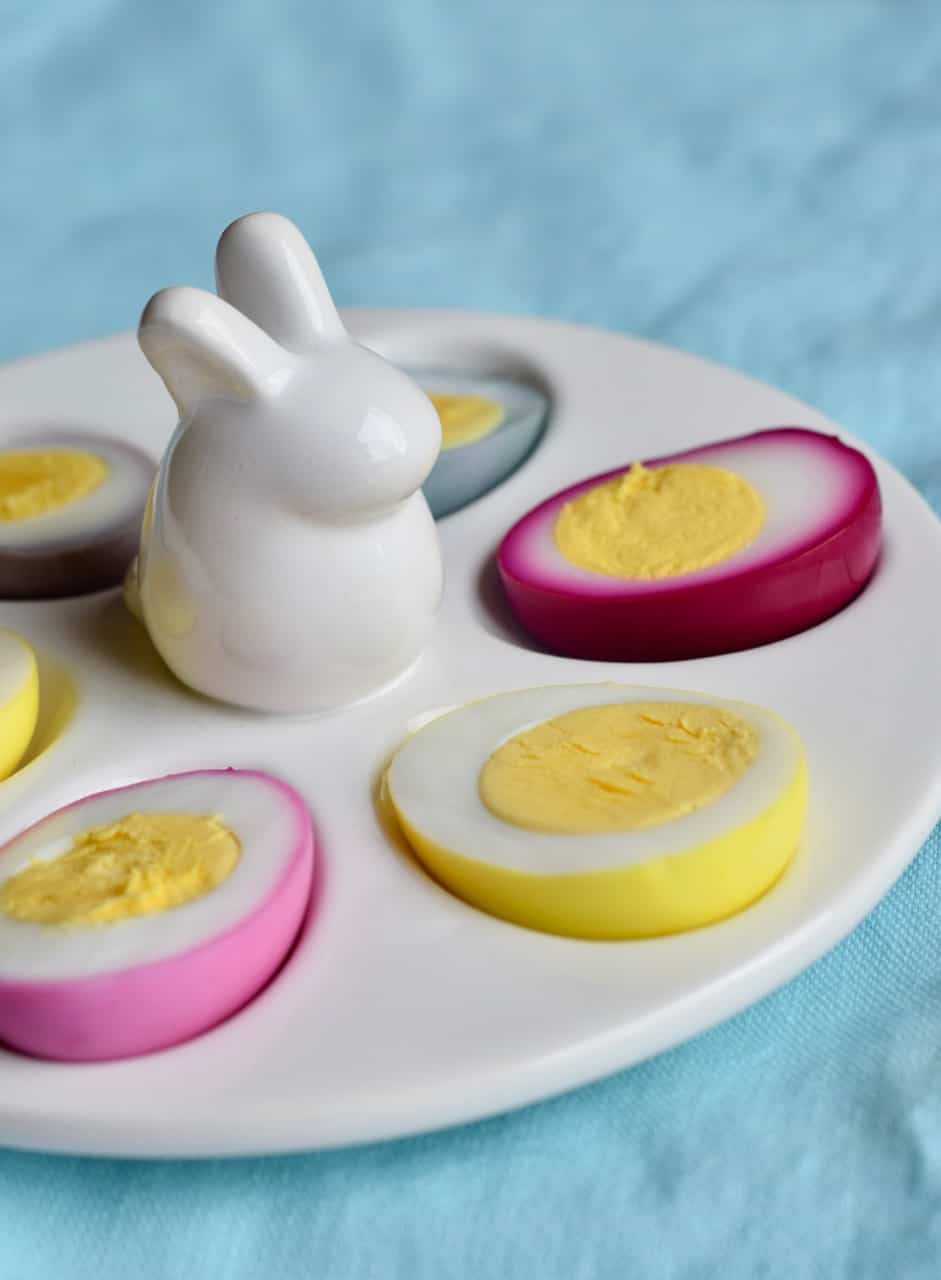 It was so hard to pick a favorite color because its just so cool to see what beautiful natural colors came from things I had on hand. Which color is your favorite?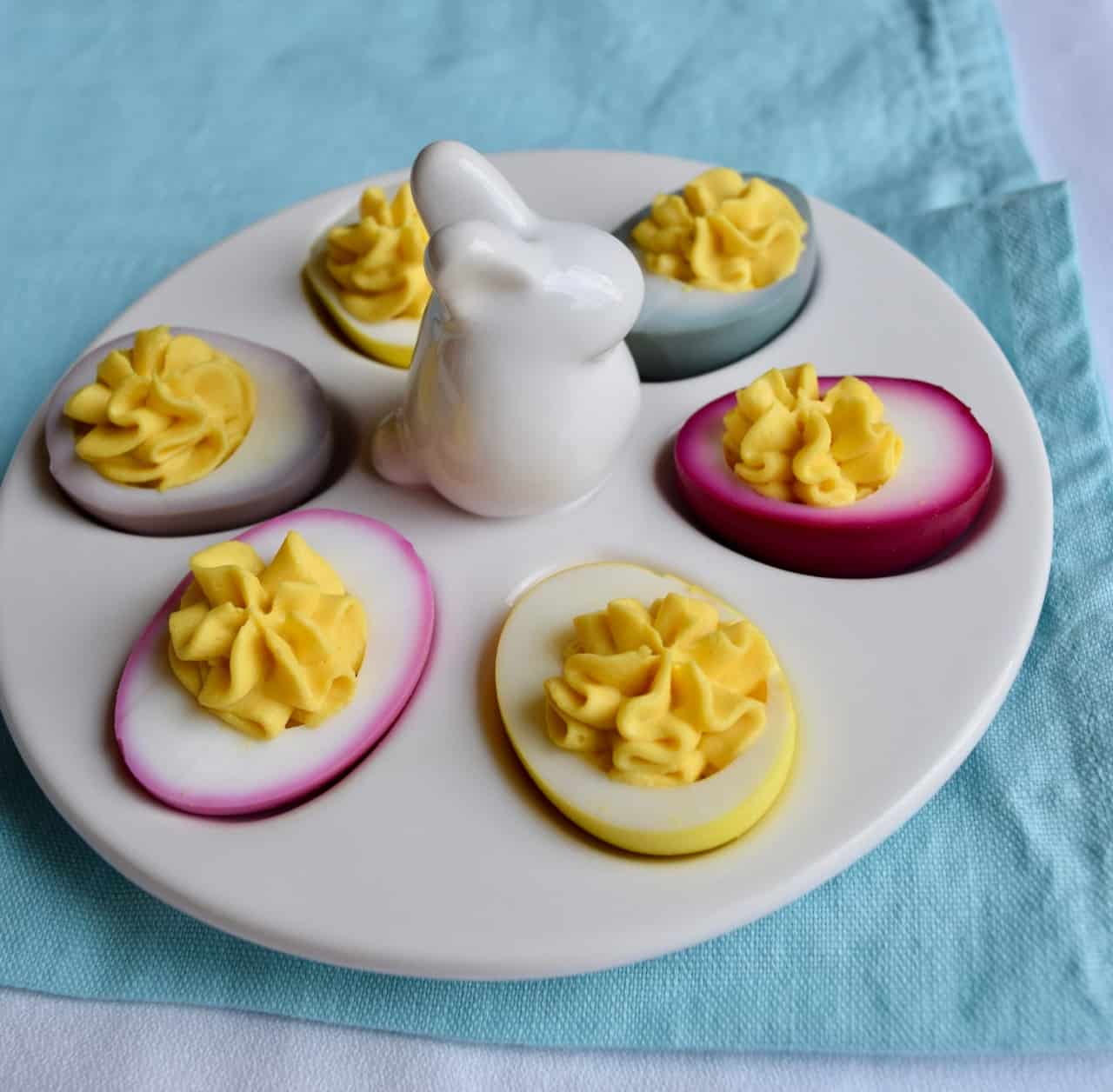 You can serve these eggs simply sliced and salted or go all the way and make deviled eggs. My basic recipe is super simple with mayo, Heinz yellow mustard, and salt.
Normally, I love to sprinkle deviled eggs with crumbled bacon, paprika, parsley, or freshly ground black pepper but the colorful eggs are the stars of the show.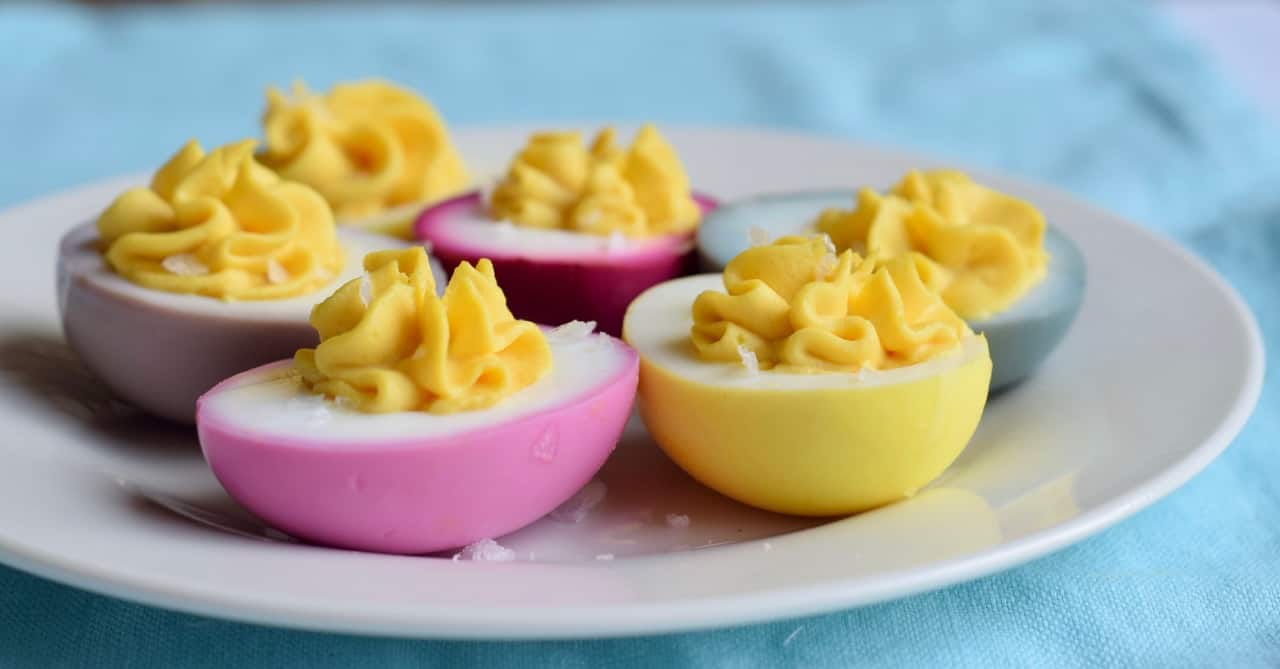 I couldn't resist sprinkling a little Maldon flaked salt on them! I'd love to hear from you if you decide to dye eggs naturally and what colors of rainbow you came up with. What's in your fridge?
Follow me on Facebook, Instagram, and Pinterest. Be social and share, y'all! Don't forget to sign up with your email so you don't miss a single post on my Southern shortcut recipes!
If you make this recipe I'd love to see it! Tag me on social media with #gritsandgouda or @gritsandgouda. Leave a comment below the printable recipe if you have questions or tell me how you liked the recipe. Don't forget to rate it 5 stars if you love it!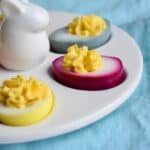 Print Recipe
Naturally Dyed Deviled Easter Eggs
Naturally Dyed EAster Deviled Eggs are a colorful Southern side dish made with natural dyes from ingredients you already have on hand. Avoid the chemicals of commercial dyes and learn how to make green, pink, yellow, and blue deviled eggs. Serve these naturally dyed Easter eggs deviled or simply sliced open showing their vibrant colors.
Ingredients
6

large

eggs

1

cup

blackberries

fresh or frozen

1

cup

blueberries

fresh or frozen

1

tablespoon

ground turmeric

1

cup

grape juice

1

cup

pickled beet juice

4

teaspoons

vinegar
Filling
1/4

cup

mayonnaise

1 1/2

teaspoons

yellow mustard

1/8

teaspoon

salt
Instructions
1. Cook eggs to make hard cooked eggs using Instant Pot or boiling in pan on stovetop. I used the Instant Pot 5-5-5 method. Place 1 cup water in a 6-quart Instant Pot with trivet in the bottom. Arrange the eggs on the trivet. Close the lid and push the pressure valve to Sealing. Cook at high pressure for 5 minutes and let the pressure release naturally for 5 minutes then push the pressure valve to Venting.

2. Plunge the eggs into cold (I add a little ice) water. The shells should peel off easily after gently cracking the ends of the eggs.

3. Meanwhile, add 1 1/2 cups water to three small pans and add blackberries, blueberries and turmeric to each pan. Bring them to a boil, then remove from the heat and let them stand 10 minutes.

4. Strain the blueberries and black berries into a small fruit jar or cup with a fine metal sieve or strainer. Strain the turmeric with a very fine mesh sieve into a fruit jar or cup. Let liquid cool to room termperature

5. Pour grape juice and pickled beet juice in fruit jars or cups. Add vinegar to all the cups except pickled beet juice. It already has vinegar in it. Vinegar helps the egg absorb the color.

6. Gently lower the eggs into the cups. Leave the eggs in the cups 10 to 15 minutes or until desired color is achieved. For vibrant, darker colors leave them in overnight but be sure and put in the refrigerator.

7. Remove eggs from the cups with a spoon and pat dry on paper towels.
Filling
1. Slice the eggs in half lengthwise with a knife and scoop out yolks in a medium bowl. Mash the yolks with a fork or a potato masher. Add mayonnaise, mustard, and salt. I use my Kitchen Aid hand mixer at this point to mix it all together because I can't ever get all the lumps out with just a fork.

2. Spoon the filling into a zip-top bag or pastry bag fitted with a large star tip. I often just snip the end of the bag with no tip and just pipe it onto the eggs straight from the bag. You can also just spoon the filling into the eggs.
Notes
Sprinkle with flaked salt, pepper, paprika, parsley or just leave them plain and colorful!
Nutrition
Serving:
1
g
|
Calories:
72
kcal
Did you make this recipe?
If you love it, share it! Tag me on Instagram @gritsandgouda using #gritsandgouda Comment below before you go!