Fruity Pebbles Crispy Treat Bars topped with white chocolate and made in the microwave. Colorful, fruit-flavored rice cereal adds a little rainbow color to the "oldie but goody" Rice Krispies Treats we know and love. Then, I gild the lily by topping them with white chocolate!
Perfect for Easter, a Spring shower or a summer confetti treat. Bonus: These easy sweet snacks are gluten-free, potentially dairy-free, and only 4 ingredients!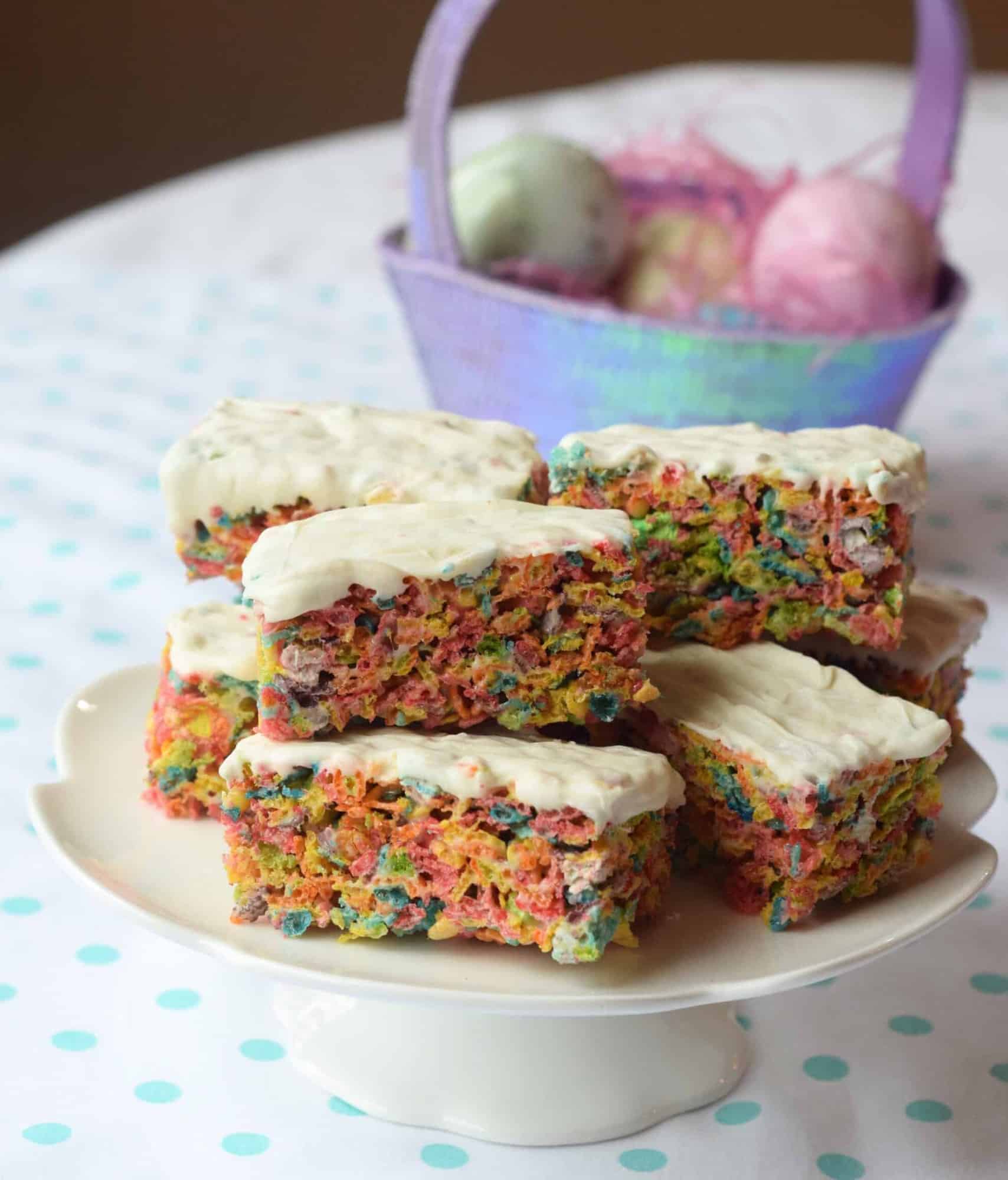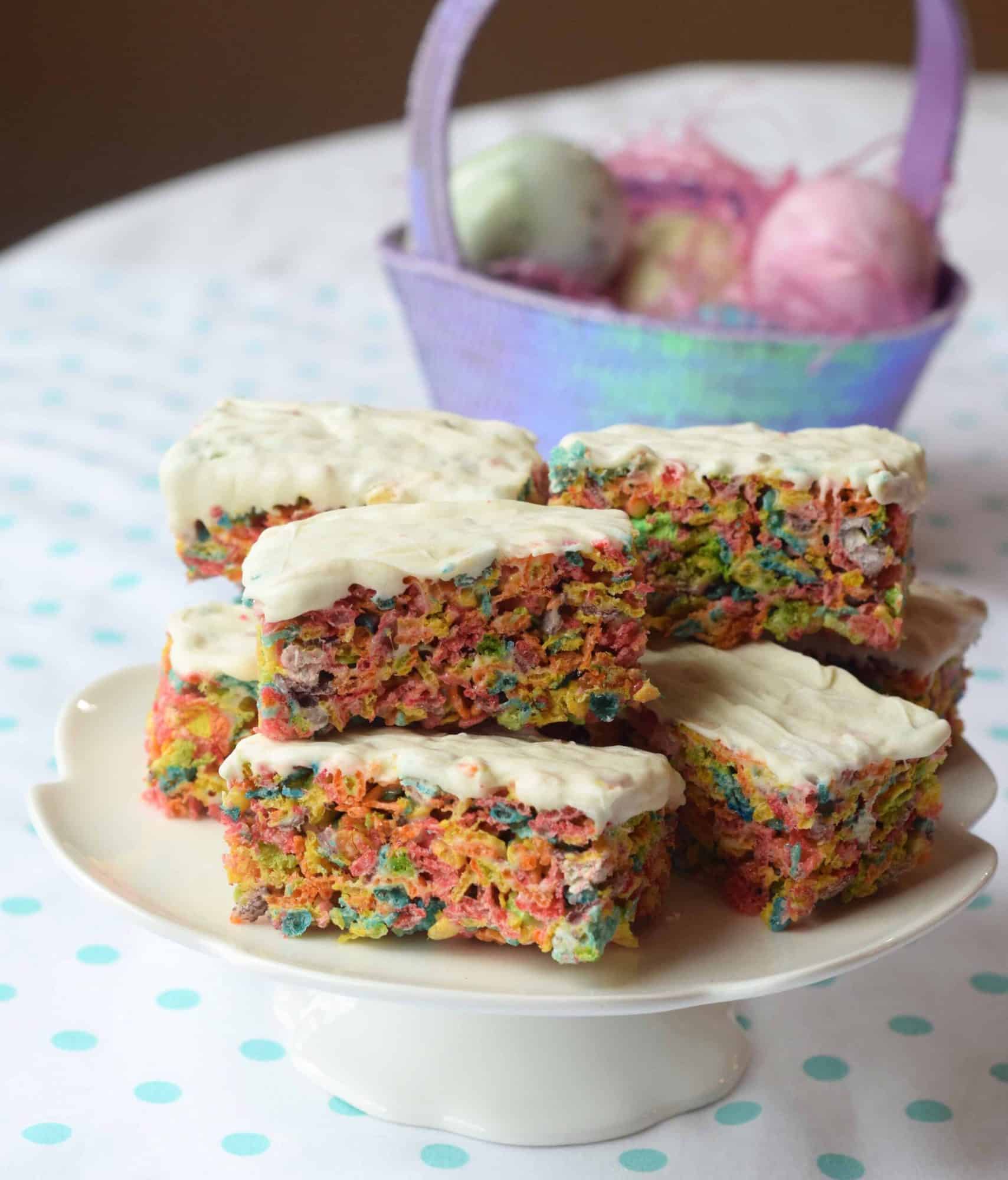 Just in time for Easter or a special snack to send in your child's school lunchbox. I basically just substitute fruit-flavored rice cereal for my Rice Krispies cereal. But I make mine in the microwave. It's so easy!
You probably have the recipe clipped in your recipe file somewhere but I've made it easy for you and typed it up for you at the end of this post.
What is the shortcut?
It's made in the microwave instead of the stovetop! In my opinion, that makes them the BEST recipe for fruity Rice Krispie Treats because it makes it so easy!
Can I make this on the stovetop instead of the microwave?
My recipe uses the microwave for even quicker results but you can easily melt the butter and marshmallow in a large pot over medium heat and stir in the cereal.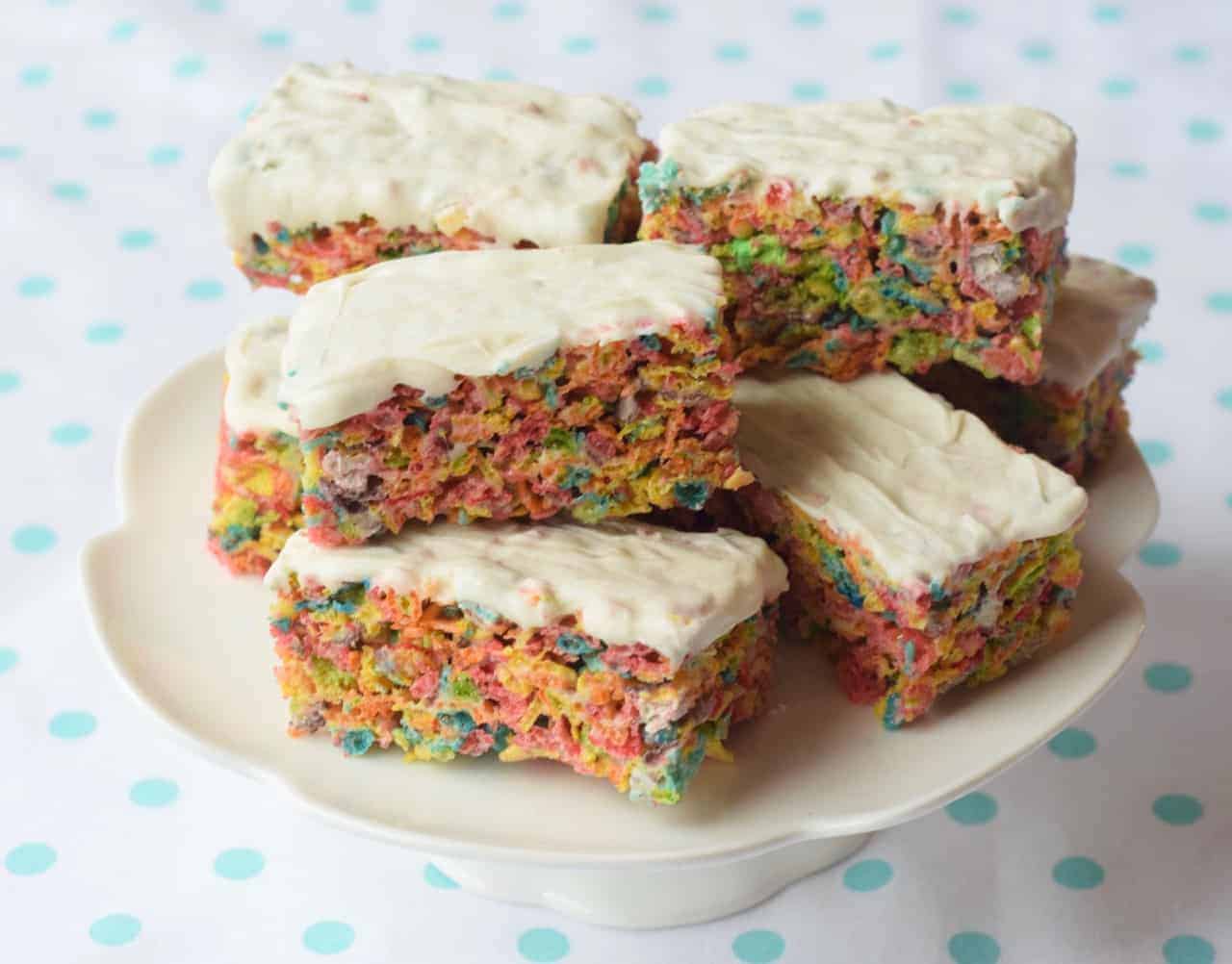 To "gild the lily", melt white chocolate chips or Wilton white candy melts in the microwave and spread over the tops of the confetti-looking bars.
Can I make them with other flavors of cereal?
Yes! These chewy, crispy bars are have all the colors of the rainbow. My box of Fruity Pebbles actually had those crunchy marshmallows in them like Lucky Charms which. Lucky Charms would be fun cereal bars for St. Patrick's Day.
The next time Cocoa Pebbles are on sale, I'll make chocolate marshmallow treats and coat them in melted dark chocolate. Yum!
Are these crispy rice cereal bars gluten-free?
This recipe is potentially gluten-free! Fruity Pebbles has announced their product is now gluten-free.
Some marshmallows have a starch coating on them that are not gluten-free. Click here for a list of gluten-free marshmallows. Be sure to check your cereal box to make sure your cereal says gluten-free if that is important to your family.

Follow me on Facebook, Instagram, and Pinterest. Be social and share, y'all! Don't forget to sign up with your email so you don't miss a single post on my Southern shortcut recipes!
If you make this recipe I'd love to see it! Tag me on social media with #gritsandgouda or @gritsandgouda. Leave a comment below the printable recipe if you have questions or tell me how you liked the recipe. Don't forget to rate it 5 stars if you love it!
Pin for later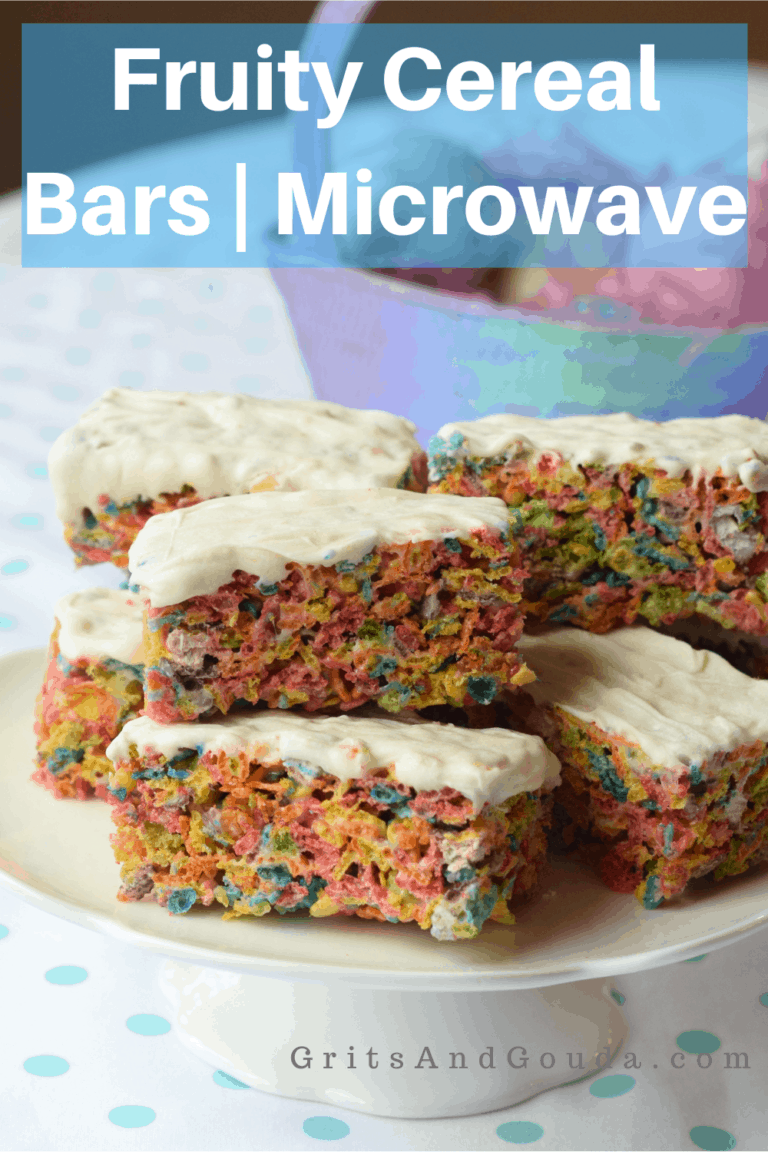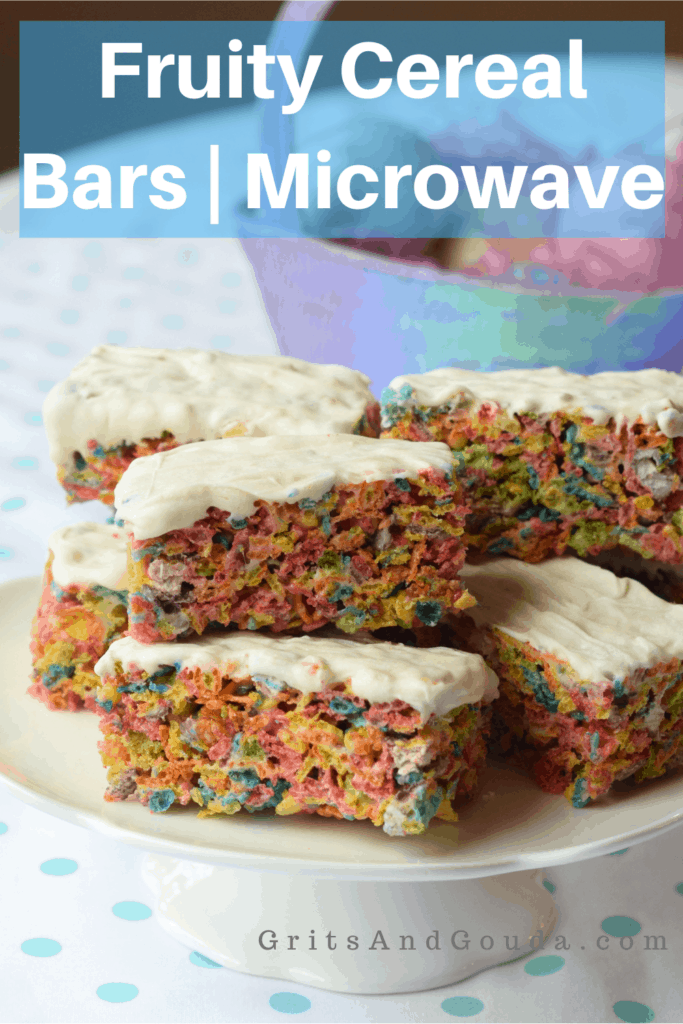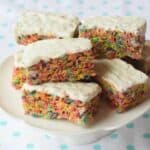 Print Recipe
Fruity Pebbles Crispy Treats
These Fruity Marshmallow Cereal Treats are a colorful twist to the oldie but goodie Rice Krispy Treats. To gild the lily, I topped them with melted white chocolate but they are perfect even without it!
Ingredients
1/4

cup

salted butter (half of 1 stick)

(coconut oil, ghee can be used or unsalted butter)

1

10-oz package

mini marshmallows

(or 6 cups)

5

cups

fruit-flavored rice cereal (Fruity Pebbles)

2

cups

white chocolate chips or white candy melts

(1 (11-oz) pkg) chips
Instructions
In a large microwave-safe glass bowl, add the butter and microwave, uncovered, on HIGH 30 seconds to melt the butter.

Grease or coat with cooking spray a 13x9-inch baking dish or pan.

Add marshmallows to melted butter and stir well. Microwave, uncovered, 60 seconds. Stir well just until the marshmallows melt.

Add the rice cereal to the bowl of marshmallow mixture. Quickly stir just until all cereal is coated. Quickly spoon mixture into the greased dish and slightly press down the top of the mixture. You don't want to mash too hard so your bars will be light and fluffy. Let stand 20 minutes or until the bars are firm enough to cut.

In a medium-size microwave-safe glass bowl, add the white chocolate chips or candy melts. Microwave on HIGH 30 seconds. Stir well. They will not be completely melted. Microwave an additional 30 seconds. Stir until chips are melted. Microwave an additional 15 seconds, if needed.

Cut the cereal bars into 24 bars (6x4). Spread the melted white chocolate over the top of each bar. Let dry 10 minutes or until firm.
Notes
Fruity Pebbles are Gluten Free!
Some marshmallows are coated with a starch that is not gluten free. See list of gluten free marshmallows in the blog post.
Nutrition
Did you make this recipe?
If you love it, share it! Tag me on Instagram @gritsandgouda using #gritsandgouda Comment below before you go!