You know its summer in the South when there's Easy Fresh Green Beans with Bacon cooking on the stove. Straight from the garden is hands down the best way to serve them up this Southern-style vegetable. If you don't have a garden, support your local farmers market or barter with a friend with a green thumb.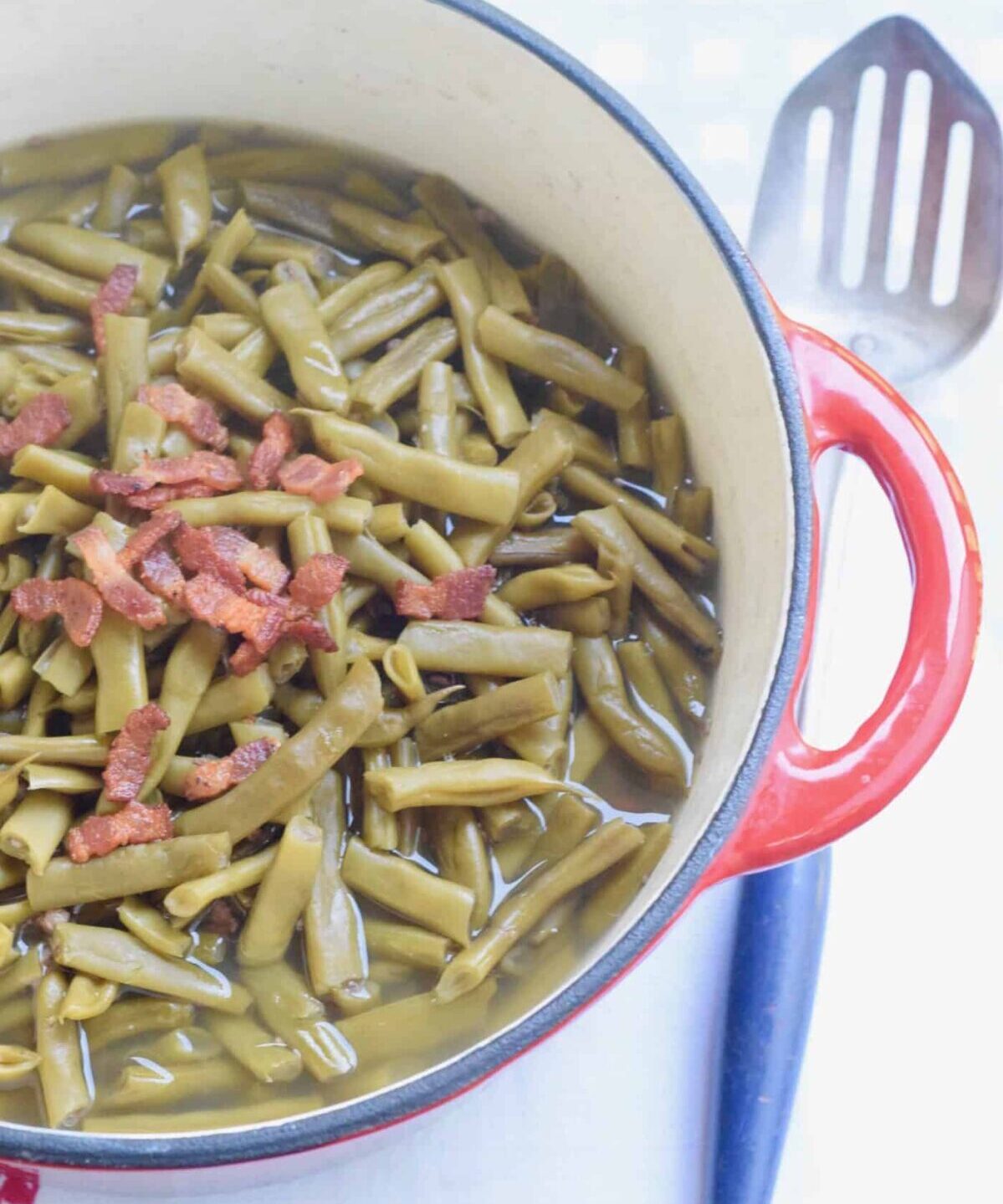 For this easy green bean recipe, I used rattlesnake green beans but any green bean or pole bean variety will be delicious using this simple stovetop cooking method.
What are rattlesnake beans?
According to Gurney's Seed and Nursery Co., rattlesnake green beans are a full-flavored, pole bean with a rich sweet taste. This easy to grow bean with purple streaks is a favorite in the South.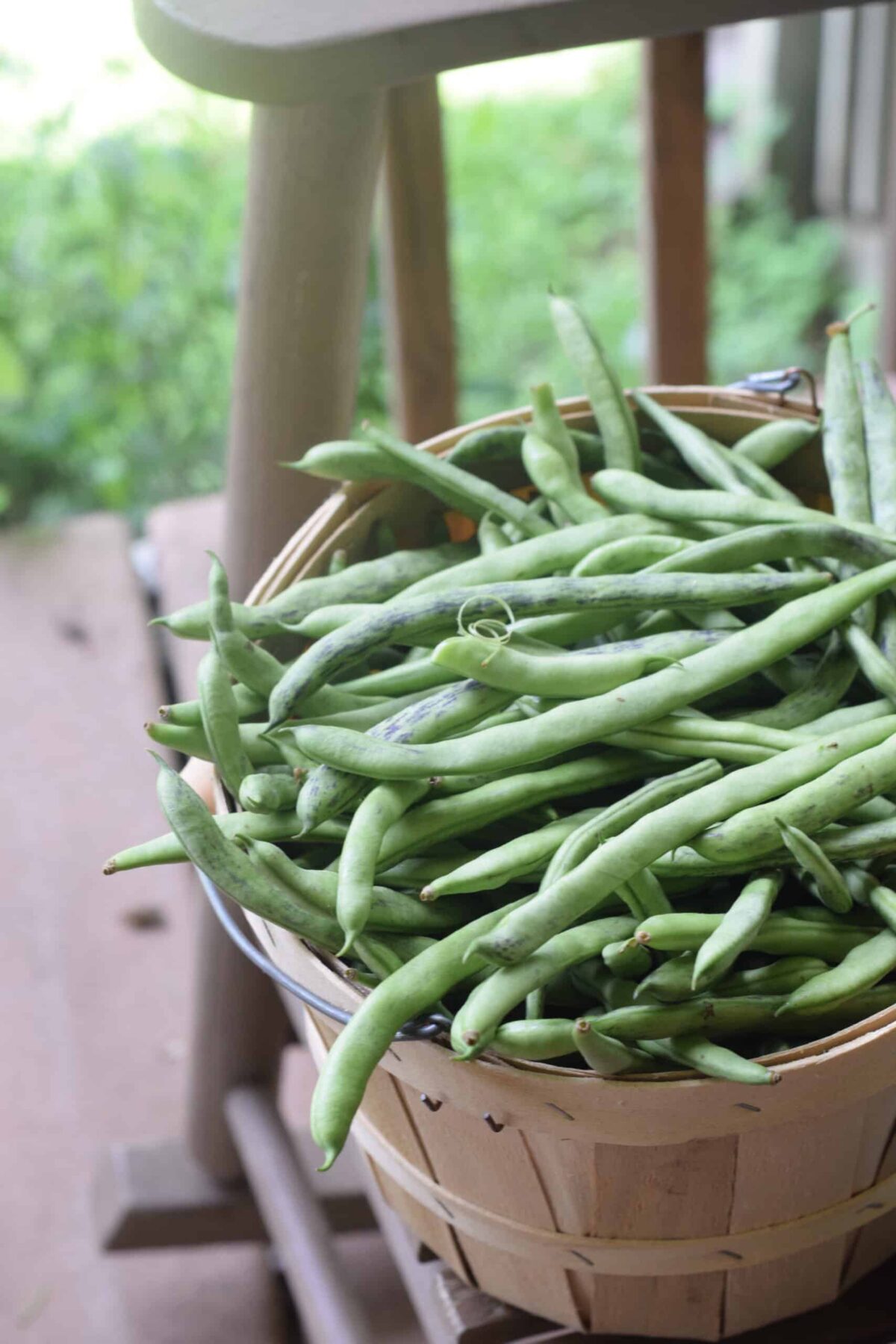 What's the shortcut?
Starting with chicken broth infuses flavor quicker than cooking the beans for an hour with a ham hock.
Cooking the bacon in the same pot at the beginning infuses more flavor, renders the bacon drippings at the beginning, and saves washing a skillet.
To save even more time, just trim the ends (not cut into 1-inch pieces) and cook them whole.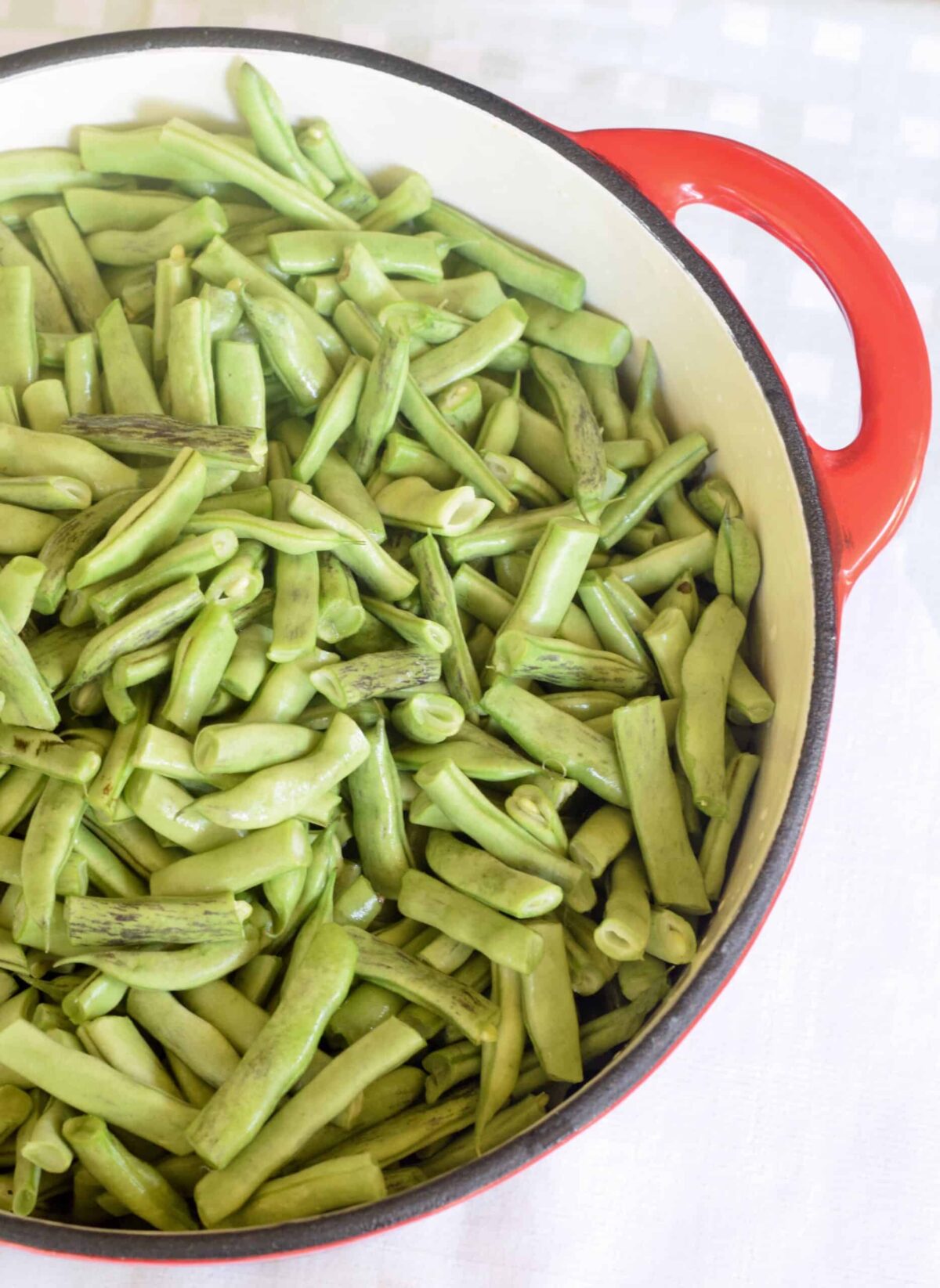 How long do you cook fresh green beans out of the garden?
Scroll down to the bottom for the complete printable recipe.
In South, there's quite a debate on how long to cook fresh green beans.
I cook my fresh green beans for 30 minutes in chicken broth for flavor and texture. If you like them extra tender and "Southern-style" like Grandma used to make, simmer for about 15 more minutes or until it suits your taste.
I'm somewhere between the generation before me that might cook them for a couple of hours until extra tender and the generation after me that likes them "crisp-tender".
Can I use a ham hock instead of bacon?
I do love the flavor of the smoked ham hock but since I only cook my green beans 30 minutes, depending on the size of the ham hock, that may not be enough time to cook it thoroughly.
You could use a ham hock in my Instant Pot method, though.
I may or may not be guilty of frying an extra piece of bacon just to eat!
Do you add onion?
I do not love chopped onion in my green beans but I know many do. It's a personal preference and you absolutely can saute′ them with the bacon or stir them in raw with the beans. Sweet Vidalia onions would be my recommendation.
Can I cook fresh green beans in the Instant Pot?
Yes. It's fast and easy to make my Instant Pot Fresh Green Beans with Bacon.
Bartering is a blessing
I bartered this summer with some dear friends that grow rattlesnake green beans for a loaf of my Zucchini Pineapple Bread and a jar of Sweet Heat Pickles. Bartering is a blessing! The blessing comes when your friend allows you to give them something that you hand made, grew, painted, designed or baked! The bonus is that you receive something that they had a hand in making or creating.
It not only helps both parties involved, it brings back an old tradition of tradition of trading something of value without using money.
True, you can barter with anything, but my favorite is home grown and handmade from the heart! It's like sharing a part of yourself with your friends and neighbors.
Other vegetable recipes you will love
Sausage and Summer Squash Casserole
Perfectly Crunch Vidalia Onion Rings
Perfect Every Time Fried Green Tomatoes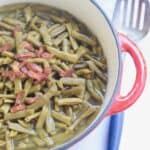 Print Recipe
Easy Fresh Green Beans with Bacon
You know its summer in the South when there's Fresh Green Beans with Bacon cooking on the stove. Straight from the garden is hands down the best way to serve them up. It's simple and easy to cook green beans Southern style.
Ingredients
2

pounds

fresh green beans

5 to 6

slices

smoked bacon

4

cups

chicken broth

(32-oz carton)

1/2

teaspoon

salt

(or garlic salt and omit garlic powder)

1/4

teaspoon

ground black pepper

1/4

teaspoon

garlic powder

or 1 clove garlic, minced
Instructions
Stack the bacon on top of each other, three at time, and cut crosswise into slices. Cook in a 6 to 8 quart Dutch oven or cooking pot over medium heat about 8 minutes, stirring often, until crisp.

Drain the bacon pieces on paper towels. I like to keep 1 tablespoon bacon drippings in the pot to cook with the green beans. Reserve about one-third of the bacon pieces to sprinkle on top of the cooked beans and leave the rest in the pot. (You can also skip this step and just toss the raw bacon into the bean pot.)

Wash green beans, then snap or cut them into about 1 1/2-inch pieces. This is a personal

preference. If your Grandma always snapped them into smaller or larger pieces, they will

taste just the same!

Combine green beans and chicken broth in the pot. Add just enough water to cover

if the chicken broth doesn't cover your beans. Add salt, pepper and two-thirds of the

cooked bacon (or raw bacon). ( I hold back a little bacon to sprinkle on the top.)

Cover with the lid and bring to a boil; reduce heat and simmer about 30 minutes or until

the beans are as tender as you like them. Sprinkle with reserved cooked bacon before

serving.
Notes
I like to hold back a little bacon to sprinkle on the top but feel free to add it all to the green beans while cooking.
Instant Pot Method to cook Fresh Green Beans:
Cook bacon in the Instant Pot insert on Saute mode about 8 minutes or until crispy. Add remaining ingredients; add lid and seal. Pressure Cook on HIGH pressure for 6 minutes (7 to 8 minutes if you like them extra tender like Grandma used to make them). Natural Release for 10 minutes. Carefully Quick release and serve.
Did you make this recipe?
If you love it, share it! Tag me on Instagram @gritsandgouda using #gritsandgouda Comment below before you go!